Leader Motorcycle Accessories has improved its Caddy Buddy Waterproof Phone Mount. It's now bigger to accommodate the
larger smart phones
and much easier to install.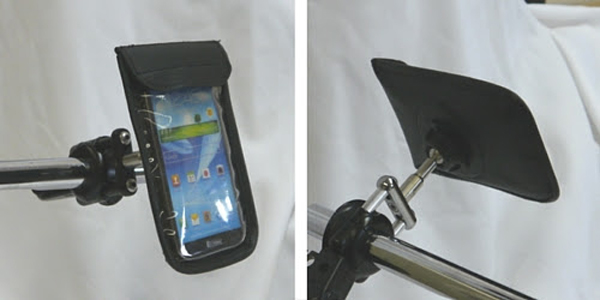 Fits phones up to 3-1/4 inch wide and 6-1/8 inch high
New rear ball design makes installation and angle adjustment super easy
Clear vinyl front allows touch and slide operations
Cover flap has been extended to ensure rain can't ever get in

Wire can be run out the top edge (if desired)

Can be mounted vertically or horizontally (or anywhere in between)
The Caddy Buddy Waterproof Mount is ideal if you're looking for protection from rain/water but you want the whole mount to look slim and unobtrusive. And, like other Leader mounts, all the parts are made in the USA.
Leader Motorcycle Accessories makes all sorts of waterproof phone mounts to accommodate different motorcycles, handlebars, and rider needs. They average around $100. Click here to browse the selection and order online.
Related Articles
Universal Cell Phone Mount for Motorcycles
Auxiliary 12-Volt Port for Harley-Davidsons
Anti-Vibration Mounts for Accessories
All Communication Accessories on WRN