I am finally coming into my own as a rider, a woman who has found a home on the road, and as an independent spirit. I am happily married, but within that marriage I've gained a sense of independence that
I never dreamed possible.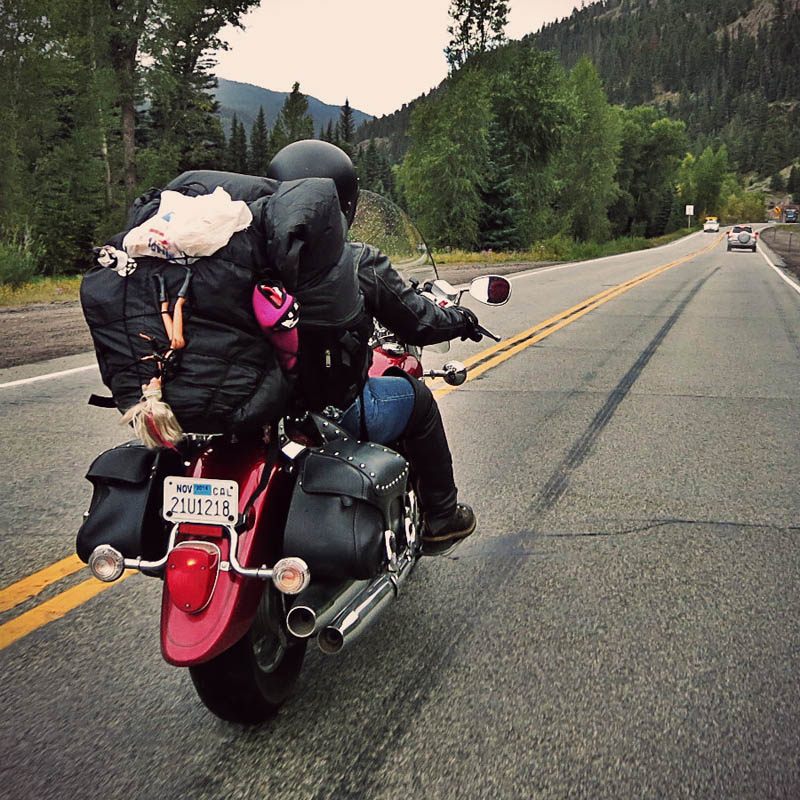 I was on a narrow stretch of pavement that ran through ranches of northeastern Wyoming where I felt this sense of permanence settle in. I was riding my Yamaha V Star 650 and I looked at my husband, Steve, up ahead, leaning his Honda ST1300 into a corner, and felt certain we were headed into new territory in more ways than one.
Leaving the 74th Annual Sturgis Motorcycle Rally last year, we rode west towards the iconic Devils Tower. It stood up like a lighthouse against a flat prairie, drawing travelers towards its strength and protection. Perhaps just as the American Indians came here for spiritual renewal, vision quests, and prayer offerings, I too was having an awakening.
"Did you know I love following you around the country?" I asked him as we gazed up at the Tower. Steve half-smiled in his naturally humble way, and didnt say a word. He only put his arms around me. "And Ill keep on following you, because it's what I want to do," I said.
We have covered tens of thousands of miles together, but we've come a million more in so many other ways.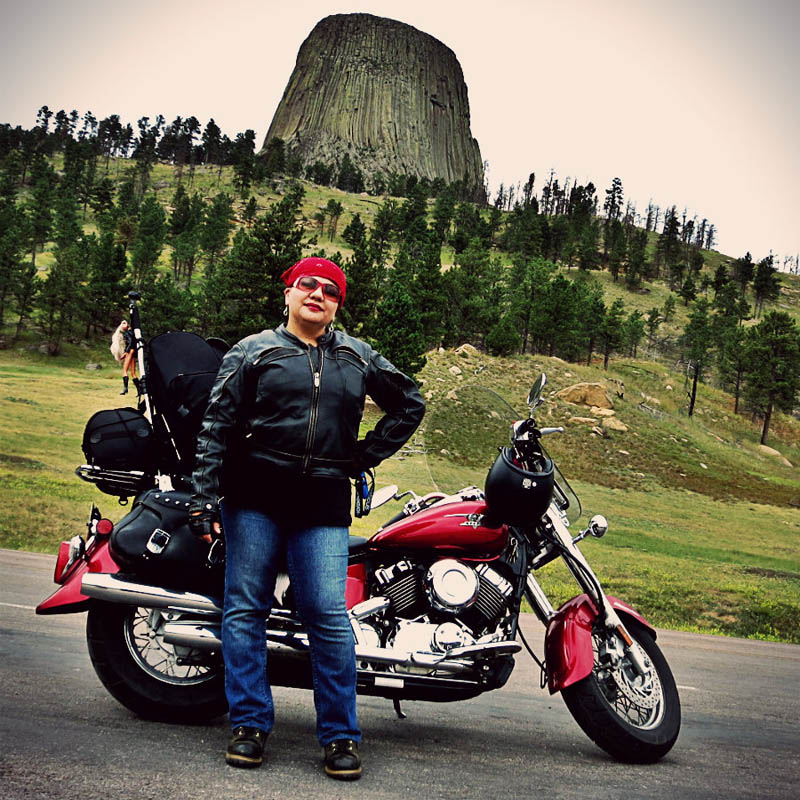 We have ridden coast to coast over the past couple of years, living on the road non-stop, out of motels, hotels and vacation rentals, with no home to return to. To my knowledge, we are the only married motorcycle vagabonds that live this way. We find it quite comfortable and convenient and even somewhat affordable. Tent living would be impossible with our business needs. Its been a challenge finding a good balance of affordability and comfort, while keeping running of our business running and keeping ourselves healthy. We have found what works for us, but that balance would be different for each person, or couple.
There have been other challenges along the way, a flat tire on the interstate, running out of gas, a dropped motorcycle, extreme weather, sheer exhaustion, health issues, arguments, make ups, and working through our love together. I've learned through these many miles it doesn't matter what is up ahead, I know we will come out of it together.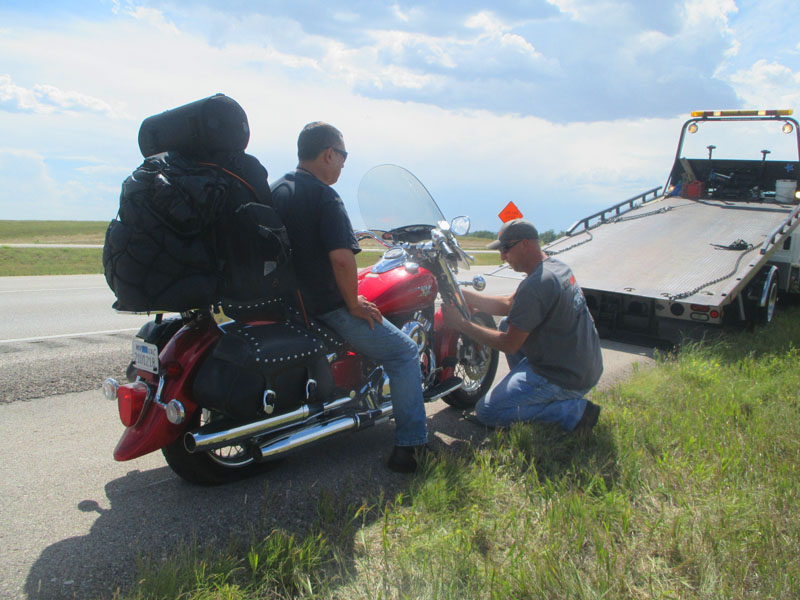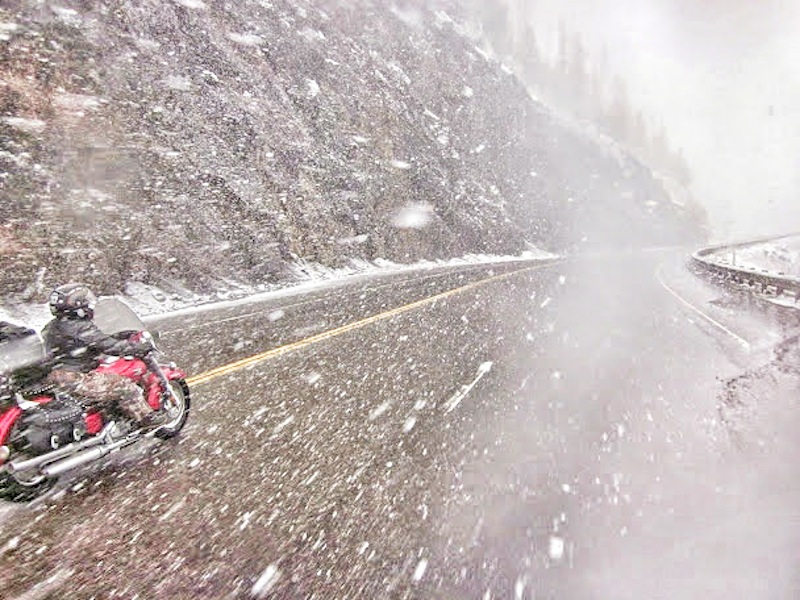 Fast forward to now, we find ourselves having just embarked on our third year of traveling across the country on motorcycles.
This year we started our road trip by leaving our vacation rental in San Diego, heading into Arizona for Bike Week, with a goal to see the Pacific Northwest and the northern reaches of the Great Plains. We have a few commitments on our travels this year, but aside from that, we're not making any promises on whom we'll visit and long how we'll be there. I've learned that life is full pleasant surprises when I don't have expectations.
Things feel different now. The route we laid out doesnt seem so important to stick to, and the plans weve made arent carved in stone. Going to Fargo, North Dakota, could just as well be exciting as Seattle, Washington. Being on the road is what I want more than anything. I find watching the yellow lines and feeling the thrust of the throttle gives me the sense of blocking worry out and leaving fear behind.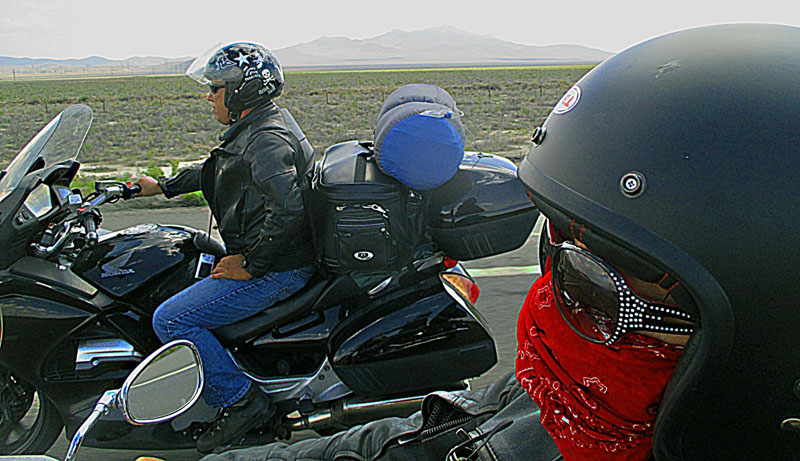 Im excited to be heading out for another summer of a riding this vagabond life. This is just the next chapter to my life of discovering who I truly am. It may have been harsh and difficult from time to time, but it just gets better as time goes on.
I'm reminded of this thinking back to the Sturgis Rally last summer, where I stood in the gravel driveway of our campground with a riding friend Terri Collier. She spoke of self acceptance and serenity in her life today. Then she slung her leg over her bagger and rode away filled with grace and intention.
I've seen this same sense of understanding in the eyes of many
women over the age of 50
. I will celebrate my 50th birthday this year. I don't know if it's my age or the road, or both, but I am stepping into this same sense of comfort. I am leaning into the curves of my life, and while I am excited to see the next horizon, I am pleased just to be in this moment, right here and now.
Follow Sash on Google+
and her blog,
SashMouth.com
. Learn more about her on the
WRN Contributors page
. Read more of Sashs articles on WRN here at
Sash amp; Steves Life on the Road
.
Related Articles
Genevieves Everyday Miracles: Turning 50
From Soccer Mom and Drug Addict to Vibrant Motorcycling Woman
Husband and Wife Get Riding Bug Together