Editors Note: I was inspired when I first read this intimate account of a devoted husband observe his physically challenged wife as she steps up each and every day to ride her 600-pound-plus motorcycle so that he and she can continue the journey theyve started. I know Sash personally, and she is a model of a woman rider who never gives up. I hope you are inspired by her story.
– Genevieve Schmitt

Sash had her back propped up against a set of pillows on our hotel bed, with the covers pulled up to her waist. In front of her was her laptop. By her side was her smartphone. On the nightstand was a tray of prescription meds, and on her shoulder was a bag of ice.
"I can do this," shed tell me, throwing a leg over her Yamaha V Star 650. "Im not going to let this stop me!"
What has tried to stop her was physical pain. Pinched nerves in her shoulders and low backaches have been the most obvious. But the ulcer in her stomach, her atrial fibrillation, and the fibromyalgia have been unpredictable thorns in her sides.
Myself, along with any other husband, could take a step back and see how damaging a
two-and-a-half-year motorcycle road trip
had become for her. Yet, telling her to settle down has become nearly akin to committing suicide. Her mind is trying to make up for
25 years of time lost
on baking casseroles, driving SUVs, and wearing Mom jeans. It's as if independence and empowerment didn't come until well into her 40s, after her health had declined, and now she simply refuses to let go of the opportunity to fly like a bird.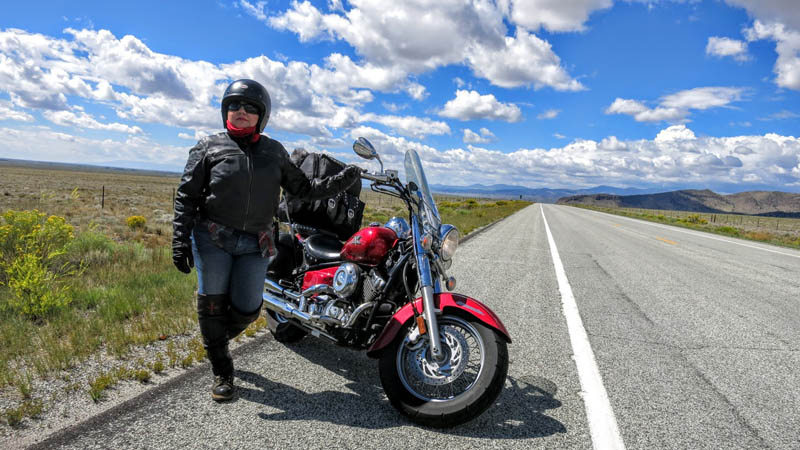 Our stay this weekend at Zion National Park in southern Utah is Sash's last on the road for this year. The heart episode she had in Boise, Idaho, last May was the worst she had faced, and she has many of these each month. She needs to go back to San Diego to see her regular physician to figure out a way to manage it.
But I know in my mind shes already proven herself an "iron butt." Going through 35-plus states in 32 months, racking up tens of thousands of miles in the coldest, hottest, wettest, and driest of weather, with more than 100 pounds of gear on the bike, which she has packed and unpacked a hundred times already, shes seen more country and done more miles than many of her male—and female—counterparts.
And throughout it all, shes managed to run a marketing business,
write a book
,
build a network of friends
, and of course, put up with all of my BS. She regularly parents over the phone her adult daughter suffering from borderline personality disorder. But there are other moments that have tested her as well, like getting hit by a car in Tucson, crashing her bike in the snow on Wolf Creek Pass, or getting poisoned from a crop duster in Nebraska.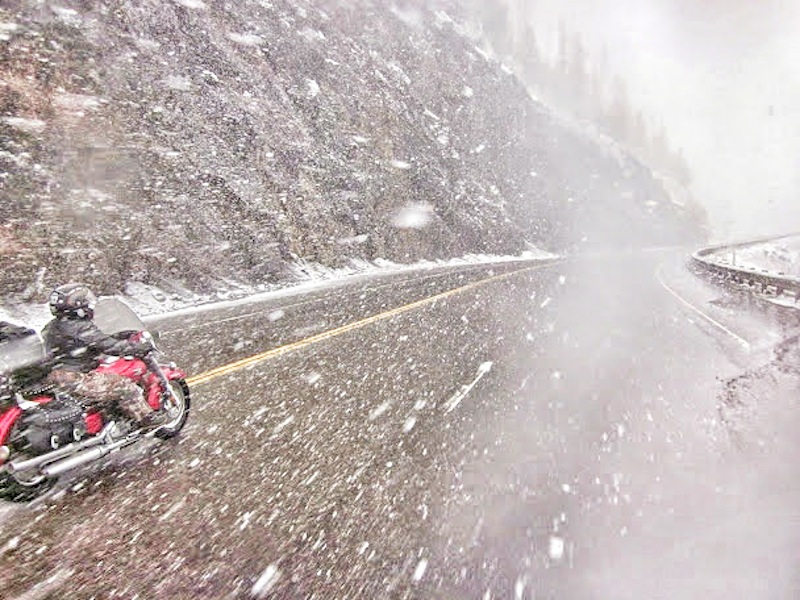 Perhaps it all came to a head a few days ago, while she and I were riding through the Navajo Indian Reservation in northern Arizona, under 104 degree F (40 C) temperature. We had actually left our hotel room early to beat the mid-afternoon heat, but somehow the sun was equally prepared to put Sash's resolve to test. She sped up past me to motion us over to the side. Then she hopped off her bike, stepped into the bushes along the side of the road and puked.
The heat had already taken its toll on her despite having consumed a bottle of Gatorade and a couple bottles of water, along with wearing a wet vest. There were times I saw her pinching her nose while riding, because the dry, desert air had caused her sinuses to bleed.
When youre out in the middle of untouched desert for 50 miles all around you, theres little else a husband to do but to give her time to rest and encourage her to press on. I feel helpless in those moments, yet the best I can do is cut off my emotions and address the matter purely from my intellect.
In a few hours from now, well be packing up and leaving Zion National Park, headed to Southern California. Well leave around midnight just to avoid daytime temperatures that would otherwise reach 110 degrees F (43.3 C) and above. Itll be the longest ride Sash has ever done in one shot.
Over the next several months, I plan to alternate between spending time with Sash in Southern California, and heading out on the road solo for a week or two at a time.
For Sash, the goal is that shell be ready for
Road Pickle 2016
around February or March.
About the Author
Steve writes a blog,Motorcycle Philosophy.You can follow him onGoogle+and learn more about him on theWRN Contributors page.
Now tell us in the comments below your stories of soldiering on despite physical challenges. We want to hear from you.