Do you have a story to share? Please send it to us, but follow these submission guidelines.

I am off to the side of a steep cobblestoned slope, with riders lined up in front of and behind me. It is day two of Edelweiss Bike Travel's "Best of Europe" tour, and we are waiting for our guide to take his place at the front to lead us from Heidelberg, Germany, to Ribeauville, France. As I wait, I see a rider two motorcycles ahead struggling to keep his tipped bike up. The woman on the passenger pillion of the motorcycle ahead of me is dismounting to help him when I hear a crash behind me. The fellow behind has also tried to help, but dropped his bike in the effort. My hands tighten on the grips, and I make a mental note to not drop my motorcycle!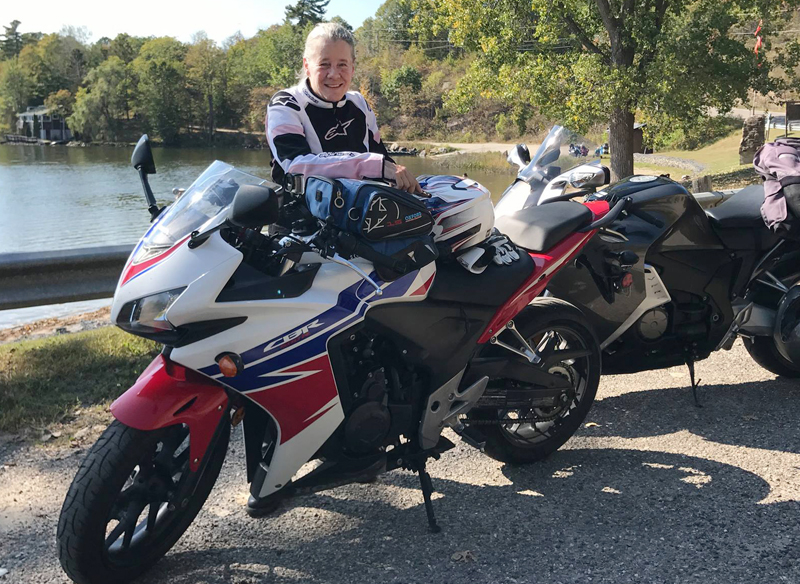 With rain all morning our first day, and an afternoon with extreme winds ahead of hurricane-force winds by evening, it was a tricky start as we navigated slippery cobblestones while getting accustomed to the rented motorcycles. The tour runs as planned no matter what the weather is doing, because the hotels are booked and you need to get there by the end of each day. Happily, that would be the last bad weather day—the rest were idyllic.
We are a mix of riders—Americans and Canadians for the most part, but also a Ukrainian couple, a Brazilian couple, and a Korean. The youngest rider is in his twenties, there with his father, but many are retired. About half the group are riding solo, the rest have their wives on passenger pillions. A few own adventure bikes at home, but many own Honda Gold Wings and have elected to use 1600cc BMW touring bikes on this tour. There is only one lonely sportbike owner … a nearly 70-year-old woman—me! I chose a Honda NC750 since no sportbikes are offered. It has almost the lowest seat offered by Edelweiss, but I am still on my tiptoes at a stop. The note to not drop it has merit.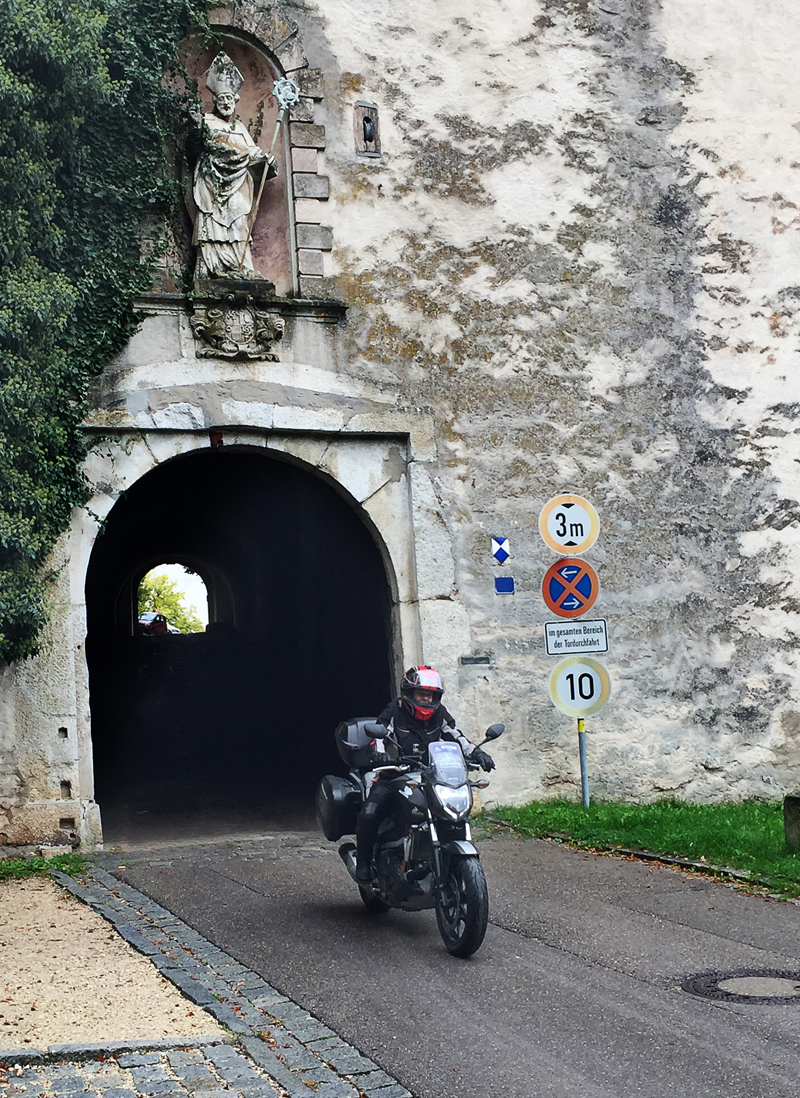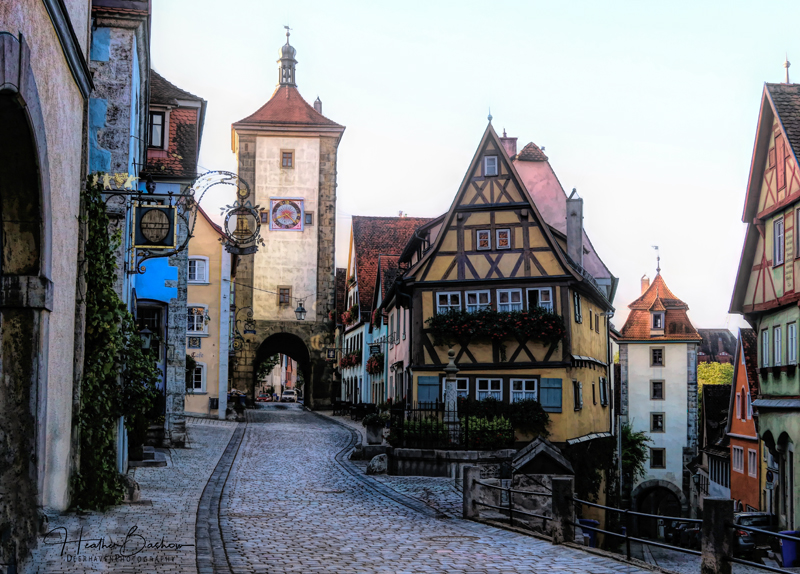 The tour starts near Munich, Germany, then travels through Germany's Black Forest, the Alsace region of France, skirts Switzerland and Liechtenstein, and finally Austria. We are on the bikes at 8:30 a.m. after an included breakfast, and ride to mid-morning when there is a coffee break, usually at a castle or other local sightseeing spot. A lunch break is followed at mid-afternoon by another coffee stop, and arrival at the next hotel is about an hour before dinner.
With endless twists and switchbacks on this tour, there were some riders in our group who were catching their feet under footpegs on the curves, or not leaning the bike, or not pressing the handlebars to countersteer. They all managed to end the tour safely, but I did see some close calls on the tight switchbacks.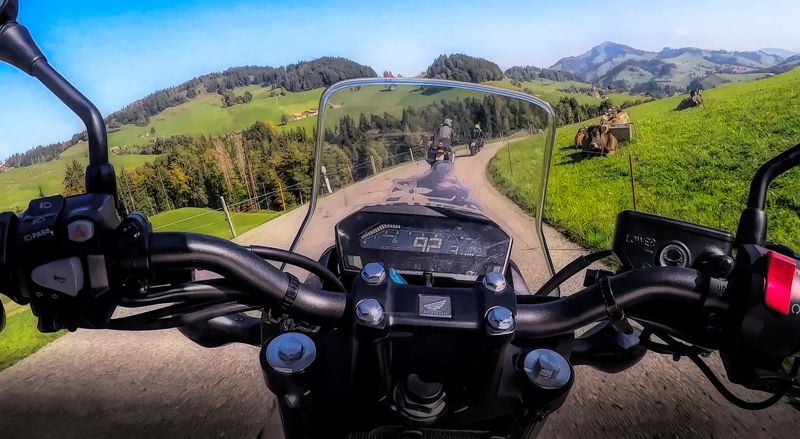 One dummy dropped her bike at a standstill, twice—me! In my defense, I was not the only one to drop the bike, and both times it was at a stop. The first time, I was stopping on wet cobblestones that had slick grass between them when my foot slipped. The second time, we were on a road so narrow that oncoming cars could only pass in a few places, when the van in front of me stopped suddenly for a car I didn't see. The road was steep, and when I stopped quickly, I didn't have time to notice that the road was also banked. Expecting pavement, my foot hit air. This time I fell in front of the oncoming car and heard the screech of brakes as I saw his tires coming at my head. Embarrassingly, the guys in my group had to dismount to hold my bike on that steep slope for me to remount, and then manage their bikes on their own. Thankfully, by that time I had proven my riding skills; although I freely admit that because I am vertically challenged, I suck at stopping!
The tour has a two-night stop in Ribeauville, France, where riders could choose to shop or sightsee on the rest day, or ride the technical switchbacks and twists with the guide. Are you kidding? Of course I rode! Flicking the bike back and forth, the nimble NC750 was almost ideal for this road … the only issue being the bike's low pegs grinding through the tight corners.
The tour's two 50-kilometer stints on the autobahn allowed us to ride at considerable speed. We had been told the exit to take during the morning briefing should we become separated. Since all in my group were on more powerful bikes, they stretched out ahead of me, leaving me on my own at 165 kph (102.5 mph), close enough to the redline on the NC750.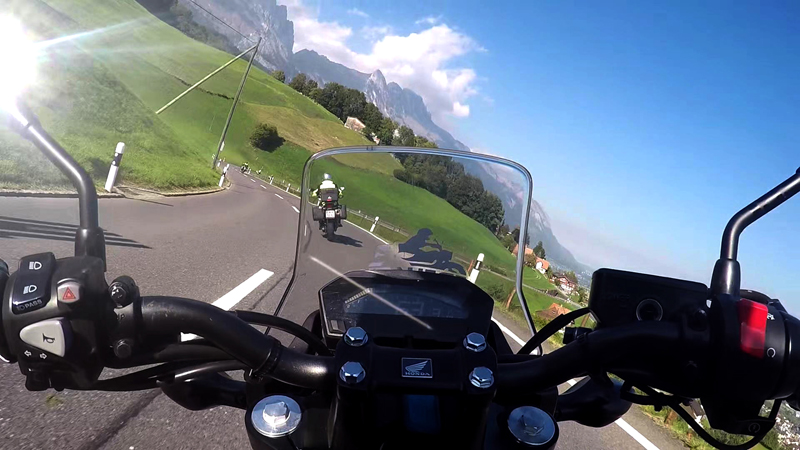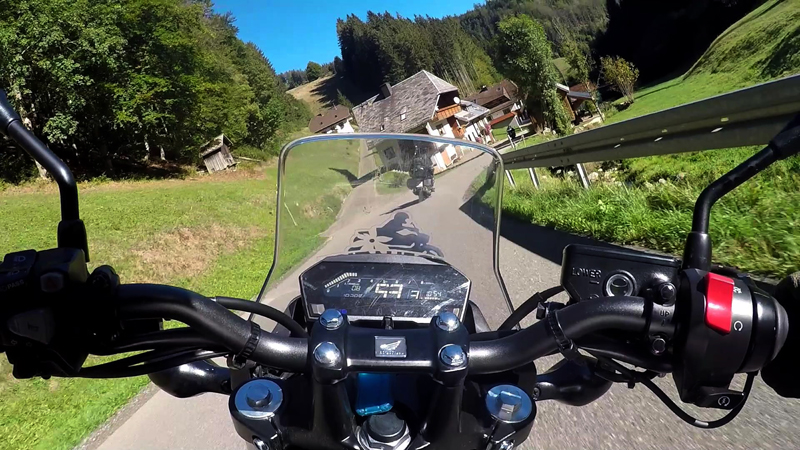 I turned 70 in December 2018, a few days from when I am writing this. Maybe my advanced years allow me some latitude as far as giving an unasked-for opinion, so it is this: To give up on your passions and dreams is to give up on life. In the end, you will only regret not finding a way to fulfill them.
Do you have a story to share? Please send it to us, but follow these submission guidelines.

Related Articles
How To Ride Your Street Motorcycle in Gravel
Safe Riding Tips: What is Counter Steering?
5 Great Ways To Drop Your Motorcycle
5 Tips for Short Riders Handling Tall and Big Motorcycles
More Reader Stories