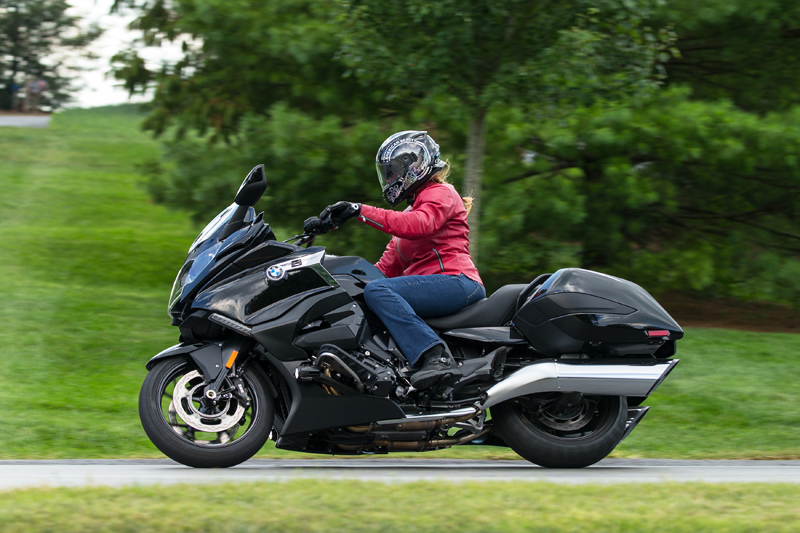 I don't normally write motorcycle reviews for women's outlets, so this is a real treat. Beginning with my use of "Black Beauty" as the title. That movie always makes me tear up, partly because the horse has such a big heart and loves so strongly, even when his heart and body are broken, but also because when he moves—especially when he runs—he is so powerful and so graceful its heartbreaking. BMW's new K 1600 B doesn't make me emotional in the same way watching "Black Beauty" does, but it certainly reminds me of him but only because it's a happier horse.
The other thing I love about writing this particular bike review is that I get an opportunity to embolden those who might not consider BMW's K 1600 lineup, because of the big bikes' size, cost, or reputation as a high-performance machine.
Women Riders Now E-Newsletter
Stay up-to-date on all things motorcycle! Latest gear, bikes and products reviews. Travel ideas, great product giveaways, and more.
Although the K 1600 B does weigh in at a sizable 741-pounds with a full tank of fuel, it feels exceptionally light underway, even at parking lot speeds. This is in part due to the low-slung position of the bike's inline six-cylinder engine, which creates a rather ideal center of gravity. Steering on this bike is very light and neutral, so, as soon as you get a feel for its input cues, it's extremely easy to control at all speeds.
That includes during very active riding, when you're having a little fun straightening corners. BMW is, of course, a global leader in vehicular technology, so as you'd expect the K 1600 B is ladened with cutting-edge technology. To manage this bike's extremely smooth and polite handling characteristics several key systems can be brought into play: Firstly, the Bagger comes standard with BMW's ABS Pro, which works flawlessly and is optimized for use in cornering.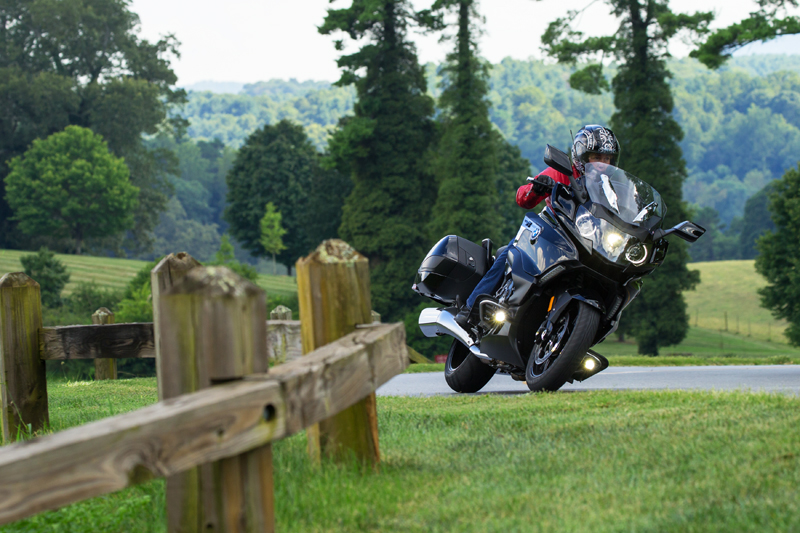 Innovative Features
The Bagger's available Dynamic Traction Control (DTC) can be turned on for improved grip in all riding conditions, with settings for Rain, Road or Dynamic. This system can be coupled with BMW's Dynamic ESA, an electronic suspension adjustment system that lets you change damping without tools, say for when you're carrying a load or a passenger.
Additionally, it lets you choose between Road and Cruise modes, with Cruise being geared toward comfort and Road being for more playful riding. For me, I would always keep the bike in the Road settings in case I happen upon a set of corners where I want to spontaneously dial up my riding.
Sound complicated? It is. At least until you get to know how the innovative functions feel and how to access them accordingly. Think about your smart phone and how complicated that would seem if you picked it up and tried to use it cold. This bike definitely has a learning curve – especially the electronic thumb-operated Multi Controller and its menus, but once you understand it, it feels forever simple and necessary in the same way we wonder how we lived so long without our smart phones.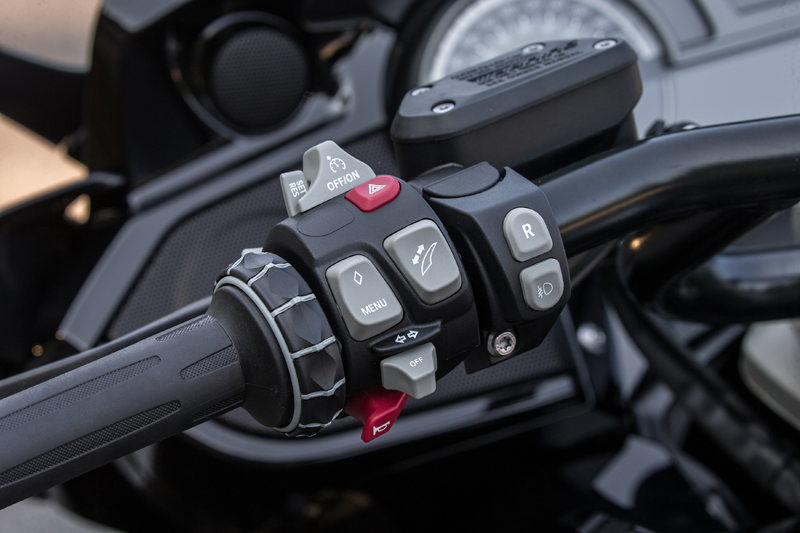 Low Seat Option, Yay!
Regarding seat height and its vital confidence factor, the Bagger version of the K 1600 employs a unique rear subframe so its standard seat height is lower than the mainstream GT version of the K 1600.
All of the K 1600 models offer a "high seat" or "low seat" option at no extra cost. I'm quite tall—5 feet 10 inches with a 34-inch inseam—so I prefer the higher saddle (30.7 inches) because it helps to keep my hips more in line with my knees so that I'm sitting slightly more "on" the bike rather than "in" it. However, the low seat option, at 29.5 inches, will no doubt be the preference of many female riders. Additionally, there is deployable support underneath the front of each saddle, which adjusts the angle of the seat. I prefer it in its upright position for a little extra height.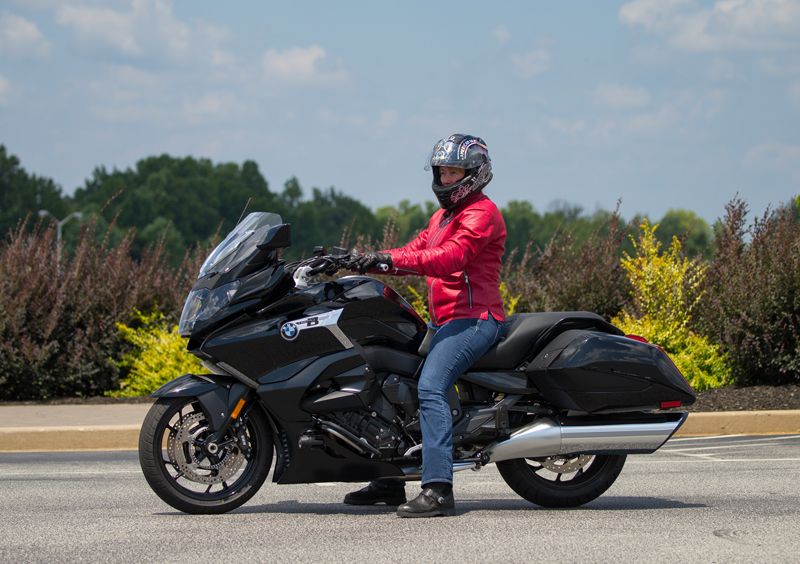 Effortless Ride; Sophisticated Features
As for reach and rider ergonomics, the Bagger's tubular black handlebar brings the hand controls reasonably close to the rider and all operations at the hand grip (multi-controller, turn signals, flashers, cruise control, etc. are easy to actuate while riding. The Bagger version of the K 1600 features a slightly more forward foot position than its sporty stablemates, the GT and GTL.
There are also optional floorboards available for the B (the choice is to have lockable storage compartments in the fairing lowers). Personally, I like the floorboards, both for the look and for the optional leg position.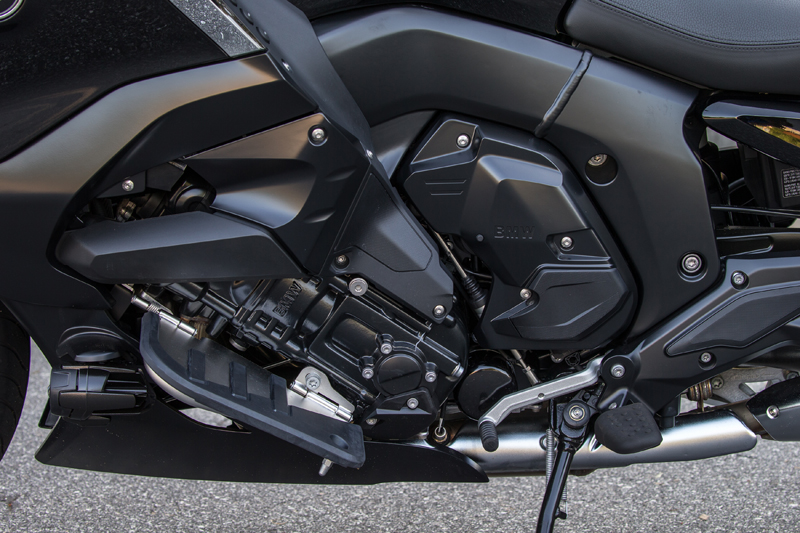 Probably the most lovable characteristic of the K 1600 B is its smoothness, both in acceleration and actuation of all controls. It feels nearly effortless to ride because it is. The throttle is electronic ride-by-wire, and despite an occasional burp off idle it is whip-tight and linear.
Shifting any of the bikes from the K 1600 lineup has always required only feather-light feel input, but now BMW has added an optional feature called Shift Assistant Pro on the B, which negates the clutch. This means it's a choice to pull the lever, and there is no need to match revs even for downshifts. I find that downshifting the Bagger during active riding is smoother with manual clutch engagement, while upshifts are always clutch-optional, making this feature a minuscule enhancement.
Other sophisticated features on the bike are far more valuable, for example the new Reverse Assist. This optional feature, part of the Premium Package, allows the rider to use a button for a gentle push rearward provided by the starter motor, you know, for those times you're parked on a slope or in a tight space where backing up a 741-pound motorcycle is a pain in the butt.
Hill Start Control is another worthy nicety that's part of the Premium Package. When engaged it keeps the bike from rolling backward on an incline, as it will when you release the brake to apply throttle.
Luxury Abounds
In addition to the wide range of sophisticated performance elements offered in the K 1600 B, there is also a wealth of luxurious touring-friendly amenities to consider. A button-actuated windscreen raises and lowers to tailor a desired amount of wind protection, while the fairing incorporates modular wings that can be opened or closed to regulate airflow to the mid body.
BMW's onboard computer system does everything short of tying your shoes. This is where you select your settings for suspension and traction control and it's also where you can monitor tire pressures, distances and temperatures.
The audio element is state-of-the-art and the K 1600's speakers are the best I've ever heard in the cruiser class, delivering clear sound even at legal highway speeds. Ignition is keyless and an optional GPS unit can be slipped into the dash for instant navigation.
The K 1600 B incorporates new saddlebags, each holding 37 liters. They are side-loading with only a short mesh net on the bottom, so you'll want the optional inserts or some kind of liner so you're not spilling your sundries out on the side of the road. Each sleek black saddlebag houses a very stylish and effective rear light assembly. An additional paring of style and safety is seen in the bike's distinctive, hawkishly good-looking Adaptive Xenon Headlight. This high-tech headlamp is constantly adjusting pitch for load and riding conditions, literally moving the beam slightly up and down and even sideways so that light is directed through upcoming corners.
Style radiates from this new BMW, from the chopped windscreen to the structural chrome silencers. After all, its shape is the evolution of the company's completely custom Concept 101 Design Study created in collaboration with Roland Sands Designs. All at once imposing yet delicate; substantial yet sinewy, BMW's Bagger is a decidedly interesting alternative to all the traditional bagger-style bikes that rule the market.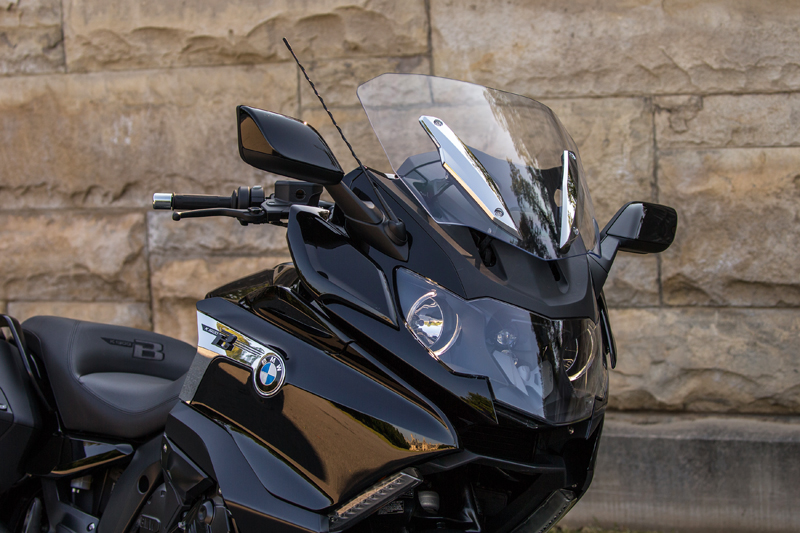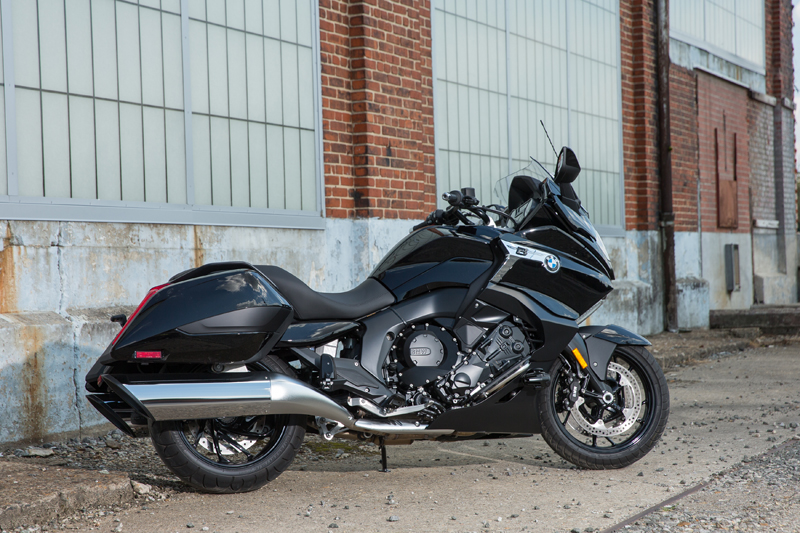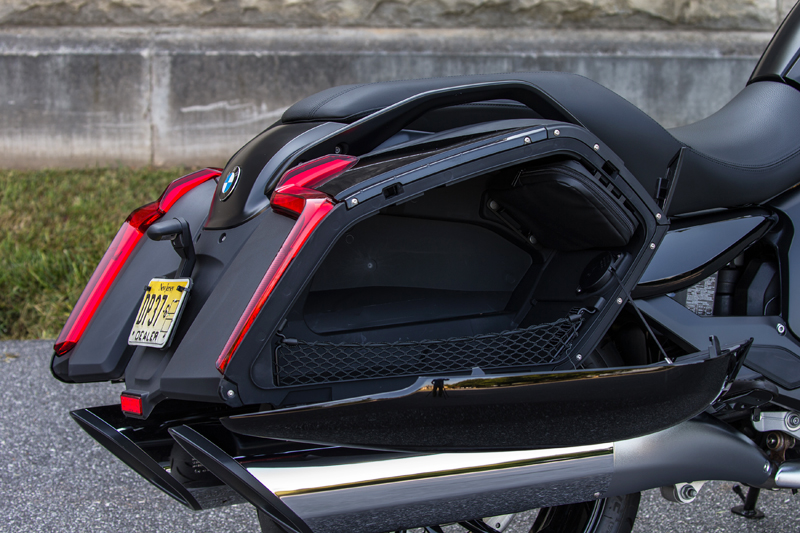 Price for Luxury
The 2018 BMW K 1600 B price is also competitive with more traditional cruiser-style baggers, though you can disregard the highly-touted base price of $19,995 because most of the optional features you'll want to incorporate are really mainstay items available in various package upgrades. The ideal outfit is the top-shelf $3,550 Premium Package, which includes all of the optional safety and comfort features discussed here.
Black is currently the only color choice for the Bagger and yes, its aesthetic vibe is outwardly masculine, but hey, if you're going to ride around on a big horse, it might as well be a lighting-fast head-turner like Black Beauty.
Specs At A Glance: 2018 BMW K 1600 B
Engine Size: 1649cc
Seat Height: 30.7 inches; low seat option 29.5 inches
Weight: 741 pounds
Fuel Capacity: 7 gallons
Colors: Black Storm Metallic
Price: starts at $19,995
About the Author
Jamie Elvidge is the first female motorcycle journalist to work as an editor at the mainstream male-dominated motorcycle magazines in the U.S. She has been testing and writing about motorcycles and motorcycle-related travel for 30 years and is currently hard at work on her first book, which is an exploration of America's greatest roads.
Related Articles