Are you tired of brushing knots out of your hair at the end of a day of riding your motorcycle? While it looks cool to see women riding motorcycles with their long hair flowing freely in the wind, it's a nightmare at the end of the day to brush all the tangles out. And the exposure to the elements can dry and damage your hair causing split and broken ends.
Like me, you may have tried many ways to help keep your hair from being whipped around during rides to avoid this problem. Women Riders Now (WRN) learned about a great new product, called the Hightail Bike Hair Protector from a new woman-owned company that keeps your hair protected from the elements in its helmet-mounted pocket.
The company's co-creator, Jen Burch, rides a 400cc Suzuki sportbike and a Triumph Bonneville and was frustrated at the amount of damage her beautiful long straight hair would sustain on motorcycle rides, so she went to work on a solution. Three years after she and her partner, Jon, had the initial concept, and with the help of mentors from winning a spot in the MIC's 2018 Gas Tank Mentorship, the hair protector was ready for its soft launch in April.
Jen and Jon had great momentum and a well-designed product, but getting the Hightail in front of customers has been extra challenging due to the COVID-19 pandemic. The opportunity to promote it at events simply vanished. Always looking for great women-friendly products made for and by women riders, we at WRN are happy to help spread the word about how effective the Hightail Hair Protector is.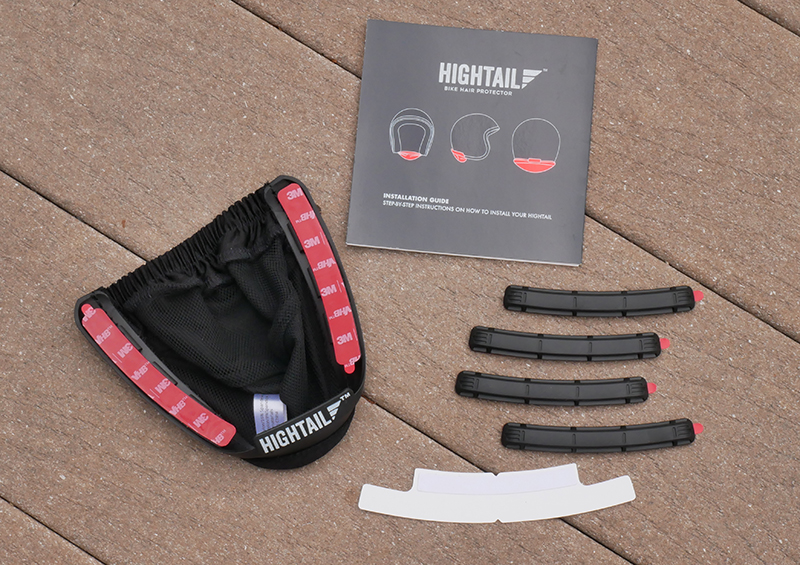 The Hightail Hair Protector will work with most helmets, but if you have any doubt just ask Jen. The key to the Protector working is having a helmet with a rounded shape at the bottom for the clips to adhere to.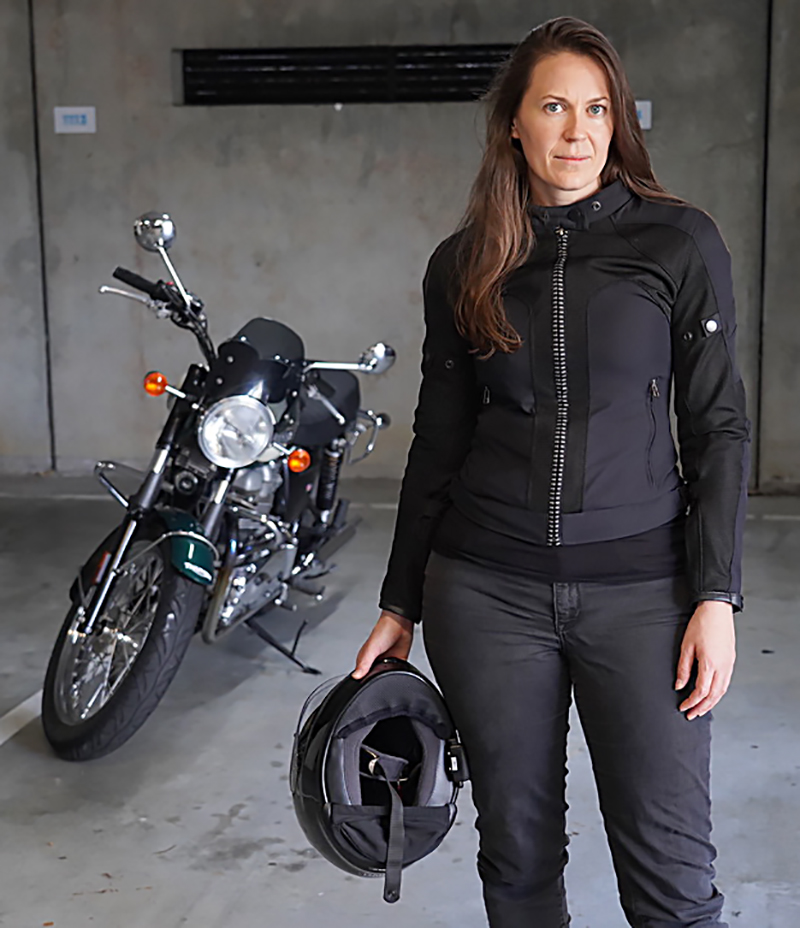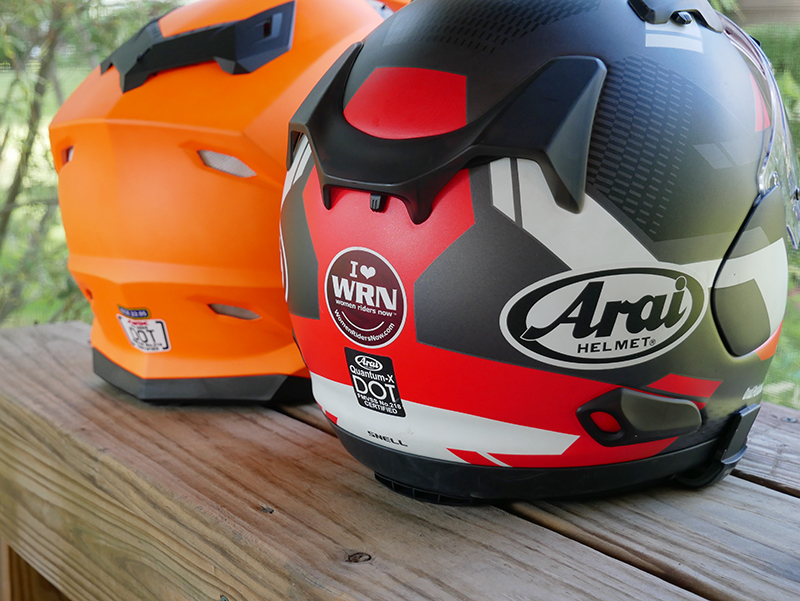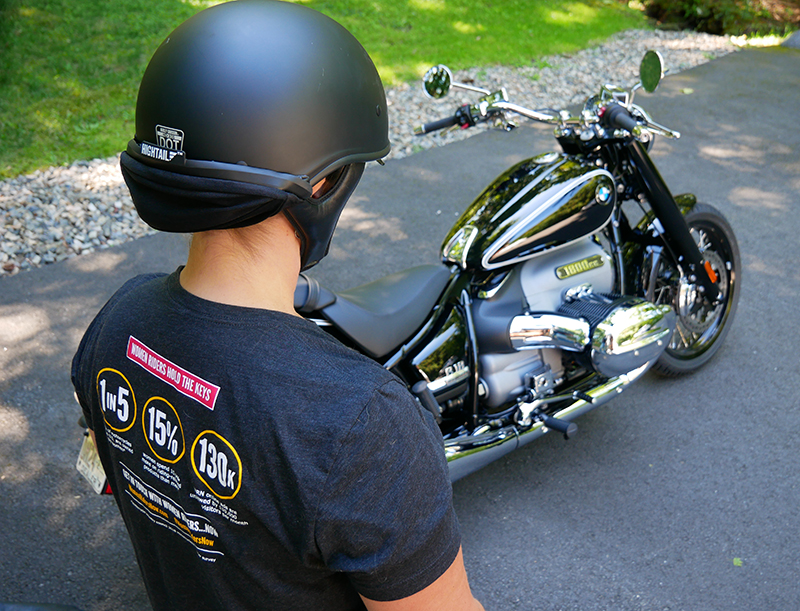 To install the hair protector, first you need to attach two adhesive clips to your helmet as per the included instructions. It is super easy, especially since a paper template is included. But if you are nervous about screwing up, Hightail has several well produced videos on its website about how to install and use the product. I've also carefully documented how I installed it on my Arai here.
| | |
| --- | --- |
| To install the Hightail Hair Protector, first you need to clean your helmet with isopropyl alcohol. I was lucky to have some in the cabinet. If you can't find any at your local pharmacy, look for eyeglass cleaner swabs. They come in single-use packets and work just as well. | Make sure you wait until the alcohol dries completely before going to the next step. You can use a clean cloth to help dry it, but make sure theres no residue or dirt on the helmet. |
| Hightail's included spacer has an adhesive strip on one side. It's not strong, so it won't leave any residue on the helmet after you use it. | Center the spacer on the bottom lip of the helmet and press hard. If it doesn't stay in place, you can use some tape to hold it. |
| The clips have strong adhesive on one side. Remove the adhesive film. | Then press the clip along the bottom edge of the helmet, with one end lined up with the spacer. |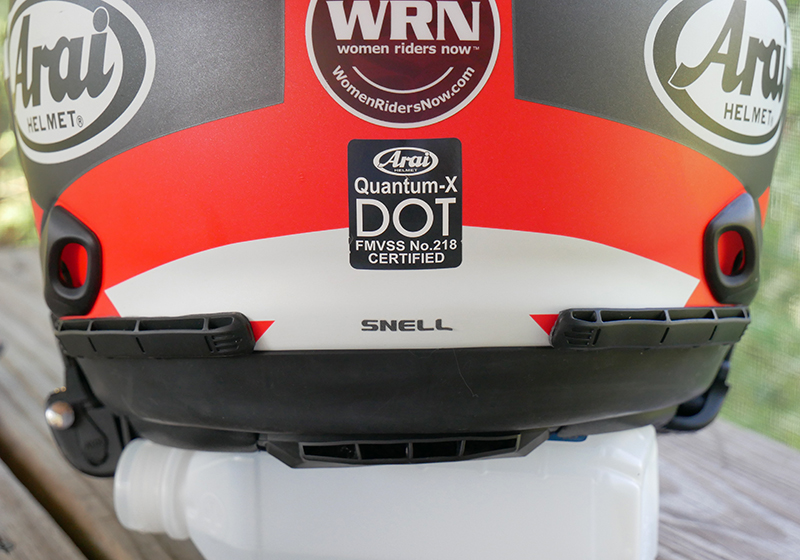 Hightail specifically instructs you to wait at least 72 hours before attaching the Hair Protector to the clips to allow the adhesive to fully cure. If you are impatient and can't wait, you run the risk of the clips peeling off during use and Hightails guarantee is voided.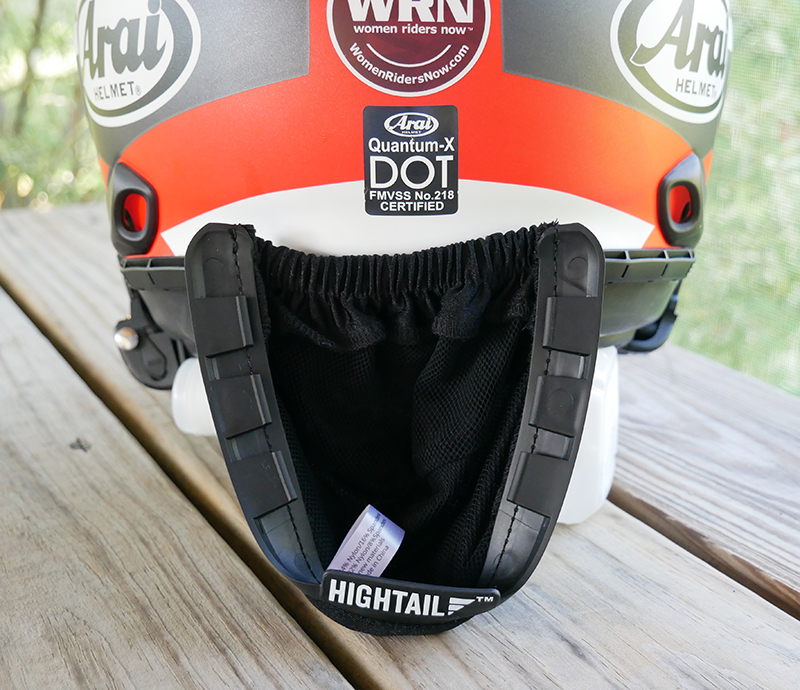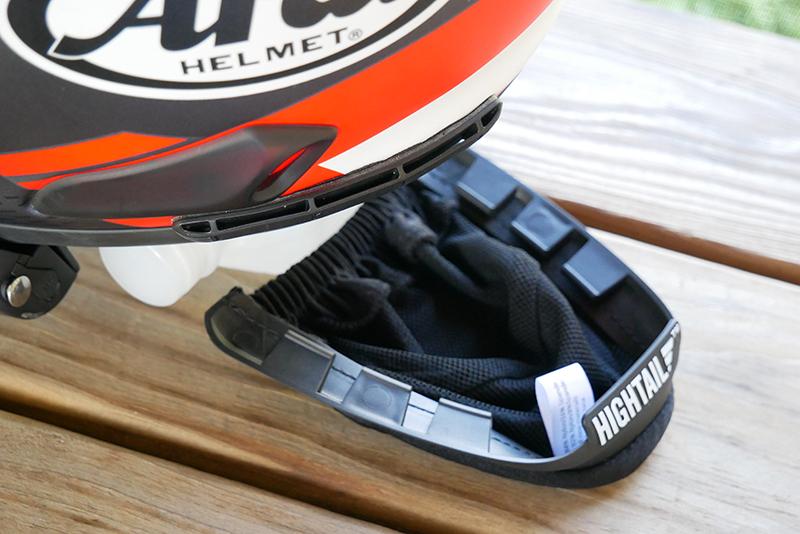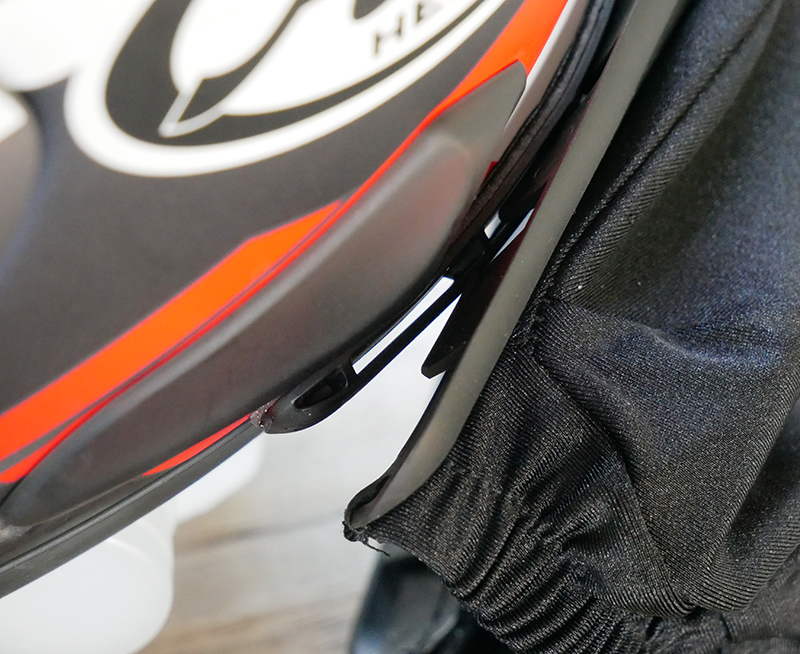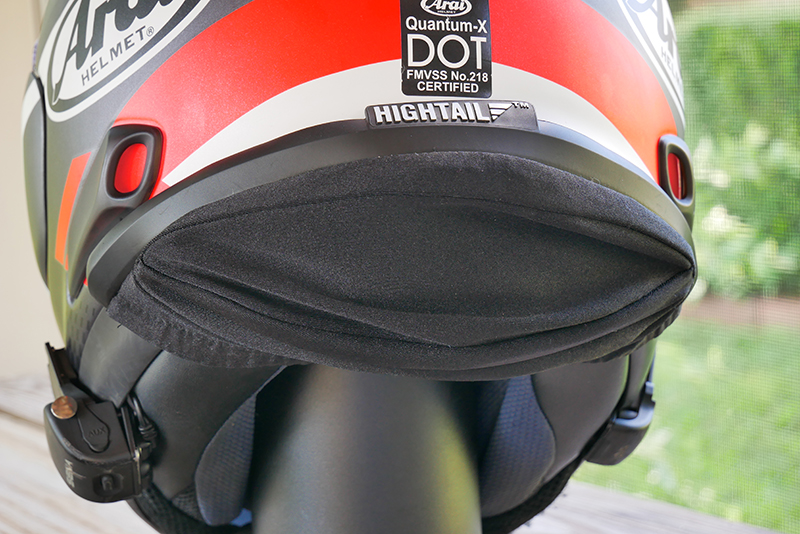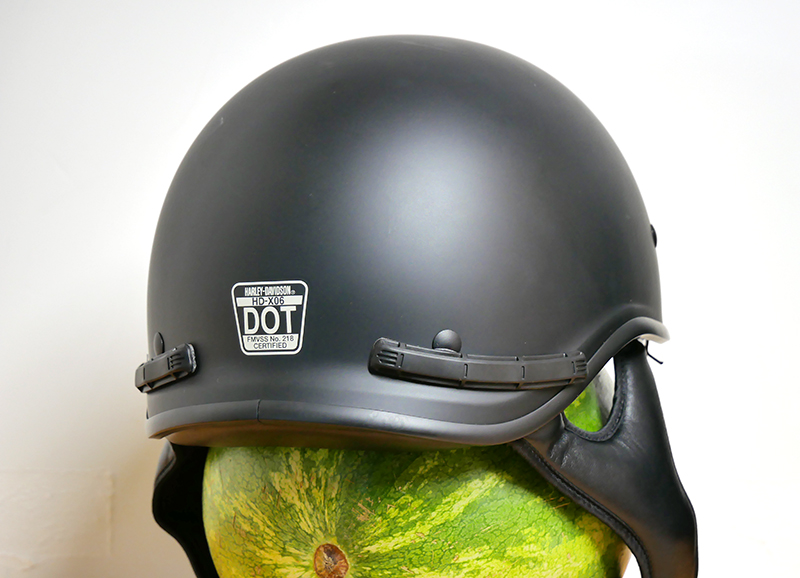 Now with the Hightail Hair Protector installed on my helmets, I don't have to worry about knots, split ends, and wind damage to my hair. And I like that this product is attached to a piece of my motorcycle gear. I never forget my helmet, but I often forget to wear a scarf or headwrap.
It's easier to put your hair in the Protector before you put a bulky motorcycle jacket on, but not impossible. For the purposes of clearly showing how to do it, I don't have motorcycle clothing on in the following photos.
| | |
| --- | --- |
| To protect your hair, first, put your helmet on. You don't need to have your hair in a ponytail, but you can if you want to. | Gather all your hair up… |
| …and twist it. | Then just tuck it into the pocket of the Hightail Hair Protector. |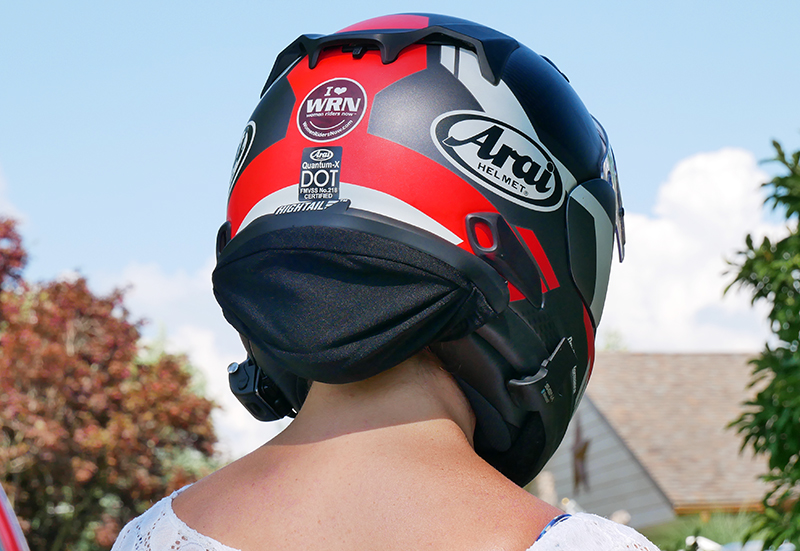 Jen tells us that if the world returns to normal in 2021, we can expect to see her and the Hightail products at motorcycle events like Sturgis Motorcycle Rally, Dream Roll, the Litas Black Top Ramble, and the Australian women's motorcycle campout, Sheilas Shakedown.
For more information and to order visit HightailHair.com.
---
Related Articles
Review: Diva-Do Helmet Liner Banishes Helmet Hair
All Headwear Reviews on WRN