In the springtime chill of mid-March, four women across North America scrambled to finish their custom motorcycle builds before the clock struck zero. With tanks freshly painted and parts still arriving down to the wire, each woman worked day and night to turn her Royal Enfield Interceptor (INT) 650 into a competitive semi-pro level flat track racer. This was the end of the first phase of the Royal Enfield "Build. Train. Race. Program" (BTR), a new women's initiative started by Breeann Poland, marketing and communications lead at Royal Enfield Americas. In a few short weeks, these women would race their motorcycles against each other at Flat Out Friday, the first in a series of flat track exhibition races.
But Flat Out Friday never came.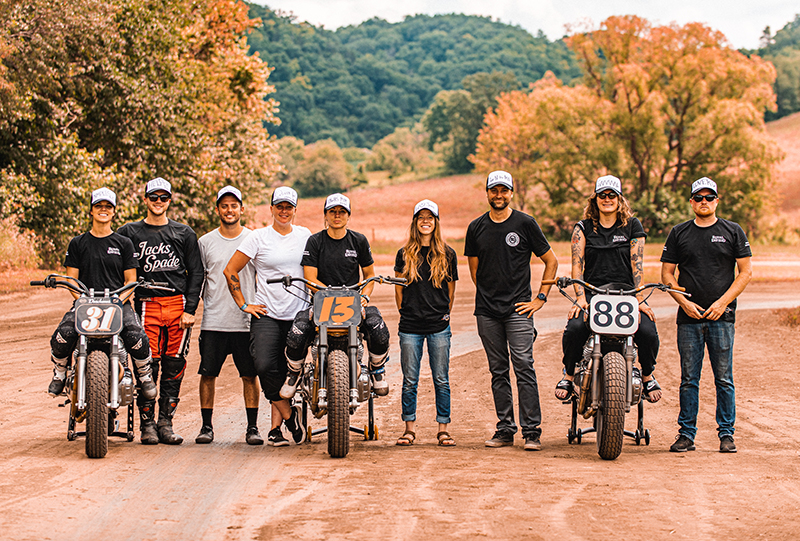 The builders were already at Royal Enfield headquarters in Milwaukee when they got the call: Mama Tried Motorcycle Show 2020, the event where the Flat Out Friday races take place, had been cancelled. It was the beginning of the global lockdown, and tensions were high as the early questions around COVID-19 began to arise. "I thought [Breeann] was kidding when she read the post out loud," says Andrea Lothrop, one of the builders. "It was a big bummer," explains another BTR builder, Jillian Deschenes, "I felt terrible for the whole group." But with everyone already in Milwaukee, Breeann and Royal Enfield made the most of the situation. On that rainy Thursday night, the women pushed forward and presented their work, four unique flat track bikes that were ready to be raced, at a reveal party at Milwaukee's Hacienda Beer Co.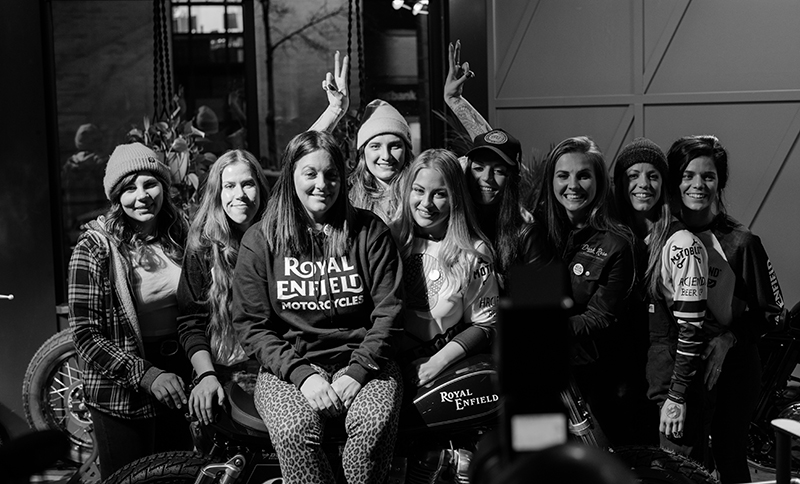 The BTR Program was inspired by the "Petrolettes Wrench-Off" program, a Europe-based Royal Enfield-sponsored women's freestyle customizing competition. The Petrolettes is Europe's first all-women motorcycle festival, and according to its site, the Wrench-Off program was created to "highlight the work of female hobby mechanics in the motorcycle industry, to raise awareness for women's contribution to motorcycle culture, and to connect and inspire female riders." Last year, Breeann adapted this competition to the North American market and added a training component to give her participants some foundational knowledge of flat track racing. As Breeann explains, "Men often get highlighted as the flat track racers or the pros. We wanted to highlight the women as much as we can."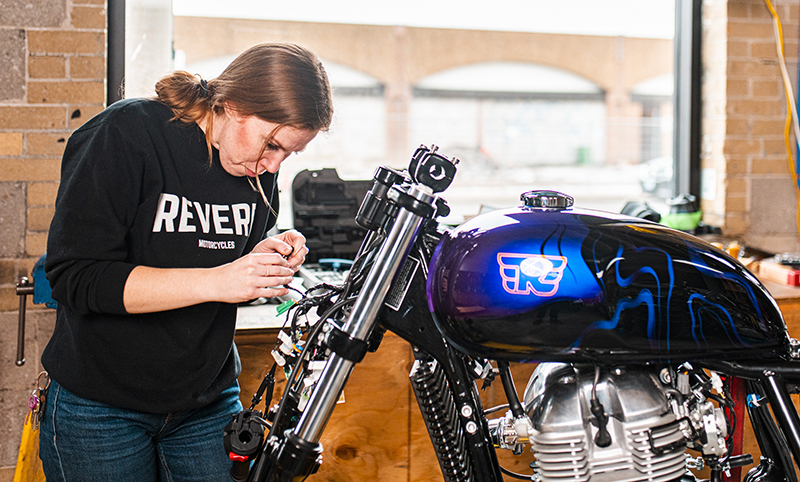 Breeann started with about 200 possible builders and whittled her way down to the four finalists: Andrea Lothrop, Lanakila MacNaughton, Jillian Deschenes, and Melissa Paris. "I chose these four girls because they're completely different," Breeann says. "Andrea is not afraid to get her hands dirty. Lana is leading the [women's motorcycle] movement through art. Jillian has some flat track experience but on an amateur level, and Melissa was a pro road racer."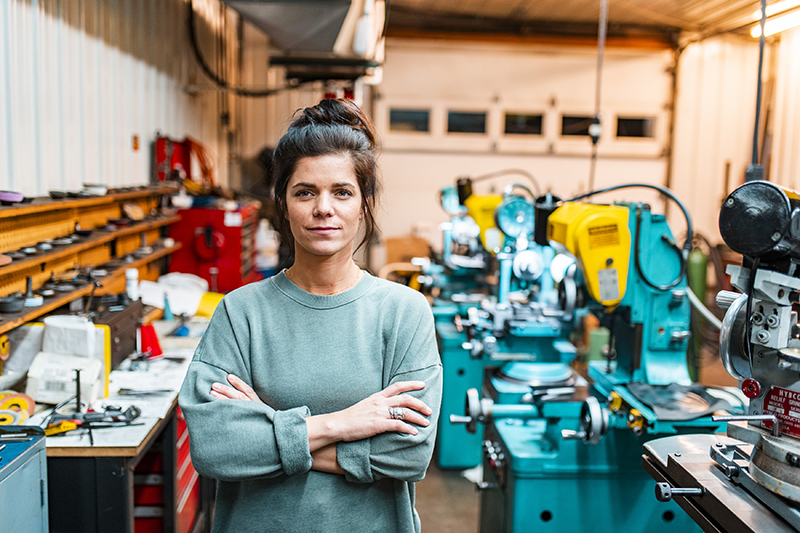 Indeed, each of the women, located in various parts of North America, brought with her a unique background and set of skills. Jillian Deschenes, "The Enthusiast," arguably had the most flat track-specific experience coming into the program with two years of amateur racing under her belt. Jillian had raced competitive motocross as a child, but she took an 18-year hiatus from motorcycles prior to getting into flat track. "Being almost 30 when I started back up and getting my butt kicked by 12 year olds was humbling," she says. "It takes time and practice and a lot of failures before you start to learn it again." But Jillians hard work paid off. In 2019, despite being out for part of the season from an injury, Jillian made a sweeping comeback and won her local district's AMA Flat Track Women's Championship. Even with the gold medal under her belt, Jillian was surprised that she was selected as an inaugural candidate for the BTR program. "I'm not a builder, I'm not mechanically inclined…I hadn't, in my opinion, done anything remarkable to deserve something like that," she says. "It sounded like a once in a lifetime opportunity that I'd be crazy to pass up."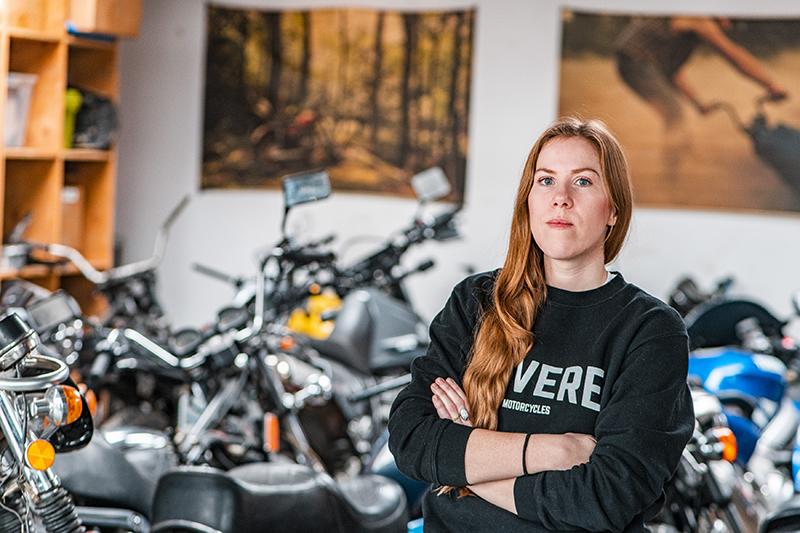 Andrea Lothrop, "The Mechanic," also saw this as an opportunity to further develop her skills, especially coming from a background in bike building. A Canadian native, Andrea originally started by working on bicycles, and she was a member of various bicycle co-ops in Calgary, Toronto, and London, UK. When her partner lost his garage lease, they began looking around their hometown of Toronto for community based options in which to work on their motorcycles. Their search turned up no results, so they decided to start their own, taking inspiration from Brother Moto, and Rising Sun Workshop in Sydney, Australia. Now, four years later, Andrea is co-founder and owner of Moto Revere, Canada's first organized community garage.
Andrea also is a Toronto Team Lead for The Moto Social, a global network of motorcyclists that runs monthly public meetups around the world. She originally met Breeann through The Moto Social when Royal Enfield came to town for an event. Shortly after, Breeann messaged Andrea: "Hey, do you want to win the motorcycle lottery?" Andrea, who had been an admirer of the company for some time, was quick to sign on. "It's been amazing working with Royal Enfield," she says. "They see what's going on and what people want, so it's been really crazy ending up working with a company that lines up with my idea of what needs to happen in the industry."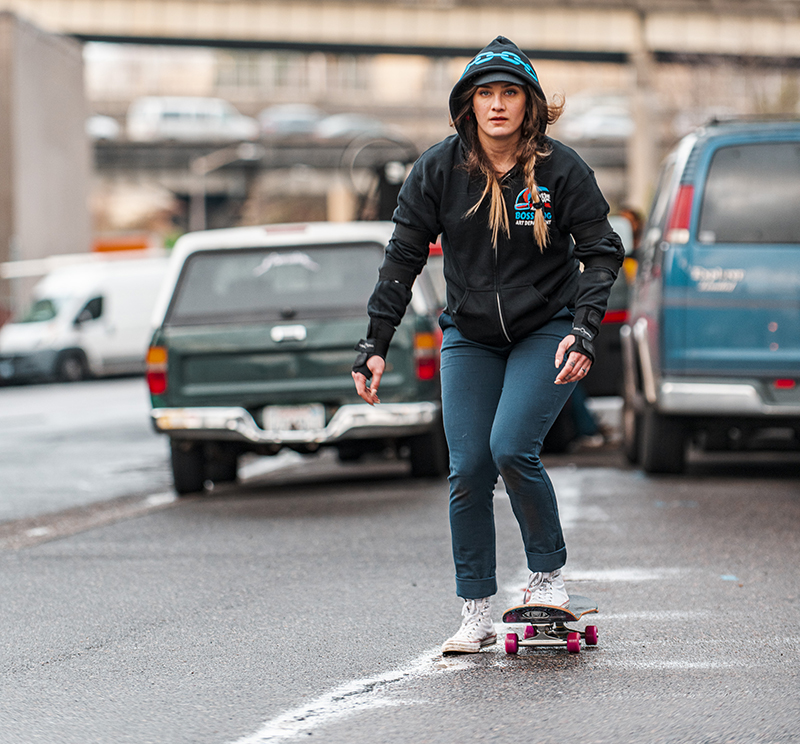 Lanakila MacNaughton, "The Photographer," echoed similar sentiments with regard to working with the brand. She met Breeann a couple of years ago at a prior Mama Tried event, and the two shared a mutual admiration for one another. "I felt like [Breeann] was running Royal Enfield and was very focused on women, which was refreshing," she says. Lanakila is the mastermind behind the Women's Moto Exhibit, a traveling photo exhibition documenting and promoting the new wave of modern female motorcyclists. She started riding at 23 years old as a way of rediscovering herself after going sober. "I began meeting women riders who I just wanted to ride with," she explains, "but I realized they were incredible and no one knew about them." Inspired by the women riders around her, Lanakila began taking their photos using a 1960s medium format camera. What was once a simple Instagram feed has since blossomed into a renown staple of the motorcycle industry.
Although Lanakila is neither a racer nor a builder, she has a strong relationship with Royal Enfield. Shes been an ambassador for the brand for the last couple years, and joined the company on a trip to the Himalayas. When the opportunity arose to participate in BTR, Lanakila jumped at the chance. "Flat track has always been enticing for me, but I've never had the money or community [to participate]," she says. "This program is presenting me with flat tracking on a silver spoon; it's a perfect opportunity."
Indeed, the program was built as a gateway for women to get into flat track racing while allowing for enough leeway to do it their own way. All the women were given a stock INT 650 and a small budget, as well as a basic guide to help with sponsorships. From there, they were on their own to source sponsors and any outside resources to build their motorcycle up to a semi-pro race level. For Jillian and Andrea, this meant doing much of the work themselves in their own garages, while Lanakila worked closely with Portland, Oregon-based, Bridge City Cycles—which specializes in flat track bikes—to execute her design.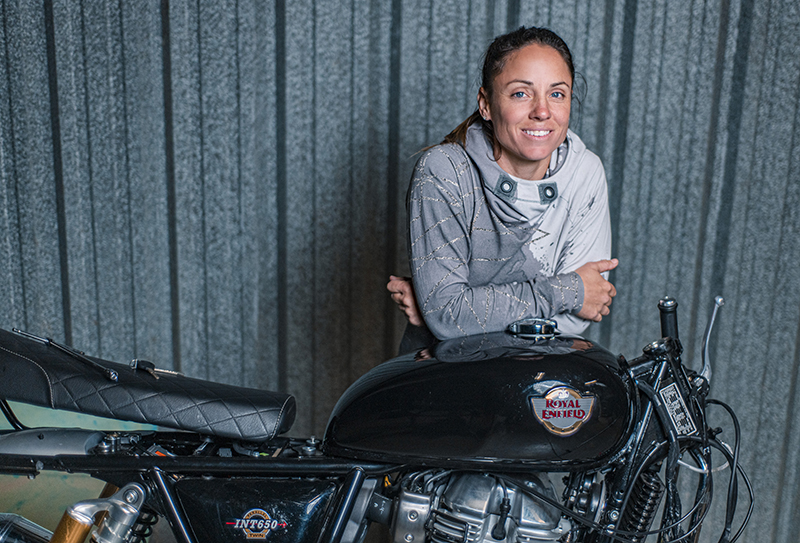 For Melissa Paris, "The Pro," the BTR Program allowed her to hone the mechanic skills she developed through her professional road racing career and her own MotoAmerica team, MP13 Racing. A privateer racer since the start of her career in 2005, Melissa founded her team in 2017 when she became pregnant with her first child. Although she raced until her leathers no longer fit (per the recommendation of her doulas), eventually she knew she would have to take some time off. "I was like, what can I do to keep from getting a real job?" Melissa muses. Having learned from her own technicians, and having worked with her husband, factory racer Josh Hayes, Melissa had a well rounded understanding of the racing industry, as well as a long standing urge to help young people start their careers. "I've gotten so much support myself, so I wanted to pay that forward," she explains. When it came time to hang up her helmet for the year, Melissa began bringing on her own racers, starting with then 16-year-old Jamie Astudillo.
Melissa's segue into the BTR Program began with the bike itself. She was helping lead demo rides at the Summit Point race track in West Virginia where she took the INT 650 for a spin. "My first impression was that I wanted to make it into a flat track bike," Melissa explains. "The way it rides; it's smooth and not intimidating." She mentioned this to Breeann, who was coy at first, but eventually let Melissa in on the BTR scheme. Upon joining the program, Melissa knew she wanted to pull in as many partners as she could from her other race projects to make this a collaborative effort. It paid off in the end as she was juggling a full race schedule, training camps, and preparing for the Daytona 200 while working on this build. Parts were still arriving days before the bike was due to ship out to Mama Tried. Her saving grace was the support of collaborators and friends, who donated parts and painted her tank as a final push before the deadline. "The thing came together in the three days before the shippers showed up," recalls Melissa on those anxious pre-deadline days. "It shaved off four or five years from my life."
In the end, the bikes came together, each one as unique as its builder. Andrea went into the process envisioning a hooligan street tracker with a regular flat track conversion. She kept it largely stock due to time constraints, and also to reaffirm the existing capabilities of the machine. "It's more about showing people what they're capable of doing with the bike without going into the advanced side of things," she says.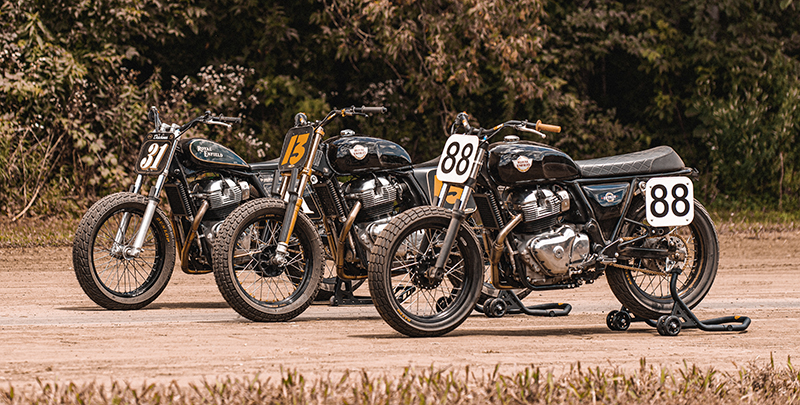 Lanakila opted for a classic flat tracker focusing more on the mechanics than the look, and making sure it was safe and balanced. "I'm not trying to win anything," says Lanakila. "I want to learn about the mechanics of motorcycles, and understand what it takes to build a flat track bike, and then take it on the track to get a feel for it." Melissa, on the other hand, was all about the flair. "I started out being really silly about it," she says, "putting on Ohlins shocks because it's so Gucci and ridiculous." The rest of the bike followed suit, and the result was a creation that makes its builder giggle when she sees it "because it's so over the top."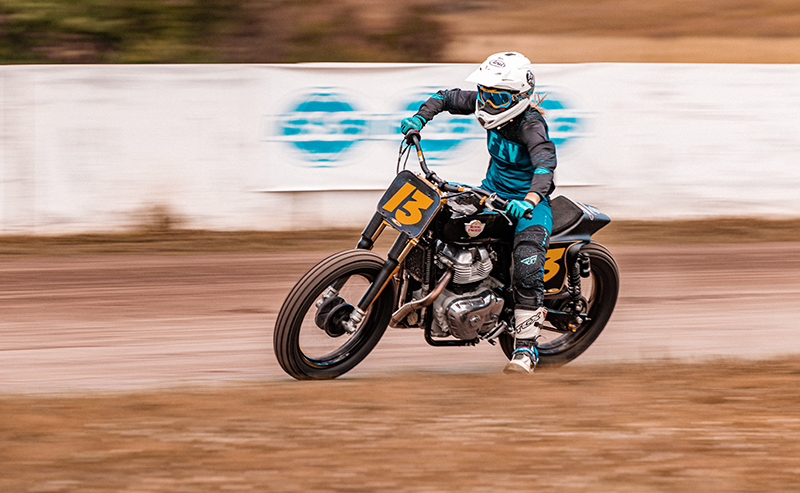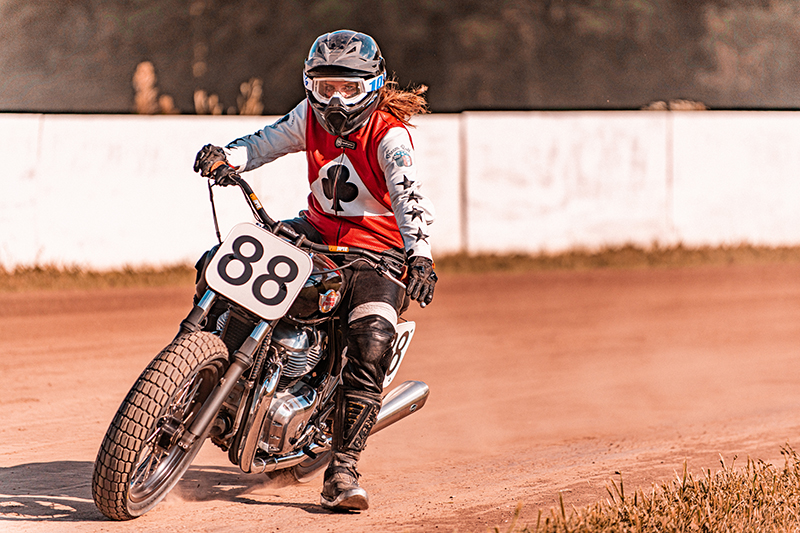 Jillian took more of a deep dive into modifying her motorcycle. "I wanted to make it as race worthy as I possibly could," she explains, "because when the project was done, I was thinking I definitely was going to race it in a district race and keep it." Jillian's modifications started with a custom Harley-Davidson 750 inspired tank, which she painted "so green it almost looks black." This modification meant she needed to incorporate components such as a fuel cell, as well as a slew of custom machined parts that her father taught her to fabricate.
With Mama Tried cancelled and the American Flat Track (AFT) series on hold, both the bikes and their builders sat patiently for months waiting for the training portion of the program to begin. That day came in early July when three of the four women gathered in Viola, Wisconsin, to train one-on-one with AFT racer Johnny Lewis. Each of the women admitted they felt out of their comfort zone, intimidated by their own lack of experience and by the riders next to them. "I was a little nervous," remembers Melissa, "especially with Jillian there, who's a real flat tracker." Meanwhile Jillian had mutual feelings toward her competitors. "I had to step back and say, no one expects me to keep up with Melissa Paris and Johnny Lewis." But the training went off without a hitch for the three women who were able to attend.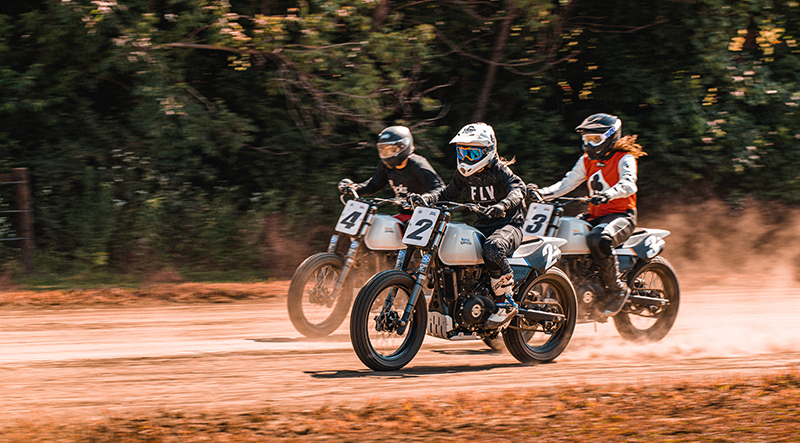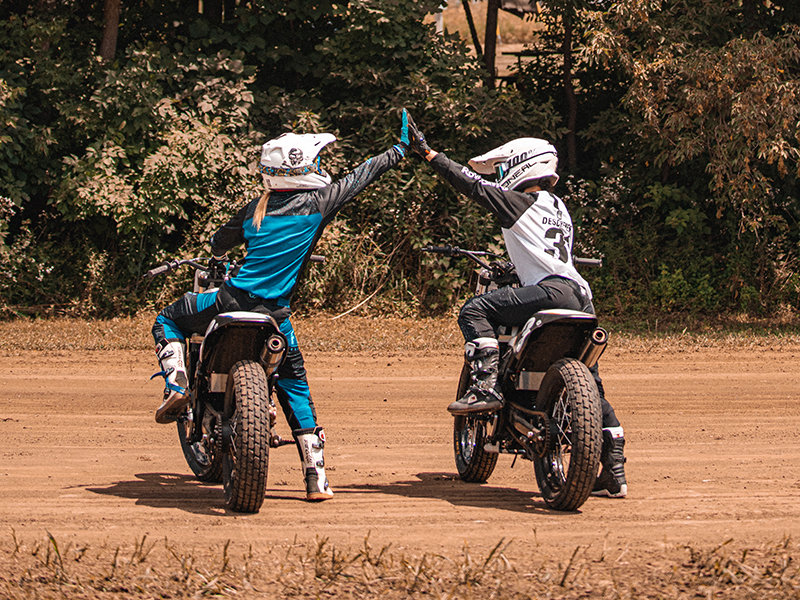 Due to international travel restrictions, Andrea has been unable to cross the Canadian border thus far so the BTR group recently put out a call for a replacement rider to compete in Andrea's place in the upcoming exhibition races. One lucky rider was selected to fill that coveted spot. We look forward to watching this new competitor perform alongside the original BTR women when they participate in the following flat track events in October.
October 2-3: Atlanta American Flat Track
October 15-6: Daytona American Flat Track
Tickets are available online at Americanflattrack.com/events
For more information about Royal Enfield's Build. Train. Race. program, go to RoyalEnfieldNA.com/build-train-race.
Related Articles
Saying Yes to Flat Track Racing in Croatia
Meet Some of the Top Women Motorcycle Builders Right Now
Girls in Leather on Fast Motorcycles
More Articles on Racing