Do you have a story to share? Please send it to us, but followthese submission guidelines.
| | |
| --- | --- |
| With two spotters on either side of my bike, I practice balancing my Yamaha XT250 at the ADVWoman rally. | When I'm riding off road, confidence courses through my veins and joy fills my heart. |
Six months after Id realized my dream of learning to ride a sportbike, my husband traded his Yamaha FZ6R for a Kawasaki KLR 650 dual sport motorcycle. I asked, "Why? Youve always said theyre OK at everything and good at nothing!"
Two weeks later, we set off on our honeymoon ride and I began to understand. Every time we saw a dirt road he would go "check it out." If the landscape was worthy, Id hop on the back of his KLR, camera in hand, and see things my Kawasaki Ninja 250 and I couldnt get to. The adventure bug had bitten. Two months later I traded my beautiful Ninja for a Yamaha XT225.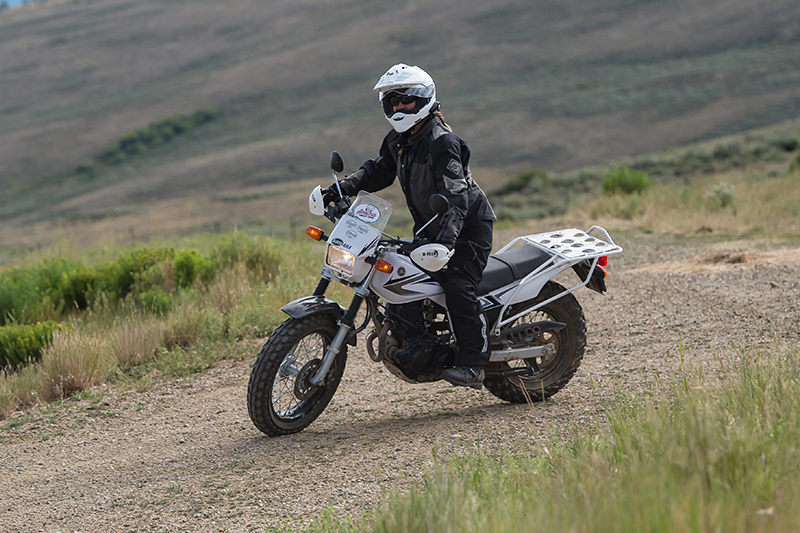 I love riding off road because I can feel it throughout my body. The rear wheel spins and digs for traction. I stand on the pegs while the bike slides left and right under me as I accelerate. When I'm riding off road, confidence courses through my veins and joy fills my heart.
Nothing about riding motorcycles has come naturally for me. I was lucky to have the support of my partner in researching bikes, working on skills, and having a riding buddy. It helps to have an experienced rider to ask questions and talk to. Not everyone has this support, but that summer I discovered a most valuable resource.
In 2017, I had the opportunity to attend the ADVWoman Rally in Granby, Colorado, an event run by women for anyone interested in adventure motorcycling. To understand what I experienced, I invite you to imagine an inverted universe where women are at a rally loading bikes, picking up bikes, teaching classes, and changing tires. A gentleman here or there observes or takes notes, asking a question or two.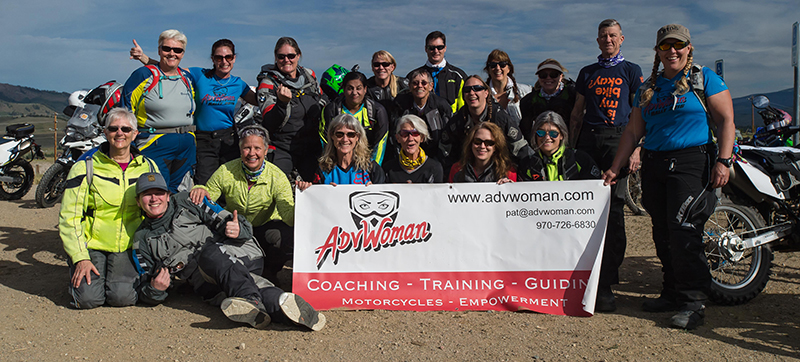 Pat Jacques, aka ADVWoman, did her job so well that we didn't even realize that our confidence was growing over the span of the weekend. Through casual breakfast discussions, on-the-bike lessons and classroom presentations, we "accidentally" learned new things.
The last night of the rally, Pat invited a speaker to teach a lesson we all needed to hear: presume competence. We so often underestimate and undersell ourselves. In order to embrace our inner bad#amp;%, we need to presume that we are competent and capable. If we don't know something, we can figure it out, and there is nothing we cannot learn. At the ADVWoman Rally, we all discovered this and more. We felt it in our bones when Pat said, "You are a bad#amp;%." Throughout the weekend and beyond, we live it.
Pat Jacques, ADVWoman, is focusing on affordable private lessons during the COVID-19 pandemic. She will be teaching ADV classes at DC dirt camp in Virginia October 23-25, 2020. For information on lessons, tours, and classes please contact Pat@ADVWoman.com and visitADVWoman.com.
Related Articles
Delivering Dual-Sport Bikes to Save the Planet
Beginners Guide: So You Want to Ride a Dirt Bike?
Jo Rust Adventures Womens South America Adventure Motorcycle Tour