11/3/20 Editors update: A new version of the R 18 has been released since publishing this article. The R 18 Classic includes a package of accessories and features that make it touring-capable for a fraction of the cost of what it would take to add them to the base R 18. See our story about the R 18 Classic here.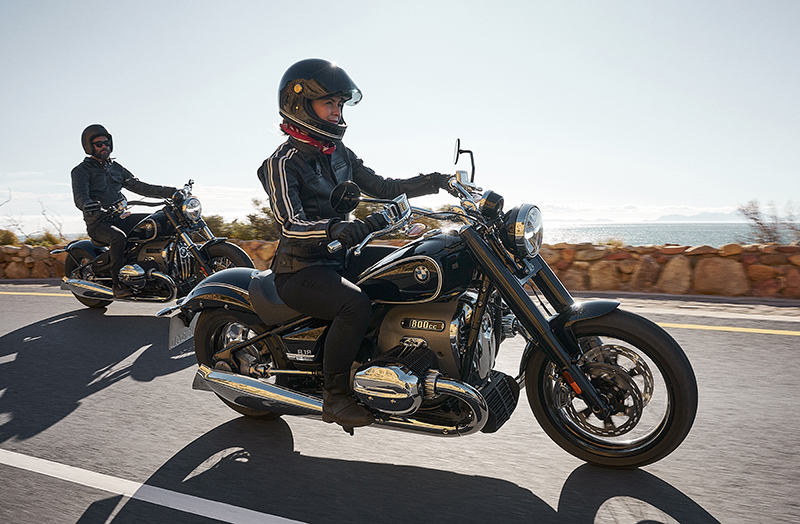 BMW is back in the cruiser market after a two-decade hiatus when it discontinued production of its first cruiser, the ill-fated R 1200 C. While continuing to make some of the industry's best standard, sport, and adventure motorcycles, the company has been teasing riders for almost two years with concept R 18s on rotating platforms at motorcycle shows. Finally, production R 18 heavyweight cruisers are now available for purchase and I am excited to offer the first impression from the female perspective.
As anticipated, the long and low R 18 boasts a stately stance and in my opinion can be considered a work of art. Its elegant form draws you in, and although the bike's details are worthy of a closer look, the humongous powerplant is the real jaw-dropper and is what commands your initial attention. While the R 1200 C was criticized for being underpowered and underwhelming, the R 18 is just the opposite. The striking new 1802cc horizontally opposed twin cylinder powerplant is BMW's most powerful air/oil-cooled boxer engine produced to date. Tipping the scales at 761 pounds—a number you'd expect to see with the more heftier touring bikes—we at Women Riders Now ask the question, "Do women even want a cruiser this powerful?"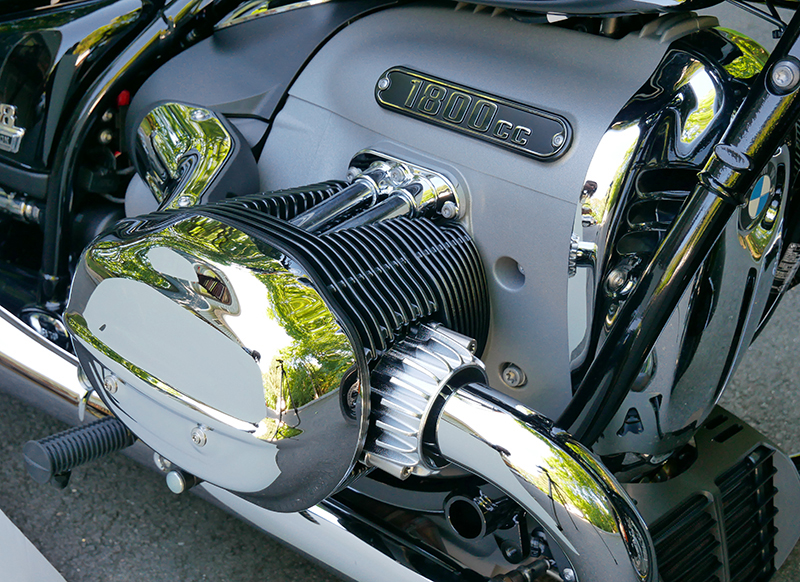 I admit when I first saw the R 18, aesthetically stunning as it may be, I, as an experienced rider, was a little intimidated by the physical size of the engine and the bike's long 68.1-inch wheelbase. Turns out, I wasn't the only one feeling this way. Trudy Hardy, BMW Motorrad's Vice President of Motorrad of the Americas, felt the same way. Her first time on a cruiser was when she test rode the R 18 so I was interested in her perspective, both as a female leader of the company and as a rider herself. "It was a very satisfying experience," she says. "I've never been on a cruiser before so I admit, I was a little nervous. It's a big bike, but after just getting on and giving it a go, I was really surprised by how easy it is to maneuver and how fun it is to ride."
A long-time motorcyclist, Trudy is more accustomed to her BMW S 1000 RR track bike, or the S 1000 R that she rides on the street. Despite being an experienced and skilled rider, the opportunity to ride a cruiser never presented itself until getting on the R 18. "1802ccs is quite a bit of power that you have underneath you," Trudy continues. "But it is super easy to manage, handles very nicely, and is much easier than I gave it credit for before I had given it a try."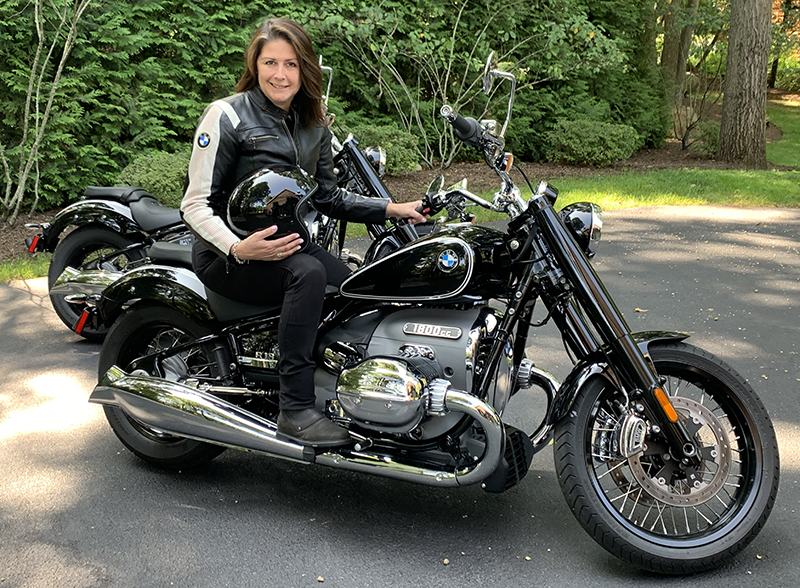 Spending just a day riding the big cruiser around town, first starting out slowly, then practicing slow maneuvers at BMWs headquarters vast parking lots and campus roads in Woodcliff Lake, New Jersey, Trudy says she is looking forward to spending more time on the R 18. "The ease of use, the smoothness, and the technology that is standard equipment on the bike will really make women feel comfortable and safe. And it's surprisingly easy to handle," she says.
Trudy notes how the R 18's gearing and torque can contribute to feeling safe while riding the bike which I, too, experienced. "The looks and specs of the R 18 alone can be intimidating," Trudy admits. "I still get a little nervous when I get on any bike with a new riding style or new technology. That bit of nervousness is good for keeping you safe. But the R 18 has so much torque, you can almost leave it in third, fourth, or fifth gear if you're just meandering up some back roads. You almost don't even have to shift."
When designing the new R 18, BMW engineers told us they examined what riders love about the Harley-Davidson Slim Softail, a favorite Harley-Davidson model among women by the way, and worked to design a new cruiser that has many of the Slim's best qualities—powerful engine, solo seat, short fenders, beefy forks, fat tires, low seat height—while offering a unique and distinct heart, soul, and look of its own with top notch "Berlin Built" technology.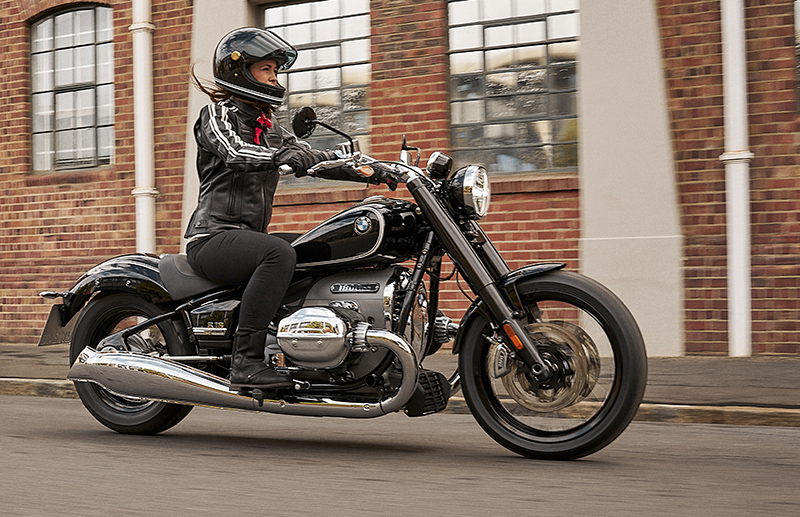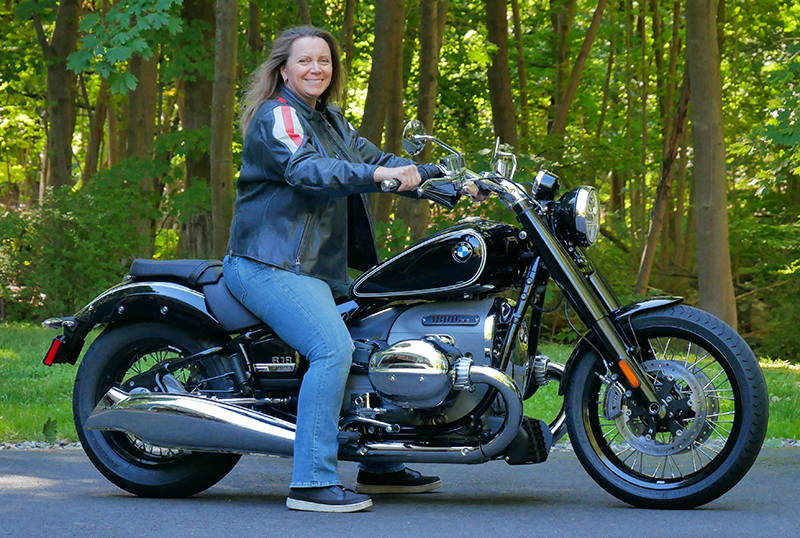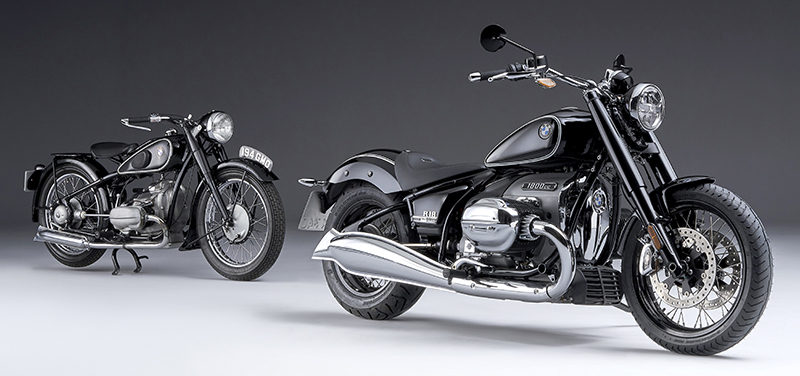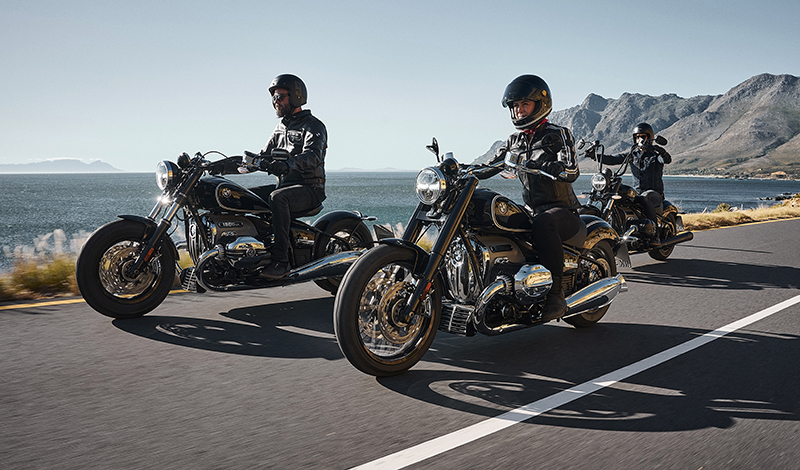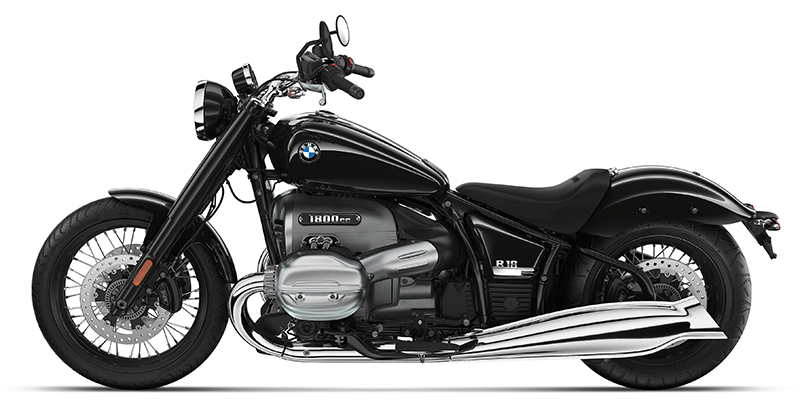 Modern Tech
Don't be fooled by the classic look. There's a plethora of modern technology on the R 18. Convenience and protection features like bright LED lights, keyless ride, automatic turn signal cancel, three riding modes, traction control, and partial integral ABS are all standard equipment. The Premium package and First Edition model include thoughtful features like Hillstart Control, Reverse Assist, Headlight Pro, and Adaptive Headlight, which directs a light beam into the turn for improved nighttime visibility. These options add $1,450 to the R 18's base price.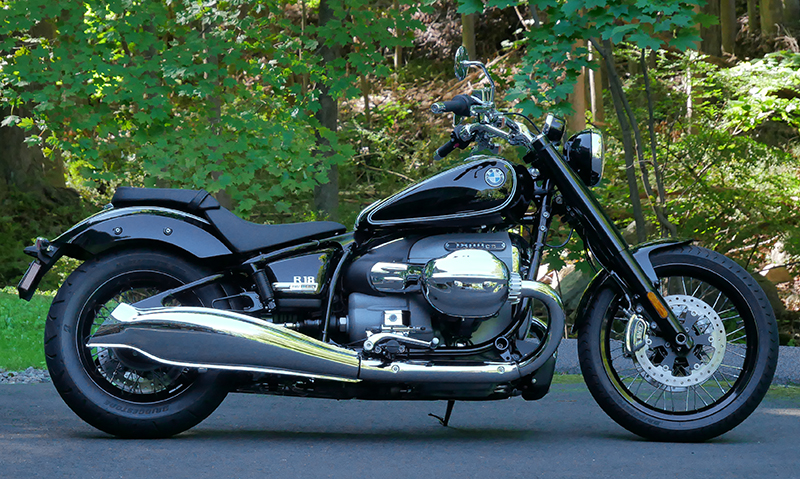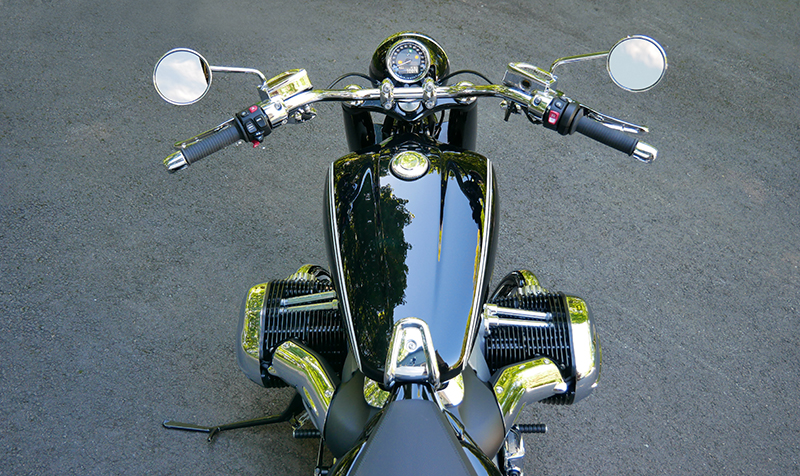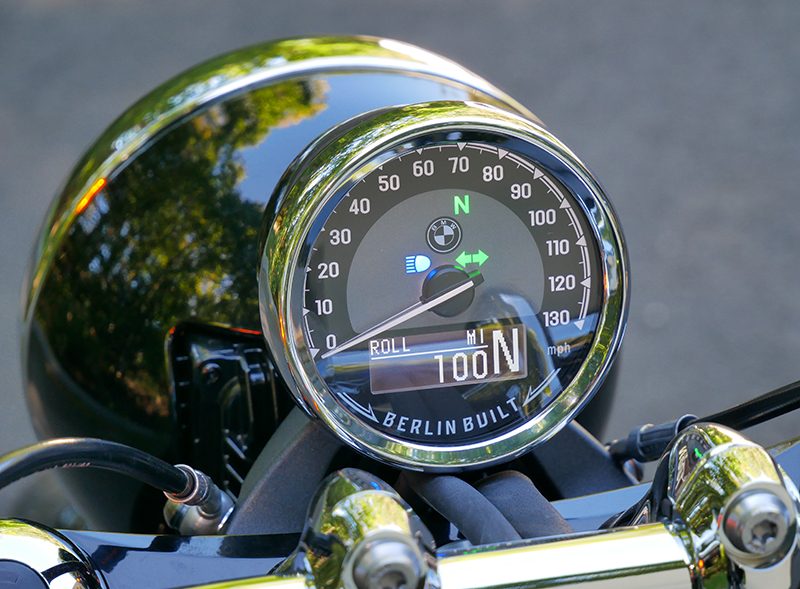 | | |
| --- | --- |
| The left control housing includes a menu switch that toggles through all the displays on the instrument cluster. The mode switch toggles through three ride modes—Rain, Rock, and Roll. Cruise control will soon be available on the R 18. | The right controls feature a new power button. Since the R 18 is a keyless ride, you need to keep the key fob nearby to start up the bike. To start, press the power button to fire up the electronics then press the engine start button. Heated grips are part of the First Edition package. |
Important to maintaining the character of the R 18, BMW used metal in places where you often find plastic on most non-American cruisers. The tank, fenders, headlight shell, side covers, and fork covers are all metal, just like they were back in the "good old days." While the metal parts are heavier than they'd be if they were all plastic, the hard parts add a premium quality and feel to the bike.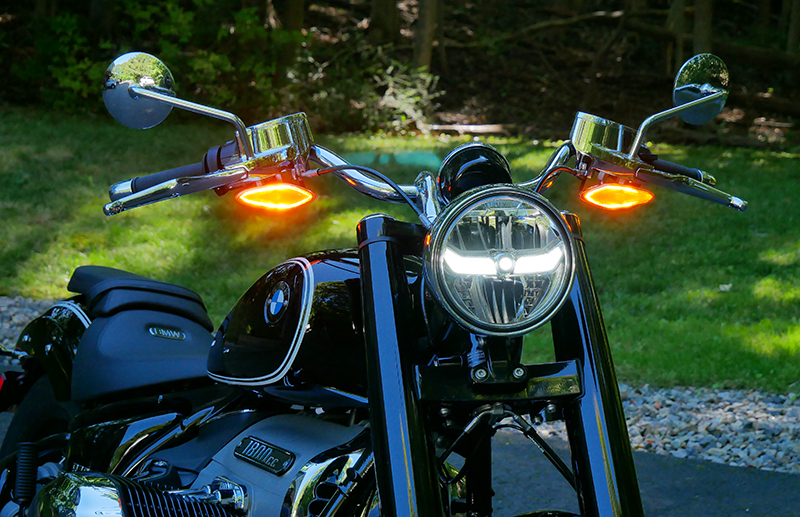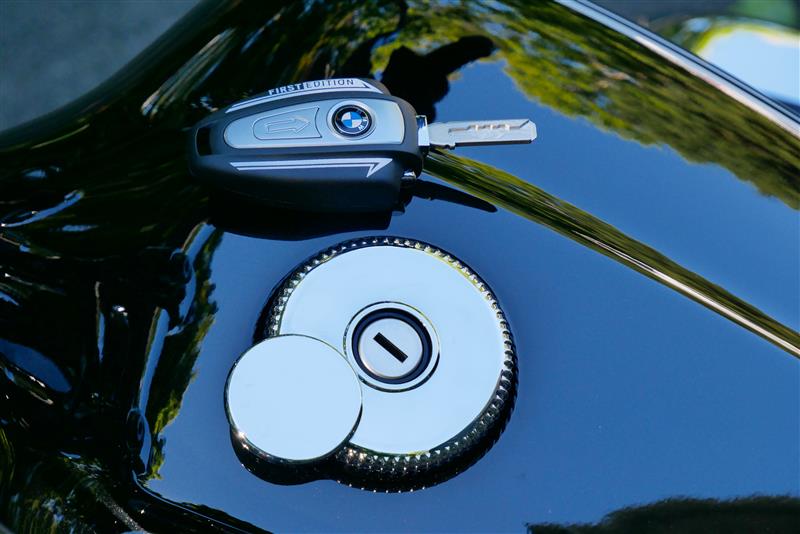 BMW engineered important high tech features into the R 18 that offer safety and a more customized ride experience. Three ride modes, Rain, Rock, and Roll with ASC (Automatic Stability Control) and engine drag torque control (called MSR, which stands for Motor Slip Regulation) is standard equipment. Roll is standard for dry roads, and honestly the only one I need. Engaging Rock mode is a catchy way of saying "Sport" or "Dynamic" mode and the sensitive and immediate throttle response surprised me the first time I engaged it. Alternatively, the ASC causes a sluggish throttle response in Rain mode, but works to prevent losing traction on wet or slippery roads.
The MSR, which BMW also calls Dynamic Engine Braking, is a pretty cool feature and electronically prevents rear wheel slippage when the throttle is abruptly closed or during a hard downshift. BMW engineers explain that this software-based system was developed because a very large engine like this has a lot of inertia at the flywheel. If a rider goes from sixth gear down to first gear when approaching a stop sign, when the clutch is released the rear wheel wants to skid because of the major speed differential between the clutch and the closed throttle. The MSR senses this and prevents excessive engine braking by controlling the throttle blades electronically.
At the same time, the R 18's partial integral ABS, called Dynamic Brake Control, is equally as interesting and helpful. When you engage the bike's front brake lever, both the front and rear brakes are activated. It's called "partial integral" because the foot brake pedal only engages the rear wheel. The integral ABS balances the braking force between both the front and rear braking depending on the load of the motorcycle. This high-tech balancing of brake pressure is going on behind the scenes so you don't actually feel it working. What you do feel is a nice smooth stop when slowing the big bike.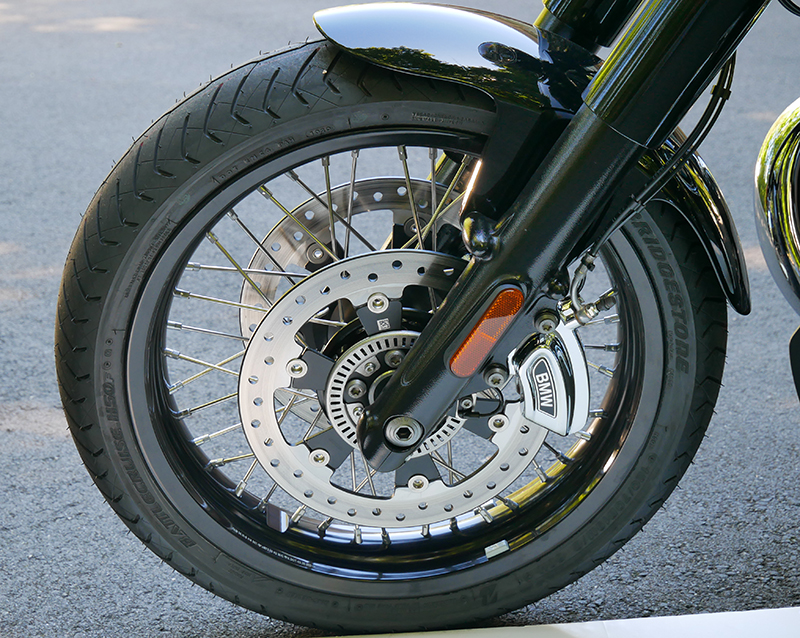 It's good insurance to know if you get caught off guard while riding and have a sloppy response to an emergency situation, the engine torque control, partial integral ABS, and Dynamic Brake Control will all kick in to smooth things out and maintain optimal traction and braking no matter what riding mode you're in. All this smart technology not only offers motorcyclists a more customized and safe ride, but it gives the R 18 a premium edge over its competitors.
The Ride
My first ride on the R 18 was exactly 100 miles from Cross Country Cycle in Metuchen, New Jersey, to my home in Connecticut. The route consisted mainly of stop-and-go traffic (lots of friction zone practice), terribly maintained roads (I was launched completely off the saddle!), and way too many tolls. I wasn't enjoying the journey much at first.
The moment I finally cleared the commuter traffic I opened up the throttle. That's when I woke up to what makes this cruiser fun. Flying on the highway I was surprised at how comfortable I was on this sit-up-straight cruiser. With no windscreen in front of me and arms stretched wide, I expected to feel a lot of wind resistance. Nope. Just ethereal joy from instant throttle gratification. The R 18's engine pulse coupled with the heightened speed woke me up from the stupor of the stop-and-go traffic and now I was having fun.
Turning off the interstate to ride some of my favorite twisty back roads at a leisurely pace, I found myself enjoying the curves as if I was on a smaller, sportier motorcycle. The footpeg feelers touch down about where I'd expect them to on any cruiser, but shifting my weight in the saddle and leaning in to gain more ground clearance, like I learned in the MSF's Advanced Riding Class, is easy to do on the big beefy R 18.
Revving the engine while stopped and then rolling on the throttle can be unnerving because the engine pulls pretty hard to the left. This characteristic of an opposed twin boxer engine is caused because the rotation of the crankshaft is happening perpendicularly to the midline of the motorcycle. I'm glad the BMW service tech, who walked me through the bike's features, reminded me ahead of time about this unique physics of forces that causes this pull. In motion, the bike remains steady, and before long I didn't even notice the initial pull.
When you have an engine this torquey you need clutch springs that can handle the power. Fortunately, the R 18's transmission allows for solid shifts all the way through sixth gear. But if you're stuck in traffic, hand fatigue from manipulating the fairly stiff dry clutch sets in. The good news is the reach to both the clutch and brake levers is adjustable, so riders with smaller hands can get a better grip on the clutch lever when a stronger pull is needed.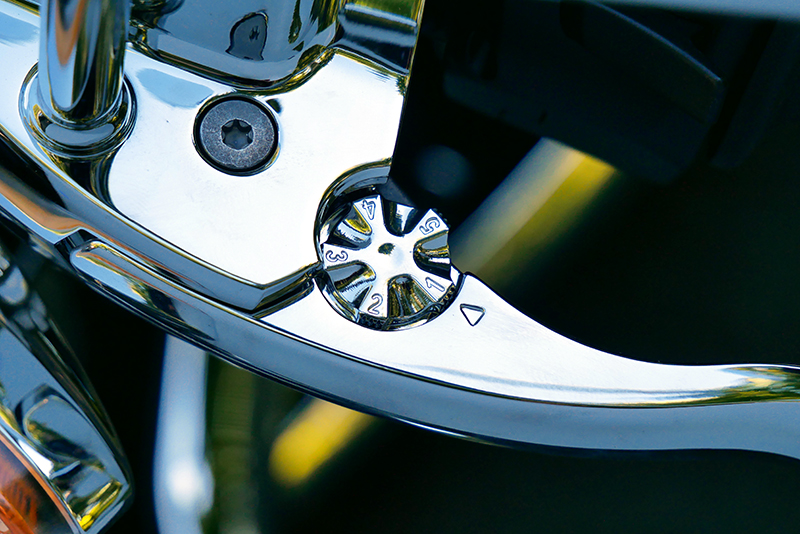 | | |
| --- | --- |
| The First Edition I am testing comes with this two-up seat while the standard R 18 has a solo seat. My butt gets sore after about an hour in the saddle, so I would definitely swap it for one of the many aftermarket seat options. | Roland Sands Design (RSD) and Mustang already have some stylish aftermarket saddles for the R 18. I like the sculpted look of this solo seat from RSD. |
| | |
| --- | --- |
| You can adjust the rear shock depending on the weight you're carrying to make the ride more comfortable. Pull off the right side cover and use a 13mm socket or the wrench in the bike's tool kit to rotate the spring preload adjuster. | There's also a jump start terminal under the right side cover (it's got a red cover over it). This is definitely a smart feature since you'd have to pull the battery all the way out to access both terminals. |
Make It Your Own
No matter what brand they ride, cruiser riders like to customize their motorcycles. BMW took this into consideration when designing the components on the R 18 by using as few bolts and covers as necessary so there's less to remove before "getting to work." BMW and its aftermarket affiliates already have plenty of parts to choose from, including windshields, handlebars, wheels, and machined bolt-on covers in chrome, black, and contrast cut.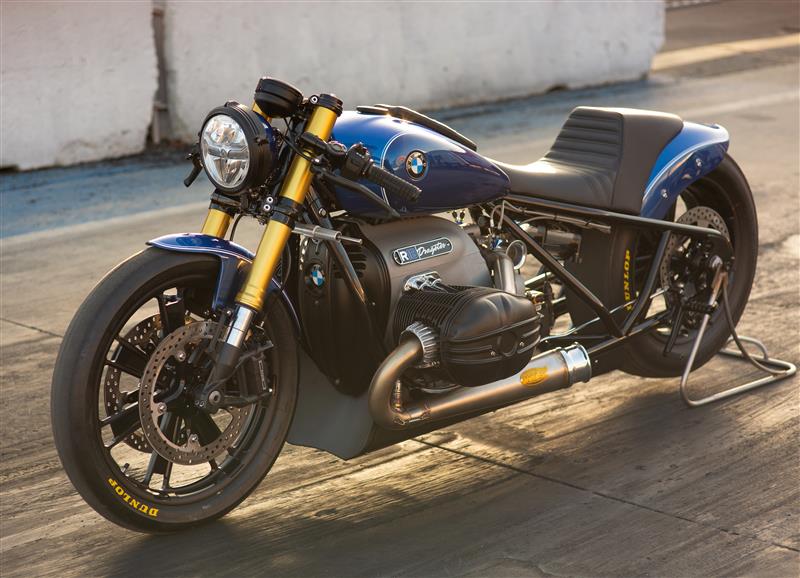 The R 18 starts at $17,495 and is only offered in Black Storm Metallic for now. Visit BMW Motorrad where you can build and configure your own custom R 18.
Specs At A Glance: 2021 BMW R 18
Engine Size: 1802cc
Seat Height: 27.2 inches
Fuel Capacity: 4.2 gallons
Dry Weight: 761 pounds
Color: Black Storm Metallic
MSRP: $17,495 (Standard), $18,945 (Premium Package), $19,649 (First Edition Package)
WRN Recommendation:
Confident women and men looking to move up from a Sportster or any 650cc to 1200cc motorcycle who want a sophisticated, elegant big bore cruiser with top shelf power and technology should consider test riding the R 18. With a standard cruising riding position, low seat, narrow frame, and excellent geometry, the BMW is a lot easier to handle than it looks. Built with power and technology, even stock, this cruiser stands out with its stylish lines, chrome bits, and first class touches that proudly confirm BMW's heritage. With a better seat and a few personal touches, the R 18 is a woman friendly power cruiser that's sure gather a crowd wherever it goes.
---
Related Articles
BMW R 18 Classic Touring Model
2018 BMW K 1600 B: A Bagger Loaded with Innovative Features
2018 Harley-Davidson Softails