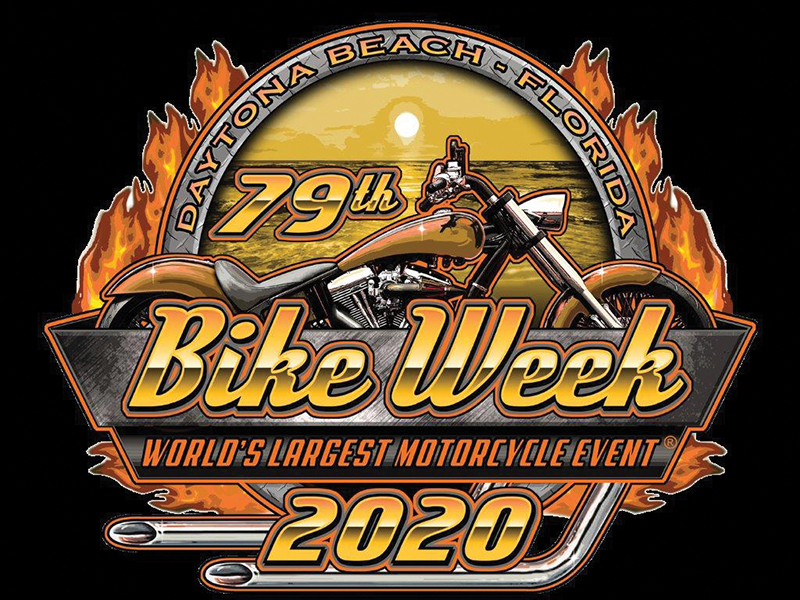 Daytona Bike Week kicks off the unofficial "start" of the riding season for many of us, this year running from March 6 to 15. We have put together some valuable information, from scheduled events you'll want to participate in—including several hosted by womens riding clubs—accommodations, places to visit, and things to see during this year's 79th annual rally. WRN will be attending the Stilettos On Steel female riding group's meet and greet, and the all-women Leather amp; Lace MC pancake breakfast and bike blessing.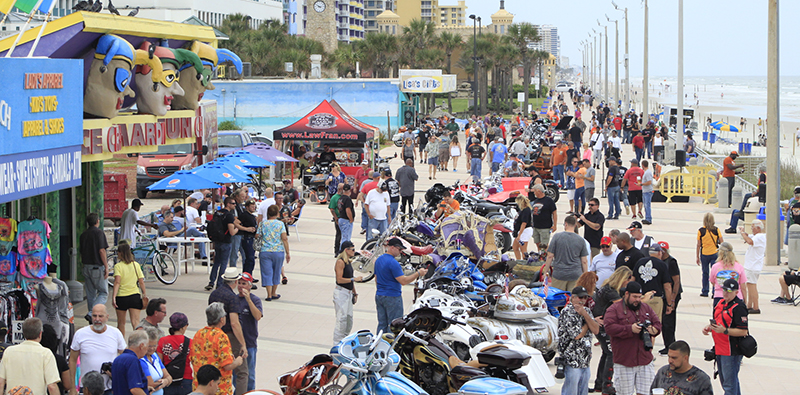 If you've never been to Daytona Beach, its located on the Atlantic (east) coast of Florida and is home to the Daytona International Speedway, which hosts the iconic Daytona 500 NASCAR race in February. The beach has hard-packed sand in designated areas that permits you to ride right on the beach.
If you haven't already secured a place to stay, you might have to search outlying areas for a room but they won't be cheap. The greater Daytona Beach area welcomes tourists and motorcycle enthusiasts to plentiful accommodations with more than 200 properties and 12,000 rooms from oceanfront resorts and cottages to budget-minded motel rooms, many of which are quaint Florida beach style motels that welcome bikers and tourists alike.
Additionally, there are bed amp; breakfast properties, condos for rent, vacation rentals, and your choice of campgrounds and RV parks. Many area residents rent out their homes for bike events. The choice locations fill up quickly with many guests reserving their rooms a year in advance. If you miss out this year, scope out where you want to stay next year and reserve now. Be aware that some reservations require payment in full for your future stay.
To make your planning and visiting process easier, your Official Bike Week Welcome Center, the Daytona Regional Chamber of Commerce, has prepared a Bike Week Guide for your convenience. The guide has detailed information to address all your needs from rooms and restaurants to events and things to do. Stop by the Welcome Center at One Daytona Blvd. to pick up your free guide.
---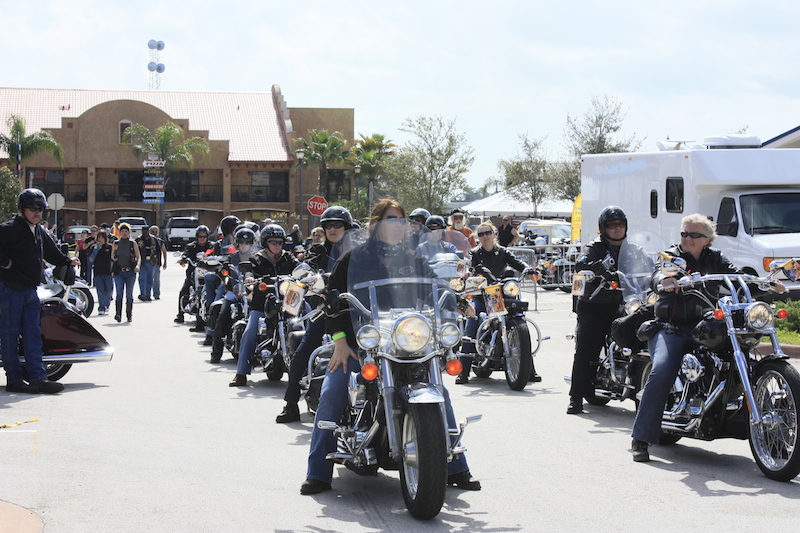 WOMENS GATHERINGS
First up on our list of Bike Week events are three events hosted by
women's motorcycle clubs
. Please join me for some fun sisterhood time at the Stilettos on Steel Meet and Greet on Saturday, March 7, and the Leather amp; Lace pancake breakfast and bike blessing event on Sunday, March 8. Come on out and join the fun, food, and sisterhood.
Stilettos on Steel Meet and Greet
March 7, 12:00 p.m. – 2:00 p.m.
World Famous Iron Horse Saloon, 1068 N. US Highway 1, Ormond Beach
Come out to the World Famous Iron Horse Saloon and see what all the excitement is about with one of the fastest growing female riding groups. Meet these exciting, exuberant, and extra friendly females who welcome lady riders on any motorcycle and at every skill level. Join in the 50/50 raffle, smiles, laughs, and tons of fun. You won't be disappointed.
Stilettos on Steel (SOS) is a female riders group providing membership and networking services to help women who dream of riding take the next step and become a motorcycle rider. The priority of SOS is to make the riding experience and sisterhood a positive influence in every member's life. SOS wants to see every woman enjoying life to the fullest.
Sisterhood Pancake Breakfast and Bike Blessing
March 8, 9:00 a.m.
Angels Landing, 574 W. Ariel Rd., Edgewater
Start 2020 Bike Week off on a positive and uplifting note. Come to a pancake breakfast and bike blessing at the Leather amp; Lace MC clubhouse. This event is free and open to women, men, and their kids too. Gates open at 9:00 a.m. and the bike blessing commences at 11:00 a.m.
Women Riders USA Meet Up Daytona Bike Week
March 11, 1:00 p.m.
Broken Spoke Saloon, 1151 N. Hwy 1, Ormond Beach
Women Riders USA will host a meet amp; greet at the Broken Spoke Saloon in conjunction with the Perewitz Custom Paint Show. Meet
Jody Perewitz
who will be inducted in the Sturgis Motorcycle Museum Hall of Fame this summer. Jody paved her own way into history by becoming the first woman to ride an American V-twin powered motorcycle more than 200mph. She currently holds 16 land speed records, one of which is a world record, and has earned four AMA number one plates.
Gloria Tramontin Struck
, Sturgis Lifetime Achievement 2019 recipient, is scheduled to be in attendance for book signings. She recently sustained an injury in a fall, so we hope she will make it. Join us in prayers for healing for Gloria!
Leather and Lace MC Annual Motorcycle Rodeo
March 12, 12:00 p.m. – 6:00 p.m.
Angels Landing, 574 W. Ariel Rd., Edgewater
This annual women's-hosted Bike Week event attracts hundreds of female and male bikers to one of the best events during Bike Week. You will witness some outstanding riding as bikers participate in the many "old school" rodeo games such as the shovel race, slow ride, barrel race, and more. Women are welcome and encouraged to participate. Another crowd favorite is the popular Chicago-style bike show. The rules are simple. Park in the designated area, register your bike, and you will receive a jar with your registration number on it. Put the jar in front of your bike and the bike with most tokens at 5:00 p.m. wins. Each attendee will receive a token to vote for their favorite bike. Think you've got the coolest bike? Prove it. Come on out and sign up to win. 50/50, raffles, door prizes, auction and more. $10/per person includes free food.
Jennifer Chaffin formed Leather amp; Lace to bring together women who have a serious interest in motorcycling and who want to make a difference in the lives of others. Jennifer's desire is to help improve the quality of life for children while doing what she loves most—being in the wind. The secondary goal is to increase public awareness concerning motorcycling. There are members and chapters all over the United States and beyond. Women who choose to be a part of "Lace Nation" have a special spirit and enjoy an amazing sisterhood. Come out to their events during Bike Week and catch the spirit!
Wednesday Yoga in the Gallery
Museum of Arts and Sciences / Cici and Hyatt Brown Museum of Art – Permanent Gallery
Every Wednesday, 5:30 – 6:30 p.m.
352 S. Nova Road, Daytona Beach
Yoga is offered every Wednesday afternoon for women in the Gallery at the Cici and Hyatt Brown Museum of Art located in the Museum of Arts and Sciences. You don't have to give up your healthy habits during Bike Week. Bring your girlfriends and meet yoga instructor Ashely Brooks of Holistic Movements in the lobby for an hour-long session of gentle yoga poses. Class is open to all experience levels. Please bring a mat, towel, and water. Space is limited and registration is required. RSVP to the Museum at 386.255.0285. Admission is $10 for future members and $5 for members.
---
FUN FOR COUPLES
Ride Forever Biker Ceremony
March 13, 12:00 p.m. – 3:00 p.m.
Clerk of the Circuit Court, Laura E. Roth
101 N. Alabama Ave., DeLand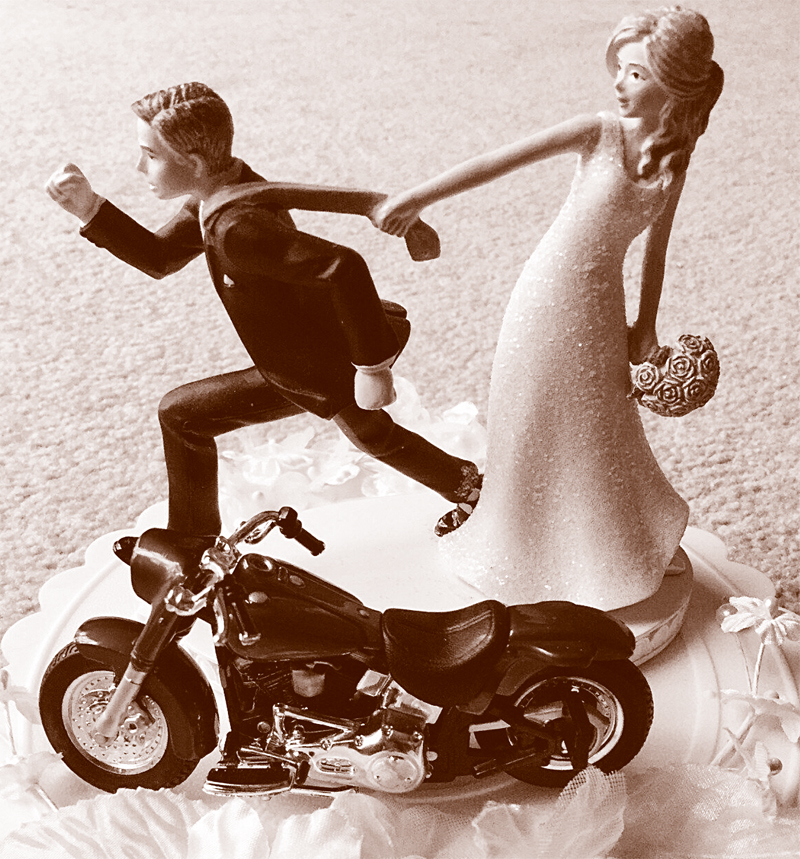 Getting married or just want to witness the group biker wedding? Join in with the Clerk of the Circuit Court for Volusia County for the group biker wedding on March 13. The wedding ceremony begins at 1:00 p.m. Motorcycles are not required, however, marriage licenses are.
Couples should apply for their marriage license at the clerk's office at least three days in advance for Florida residents and up to the same day for out-of-state residents. Couples must present their marriage license and photo ID upon arrival. Join the wedding ceremony reception with music, cash bar, and free snacks at 2:00 p.m., and wedding cake at 3:00 p.m. Apply for your license at any Clerk of Court locations. Call 386.736.5911 or email the clerk if you plan to participate.
Clerk@clerk.org
.
Chocolate on the Beach
Angell and Phelps Chocolate Factory
154 S. Beach St., Daytona Beach
Opens 9:30 a.m. – 6:00 p.m. Monday – Saturday; 12:00 p.m. – 5:00 p.m. Sunday
Tour hours: Monday – Saturday every hour on the hour beginning at 10:00 a.m. through 4:00 p.m., except 12:00 p.m.
Sample some chocolate and take a tour of the Angell and Phelps Chocolate Factory located right in the middle of all the Bike Week action on Beach Street. Try their newest delicacies of chocolate covered bacon and eggs. The free tours run daily and end with free samples. The guided tour lasts approximately 20 minutes and parking is free. Additional free parking is located behind the building. Reservations are required only if you have a group of 15 or more.
---
DESTINATIONS FOR EVERYONE

(Open All Week)
Official Bike Week Welcome Center
One Daytona Blvd., Daytona Beach
The Daytona Regional Chamber of Commerce welcomes you to the world's largest motorcycle event. The 79th anniversary of Bike Week is ushered in with great excitement. Visit the brand new location at ONE DAYTONA, Daytona Beach's new outdoor lifestyle and entertainment destination across from the Daytona International Speedway at One Daytona Blvd, Daytona Beach.
The local chamber ambassadors offer daily assistance to help you find an insider's view of all the fun things to do, great places to visit, and services you might require. You can also get your Official Pocket Guide and the 2020 Official Bike Week poster specially designed by the Chamber official artist, Matthew Hintz. The Chamber is also the last stop on the AMSOIL Treasure Hunt for the sought after Bike Week commemorative coin. You are cordially invited to snap a selfie with your friends with the Official Bike Week logo backdrop.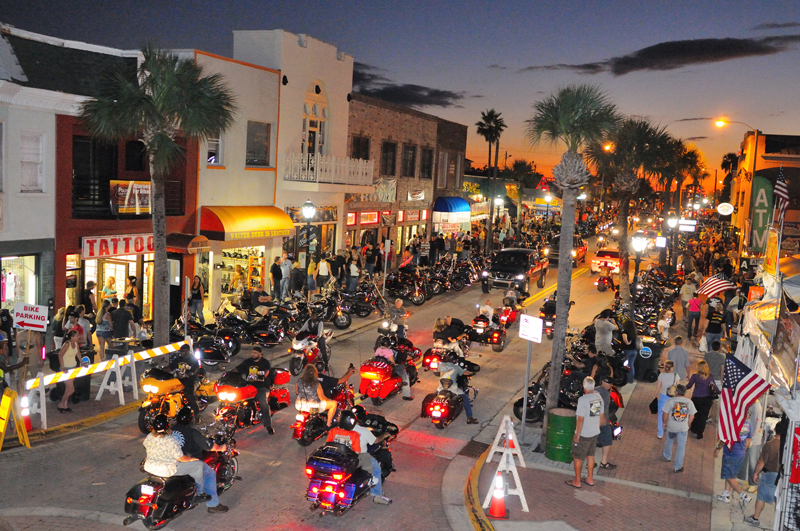 Destination Daytona: Bruce Rossmeyer's Daytona Harley-Davidson
1637 N. US Hwy 1, Ormond Beach
Bruce Rossmeyer's Daytona Harley-Davidson and Destination Daytona invite you to visit the world's largest two story Harley-Davidson where festivities include industry vendors, stunt shows, bike shows, live music, and more. Shop all 109,000 square feet of the massive showroom and browse the specialty shops.
Destination Daytona is home to the Clarion Inn Ormond Beach, offering accommodations from hotel rooms to a four-bedroom suite. Specialty shops include Devine Leather, J&P Cycles, Asylum Tattoo, Mobility Works, Daytona Cycle Audio, Destin 2 Shine, Destination 4x4s & More, Ultimate Seats, Giant Recreation World, and Bruce Rossmeyer's Harley-Davidson outlet store. Satisfy your hunger pangs with a tasty choice between The Wild H.O.G. Café, Colt's Pig Stand, Houligan's, Big Scoop Ice Cream, and Saints & Sinners Pub.
The concert list includes, among others, Outlaw Nation and Michael Austin from The Voice. Concerts are presented under a covered 35,000 square foot open air pavilion. Be sure to catch Rhett Rotten and his Wall of Death vintage motorcycle stunt show here, too.
On March 7 from 10:30 a.m. – 6:00 p.m. One Blood invites you to be a hero and help save lives with your blood donation.
Space Coast Harley-Davidson
Space Coast Harley-Davidson
1440 Sportsman Lane NE, Palm Bay
Free events, bike washes, and concerts all week, including Code Rum with Pirates, bike show contest, Busted Knuckle Stunt Shows, bull riding, barbecue, and blues, and a St. Paddy's send-off party.
On Friday, March 13, from 3:00 p.m. – 9:00 p.m. FreakShow Deluxe treads that fine line between the dastardly and the divine with danger, laughter, and finesse. Professional entertainers prove the amazing and the astounding.
AMSOIL Treasure Hunt
The whole family can get in on the fun of the annual AMSOIL Treasure Hunt while visiting many of Daytona's most fun spots. Each year, this staple event sends riders on a delightful journey throughout the area. Visit all the locations to get your Official Pocket Guide stamped. After visiting all 11 locations and getting your guide stamped, return the guide to the Official Bike Week Welcome Center and receive your limited-edition commemorative Bike Week Coin.
The list of sponsors and stops is as follows:
1. AMSOIL – official welcome center tent
2. Budweiser – Bruce Rossmeyer's Daytona Harley-Davidson
3. Daytona Beach Racing & Card Club – 960 S. Williamson Blvd
4. Landshark Bar & Grill – 471 S. Atlantic Ave
5. Geico – Daytona International Speedway
6. Fastlane Motorcycle Swap Meet: Home of the Burning Bike – Volusia County Fairgrounds
7. Russ Brown Motorcycle Attorneys – Destination Daytona
8. Crabby's Oceanside – 451 S. Atlantic Ave
9. Marco's Pizza – 1173 W. International Speedway Blvd, Suite 10
10. Boot Hill Outpost – 1087 US Highway 1, Ormond Beach
11. Volusia Mall 1700 W. International Speedway Blvd
Burning Bike
March 6–13, 5:00 p.m. – 1:00 a.m.
Fastlane Promotions LLC
3150 E. New York Ave., Deland
Burning Bike is a special event to remember a loved one. The 5th annual burning will kick off on March 13. Come sign the bike or write a message on the 75-foot wooden handmade bike starting March 6 and continuing through the evening of March 13, when the burning will begin. Witness as the messages are sent up above to the ones so loved and dearly missed. Event includes performances by the globe of death, stilt walkers, high wire acts, and fire dancers. Great food and drinks will be available. Vendors will be there too. The huge wooden sculpture will also be available all week for photo opportunities. This event will be like none other nor will you ever forget it! Admission is $7 and parking is free. The bike will be lit at about 9:00 p.m. on March 13.
---
TAKE A DEMO RIDE
Honda Factory Demo Rides
March 6–14, 9:00 a.m. – 5:00 p.m.
RC Hill Honda Powersports of DeLand
560 S. Woodland Blvd., Deland
Make the most of your 2020 Daytona Bike Week adventure with free Honda demo rides. Join RC Hill Honda of DeLand to experience as many as 32 motorcycles for your riding pleasure. Come, grab a free t-shirt and test out your dream street bike.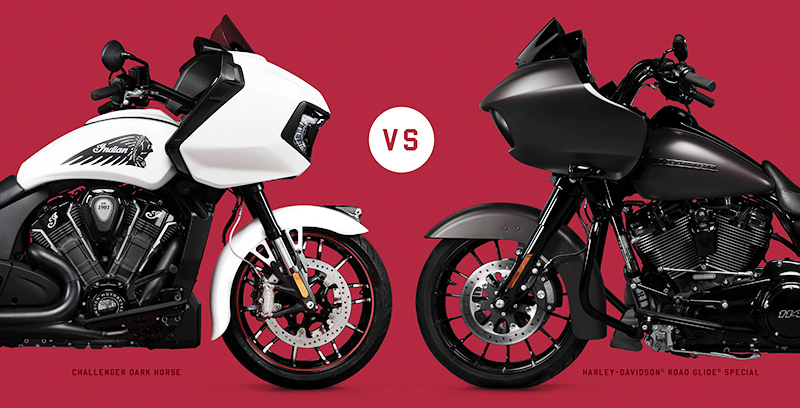 Indian Challenger VS Harley Davidson Road Glide Demo Experience
March 6–14, 9:00 a.m. – 4:30 p.m.
Indian Motorcycle Daytona Beach
290 N. Beach Street, Daytona Beach
You've been challenged to take a ride. Throw a leg over an Indian Challenger and halfway through the ride switch bikes with another rider in the group to finish the ride on a Harley-Davidson Road Glide. Feel the difference between the two models and share your thoughts when you're finished.
On March 8 at 1 p.m., meet former freestyle motocross legend turned custom bike builder, Carey Hart.
---
RACING ACTION
Daytona 200/Daytona TT Doubleheader
March 14, 8:00 a.m. gates open for fans; 11:00 a.m. Daytona 200 races begin, 4:00 p.m. Daytona TT races begin
Daytona International Speedway
1801 W International Speedway Blvd., Daytona Beach
The Daytona 200 is a 200-mile Superbike Motorcycle Race attracting riders from all over the world who reach speeds of nearly 200 mph. The Daytona TT is a high-flying motocross race with pyrotechnics, a light show, and plenty of thundering motorcycles to entertain the fans.
Traditionally racing two days apart, these two iconic races, sanctioned by the AMA and operated by the American Sportbike Racing Association (ASRA), will now run together on the second Saturday of Daytona Bike Week festivities. Fans will enjoy the 79th running of the DAYTONA 200 in the morning and stay into the evening to cheer on the athletes of American Flat Track at their 50th season-opening Daytona TT.
In addition to the back-to-back motorcycles race action, there will be a variety of activities in the UNOH Fanzone including live music, Rider Meet & Greet, Kids Zone, official merchandise and more.
Daytona Supercross
March 7, 9:00 a.m. – 10:00 p.m.
Daytona International Speedway
1801 W. International Speedway Blvd., Daytona Beach
The high-flying action returns to its historic roots paying homage to 50 years of Daytona Supercross with a course of the past to challenge today's best riders. General admission seating allows fans to walk the length of the full 50th annual Supercross throwback course and take in all the different views as riders leave the start gate, vie for the hole shot, navigate the simulated wall crossing, and soar over the finish line.
---
MORE FUN RIDES & DESTINATIONS
The Loop
Ormond Beach Scenic Loop and Trail—An official Florida Scenic Highway & National Scenic Byway
Take a ride on the wild side. Make it a girls' ride day and head out to The Loop, a 34-mile scenic route that is a must-ride while at Bike Week.
This beautiful ride will wind through tree-lined canopied roads that showcase acres of Florida's wild, untouched natural beauty. You will enjoy this peaceful ride without traffic lights, shopping centers, or signs of civilization. Ride the miles of well-maintained, twisting roads that are mostly shaded from the sun by a beautiful ancient live oak canopy. You'll pass through the Tomoka State Park, where you might spy locals fishing or crabbing along the Tomoka River. Take a break from the crowd. Bring a picnic lunch to share at any of the provided picnic tables and enjoy the camaraderie of your sisters while getting in touch with nature. The Loop is a leisurely enjoyed ride with posted speed limits not to be ignored. There are no fees or tolls, just pure freedom. While you are at the Welcome Center, ask for your free map of this ride which has several entry and exit points.
St. Augustine
On the bucket list for many Bike Week riders is the scenic one-hour cruise up the coast on A1A for a side trip to the oldest city in the U.S., St. Augustine. The ride offers beautiful views of the Atlantic, salty air, and many pull-offs to enjoy the moment or stick your feet in the refreshing water. While in St. Augustine, visit the 17th century Castillo de San Marcos, a fort made of native coquina stones, then check out the St. Augustine Lighthouse at Anastasia Island. No trip to St. Augustine would be complete without a ghost tour and a visit to the Fountain of Youth, the bane of Ponce de Leon's search. You won't run short of things to do, sites to see, or amazing rides to satisfy your wanderlust here.
Ponce Inlet Lighthouse
March 6 – 14, 10:00 a.m. – 6:00 p.m.
Ponce DeLeon Inlet Lighthouse
4931 South Peninsula Drive, Ponce Inlet
Ride down South Atlantic Avenue to the historic Ponce Inlet Lighthouse and enjoy one of Bike Week's favorite destinations.
The Ponce Inlet Lighthouse is one of the largest and best preserved light stations in the country where you can uncover 130 years of maritime history. Climb 175 feet to the top of Florida's tallest lighthouse with spectacular views of the world's most famous beach, Ponce Inlet, and inland waterways. Talk with the "Old Lighthouse Keeper," and learn the fascinating history of motorcycle racing on the beach.
Alligator Road Tour
March 11, Sign up 10:00 a.m. – 10:30 a.m.
Daytona 200 MC
3602 International Speedway Blvd., Daytona Beach
This is an exciting back road tour of the Daytona area and includes a lunch stop. You will be amazed by the old Florida feel and sites just a short ride out of the city. See what Florida looked like to early explorers in this backroad tour. Limited space, first come first served. Registration fee is $15 per bike. This is an AMA-sanctioned event.
---
Related Articles