By nature, motorcycles want to fall over. It happens occasionally. While you can't encase your bike in a bubble-wrap cocoon, there are products available to help prevent expensive repairs. The products in this article can help you save money, keep your bike looking great, and protect your motorcycle and yourself in the unfortunate event of a drop.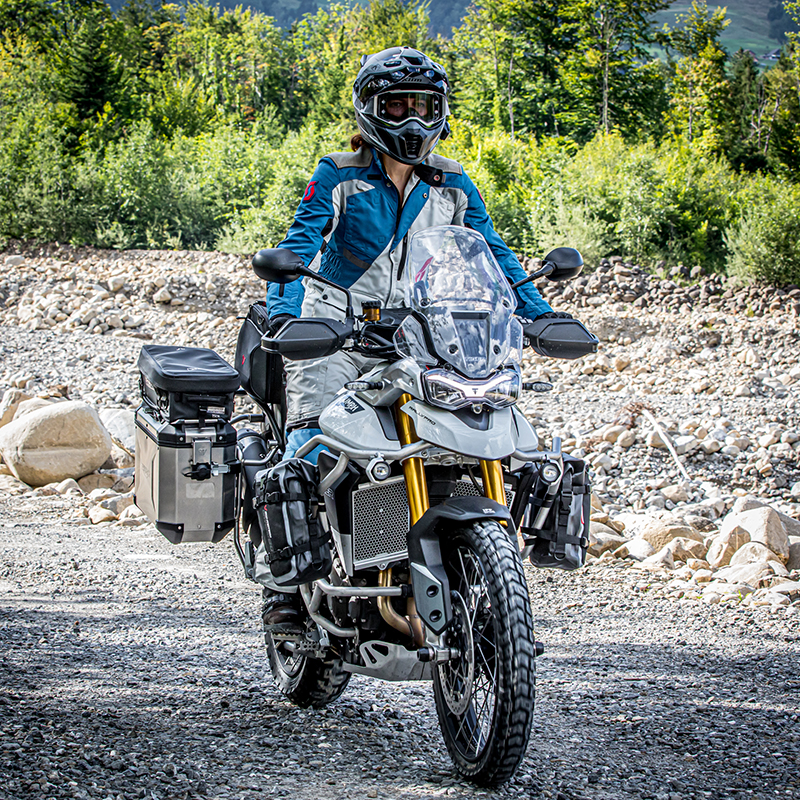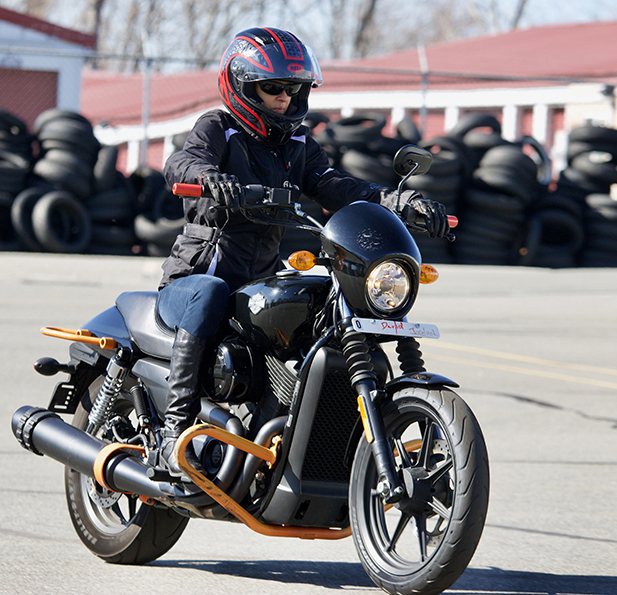 One of the most popular items available to protect your motorcycle is known as a highway bar. They are usually attached to the front frame downtubes of cruiser-style motorcycles, ahead of the engine. A highway bar protrudes on both sides of the bike, protecting the engine, pegs, your feet, and more from damage during a drop.
Sometimes rounded, sometimes squared off and angled, the highway bar often serves triple duty: A highway bar is a great place to hang auxiliary lights. And adding footpegs offers a place to rest your feet to stretch out on long hauls. (Disclaimer: It's safer to ride with your feet near the foot controls when negotiating traffic.)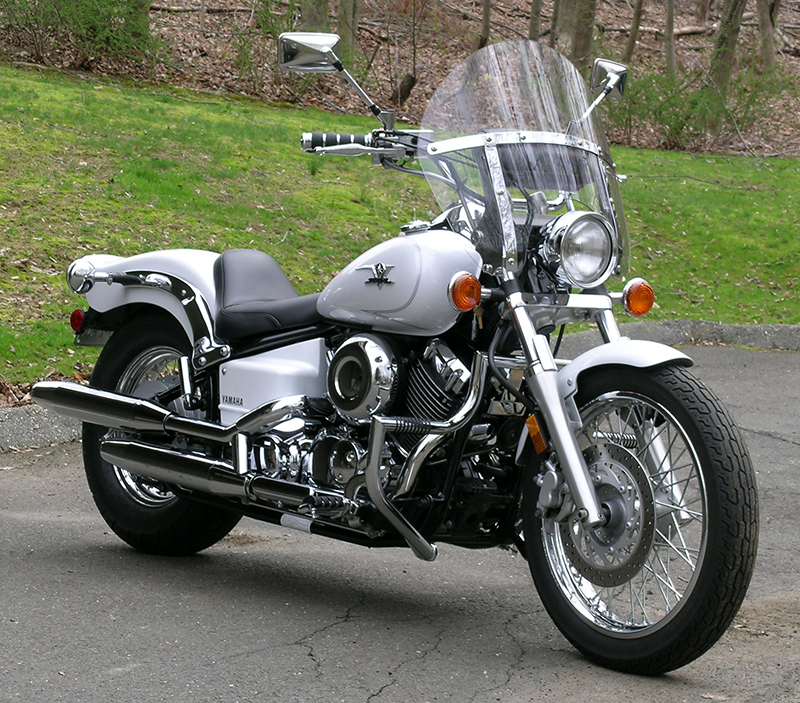 For adventure (ADV) and streetbikes, you can protect your motorcycle with what are often called crash bars, engine protection bars, upper fairing protection bars, or engine guards. This type of crash bar typically bolts to the bike's frame or engine mounting points for strength and rigidity. The advantage of crash bars is that they are usually more form-fitting to the contour of the bike and don't stick out as far as highway bars. They're also often made from a smaller diameter metal tubing than cruiser highway bars.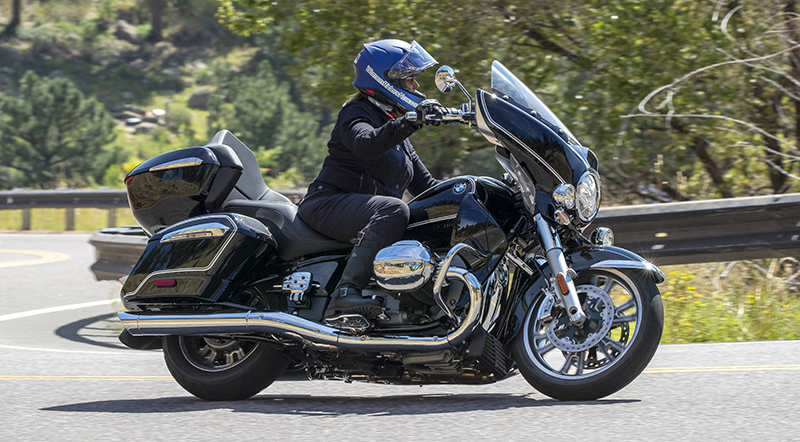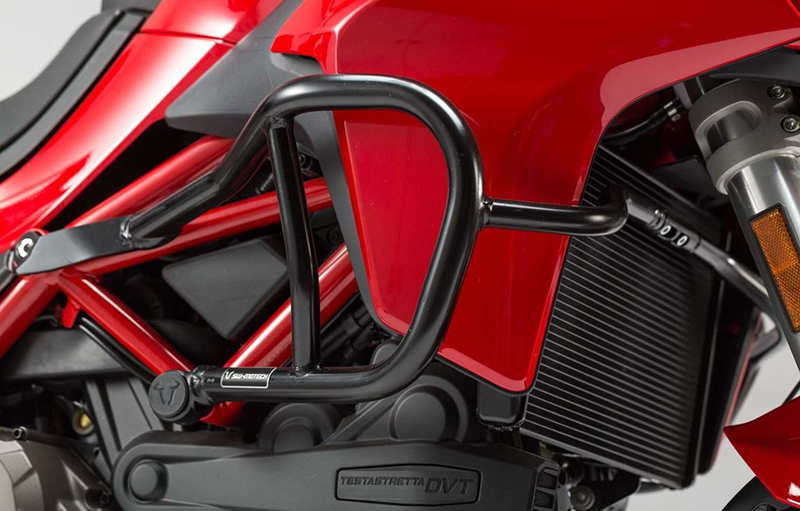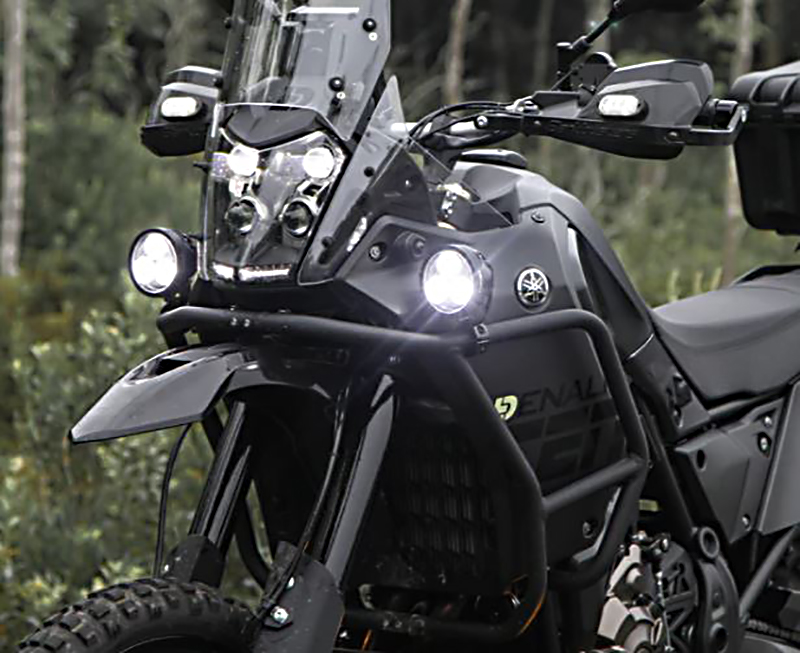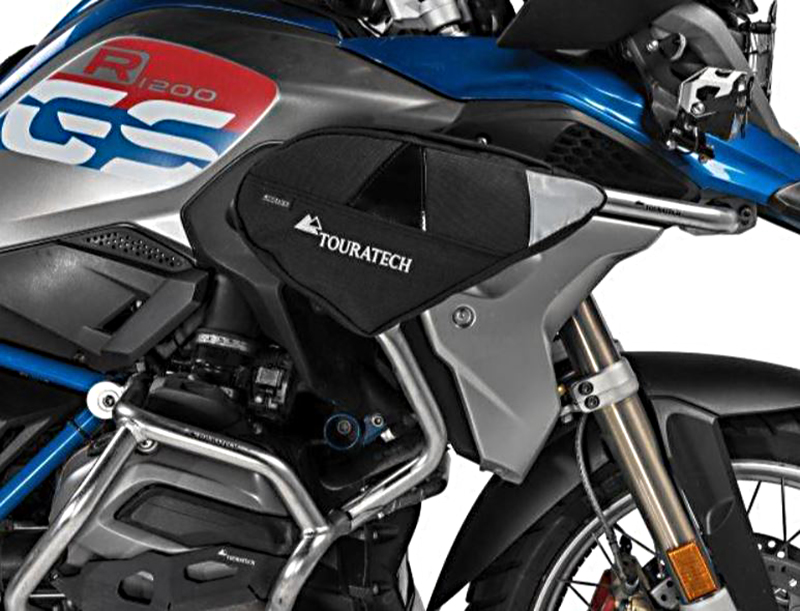 Engine case cover guards are situated close to engine components and help protect expensive engine covers from grinding away during a low-side slide. In other words, while engine covers hold oil inside the engine, the case covers provide an additional layer of protection. They also provide an opportunity for customization, since you can choose from plastic, billet aluminum, and even carbon fiber options.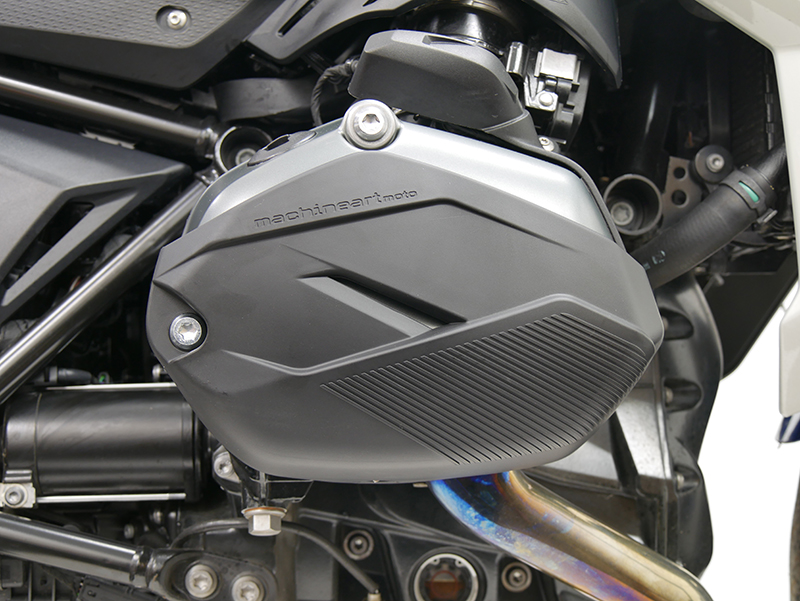 Farther back on the bike, you can add saddlebag crash bars to help protect your motorcycle's saddlebags and panniers from drop damage. Harley-Davidson offers them as stock on some of its biggest baggers.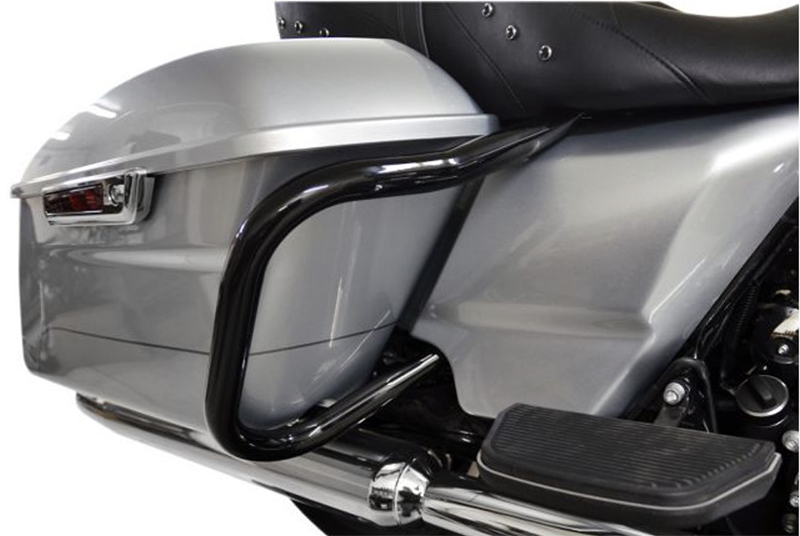 Frame sliders are more of a sportbike thing because riders want to protect plastic bodywork in the event of a crash or tipover. But these accessories can be helpful for standard motorcycles, too. The slider's hard plastic is like a racer's knee-puck. A sturdy metal base secures the slider to the bike's frame. The friction from sliding along pavement slowly grinds the plastic slider down instead of the bike's fairing or frame, protecting your motorcycle from more permanent damage.
Similarly, some manufacturers make sliders for axle ends to protect your fork tubes and rear swingarm from contacting the ground during a tipover or crash. Axel sliders are made from the same material, but in a smaller size. The advantage of sliders is the small size and low cost to replace after damage.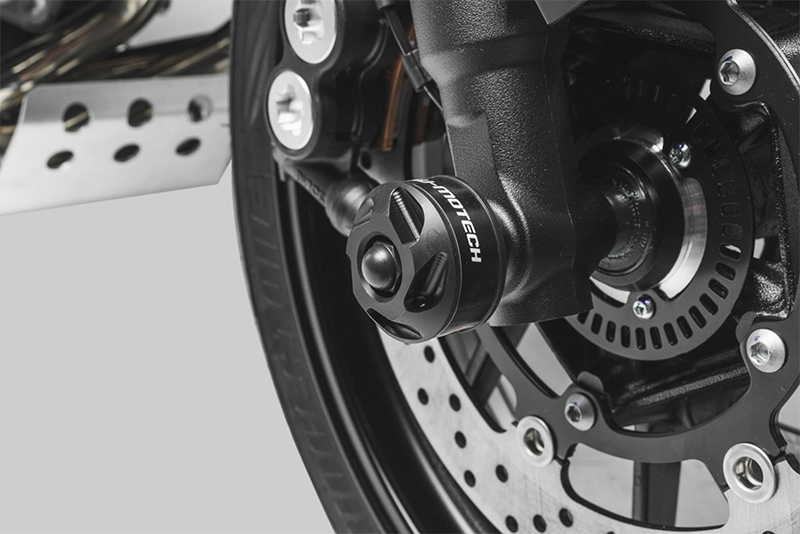 Bar end sliders are on the ends of the motorcycle's handlebars, and are usually standard equipment. They're intended to contact the ground first when the bike falls over. Held in place with a center through-bolt, they are sometimes made of weighted metal to help absorb handlebar vibration as well. Aftermarket bar end sliders come in many varieties to suit your individual needs—lighter, heavier, stronger, larger, smaller, etc.
Skid plates, also called bash plates or engine guards by some companies, are often standard equipment on adventure bikes. However, the stock skid plates are not always the best quality to protect your motorcycle from rocks kicked up by your front wheel or tall rocks you might scrape. Better quality skid plates are made of aluminum or steel and bolt to the underside of the frame, under your bike's engine. Bear in mind when adding or upgrading your skid plate that most models inhibit access to your motorcycle's oil drain plug with the plate installed.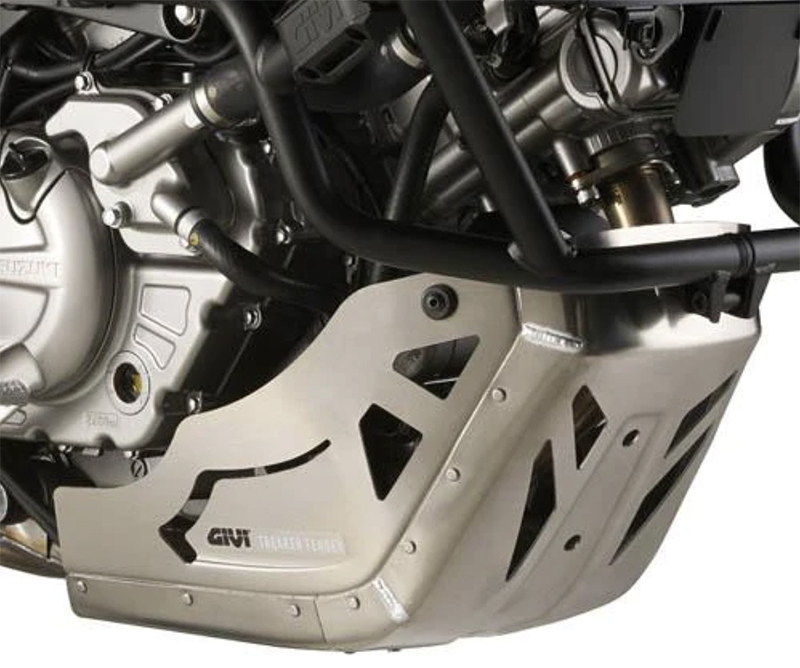 Modern motorcycle headlights are works of wonder. Perhaps in the old days they were boring round pieces of glass. These days, a bike like a BMW GS wears a unique high-tech adaptive headlamp up front. That means that if you damage a modern headlight on an ADV bike or sportbike, you could be looking at a $2,000 bill for replacement. Headlight guards help keep rocks and sand from chipping, cracking, and sandblasting those pricey gems.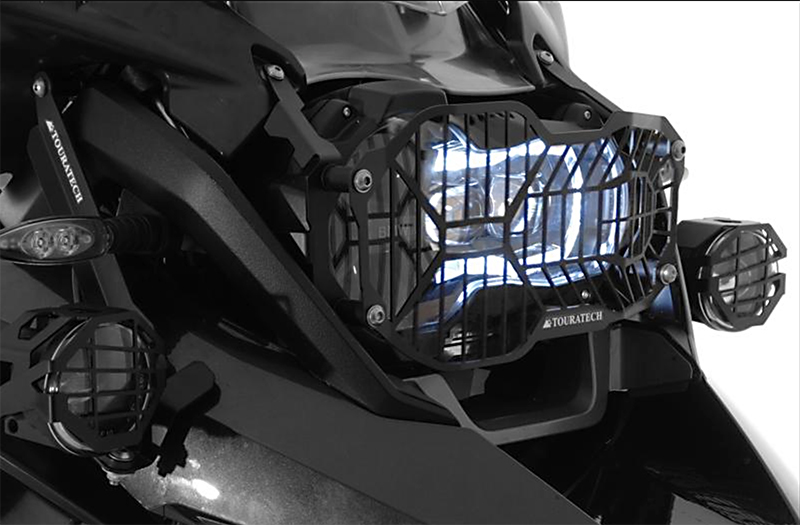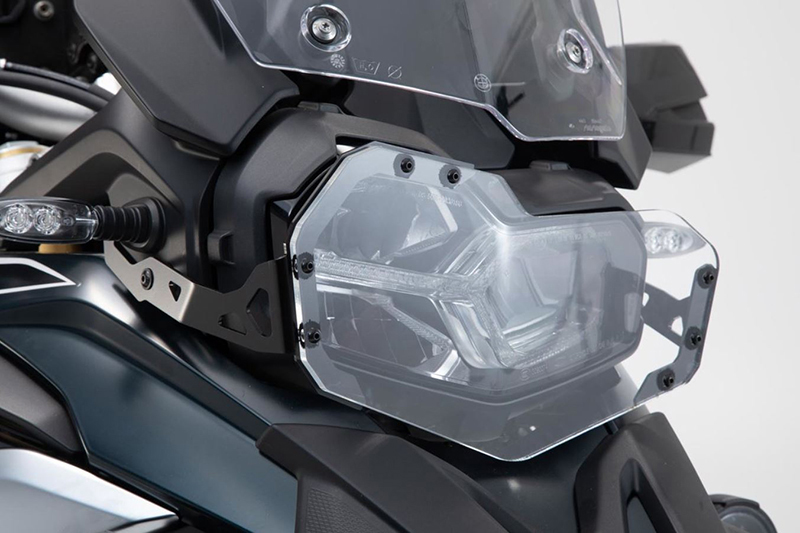 Look for shields to protect those expensive fog lights and driving lights too. Denali makes one out of rubber to protect the glass lenses, similar to a camera lens cover. Just don't forget to take them off before turning on your lights.
Similar to bar end sliders, hand guards are fitted at the ends of your handlebars and provide wrap-around protection for grips and hand controls. Hand guards are more suited to adventure motorcycles, but you can find them for standard street bikes too. They may have started out years ago as a dirt bike device to protect a rider's hands from brush and off-road abrasions. But these days, hand guards offer utilitarian use to road riders as well.
In addition to protecting your handlebars, hand guards can also help keep your hands warmer by blocking the wind. Conversely, there are other hand guards with vented openings to keep your hands cool when it's hot out. Some versions even have signal lights built in, since they are in a perfect position to be seen by other motorists.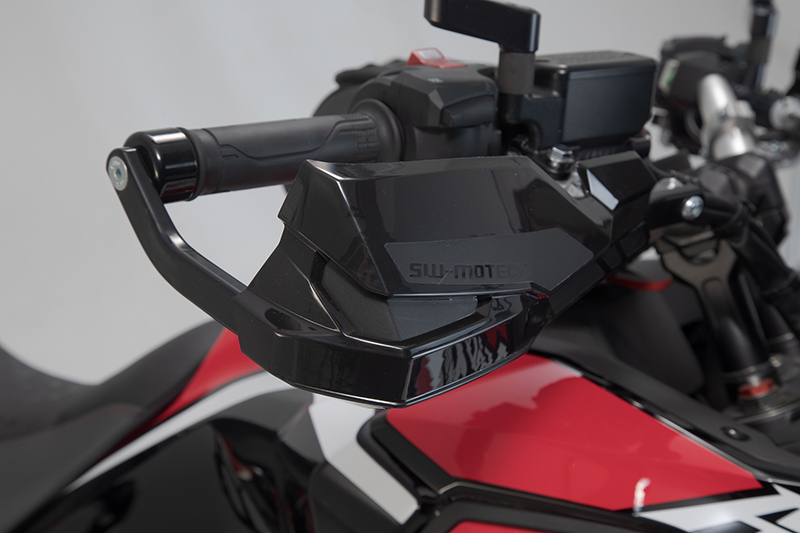 Muffler and Header Pipe Guards
Aftermarket exhaust systems are expensive. Heck, factory exhaust systems are too. Exhaust muffler covers can prevent road rash. Muffler protection devices are rare, but a few are available from R&G (U.S. distributor is Twisted Throttle). It's common to find stainless steel or aluminum heat shields for mufflers, but those are intended more to protect rider, passenger, and soft luggage from burns. It's doubtful they will offer much protection from crash damage.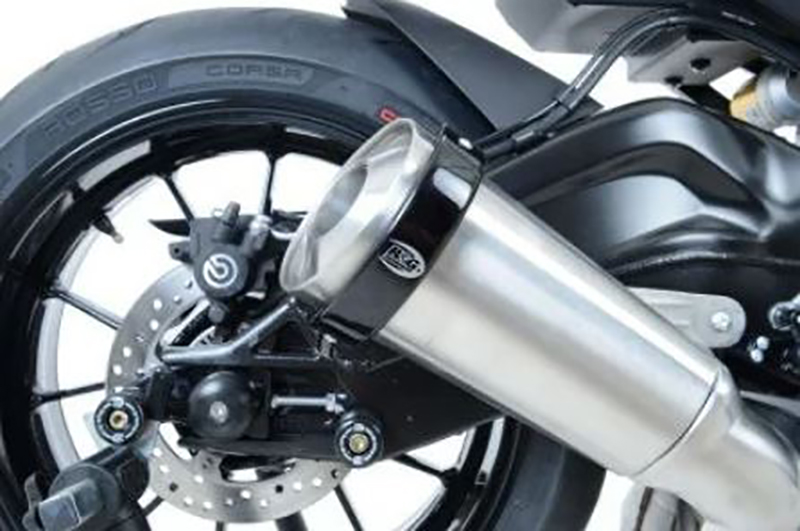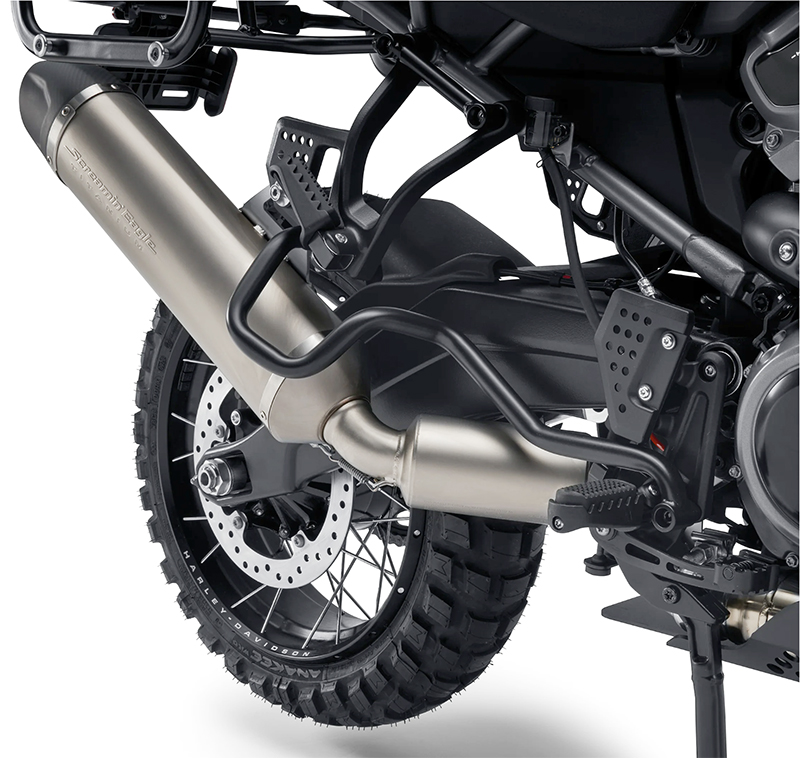 Header pipe guards protect the vulnerable header pipes from dents or worse from crashes or rocks. Even minimal damage can affect airflow and thus performance.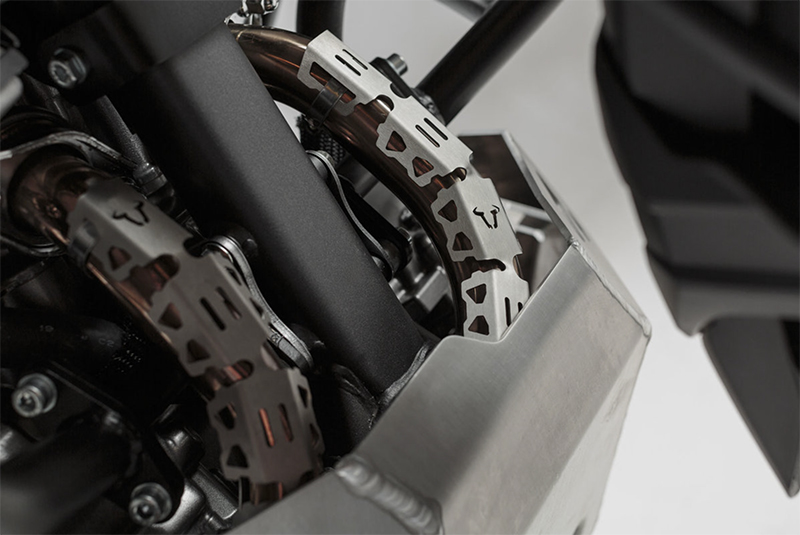 Radiator and Oil Cooler Guards
Water-cooled bikes have an Achilles heel; they require a radiator to help keep the engine cool. Most modern radiators are made of aluminum and can spring a leak if a rock hits it at just the right spot, which is pretty much any place on the face of the finned radiator. The trick is to protect the radiator without constricting the airflow to the fins. Most radiator guards are made of tough material (like stainless steel) and have a grate or cage which allows air to get through, but not rocks. There are many companies that make great radiator and oil cooler guards: Givi, R&G, SW-Motech, Touratech, and Wunderlich just to name a few.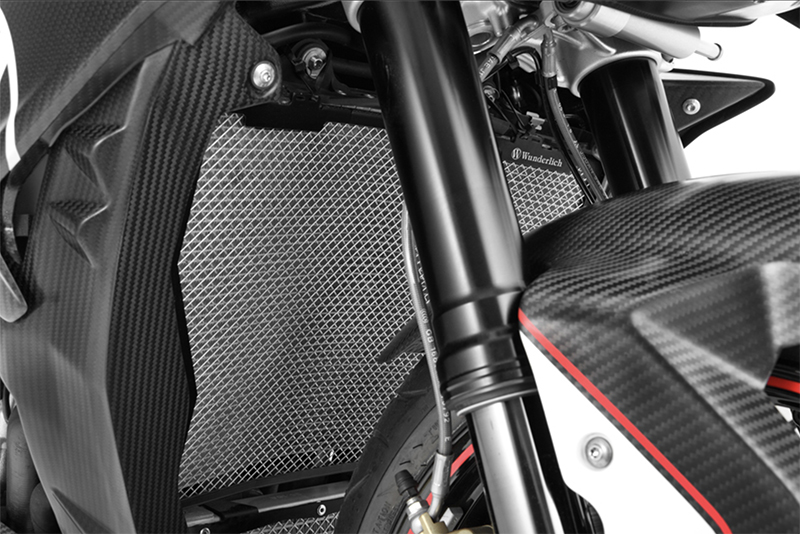 While these are all good examples of products that can help protect your motorcycle, there are plenty more. From plastic wraps, tank pads, and clear coats that protect your motorcycle's paint, to fold-away mirrors and levers, we have just "scratched the surface" here.
Do you have a favorite product to protect your motorcycle you'd like to share? Please use the comments section below to let us know about it so we can share with our readers. Thank you!