With its new R 18 B and Transcontinental, BMW is ready to compete with the two bikes at the top of the list of women's favorite touring motorcycles, Harley-Davidson's Street Glide and Road Glide. The R 18 B and Transcontinental share all the features with these bikes that keep you riding more comfortably longer. Powerful engines, wind protection, long fuel range, lockable luggage, and relaxed riding positions provide long-distance comfort.
Fairings loaded with a rich audio system and navigation connectivity make riding hundreds of miles a day as fun as being in a car—but way more exciting.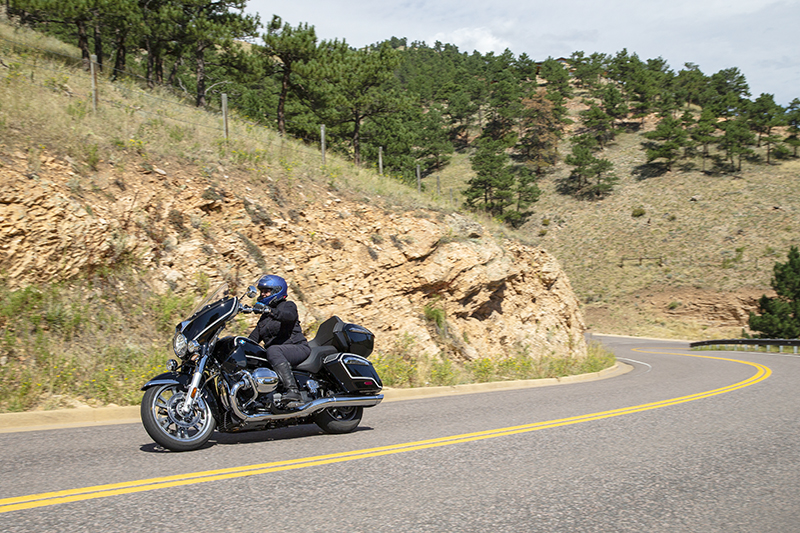 We were introduced to BMW's new R 18 First Edition last autumn as reported in WomenRidersNow.com's article here. Impressively easy to handle for such a behemoth, the 1802cc cruiser was the first of the new platform of BMW R 18 models. Since then, a "Classic" R 18 version has been released. The Classic adds comfort features such as a windshield, saddlebags, cruise control, for longer ride comfort. Now, we introduce you to the newest members of the family, the BMW R 18 B ("B" for "Bagger") and the decked-out-for-touring R 18 Transcontinental.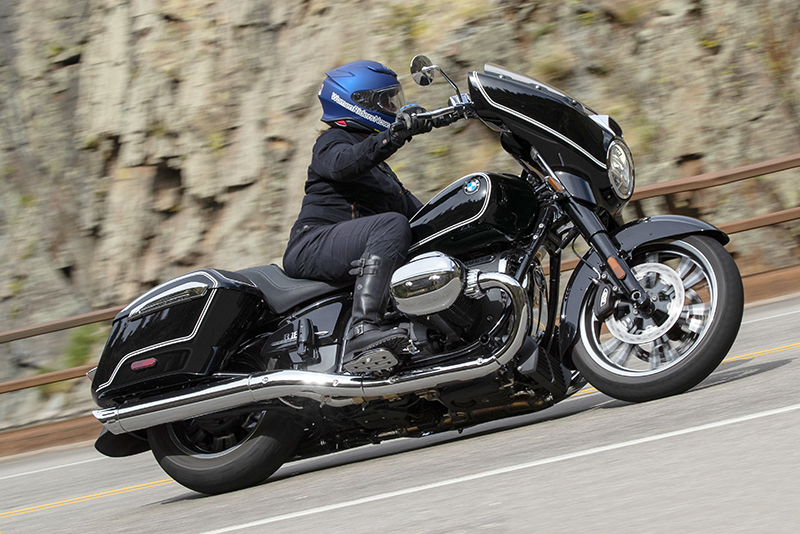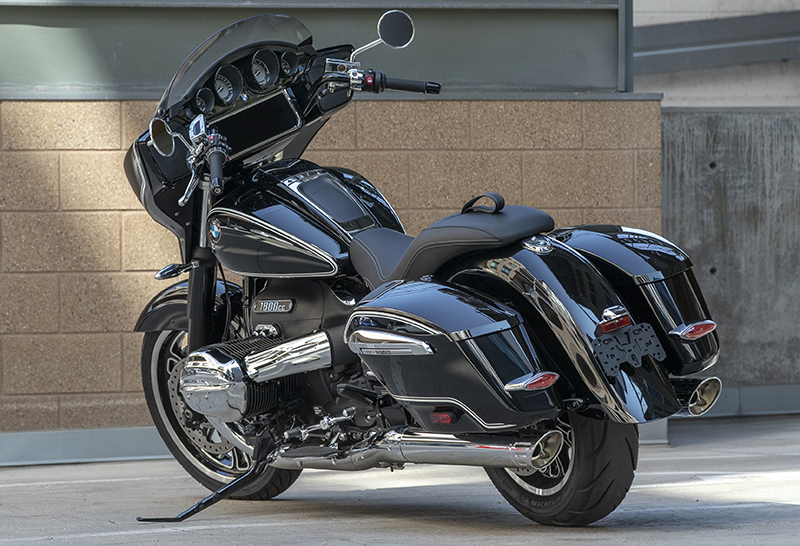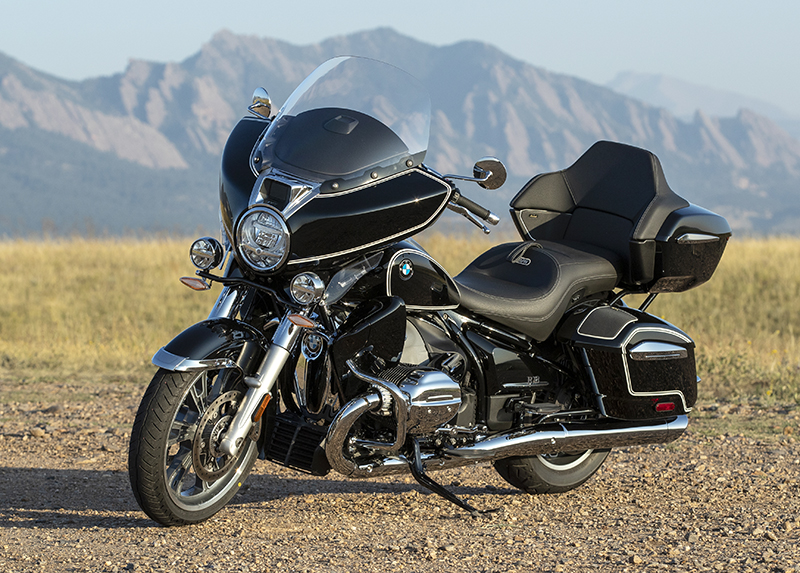 Both new bikes use the same horizontally-opposed 1802cc boxer engine as the original R 18. However, suspension and chassis changes have been made that improve ride quality significantly. Specifically, a stronger frame with a change to the steering head to support the extra weight of the fork-mounted fairing, shorter wheelbase, and 1.5 extra inches of rear spring travel with an automatic load leveling adjuster make a world of difference in better handling and rider comfort.
Both bikes include waterproof and lockable color-matched saddlebags that will hold up to 7.13 gallons and 22 pounds each—plenty of packing space for the long haul. The top-loading design opens wide and makes stuffing contents inside easy.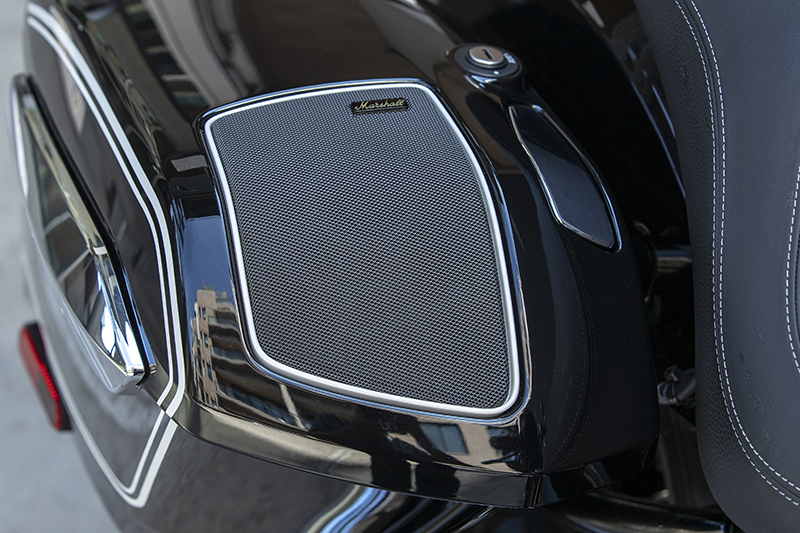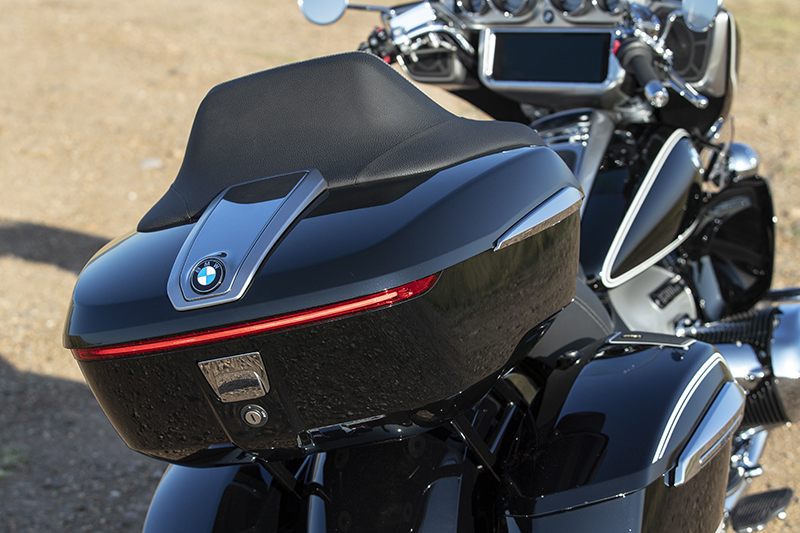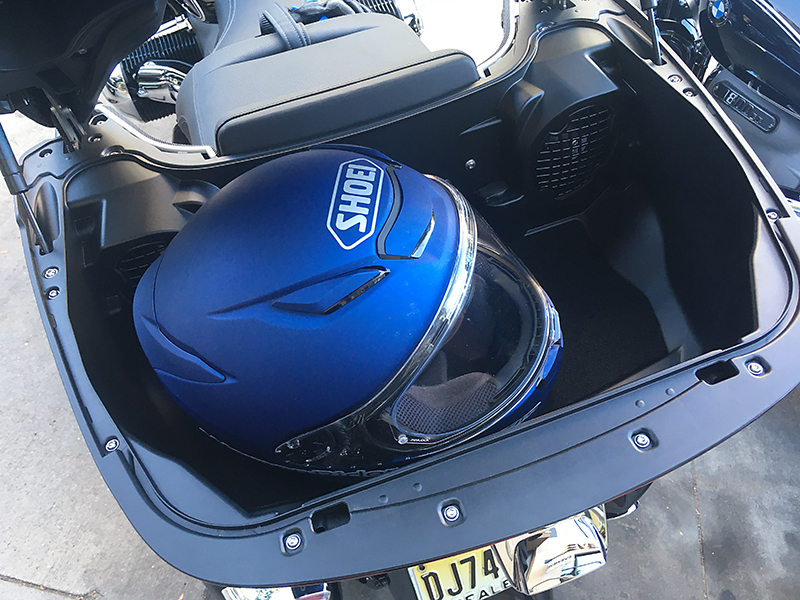 Protection from the Elements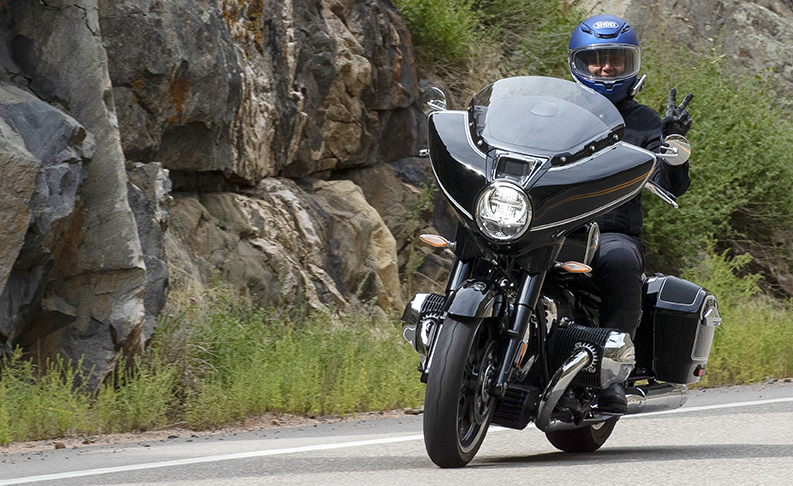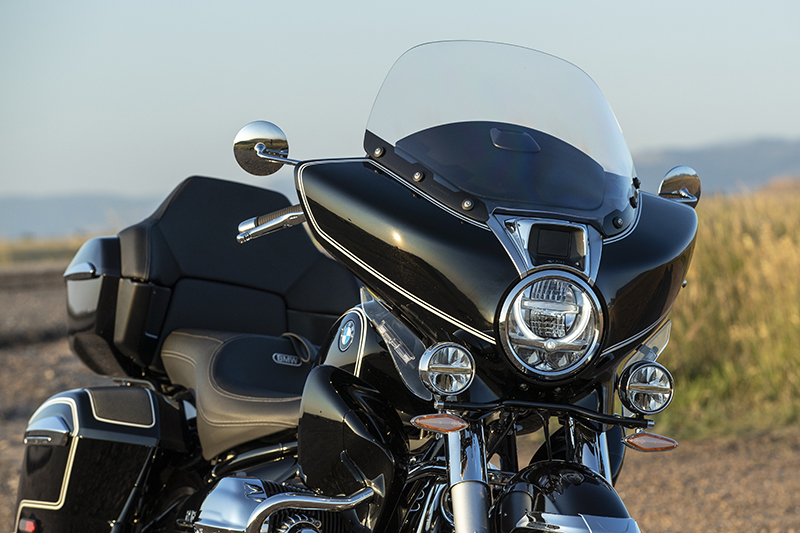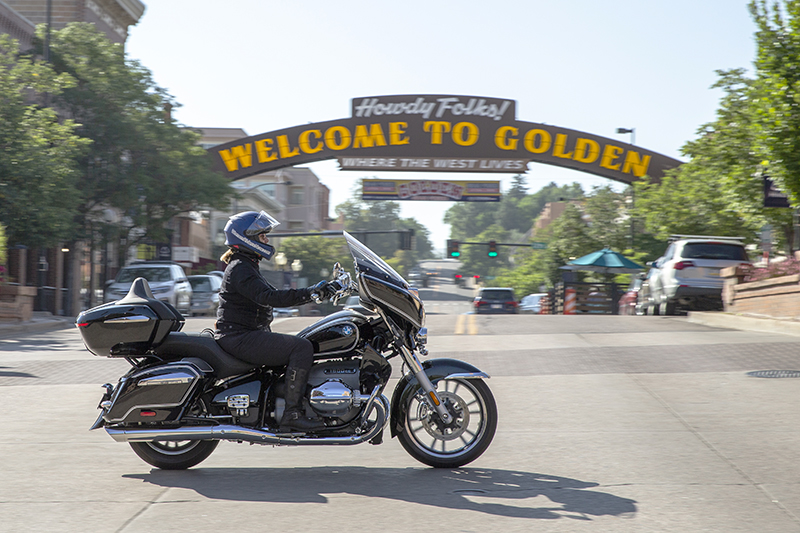 Onboard Instrumentation and Display
There's no doubt about it, the view from the rider's seat is as impressive as the bike's luxurious lines themselves. The wide TFT screen may not be your cup of tea, but the idea is to give riders the option to customize their experience by choosing the desired information to display in a split screen design.
Navigation is not built into the bike. Riders need to download and use the BMW Connect App to a smartphone and connect it to the bike to use it. I did not have the opportunity to test this feature.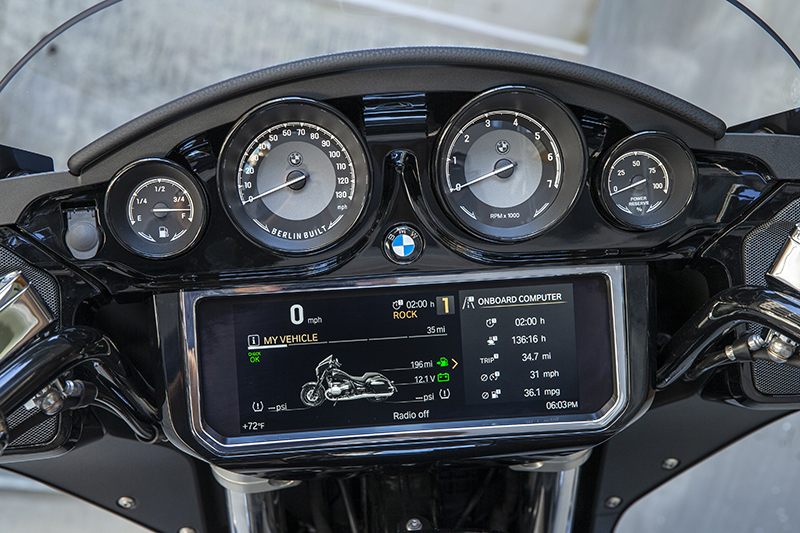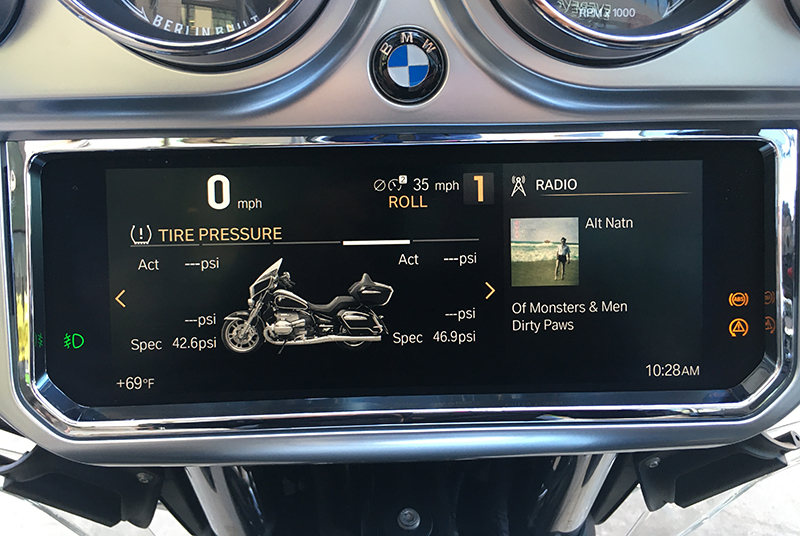 Scrolling through the menus is done with BMW's multi-controller wheel on the left handgrip, a feature on many BMW touring and ADV bikes. I love its simplicity and ease of use. Some other motorcycles have huge hand control units with small buttons to navigate through screen functions which can be difficult to feel and impossible to see when it's dark. The wheel makes the most sense in my opinion.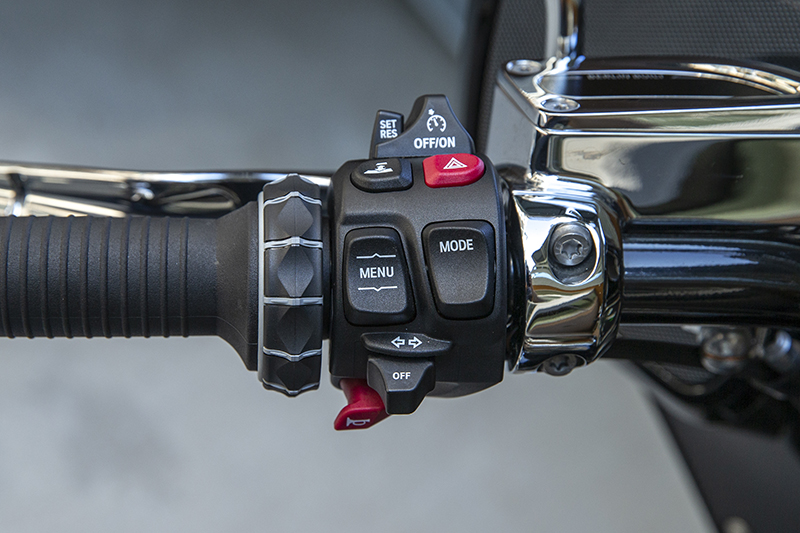 The on-bike audio system was carefully selected to provide a premium touring experience for R 18 B and Transcontinental riders. The standard audio system for both bikes is sourced from Marshall Amps. Two 25 watt speakers are integrated into the fairing and there is a menu of options for tweaking the sound quality. There's no traditional antenna, instead BMW integrated the FM/AM reception into the bike's bodywork. Sirius/XM satellite radio is built in and you can connect a Bluetooth device or plug in your smartphone via a compartment in the tank panel.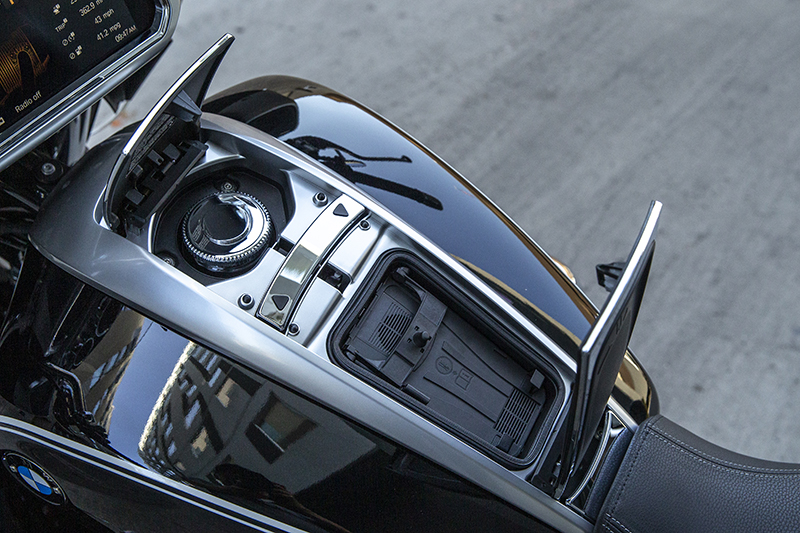 A premium "Gold" series package is available as an upgrade that adds subwoofers in the saddlebags with 90 watt output for a total of 230 watts. Gold Series II is offered for the Transcontinental, which adds additional 25 watt speakers to each side of the topcase for a total of 280 watts. Spending time playing with each setup and tweaking the onboard equalizer produced great sound quality, even at speed. I always prefer keeping my music to myself by using my Sena 20S' helmet speakers I have installed in my helmet. But on-bike audio is useful when sharing the tunes when riding two up or when using the communication system to talk with other riders.
Rider floorboards with a heel/toe shifter are standard on the R 18 B and Transcontinental. The height of the levers are adjustable, but unfortunately the bikes we tested were all set up such that it was impossible to get a toe under the shifter. Good thing that heel shifter was there!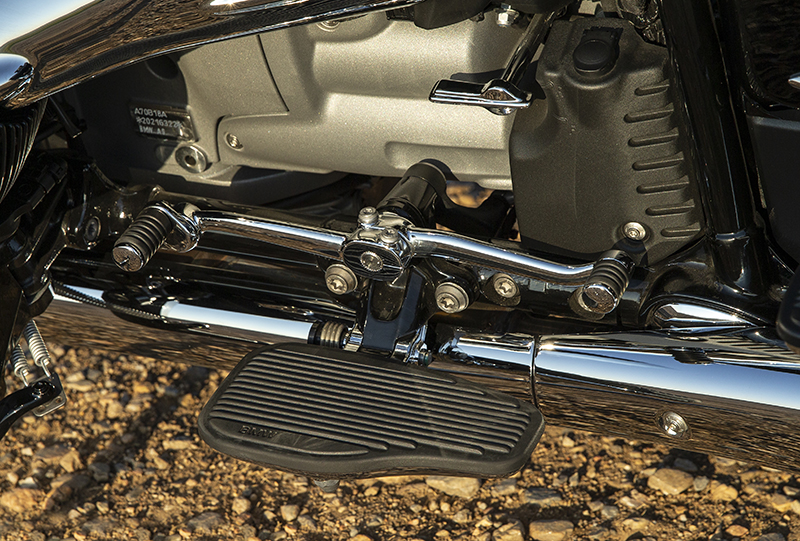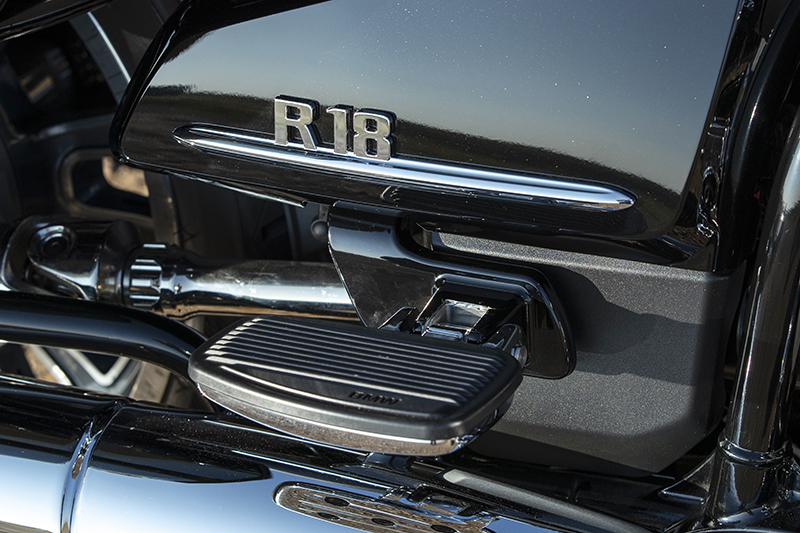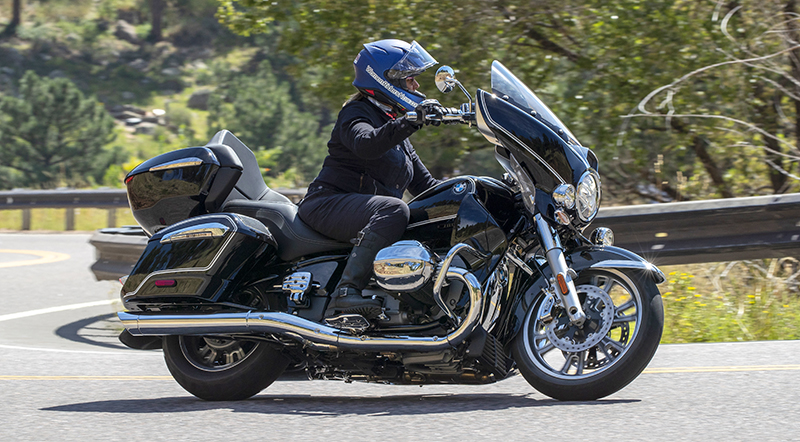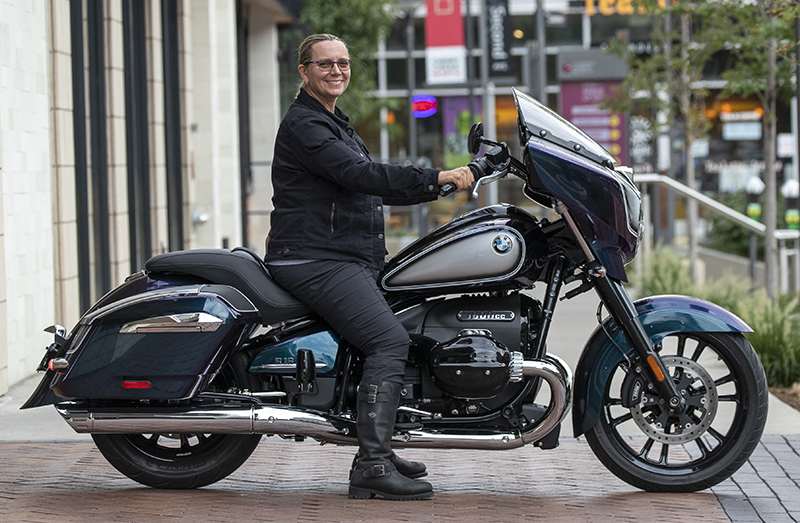 As with other BMW's, there are several seat options available. There is a standard, comfort, and Option 719 bench seat for both models. The Transcontinental also has a low seat option that brings seat height to 28.35 inches.
Touring motorcycles usually come with cruise control to allow you to give your hands a break while rolling when it's safe to do so. Often, it's hard to find an open space with little traffic where using cruise control is safe. But BMW has figured out a way to help.
BMW Motorrad Active Cruiser Control (ACC) is an industry-first on the R 18 B and Transcontinental as an optional upgrade. The "Active" part of the cruise control senses the vehicle in front of you and adjusts your speed to keep the distance set by the rider when setting the cruise control. There are three settings that you choose from—short, medium, and long distances. Finally a cruise control you can actually use!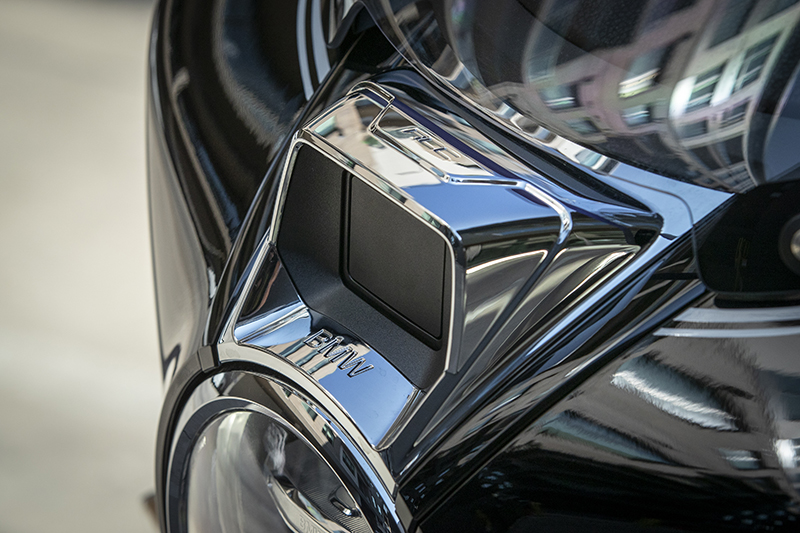 I spent a full day riding through the Colorado mountains, putting about 100 miles on each model. I found the big colorful dash to be somewhat distracting, but once I got my Sirius XM stations preset, I really enjoyed cranking out the tunes while taking in the beautiful scenery. I was initially worried about handling the almost 1,000-pound bikes, but they are very well-engineered. If you can handle a lighter, bigger motorcycle, you can handle the R 18.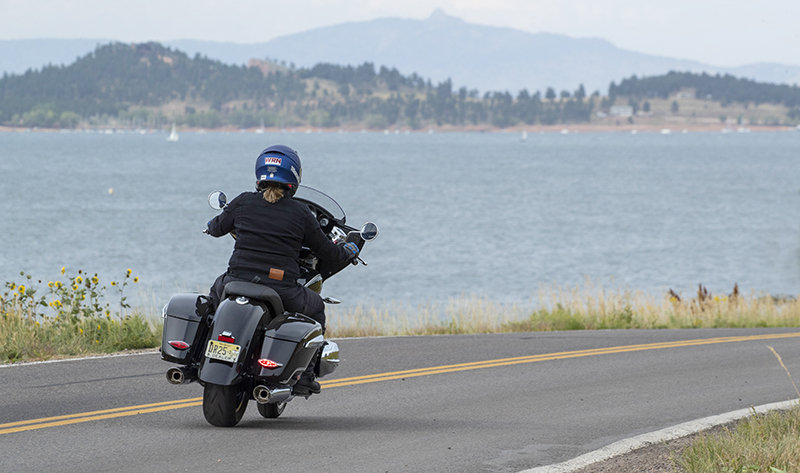 (and Roll)Spending more time than I would have liked in stop and go traffic, I got to test the easy maneuverability of the bikes, but my clutch hand did get tired. Though the bikes have adjustable levers, the clutch pull is a little stiff (as they ought to be on such a powerful bike.) I noticed, too, when I was in slower moving traffic, being in a lower gear to have available power sent more vibrations than I wanted up through the handlebar.
But the R 18 B and Transcontinental are in their element on long curvy roads and highways. These bikes will shine sitting next to their competitors. These motorcycles break the mold for touring bikes that come with all the creature comforts that make a long voyage comfortable, convenient, and fun. Rock (and Roll) on!
Specs at a Glance: BMW R 18 B  and Transcontinental (T)
Engine Size: 1802cc
Seat Height: 28.35 inches (B); 29.13 inches (T)
Fuel Capacity: 6.3 gallons
Wet Weight: 877 pounds (B); 941 pounds (T)
Colors: Black Storm Metallic, Manhattan Metallic Matte ($500), Option 719 Galaxy Dust Metallic / Titan Silver 2 Metallic ($2,400)
MSRP: $21, 945 (B); $24,995 (T)