Enjoy the video above showing WomenRidersNow co-chairwoman Sarah Schilke's first ride impression of the Slingshot. Hint: She loves it! (Sarah's video will play following a short video advertisement.) Read our full review below.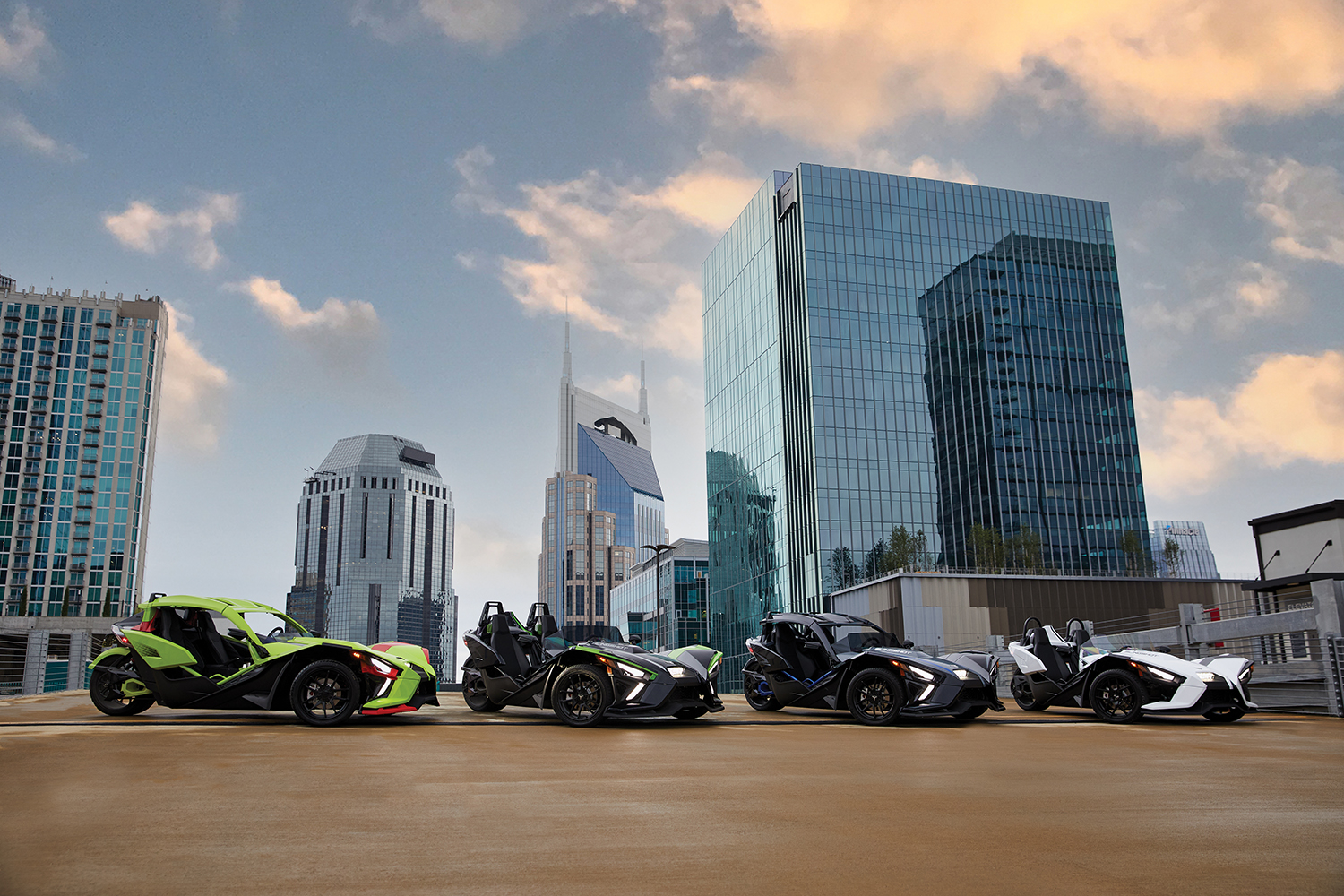 At WomenRidersNow.com (WRN) we love our three-wheeled riders. Three-wheelers like the Can-Am Ryker or the Harley-Davidson Tri Glide can be a great way to be introduced to motorcycling or just enjoy exploring the open road. The Polaris Slingshot appeals to women and men who want the comfort of sitting side-by-side in a bucket seat with a steering wheel, but with three wheels, and open air, there's still a sensation of motorcycling.
We test drove the 2021 Polaris Slingshot at the Women's Motorcycle Festival Conference last month and are delighted to share our initial impressions with you. Hint: it is unanimous among our test drivers … we love the performance!
One of the Slingshot's key features added to its 2020 version is the automatic transmission called "AutoDrive." That is, the Slingshot shifts gears without requiring the driver to actuate a clutch. For 2021, Polaris is enhancing this automatic transmission and offering model upgrades that focus on performance, styling, and sound. 2021 models shown from left to right: R – LE (Limited Edition), R, SL, and S. The Slingshot S starts at $19,999.
The first unique feature that WRN Co-chairwoman Sarah Schilke noticed about the Slingshot was its similarity to a sports car. For example, you sit in it (not on it) and use a steering wheel instead of handlebars. The "throttle" (accelerator) and brake are controlled by your feet, as is the clutch if you choose the manual model without AutoDrive. The cockpit also has many of the creature comforts of a late-model car, such as a seat belt, and optional heated seats and Apple CarPlay.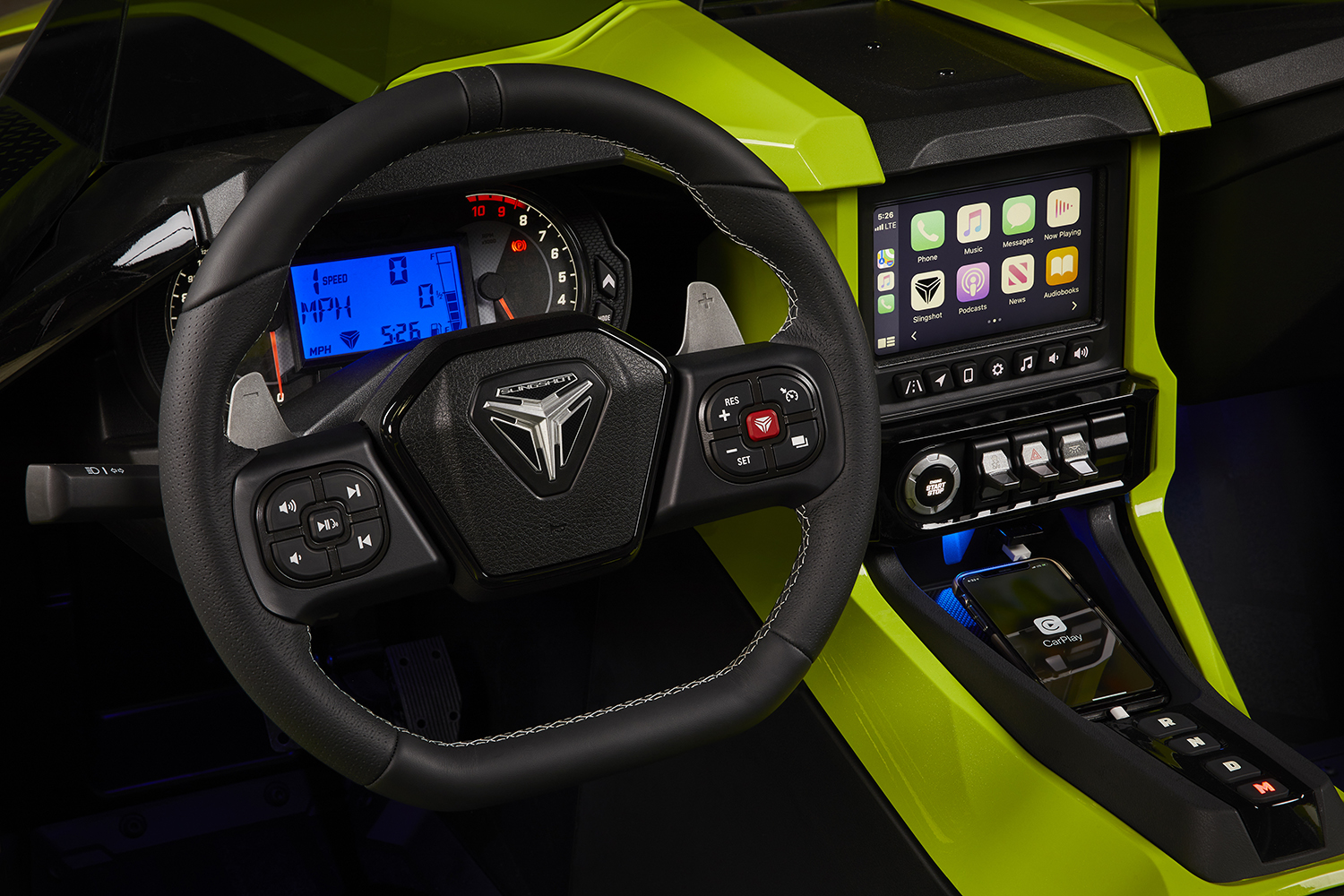 With Slingshot's all-new paddle shifters, drivers with an AutoDrive transmission can enjoy an authentic sports car feel. The steering wheel-mounted paddle shifters come standard on 2021 R models with AutoDrive and are available as an upgrade for all 2020 and other 2021 models with AutoDrive.
As a seasoned 2-wheel rider and sports car enthusiast, Sarah said she was skeptical at first. But it didn't take long for her skepticism to change to smiles.
"It was a great ride!" said Sarah, "I preferred the manual shift version partly because of motorcycle riding, and partly because I prefer manual cars. I like shifting, using a clutch, and feeling more in control of the power and performance. The handling of the automatic was fun, but getting behind the wheel of the manual Slingshot, revving it up, and shifting gears took the afternoon adventure to a new level. It was so much fun."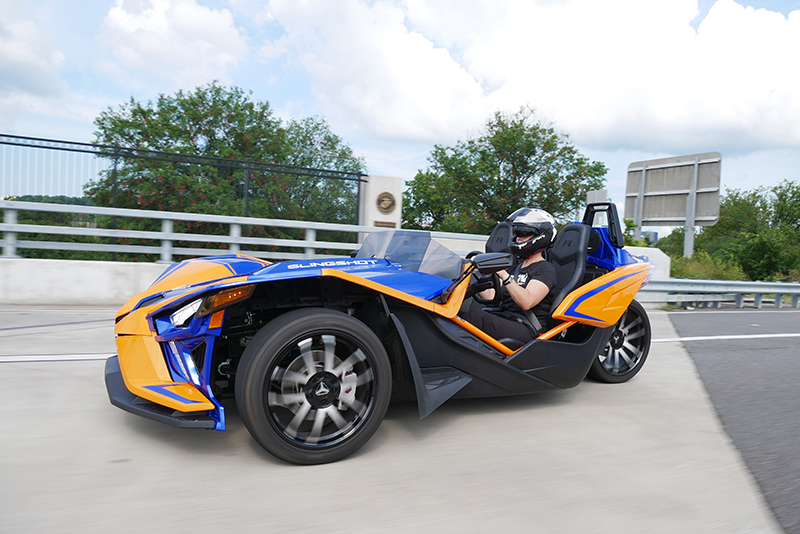 Sarah Schilke loves the sporty handling of the Slingshot R – LE with manual transmission.
Black Girls Ride Founder Porsche Taylor feels similarly, adding, "The Polaris Slingshot is an amazing three-wheel hybrid; half motorcycle, half sports car, one hundred percent excitement! You really get the best of all worlds. The third wheel and swingarm give you the speed and agility of a sport bike, and the dual wheel front end gives you performance and maneuverability of a sports car."
Polaris makes a big point about "The Drive, The Styling, The Sound" of the Slingshot, and our drivers found themselves agreeing that these are definitely highlights.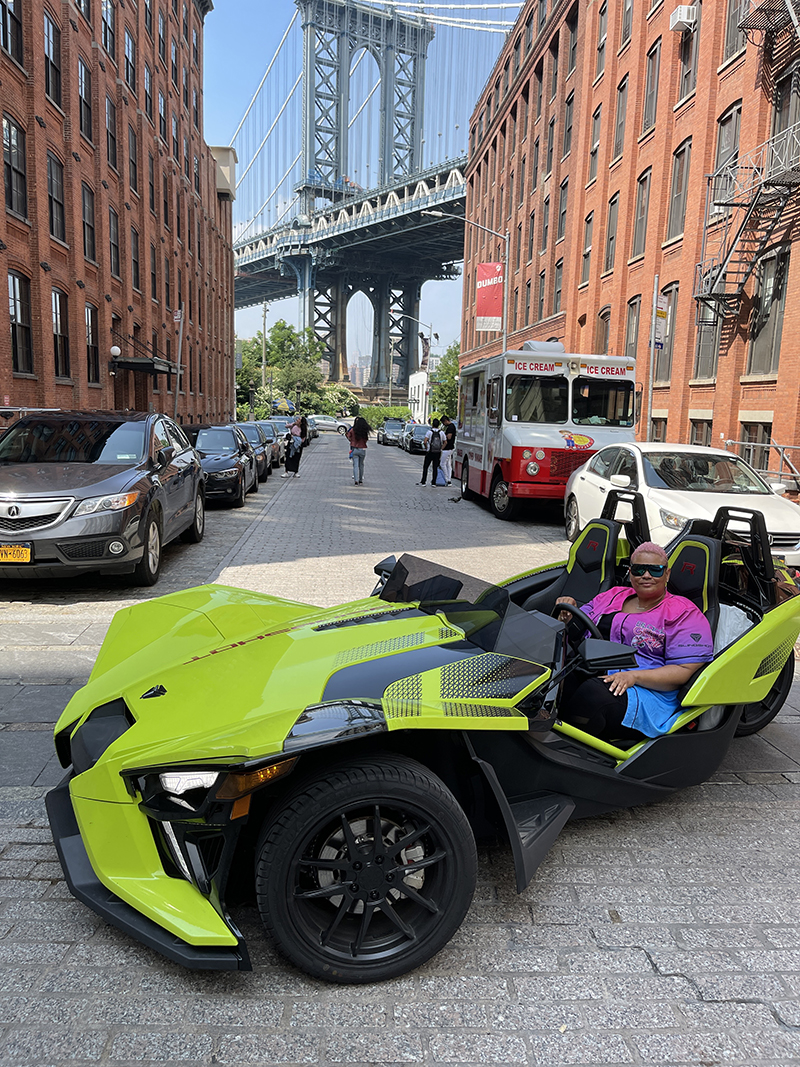 Porsche with "Limelight," her new 2021 Slingshot R LE with manual transmission. She says, "With it's cool Neon Fade asymmetrical paint and graphics, blacked out badges, black rims, and matching interior, I didn't need to do much to make it a head turner."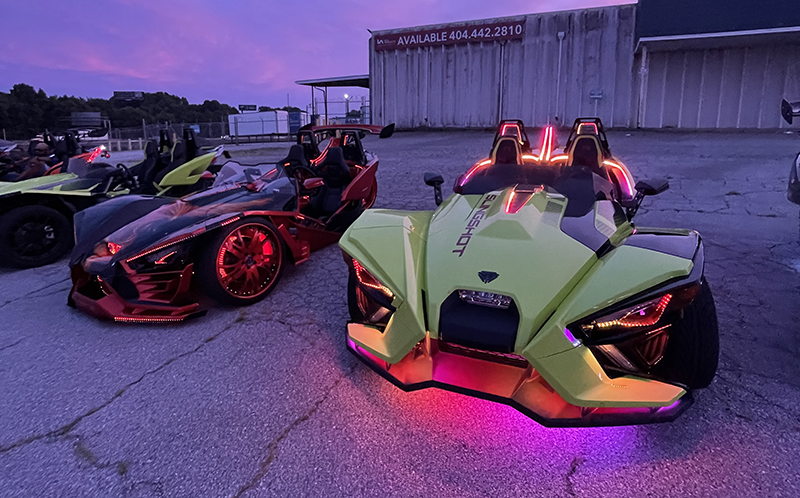 Porsche added custom lighting from Twistit Customs in Atlanta, Georgia, to really make the Slingshot stand out at bike nights.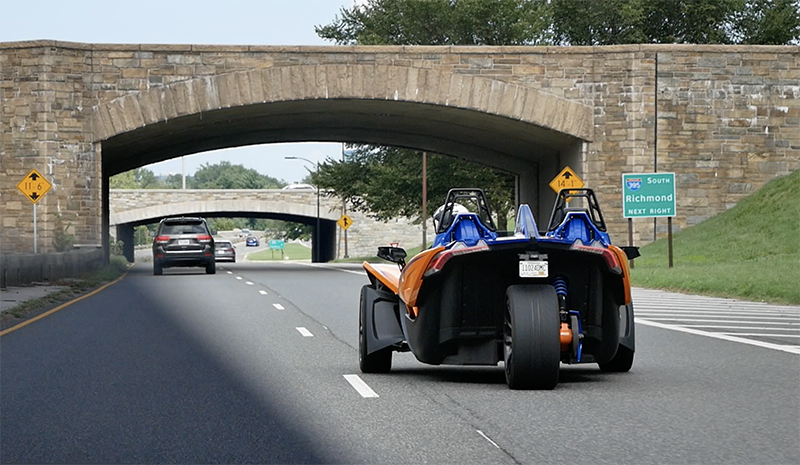 "Without the sidewalls, roof, and the 2-wheel rear axle of a car, it was super light and almost 'flickable' in turns. I've owned a Honda S2000 and Audi TT, so I like sports cars and love this sporty feel," said Sarah.
Fellow test driver Kate Owen adds, "I think my favorite part of the Slingshot is how it gives you the freedom of riding a motorcycle and the stability of driving a sports car. It's smooth, fast, fun, easy to drive, and has a great turning radius that makes you want to do doughnuts. I only wish I didn't have to return it!"
WRN Editor Tricia Szulewski also immediately notes the temptation to release her inner hooligan when behind the wheel. Another fan of the Slingshot's sporty manual version, she actually did push the boundaries of traction in the parking lot before heading out onto the Beltway.
"Well, it looks like the Batmobile, so why not see if it can fly?" she teases. "Turning and accelerating quickly with this machine is super-fun, but motorcyclists do need to be cautious about having enough time and space for quick stops. The Slingshot R is 1,653 pounds and it takes quite a bit more distance to stop than my much lighter motorcycle does."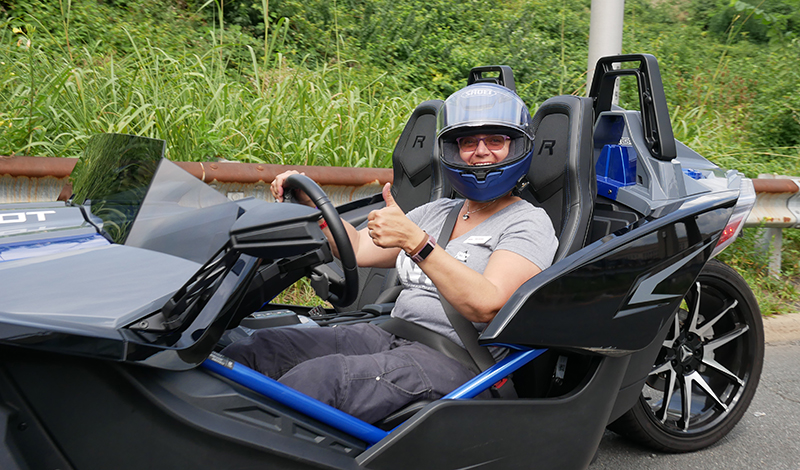 Tricia enjoys all the perks of open air riding while aboard the Slingshot, as well as its convenience features like lockable storage, GPS, backup camera, and a great sound system.
In terms of styling, our testers all found that heads turned when they rolled by. Typically low-key Sarah remarked, "When I drove the R – LE version, I felt a bit flashy in it with bold electric blue and orange graphics. But if you like turning heads, this is the vehicle for you. From the inner city to the highway, I got stares, waves, and even strangers taking pictures of the Slingshot."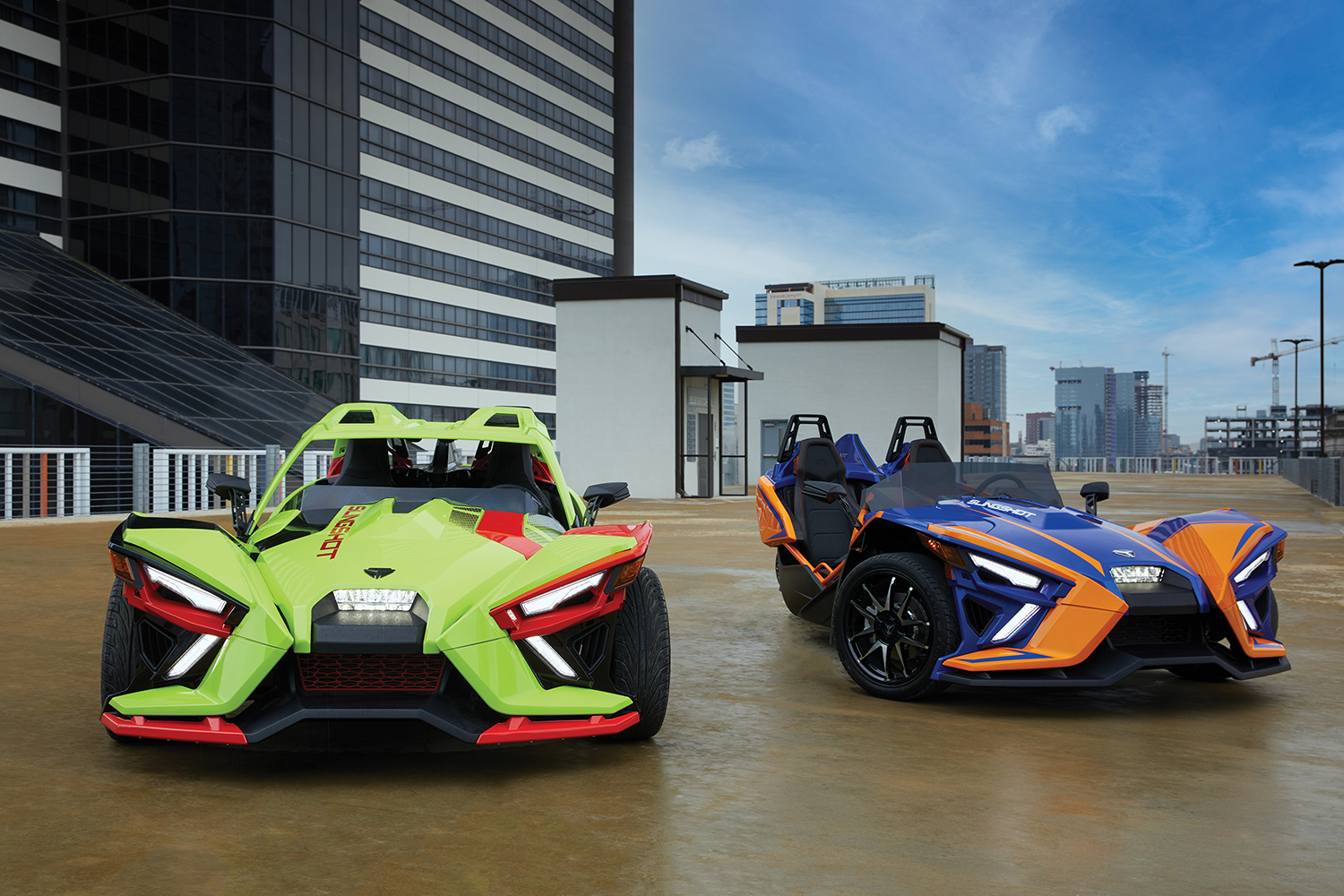 The Slingshot's sporty, futuristic styling gives it amazing curb appeal. When you pull up to a stop light or an event, and you'll easily become the talk of the town. Shown here are the R – LE models.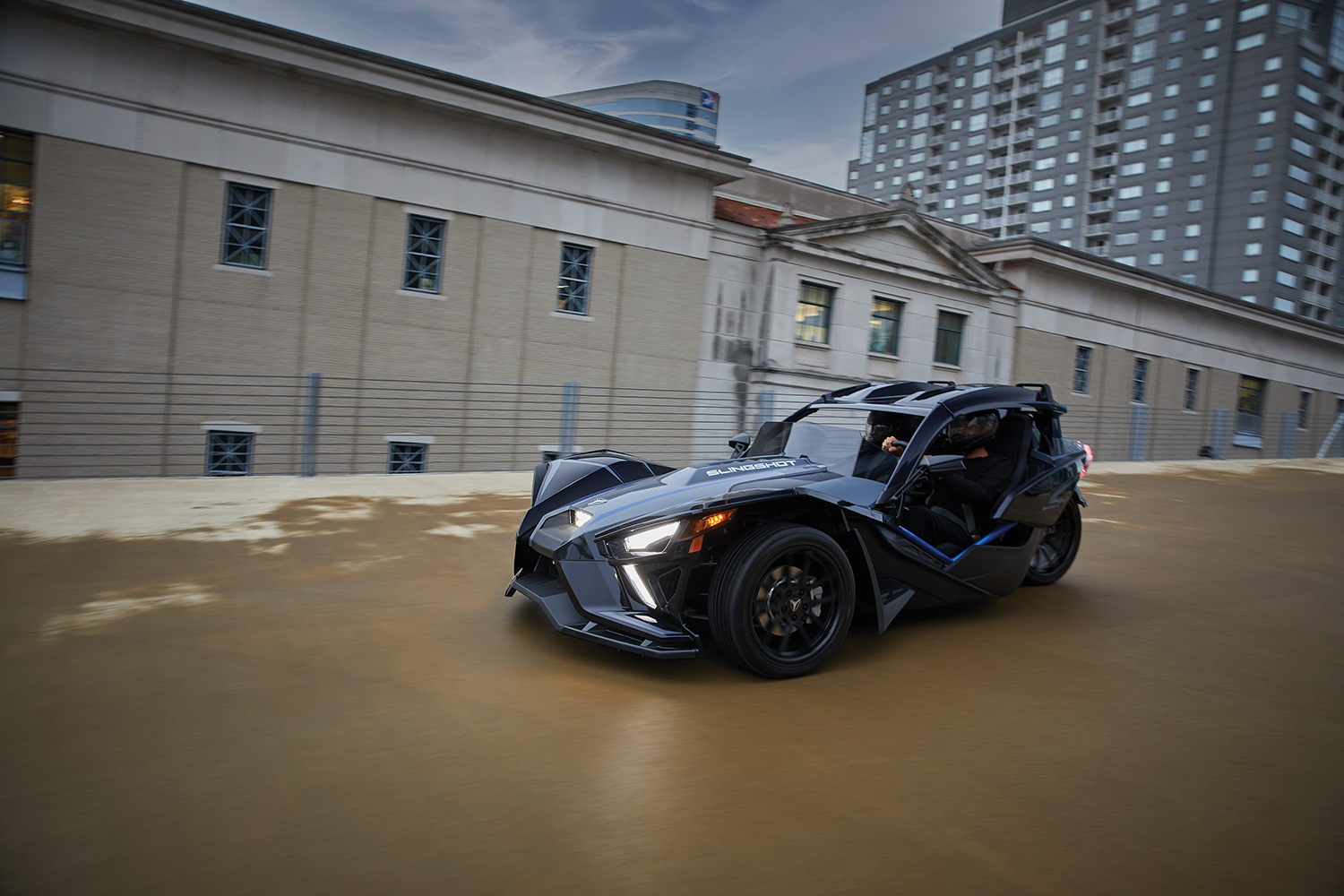 Porsche loves the Slingshot's open cockpit for sunny-day sightseeing, but really appreciates the optional Slingshade roof panels and fully waterproof cabin.
Another aspect that Polaris invested heavily in for the 2021 Slingshot was an elevated sound system. Our test drivers found the 100 watt Rockford Fosgate® audio system provided excellent sound quality and no lack of "turn-it-up" volume to overcome highway wind noise at any speed.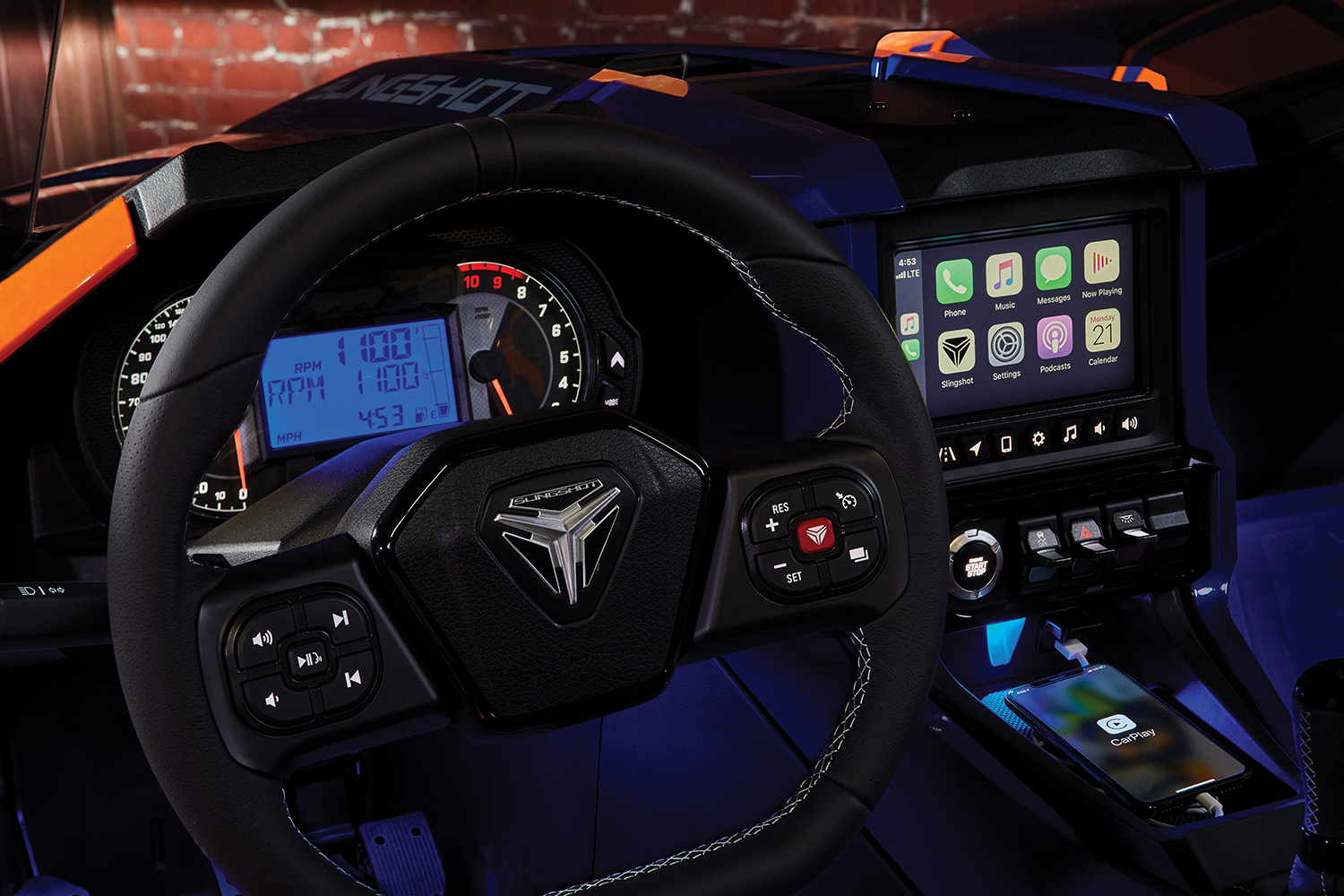 The Slingshot R models come standard with Apple CarPlay which integrates iPhone devices with the Slingshot's built-in infotainment system. As we've seen with many recent motorcycles WRN has reviewed, riders and passengers can make phone calls with a Bluetooth headset, access music, get directions, and more.
Have you driven a Slingshot? We would love to hear your feedback in comments, on our Facebook Page, in our Facebook Group, on Instagram, or contact us directly via email at info@WomenRidersNow.com.