Harley-Davidson brings original-equipment design, quality and service to the three-wheel motorcycle segment with the introduction of the 2009 Tri Glide Ultra Classic motorcycle.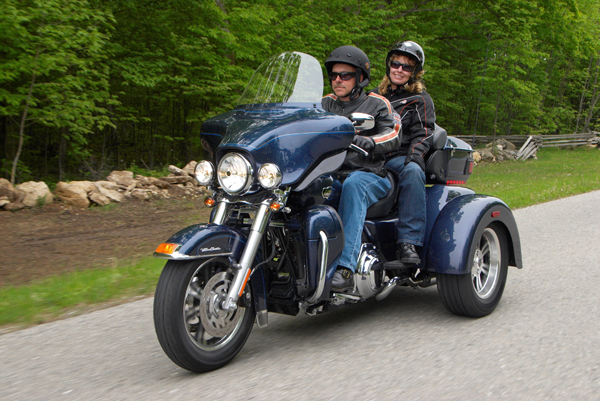 Based on a new chassis designed specifically for this three-wheel application, the Tri Glide offers the classic styling and popular touring features of the Harley-Davidson Ultra Classic Electra Glide in a vehicle that will be sold and serviced by the network of Harley-Davidson dealers and covered by a two-year Harley-Davidson limited warranty. The Tri Glide will have an MSRP of $29,999.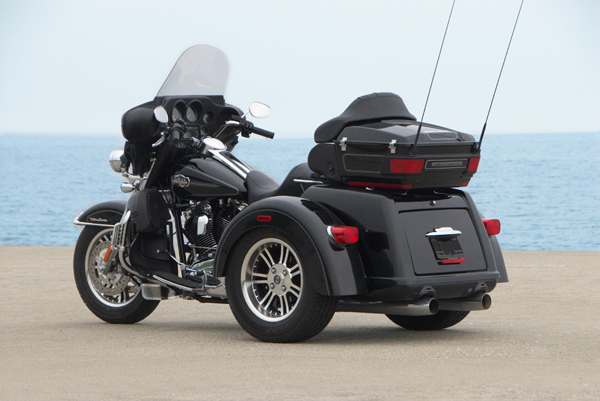 Harley-Davidson launched a "wheels-up" strategy in the development of the Tri Glide, and has created a frame and associated chassis structure that is engineered specifically to handle the loads generated by the steering forces and weight of a three-wheel vehicle. Changes to the front-end geometry enhance steering control by reducing steering effort up to 25 percent. The forks have been lengthened by 1.775 inches compared to the regular Touring motorcycle, and rake is increased from 29.25 degrees to 32.00 degrees. A steer damper controls coast-down wobble, and minimizes bumps and other road inputs during turning events.
Harley-Davidson has designed a new rear-axle assembly for the Tri Glide that utilizes an aluminum center section with steel axle tubes. The Tri Glide retains the high-strength and low-maintenance advantages of belt final drive, and the smooth operation of a rubber-cushioned, compensated rear drive. The rear suspension features dual air-adjustable rear shock absorbers.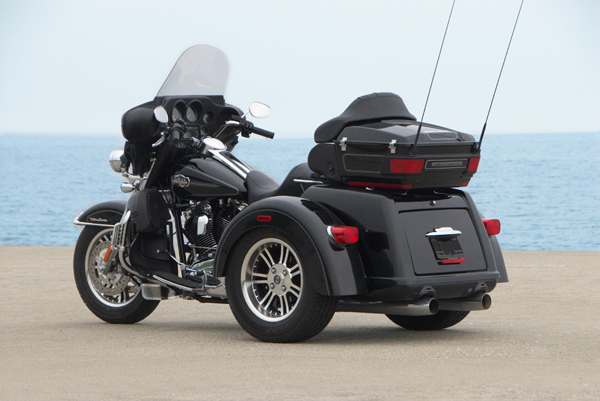 The Tri Glide is powered by a Twin Cam 103 V-Twin engine with Electronic Sequential Port Fuel Injection (ESPFI), rated at 101 ft. lbs. of torque. It retains the 6-speed Cruise Drive transmission used on Harley-Davidson Touring motorcycles, but adds an optional electric reverse ($1,195) integrated with the rear differential assembly that is engaged with a handlebar-mounted reverse module. The Tri Glide has dual front disc brakes and a Hayes Brake dual-disc rear brake system with a lever-actuated, integrated park brake.
Classic Harley-Davidson Styling
The Harley-Davidson styling department gave the new body components of the Tri Glide clean lines that integrate with the existing Ultra bodywork, especially the Tour Pak luggage compartment and the passenger seating area. The new bodywork is painted with the same quality OEM paint and process used on all Harley-Davidson motorcycles, and is a perfect color match for the tank and front fender. The composite rear fenders complement the lines of the front fender. Because the rear fenders are each a separate piece from the rest of the rear bodywork, they can be removed individually for repair or replacement, or when required to service the Tri Glide.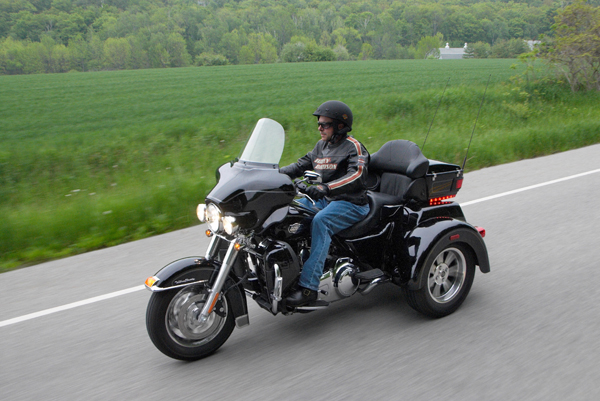 The molded-composite trunk provides 4.5 cubic feet of storage space and can be accessed through a rear hatch. The trunk and Tour Pak have a combined capacity of 6.56 cubic feet and are rated to carry up to 80 pounds. A single key will handle all luggage locking functions, and activate the ignition. Dual mufflers with tapered end caps exit below the trunk. Brake/tail/turn lights are located on each fender, and the Tri Glide retains the Tour Pak lighting used on the Ultra Classic, including the LED side running lights. Matching front and rear black and machined split seven-spoke cast aluminum wheels provide the Tri Glide its integrated and true, factory-built look. The 16-inch front wheel is three inches wide and carries a MT90B16 motorcycle tire, while the 15-inch rear wheels are five inches wide and are fitted with P205/65R15 tires.
Forward of the rear wheels, the Tri Glide retains the style and features of the Ultra Classic Electra Glide, including the distinctive "bat wing" fairing, auxiliary driving lamps, and deep-skirted front fender. A low-profile chrome console tops a six-gallon fuel tank. The fairing holds complete instrumentation and the 80-watt Advanced Audio System with CB radio and passenger intercom system. Adjustable air deflectors on the fairing and vented fairing lowers allow the rider to control wind flow for comfort in warm or cool weather. Cruise control is standard equipment.
The Tri Glide Ultra Classic will be offered three colors: Vivid Black, Dark Blue Pearl, and Red Hot Sunglo.
FLHTCUTG Tri Glide Ultra Classic features:
Three-wheel specific frame
Rubber mounted Twin Cam 103 engine with ESPFI
6-speed Cruise Drive transmission
Black powder-coated engine with chrome treatment
Brembo dual-disc front brake system
Hayes Brake dual-disc rear brake system with integrated park brake
Electronic Throttle Control
2-1-2 exhaust system
Engine isolation system
Isolated Drive System
Triple Circuit Damping (TCD) front forks
Air-adjustable rear suspension
Bat-wing, fork-mounted fairing
Full instrumentation
80-watt Advanced Audio System by Harman/Kardon
40-watt CB radio and intercom system
Cruise control
Shorty antennas
Clear-lens reflector-optics auxiliary lamps
Fiberglass adjustable King Tour-Pak with passenger backrest
Tour-Pak mounted tail/stop light
Rear luggage trunk
One-piece, two-up Electra Glide comfort-stitch touring saddle
Vented lower fairings with integrated storage compartments
Adjustable fairing wind deflectors
Steering damper
Optional electric reverse
Optional Smart Security System
For more information, visit Harley-Davidsons Web site at Harley-Davidson.com.