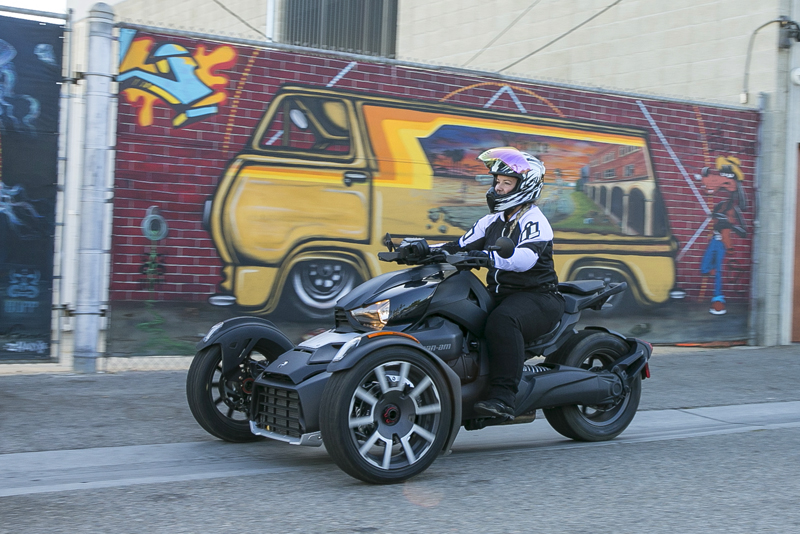 "The fun never stops." Thats what the Can-Am reps kept repeating when introducing us to the new Ryker. Yes, it's their official slogan, but it also suggests they know a thing or two about the joy of riding. The question most dealerships and all manufacturers are trying to answer is: "Where does the fun start?" With new riders' concerns about safety, cost, ease of use, fit, maintenance, and training, there are more than a few hurdles to jump over when becoming a motorcyclist and shopping for that first bike. The situation begs, how do we make motorcycling truly accessible to everyone?
Like a bulldozer (albeit a graceful one if that paints a prettier picture), Can-Am has—in one fell swoop—cleared the hurdles off the track with the Ryker, creating a new machine suited to tackle most challenges new riders face.
Women Riders Now E-Newsletter
Stay up-to-date on all things motorcycle! Latest gear, bikes, and product reviews. Travel ideas, great product giveaways, and more.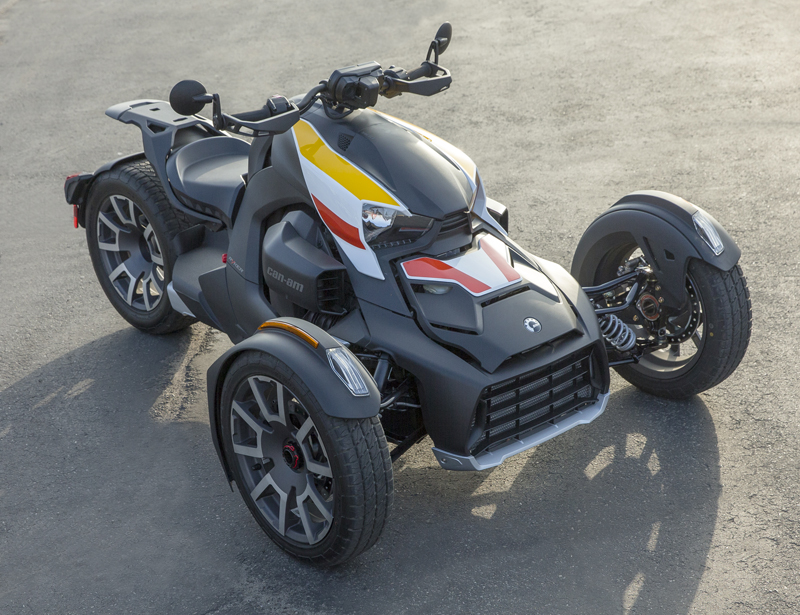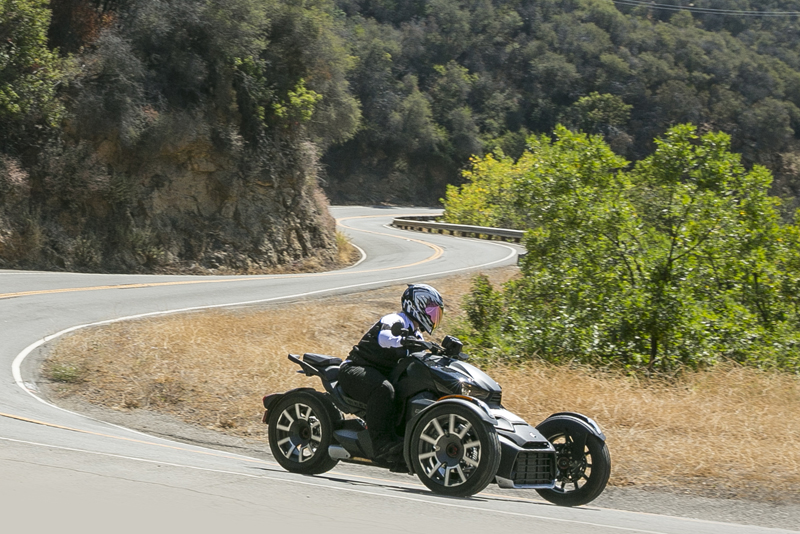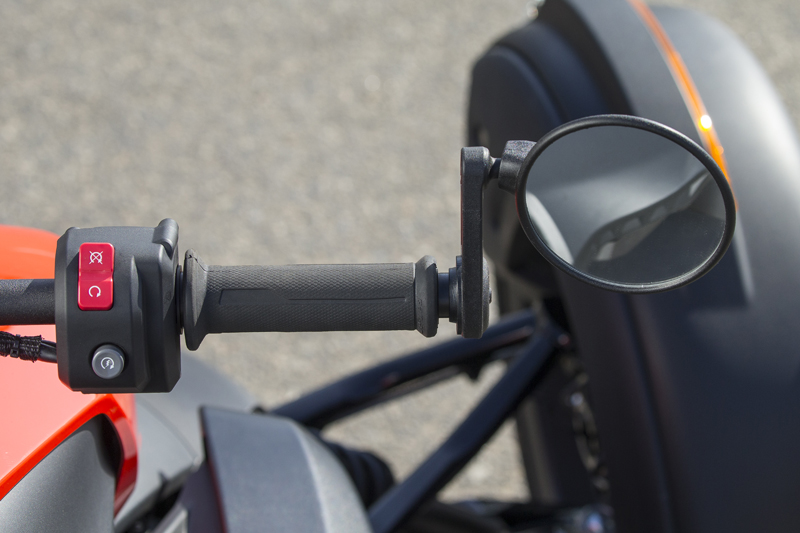 I imagine this product opening a direct pathway to the motorcycling community to those who would have never considered riding before the Ryker came along. Some might call that a game-changer.
Traditional Hurdles, Be Gone
Balance/Stability
With three wheels, the Ryker is self-balancing. For new riders just learning, this completely removes the fear of dropping the machine as well as having to pick it back up after a fall. The weight and height of the bike is no longer a factor because you don't hold the machine up with your legs at any point, not even to go backwards in tight situations, because the Ryker has a reverse drive.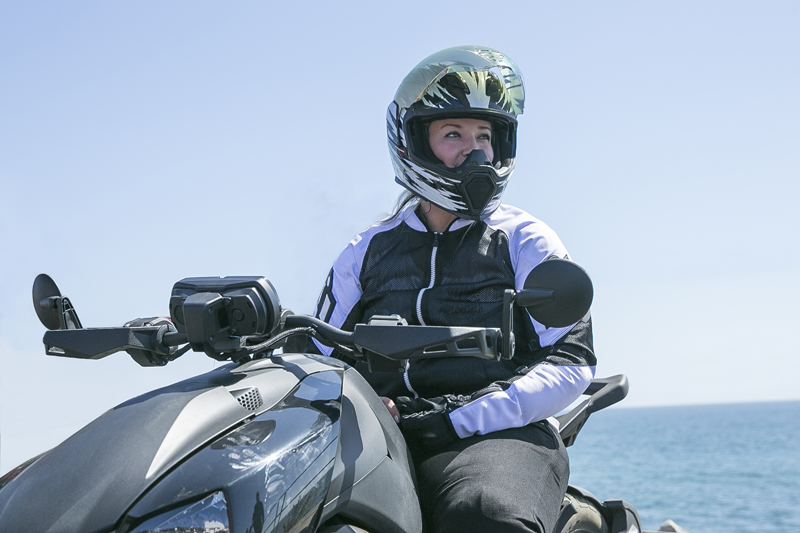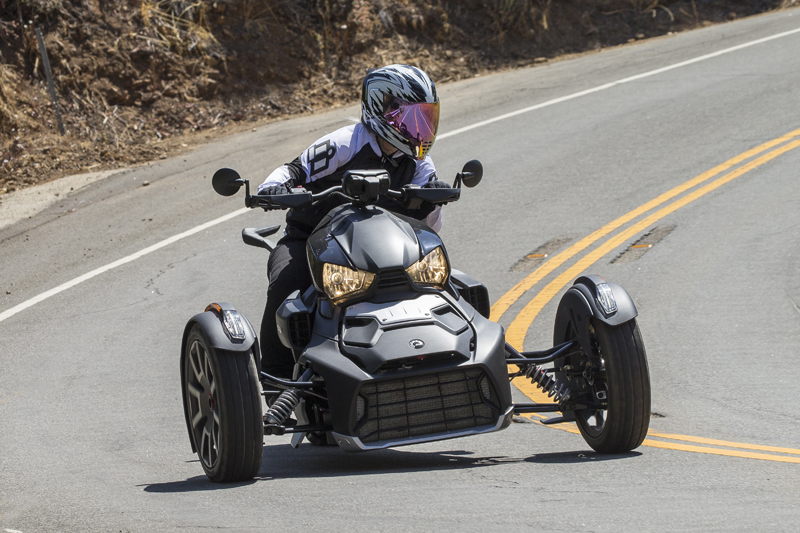 Safety
Naturally, when stability is guaranteed, safety increases. Fear of falling or dropping your bike is a non-issue with the Ryker. This machine is also incredibly easy to control, which will make new and hesitant learners gain confidence quickly so they can start having fun.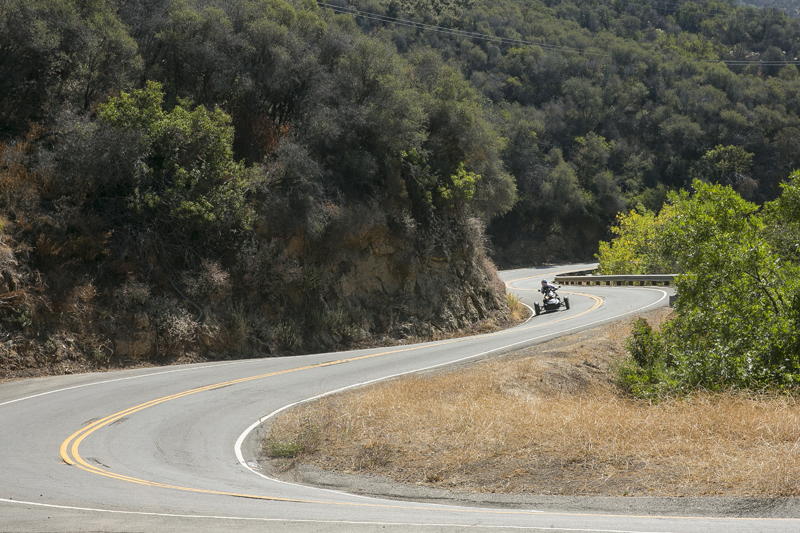 The Bosch VSS brings to the table a combination of anti-lock brakes, traction control, and stability control. When mistakes are made, the electronics can momentarily take the reins in seamless fashion.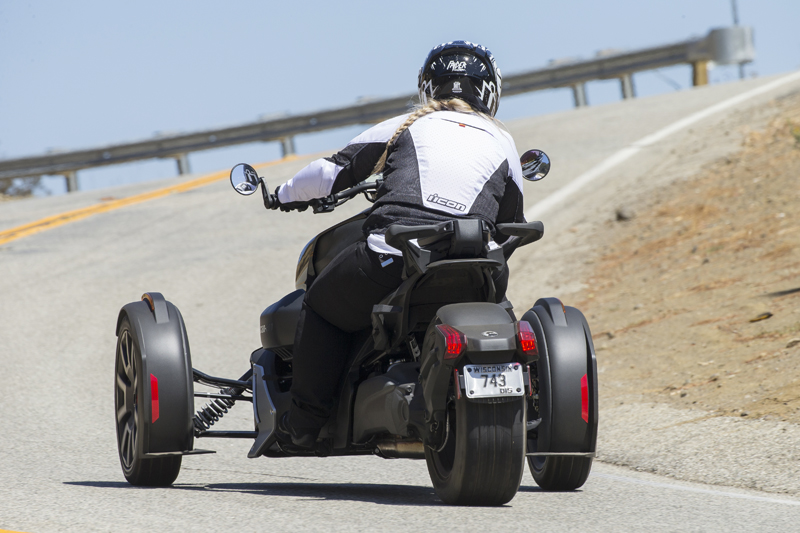 Automatic Transmission
Just twist and go, it really is that simple! No clutch, no shift lever, no confusion about proper gear choice, and no whisky throttle. Roll on to speed up. Roll off to slow down. It doesnt get any less complicated.
The simplicity of the continuously variable transmission (CVT) is quite beautiful and will serve to ease a first-timer into the world of three-wheeled riding at a comfortable pace. Anyone who has driven an automatic vehicle will immediately understand how the throttle works without the initial frustration of a friction zone, watching engine RPMs, or stalling.
Simple Controls
With only three controls—throttle, foot brake, and handlebar—the brain is working less on multi-tasking (one of the largest hurdles for all new riders) and more on what the ride feels like, which translates to more of that "thrill" thing we know and love.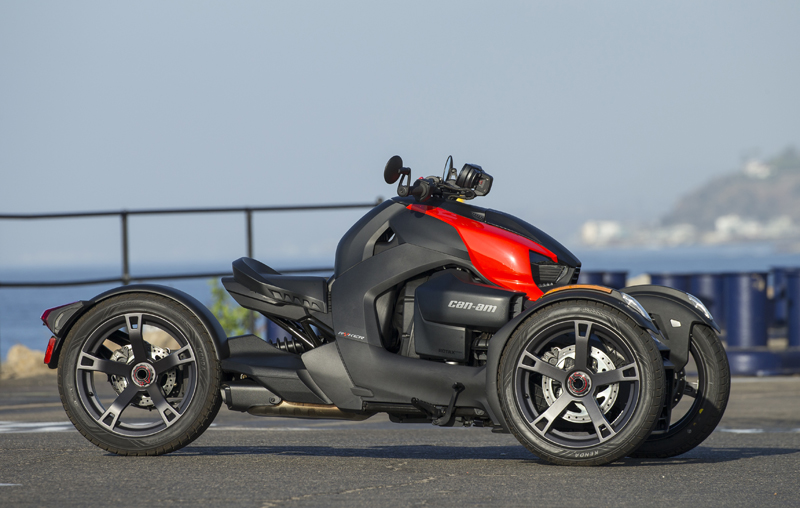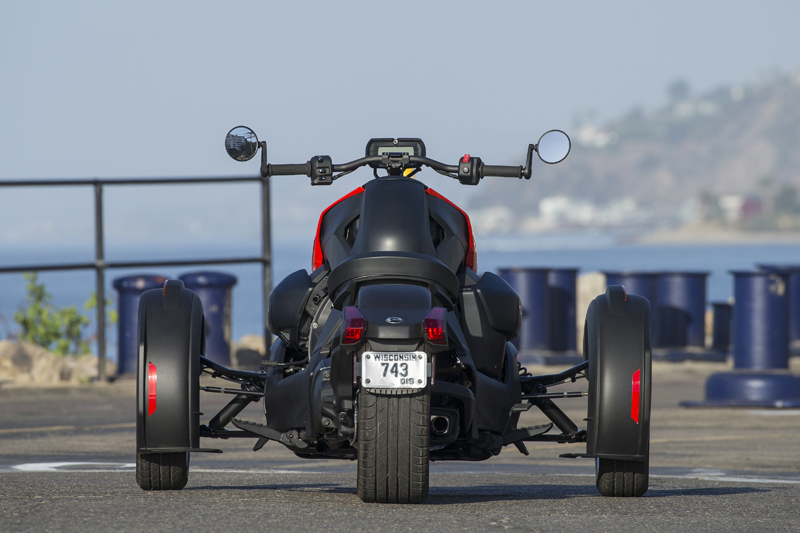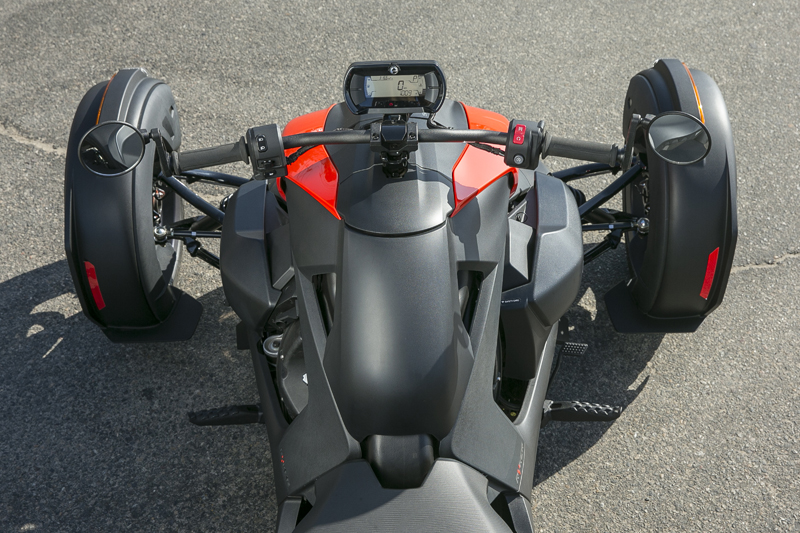 Adjustability
The struggle to find a machine that fits your body and keeps you comfortable while riding is over. Game-changing innovation allows both foot pegs to be repositioned forward and backward with an incredible span of more than nine inches. The brake pedal moves with the foot peg, making it an easy change on the fly. Even more, the angle of the brake pedal is easily adjustable to fit any riding style and foot size.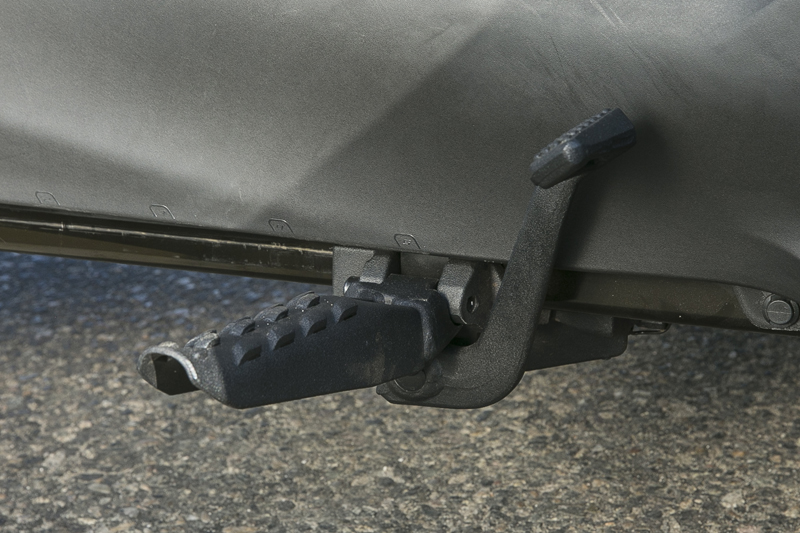 The handlebars can be adjusted to slide towards or away from the rider, changing both the reach and sitting position based on the rider's personal measurements.
| | |
| --- | --- |
| Near or far? | You decide where you want the handlebars. |
All three adjustments listed above can be done without tools in a matter of seconds and require no help or excessive strength. The Ryker can be dramatically changed in less than a minute, so finding the perfect fit is easier than on any other production motorcycle.
Affordability
The Ryker 600 starts at $8,499 (the 900 starts at $9,999 and Rally Edition is $10,999). As if that number doesn't already blow most new vehicle prices out of the water, Can-Am is introducing an industry first—an OEM leasing program, available at all Can-Am dealerships in late 2018. With a 4-year lease, payments can be as low as just $149 per month—what you might pay for cable.
Maintenance
Without getting too technical, the maintenance-free driveshaft of the Ryker keeps costs low with virtually no need for any mechanical know-how.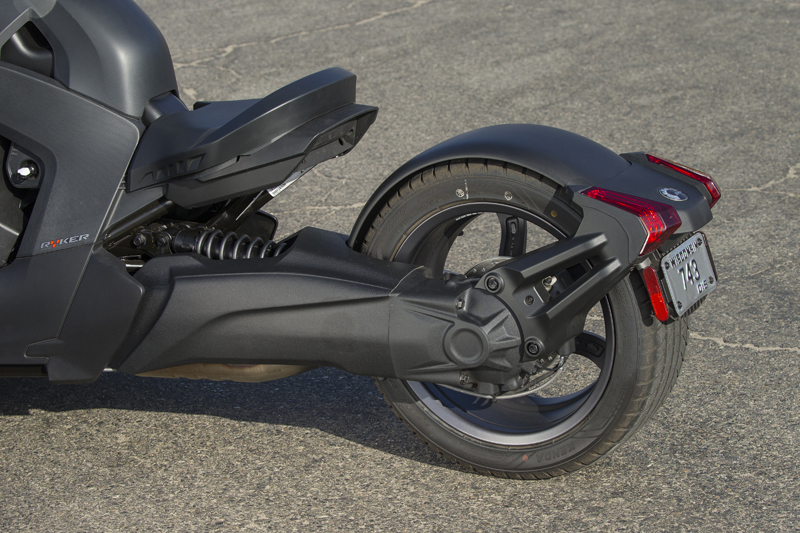 The computer also learns riding style, takes damage assessments, and tells the rider exactly when it is time for maintenance—something usually only more expensive motorcycles do.
Versatility
With several electronic ride modes based on fuel consumption needs, road surface and preferred riding style, the Ryker 900 and 900 Rally Edition can take on a different personality based on your current idea of a good time.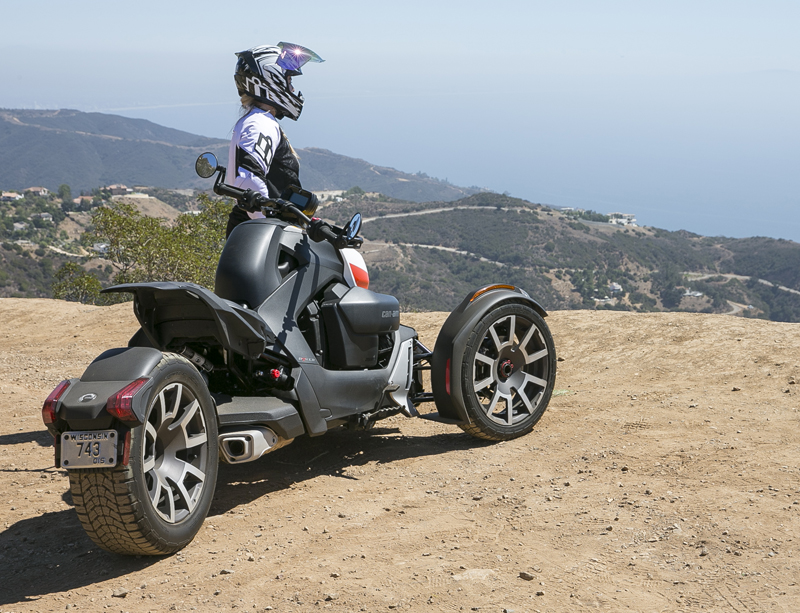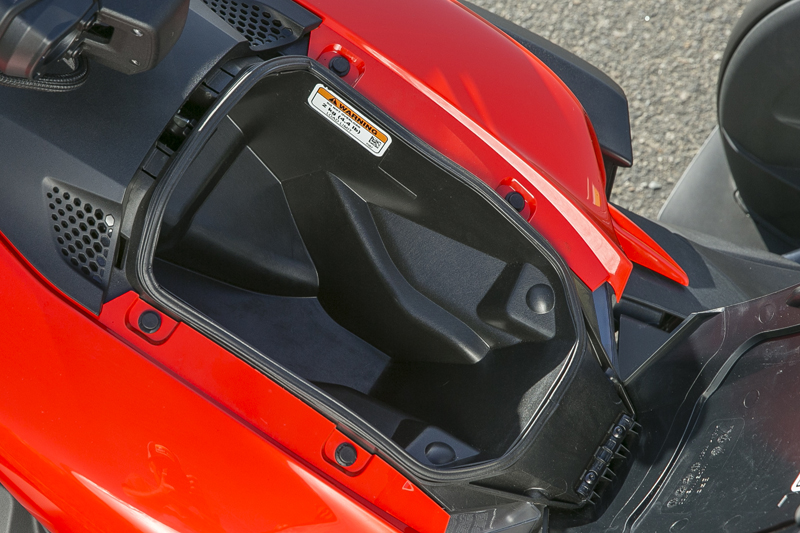 Customizability
You'll have your choice of colors and configuration of colors, clip-on accessories, and even performance upgrades, with most add-ons having the option to be installed at home without the need for extra labor expenses.
Can-Am suggests there are over 75,000 different configurations, so no Ryker will be the same. You can build your bike at the dealership on a touch-screen TV, or even use the new Ryker Ride Builder app (currently for IOS only) for a 3-D augmented reality view of what your dream machine will look like. Give it a try, it's a ton of fun!
Nothing Is Real Until It Is Experienced
This all looks good on paper, yes. Beyond all of the technical aspects of the bike listed above, what remains is the experience it gives those who take a chance and try it for themselves.
Riding the Ryker 900 models through the canyons of Malibu and the surface streets of Los Angeles I got a good idea of how it compares to both riding a motorcycle and driving a car.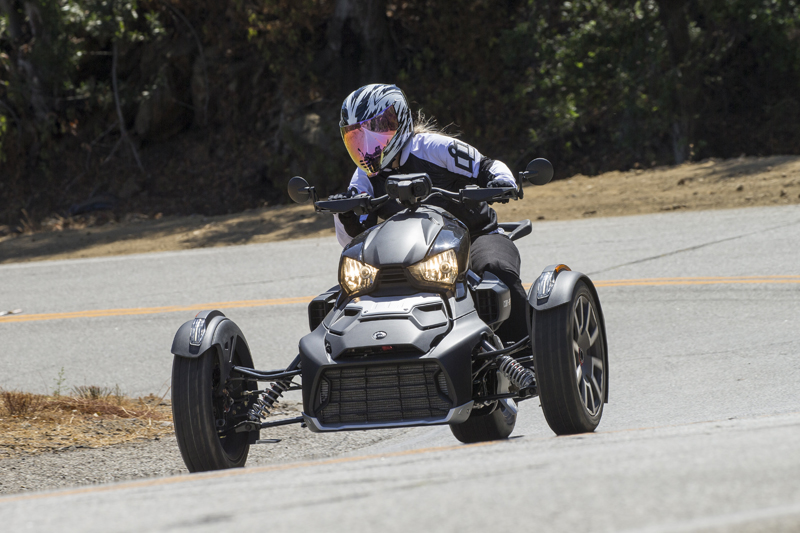 The first aspect that stood out during my test ride was that it is much smaller and lower to the ground than expected. The Ryker is lighter than Can-Am's three-wheeled Spyder by nearly 300 pounds. With this in mind, I expected the Ryker to come across as quick and nimble, and that's exactly what I got. The power of the 3 cylinder 900cc engine did not disappoint, and it is surprisingly zippy even compared to my personal sport motorcycles. I did not get a chance to ride the 2 cylinder 600cc base model, but can imagine it being even more user-friendly for brand new riders.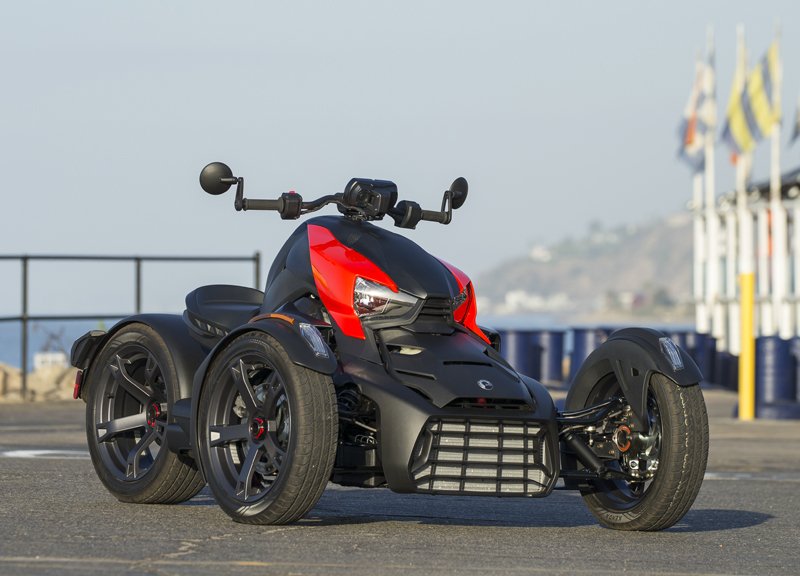 The sensation while at speed and in corners is similar to a race style go-kart because of the low seat height and wide stance. Having just one wheel in the rear makes the Ryker look more like a motorcycle than a car, especially when following an entire group around hairpin turns! Even so, I would feel more inclined to take it easy, reduce my speed, and enjoy the views the next time I get a chance to hit the canyons on a Ryker.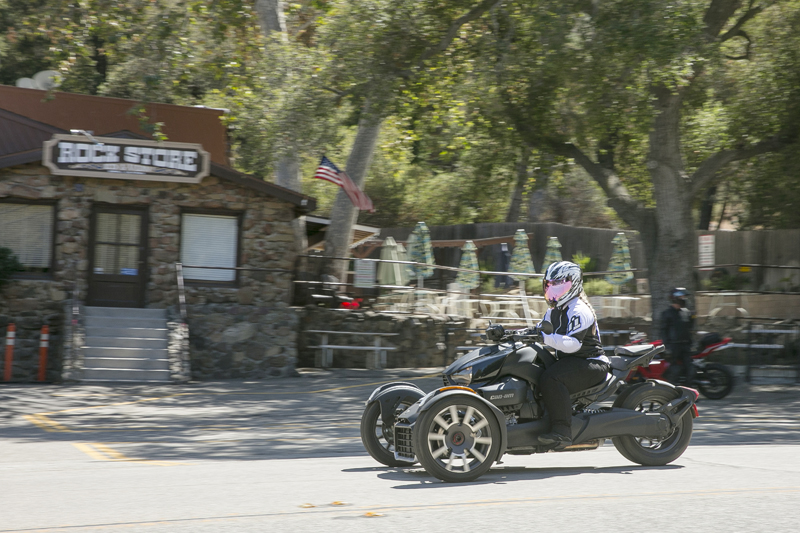 I had a chance to relax a little on the surface streets. I was stuck in traffic, but I wasn't sitting inside a box, and that made all the difference.
As a two-wheeled enthusiast for nearly my entire life, I can't deny how easy it was to fall in love with something so non-traditional. The Ryker is not a motorcycle (although a motorcycle license is required to legally operate one). However, at the end of the day when the test ride was over, I didn't want to stop. That says it all right there.
While you can legally operate a trike with a motorcycle endorsement, specific training for three wheeled machines is becoming more accessible. The Motorcycle Safety Foundation (MSF) offers a BRC three-wheel course and Can-Am's own rider education program will be available at 150 locations across the USA by the end of 2018.
Can-Am is in the process of scheduling a demo tour across the USA in 2019. I highly encourage you to take the opportunity to experience it for yourself. Bring a few of your non-riding friends with you just for fun, and you might just finish the weekend with a couple of new riding buddies!
Despite being different than a two-wheeled motorcycle, the Ryker can be a game-changer for potential new enthusiasts as a gateway into the on-road powersports lifestyle. The Ryker is sexy, cool, fast, and very fun to ride. Lest we forget, isn't that what this obsession is all about?
Specs At A Glance: 2019 Can-Am Ryker
Displacement: Rotax 600 ACE in-line 2-cylinder / Rotax 900 ACE in-line 3-cylinder
Seat Height: 23.6 inches / 23.5 inches
Fuel Capacity: 5.28 gallons
Dry Weight: 594 pounds / 616 pounds
Colors: Carbon Black, Intense Black, Liquid Steel, Immortal White, Heritage White, Adrenaline Red, Midnight Red, Orange Blaze, Yellow Shock, Electric Yellow, Haze Blue, Army Green
Price: Starts at $8,499
Related Articles
Entry Level Motorcycle Reviews
Can-Am Spyder Reviews
Beginner's Guide: Choosing Your First Motorcycle
Reader Story: Learning to Ride a 2-Wheeled Motorcycle, Then Choosing 3 Wheels