As a devout dirt rider, I was so excited to learn about the film, Any Oregon Sunday, a 15-minute documentary about three women off-road riders in Oregon (note homage to On Any Sunday). As she rides across the scenic state on her Triumph Bonneville, Tiffany Lindquist presents each unique female rider and her niche in the motorcycle world.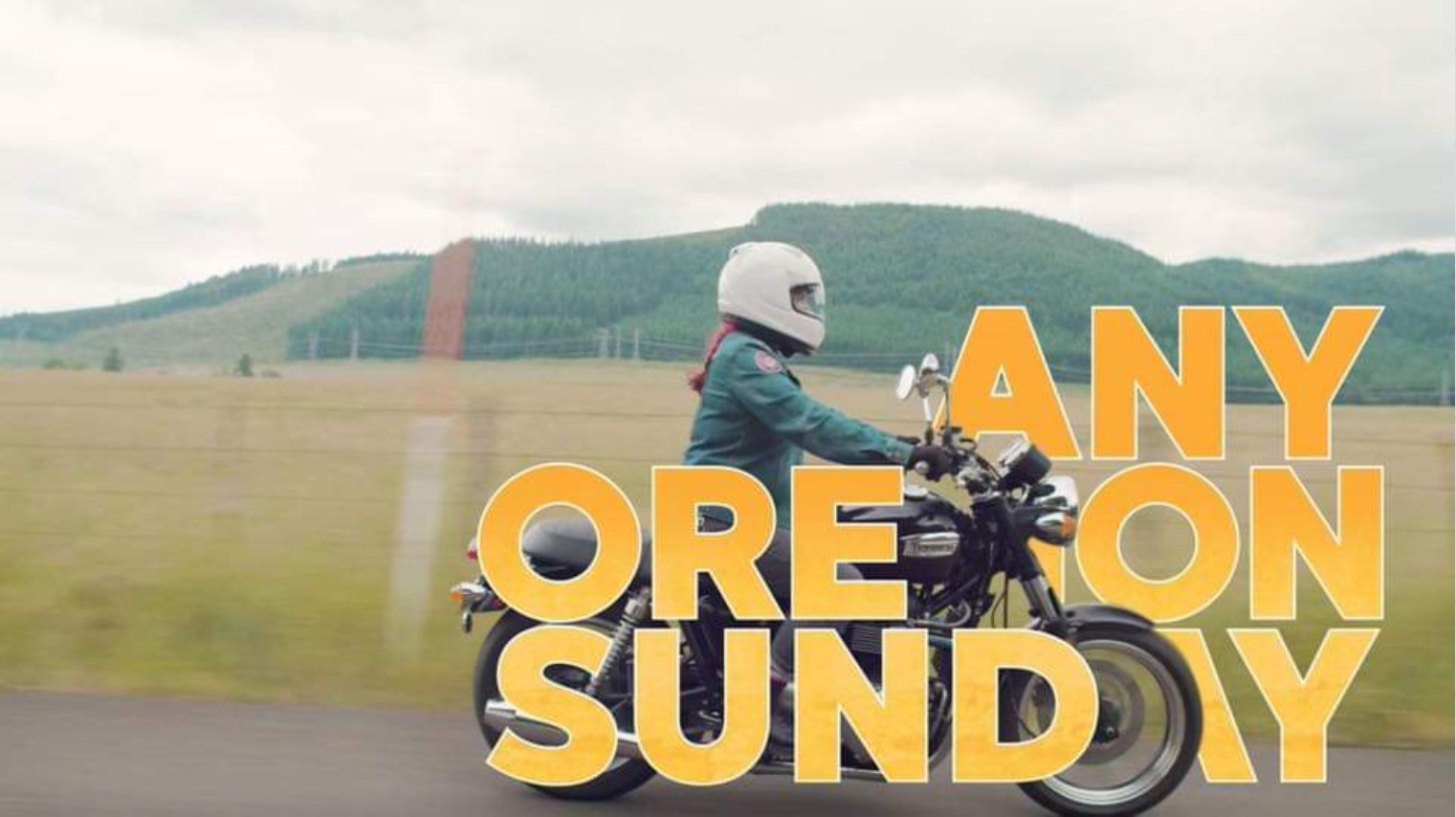 The short film begins by introducing us to Kylee Sweeten, a champion trials bike rider with an incredible ability to "climb" over rocks on a motorcycle. We then meet Ashley Volner, a versatile dune rider and motocross racer (a girl after my own heart!) Finally we learn about Jada Noriyuki, a dirt bike rider who navigates the forest like a champion and hauls her dirtbike in a classic El Camino. Each woman has a unique story and riding style, but they are united in their love of the sport and beauty of being outdoors.

Any Oregon Sunday was awarded a film grant by the third annual Outdoor Adventure Film Grant – "Oregon's Outdoors Are For Everyone" (OAFG20). The organization looks for experienced filmmakers who create a short film that will "equally illustrate the inspiration of adventure, the triumph of the human spirit, and the distinct possibility that outdoor pursuits can mobilize and empower." 
WomenRidersNow.com (WRN) had the opportunity to interview Tiffany about the film. We think you'll be as inspired by her vision as we are!
WRN: How did this film originally come about?

TL: Any Oregon Sunday was Kanani Koster's (Producer/Director) brain child. She grew up riding dirt bikes and wanted to make a film that featured women in a traditionally male-dominated sport. A mutual friend had suggested she reach out to me because I had connections to the film and motorcycle communities. 
In March of 2020, we received the Oregon Outdoor Film grant, and then COVID-19 hit. Filmmaking suddenly got much more challenging. Kanani, Janie Faison (Art Director), Jasmine Karcey (Director of Photography), and myself had production meetings over Zoom every week for months.
WRN: It's so great that you received such a prestigious grant. Congratulations! And it provides an avenue to bring motorcycling and women riders to the general public.Your team is made up of all local women filmmakers. How did you assemble the team?

TL: Kanani and I had never met, but several of the other women we brought on were mutual friends or ladies that we had worked with on other projects separately.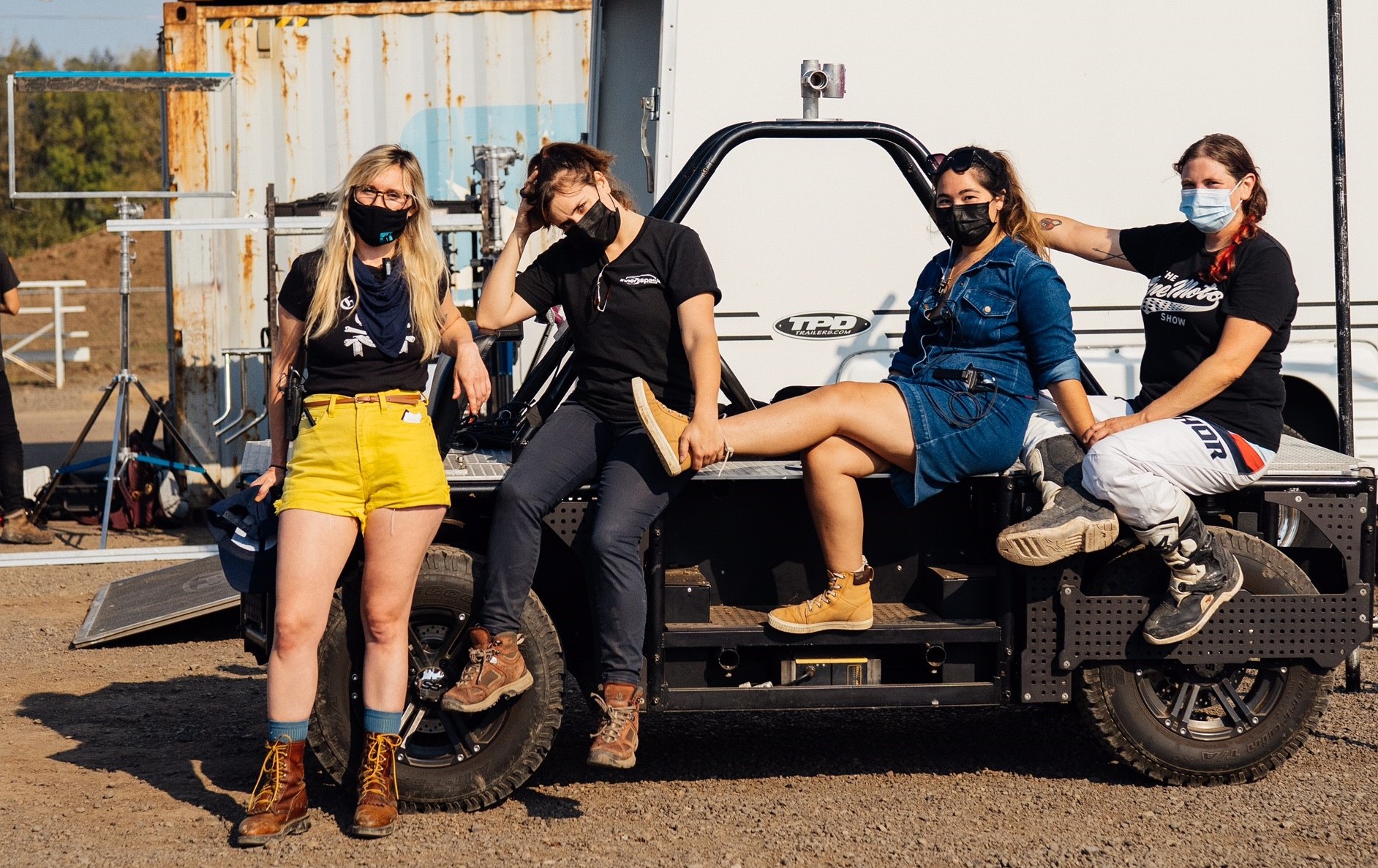 The Riders and Influences
WRN: How interesting to bring a group of loosely acquainted people together for such a specialized project, I'm sure the nature of being women riders and featuring women riders was quite bonding. So once you had the crew and direction for the film, how did you choose which riders to highlight in this film?
TL: I reached out to folks that I ride with and was able to connect with lots of amazing female riders. I wish we could have featured so many more! Oregon has such an incredible collection of ladies who ride.
WRN: We certainly do have a strong female riding community here in Oregon. I hope you can make an Any Oregon Sunday II someday and introduce us to some more of them.
Do you have filmmaking influences that inspired the stylistic choices for your film?
TL: Our film was undoubtedly styled and titled in homage to the 1971 documentary On Any Sunday starring Steve McQueen. And a touch of Easy Rider/Americana.
WRN: I thought so as soon as I first heard the title! As a former Southern California desert racer, On Any Sunday is part of my DNA, so I recognized the nostalgia.
WRN: Your film does a wonderful job of showcasing Oregon's diverse riding locations which I've been exploring since I moved back here. Are there any in particular that you thought, "I want to come back and ride this."
TL: I was super lucky to get to scout (aka ride) lots of amazing places all over Oregon in preparation for the film. Unfortunately, many of our locations were lost due to COVID-19 and smoke from the fires. 
Luckily, some awesome people were willing to let our crew come out to their private property so we could finish the film. While I'm a regular in the Tillamook forest, I had never ridden on a track until the day we filmed in Albany. I've still yet to try trials, but I'm eager to!
WRN: I love that your own film is inspiring you to try new aspects of motorcycling. In addition to inspiration, what messages do you hope viewers take away from your project?
TL: Get out and ride! Lift each other up. Don't get discouraged.
WRN: That's definitely a great message. WRN tries to foster camaraderie and support of each other amongst our readers, so that point is spot on.
Do you have upcoming plans for future projects?
TL: Nothing I can talk about, but rest assured it involves women and motorcycles!
WRN: Well I can't wait for it, whatever it is!
WRN: I was lucky enough to get to screen the film at an SW-MOTECH open house with my local Litas and Torque Wenches women's riding groups. Where can others see your film and follow your progress?
TL: We are currently screening the film in several film festivals around Portland and looking for opportunities to screen all over the country. You can follow us on Instagram @any_oregon_sunday and check out our website at AnyOregonSunday.org for updates on screenings and events that may be near you.
WRN: Tiffany, I'm so excited to see Any Oregon Sunday pick up additional viewers. Thank you so much for your time and passion.

Dear readers, if you are interested in arranging a screening in your area or for your club, please let us know in the comments below.