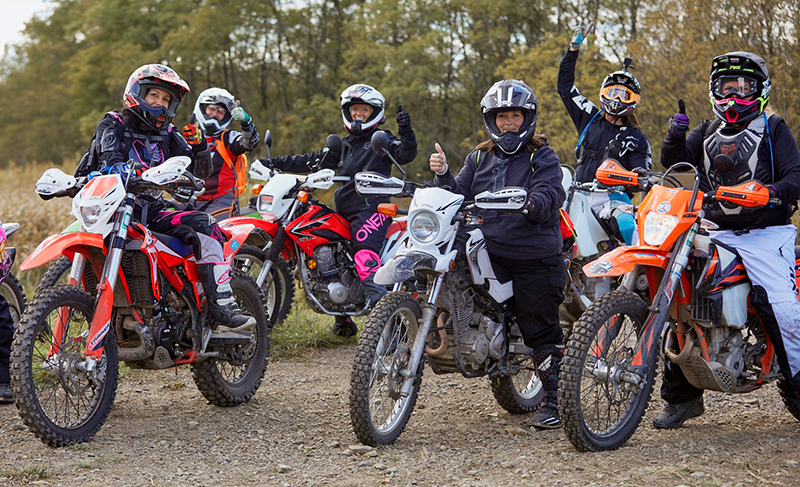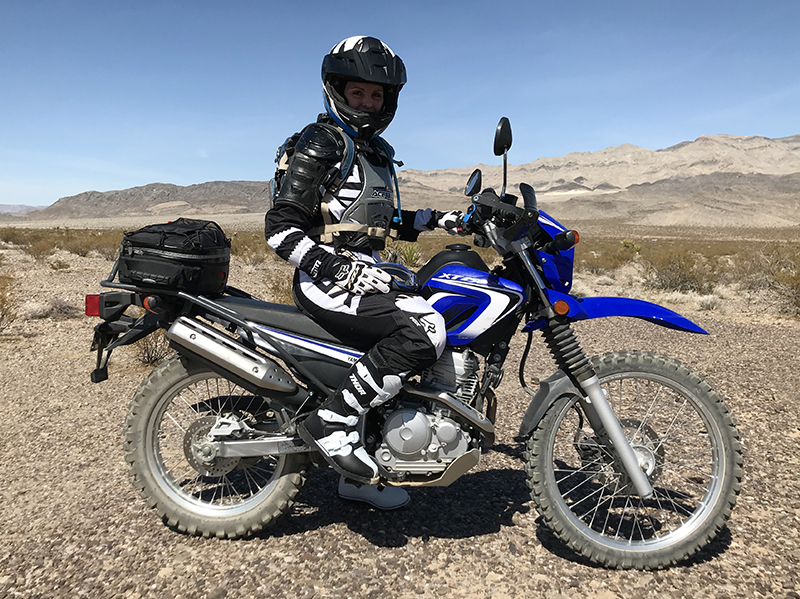 Unlike the heavy duty road rash protection you wear for street riding, off-road riding (cross country trail riding) or motocross (on a dirt race track with jumps), is much more physical, more like mountain biking—without the pedals. Also the hazards are much different than pavement. Depending on where you ride, you may encounter rocks, trees, branches, stumps, grit, running water, heat exhaustion, or "roost" (dirt and rocks kicked up from other riders). You also need a greater range of motion and air flow, because you're always moving around and standing up on the bike as you ride to compensate for directional and terrain changes. This is why riders look like superheros when properly geared for the dirt ride.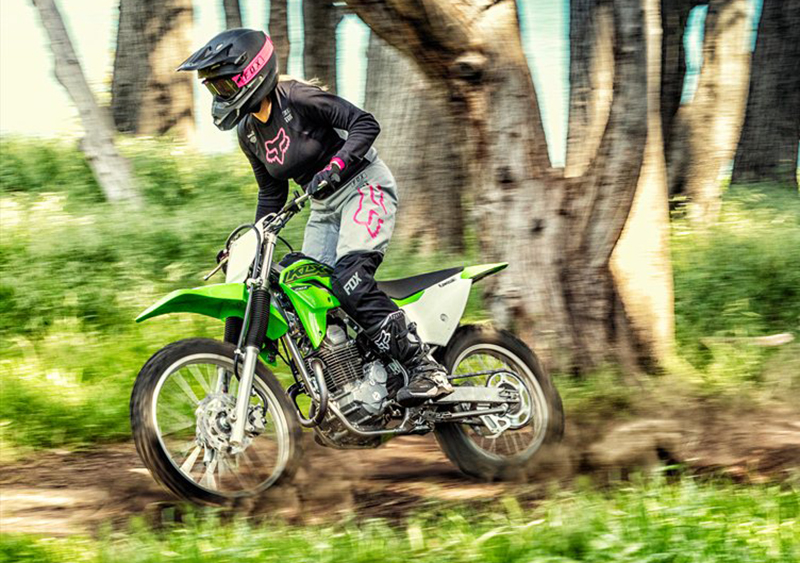 Similar to street gear, there are many manufacturers making off-road apparel such as Fox, Thor, O'Neal, FLY Racing, and more. Unfortunately, just like with street gear, few dealers tend to carry women's sizes. But this is getting notably better since the same gear is worn for other powersports like quads and side-by-sides. As motorcycling increasingly becomes a full family activity, more dealers are seeing the demand for women's gear. There are already plenty of online retailers carrying women's gear, but your local dealer can offer personalized one-on-one advice.
Because it is so lightweight and doesn't need to be abrasion resistant, off-road gear can be fairly inexpensive. However, you can always opt for higher priced options that might incorporate additional protective features such as a hard knuckles or waterproofing on gloves.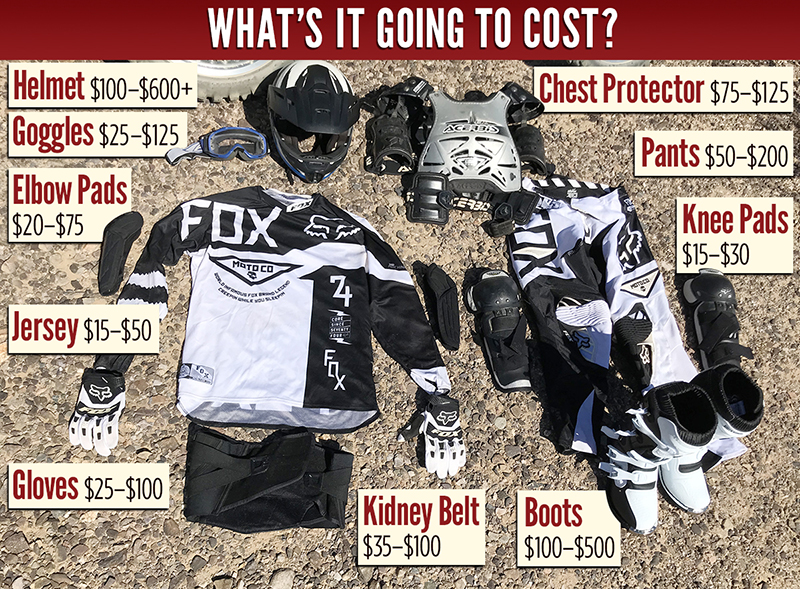 Off-Road Riding Disciplines … Explained
Off-road riding is the fastest growing style of motorcycling, but the terminology can be confusing to riders who have devoted their miles to the street. As with all rules, there are exceptions, but this will give you enough to get started venturing off the beaten path.
Dirt Bikes
Very specifically designed for non-pavement riding, either on trails or on a dirt competition track
"Knobby" tires on larger wheels for better grip on loose surfaces, such as dirt, gravel, and sand
No license plates, turn-signals, mirrors, or headlights
Typically up to 500cc displacement engines
Tall suspension and larger wheels for going over bumps and obstacles
Long, narrow, solo seats for range of motion to adapt to rapidly changing terrain
Lightest and most nimble of all off-road bikes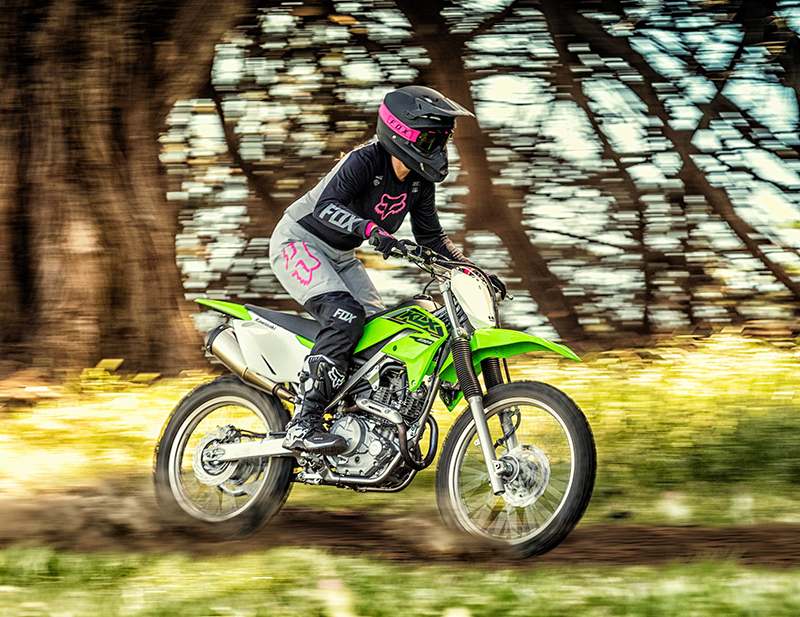 Dual-Sport Bikes (Dual Purpose, Enduro)
Evolved from the classic dirt bike and includes elements required to be registered as a street-legal motorcycle such as turn signals, headlight, taillights, horn, mirrors and a license plate
Larger wheels and lower profile "knobby" tires for street and dirt use
Enduro motorcycles are dual-sport bikes traditionally used for long distance off-road competition
They are designed to perform well on pavement as well as on dirt, using different gearing to enable higher speeds and incorporating bigger fuel tanks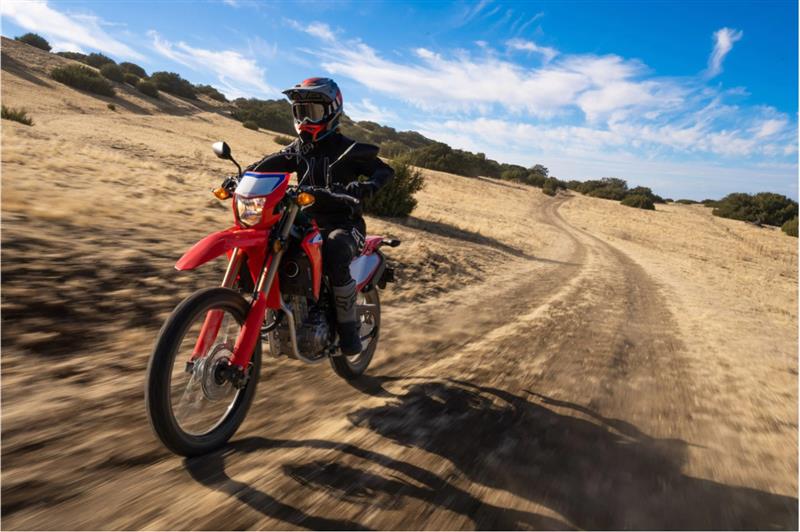 Adventure Bikes (Adventure Touring, ADV)
Typically a larger displacement (650–1250cc) street bike that is also capable for varying levels of off-road use; developed for long distance exploration that involves both pavement and off-road conditions; licensed for street with standard street motorcycle controls and comforts
Heavier bikes with more power for longer distance exploration
More creature comforts for asphalt, such as windshields and larger gas tanks
Often able to accommodate a passenger with pillion seat and pegs
Very capable off-road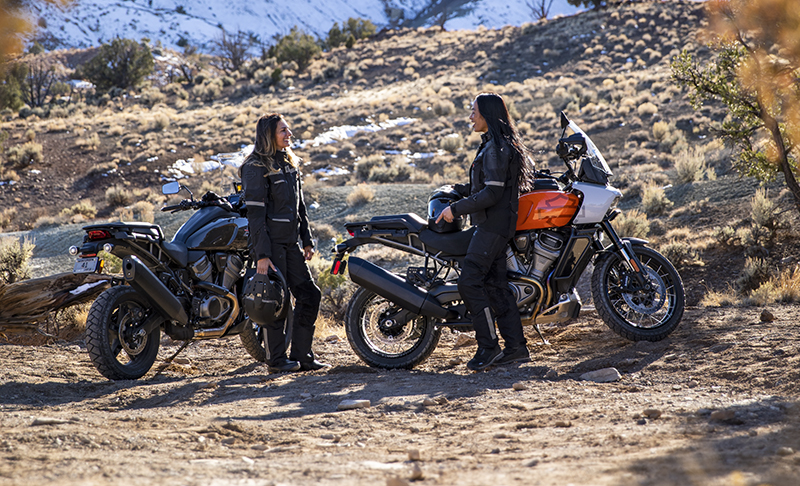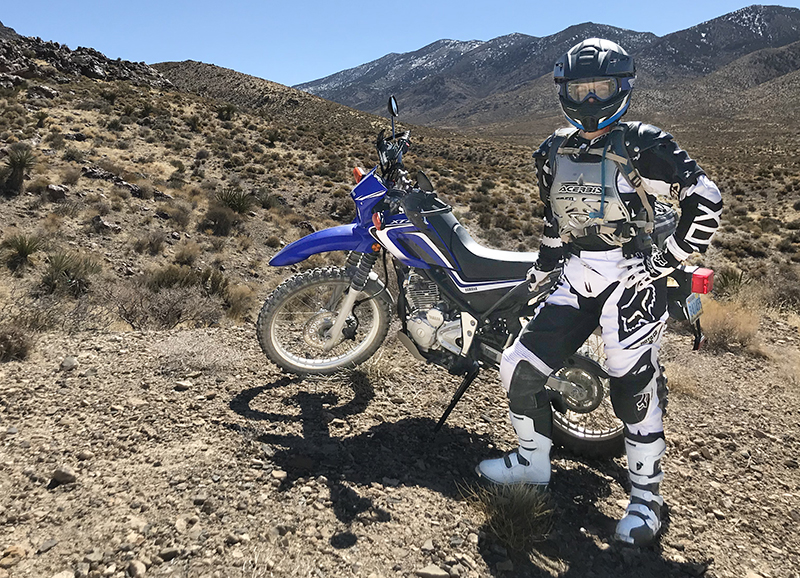 Helmets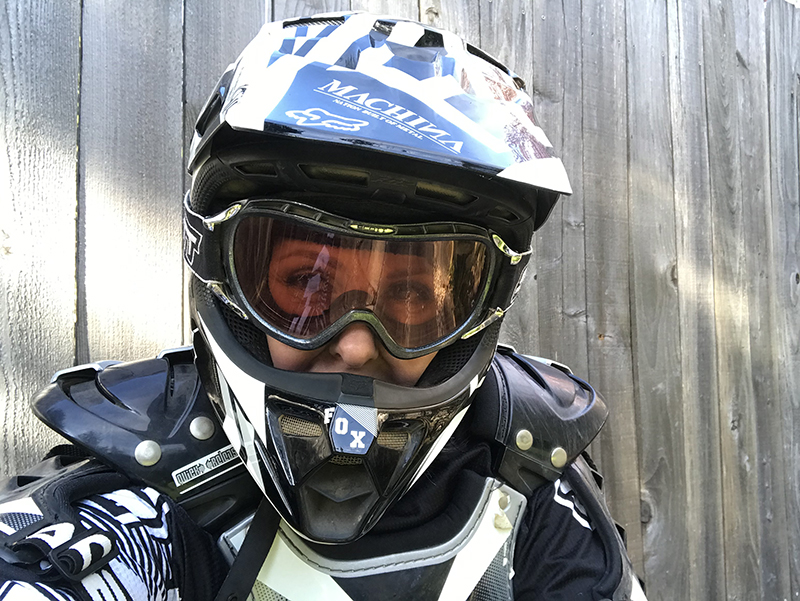 Not necessarily women-specific, but important and different from street gear, full-faced dirt helmets are lighter, well ventilated, and feature a "peak" (think of the brim on a baseball cap) to keep sun and brush out of the rider's face. To facilitate this, most off-road helmets don't have a face shield. Instead, the rider protects her eyes by wearing dirt helmet-specific goggles which sit in the eye port opening and are held in place by an elastic strap. Riders who require a prescription lens either wear contacts, wear goggles over their glasses, or invest in prescription goggles or inserts. The standard goggle lenses might need to be replaced after several rides if the rider has been in heavy dust or brush. They run about $20 and are available in different tints to shield or enhance brightness. Tip: Sometimes child-sized goggles fit better in the eye port of smaller helmets.
Just as with street helmets, you want to be sure to buy a dirt bike helmet that has met professional certification standards. (DOT/ECE/Snell, etc.) Another important tip is to look for a helmet with an easily removable liner as you will want to wash it after any vigorous (sweaty) rides.
Armor
Armor is separate from the clothing and worn underneath and is just as important. Most riders choose to wear knee pads and elbow pads (also known as elbow and knee guards) made of hard plastic with a comfortable fabric lining which are held in place under the pants and jersey with soft elastic straps and Velcro.
Off-road riders wear a chest protector similar to a football player's shoulder pads with extra coverage on the upper arms, chest, ribs, and back. It's worn over the jersey and elbow pads to protect from rocks, branches, and impacts. The chest protector is also made of hard plastic with comfort fabric at touch points and held in place by adjustable elastic bands. Some companies like Acerbis and Fox even make a women's specific chest protector that bustier women often find more comfortable than a man's or child's version which are flat in front, so try on both versions to see which fits your body shape most closely. The women's versions usually come in only one size, but it will vary between brands. Higher priced chest protectors are now being offered with impact absorption elements.
Some riders choose to use an armored shirt over or under the jersey instead of a standard chest protector. This option could be hotter if riding in high temperatures, the armor can be heavier than the plastic "exoskeleton" of a chest protector, and they often don't incorporate a breast plate (that can sometimes be added on). It really comes down to rider's preference. The armored shirts cost between $150 and $300 which is slightly more than a chest protector and elbow pads combined.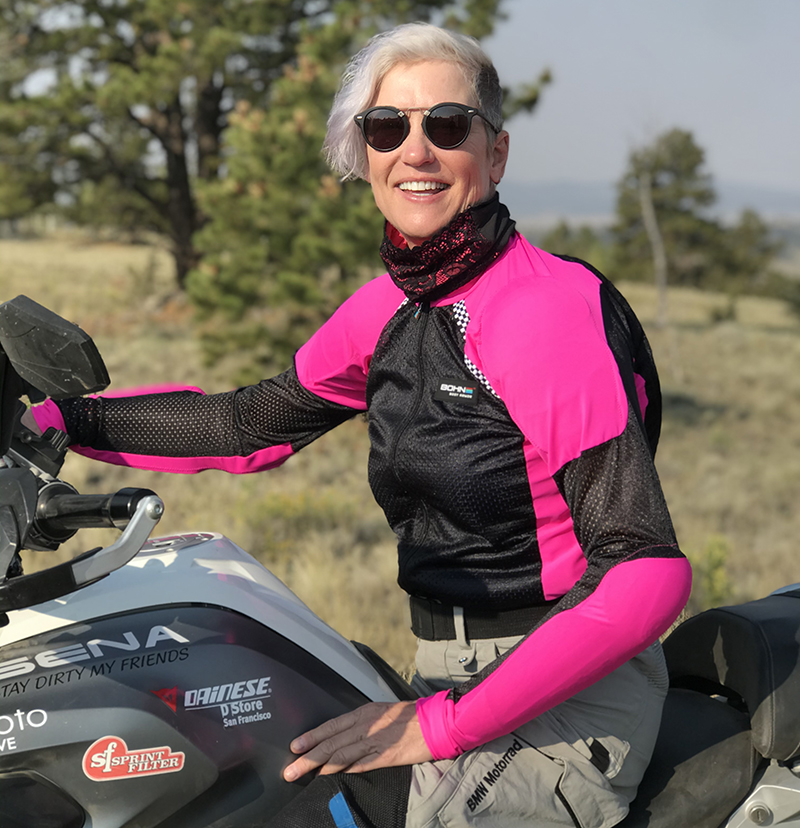 Most off-road riders wear a kidney belt over the jersey and inside the pants to provide support because of the physicality and movement involved in maneuvering the motorcycle in the loose dirt and over obstacles. I struggled for a long time to find one that fit and wore a kid's version for many years. More smaller sized adult kidney belts are available now. The kid's version is a good option but doesn't offer the coverage from top to bottom that an adult kidney belt will.
Clothing
Dirt bike clothing is lighter weight than street riding gear and designed for maximum movement and airflow. The pants and jerseys worn in the dirt are pretty basic compared to feature-rich street riding gear. In the dirt you don't need things like reflective striping, pockets, adjustable Velcro tabs and the like. This gear is inexpensive, simple, and very easy to throw in the washing machine at the end of a day in the dirt, dust, water, or mud.
The knee and elbow pads and the chest protector can chafe so some riders choose to wear silk shirt and pants or "base layer" clothing under all of it, even in warmer weather. Knee high and longer socks are generally worn to minimize chafing
minimize chafing from boots, knee pads, and moto pants as well.
For colder weather or rainy rides, a light but sturdy "enduro" jacket with light protective elements is often worn. Choose one that is big enough to fit over the chest protector. Enduro jackets are constructed of sturdy textile material, are sometimes waterproof and/or vented but do not have armor as they are intended to be worn over the protective gear.
Enduro jackets are heavy duty with pockets, flexible plastic reinforcements, and often feature zip-off sleeves for variable temperatures, and sometimes have hydration bladder pockets. Some of these jackets even fold up into a fanny pack for versatile carrying.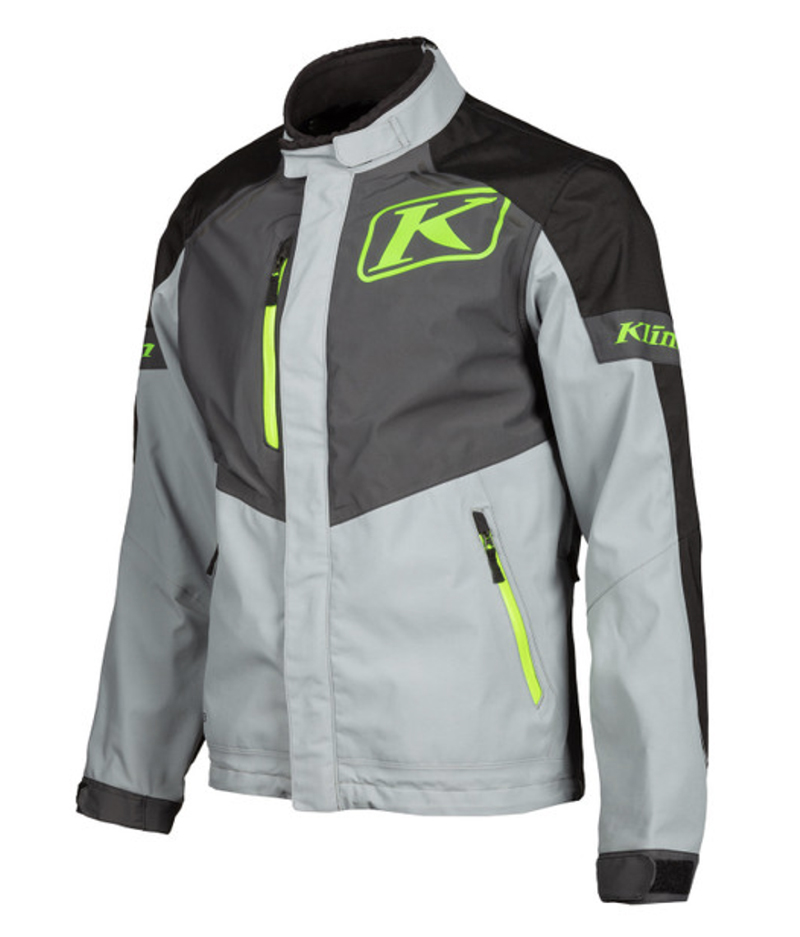 Boots
Boots for off-road riding need to be strong enough to protect the rider's feet and lower legs from all of those elements and offer support for bikes that have kick starters. The foot shouldn't be able to bend or be crushed. Like we explained in our guide to women's motorcycle boots here, women are built differently than men. Women's legs are typically shorter than men's, and the calves are bigger and positioned differently. Boots designed for a man's physique don't fit well in the calf area for some women for these reasons. In addition, men's boots might be heavier and bulkier.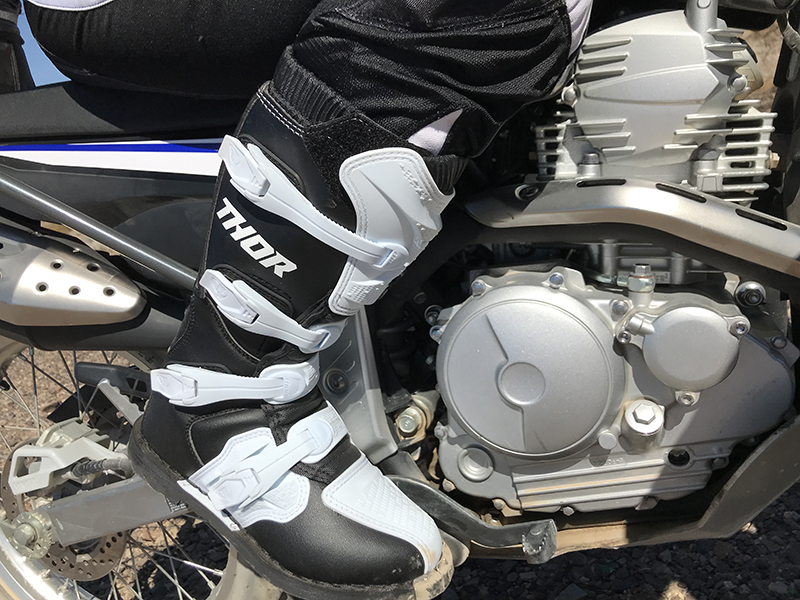 Recommended Add-Ons
Besides the basic gear kit, there are other adaptations and add-ons to consider such as a neck brace, knee braces (offer protection from hyper extension and are much more expensive), fanny pack/tool kit, hydration system, and more. Determining the right mix for your riding style requires a little trial and error as you learn more about what is available and what your riding and protection needs are.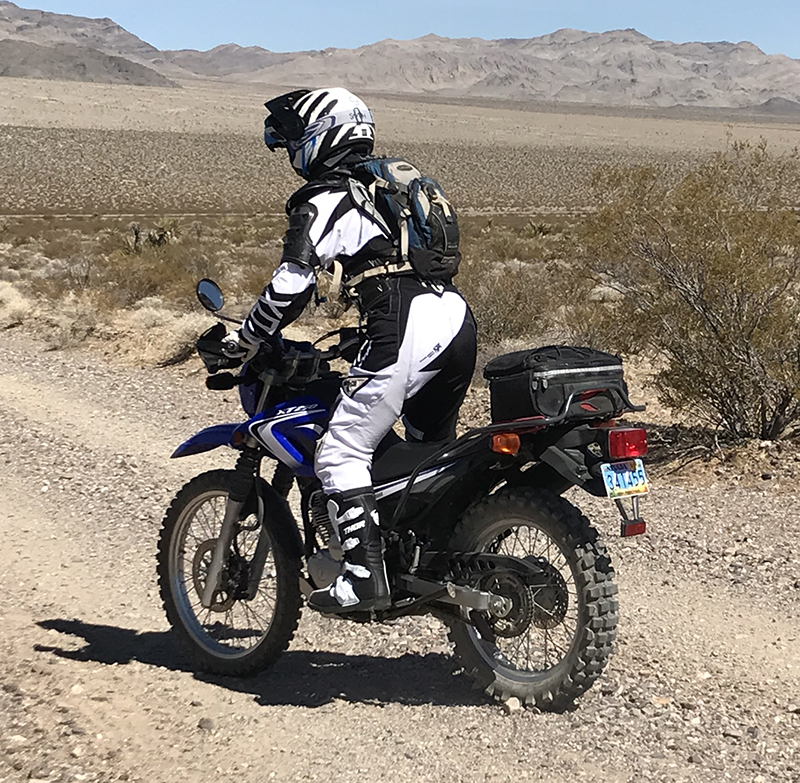 Looking for Adventure?
Adventure (ADV) gear is different from the dirt bike gear we describe above. Generally ADV riders are riding bigger motorcycles that are made to ride well both on and off the road. With bigger tanks, luggage, and touring accessories included with long-distance adventure in mind, ADV bikes are much heavier and faster than dirt bikes.
Hence, adventure gear needs to be protective and comfortable for both on and off road and at high speed. For this, companies are developing an ADV style that blends the qualities found in dirt bike gear with touring gear. For example, ADV jackets and pants are made of materials that are sturdy, can withstand varying weather conditions, are loose-fitting, and contain armor and abrasion-resistant panels in impact areas that will hold up and protect you from road and off-road mishaps. They usually have vents, lots of pockets, and some ADV jackets even incorporate a hydration system.
Gloves worn for adventure riding are also usually more durable than regular dirt riding gloves and often incorporate waterproof materials and have hard knuckle protection.
ADV riders often wear standard dirt boots like the ones shown above if they are doing heavy off-road riding. There are also options for boots that are more of a blend between street and dirt that offer flexibility and comfort while still including a lower level of the protective and functional elements of the dirt boot. ADV gear is generally more expensive than dirt gear and priced similarly to textile street gear.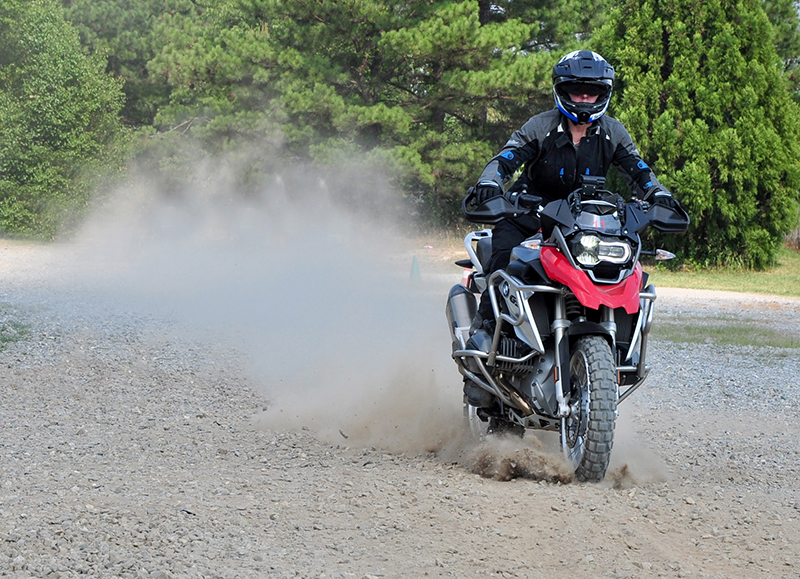 We will provide more detailed information about ADV gear in a future article.
---
Related Articles
Over And Out Moto Women's Off-Road Riding and Camping Event
Beginner's Guide: So You Want to Ride a Dirt Bike?
Dual-Sport Motorcycle Reviews
Women's Motorcycle Rallies and Events