Over And Out (OAO) events include 3 days of off-road riding, camping, and lots of fun bonding with women riders in a private setting. OAO is for women who ride, or who want to learn to ride dirt bikes, enduro, motocross, dual sport, and more. It's an opportunity for women to advance riding skills while making memories with new female riding friends.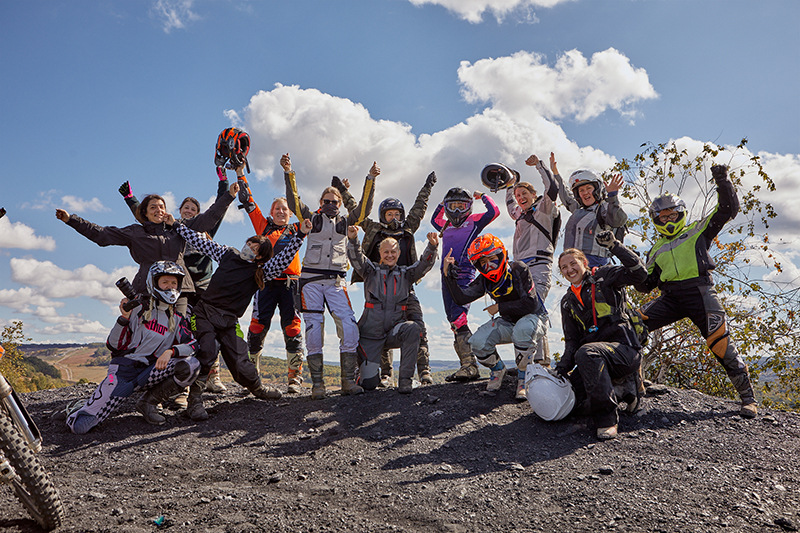 Over And Out is the brainchild of Kelly McCaughey. The event name was inspired by the joy experienced by going "OVER" mountains and "OUT" on dirt and country roads. As a trail rider, she missed the company of other females. Her love of dirt riding sparked the interest of friends and in 2016 Kelly organized a day to introduce dirt bike riding at her home to eight women riders. She then held a 3-day overnight adventure for about 15 women riders. Following the success and interest generated from these women-only riding events, Over And Out was born in 2017. Attendance doubled in 2018 and in 2019 OAO added a second weekend with a motocross element, Over And Out Moto-X (OAO-MX).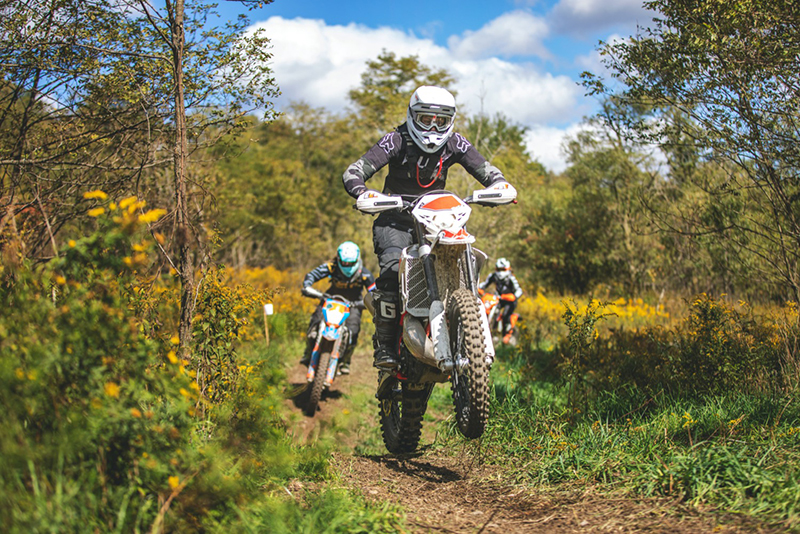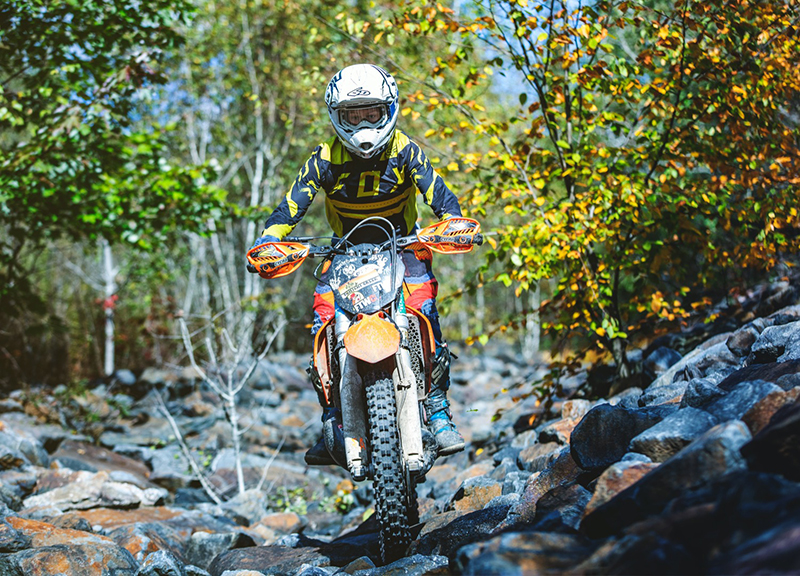 My Over and Out Adventure
Four decades of riding on the street and 13 years training riders as a Motorcycle Safety Foundation (MSF) RiderCoach did not prepare me for less-than-ideal traction conditions of off-road riding. I lived by the mantra that asphalt is my friend. But with the 2020 pandemic restrictions resulting in all my planned charity rides and events cancelled, I saw an opportunity to get away and advance my rider skills with Kelly and other women riders at the 2020 Over And Out Moto weekend in nearby Tamaqua, Pennsylvania.
I own a Yamaha TW200 dual sport as a spare bike to let my friends practice on, but Id never ridden it off-road other than occasional unpaved driveways. My dirt experience could be counted on one hand, but the TW, fitted with dirt-worthy tires, is perfect for the OAO weekend.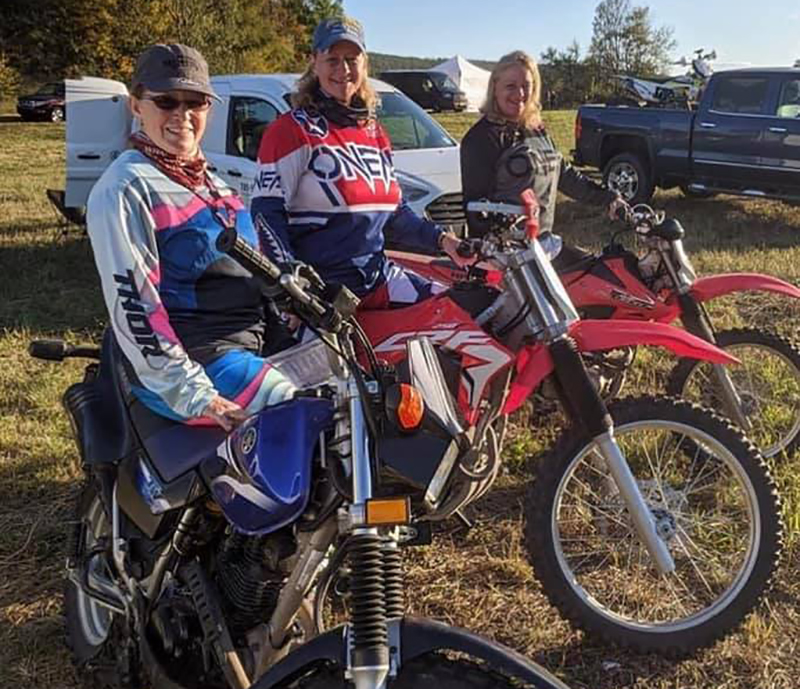 OAO events are camping-based and I knew I could be comfortable sleeping in my van. My camping essentials consisted of an air mattress, sleeping bag, canopy, lawn chairs, blankets, and a flashlight. I loaded a cooler with drinks and cold cuts, and included a box of not-so-nutritious food. Even in late September, with temperatures reaching down into the 30s, I would be warm, dry, and fed.
With my bike and van ready, getting me ready was a problem. I struck out finding new or used gear locally. OAO's website provided helpful information including a link to a ladies' gear rental company, Mountainist. I avoid buying attire online because nothing ever fits me but it was already Sunday and my departure to OAO was Friday morning—tick-tock! I explained my time and cluelessness situation via Mountainist's "contact us" option on its website and was thrilled when the owner, Tana Hoffman, called me immediately. She worked to educate me and help me chose between renting gear or purchasing new and used items.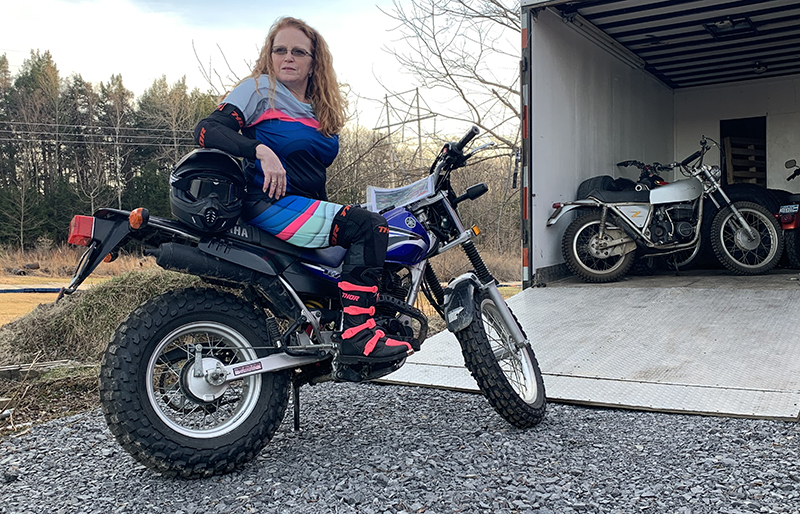 I arrived at the OAO Pennsylvania location mid-day Friday just in time to join onlookers cheering a group of riders departing on the "Easy Dual Sport Ride." I attended the mandatory information meeting with about 100 women to learn about the event's rules and logistics and we were introduced to Kelly, her committee members, and other staff.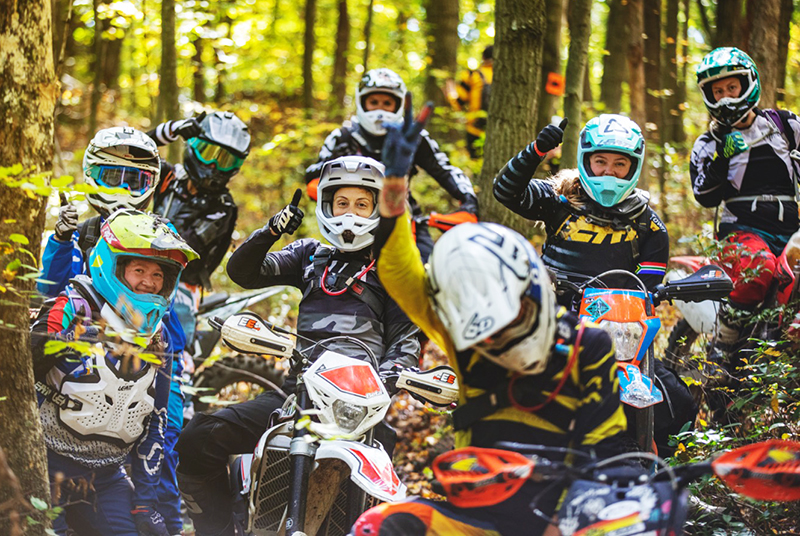 Afterward, I began my search for a place to call home for the weekend. I spotted twins Lisa Bittner Winkler and Lynne Bittner starting to unload a shiny new Honda from the bed of a pickup using a solid surfaced ramp. I hate ramps with openings; guess what I brought? I asked to borrow that awesome ramp and the three of us unloaded the Honda and my TW200 and set up our camps side-by-side. I had easily and quickly made two new moto friends—a typical attribute of women-only motorcycle events.
We enjoyed chili and hot dinner items from the on-site mobile food vendor and shopped at the OAO merchandise hut. Dragging chairs and cocktails to the glorious bon fire, we enjoyed the company of other ladies as Friday drew to a close.
Saturday morning, I woke to the sound of motorcycles buzzing in every direction. After coffee from the food truck, I fired up my TW200 and made my way to the Ruts-to-Racelines GPMX Dirty Girl Intro to Dirt Bikes class. The husband and wife owners, Marika "MK" and Greg "Frenchie" Pamart provided two sessions of their ladies-only course during OAO. As Frenchie guided us through general instructions and introductions, I was impressed to hear women say that they took the course on Friday with zero prior riding experience and were back to learn more. Whenever a student said something impressive, Frenchie would comment about her "badassness." The tone was incredibly positive, empowering, and fun.
Class exercises began with feeling the importance of body position by riding the grass circuit using just one hand, then standing with all weight on one foot, and shifting weight from the right foot to the left and back. We rode our motorcycles through cone weaves, over logs, sharp turns, and traversing a sequence of tight trees. There were lots of giggles and encouragement sprinkled with cheers of "look at that badass," and high-fives. Marika and Frenchie had great comedic timing, getting laughter from the students at every opportunity.
Toward the end of the class we balanced on the plank, a long and wide piece of wood affixed at the center to a Yuengling beer keg. Marika showed us how to gracefully ride up the plank to its midpoint and then down to the ground. Then she demonstrated how using more speed on the approach and up the plank prevented the plank from teetering for the downhill ride. She caught some air and showed us how to correctly stick a landing.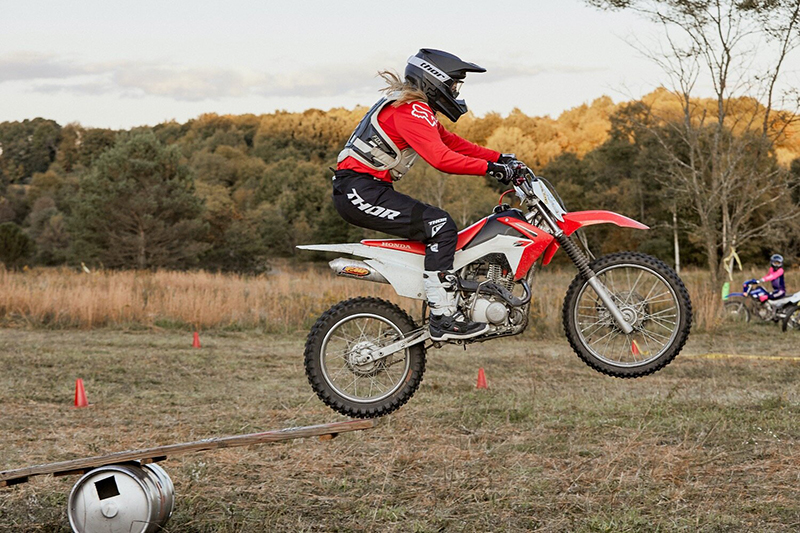 My first attempt was just up and down the plank, but I was determined to push myself. My next ride was faster, and I actually caught some airtime. My third run sent me high enough to feel the suspension compress beneath me as the wheels contacted the ground and my arms and legs became springs! Woo-hoo! It was fun and the sense of accomplishment was quite empowering.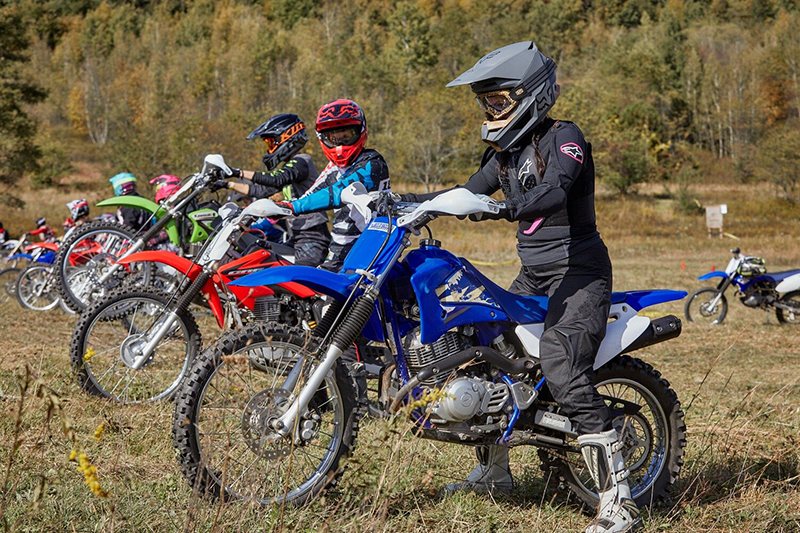 Our final exercise, the "popcorn," was a favorite of the ladies that attended the class the prior day. We had already learned to remove weight from the front wheel to surmount obstacles that were in our path. Now we would take all the weight off the front wheel and put air between the rubber and the ground (wheelie). We lined up our motorcycles facing uphill on a slight incline toward tall grass. Our goal was to increase the throttle and do a quick "pop" out and pull in of the clutch lever to cause the front well to briefly leave the ground. If didn't use enough throttle the front wheel would stay on the ground and the bike might stall. If I used too much throttle the bike could take a ride into the grass, possibly leaving me behind. Our group of riders saw stalls, rides into the grass, and lots of "popcorns" accompanied by cheers.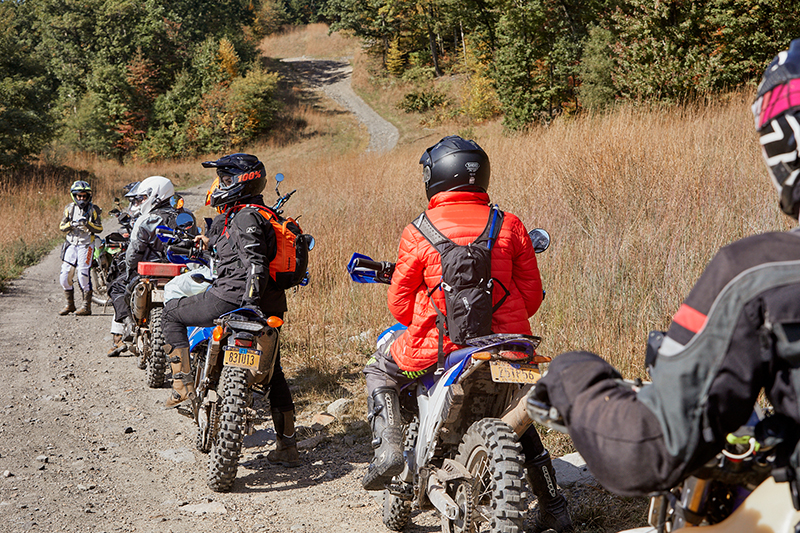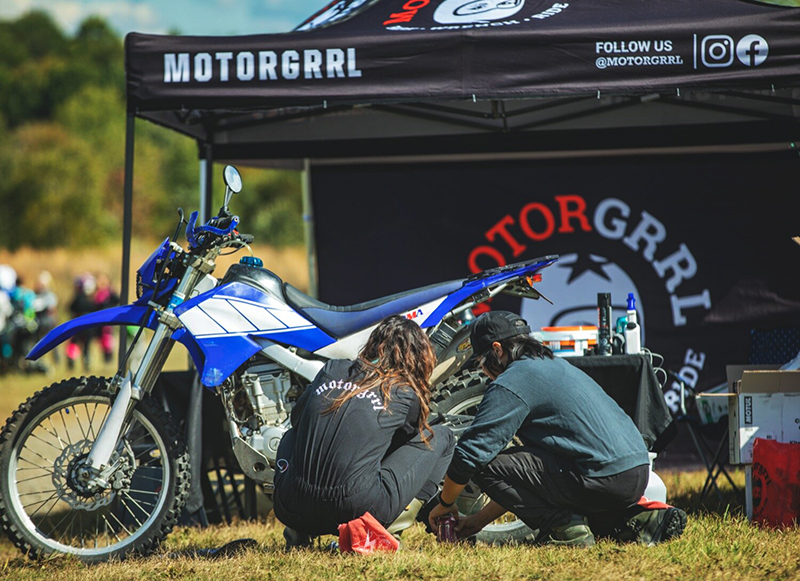 Each OAO event is packed with activities. The 2020 OAO I attended included dual sport rides by Delaware Valley Trail Riders, sessions on dirt bike maintenance presented by Motorgrrl, demo rides of the Beta 200RR and Xtrainer 300, and New Jersey Off Road Riding School practice sessions. Trails are designed for every skill level and there is social time built in. There was an enduro obstacle course contest that encompassed the dirt bike class range, hills, switchbacks in dense trees, challenging obstacles, and the see-saw. I had a blast watching the women compete against each other, kicking ass, and cheering each other on.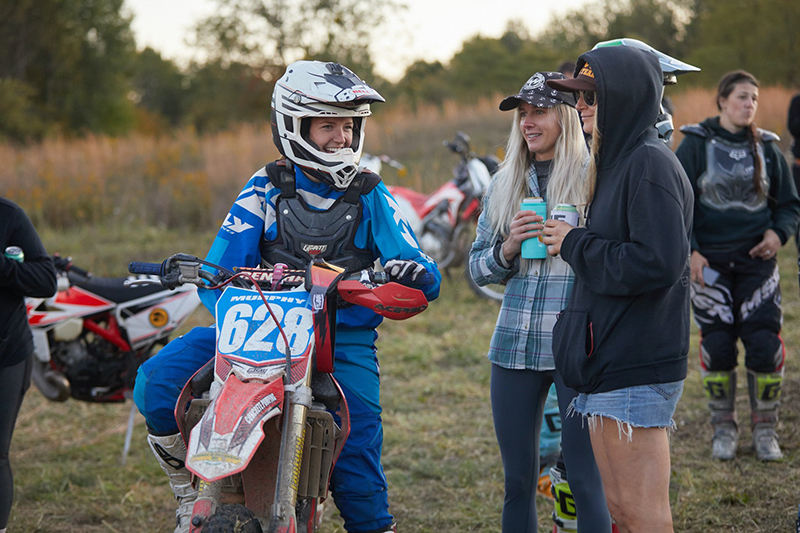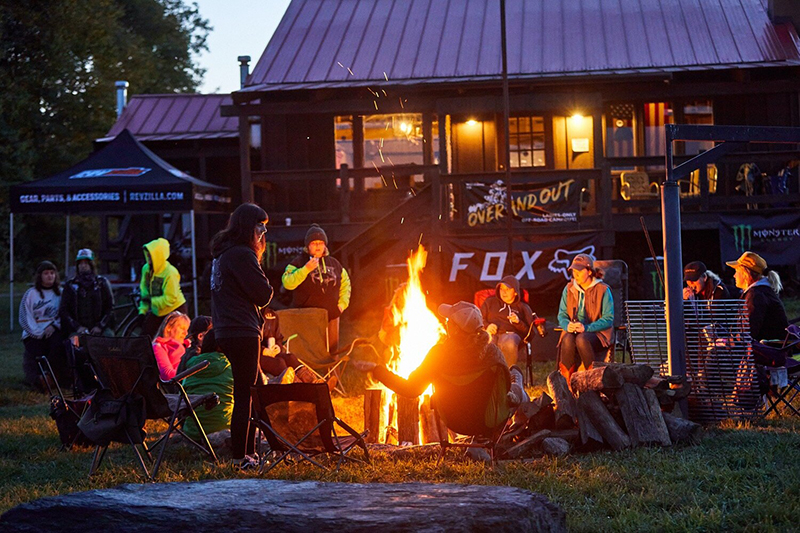 Sunday morning was chilly. Bikes were loaded, camps taken down, contact information exchanged, and many ladies committed to attending the next year. I realized that I had no injuries, had not made a fool of myself, had learned new skills, made new friends, and was officially a novice dirt bike rider.
Tickets are on sale for OAO-MX June 25–27, 2021 and the traditional OAO September 17–19, 2021. A new event, the OAO dual-sport retreat, is a more intimate getaway with lodging in Pond Eddy, New York. More details and tickets for this event will be available on April 21, 2021.
Get more information and register at OverAndOutMoto.com.
Related Articles
WRN Guide to Motorcycle Camping: Essentials
WRN Calendar of Events
Beginner's Guide: So You Want to Ride a Dirt Bike?