I'm trying to decide if the reason I like this autobiography so much is because I get a firsthand look inside the adventurous life of its author, Gloria Tramontin Struck, whom I know personally, or because I'm simply fascinated by all that this petite grandmother has accomplished on two wheels during her 75-plus years in the motorcycle saddle.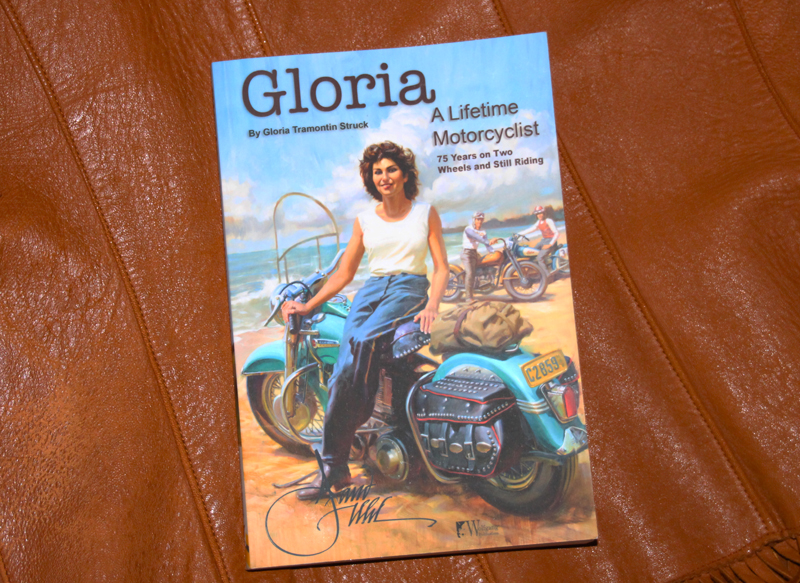 Women Riders Now E-Newsletter
Stay up-to-date on all things motorcycle! Latest gear, bikes, and product reviews. Travel ideas, great product giveaways, and more.
Whether you've had the good fortune to meet this spunky (now) 93-year-old at a motorcycle rally or you know nothing about her, the fact that a woman her age is still riding a motorcycling is an amazing accomplishment unto itself. It begs the question, how did she get to this point? This is why Gloria wrote her story, "Gloria, A Lifetime Motorcyclist: 75 Years on Two Wheels and Still Riding." She's answering the question many, including myself, have asked of her.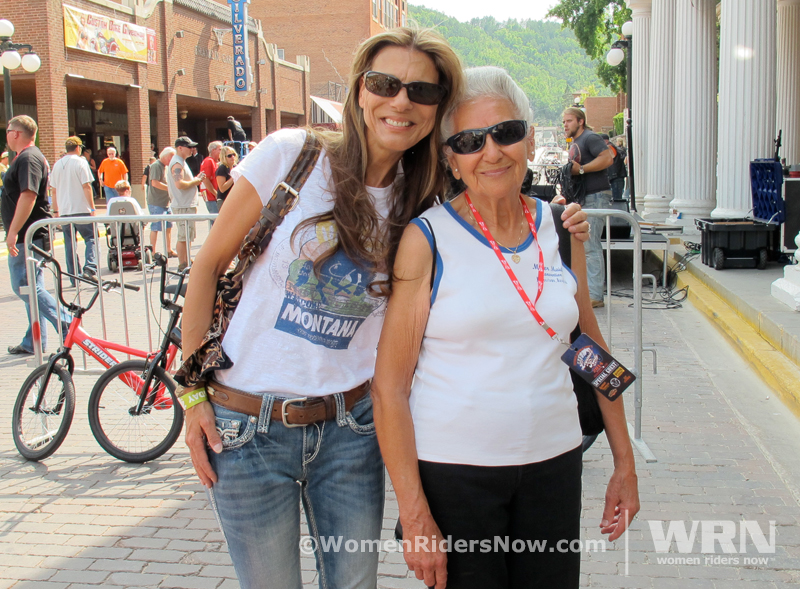 In 2014, I remember chatting with Gloria at an event at the Sturgis Motorcycle Rally. As a journalist, I'm always curious about people's lives and their story so I asked Gloria if I could sit down with her with a video camera in the coming months and have her share her life story. I remember her sweetly declining saying she's saving it all for a book she planned to write. This is that book, now published in March 2018.
So how does one organize all the stories and moments from a life that's centered around motorcycling and make it interesting for riders and non-riders? You'd think chronologically would be the best way, but when you've ridden to nearly every Daytona Beach Motorcycle Rally since 1951, and almost all of the Motor Maids Conventions since she joined the group in 1946, all those events, and others, start to morph together in one's mind. I know. I attended 18 Sturgis Motorcycle Rallies and my memories are not really broken down by year, but rather incidences and fun moments that happened at the rally.
So, the chapters in Gloria's book are organized around the motorcycling events in her life like the Daytona Beach rally, a European motorcycle adventure, and the Motorcycle Cannonball, just to name a few, while sharing notable and memorable moments that happened at each. Those moments are what make up the book, and the message covers more than riding. It's about meeting and conquering life's challenges with courage and humor.
The first few chapters center around her life growing up in the Great Depression with a focus on her Italian lineage. That foundation sets the stage for events to come later in her life like finally meeting some Italian relatives when she traveled to Italy by motorcycle and what that meant to her. And several times Gloria refers back to those years as a Depression-era kid as defining her "appreciate what you have" outlook on life.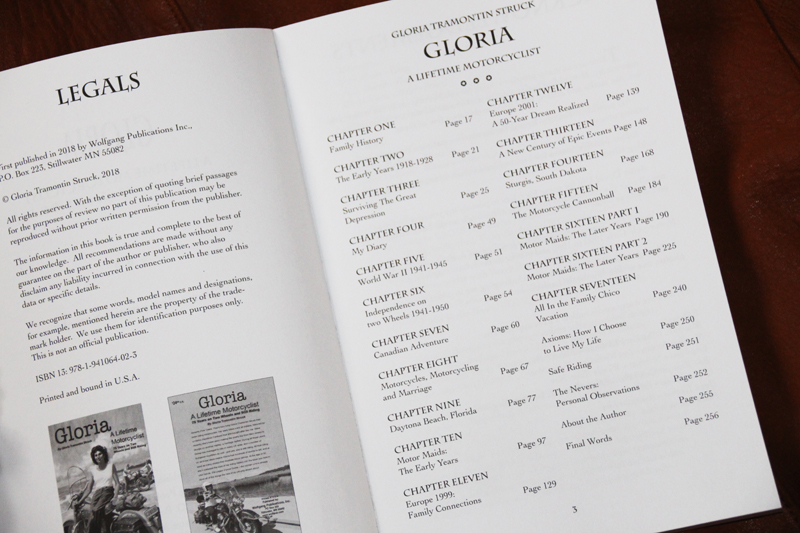 Here's why I was captivated by the stories in this book—and why I think you will be too. As you read Gloria's tales two factors make each one stand out. The first is the times or the year in which each story happens. Gloria started riding in 1941 at age 16, and when she joined the Motor Maids five years later motorcycling really took hold of her life as she now had a reason to ride to events as part of that group. (The Motor Maid is the longest running women's motorcycle riding club in the world, by the way.) So, many of the adventures—and mishaps—she shares from the 1940s to the 1980s pretty much has you reminding yourself, "…very few women were riding back then."
The fact that this mother of two rode her motorcycle a lot (while passing her passion for two wheels on to her son and daughter), taking motorcycle trips whenever she could, living a life defined by motorcycling all happened when "not a lot of women were riding." You'll keep reminding yourself of that. I just kept whispering "wow" and "incredible" as I read each story.
Then, when your eyes blaze through the stories that happened from about 1990 on, when you do the math, you realize Gloria is now 65 years old. How many 65-year-old women do you know even ride a motorcycle? Age simply has not slowed down this "Energizer Bunny" at all! In 1990, which is when I started riding, one could still say, "…very few women were riding then." Girls simply weren't riding motorcycles to the extent they are today. We were an anomaly.
When Gloria was 74 in 1999—did you hear me?—74 years old, she realized a long-held dream come true when she toured Europe on a motorcycle. Her own motorcycle no less! She says, "Because I'm short in stature and needed to ride my own bike, we made arrangements to take our bikes with us on the plane." She had such an amazing time that two years later, at age 76, she did it again. If that's not inspiring to keep reaching for your dreams, I don't know what is.
The 256-page book, "Gloria, A Lifetime Motorcyclist," flows easily, like Gloria is talking to you: conversationally, and very matter of fact. Not a lot of flowery words, just lots of colloquialisms and a few LOLs thrown in. Hard to believe she was approximately age 90 when she wrote this book. No slowness of mind here. The writing is sharp and witty, just like her.
There are more than 200 color photos illustrating a lot of what she shares in the text. You feel like you're glancing through Gloria's personal photo album. The pictures are a highlight of the book, and if you buy it just for the images you won't be disappointed.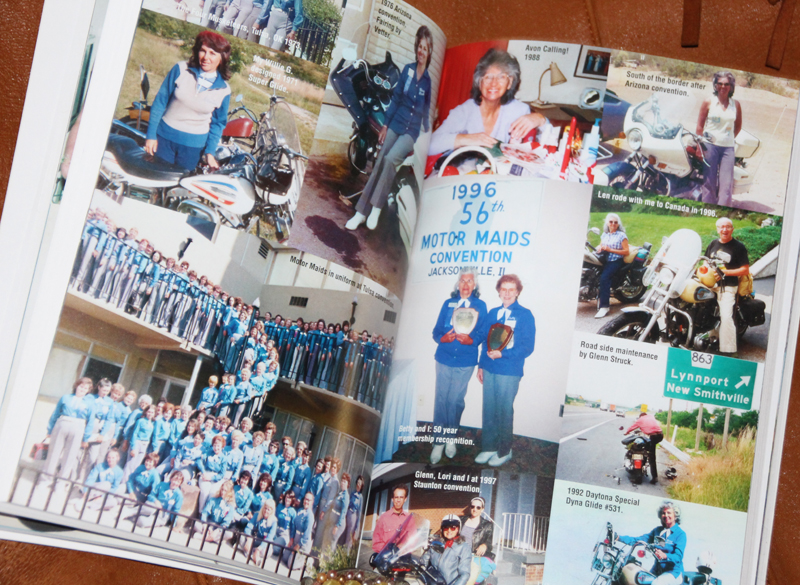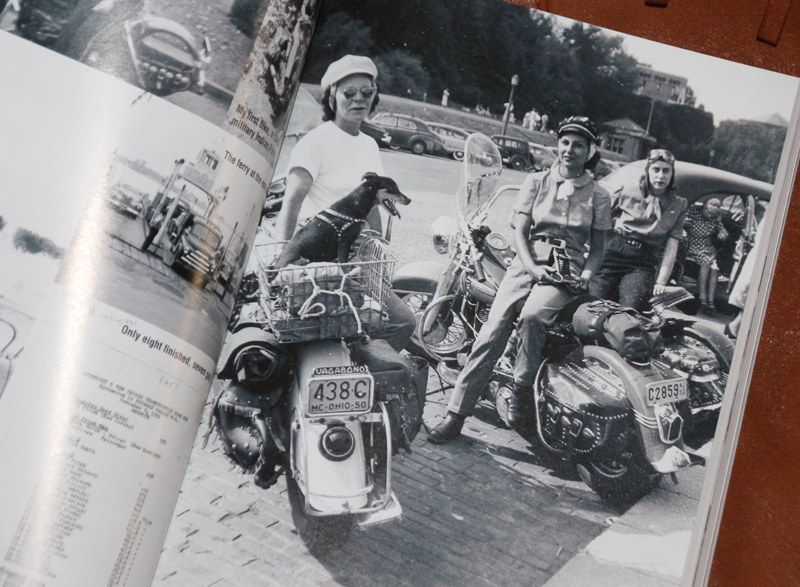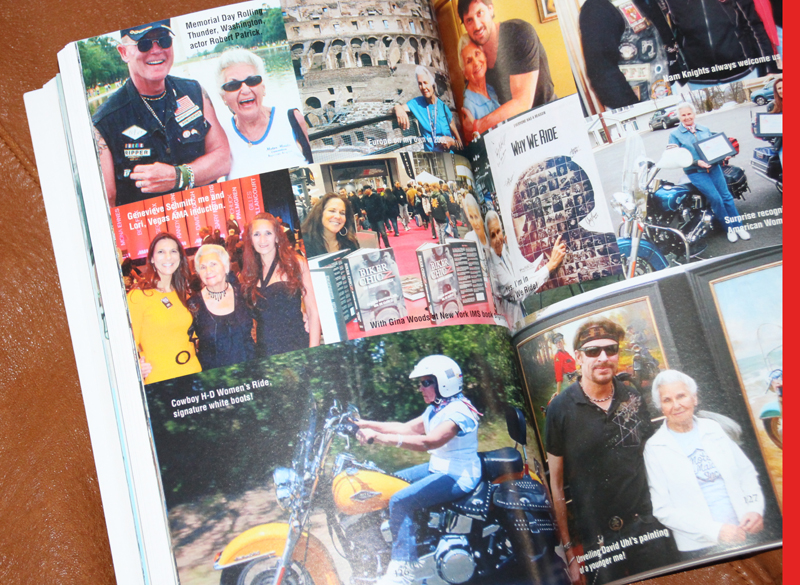 If you're a rider, you'll find yourself grinning as you read Gloria's stories of powering through thunder, rain—and snow!—storms and deciding when to call it quits, along with funny (or not so funny) moments like when she slipped on wet cobblestone and fell over, roadside motorcycle hack fixes, not-so-random meetings along the way, and many, many other tales that only motorcyclists can relate to.
Non-motorcyclists will appreciate Gloria's zest for life, and a passion for something that propels her to stay fully engaged decade after decade, and in spite of the death of friends and her husband along the way. Even when a heart condition tried to take her down two years ago, Gloria was communicating to all her motorcycling friends and social media "fans" from the hospital bed that she couldn't wait to get back on her motorcycle.
She's told me and many others that she plans to keep riding as long as she can and is shooting for doing a big ride at age 100. I'm sure that goal alone will keep her going mentally, physically, and emotionally. And this diehard two-wheeled motorcyclist is quick to share that she has no plans of moving over to a trike or three-wheeled motorcycle when she can't ride anymore.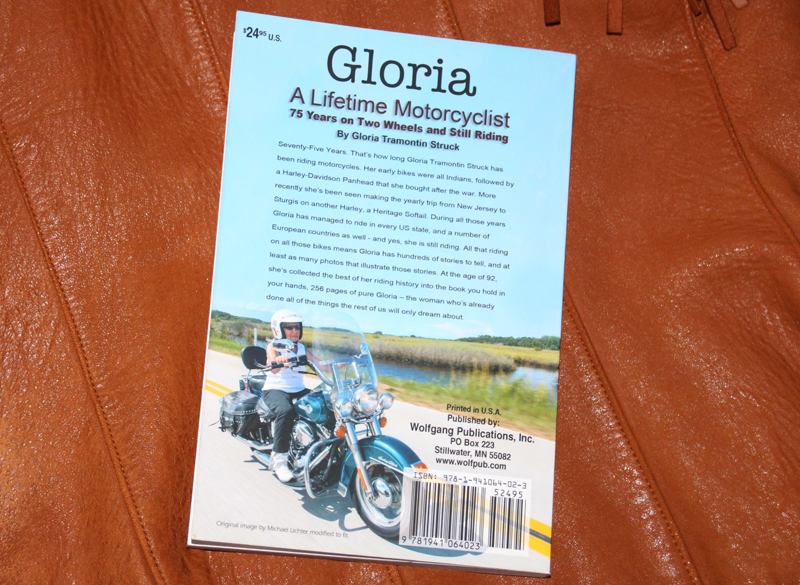 At the end of the book, Gloria shares a few rules she's lived by, i.e. the secret to her longevity, which most of us want to know. They are in a chapter called "Axioms, How I Choose To Live My Life." Don't expect some deep spiritual thoughts here. Just like Gloria, her list of nine tips are as simple and and straightforward as her first one, "Do unto others as you would want them to do unto you."
A short chapter at the end on safe riding includes her personal list for riders on how to stay safe, which she has done all these many years. And lastly, "The Nevers, Personal Observations" is a chapter comprised of funny lessons learned the hard way, like the one about making sure riders road-test all clothing or else you might get caught speeding down the road in just a black lace bra. She shares from experience!
"Gloria: A Lifetime Motorcyclist" is published by Wolfgang Publications, and is priced at $24.95. It's available at online retailers like Amazon, and Gloria's Facebook page.
Related Articles
Gloria Struck to be Inducted into AMA Hall of Fame
David Uhl Paints Gloria Struck
All Book Reviews on WRN