Do you have a story to share? Please send it to us, but follow these submission guidelines.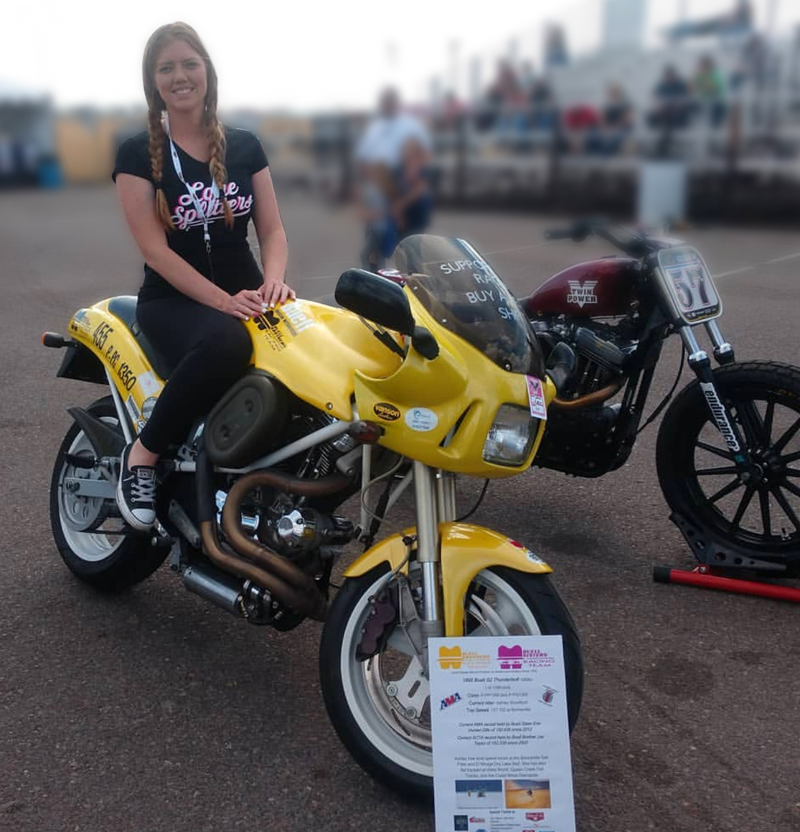 Ashley Woodford, from Cave Creek, Arizona, is this year's winner of the SheMoto Award, an honor given to a female racer who best embodies the spirit of landspeed racing—tenacity, competitive drive, wisdom, passion, camaraderie, and perseverance. Ashley and her husband make the annual trek to the Bonneville Salt Flats to meet up with their speed-fanatic friends for a few days of racing their motorcycles across the dry lakebed in an attempt to break top speed records.
Here Ashley races her Buell Thunderbolt at Bonneville in 2019. "I hit 139.037 mph—my personal best," she triumphantly exclaims. Photo by Scooter Grubb.
We wanted to get to know this speed demon and find out what makes her tick so we asked her some questions. The following is this young racer's story in her own words.
How did you make the transition from being a passenger to the front seat of a land speed racing motorcycle?
"I didn't grow up around bikes or have any friends that rode them," Ashley says. "I didn't ride motorcycles until I met my husband Drew. He picked me up for our first date on a motorcycle and I discovered on that first ride that I loved being on the back. I rode as a passenger for about 11 years and loved every ride we took."
Ashley explains, "During those 11 years of riding as a passenger with my husband, he started racing his motorcycles on the Bonneville Salt Flats—this is where racers test their skills and machines and go as fast as they possibly can. While he was racing I would walk the pits and talk to other racers and their crews. I was so impressed by the passion they all had for the sport—everyone helping one another like a big family. I wanted to be a part of it!"
She continues, "In 2017 I told my husband that I wanted to try racing myself. He was all for helping me make that goal happen. The first step was to take a beginning rider course to learn and get my license. The very next week I took the class and passed! The second step was to ride a motorcycle on the street. I started with a Harley-Davidson Ironhead Sportster," Ashley continues. "I rode it around the neighborhood just to get the feel of riding. Then my husband surprised me with a 1995 Buell S2 Thunderbolt, declaring it my new street and race bike. I was completely intimidated by this motorcycle. It felt very tall and way more powerful than what I was used to riding."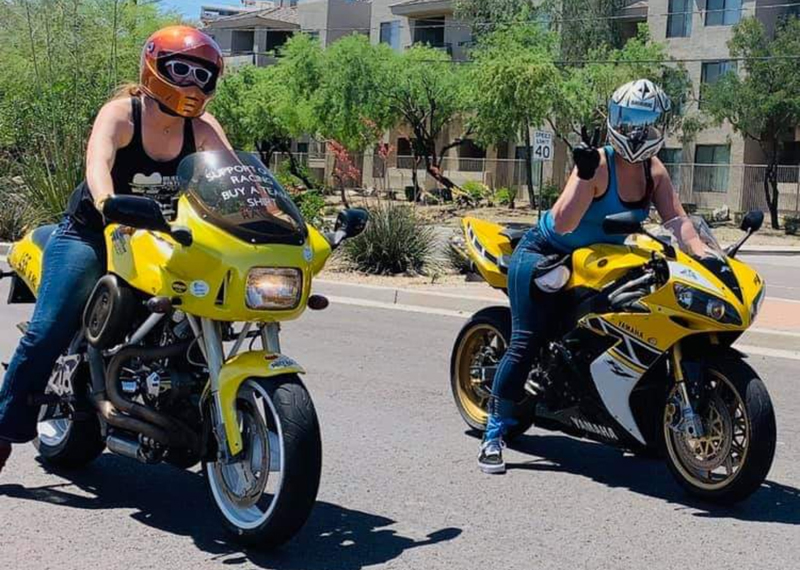 Ashley says, "The week before we left for Bonneville, I took the Buell out for a ride with my husband and I had my first motorcycle accident. I was following Drew around a corner when I gave the Buell a little too much throttle and lost traction when my tires slid in some sand on the road. I went flying over the Thunderbolt and the bike was scraped pretty badly. I was able to ride it home but it was stuck in first gear, and now I had to fix it quickly before we headed to Bonneville!"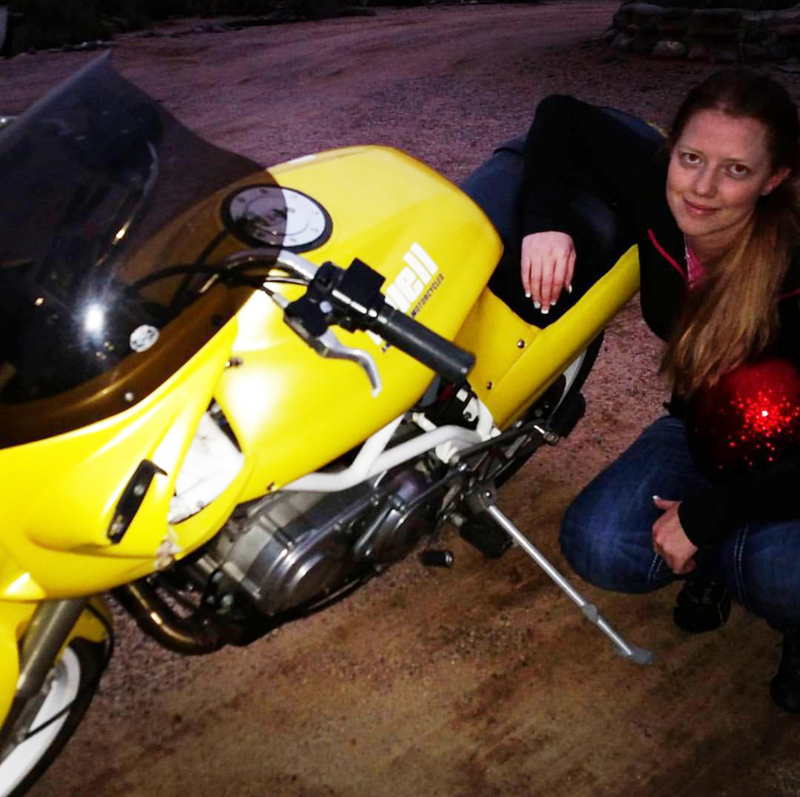 How did you overcome the fear of getting back on the bike after the crash?
Ashley admits, "I was super-scared to get back on the Buell after the crash but I knew I had to, because I was racing it in just a few short weeks."
Ashley didn't ride again until only four days before she and her husband left for the Bonneville Motorcycle Speed Trials (BMST), the premier motorcycle-only land speed event of the year. Mustering up some courage, she knew she would need to try to get back on the bike again or she'd be forced to wait a whole year to participate in the week-long BMST event. So she managed to hop back in the saddle more determined than ever and this time, she did much better on the road.
Looking back, Ashley realizes, "Between the time I got my license and when I had my first race in Bonneville, I had only put a total of about 15 miles on a motorcycle in my lifetime!" What a courageous woman!
How did you do this year in Bonneville?
"I started the week out the worst way you can—I went off-course, causing the whole event to stop. I have never felt so small, sorry, humiliated, and defeated," Ashley says. "Needless to say, I was 'done' mentally. If it wasn't for my husband, an AMA official, and some other racers pulling me out of my funk, I wouldn't have had my ultimate high by the end of the week. I pushed through my 'oops moment,' and finished strong by setting a new personal best of 139.023 mph. Then I was given an even bigger surprise at the banquet held on the last night of the BMST—the SheMoto Award that I have watched my mentors receive over the years!"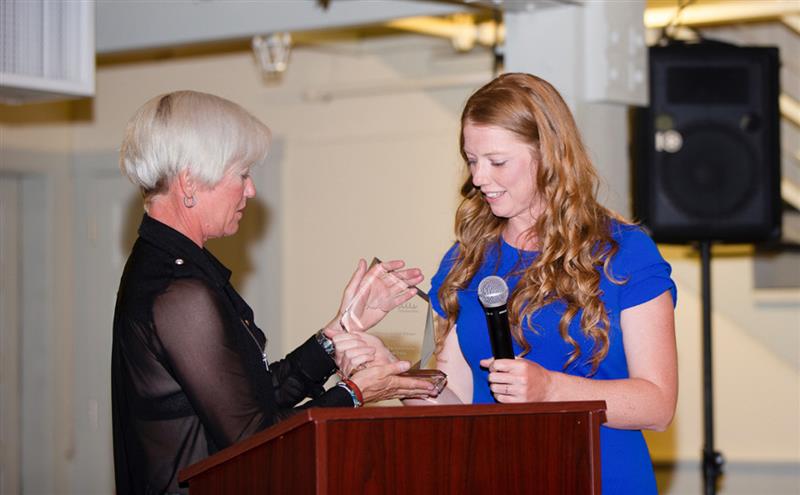 "This award has been something I've wanted to earn but never thought I would get it in my first years of racing and riding," says Ashley. "When Erin Sills went up to announce who was getting the Award, I started to cry as soon as I realized it was me! To not only earn this award, but to get it from a woman who I look up to as a person and racer was amazing."
Why did you choose to race a motorcycle before mastering road riding skills?
"I don't know why I decided to race before I figured out the road riding but it worked out in the end," Ashley states. "The first year I raced at Bonneville was such an out-of-body experience; I learned so much about myself, the bike, my team, and why people ride motorcycles. My first passes were only 72–80 mph, but by the end of the week I clocked 135 mph! I was hooked!"
She continues, "I've had the best three years of my life since I started riding. "I've met amazing people because of riding and I am so glad I decided to get on a bike. But I am, by all means, still a new rider. Some people seem to think I have experience due to racing, but I am just getting started."
What is your secret? How does someone get the courage to get back on after crashing, and even more, get on a race bike and go as fast as possible?
"I approach situations with all the confidence I have, and if it doesn't turn out like I'd planned, the worst thing I can say is, 'I tried.'" Ashley continues, "My experience learning to ride a motorcycle may not be ideal, but it's my journey and I own it. I have learned that it doesn't matter where you come from, what age you are, how much money you have, if you're on the back or front, or even what kind of bike you ride. As long as you're having a good time and riding, that's what it's all about. The motorcycle community as a whole is amazing and I am proud to be a part of it."
What's next for Ashley Woodford?
"I've had a lot of firsts in the last few years," says Ashley. "I rode my first Harley-Davidson Road King from Phoenix, Arizona, to Joshua Tree, California, last year for the popular all-women's motorcycle campout, Babes Ride Out. I also decided to start flat track racing as well."
She continues, "I have never done any sort of dirt racing or riding in my life, but I figured it's worth a try at this point. I started by racing our pit bike, a pull-start Briggs & Stratton motor in a Fox frame. It was made for kids ages 10 and under, so I thought I'd be good with it. The joke was on me! During my first race I crashed a few times, blew up the motor, and broke my hand, but I had a blast and met some truly amazing people."
Ashley says, "Making new friends and the whole experience made all the bruises, broken bones, and failures worth it. I have since upgraded the motor in the pit bike and have ridden a Honda 100 and 450. I did my first pass at El Mirage Dry Lake Bed in El Mirage, California—also a dry lake bed, but dirt. My riding hasn't been all puppies and rainbows," she admits. "I've had my fair share of stalling at stop lights, dropping bikes, crashing, crying, wanting to give up, blown motors, and close calls. At the end of the day, all these things are part of my journey and make the good days so much better."
Note: Ashley would like to thank her sponsors: Biltwell, Kibblewhite Precision, Lane Splitters Garage, Leineweber, WorldWide Bearings, Twin Power, Pistol Pete's, The Chop Parlor, No Laws Motorcycles, Andrews, Power House Cycles, Roadhouse, and QC Flattrack.

Do you have a story to share? Please send it to us, but follow these submission guidelines.
Related Articles
Babes Ride Out: All-Women Motorcycling Event Makes History!
Salt Sisters: Women Who Love Speed
Backroads With Betsy: Betsy's Arizona Bike Week Adventure
Women Set Records at Bonneville
More Stories About Racing