A record number of women competed at the world-renowned land speed trials at the Bonneville Speedway the last week in August. Twenty-one women raced their motorcycles down the Bonneville Salt Flats, the wide-open salt bed near the Utah and Nevada border, to attempt to set new speed records in the classes they'd entered.
Below is a group shot of all the women who competed, with the exception of Harley Legowski. Thank you to professional motorcycle photographer Scooter Grubb for capturing this image for us. Click on it to make it larger.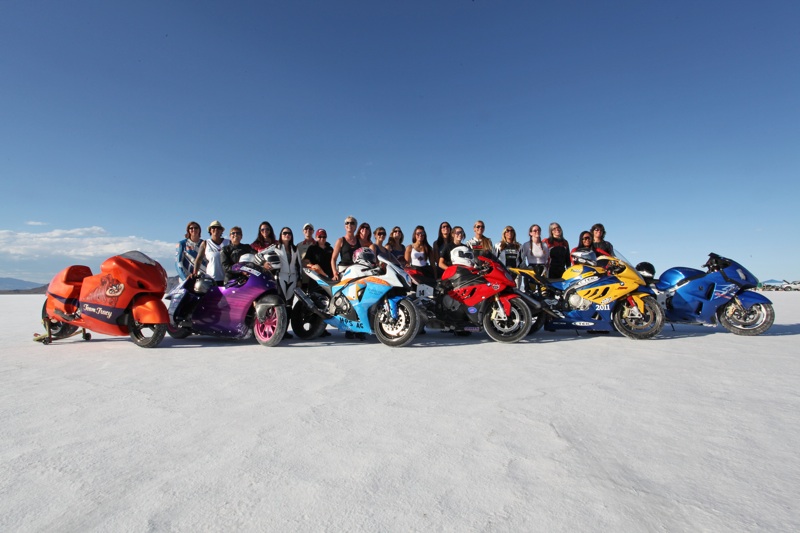 In 2006, land speed racer Erin Hunter, who competes in several classes, and her fiancé, land speed racer Andy Sills, created the sheEmoto Award to acknowledge a female racer who embodies what it means to land speed race on the Bonneville Salt Flats. The award recognizes a woman participating in the Bonneville event who embodies camaraderie, sportsmanship, fortitude, perseverance, patience, leadership and the desire to win. The recipient receives $1,000 for herself and another $1,000 to give to an individual or organization that's served as a source of encouragement in her racing.
This year, Erin and Andy handed out the sixth annual sheEmoto Award to Delvene Manning, who doesn't actually compete on the salt flats but has been the organizer of the speed trials for many years as part of BUB Racing, the lead sponsor of the event. According to Erin, Delvene is a "racer" in her own right in that she embodies the characteristics that put someone among the elite set of people who truly know the sport of land speed racing. Delvene awarded the additional $1,000 to her colleague Linnea Johnston, who also manages the event.
The Bub Speed Trials have a special meaning for Linnea. "Nine years ago at age 33 on September 5th of 2002, I wasdiagnosed with Stage I invasive ductal carcinoma. I attacked the invasion in mybody aggressively with six months of chemotherapy and eight differentsurgeries. At the BUB Motorcycle Speed Trials in 2008, on the anniversary of mycancer survival date, thanks to Belen Wagner, Santa Claus, the Buell Brothersand Buell Sisters, I rode down the Salt at 113.449 mph. It was one of the mostbeautiful experiences of my life. I felt so alive and was overwhelmed by thefeeling of peace and calm.I carry my timing slip in my wallet to remindmyself that there is very little I can't do if I put my mind to it."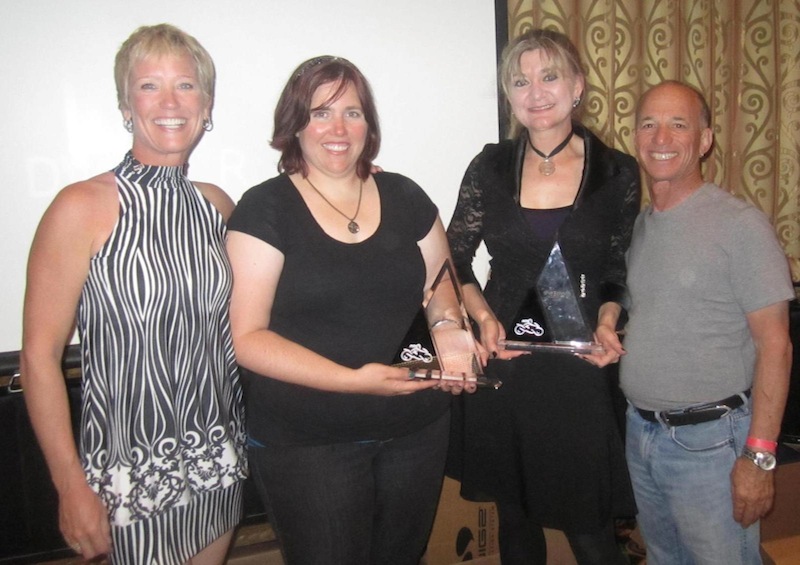 "Motorsport racing—of many types—is one of the rare sports where men and women compete directly against one another. There are no 'women's records' and 'men's records,' just records we all compete with history to obtain," Erin said. "We're proud that all the money has gone back into the sport of land speed racing and that all past winners have come back every year to continue racing."
Here is a list of all sheEmoto Award winners followed by the individuals or organizations to which the winners awarded the additional cash prize:
2006: Belen Wagner (Wagner Racing)
2007: Erika Cobb (Team Klock Werks)
2008: Leslie Porterfield (High Five Cycles)
2009: Tracy Snyder (Don Mills)
2010: Kim Krebs (Greg Waters)
2011: Delvene Manning (Linnea Johnson)
Some interesting facts about Bonneville:
The Bonneville Salt Flats are the remains of an ancient lake called Lake Bonneville and cover 30,000 acres, or 45 square miles. At its thickest, the salt measures 5 feet thick.
Bonneville is named after Captain Benjamin L.E. Bonneville, who hired explorer Joseph R. Walker in 1833 to map the area. At that time, it was common for people to name significant landmarks after their employers. There is no record of Bonneville ever seeing the salt flats or the Great Salt Lake.
The area was first used as a raceway at the turn of the century, when publisher William Randolph Hearst hired William Rishel of Cheyenne, Wyo., to attempt a crossing on a bicycle as part of a publicity stunt. Rishel did so in 22 hours. Automobile racing started on the salt flats around 1925.
Related Articles
Leslie Porterfield Seeks to Set New Automobile Land Speed Record
Guinness Names Fastest Motorcycling Woman
Laura Klock and Her Two Racing Daughters
Women Set Records At Bonneville