Professional drag racer Valerie Thompson set another record at Bonneville Speedways 4th International Motorcycle Speed Trials in Utah last week. The record setting run was for the fastest time on a Panhead motorcycle. Valerie clocked in at 161.736 miles per hour, an all-new land speed record racing a bike built by Keith R. Ball/5 Ball Racing especially for her. "We specifically entered this class and had our "sponsored in part by GoDaddy" bike built, in order to get this record." Valerie said. "We achieved what we set out to do, and it feels great!"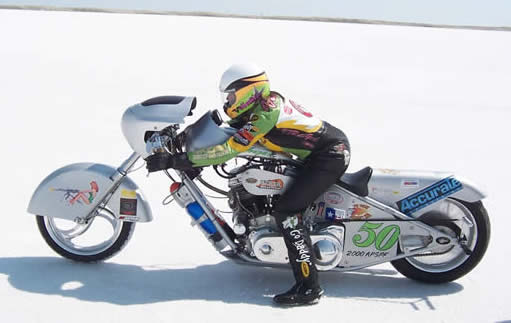 Her primary sponsor is GoDaddy.com, and CEO and founder Bob Parsons was beaming with pride at the news of Valeries record run. "We knew Valerie would set the record. She lives to go fast and has the grit and the competitive determination to be the best in her profession. Her edginess and focus make her an ideal Go Daddy Girl," said Parsons, who also has a passion for riding motorcycles.
Valerie, a former investment banker, is not new to record-setting speed. She previously held the American Motorcycle Associations Land Speed Record at 145.647 mph. This new record was set in the same 2000 APS PF class on a 120-inch Panhead motorcycle. However, the Go Daddy bike had a special "partial streamline setup" specifically made for the salt flats, instead of an asphalt surface. It also had nitrous oxide as a back-up fuel, which she used during her latest record run.
Gold Wing Speed Record
Another woman set a record at the Salt Flats, this time on a a Honda Gold Wing. Thats right. You read correctly. On August 14 and 15, Kimberly Crystal Kelly took a production 2007 Honda Gold Wing 1800 fitted with a special sidecar and set two land-speed records in Bonneville.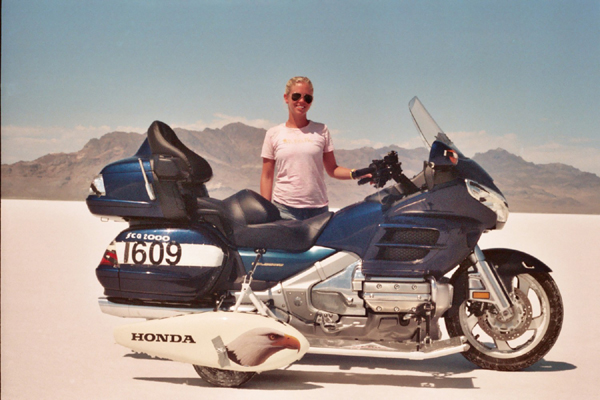 The 21-year-old University of Southern California senior entered the record books with a speed of 108.214 mph in the SC-G-2000 Gas class and 108.365 in the SC-F-2000 Fuel class. Her fastest pass, 108.850 mph, came in the Fuel-class effort.
Kimberly rides for long-time Honda enthusiast and Bonneville Salt Flats veteran Kenny Lyon. Kenny is well known for Project Gold Wing, a 24-foot-long 1500cc streamliner he piloted on numerous speed-record runs at the famous Utah dry lakebed. For Kimberlys attempts, Lyon fitted the stock Gold Wing with the sidecar rig, and she rode the motorcycle wide-open across the salt desert. Kimberlys exploits were recounted on NBCs "Jeep World of Adventure Sports," airing September 8, 2007.
"Both records were new records," said Kenny. "Even though a sidecar generally gives the motorcycle less stability, no one has ever set the record in these two classes before so we decided to go for it."
Kenny recruited Kimberly at the 2005 Long Beach International Motorcycle Show. "I had never operated a motorcycle before," she said. "Kenny gave me some riding tips at the Compton Airport, and I went to the Honda Rider Education Center in Colton. Eight months later, I set two records on a Triumph and earned my Bonneville Competition License on a Honda Gold Wing at 125 mph."
Nowadays Kelly is a bit of a two-wheeled speed junkie and maintains a D-class license that allows her to compete at speeds up to 149 mph on the Bonneville Salt Flats. She is also the president of the non-profit Project Gold Wing, ProjectGoldWing.org. Whats next for Kelly? "Hopefully, I will become the worlds fastest woman on a motorcycle."