Bonhams amp; Butterfields is auctioning off the prestigious Stan Betz collection of Von Dutch memorabilia at its annual auction at the Petersen Automotive Museum in Los Angeles on November 10. Of special interest not only to bikers, hot rodders and motor heads, original Von Dutch memorabilia is coveted by art collectors and modern art museums around the world and bidding is expected to be very competitive.
Kenneth Howard, a.k.a. Von Dutch, was the father of modern pinstriping and a pioneering artist in the uniquely SoCal "Kustom Kulture" scene. Like many of his friends and contemporaries, such as Steve McQueen and Ed "Big Daddy" Roth, interest in Von Dutch has continued to flourish long after his death and his appeal has become legendary.
Being offered for sale will be hundreds of personal effects belonging to Stan Betz, owner of Betz Speed amp; Color, and the icon of pop culture that is Von Dutch. The personal property to be auctioned has never previously been exhibited and therefore represents a once-in-a-lifetime opportunity to own a part of these legacies.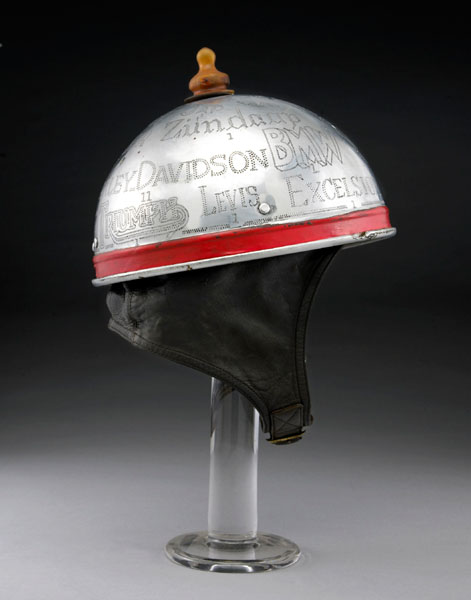 A work in progress for more than four decades, Betz engraved this helmet with a motorcycle marque each time he acquired or worked on a motorcycle of that marque. Atop the helmet is an actual babys pacifier Dutch added as a jibe at Californias helmet law.
Mark Osborne, vice president of Bonhams amp; Butterfields Motoring Department, says, "We are thrilled to offer such a major collection of Von Dutch memorabilia. Whether on a billboard in Times Square or in a magazine ad, his legend is as important and relevant today as it was at the beginning of his career."
Taking place November 10th, Bonhams auction at the Petersen Automotive Museum will also feature a variety of assorted racing collectibles, automobilia, scale model cars, and vintage motorcycles. The annual autumn auction at L.A.s Petersen Museum is one of two vintage motorcycle auctions in the United States hosted by Bonhams, the other being the spring auction held each May at the Legend of the Motorcycle Concours near San Francisco. The Saturday sale at the Petersen is considered a kick-off to the worlds largest one-day motorcycle charity event, the Love Ride, set for Sunday. Last years auction featured property from the Steve McQueen Collection and brought more than $1 million, including several world auction records.
Bidders interested in registering to bid remotely or in person for this rare opportunity for Von Dutch memorabilia may do so by going to Bonhams.com. Illustrated auction catalogs will be available for review online and for purchase in the weeks preceding the auction.