A new touring version of the VTX1300 and a dualsport are among Hondas 2008 lineup unveiled before dealers last week. The popular VTX1300 is available right off the showroom floor in full touring trim with a stylish, full-size custom windshield, chrome-padded backrest for passenger comfort and 24-liter leather saddlebags. The VTX1300 Tourer is offered in black, metallic silver and metallic red. MSRP: $10,999 to $11,099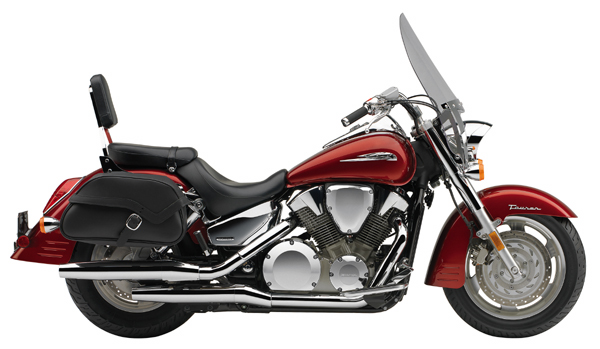 New Dualsport Bike
The CRF230L is a compact and lightweight adventure-loving dual-sport motorcycle that can also do double duty as an economical commuter, motorhome runabout or weekend outback-exploration trail bike. With a torquey 223cc single-cylinder air-cooled four-stroke, electric starting, CRF-R-inspired bodywork/graphics and a user-friendly 267-pound curb weight (including all standard equipment, required fluids and a full tank of fuel), this is a street-legal machine that promises to do it all.MSRP: $4,449
Upgrades For Dirtbikes
Hondas championship-winning, Unicam engine-equipped CRF-R motocrossers and CRF-X dirt bikes receive numerous upgrades for 2008. Most notable is the addition of the lightweight HPSD (HondaProgressive Steering Damper) system to the CRF450R/X and CRF250R. Specifically designed for the rigors of motocross and off-road riding, HPSD improves handling and reduces rider fatigue. Races arewon or lost in the corners. Thanks to the exclusive advantage of HPSD, all three models are now fitted with new 22mm-offset triple clamps to further enhance cornering ability.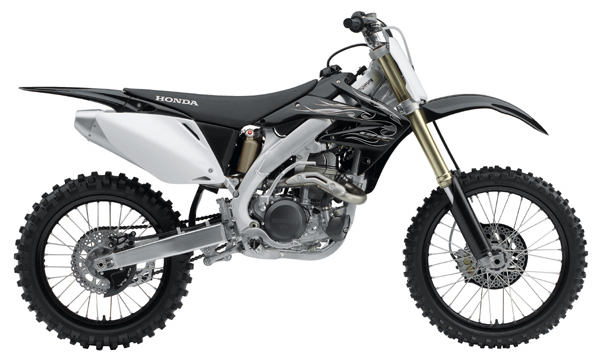 Both motocross models benefit from numerous power-enhancing improvements and receive a revised Showa front fork with new damper rods and stiffer springs, plus rear shock valving that matches changes to the forks. The CRF450X features a HPSD setup tuned specifically for off-road use. Itand the 250X both have new narrow-design fuel tanks for improved ergonomics and Dunlop 742FA front tires for improved turning feel and traction. All four models are also equipped with works-type front and rear brake discs to reduce unsprung weight. Offered in fed, the CRF450R and CRF250R are also available in a special 2008 black color, a limited color run of less than 500 units per model. CRF450R MSRP: $7,199 to $7,399; CRF250R MSRP: $6,449 to $6,649; CRF450X MSRP: $7,399; CRF250X MSRP: $6,599.
Early Announcement 2009 Model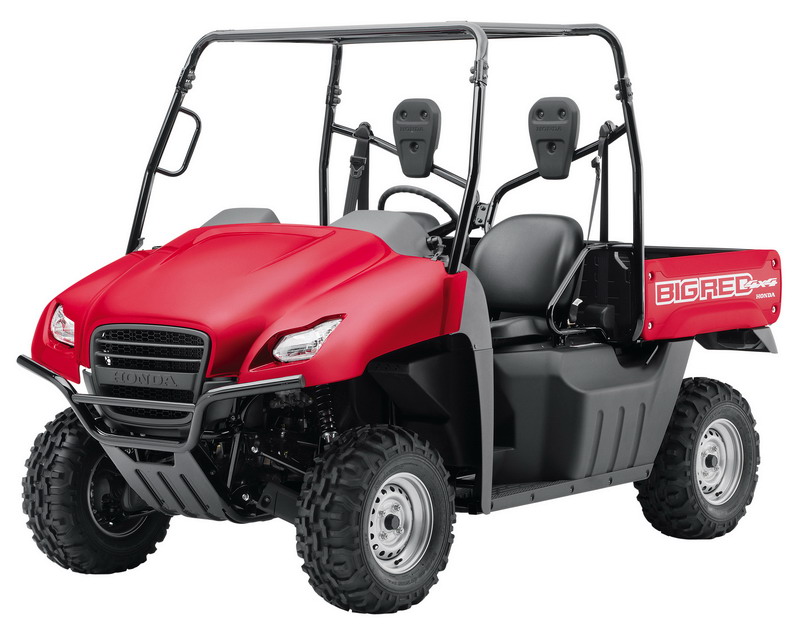 Honda enters the MUV market with a side-by-side machine called Big Red that promises to leapfrog the competition setting new standards in utility and recreation. With numerous automotive-based technologies, Big Red features a powerful 675cc OHV liquid-cooled PGM-fuel-injected single-cylinder engine and an automatic transmission with three selectable drive modes plus reverse, front and rear independent double-wishbone suspension, a roomy cab featuring rubber-mounted bucket seats with adjustable backs, and a specially designed, highly durable, tilting cargo bed. A broad selection of Honda Genuine Accessories will also be offered. Big Red will be available in the summer of 2008.