Ive never wanted to own a cruiser-style motorcycle, but a 3,200-mile trip this summer on a 2007 Suzuki Boulevard C50T may have changed all that. This model is identical to Suzukis popular C50 classic cruiser but comes with extras like a windshield, saddlebag and backrest to make it a tourer. I found the bike extremely comfortable, easy to handle at low and high speeds, smooth through the gears, trouble-free mechanically and good looking to boot.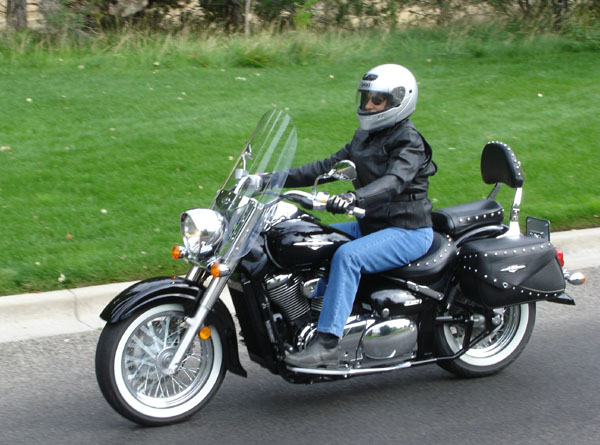 Until now, my steeds have been tall dirt-and-pavement (dual sport) bikes with narrow hard seats and thumpy transmissions. I was so pleased with this Suzuki that Im now wondering which motorcycle in my garage to sell so I can buy a cruiser.
The first thing I noticed about the C50T was how easy it is to maneuver at slow speeds. It took corners well in low gear and parked easily. One reason the C50T is so easy to handle is that the seat height is 27.6 inches, which allows 5-foot-6-inch me to be flat-footed with my knees bent. In this position, I can support the bike securely when stopped or backing up.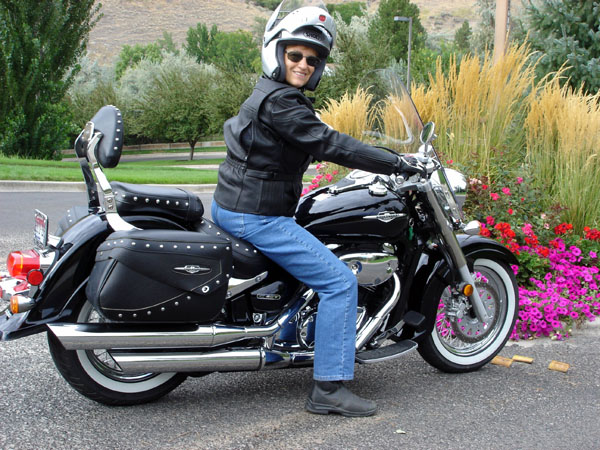 We rode every day for nearly three weeks through Montana, Idaho and the Canadian provinces of Alberta and British Columbia, giving me plenty of time to evaluate the Suzuki on comfort. Never once was my butt sore, even after 300-plus mile days on highways. The windshield kept me from being blown around at high speeds; I felt some vibration in the handlebars but nothing to complain about; and the leather seat curved nicely around my rear.
I had never used footboards before, and I was surprised by how much I liked them. Other bikes I ride have high ground clearances and foot pegs placed above them. When riding with my feet on the pegs, my legs are bent at a tight angle, causing pain in my arthritic right knee. But as a touring bike that isnt meant to be taken on gravel, the ground clearance on the C50T is only 5.5 inches and the footboards rest just above that. Consequently, I didnt need to bend my knees tightly or toss down Ibuprofen by the handful for knee pain. In fact, I didnt take a single pain pill for sore riding muscles while on this trip.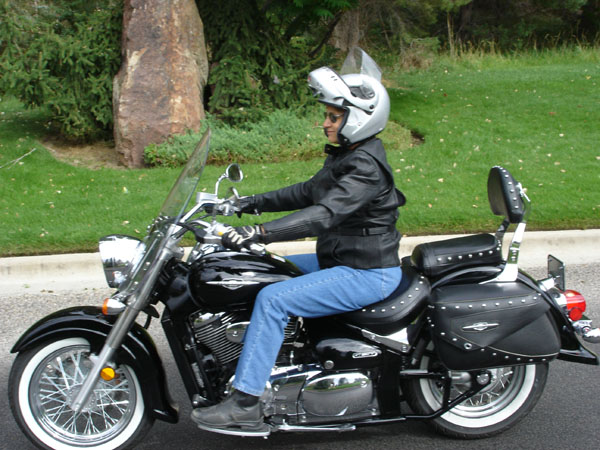 Besides the windshield, the tourer (thats what the T stands for) is equipped with two chrome-studded leather saddlebags and a passenger back rest. I could see over the top of the windshield as opposed to through it; its curves deflected the air nicely away from my helmet, so I didnt get the biker whiplash that Ive experienced with other windshields. The rigid leather bags were roomy enough to hold a lot of gear. The attached covers snap tightly in three places, but the leather isnt waterproof. On rainy days on our trip, water soaked through my side bags from underneath wetting the bottom layer inside. (The simple solution is to put your items in plastic bags, which you then insert in the side bags.)
The bikes V-twin engine isnt overly noisy, but it does emit a throaty rumble when accelerating. Fuel injection derived from Suzukis GSX-R sportbike line, kept the motor running smoothly. I never had a hiccup with the engine or trouble starting it. For a relatively heavy bike (567 pounds without gas in the tank), gas consumption was quite good, more than 40 mpg.
The 5-speed transmission operated smoothly, and I was able to shift through the gears and bring the bike up to highway cruising speeds quickly. In first gear, the cruiser has plenty of torque, but I also rode at slow speeds in second gear without stalling the bike.
The C50T has sufficient power for just about every situation and didnt strain when I took it up to 80 mph or higher speeds. But rolling on the throttle in 5th gear didnt give me the sudden acceleration I like when pulling out to pass cars in front of me. By downshifting to 4th, I gained the power I needed for passing. For those more familiar with a bikes displacement listed in cubic centimeters, this 50 cubic inch motor is equal to 819 cubic centimeters putting the C50 in the 800cc middleweight category.
I found the front hydraulic disc and back drum brakes very reliable during the trip. In a couple of potentially dicey traffic situations, I made several high-speed stops quickly and smoothly without the back tire locking. The suspension handled minor road bumps better than larger hurdles and holes, but again, Im used to the more resilient dual-sport suspensions.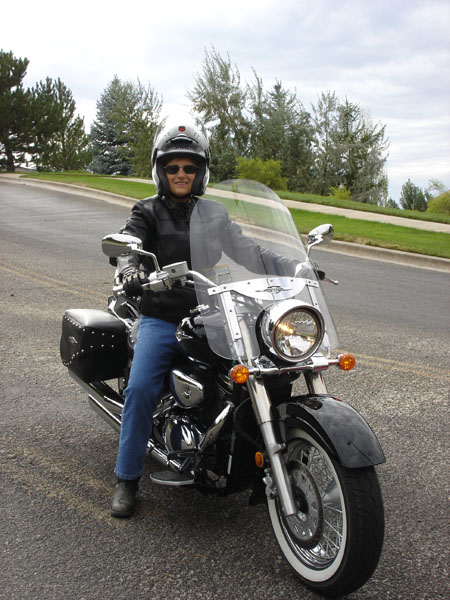 The C50Ts instrument dial has a digital indicator that provides time, mileage and two trip mileage calculators. The dial lights up at night and shows speed (in miles and kilometers, which was great for Canada), but I would have liked an tachometer (RPM) indicator as well.
After 18 days on the road, I was sad to return the Suzuki to Carls Motorcycles, the Boise, Idaho, dealer that loaned me the bike. The cruiser had exceeded my expectations and possibly changed my preferred riding style forever.
The Specs at a Glance
2007 Suzuki Boulevard C50T and C50
Displacement: 819cc V Twin (50 cubic inches)
Seat Height: 27.6 inches
Fuel Capacity: 4.1 gallons
Dry Weight: C50T, 567 lbs.; C50, 542 lbs.
Colors: C50T model: Black, Red/White; C50, Blue/Silver; Black/Gray
Price: C50T, $7,999.00; C50, $6,899
WRN Recommendation
Equipped with windshield and saddlebags, the Suzuki C50T is an excellent bike to trade up to after spending several months or a year practicing on that 250cc or 500cc learner bike. Youll get a tour-ready bike at a decent price. More experienced riders can appreciate the top notch mechanical performance, easy handling and comfort, again, at a fair price. But for those who dont expect to ride long distances often, the nearly identical C50 could be a better choice for $1,100 less.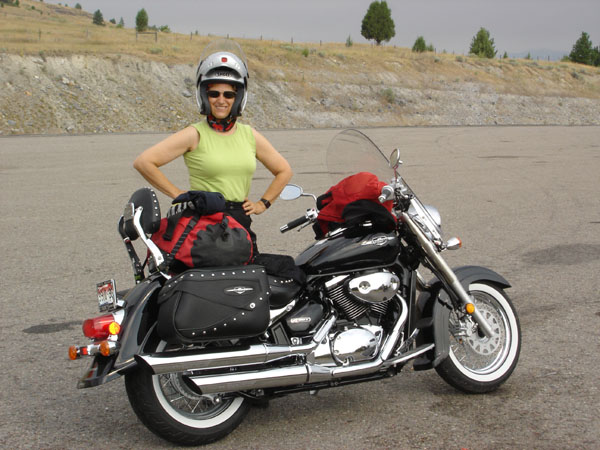 About the Author
Perri Capell is a veteran journalist currently working as an editor and senior correspondent for Dow Jones and Co. Inc., publisher of The Wall Street Journal, for the past 18 years. Perri started riding at 49 buying her first two motorcycles via the Internet, including one through eBay. She and her husband, Lynn, own more than 20 motorcycles between them. Her favorites are her Yamaha TDM, Honda Transalp and Kawasaki KLR 650. The couple love adventure riding and travel worldwide on motorcycles. They have ridden in Oman, China and Vietnam, but Perri says nothing beats her home state of Idaho for great roads and scenery. You can reach her at capellf@cableone.net.