They came from all four corners of the U.S. and a few foreign places like Germany, Australia, and Mexico. More than 1,000 women traveled to a campground in Joshua Tree, Calif., October 23-25, most of them on motorcycles, for the third annual Babes Ride Out, an all-women motorcycle camping event.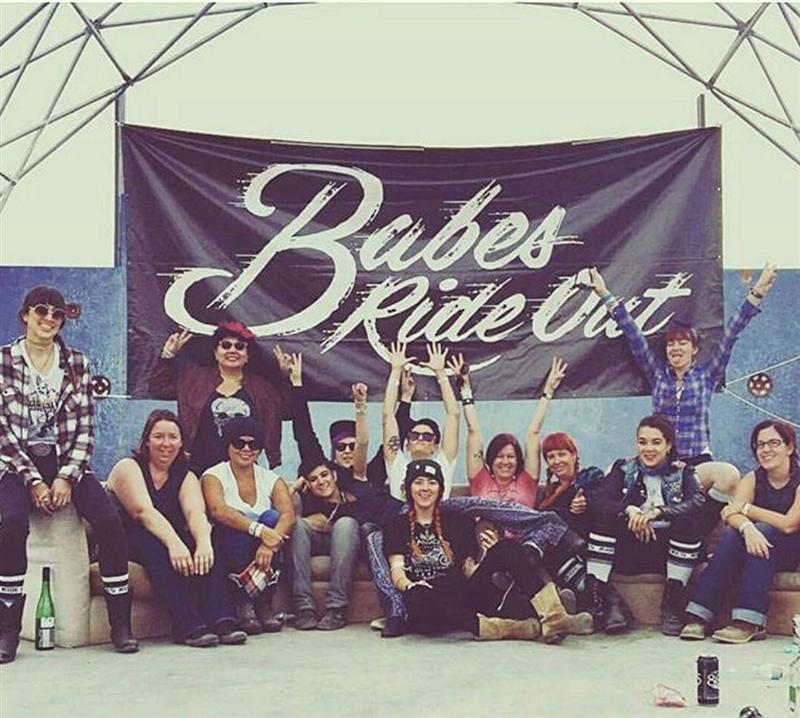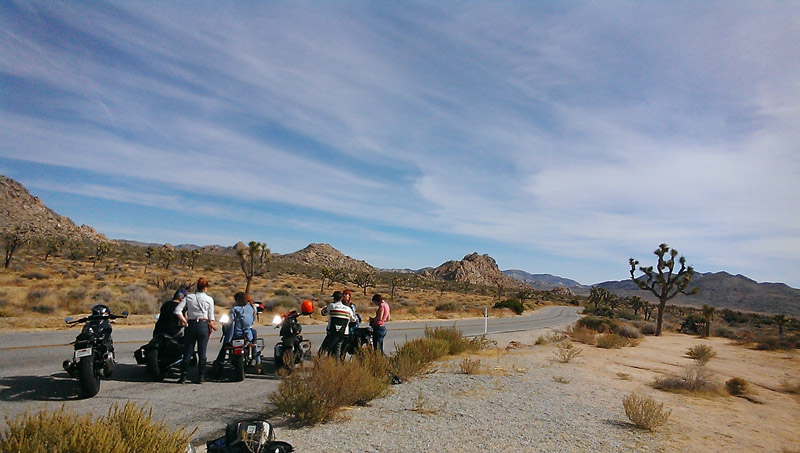 | | |
| --- | --- |
| "I rode out all by myself because I was so excited about attending," shares Clara Fisher from Los Angeles. "I met up with two of my friends after I arrived and we camped together." | Riders were encouraged to visit the United Nation of Babes map to stick a pin on their hometown. As you can see, riders came from all over the world. |
Thanks to social media, BRO (the acronym nickname of the event) pre-registrations swelled to 1,200 participants as word spread through Instagram of this two-wheeled women-only rally to be held in the California desert. By the end of the three-day event, organizers checked in more than 1,000 participants at the gate setting a record for being the largest all-women motorcycle-oriented gathering ever, according to information and records kept at Women Riders Now.
"We promoted the event almost entirely on our Instagram account," said Anya Violet, co-founder of Babes Ride Out. "We have a Facebook page, but didn't do much with it. We figured out pretty fast we were setting a record for attendance. I think we are both in awe and amazed that so many women came from around the world. We have big plans for 2016 based on what weve learned."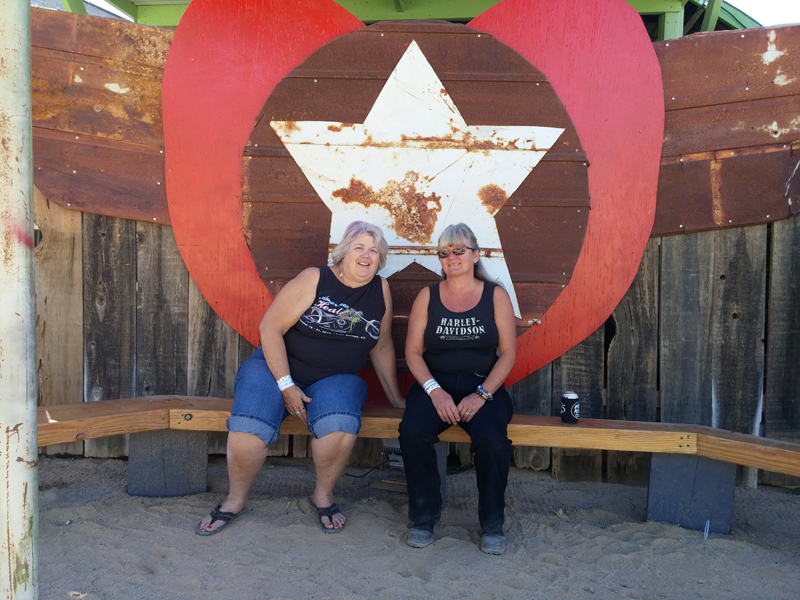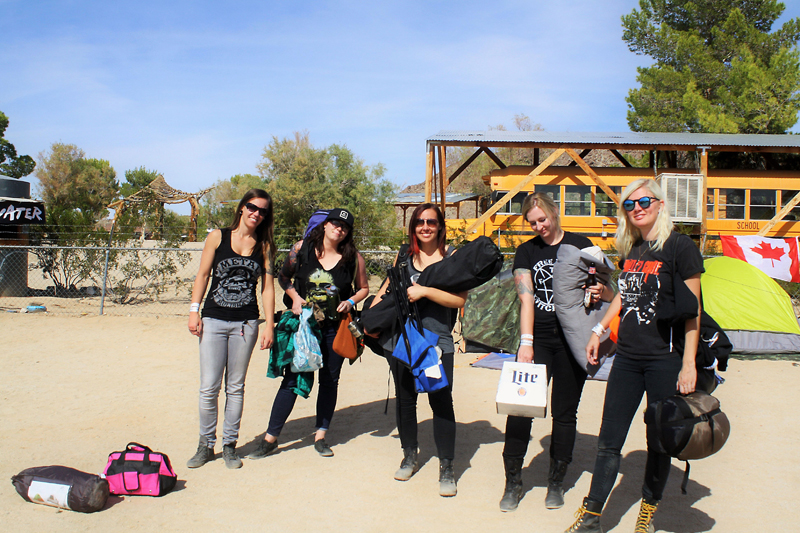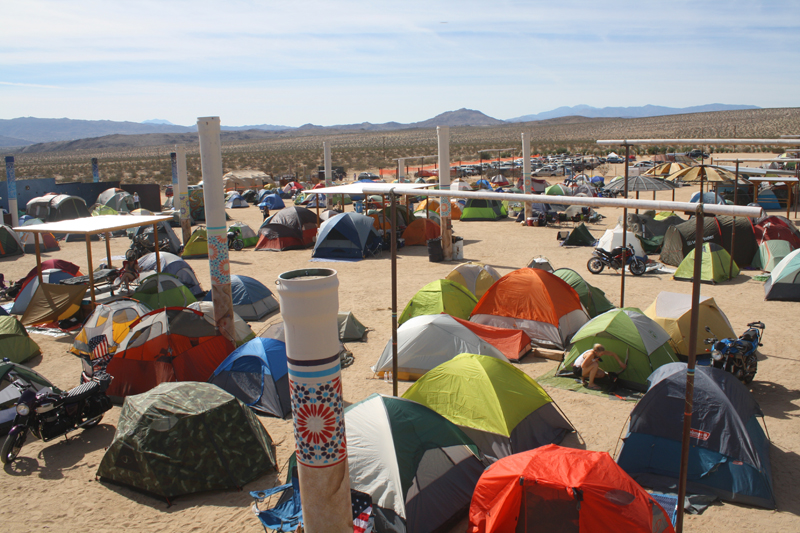 | | |
| --- | --- |
| One lone "babe" relaxing on the couch on Saturday afternoon, enjoying the quiet of the deserted campground. | Sash observed some riders, like this one, taking time each morning to fix their hair and apply make-up — in spite of the desert environment of sand and heat. |
Anya and her co-founder, Ashmore Ellis, were expecting around 500 people based on last year's attendance of about 450 with that event being held at the same location. (The first Babes Ride Out attracted 50 riders and was held in Borrego Springs, Calif.)
Women Riders Now contributor Sash Walker was one of the first to sign up for Babes Ride Out earlier this summer. "I purchased my ticket on the second day they were available because I knew the event would sell out at 500 attendees. I saw hundreds of comments on Instagram from women riders who wanted to attend, so I didn't want to miss out. When I learned that organizers opened attendance to 1,000 riders, I was excited there were going to be so many women to talk motorcycles with, but I was concerned about the crowds. I'm glad it worked out as well as it did."
| | |
| --- | --- |
| "Trailer City," as it came to be named (in the foreground), housed the vendors and the BRO staff. Beyond the trailers and campers is the overflow camping area that accommodated the additional registrations. | A group of riders from Canada hang the Canadian flag to represent their country and the long trek they made. "There was snow on the ground when I left Vancouver," Andrea told Sash. |
When registrations topped 1,200, organizers declared the event sold out then worked to accommodate the bigger crowd as the all-you-can-drink beer and a Saturday night pizza dinner were included in the $50 entry fee. "We worked very closely with the owners of the event space — and already had a formula based on last year," said Anya. "The only addition was more food provided (a Taco truck) based on attendees. More people means more food."
Sash observed long lines for food with some women waiting more than an hour to get their pizza. She adds, "The bright side of standing in line was the opportunity to meet new riders one wouldn't have met otherwise."
What is Babes Ride Out? According to its website, the event is "an annual all female overnight motorcycle adventure and campout to one of California's most beautiful destinations that takes place in October. We welcome all ladies who ride or want to know more about riding motos to come out and join us. This event is about making friends and having a good time with those who share the same interests without any distractions."
"From the moment my group of riders left San Diego I could feel the bonds growing," Sash explains. "The young ladies all referred to themselves and one another as babes. 'Did you see the other group of babes in the parking lot?' Madison asked me. The term 'babe' was meant as one of endearment and used with all sincerity."
Babes Ride Out sponsors and supporters were the only companies allowed inside the gated venue to have a booth. They included Biltwell, Stance Socks, 805 Firestone Walker Brewing Company, Ole Smoky Tennessee Moonshine, Red Wing Shoes, Harley-Davidson, Stetson, Lowbrow Customs, Shoppe 815, and Chop Cult.
Harley-Davidson, a supporter of BRO, donated 500 custom water bottles for the gift bags, and two Harley-Davidson gift cards for the raffle. A few H-D staff members were also in attendance.
Jennifer Hoyer, a spokesperson for Harley-Davidson explains why The Motor Company got involved. "Women riders have been part of the Harley-Davidson riding community for decades and events such as Babes Ride Out help grow and support the women's riding community. The culture is shifting for women riders and it is an exciting time to be a part of it all. The BRO efforts closely align with what we are doing at Harley-Davidson and we are thrilled to support such an amazing event made by women for women."
A full schedule of activities included an astronomy show at the campground amphitheater Friday night since star watching is easy at this remote location. On Saturday, riders were on their own to tour the areas scenic routes suggested by the BRO staff.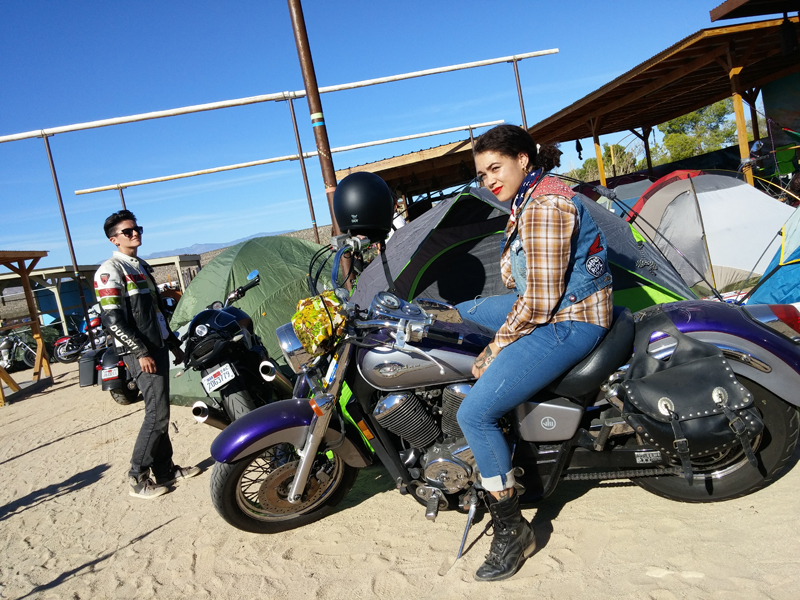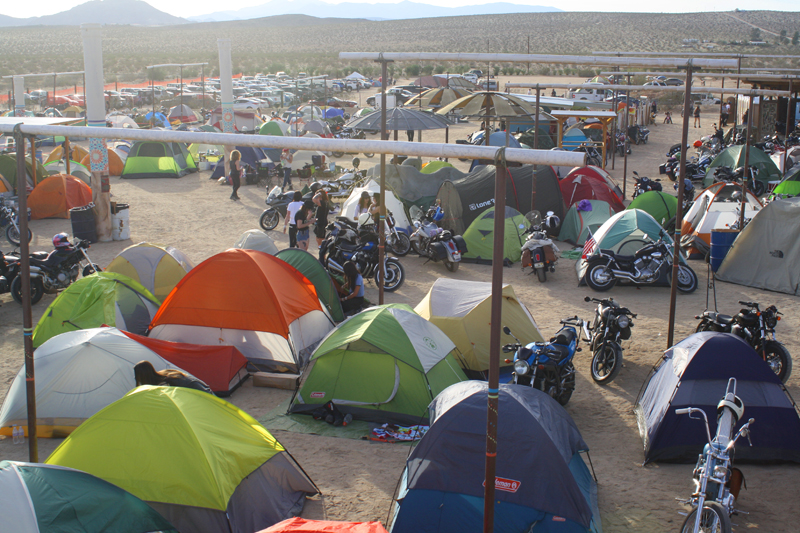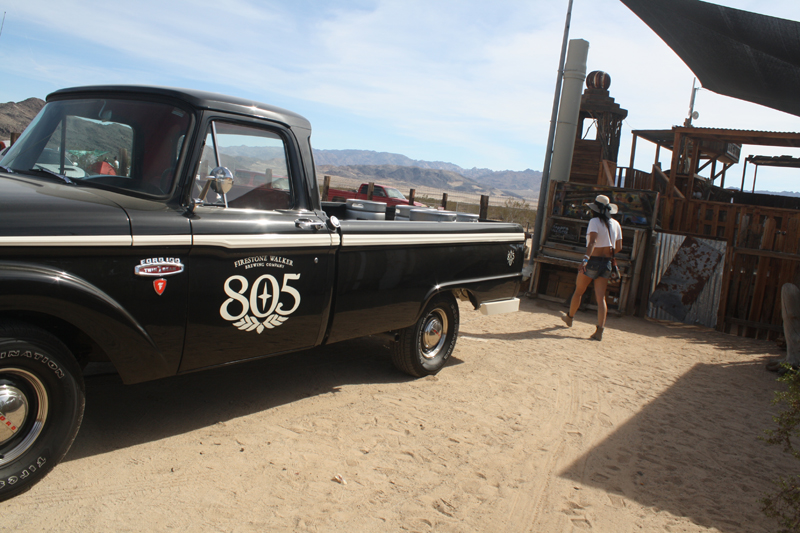 | | |
| --- | --- |
| There were plenty of motorcycles to admire, including these customs. | These babes didn't hesitate to wrench on this Triumph even though they weren't exactly dressed for it. |
Saturday night, guests were treated to a free pizza and taco dinner. Later, raffle ticket winners were announced and then several local female bands took to the stage to provide entertainment. On Sunday, kickstands were ordered up by 10 a.m. for riders to leave the party.
A scheduled group photo on Saturday was cancelled, which left Sash and many others confused as to why. "We were all really disappointed that the group photo was cancelled. I was told it was because there were too many attendees. On the other hand, the music was fantastic and helped everyone get into the party mood. It also helped that there was free alcohol everywhere I looked. No one went thirsty, I guarantee!"
| | |
| --- | --- |
| Organizers Ashmore Ellis and Anya Violet address the crowd during the Saturday night raffle. "You women are a force to be reckoned with!" they shouted. Sash estimates about 600 women squeezed into the stage area that evening. "The cheers and howls were probably heard for miles," she adds. | This was the dramatic sunrise on Sunday morning at 6:30 a.m., a breathtaking backdrop to the stage area where the party lasted until 4:00 a.m. Campers were already lining up for coffee at 6:30 a.m. to be out by 10. "The desert sunrises are absolutely breathtaking and worth getting up early for," says Sash |
Not all the women there were riders. Melissa Gruss of Placentia, Calif., a non-rider, came with her friend Tina Goodman, a motorcyclist, from Hemet, Calif., "I wanted to try something new and exciting, something for myself," said Tina of taking up motorcycling. "Melissa and I are both 29 years old and we've both been so inspired by friends who ride. Our friend Lauren got her license in May and I got mine in August. Now Melissa wants to get hers."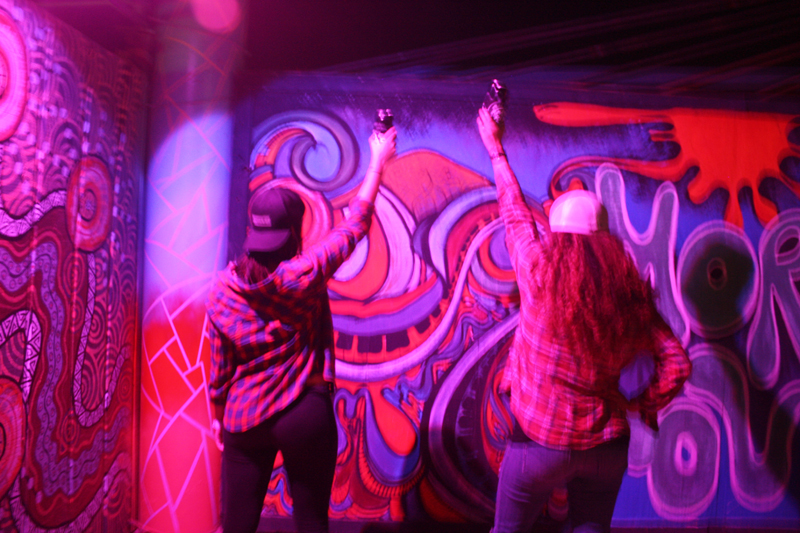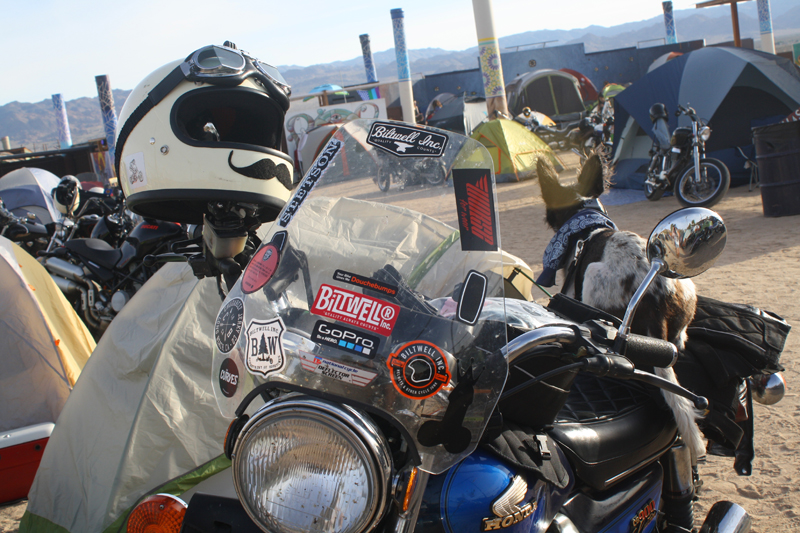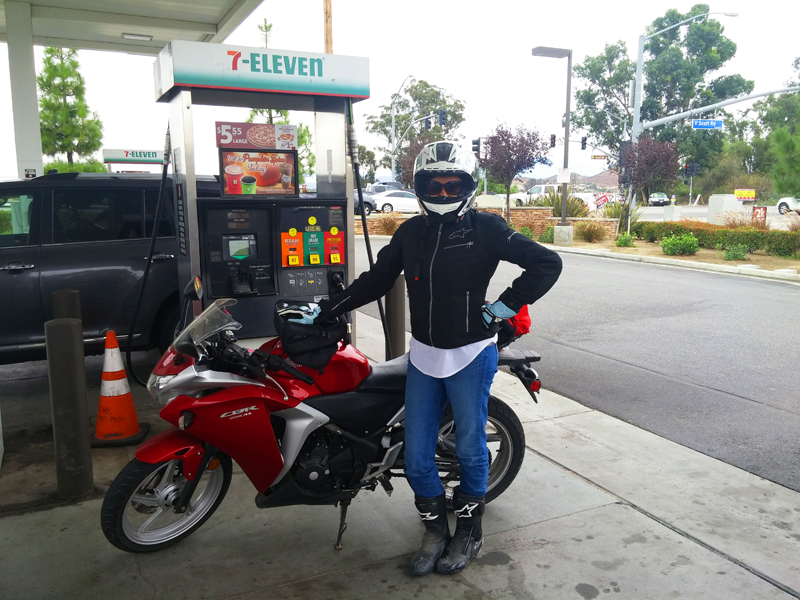 Five thousand dollars raised from Babes Ride Out 3 went to Moto F.A.M., a charity that raises funds for riders who have been hurt in a motorcycle related accident, or for the family of the fallen riders.
Sash continues, "The event was a 'love fest' in many ways. Every woman seemed excited to help one another, meet new riders, and make new friends. I saw no posturing or competitiveness. As we looked around we knew that we all came to Joshua Tree to celebrate the same thing: women who ride."
For more information, including getting in on the buzz for BRO 2016, visit BabesRideOut.com, or follow them on Instagram @BabesRideOut, and use hashtag #babesrideout #babesrideout3 and #babesrideout2015 to see more photos.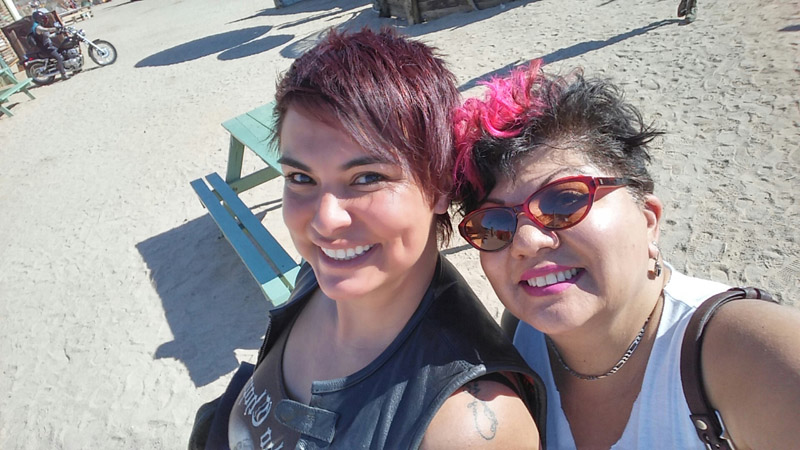 Sidebar
British Customs, aSouthern California-based lifestyle brand and designer of aftermarket parts,defines the culture at Babes Ride Out this way in a press release sent out atthe start of the weekend as a way to share in the momentum created by this event. We included a few paragraphs from it here thatexplains the new generation of woman rider that made up the majority ofattendees at this event.
"Babes Ride Out seeks to establish a new heritage in the motorcycle community through creating a space for women motorcyclists to not only say 'we can do it,' but by demonstrating that they can do it even better. 
The riders at Babes Ride Out break all pre-conceived stereotypes of women on motorcycles, and through putting on a highly successful and groundbreaking event show that motorcycle culture is evolving, and that they have a place in shaping its future.
On the note of new heritage, one of the defining aspects of the event is that the large majority of bikes being ridden are older bikes. These older bikes require a significant amount of maintenance and upkeep to ensure they run. The majority of attendees of Babes Ride Out, as do many motorcyclists, assert they do the lion's share of work on their own bikes.
"Doing all my own work and maintenance makes me feel attached to my bike," states Marie Kifa, a rider at the event known on Instagram as @marie_vill. "The best though is getting to customize my own motorcycle. That's what really makes you feel close to it."
Maria, from Washington D.C., is attending the event with fellow friends and riders Liz Horton (@deathroddixie) and Anjuli "Kiki" Azim (@ainjul), who have come from Colorado and Oregon respectively to reunite and celebrate their love for motorcycles. They are each doing event coverage on their Instagram accounts.
There has been a growing trend among motorcyclists to return to these older bikes and to reintroduce them to the road. The history behind these bikes is rich and storied, and emanates a strong pull on many community members." Visit British-Customs.com to learn more. 
Follow Sash on Google+ and her blog, SashMouth.com. Learn more about her on the WRN Contributors page, and read her articles on WRN here at Sash & Steve's Life on the Road.
Related Articles
Highway Runaways Cross Country Ride
A New Generation of Women Riders
Sturgis Motorcycle Rally Virgins

MOBILE USERS: We want to hear your comments. Please post your comment from desktop or tablet. Our current mobile site does not support comments, yet. We are working on it.