Editors Note: This is an opinion piece and may not be representative of the views of the editor of Women Riders Now.
If you've ever enjoyed the feeling of being unique on your motorcycle, don't go to the Sturgis Motorcycle Rally. Because no matter how amazing you may be, you're just another nobody on a bike.
The exception is if you stand completely nude on Main Street. And I mean completely nude—because if you go with boots, a bikini bottom and pasties, you'll find plenty of women already doing that.
Having gotten that out of the way, Sturgis is the great equalizer of the motorcycling world. There are so many people and motorcycles crammed into a tiny space, there's just no room for ego and reputation. Custom motorcycle builder Arlen Ness could walk down Main Street and very few people would notice. People have to rely on their own skills to make friends and make something happen.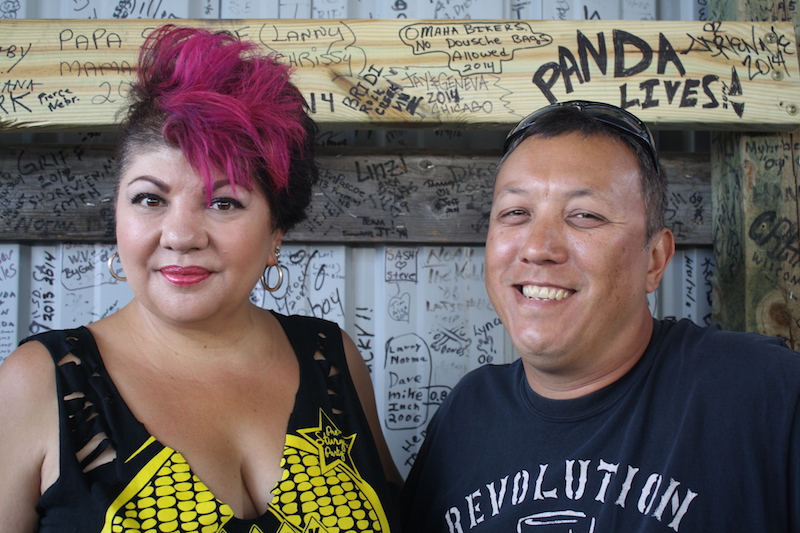 For Sash and I, this was the first time we had ever attended Sturgis. This was the first motorcycle rally for Sash, while for me it was my first "big" rally. With a fresh splash of pink in her hair and some stylish outfits to wear, Sash donned her furry boots and was absolutely excited to go.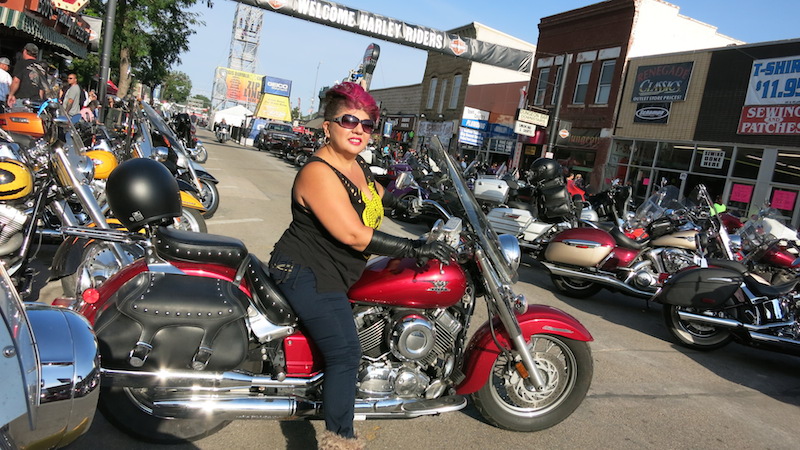 We had a reservation for five nights at the Sturgis RV Park at one of their cabins. They're located in town and offer campers a short walk into downtown. It saved us from having to park our motorcycles in town, and I didn't have to worry about drinking and driving. It turns out they also had the best food in all of Sturgis, renting out a BBQ truck for the rally. After the five nights, we finished out the rally at a hotel in Spearfish, just a 15 to 20 minute ride west of Sturgis.
For Sash and her career as a marketer, attending the rally was something of a coming of age. She managed to network and build contacts with some big names like Peter Jones of Cycle World Magazine, John Rogue of Easyriders, female motorcycle racers Laura Klock, Andie Gaskins, and Jessi Combs, and the always popular Buffalo Chip "Mayor of Fun," Kevin Bean're. Even though she was nervous meeting them all, she still had her "Sash Mojo" working.
| | |
| --- | --- |
| Sash attended the Indian Motorcycle VIP party on behalf of Women Riders Now where the new Scout was revealed. There she met American Pickers star Mike Wolfe, who's a spokesman for Indian. | Sash sharing a toast with drag racer Andie Gaskins. |
Sturgis has something for everyone. There's always the ever-present Lynyrd Skynyrd playing "Sweet Home Alabama" and "Free Bird" for the 12 trillionth time at any bar you visit. But there are hundreds of bands playing in all genres at dozens of saloons and campgrounds across Sturgis. There are hundreds of miles of twisting roads across the Black Hills. There are churches and schools offering pancake breakfasts; there's motorcycle racing, the hill climb and the age old Wall of Death.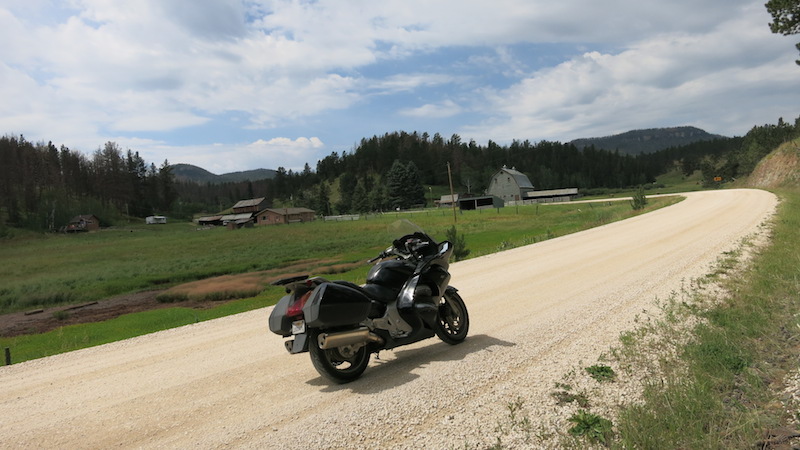 But if you could disconnect yourself from the sensory onslaught and emotional impact of the rally, and look at it from an intellectual perspective, there's no sense in attending in my opinion. Bars and restaurants are slammed with customers. Servers are so busy you can't get good service. The price of a water bottle doubles and triples. Traffic is awful along the streets in downtown Sturgis. It's hot as heck out there, and accommodations are terribly expensive. Just how expensive? One of WRNs employees split a $300-a-night hotel roomwith a six-night minimumat theSturgis Super 8 with two other people. Thats the going rate for local hotels during rally week.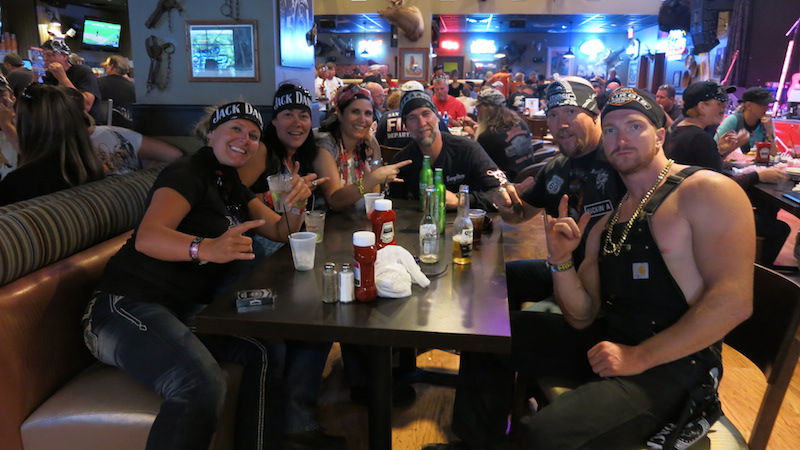 On top of that, many of the people who attend don't even ride to the rally. They just drive their RVs to the rally, or trailer in their bikes. Many of those seen riding rarely ride the rest of the year, opting to keep their tire tread saved up for Sturgis. It begs the question why they even call it a motorcycle rally. Theres a funny biker patch with the saying, "I trailered my motorcycle to Trailer Week," thats sold at some of the vendors here.
Probably the real reason why people attend, ironically, is for the madness.
The domestic life of working Monday to Friday, mowing the lawn and taking the kids to school, is just too cyclical. People need a moment of hysteria to scramble their senses, a bout of mania to keep them on edge and doses of shock to reenergize their inner-party animal.
It also helps to travel across the country to arrive someplace where you're anonymous, a nobody and no one knows you and no one cares how little clothes you're wearing. WRN editor Genevieve Schmitt told me in past years shes interviewed both men and women wearing what would be considered risque outfits (ripped unitards, bikini and chaps, pasties, etc.) and discovered their day jobs to be quite tame like a school teacher, a business owner and a department store clerk.
But this isn't Las Vegas where whatever happens in Sturgis stays in Sturgis. You don't ride your motorcycle that far to do something in secret. The experience of riding to the Motorcycling Mecca, letting it all hang loose for a week with thousands of other pilgrims and riding back home is a character-building experience. There's the sense that anything can happen during the 10-day stretch of the rally, and just for the fact that it happened at Sturgis is what makes it priceless. Being able to take that back with you, and being able to pull from that when the opportunity arises is how Sturgis changes a person.
If anything, the Sturgis Motorcycle Rally teaches you how to be spontaneous at the right moment.
Now that we're no longer "Sturgis virgins," will Sash and I go back to the rally next year? Certainly we would—we run a marketing business for motorcycle-focused companies so it behooves us to go there. We also had a lot of fun there personally, particular in seeing old friends and making new ones.
Now tell us what you think about the rally in the comments section below.
And be sure to read WRNs other Sturgis Rally 2014 stories:
74th Annual Sturgis Motorcycle Rally Wrap-Up: What You Missed
Biker Belles Ride 2014
About the Authors
Sash Walker and her husband, Steve Johnson, are traveling the country by motorcycle, and are contributors to Women Riders Now through their section Sash amp; Steves Life on the Road. To learn more about them, visit the WRN Contributors page.

Related Articles
More Stories by Steve Johnson
Backroads With Betsy: Sturgis 2013, the Wild, Wild West!