Day two of my incredible adventure began with my fearless guides pulling up in Shaun's 4×4 pick-up truck named "Sweaty Betty." I was going to get a firsthand look at some of the sacred places on Arizona's Navajo Indian Reservation. Shaun Martin, whom I was honored to meet at last year's Sturgis rally, wanted me to see the places he runs that are not accessible by motorcycle. The only way to see these narrow caverns is by foot, horseback or a truck with big tires.
So Shaun, his father-in-law, William Yazzie, and I journeyed along a dry riverbed that is carved deep into the rocks and canyons of Canyon de Chelly National Park. They showed me countless pictographs and petroglyphs on the canyon walls, ancient dwellings and caves carved high above where ancient Pueblo people lived in what are now referred to as Anasazi cliff dwellings. We often stopped just to enjoy the countless different beautiful rock formations.
| | |
| --- | --- |
| Shawn picking me up in "Sweaty Betty." | My fearless guides, William and Shaun in "Sweaty Betty." |
| | |
| --- | --- |
| Ancient petroglyphs carved into the rock walls. | Cliff dwellings carved high into the rocks above the horseback riders. |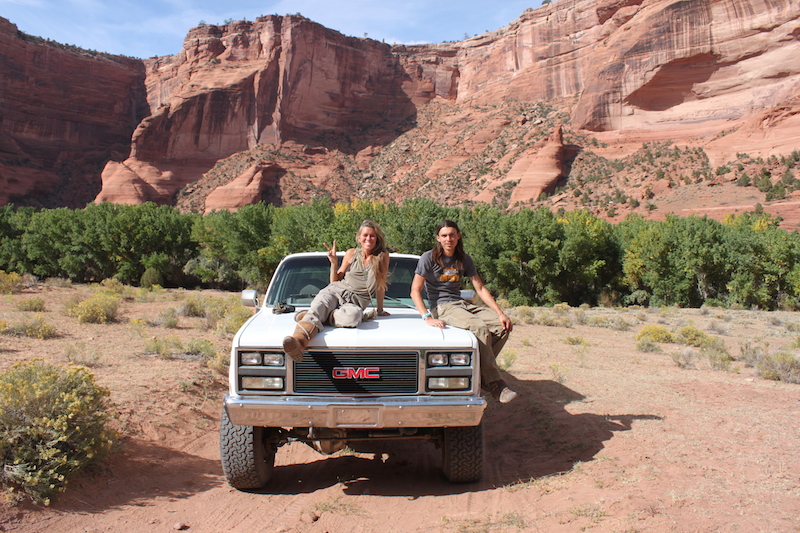 Canyon de Chelly spans 84,000 acres of seemingly untouched scenic splendor. It was a favorite of the late, great photographer Ansel Adams. As we stopped along the way, William would point out and tell me stories of days gone by. One story recounted how birds were observed making holes in the branches of the trees, and when the wind blew through the holes, a beautiful sound emerged. And that was how the Indian flute was made, and the carved bird on many flutes is a reminder of where the sound was first heard.
Every image we gazed upon held a story. And every story was remembered and told with passion. I listened to the stories, and sometimes we sat in quiet reflection. Other times, Shaun and William danced and sang, while other times we all gave thanks for the beauty and splendor of the day.
| | |
| --- | --- |
| William under a "Hole in the Rock" scenic view. | Shaun and William singing and dancing. I wish you could hear the comic soundtrack! |
| | |
| --- | --- |
| Shaun giving thanks for the beauty of the day. | William in quiet reflection, not unlike how many of his ancestors once sat. |
At the end of the ride, and many miles and hours back was a magnificent sandstone spire they call Spider Rock. It stands 750 feet above the canyon floor, and for miles every view and every angle seems different and more spectacular than the last. We spent hours just admiring its beauty.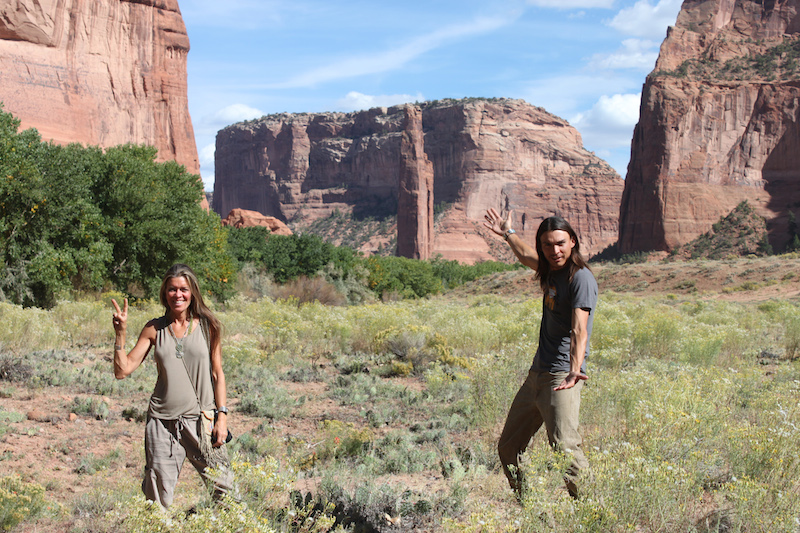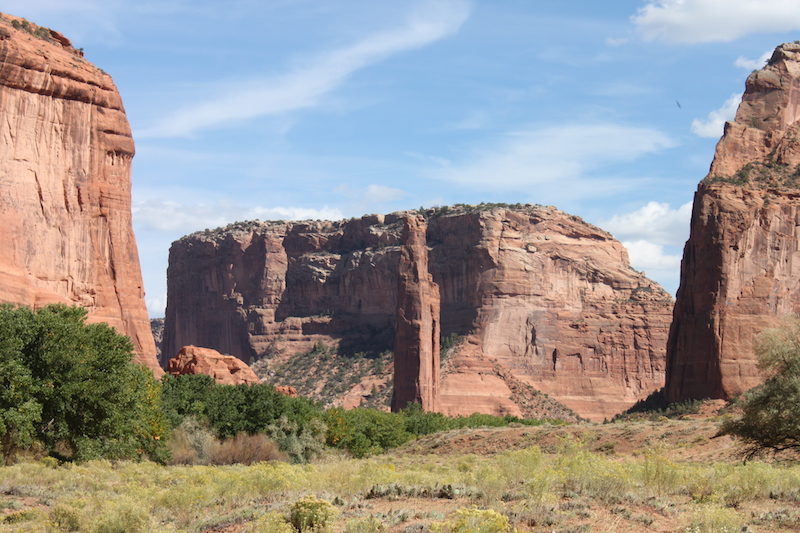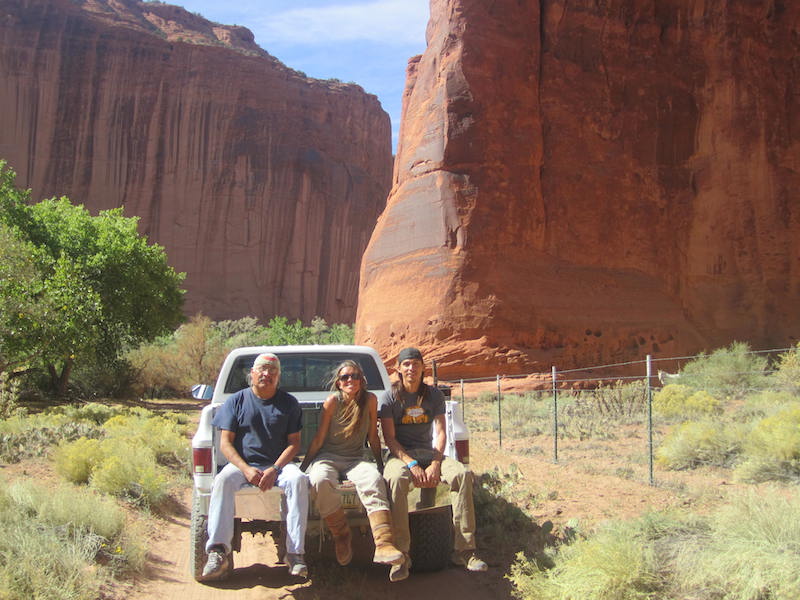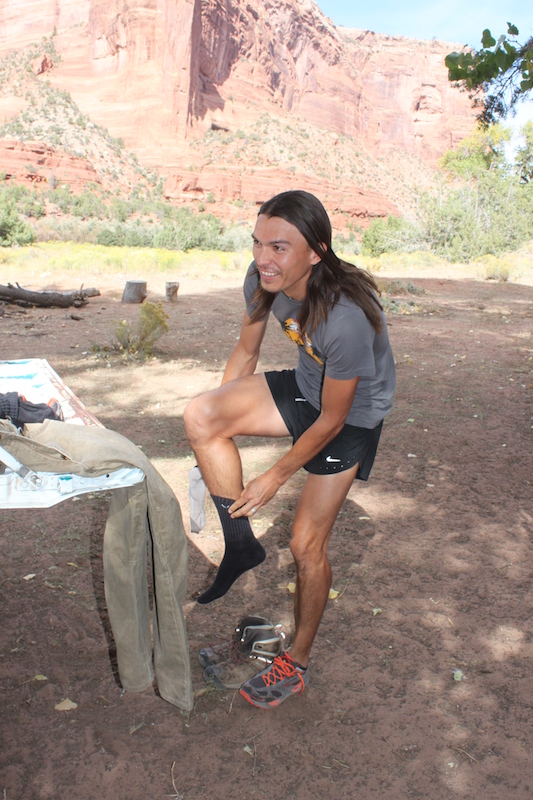 It was from Spider Rock that Shaun would depart us and begin his 30-mile run back out of the canyon. All the while making it look effortless with his deer-like legs and energy as he drifted through the rocks and the trees. If ever I have witnessed someone at one with nature and the elements, it was Shaun. It was undeniably a vision of beauty that I can only compare to watching a wild horse run across the plains. The pleasure of simplicity is found in all that is wild and free.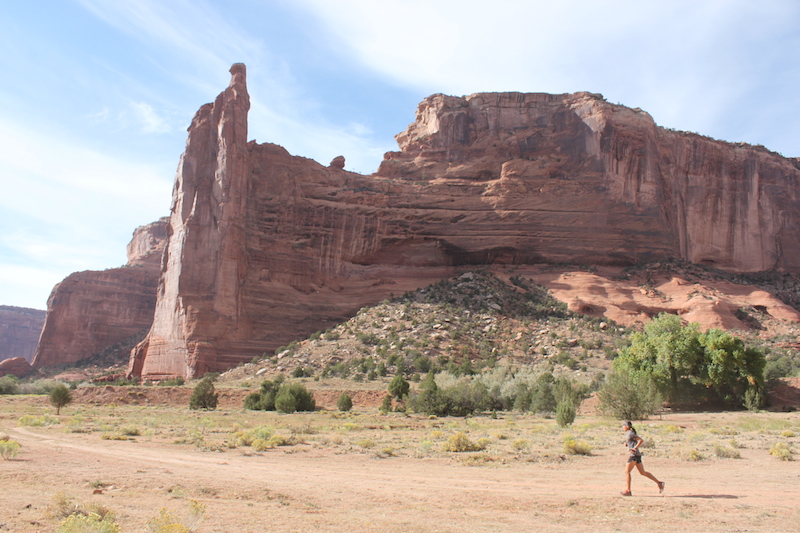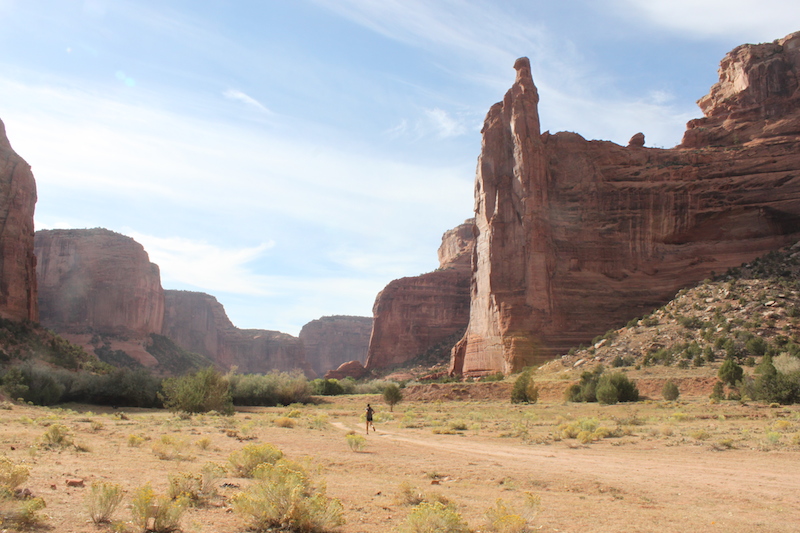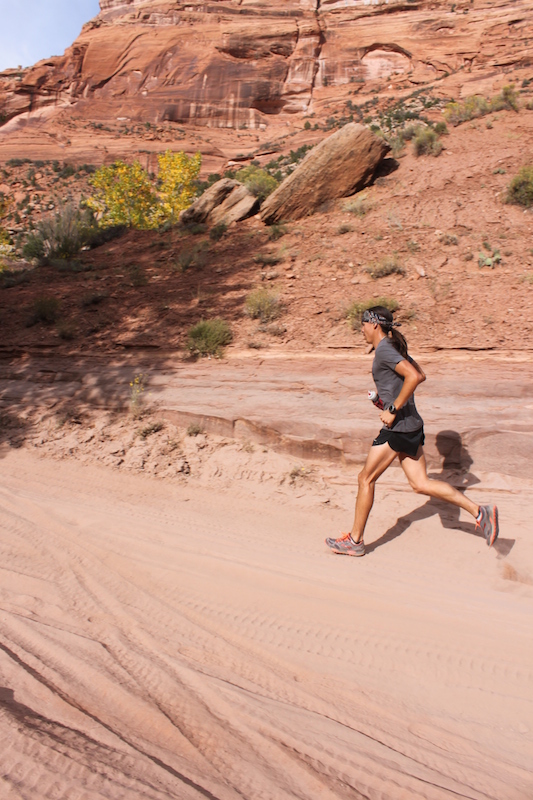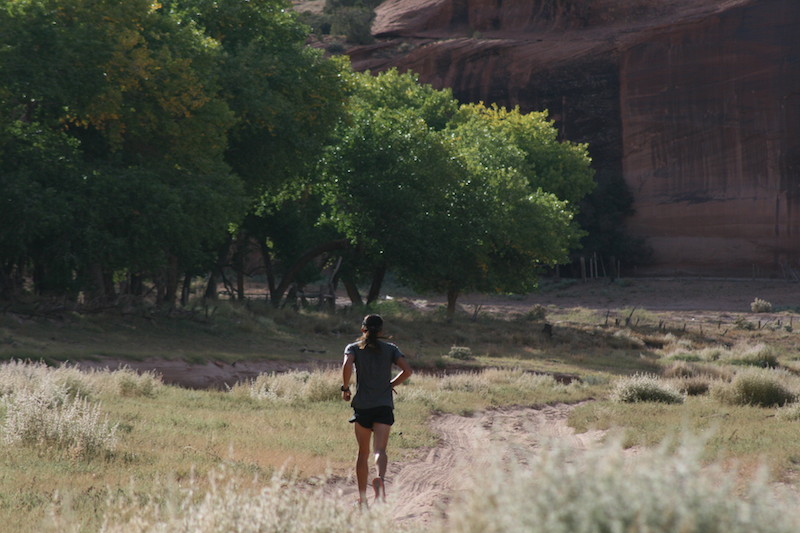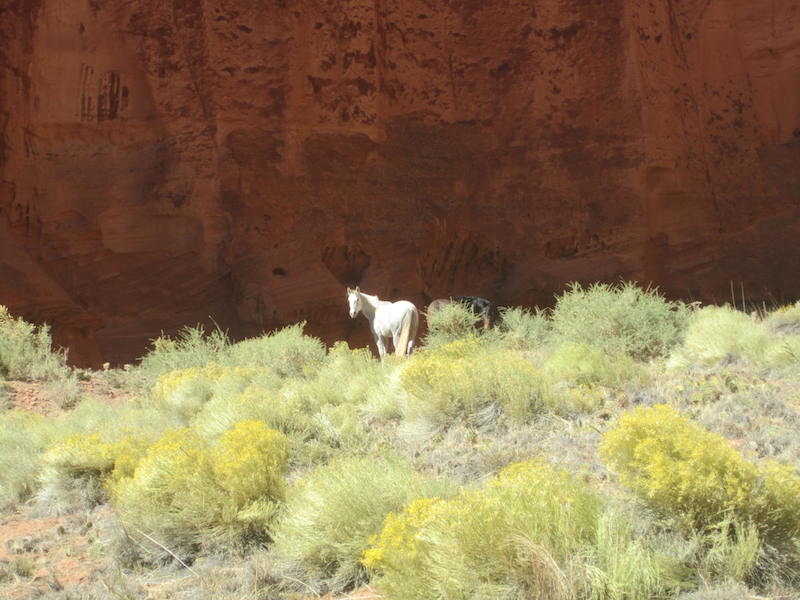 That evening I had the privilege of witnessing William in action as he gave a presentation to a group of elderly tourists about Navajo traditions. He came in traditional Navajo wear and utilized many elements to engage the guests so that they were not just listening to a lecture about the old ways of an indigenous people, they were participating in ways that made them sing, dance and most importantly, learn in a way that they would remember and want to share. As Williams spoke, he played different drums and the flute, and he wrote key words and phrases on the board so they could see and repeat them.
| | | |
| --- | --- | --- |
| William playing the drums. | Utilizing the board for key words and phrases. | Playing the flute. |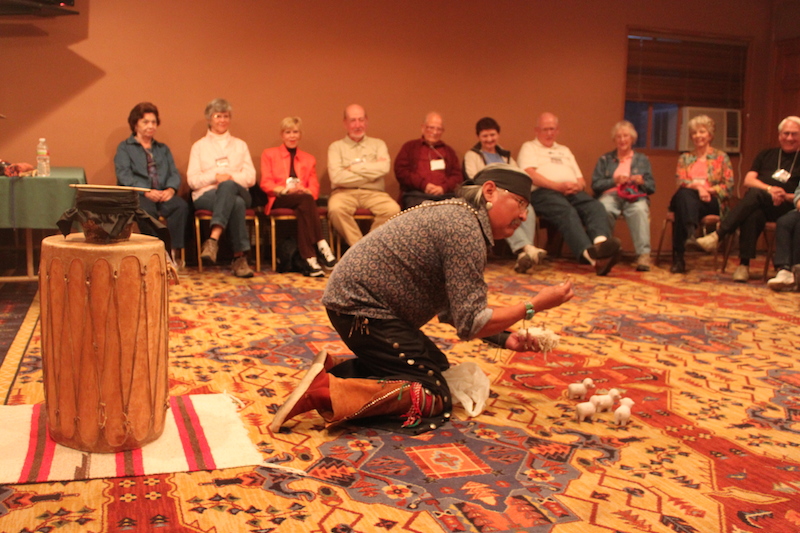 William is a fabulous storyteller, and a great comedian. He uses humor to break down the gap between the old ways and the new, between his people and the outside world. He quickly dispels racial hatred or indifference by making it a common human experience. He is not a teacher by trade, but he is a life teacher to everyone around him. His classroom is the world. His students are his people, my people and your people. His teachings share what "we the people" have in common, rather than what divides us.
| | |
| --- | --- |
| William getting his students up off of their feet to dance. | And keeping them dancing in a ritual circle as he sang and drummed. |
On the last day of my rez tour, William and Shaun had planned on taking me to Window Rock Navajo Tribal Park, which is now also a Veterans Memorial to honor the many Navajos who served in World War II (WWII). But William's duty of Chief Park Ranger was needed when late night trouble on the rez resulted in four dead. William's assistance was needed on the case. So Shaun was my lone tour guide for the day, and William was missed for his in-depth knowledge of the history of his people that is a treasure worth preserving!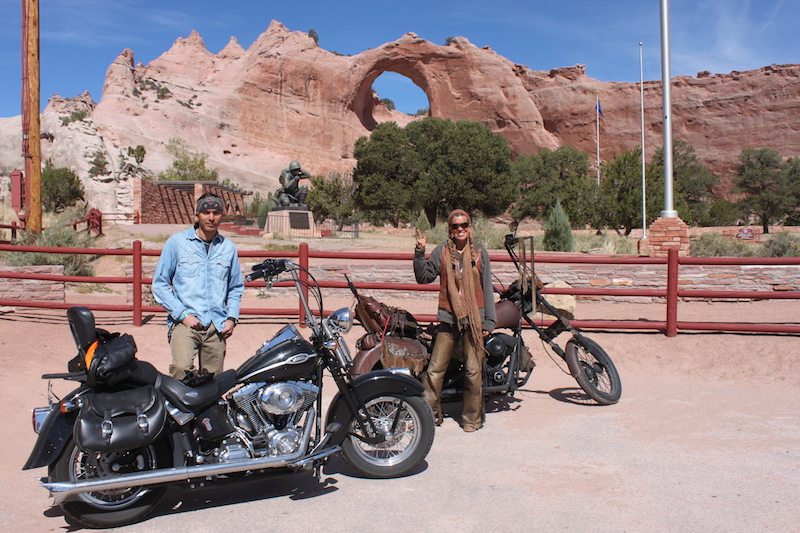 Window Rock is also home to the Navajo Nation headquarters and government offices. This Veterans Memorial is unique in that it was built by the Navajo to honor their own who proudly answered the call of duty. These were Navajo men who chose to become American soldiers, who fought bravely in WWII shortly after our government took their land, killed them in the thousands and moved them onto reservations. When the government asked for their help, they gave it.
This is an important piece of history worth visiting, honoring and preserving. Communication is essential in war, and it is a top priority for communication to exchange without the enemy getting the information. Codes were developed so only those who knew them would understand them. Most codes throughout history were broken, but the Navajo code stayed in tact. Over time these codes have become sacred. History credits these Navajo code talkers as instrumental in helping our country win WWII.
| | |
| --- | --- |
| Shaun paying respect to the names of the code talkers. | The names of the many Navajo who served. |
On our way home, I veered off to a road with a spectacular panoramic view to take some pictures. One of Shaun's best qualities is that he doesn't even seem to notice or care that he looks like the Native American version of a young Johnny Depp—he's too busy being a great dad, husband, teacher and coach. So he actually seems shy and embarrassed when you ask him to look at the camera.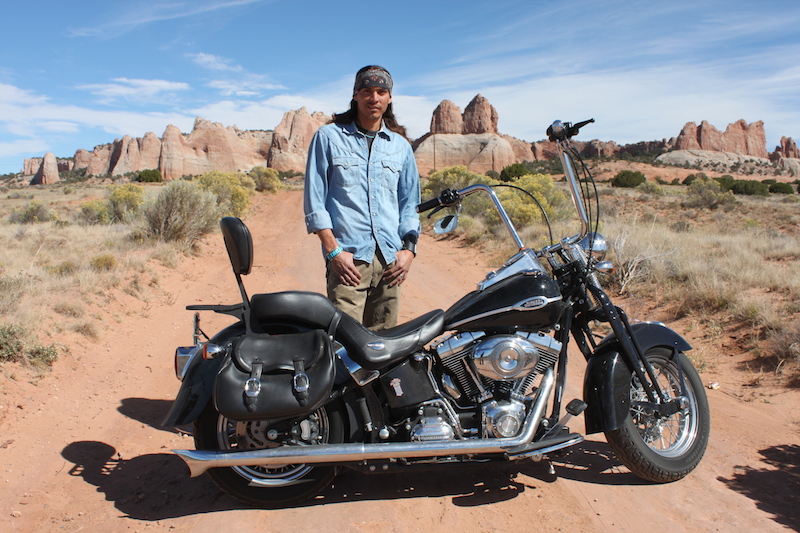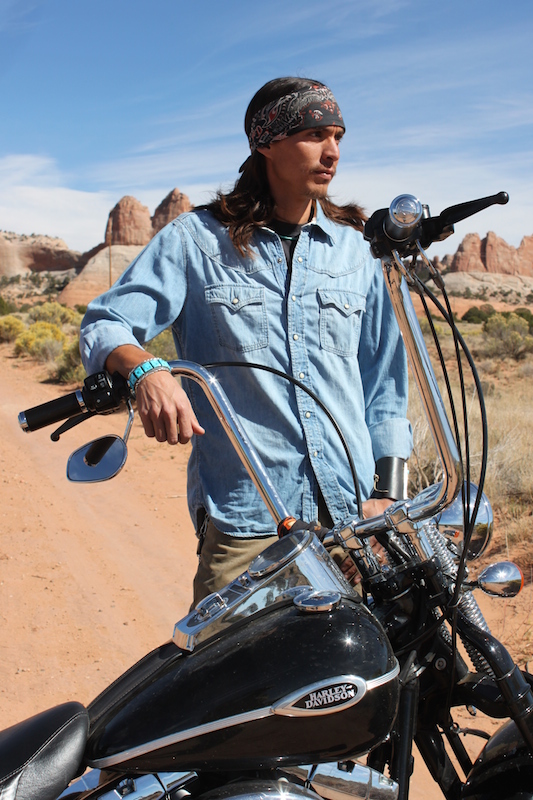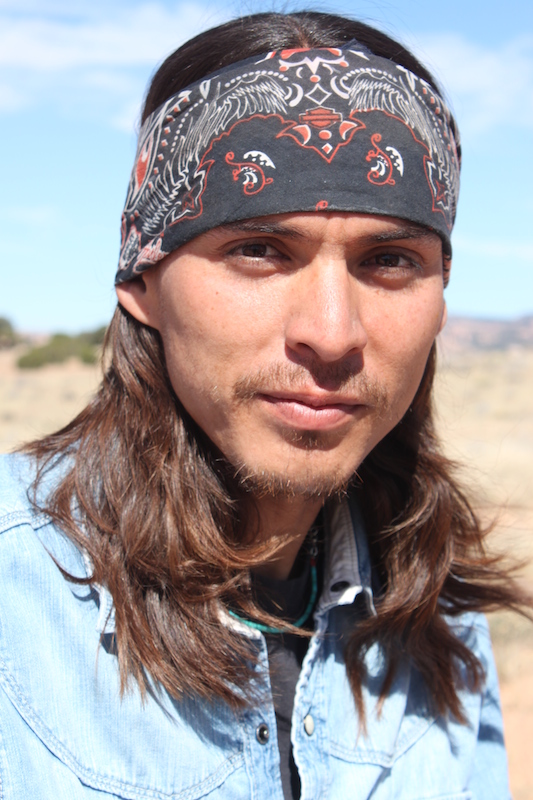 In four short days, Shaun and William so graciously set out to show me their favorite roads and landmarks on the Navajo Reservation. But what I witnessed were extraordinary human qualities and values. I saw in William all of the wisdom of a people and culture that are the Native people. They were and are a spiritual people who believe in giving daily gratitude to their god, the Great Spirit. They believe in respecting and protecting Mother Earth, keeping our land and water, trees and wildlife healthy and safe. William represents all of the customs, beliefs, rituals and stories that should always be remembered and passed down through the generations.
And it is being passed down to Shaun and Melissa, Maverick and Isabelle. Shaun and Melissa and their kids are an amazing example of all that is good. They don't have a big house in Beverly Hills, or fancy cars, and yet, they have it all. I saw great pleasure in their simplicity, and much love. I feel very fortunate to have spent time with these people who are teaching the lesson of achieving balance just by living it.
Related Stories
Backroad With Betsy: Riding the Rez, Part 1
The Shady Dell in Bisbee, Arizona
Escape to Arizona