With springtime in full swing in Arizona, saddling up my 1964 Pan, strapping my vintage Canon camera across my chest and hitting the road for a few days is a must. If you're like me, then you're familiar with the need to get out of Dodge and escape the trappings of modern day life; the longing for the opportunity to go primitive and get back to America's roots, all to clear your head and reboot. If only more Americans saw the value in this.
| | |
| --- | --- |
| Starting to come alive just outside of the city. | The characters for this tale: the Lady and the Zapp. |
Unlike myself, my lovely lady, Anna, is much more attached to modern day technology (and travel accommodations), however she was up for a weekend getaway with her man given one stipulation: she'd be driving her beloved chili-red Mini Cooper. You see, she broke up with my chopper after a 250-mile ride a few years back. It seems the beating she received by the hard-tail frame, the exhaust fumes expelled from the nearly 50-year-old engine, and the inevitable morning-after hair-do the ride can give a lady are all too much for mine. No sweat! Now she could toss my guitar in the back seat for the weekend.
The journey took us to the small southern Arizona town of Bisbee (population 5,500). Here we would take refuge in the vintage inspired campground, the Shady Dell. The Shady Dell is home to eight pre-1959 beautifully restored and functional travel trailers, one 1947 Chris Craft yacht and a 1947 Airporter Tiki Bus all available for nightly or weekly stays. This place is definitely in my wheelhouse, though my bride prefers the finer things in life, as in a comfortable bed and a bathroom big enough that the door doesn't close against your knees!
| | |
| --- | --- |
| Everything is retro at the Shady Dell, even the registration office. | A row of vintage American travel trailers, including a 1949 Airstream and our 1957 El Rey. |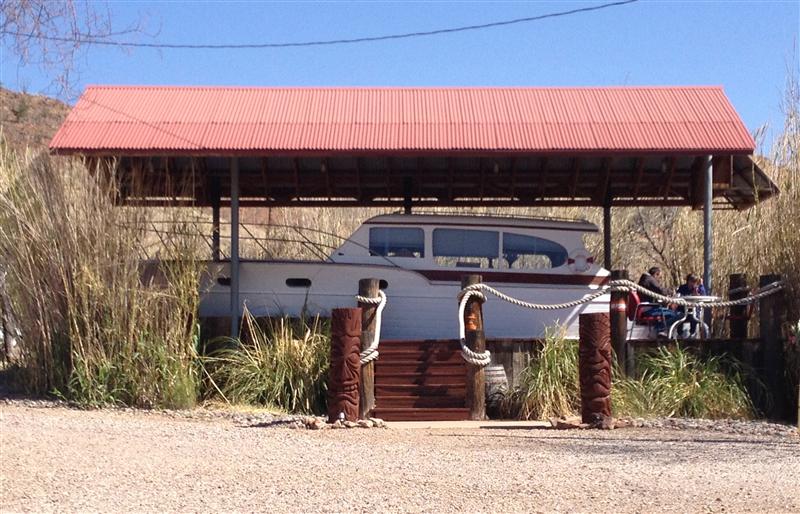 The trek from Phoenix takes you to Bisbee via Historic Route 80. Route 80 was originally a cross-country route from the Atlantic to the Pacific, all the way down to the Mexican border where it cuts northeast into New Mexico. With tons of rich history and character in the small towns of Benson and Tombstone, cruising Route 80 provides fantastic opportunities for black and white film photography.