When we hear of a motorcycle that has a 250cc engine, we think of a small underpowered two-wheeler for inexperienced beginners, or smaller riders, usually women. One hardly sees a man riding a 250cc motorcycle as his entry-level bike. Well, the newest motorcycle to roll into Suzuki's dealerships turns that conventional thinking upside down with its 2013 GW250.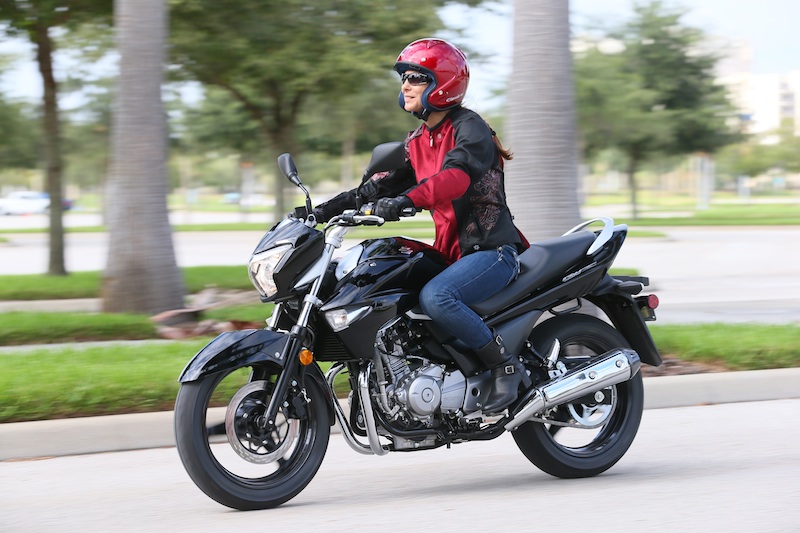 Even though model year 2014 motorcycles are in showrooms now, due to a production delay the 2013 GW250, unveiled to the press early in 2013, has now just made its way into dealerships. I had a chance to hop on one for a brief 40-mile test ride in Orlando, Fla., just enough time to know this is one incredible motorcycle that both women and men, beginners and veterans, will enjoy.
| | |
| --- | --- |
| Seat height is 30.7 inches, on the tall side for the average sized woman; but the motorcycle is relatively light at 403 pounds that my 5-foot-7-inch frame had no problem handling it even on my tiptoes. | I can flatfoot the GW250 by scooting forward on the motorcycle and lifting my butt off the seat giving me extra control over the motorcycle. |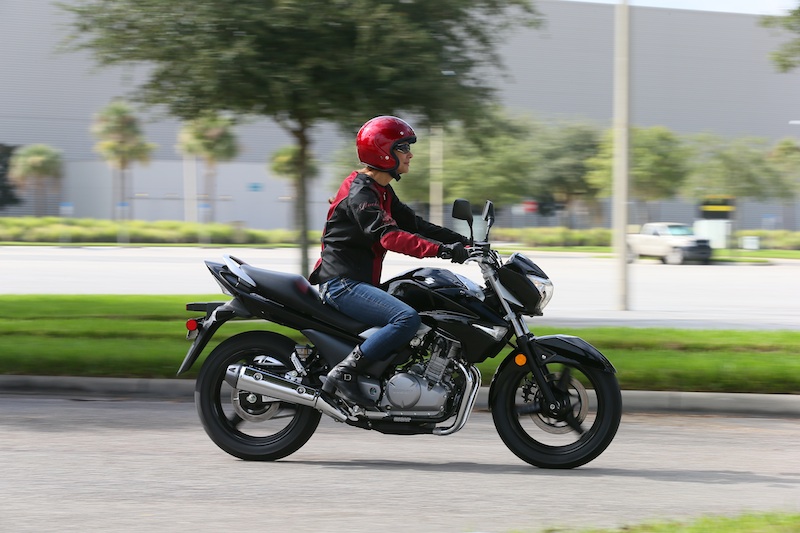 | | |
| --- | --- |
| Unlike the diminutive size and cramped seating position of many entry level motorcycles, the GW250 is spacious and comfortable with a seating position that has the rider in a natural stance sitting down in the scooped saddle with knees gently hugging the fuel tank. | You don't have to reach far before your hands touch the grips on handlebars that rise up to meet you. Feet rest on the footpegs that are behind your knees. This is the only part of the motorcycle that feels like a sportbike. |
I couldn't believe all the power coming from the 248cc motor. Lots of low-end torque gets you going fast with a very wide powerband spread over the six gears that keeps you going strong. Yes, six gears to play around in. I was flying at 10,000 rpms at 80 mph before I knew it, and keeping up with interstate traffic just fine. Hard to believe this is a 250cc motorcycle!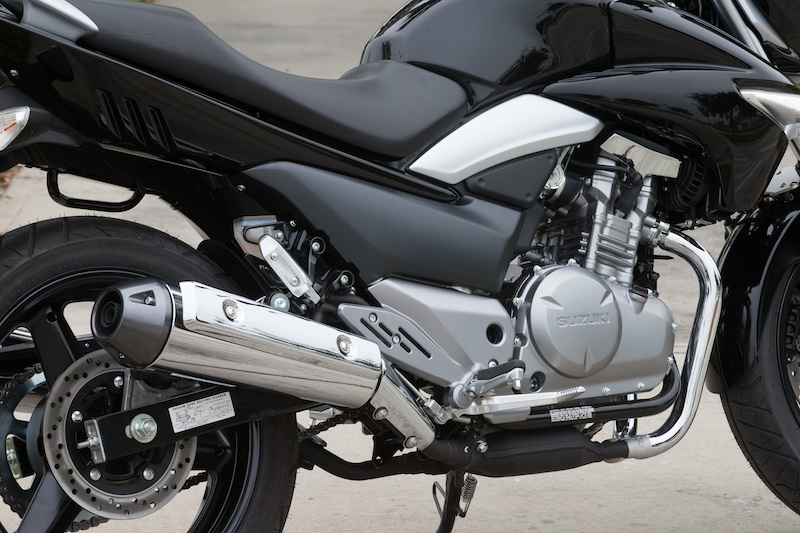 I loved how quick and zippy the motorcycle felt whether I was powering through straight-aways or rounding a corner. A well dialed-in fuel injection system gives the bike that precise response every time the throttle is twisted.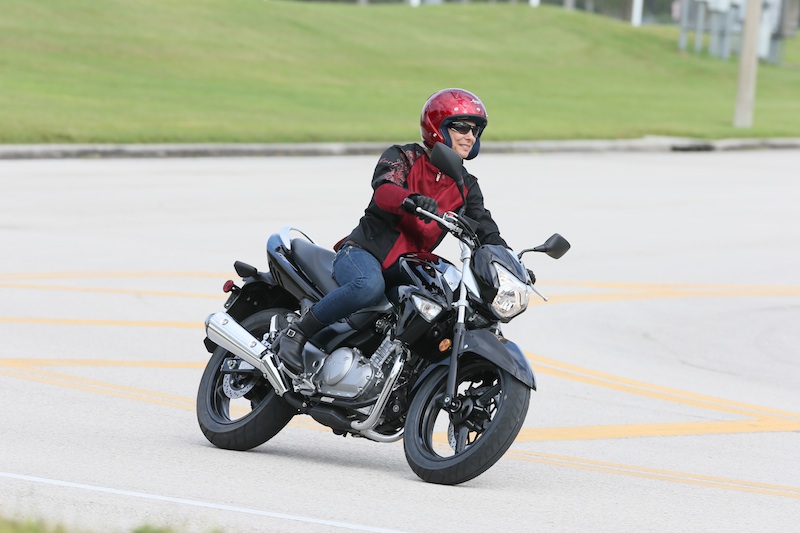 | | |
| --- | --- |
| The GW250 offers a smooth ride with little vibration thanks to counter-balancers that cushion the engine to the frame. And a seven-way adjustable spring pre-load rear suspension handled by a mono-shock system along with telescopic front forks soak up bumps nicely. I was never jarred out of the saddle. | Hydraulic disc brakes in the front and rear stop this lightweight effectively. They're not "grabby" so beginners will have an easy time learning how slow a motorcycle down effectively. |
| | |
| --- | --- |
| The gauges are placed where the rider can easily glance down without lowering his or her head, taking eyes completely off the road. The fuel tank capacity is 3.5 gallons with a mpg rating "in the high 70s" we're told. | The non-intimidating, easy-to-read dash has an analog tachometer, and a digital speedometer. The gear indicator is especially nice to have for beginners still learning about shifting. |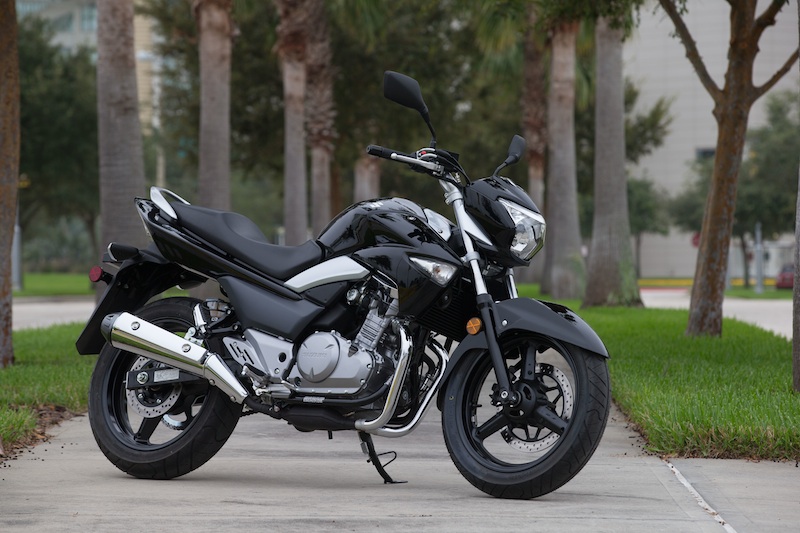 Suzuki reps say one of the GW250's strengths is that it doesn't look like an entry-level motorcycle, and I'll vouch for that. I could see experienced riders having just as much fun on this motorcycle in urban settings and suburban commuting as they would on more powerful 500, 650, 750cc and up motorcycles. The huge benefit is that the cost is just $3,999.
Comparing apples to apples, the GW's direct competition is the Honda CBR250R starting at $4,199 and the Kawasaki Ninja 300 starting at $4,799. I think the rider-friendly GW250 offers more beginner bang for the buck, especially when newbies are deciding on the style of their first motorcycle.
Specs at a Glance: 2013 Suzuki GW250
Displacement: 248cc
Seat Height: 30.7 inches
Weight: 403 pounds
Price: $3,999
Colors: Pearl Nebular Black (a blue and white 2014 edition will be available this summer)
WRN Recommendation
I recommend this GW250 for beginner men and women who feel very confident on a motorcycle after passing the motorcycle safety training class. This bike is built well for practicing those new-found skills. Since confident beginners will no doubt enjoy and hold onto the GW250 longer than most other entry-level bikes, one can justify the initial cost against the length of time the bike will be used and owned. Because of its high-ish seat height and power, I don't recommend the GW250 for smaller women, or people who feel skittish after passing the class. That's where those smaller 250cc motorcycles would be beneficial.
Related Articles
5 Lightweight Motorcycles That Make Women Look Sexy
Beginners Guide: Motorcycles To Get Started On
Motorcycle Review: Kawasaki Ninja 300
Motorcycle Review: 2013 Suzuki Boulevard C50 and C50T
Now tell us what you think of the GW250. Leave a comment below.