Samantha Morgan had many friends in the motorcycle industry. We contacted a few of her close ones to contribute their thoughts on the woman who touched their lives so deeply.


Thoughts from Sara Liberte, author, photographer and founder of Garage-Girls.com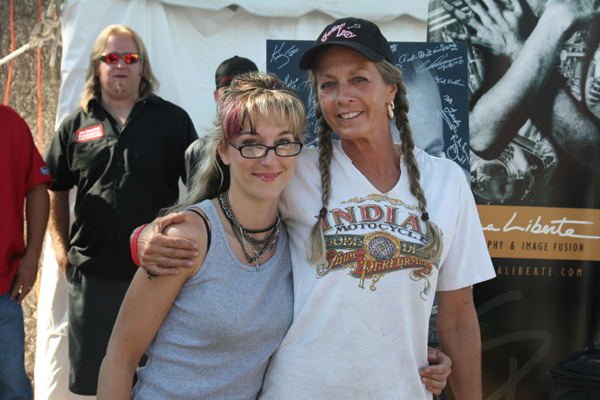 It#8217;s not often in life you get to meet a hero, never mind form a friendship and share magical memories with that hero. I had that opportunity when I met Samantha Morgan. The timing couldn#8217;t have been better. In need of a little inspiration myself, Sam showed me what true passion was about, and she showed me that people still held respect for those who paved the way for us all to enjoy the sport of motorcycling.
Sam was 14 years old when she first saw a Wall of Death show. When she watched rider Sonny Pelaquin#8217;s act on the motordrome she was drawn in. Sonny became Sam#8217;s mentor and #8220;dad#8221; teaching her not only all about maintaining the motordrome, but how to ride it as well. Sonny also taught Sam many of life#8217;s lessons, including how to respect, share, love, and laugh. She learned about heartache and how to handle what life throws at you. Spending years sleeping under the bikes inside the Drome, she learned so much more than just how to ride the wall. She learned how to live and love life riding the Wall of Death.
Sam starting riding at 14 and rode continuously for 30 years. She traveled to Germany and France to ride in motordromes. She has never known another life. While confined to a wheelchair saving up for an operation, Sam, along with the help of Sonny, spent that time doing something positive building a Web site to share with everyone the history of the Wall of Death. She and Sonny decided this unique sport and the riders could not be left to fade away. The families and riders needed to be honored and remembered. The Web site displays a unique look into the history of the dromes as well as the lion dromes, trick riders and woman riders.
Sam was one of the last two female wall riders left in the United States. After having her operation Sam returned to what she did best, being a trick rider inside the motordrome. She has ridden for several drome organizations, most recently the American Motordrome owned by trick rider Jay Lightnin#8217;.
How Sam and Sonny lived their lives, dedicated to the sport of motorcycling, is an example of what this sport is all about passion and love. Neither ever gave up on their dreams and stuck it out through the tough times. Watching Sam ride the wall said it all. Her expression when she rode the wall made you feel like you were the one high up on the wall. You could feel her passion when she was speeding around and around. Sam inspired so many people every day not just when she was riding, but in casual conversation with her. I#8217;m so glad I got to share so many memories with her.
Thoughts from Goth Girl, co-star of #8220;Motorcycle Women#8221; that aired on the Discovery Channel in 2003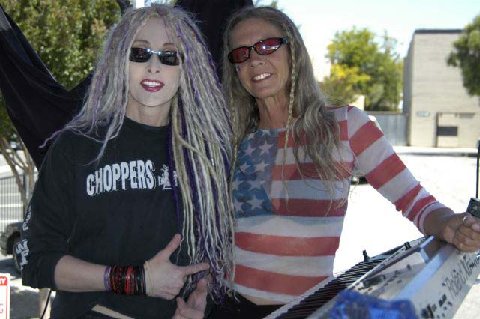 She will always be my hero. It is with great sadness that I write this because, you see, we were supposed to grow old together. We were supposed to be vampires this Halloween and play our endless pranks that caused us to double over with spasms of laughter. And boy, we sure did a lot of laughing. She always told me that whenever we were together, after that, her smile muscles would hurt.
The world lost this amazing and beautiful light. I have lost her. Sam is dead and I cannot make her smile muscles hurt anymore or make her gherkin and cheese sandwiches, or stick clothespins on her braids when she wasnt looking. She, of course, would retaliate and I would be up on stage playing Goth carnie music with the drome and find a stray clothespin stuck in my hair or on my shirt. (I had the great fortune to go on the road and to play music with the Wall of Death. I was deemed the "stunt pianist.") I don#8217;t even remember how the clothespin thing got started, but it became a real contest with all of my awesome stunt rider Wall friends. Guess you probably had to have been there.
Ill never forget the day we met. It was the 4th of July rally in Hollister some years ago. Sonny Barger told me that I had to meet and see this amazing girl ride Jay Lightnins infamous Wall of Death. Sonny took me over to the drome. I climbed up the stairs to watch this incredible show with this blonde daredevil defying the laws of gravity and trick riding like the devil herself. I couldnt believe my eyes! Then Sammy and Jay Lightnin trick riding together was unbelievable. I had never felt so energized. After the show, Sonny introduced us and our bond was immediate. She was slyly eyeing my Buffy the Vampire Slayer lunchbox. Turned out that we were both Buffy freaks. That was just the first thing we had in common. She spoke as rapidly as I did. I had no problem understanding her, and so we talked even faster creating our own brand of language that others couldnt keep up with. It was so cool.
Samantha was truly a gift to anyone who met her. She brought joy to countless millions who watched her ride the Wall. And everyone always said the same thing after seeing her perform, "Oh, my Gawd! Did you see her face?! Did you see her smile and ride without any hands and snatch up my dollar bill?!" The most hardcore or "badass outlaw" biker would be reduced to an attitude of total respect after watching her do her motorcycle magic. They would be humbled and totally in love. And Sam was sassy. She#8217;d buzz the "macho" men with her front tire and they would jump back in terror. I loved to watch them recoil.
When I was up top watching her, I would lean forward just a little bit too close and she would aim right at my head with her wheel. I was always so proud that she would buzz me closer than anyone. I never drew back, but instead would close my eyes and feel her whisper past my cheek. I trusted her completely. It was the best. We were all so happy. It was a golden time. I will always keep and treasure my vision of Sam riding the Wall, her long blonde hair streaming behind her, her beautiful eyes sparkling, her infectious smile wider than the Grand Canyon, and her sheer joy and delight in what she was doing. She found her total freedom there, her perfect heaven. Thats where she always wanted to be, to stay in that perfect time tunnel moment. She had found that perfect layer, even if just for moments. She was 1000 percent alive when she was on the Wall. Her face was that of an angel, radiant with the thrill of doing what she loved more than anything.
The news of Sams death is just now starting to spread throughout the motorcycle world. She will leave a huge void and many hearts are going to be breaking over this harsh and sudden loss. Sobbing will be heard around the world as her funeral bells begin to ring. I am going to miss my beauty so much. I am going to miss my best friend, my idol, my hero. I will keep her with me, always in my heart and I will make her live on by the symphonies I shall write for her. I dedicate it all to her.
By Jay Allen, owner of the Broken Spoke Saloon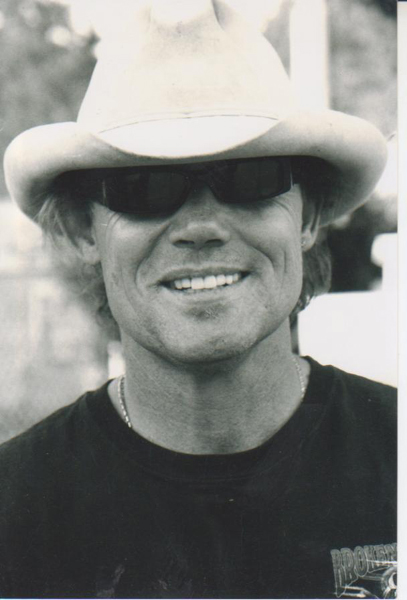 For women it has always been hard to coexist in a world of male egos,but for Samantha Morgan it was all worth it, providing she could just get back up on that Wall! She was so blessed to discover her true passion in her teens. She evolved to be what was possibly the best woman rider to ever ride the Wall.
With a rich history dating back to the early 1900s, Samantha loved everything about the Wall of Death. She told the stories of the many fascinating characters it spawned. Im truly honored and feel so blessed to say Samantha Morgan mentored me on the Wall of Death, shared the wonderful experience of Bonneville with me, and considered me a friend. She will always be in my thoughts and I will never forget her.
From Sasha Mullins, owner of Bikerlady.com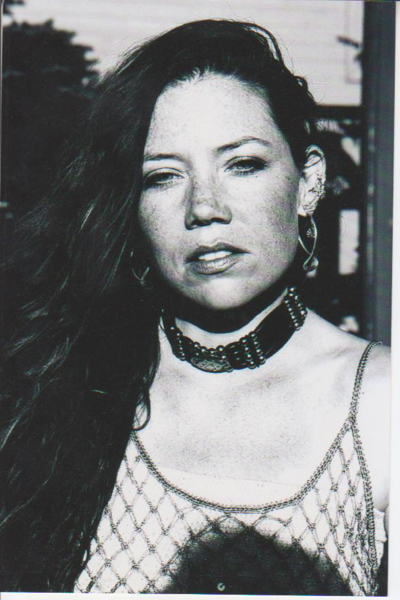 Samantha was wonderfully influential in my life. I met her through Goth Girl. My heart grieves for this amazing windsister. She helped me very much.
You see, I've got what I call an "outsider's complex" which means, I feel like I don't fit in at times. I'm an outsider, looking in. I tend to be a bit geeky, nerdy, and I have an unusual perspective on things. Some of my outsider complex stems from the "ugly duckling" complex because in my youth I was an unusual artist who wore thick coke bottle glasses, a wall flower, that was unmercifully tormented by peers for my geekiness.
Being with Sam at the Motor Drome was a place where I could be accepted whole heartedly as me, no matter what I wore, how I waxed philosophic and spiritual, no matter how dirty I was from a long road trip, I found acceptance. I was in awe of her. How thrilling to dangle those dollar bills over the edge of the wooden bowl while she'd soar by and snatch that money out of my hand and I'd squeal like a little girl! Oh, I could be silly and feel loved around Sam. We were both artists with an insatiable love for our respective art forms. Art and motorcycles is how we breathe and live. Samantha helped me feel like a swan. Helped me to laugh away the outsider complex! I could feel bouncy and confident again because of this angel sharing conversation with me. Well, her light is now a star. She will forever be a star to me. Now that Samantha rides the heavens with my beloved friend, Indian Larry, the motorcycle lifestyle here on earth will never be the same to me. Two unique powerful artists who lived free spirited and uniquely loyal to their true selves together, racing around the starry night.
Related Articles
Samantha Morgan, Queen of the Motordome, Passes Away