If there was ever a winter to make your great escape from the snow and cold, 2010 was it. Fortunately I had plans to visit the southern most part of Arizona last February, the only state that didn't experience unseasonably cold temps, to get a break from the white stuff. Looks like 2011 is going to be just as frigid so start planning your winter motorcycling escape now. It's the best time to visit Arizona in my opinion. Summer is just too hot.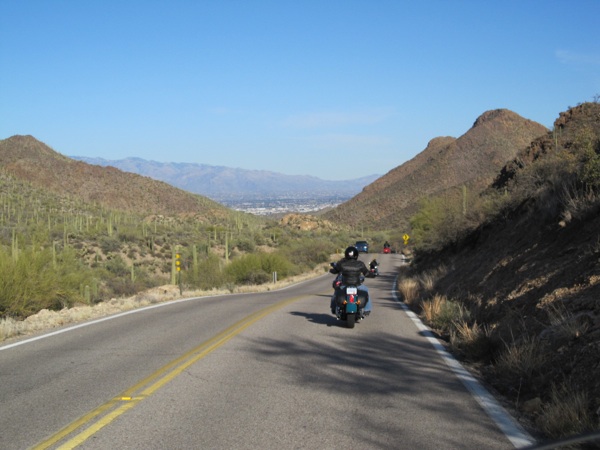 I was invited on a 3-day 2-night tour with Twisted Trailz, a relatively new tour company based in Phoenix. Our journey to Arizona's southern towns of Tucson, Tombstone and Bisbee starts in Chandler, a suburb of Phoenix, at Chandler Harley-Davidson where I pick up a rental bike, a 2010 Harley-Davidson Heritage Softail Classic with 6200 miles on the odometer. Twisted Trailz does not offer motorcycles as part of its tour, but there are a variety of options for rentals in the Phoenix area.
| | |
| --- | --- |
| A Heritage Softail comes stock with the windshield, backrest, and saddlebags — an ideal touring motorcycle. | Randy and Suzanne Addington, readers of WRN, trailered their motorcycles down from Kansas to ride in Arizona in the winter. |
As our group of 10 head out into the Arizona landscape towards Tucson (there were two women riders including myself, and eight men) I was struck by the sharp, vibrant colors of the blue sky, the red earth and the green cactus, a contrast to the brown and white winterscape I've gotten accustom to during the winter season. While morning temps in Phoenix hovered in the low 50s, the dry, crisp sunshine baths my face in warmth. The rich earthy colors, and the bright yellow sunshine combine with the ever constant thrill I get from a motorcycle running beneath me are just what my body is craving after a long winter so far. It is a recipe for fun that fuels my soul and excites my spirit.
| | |
| --- | --- |
| Typical desert riding near Tucson. | We skirt past the boundary of the Saguaro National Park where the native straight tall cacti dominate the landscape. |
First stop is Old Tucson Studios, site of more than 300 film and television projects since 1939 including "Tombstone," "The Outlaw Josey Wales," and "Rio Bravo." While open to the public as a tourist attraction, it remains one of the most active filming locations for Western-themed movies, television, cable shows and commercials in the United States. We spend three hours there to eat our lunch at one of the handful of restaurants on site, browse the shops and museums, and take in an old west shoot-out show. While I love western history and appreciate learning about our past on screen and off, I don't know if I would have stopped at the Old Tucson Studios on my own as it seems rather touristy. But after spending time among the old time buildings and movie sets and learning about the history of movie making there, I highly recommend this as a stop if you visit southern Arizona.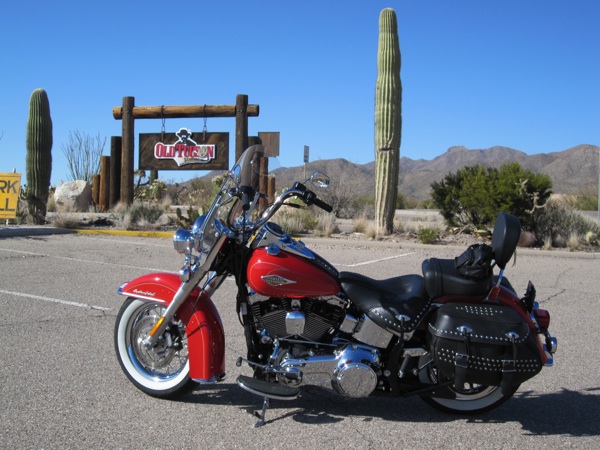 | | |
| --- | --- |
| I love the texture and warmth of the old time shops dotted throughout the studio grounds. | Suzanne and Randy Addington take a photo with one of the props at the Old Tucson Studios. |
That night we settle into La Posada Lodge and Casistas, a boutique hotel on Tucson's main drag through town. The higher end courtyard casita I am assigned to is finely appointed with a leather couch, down pillows, fluffy towels, and mini-kitchen.
| | |
| --- | --- |
| The staff at the La Posada Lodge and Casitas let us park our motorcycles under the covered entrance for the night. | My cozy room at La Posada. |
Our second day, we head to the historic town of Tombstone, the most renowned of Arizona's old mining camps. Heading south from Tucson, we climb in elevation, which at this time of year, means a considerable change in temperature. In Tombstone at 4500 feet the temperature never got higher than 65, but the sunshine blazing from the azure blue sky makes it feel much warmer. I make note of this because while I was seeking a motorcycle escape from the cold, I still had to ride all layered up. I'm wearing thick leather pants with long johns underneath in the cool 40-degree mornings. Up top I donned a textile jacket with full-length liner and fleece sweatshirt underneath. Suzanne, the other woman rider on the tour, has her electric gear plugged in. The male riders, on the other hand, are comfortable in their simple outfit of blue jeans, and a leather jacket. What is it with men and women and our body temperature differences? Don't assume it will be hot, hot, hot in Arizona in the winter like it is in the summer.
| | |
| --- | --- |
| First stop in Tombstone is the Boothill Graveyard, the cemetery made famous for the graves of infamous outlaws and cowboys including those killed at the gunfight at the O.K. Corral. | You get quite the history lesson walking among the tombstones. |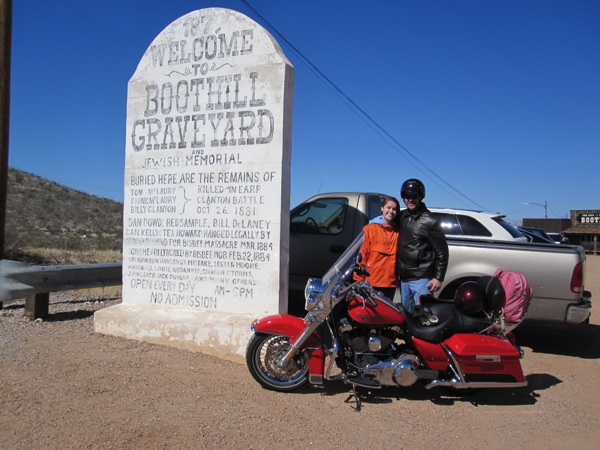 We spend three hours in Tombstone having lunch at one of the many eateries, poking in and out of the shops, and taking in a re-enactment of the historic gunfight at the O.K. Corral, again, something I may not have done on my own, but was part of the price of the motorcycle tour.
| | |
| --- | --- |
| Posing in Tombstone with my buddy on this tour, American Iron magazine editor Chris Maida. | My favorite part of the whole tour was seeing the inside of the Birdcage Theater, a saloon, gambling hall and whorehouse that's been left virtually intact from when the last patrons hung out there in the late 1800s. Glad Chris convinced me to pay the $10 to tour the inside. |
As the sun creeps towards the horizon we blast down to Bisbee, another old mining town that sits a mile up in elevation. We arrive too late to pop into any of the antique and gift shops, and we are on the road in the morning before they open. Bisbee is dripping in history and color. A short tour like this leaves little time to immerse yourself into any one place at which you stop. It did tease me enough to know I need to go back on my own and spend more time in these towns.
| | |
| --- | --- |
| Wide open landscapes and less cactus as we gain in elevation. | A view of Bisbee from the parking lot of the Queen Mine tours, an option on the motorcycle tour. |
There are several fine lodging options in Bisbee. We stay at the Bisbee Grand Hotel, and I was, once again, assigned one of the best rooms, probably because I was reviewing the hotel. Each room has a theme from the past and is decorated with antiques. My suite, perhaps the most elaborate, was furnished with old west Victorian era furniture including a four-post red velvet king size bed and claw foot tub in the bathroom. A continental breakfast is included when staying at the hotel. While I don't care for the sliced ham and breakfast burrito, I devour the fresh blueberries and had three cups of green tea. The Bisbee Grand has character. I can't imagine staying anywhere else when visiting a character rich town like Bisbee.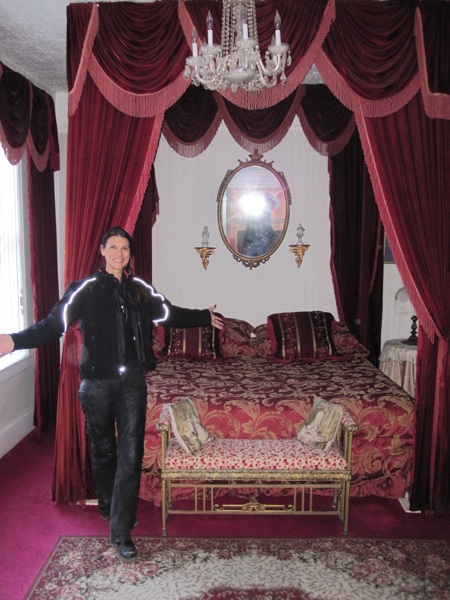 | | |
| --- | --- |
| One of Bisbee's native sons is Jay Allen, owner of The Broken Spoke seen here on one of his custom bikes. The building behind him to the left used to be the furniture store his dad owned. And to the right is the Elks Club where he remembers playing a slot machine at 10 years old and hitting the jackpot. | Before leaving town, I take Jay up his offer to give me a tour of his unique home seen behind us, and the garage with his collection of motorcycles, one of which I'm sitting on. |
The last day of our whirlwind tour of Arizona's old cowboy towns has us retracing our steps the 22 miles up Highway 80 to Tombstone then on to Interstate 10 where we blast back the 40 miles to Tucson. We make one sightseeing detour that day at the Casa Grande Ruins National Monument in Coolidge, an hour southeast of Phoenix.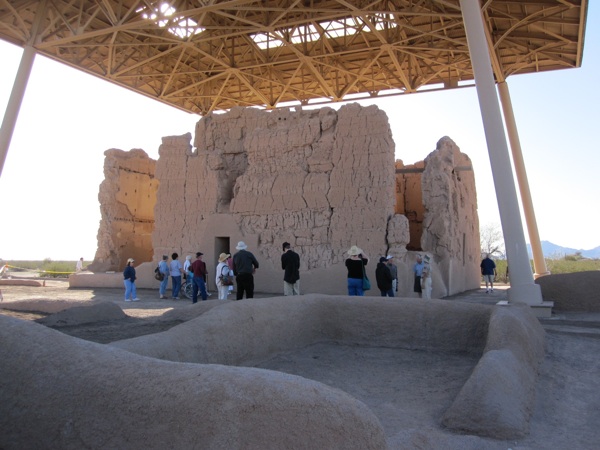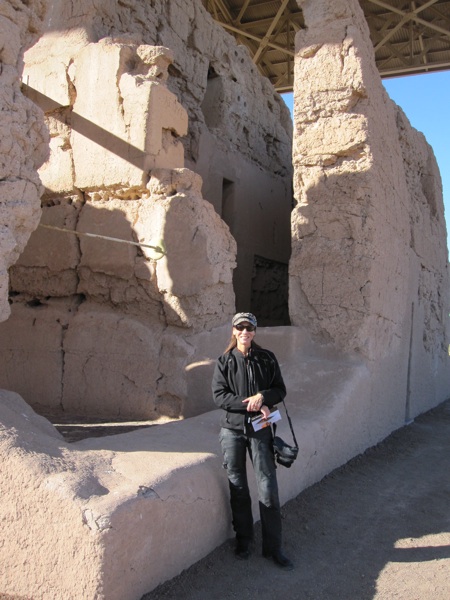 While it never gets warm enough for me remove my jacket liner, I did get a nice dose of sunshine and much needed Vitamin D this time of year. I'm also thankful I picked a week to ride when there was no rain as it had poured both before and after the days of our tour. My time on this adventure whet my appetite for more and I encourage anyone craving warmth and sunshine in the middle of winter to consider riding in southern Arizona. Start your planning now.
Links