There's nothing quite like an old motorcycle. It wakes all my senses—the sight, the sound and, yes, the smell of oil and gas. Being the huge motorcycle history nut and cross country vintage-riding endurance runner that I am, I love everything about the Sons of Speed (SOS) board track motorcycle races.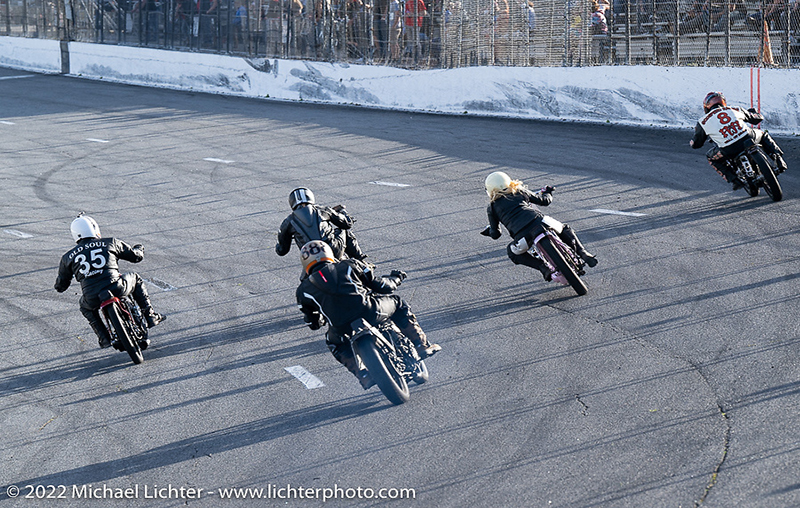 During the 1910s and '20s, motorcycles had become very popular. And, as with other vehicles, people wanting to race them followed closely behind. "Board track" racing became a big deal and winning races helped propel sales of regular street motorcycles.
The first board track was the circular one-mile-long Los Angeles Motordrome. It was made of wooden planks and had steeply banked turns. Later, tracks were longer, some up to two miles and riders could reach speeds up to 100 miles an hour. By 1929 they were so popular there were approximately 24 board tracks spread across the U.S.
Racing these motorcycles is not for the faint hearted. They are direct drive, meaning there is no clutch or transmission (when the engine is running the rear wheel is turning.) They also have no brakes, suspension, or starters. 
The steeply banked track allows riders to hold more speed because the rider doesn't have to slow down like they do on other tracks before turns. The centrifugal force allows for more speed without losing traction. Also, since board trackers aren't equipped with normal kick starters, they have to be push started, thus, some of the riders use the top of the bank to roll down at speed to start the motor. (Kind of like a push start without people having to push you.)
Needless to say, there were many, many accidents and fatalities. These races drew very large audiences but eventually the tracks began to disappear across the country mostly due to the cost of lumber to repair them every few years. There was no wood preservative in those days and the tracks became splintered and even more dangerous for the riders should they take a spill. (Can you say splinter?!)
Even though the tracks didn't survive, many of the vintage board track racing motorcycles did. With their distinctive dropped handlebars and modified motors, they have become very desirable for collectors over the years. I find them some of the most beautiful machines I have ever seen. Many look like they just got off the track.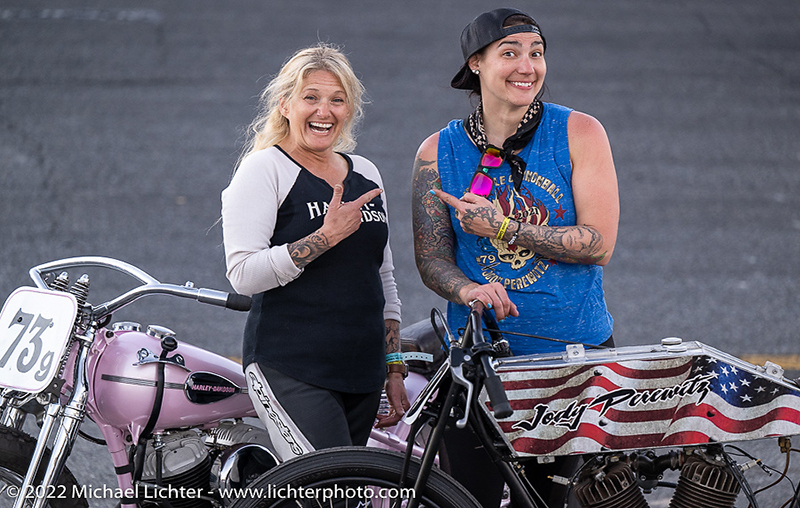 One such person who loves and values these bikes as much as anyone is famed Choppers Inc. owner and motorcycle builder Billy Lane. Even though Billy gained his reputation for his modern custom work, he says his heart was always with these vintage racing bikes. He collected motors and parts for years and dreamed of bringing them back to life on the track.
In 2016 Billy had the idea to start Sons of Speed, which would bring back the historical races for the first time in many decades. He started building bikes and looking for riders. Next, he had to find a track that had enough of a bank for the old bikes to gain speed[TS2] . Living near Daytona Beach, Florida, he discovered that the asphalt half-mile oval track at New Smyrna Beach would work. He recruited his good friend Shelly Rossmeyer, (long time rider and daughter of the late Bruce Rossmeyer, owner of Rossmeyer Harley-Davidson) to ride with him. Billy helped her build a bike and the two took their early racing bikes out on the track to do practice runs.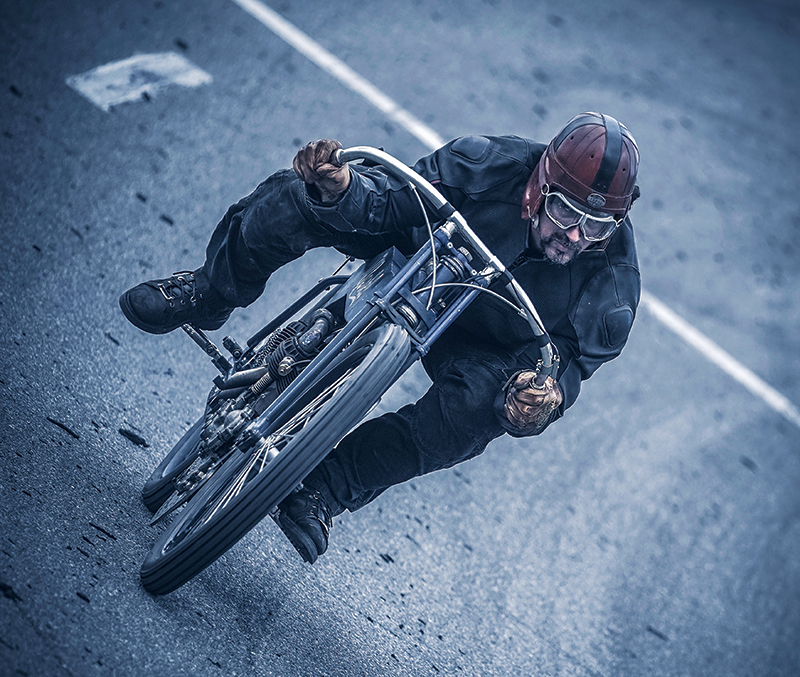 In front of 2,000 people, the inaugural SOS race featured 13 riders willing to sign up for the race, including two women, Shelly and Brittney Olsen. With speeds up to 80 mph, such a race is more than thrilling to watch. You can either sit in the general admission bleachers or pay more to go into the pits to see all the action close-up with the riders and their crews.
Classes for the races include:
Single cylinder motorcycles

Early 61s

are the stock older and slower 61 cubic-inch board track racing motorcycles

Hot 61s

are the faster modified 61 cubic-inch board track racers

45 Shoot Out

are the 45 cubic-inch Flathead racers.

1936-1955 45 cubic-inch twins, which have the benefit of a three-speed transmission, fatter tire, but still no brakes. This class was added in 2018.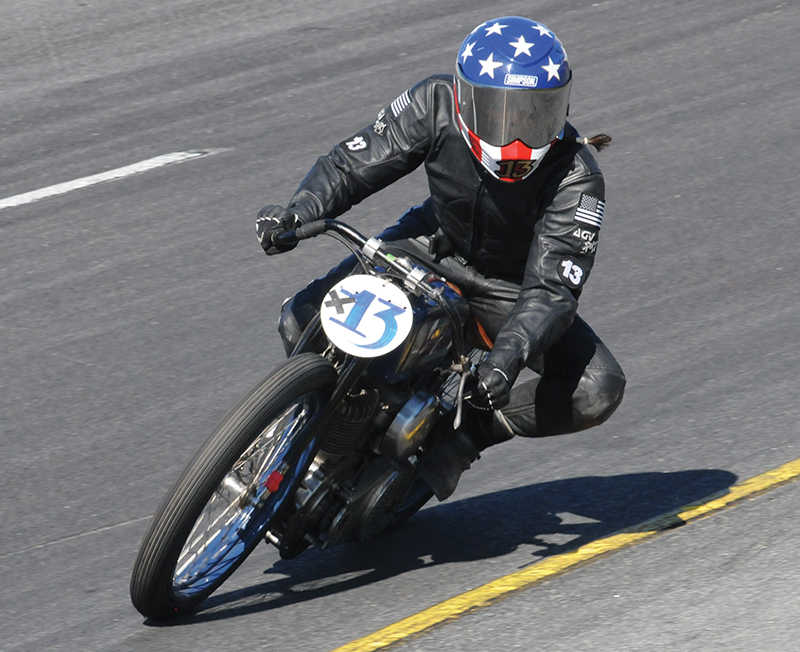 Shelly Rossmeyer was one of the first women to ride Sons of Speed, taking third place in the first race in 2017.
"Shelly was there at the beginning. There was a time when it was just Shelly and I out on that track, doing lap after lap," exclaims Billy.
Coming from a great motorcycle family, Shelly Rossmeyer Pepe is now the General Manager of Bruce Rossmeyer's Harley-Davidson in Ormond Beach, Florida. She races her 1915 Harley-Davidson #28, taking third place on that first race in 2017 and second place later that fall at the Biketoberfest race.
When asked about what it feels like to ride a bike with no brakes, Shelly replied, "It's quite scary when someone comes out in front of me and they aren't riding faster. But it's exciting when I'm out front!"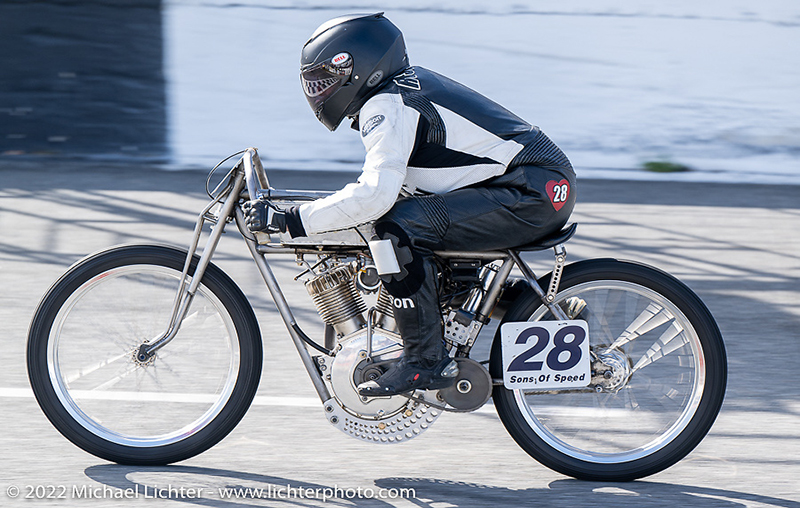 There have been women racers each year since Shelly Rossmeyer and Brittney Olsen both competed in that first race. Brittany would win that first race on her #13 Modified Class 1923 Harley-Davidson, thus the phrase "Daughters of Speed" was coined. An amazing rider, she also races a 1946 Harley-Davidson in the 45 class.
Another amazing woman racing her 1920 Harley-Davidson is rider #69 Roxy Hanna has also been out there racing several times since starting in 2018. In 2019 she took first place in the early 61-inch class. We missed her this year!
Three women raced at the SOS during 2022 Daytona Bike Week. Besides Shelly Rossmeyer, famed Bonneville Salt Flats world record holder #79 Jody Perewitz has also caught the vintage bug, riding in the Motorcycle Cannonball twice as well as the Cross Country Chase , an even more difficult vintage cross country endurance race. A fierce competitor, she's been competing at SOS since 2018 and took first place on a 1920 Indian that year at Biketobertfest.
Jody also races a '46 Harley-Davidson in the 45-inch class and a 1919 J Model Harley-Davidson in the 61-inch class. There's not much Jody can't do on a motorcycle! This year Jody did well in her heat races, but as old motorcycles can do, she had mechanical issues that took her out of the race.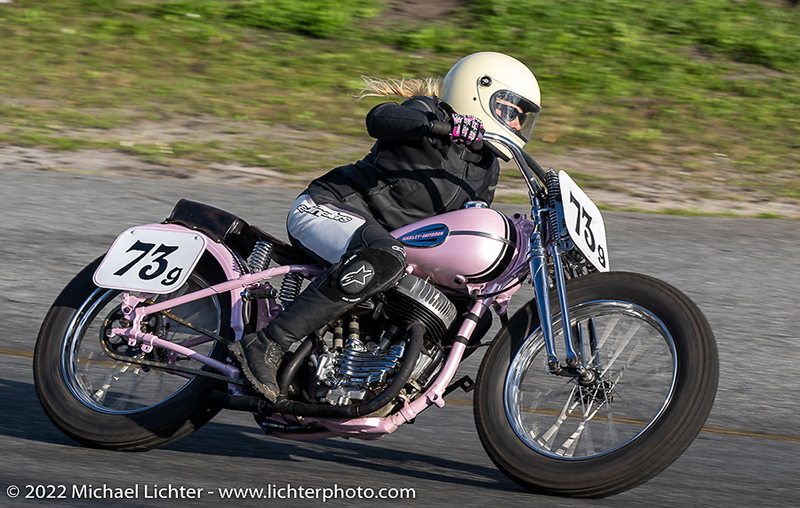 Another addition is new to SOS this year. Hailing from Spring Green, Wisconsin, Jenny Bass is a vintage bike nut. Experienced on the dirt track in addition to snow and ice racing, this was Jenny's first time racing on an asphalt track and one with banked sides. She was beyond excited when I spoke to her after she took a few laps and I think she's already planning how she can go faster next year! 
Hopefully, more women will want to get out and try racing these old machines. They are so much fun to watch…catch one if you can!
For more information about Sons of Speed races, visit its Facebook page @thesonsofspeed.