The main trade show for the motorcycle industry these days is the American International Motorcycle Expo (AIMExpo). Now in its fifth year, the 2017 event was held September 21-24 in Columbus, Ohio.
Women Riders Now E-Newsletter
Stay up-to-date on all things motorcycle! Latest gear, bikes and products reviews. Travel ideas, great product giveaways, and more.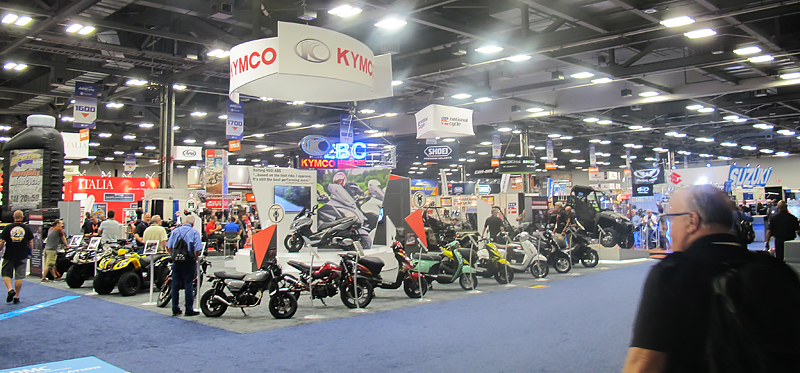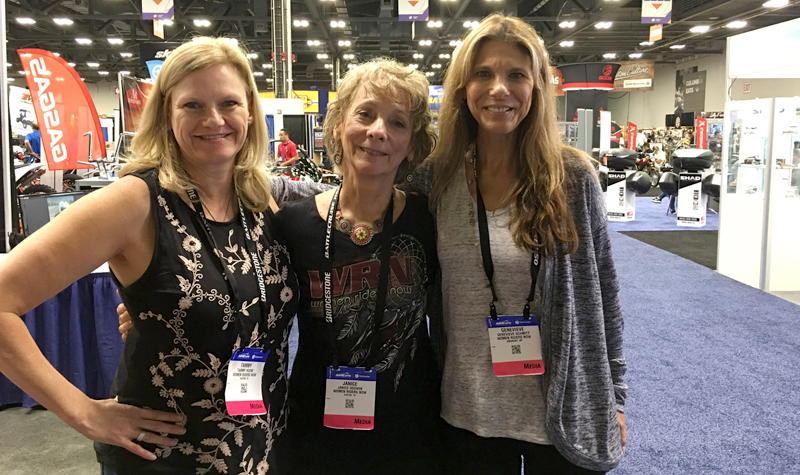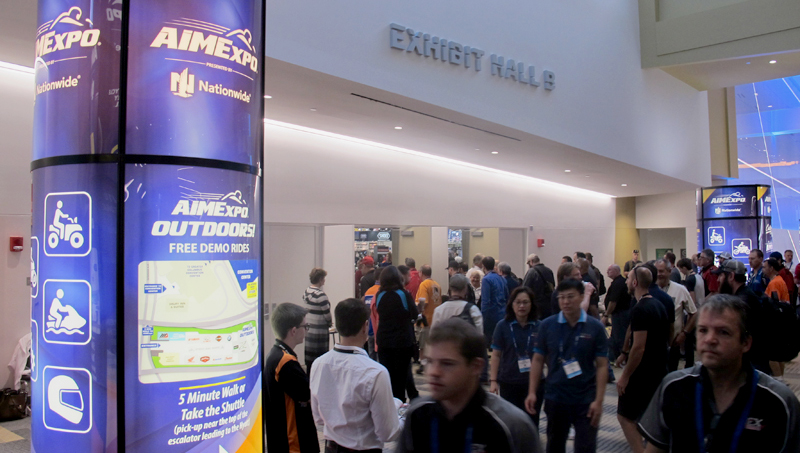 As in years past at now-gone trade shows like Dealer Expo and the V-Twin Expo, I was always excited to see the new apparel, luggage, and soft goods collections (like seats) presented by manufacturers. At this year's AIMExpo, those types of vendors were severely lacking.
Sign of the times? Yes. I believe some belt-tightening is still going on in the motorcycle industry as some aftermarket companies continue to rebound and redefine themselves in a new economic environment. I point this out in case you were wondering why those types of products are not featured here.
That said, there was no shortage of actual motorcycles themselves; most of the manufacturers were represented. One exhibit that stood out was the Custom Culture Powered by BMW Motorcycles exhibit designed to attract young enthusiasts while showing off new aftermarket parts.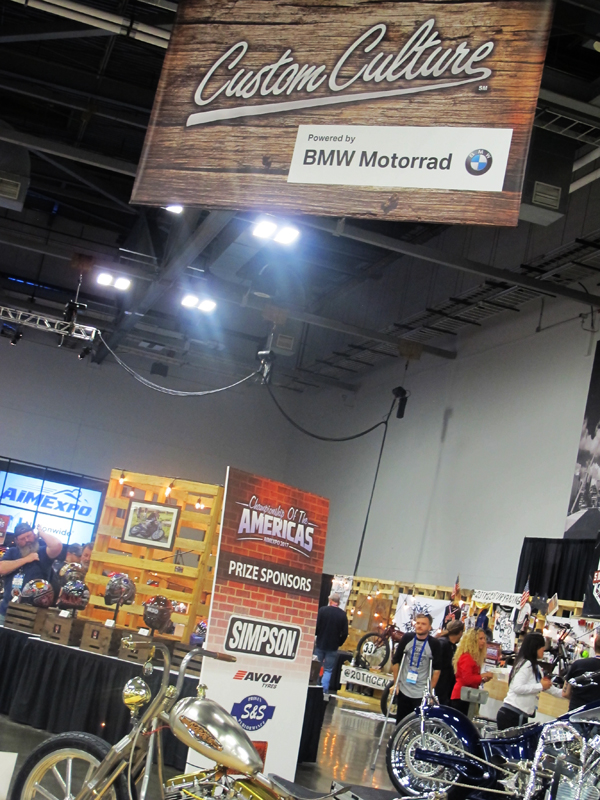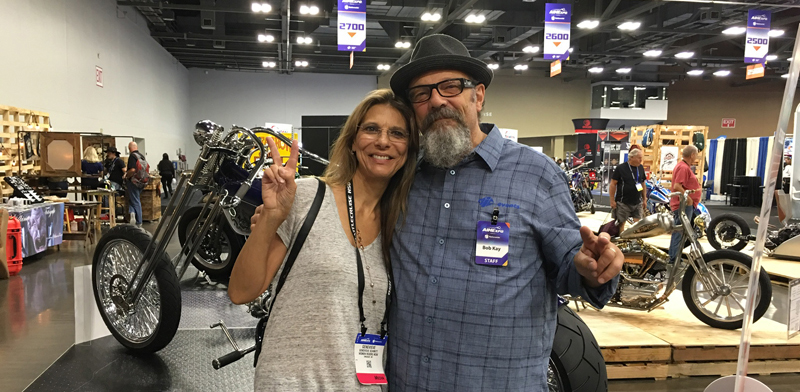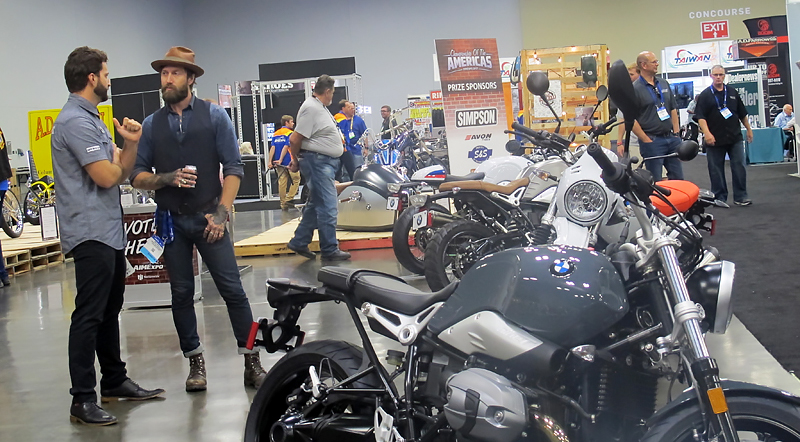 Here's a preview of some products we found that we think will interest you.
1. Helmet Communication Systems
The two market leaders, Sena (pronounced with a short e; rhymes with henna) and Cardo were in attendance with reps touting their helmet-mounted communication devices that use mesh technology, which eliminates the need for Bluetooth pairing.
Mesh provides for seamless connection between any number of devices, and should one helmet drop out in a group of more than two, the remaining riders can still be connected and not have to re-pair.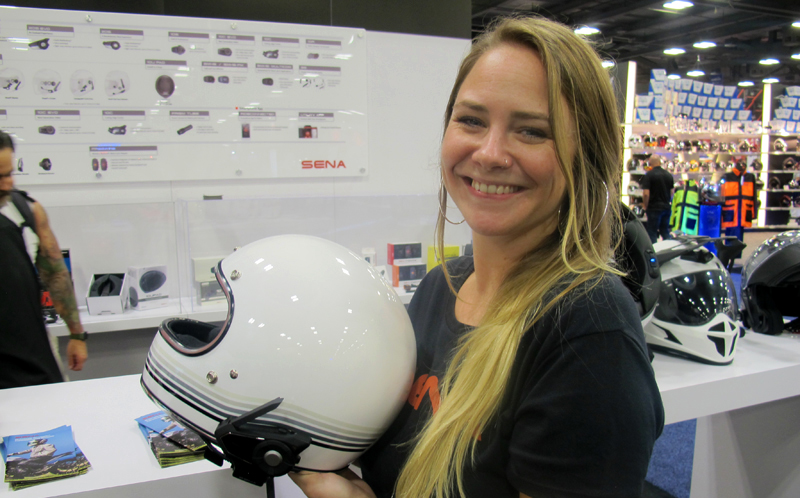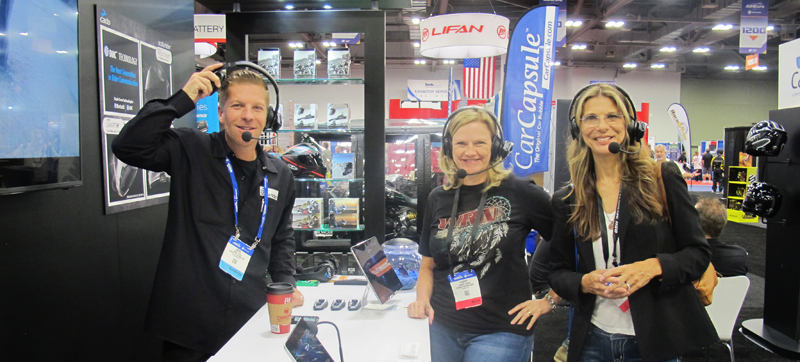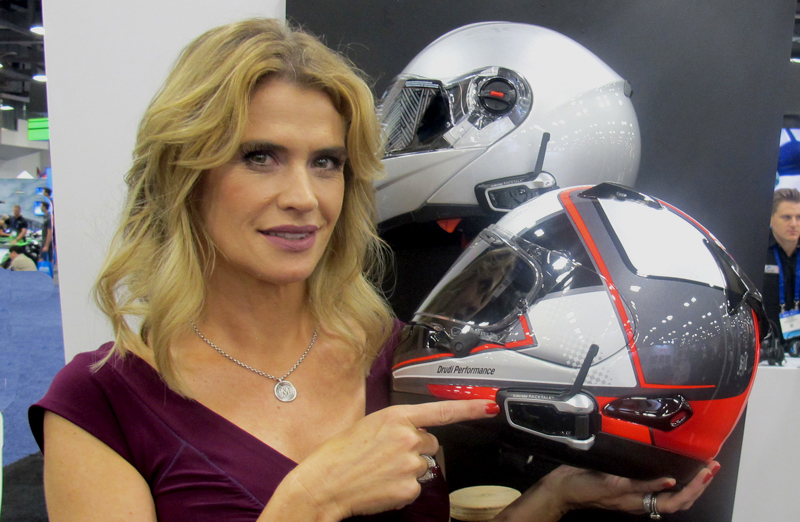 2. Jeans for Riding
Wrangler, known for its western work jeans, is marketing its new performance oriented line of denim jeans for motorcyclists. While we're advocates of protective riding gear and denim that protects in a crash, we know there is large group of riders who love to wear their simple denim jeans on their motorcycle.
Wrangler is offering two new versions of their jeans. "Advance Comfort" with stretchy material and a waistband that moves with you (in men's sizes only), and Cool Vantage, in women's and men's sizes, a breathable jean featuring exclusive sweat-control technology that wicks sweat five times faster.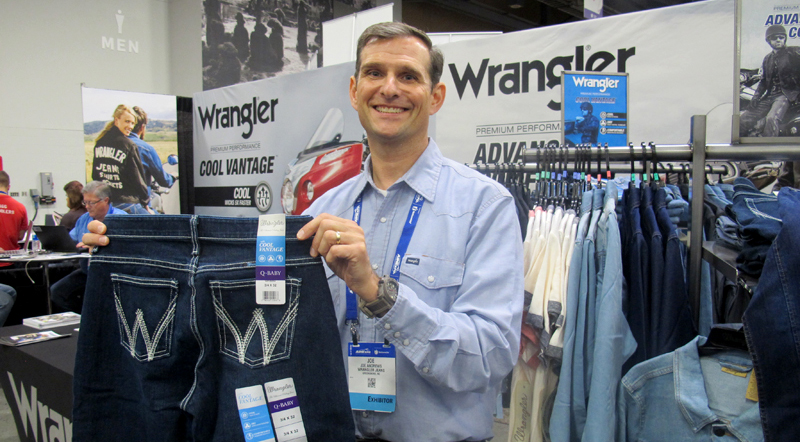 3. Adjustable Handlebars
Helibars was a longtime supporter of Women Riders Now, so when we see Harry Eddy, the designer of the adjustable bars, and his team, we always make a point to see what new inventions they have for motorcycles.
The latest is a set of risers for the new BMW K 1600 B Bagger, reviewed here on WRN. Harry loves the bike, but he knew the handlebars needed a little adjusting for some riders. So he set out to design the first set of risers for the sleek cruiser.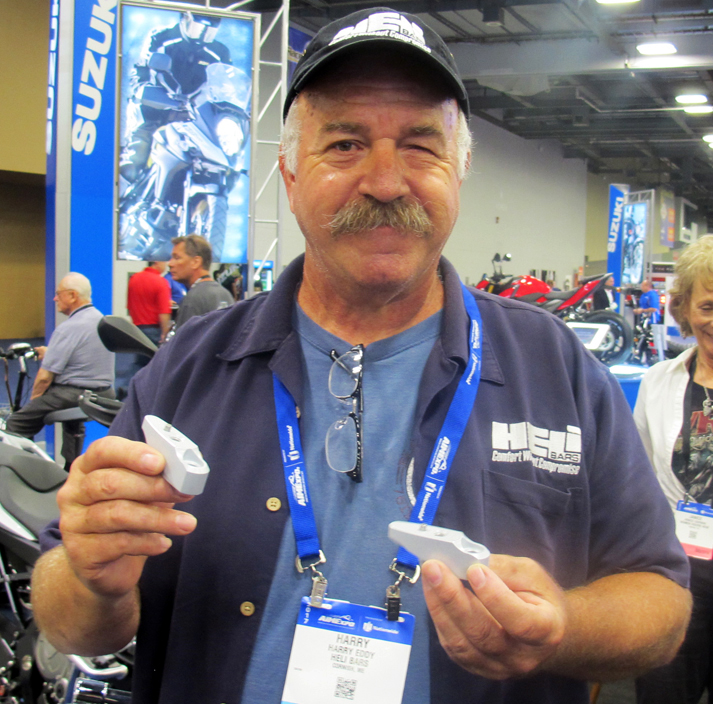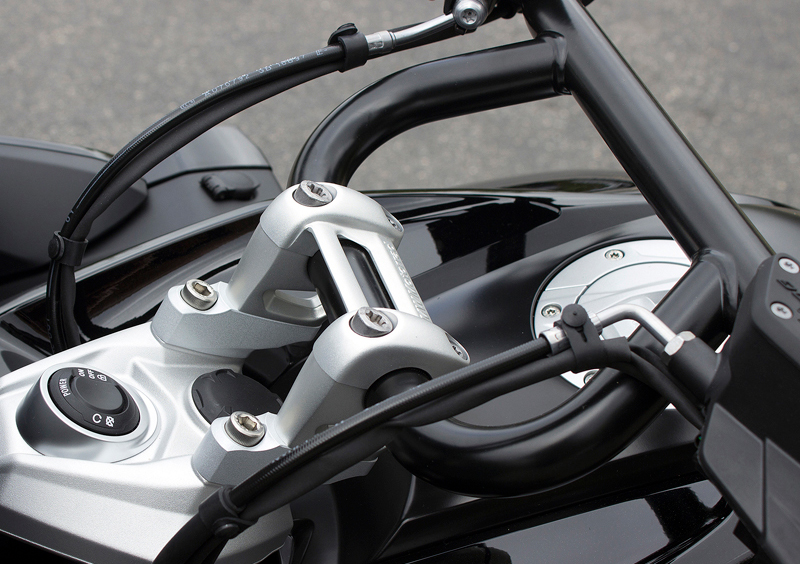 4. Heat Shields for Pipes
With a lot of motorcycles running hot these days, DEI Powersports hit a home run with its exhaust tape and exhaust shields that stop heat from scorching the rider.
We've written about these innovative products before on WRN, but it's nice to actually see the pieces to write about them firsthand. The titanium exhaust tape and flexible heat shield also help prevent a rider from burning her or his boot heel on the pipe.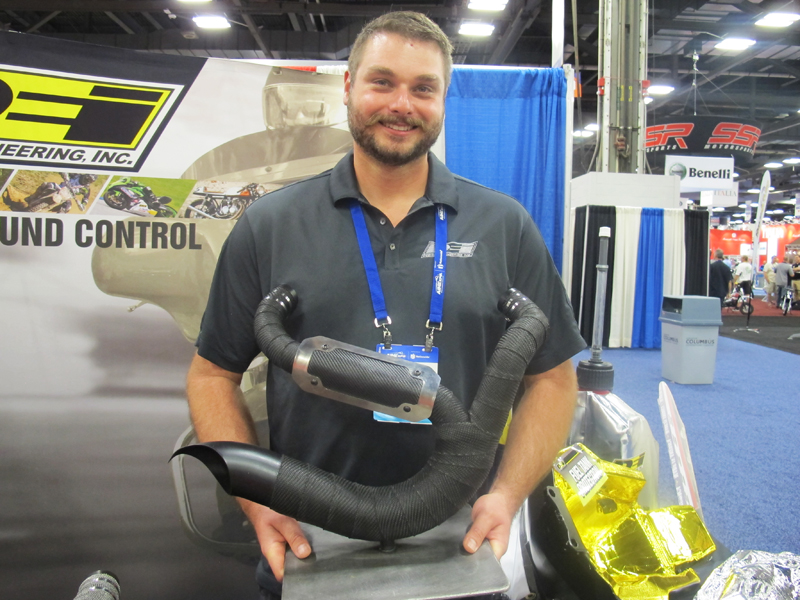 5. Tool Kit for the Road
Chances are if you bought a used motorcycle the stock tool kit was missing from the motorcycle. We ran into our longtime colleague and early supporter of WRN, Dan Parks from CruzTools. CruzTools offers motorcycle specific toolkits from Harley-Davidsons, to Triumphs, to metrics and off-road ATVs and UTVs. Gearheads will love browsing his website.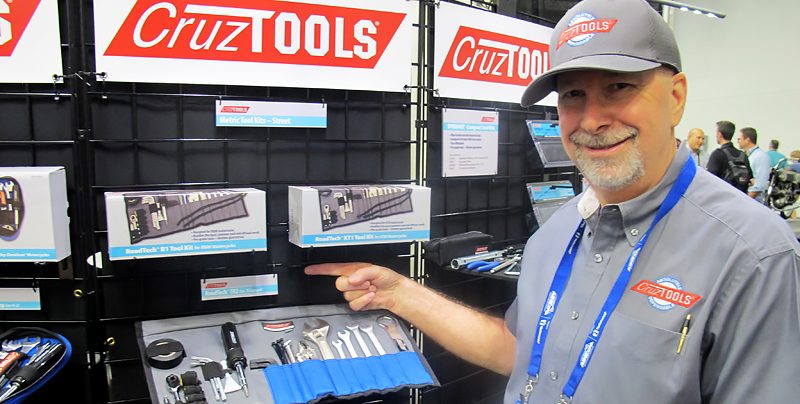 For more information on any of the products mentioned above, visit their website.
Sena.com
CardoSystems.com
Wrangler.com
Helibars.com
DEIPowersports.com
CruzTools.com
JasonPaulMichaels.com (also visit his business, StandardMotorcycleCo.com)
Related Stories
AIMExpo 2013 Recap