The V-Twin Expo wrapped up yesterday in Cincinnati. Its one of the motorcycle industry's main trade shows where dealers specializing in V-twin motorcycles and accessories come to shop for new parts and accessories.
I've watched this event grow from a modest trade show to a multi-room expo as it keeps up with the exploding custom motorcycle market. More and more companies are bursting onto the scene designing outrageous choppers, pro-street and bobber style motorcycles. Its clearly a mans game with a few women builders trying to make their mark.
With that said… why should women riders care about this segment of the market? Most women are content to buy a bike from one of the large manufacturers and accessorize it to suit their tastes. A trade show exhibiting elongated, massive fat-tired, limited-use motorcycles has limited appeal to most women particularly when these companies are not including women in their marketing campaigns, or alienating them with imagery that doesn't appeal to most women.
I went to this show to find out which companies are going above and beyond in making their products appealing to the fastest growing segment of motorcycling women. Well, I have to tell you that either my antenna was tuned into it because I was there promoting this online magazine, or people really want to reach women riders. I know its the latter. Ive been working in motorcycling as a journalist for 15 years. Clearly people are interested in what they can do to attract women to their product.
Hard Bikes
I spoke with Bob Kay, marketing director of Hard Bikes. He was eager to share with me the appeal Hard Bikes has among women.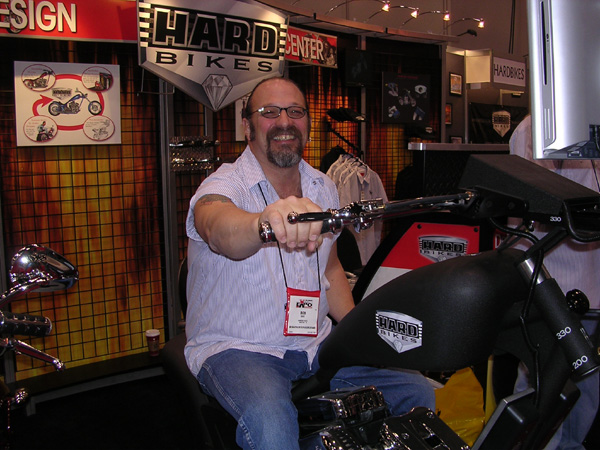 Every buyer of a Hard Bikes motorcycle can customize the machine for size and style before it leaves the factory. There are several areas that can be modified before its delivered. Dealers have to buy a special display model motorcycle with movable parts for customers to sit on to figure out the position of handlebars, position of seat, etc. that works for them. A computer program allows customers to build their bike on screen mixing and matching parts. Cool concept, I told him. I think women can appreciate that.
Rucker Performance
Bill Rucker, one of the founders of American IronHorse Motorcycles, started a custom manufacturing business designing one-offs on a limited basis. Bills a big guy and so are his motorcycles. They're bulky with lots of steel, rubber and rake. Plus, they have aggressive, mean names like Assassin, Predator and Gauntlet. Normally, Id say "too much bike for me."
However, what keeps me interested in Rucker is the people Bill hired to represent his company. Bills daughter, Erin, is his director of operations (her promotion was mentioned on our Way To Go Girl! page) and his director of marketing is Meredith Husak, another woman.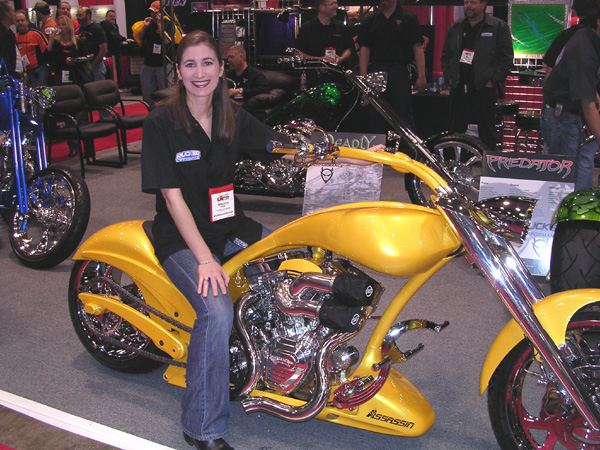 I asked Erin why women should care about Rucker. She told me that these bikes can be customized for the rider before they're released from the factory. So, if the Assassin model appeals to you but you want the foot pegs or handlebars adjusted to fit you better, Rucker can build the bike to meet your specifications. I like that and think that's a good attempt to meet every riders needs.
In part two of my V-Twin Expo Report: more motorcycles including a chopper trike (yes, that's right!).