We first learned of DEI Powersports when the company approached us about advertising its line of exhaust heat shields to our female readers. "Heat shields!" I exclaimed. "What are those?"
Turns out these heat shields are a great problem solver few motorcyclists know about. I wrote about them here. In addition to heat shields, DEI Powersports offers exhaust wraps. Youve seen them. Its the black or gray textile looking material wrapped around pipes on custom motorcycles. Those wraps serve more than just an aesthetic purpose. They are a custom way to control heat from exhaust pipes that are hot on our legs, and that can burn boot soles.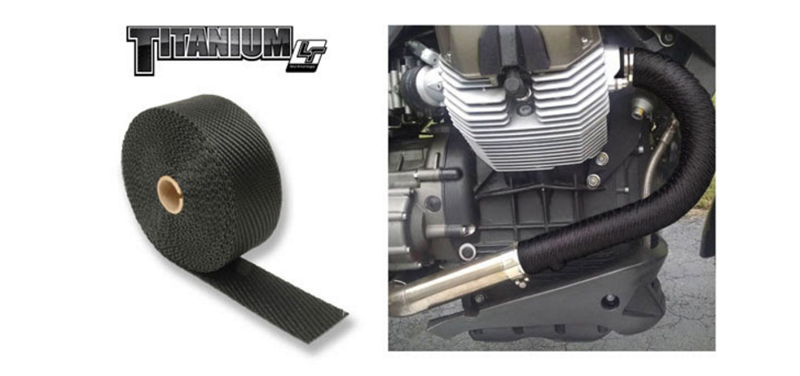 DEIs popular line of Titanium Exhaust Wraps are now available with a great looking satin black finish. Black Titanium is made from the same high performing VR material as the original, so it retains all the features of the companys bestselling Titanium wrap.
How is the wrap used? Well, you can cut a piece as small as 15 feet for spot applications like on a dirtbike or ATV. Youll need about 25 to 30 feet for most V-twins with shorty exhausts. Fifty feet is needed for longer applications like on baggers, touring bikes, and UTVs. For custom applications or if you are unsure how much you need, DEI has a "wrap calculator" tab on its website.
Installation is easy because the material is more pliable and no wetting is needed. It's also less itchy, and has a service temperature of 1800 degrees F. Available in several popular roll lengths. You can learn more and order here.
Related Stories
Video: Line of Popular Heat Shields Expands
Heat Shields for Exhaust Pipes