Do you have a story to share? Please send it to us, but followthese submission guidelines.

Apparently I am at an age where people are either walking away from motorcycling after many years of riding or taking it up for the first time. I am in the latter group, having acquired first a Vespa Super GTS 300 in May 2016. Two months later I got a Yamaha V Star 250 (thank you dearest spouse for an early 60th birthday present!).
It is the first time in my life I have even ridden a motorcycle and bam, here I am with two! Am I crazy? Ha! Crazy like a fox maybe.
Women Riders Now E-Newsletter
Stay up-to-date on all things motorcycle! Latest gear, bikes and products reviews. Travel ideas, great product giveaways, and more.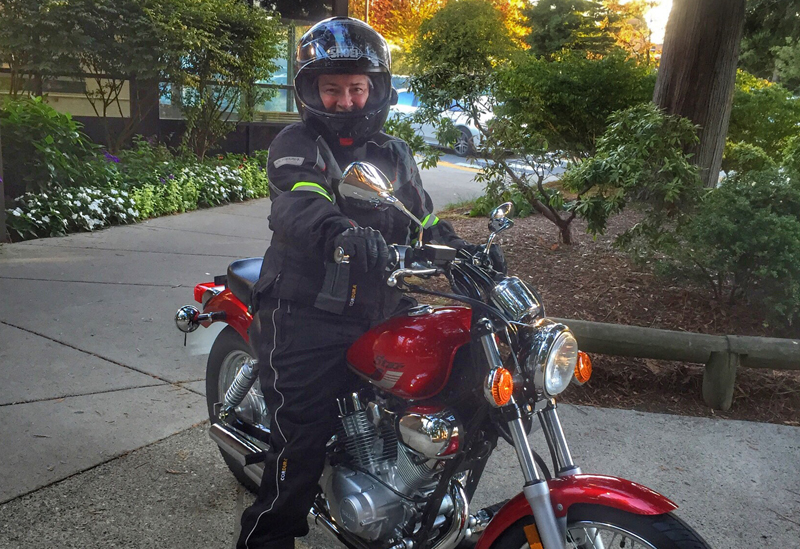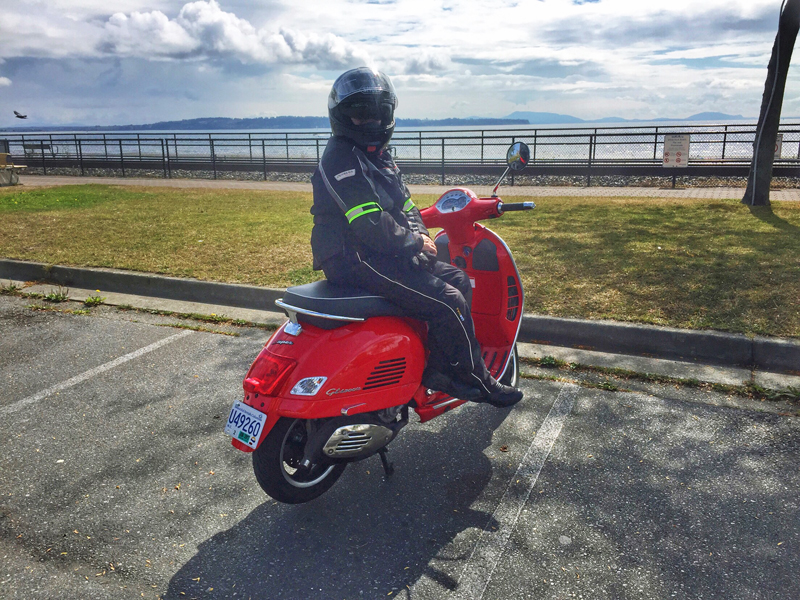 What Does it Mean to be 59, Female, and Formidable, Riding a Motorcycle for the First Time?
Being age 59 and riding for the first time seems to surprise people the most, more so than being female. So far I have not had a single comment about being a woman and riding a motorcycle.
When the helmet comes off, my silver hair causes the first double take among random strangers who then start a conversation with me. From 88-year-olds to teens, that silver hair seems to make me very approachable and people want to not only know all about my experiences so far but share their own. (Although it might also be the Vespa as that puts a smile on everyone's face when I ride by.)
As for the formidable part, the best decision I made on my journey towards becoming a formidable 59-year-young female rider was to take a course through a certified motorcycle school with certified instructors.
The school is Pacific Motorcycle Riding School in Surrey, British Columbia in Canada, and from all accounts, it does not matter whether you think you have all the skills because you have ridden for years, or whether you are a first timer like me. The instructors have something to offer everyone—not to mention they are a very pro-female group (to the point of making the bathroom "female" and insisting males put the seat down!).
We had eight hours of classroom instruction, 10 hours of "parking lot" instruction, a motor skills assessment test (the written test had to be passed before you can take the course) and two days of road rides. Amazing! If someone had told me that within five days of school I would be on the highway at 90 kmh—on a motorcycle!—I would have said he was crazy! But there I was, and it was awesome. I was in love. Scared spitless,
The next decision made was to practice, practice, practice. Within two months, I had added more than 2,000 kms on the Vespa, otherwise known as "Mighty Red." Restricted from dawn to dusk, I was out there as soon as the streetlights were off, riding for hours. Day after day after day. I wanted to learn everything about the bike, the balance, how it turns, how it stops (yes, yes, the brakes, I know). I mean how I stop/start/turn on the bike.
We had a few mishaps Mighty Red and I, and more than a few bruises (and dents) to show for it; always at a standstill though. This happened mostly because of the high center of gravity of the scooter versus a regular motorcycle, and me being vertically challenged and forgetting about the extra inch needed at a stop if there was even the slightest bit of a slope.
When it came closer to booking the actual road test to pass the full Class 6 unrestricted licence, I knew I needed to practice with a motorcycle with gears and a manual clutch, as the Vespa is fully automatic. I booked a private lesson with one of the instructors from Pacific Riding School, followed by a "mock road test" (filmed by the instructor), followed by a private road ride. That was when my spouse surprised me with the Yamaha V Star 250, a motorcycle I had said I wanted to buy next summer.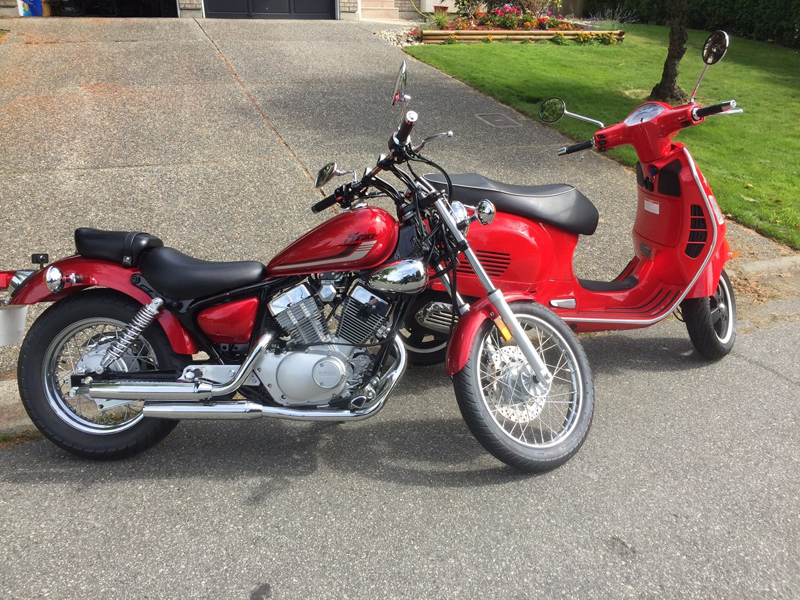 The week before the road test, I managed to put more than 800 km on the V Star (aka the Red Baron), so by the morning of the road test I was feeling very confident. According to the tester (and driver), apparently the hours put into practicing were quite evident; only three minor errors in nearly an hour of road test. Whoohoo! I was free of restrictions!
How Formidable "Happens" and Stays
That is not the end of becoming a formidable rider. It is only the beginning. I am still out every single day practicing on different roads (local, highway, city, rural). I ride (very carefully) when it is raining to learn my limits, and the bike's limits. I wear the appropriate gear—full face helmet (with the exception of hopping on the Vespa to run a few blocks to the store; that is when I use the retro half helmet), Kevlar suit, and either leather or Kevlar gloves depending on the temperature.
I practice defensive riding, and am thankful for the lessons in class that taught performance under stress. Those skills have already helped me avoid a few dangerous situations!
I now have more than 3,400 kms under my belt in the two months since completing the riding school. I'm already planning to join the 35th annual Oyster Run, the largest motorcycle run in the Pacific Northwest. I will ride down from Surry, B.C., to Annacortes, Wash., just to see all the motorcycles. Then, I will join the 38th annual Vancouver Motorcycle Christmas Toy Run.
What was that phrase, crazy like a fox? That is me. On the surface it seems like a crazy decision to take up motorcycle riding for the first time ever in my life at age 59, being female, and yet the "crazy like a fox" part comes in with the foresight to take the accredited riding course with accredited instructors, wear the right gear, and practice defensive driving.
What would I tell someone else my age considering this experience? Lots! Go for it!
Do you have a story to share? Please send it to us, but follow these submission guidelines.
Related Stories
Never Too Old to Ride a Motorcycle
Motorcycle Training Classes for New Riders
Textile Jacket Reviews
All Reader Stories