Wed love to hear your story! Find out how.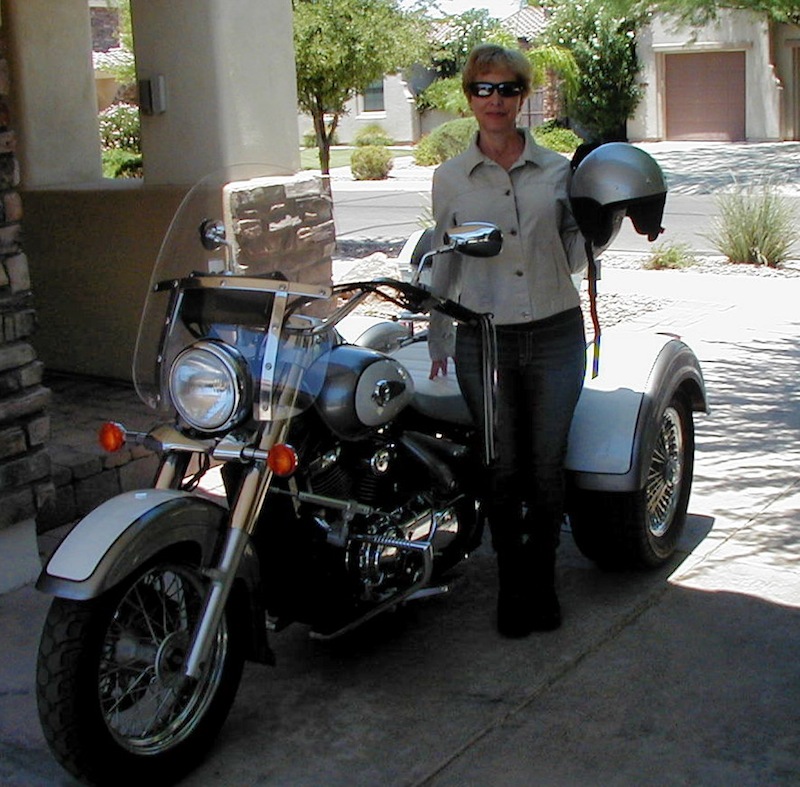 To say that my history with motorcycles was minimal would be an understatement. I had never ridden "anything," and 26 years ago had ridden on a motorcycle as a passenger for about an hour. My husband, Mike, rides motorcycles and has raced dirt bikes his entire life. We've been married for more than 20 years, and in all that time, I had never approved of street riding because I was scared for his safety, so for 20 years, he hadn't been on a street bike. When he retired, and a girlfriend of mine got her motorcycling license, I decided to take the leap and work towards getting mine.
Since Mike had the time and wanted to encourage me, he took the motorcycle safety class with me. In the class they used a Honda Rebel 250cc motorcycle, and so it became my first bike. Almost immediately, I took to motorcycling, riding as much as I could and without any hesitation or fear. The Rebel was great, but its speed maxed out at about 50 miles per hour, and both Mike and I wanted a bike with more speed and power.
I wasn't comfortable test riding bikes that were listed on Craigslist, so Mike chose my next bike, a Honda Shadow 600cc. We customized it, but the front end was too heavy for me. In a few months, I rode the Shadow about 1,000 miles, but decided that I needed a better-balanced bike, so we bought a Honda Shadow Spirit 750cc. The handlebars did not work for me and the ones that were comfortable required changing the cables, which cost $1,000. I rode that bike for a few months, but I enjoy listening to my iPod while I ride, which was tricky to do on the Shadow. I also didn't like throwing my leg over the bike, the straps on saddlebags were a bit annoying for me, and I really wanted the convenience of the twist and go of a scooter. After 18 months and 5,000 miles of riding motorcycles the search for my fourth ride began.
The scooters I began looking at were tall, and having never ridden a scooter I wanted to start small. We bought the Honda Reflex, which I loved, and could ride at speeds of 65 to 70 miles per hour. One day, Mike suggested he ride my scooter so I could try his Honda Silver Wing 600cc, which ended up being too tall and heavy for me. After he rode my Honda Reflex he was shocked to find when he pushed the speed it was redlining the motor. He told me I was lucky I hadn't destroyed the bike, so the search for a larger scooter had begun.
The next scooter I tried was the Suzuki Burgman 400cc. This scooter was a bit heavy, and I had the seat customized so I would be closer to the ground. Due to the weight I was never comfortable riding the Suzuki, which meant we were riding less instead of more often. In early December of 2011, we headed out to run an errand and as we approached the road we needed to turn onto I noticed that it was all gravel. I decided to pull off the road and have Mike make the delivery while I turned around to wait for him. When I was attempting to pull off the road, I caught the gravel. I didn't know I was in the midst of crashing because it happened so fast. At about 20 miles per hour, I realized I was midair. Right before I was about to hit the pavement, I used both my hands to keep my face from hitting the hard surface. I was injured, but thankfully did not need medical intervention.
By February, I was ready to ride again, but I told my husband I never liked the Burgman. I decided to go back to the Honda Reflex 250cc. At that time, I couldn't find one I liked, so I settled on the Honda Helix 250cc. The shape of the Helix is different than the Reflex, and it has smaller wheels. We chromed it out, put on a custom seat, and got new tires. I rode it 60 miles. It just wasn't the same, and frankly, I was afraid of crashing again. I had been injured at such a slow rate of speed, and at 51 years old I just didn't heal like I did when I was younger. I didn't know what I was going to do. I didn't want my time riding to end when I felt like I was just getting started.
Luckily, the Can-Am representative was coming to our local motorcycle shop and offering free test rides. We signed up for the test drives and I was in love on three wheels after only eight miles. Mike wasn't about to pay top dollar for the Can-Am, and he didn't think an eight-mile test ride was enough to make a decision. We found a business that rented the Can-Am and four days later we rode 150 miles. There is a lot to love about the Can-Am, but again there were more things about it that it didn't suit my needs. What the Can-Am helped me realize was that I would be comfortable on a trike. We agreed that if Mike bought me a trike and I didn't like it, that we would give up riding because each time we sold a bike we lost money. However, before I would agree to the "giving up riding" deal we would have to outfit the trike for my needs and issues.
I have osteoarthritis; my left hand and wrists have several ganglia cysts, I also have a bad left shoulder and rotor cuff, and small hands. It's a stretch for me to use the clutch, even though I'm strong enough, but due to the cysts, I can't pull a clutch lever without paying the price. When a motorcycle is converted to a trike the angle of the front end needs to be changed—"raked out"— in order to create easier steering. Trikes do not lean and motorcycles are not designed to have three wheels, so raking the front end with customized triple trees is a "must do" for someone with my physical issues. What I really needed to do was to "ditch the clutch."
We purchased a 2003 Suzuki VL800 with 15,000 miles that had a Lehman trike kit. Mike found a place that machines custom triple trees for people who are converting bikes to trikes. Bill's Custom Triple Trees, in Illinois, built us a set of triple trees with a 5-degree rake that eased the steering issues and it only took a few hours to install. Solving the clutch issue was another matter. Mike found EFM Auto Clutch, in Ohio, which builds custom centrifugal clutches for bikes. In order for it to work you remove your clutch and send it in, they machine it, set it up and mail it back to you. Installing the custom clutch was a breeze, and it works amazingly well, allowing me to shift without pulling in the clutch lever. The two options combined cost about $2,000 plus a day's worth of work. It solved all of my riding issues.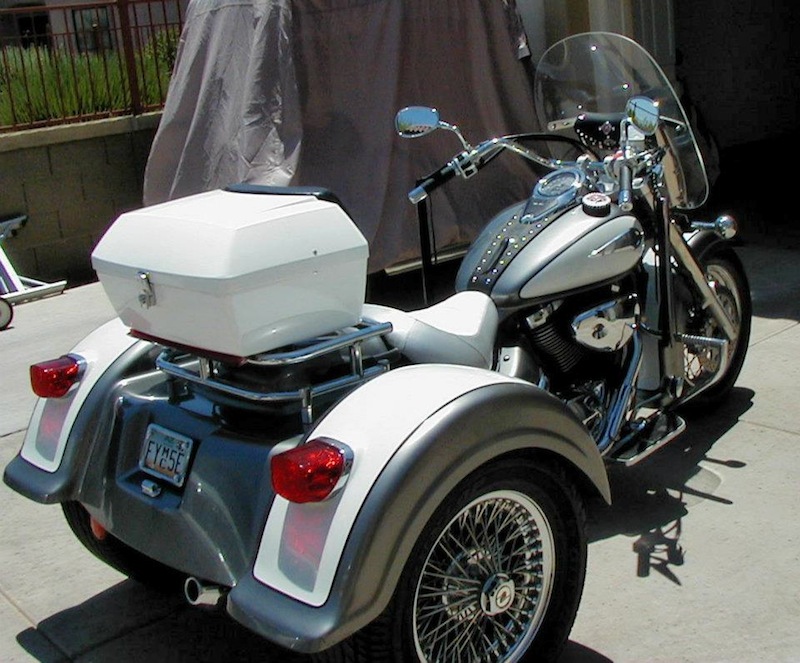 Mike and I didn't want to see the end of our riding days. By trying so many different motorcycles and scooters, I discovered exactly what type of bike was comfortable for me. Finding what worked for me took time and energy, but in the end, it was worth the effort to keep our riding dreams alive.

Wed love to hear your story! Find out how.

Related Articles
Choosing Your First Motorcycle
A Three-Wheeler Aimed at Women Riders
Giving Kymco's 2012 Scooters a Whirl