Harley-Davidson hosted journalists from around the globe to be the first to try the newest versions of women's favorite touring motorcycles. The 2023 Harley-Davidson CVO Road Glide and CVO Street Glide motorcycles were introduced at the world press introduction in Milwaukee, Wisconsin, in conjunction with its 120th Anniversary Homecoming Festival in July. As one of only three women moto-journalists there, I was excited to try out the bikes which were given a ton of significant upgrades.
Harley-Davidson CVO ("Custom Vehicle Operations") motorcycles stand apart from other Harleys right out of the crate. The limited-production bikes often showcase the company's latest and greatest parts and innovative designs which eventually trickle into its regular production models and accessories catalog. CVO customers pay quite a pretty penny extra to be the first to have them and for exclusive paint schemes.
2023 Harley-Davidson CVO Road Glide and CVO Street Glide — A New Look
The first thing you notice about an oncoming motorcycle is the headlight and style of the fairing. Most of us can easily differentiate between the Harley-Davidson Street Glide and Road Glide fairings. The Street Glide's fork-mounted "batwing" fairing has a round headlight that moves with the handlebar. The Road Glide has a frame-mounted "shark nose" fairing with a larger cutout for the headlight that has, until now, housed two side-by-side headlights. For 2023, while the fairings and everything in them are totally new, these distinctions remain.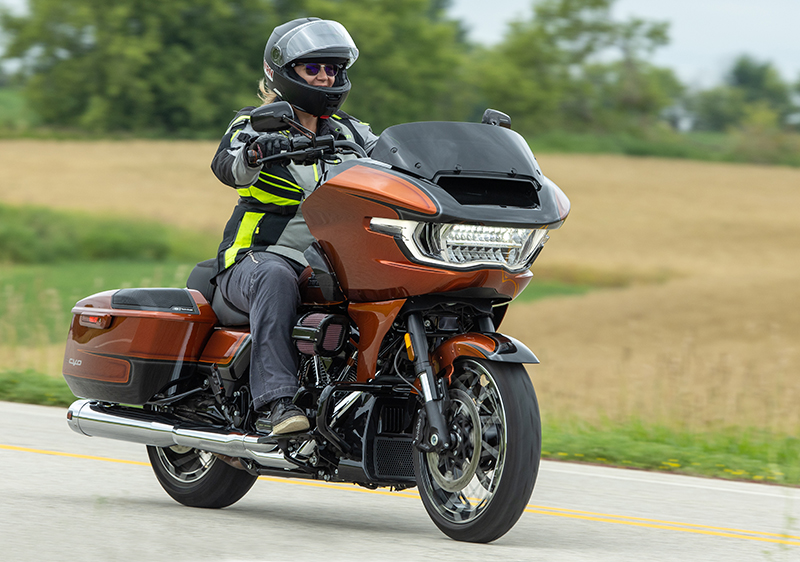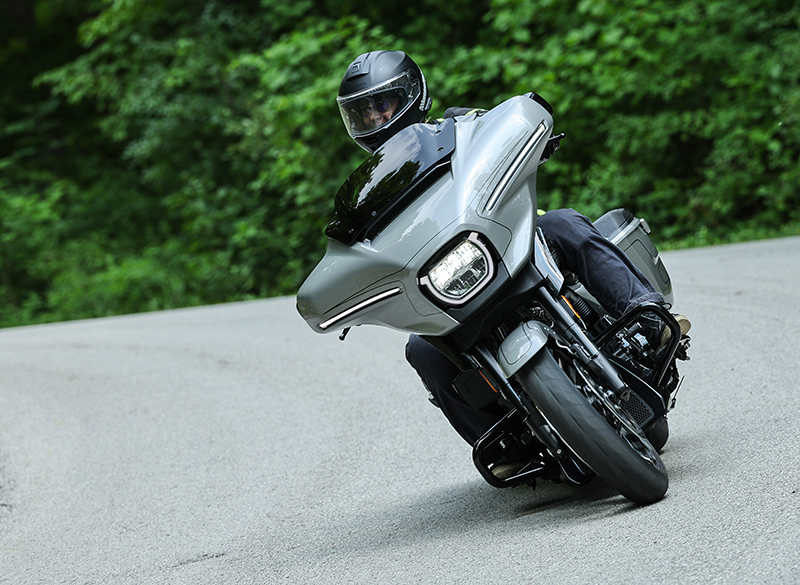 The 2023 Harley-Davidson CVO baggers' new headlight shapes make them easily recognizable from previous versions. All the lighting is LED and integrated, enabling Harley to ditch the bullet-style turn signals (front and rear) which streamlines the look and saves weight.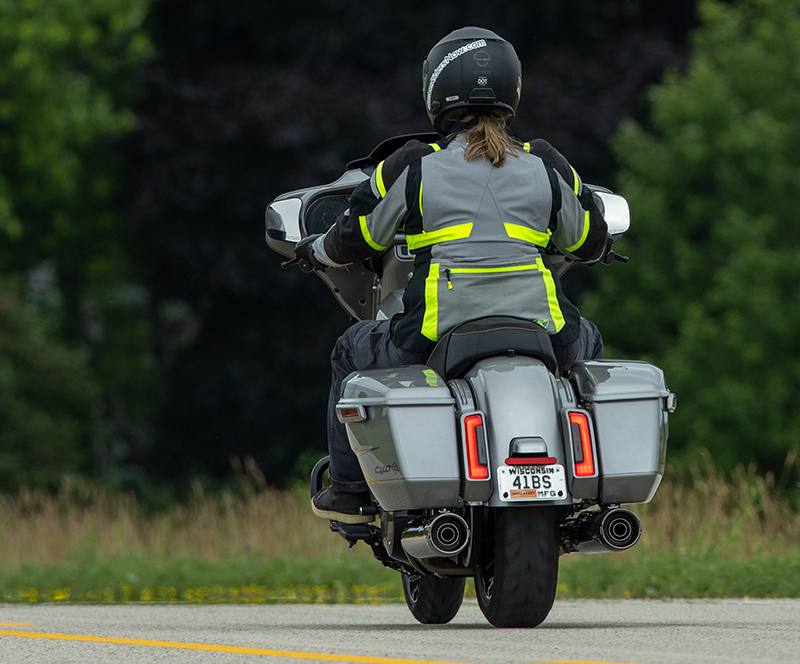 2023 Harley-Davidson CVO Finishes
It's hard to argue that Harley-Davidson paint is the best you can get short of a custom paint job. I find myself drooling over the CVOs year after year just for their extra-special attention-getting graphic cosmetic treatment. For 2023, the CVO Road Glide and CVO Street Glide come in two paint options: Whiskey Neat / Raven Metallic and Dark Platinum with Pinstripe and start at $42,999. The former comes with a $6,000 price tag but is stunning. A CVO Road Glide Limited is also available in 120 Anniversary colors and special emblems—Heirloom Fade—and starts at a jaw-dropping $51,999.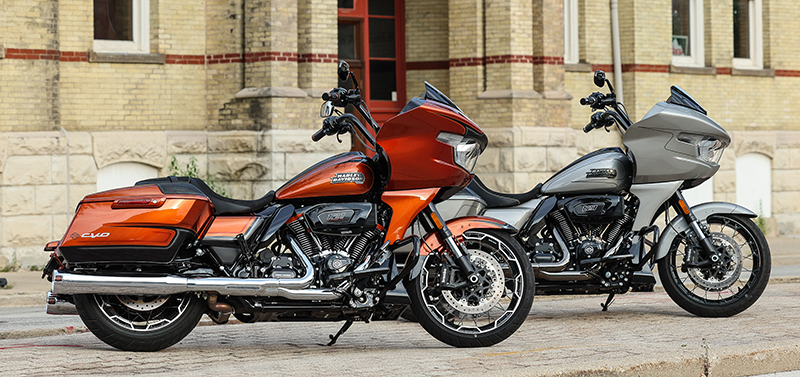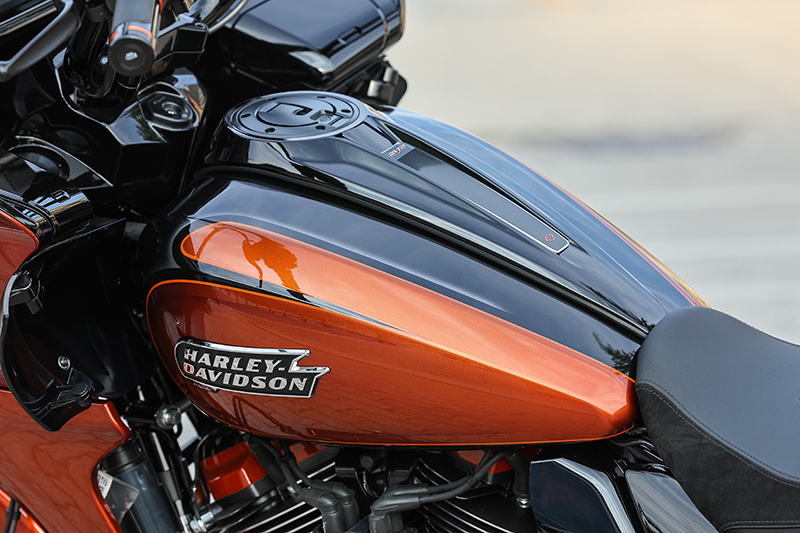 Touring motorcycles need ample storage, and the new CVOs don't disappoint. Continuing the bevel, the new shape of the saddlebags may appear more compact, but actually offer more storage and bigger speakers. From behind you notice how the bags curve and taper at the tail. The lack of antenna and new design of the taillights further tidy up the rear end.
New Harley-Davidson CVO TFT Touchscreen Display
The Motor Company has exceeded industry standards again by setting a new bar for motorcycle dashboard displays. An all-new infotainment system features a wide 12.3-inch touch screen TFT with a new interface called "Skyline OS." A plethora of information is encased in a beautiful, easy to see, well-designed layout. There are several preset display setups for different riding situations: cruising, touring, or sport riding. You can further customize the widgets to see exactly what you want. High contrast mode toggles the mostly black display to mostly white.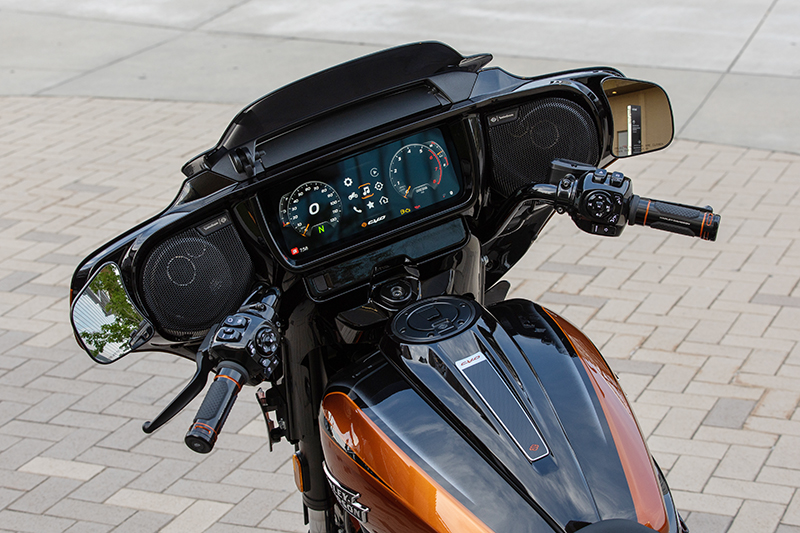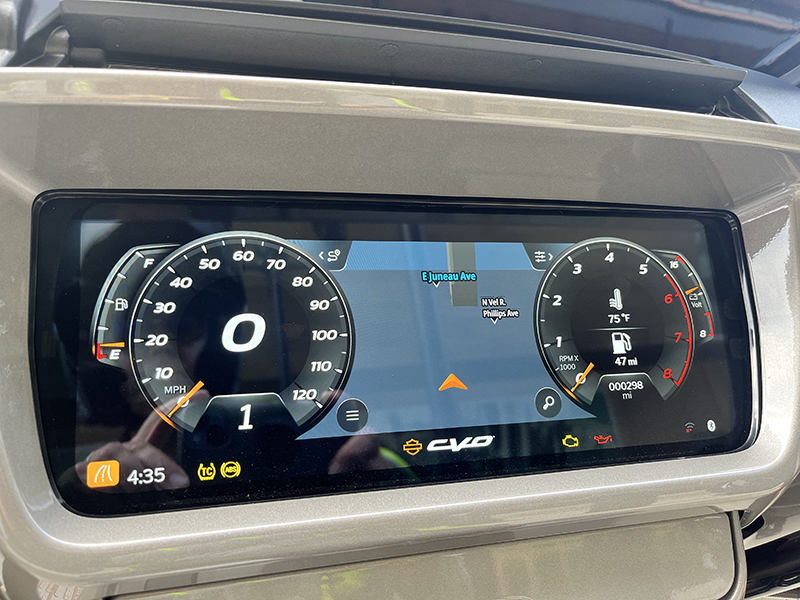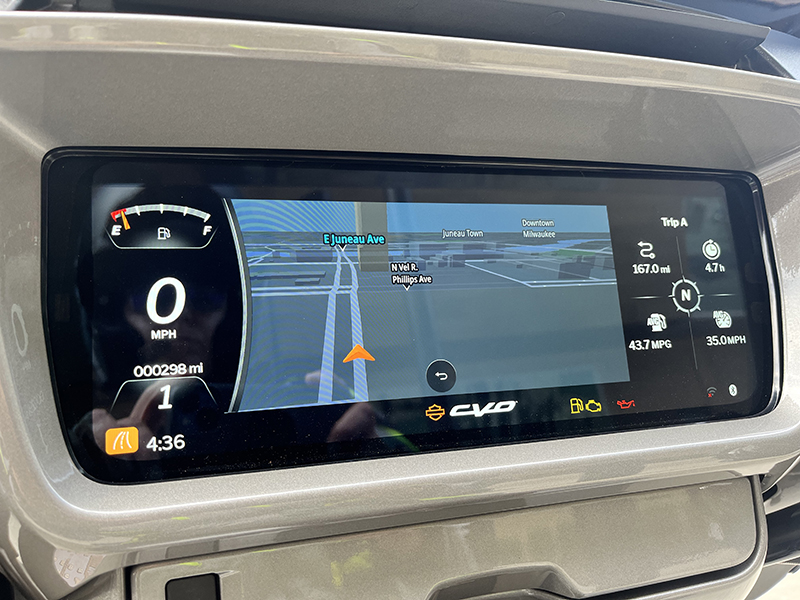 The new display is compatible with Apple (Carplay) and Android, and has Wifi and Bluetooth built in. Wifi connectivity allows traffic, weather, and navigation to stream directly to the display as well as keeping software updated. Using the H-D App, users can configure routes on the Harley-Davidson Trip Planner web site and transfer them to the motorcycle.
Harley-Davidson CVO Controls
The TFT touchscreen can be used with any glove but most of the controls can be manipulated without taking your hands off the grips. That's good for me, because the reach to the Road Glide display is too far for me while riding.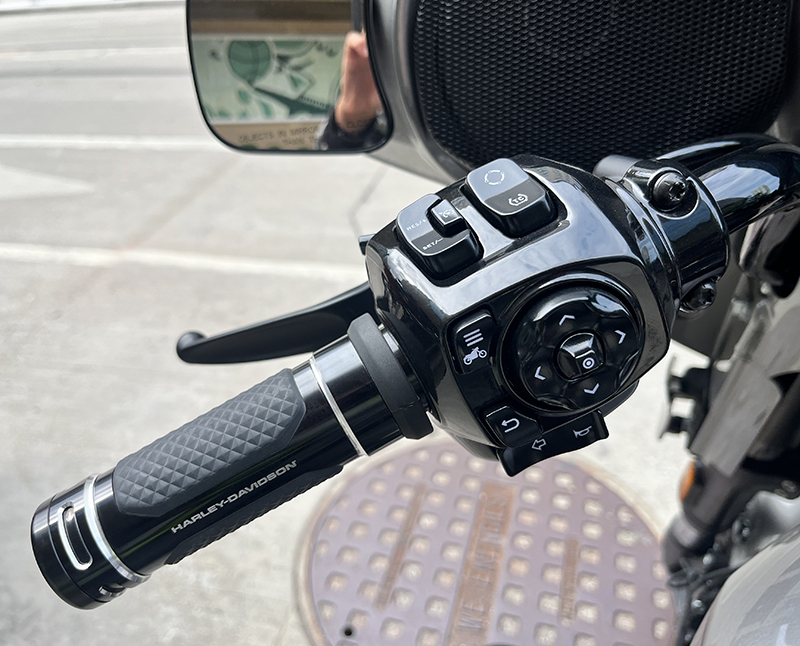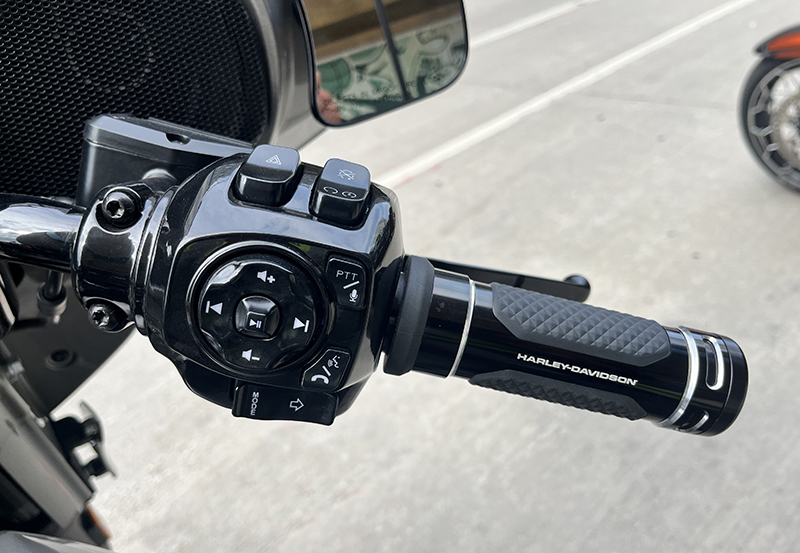 Premium sound is achieved through Rockford Fosgate Stage II audio which includes a 4-channel 500-watt RMS amplifier. A 7-band equalizer offers custom settings whether you want to rock out or dance in your saddle like I do. Testing the sound quality out with a variety of tunes, I'm truly impressed with the output, even at higher speeds.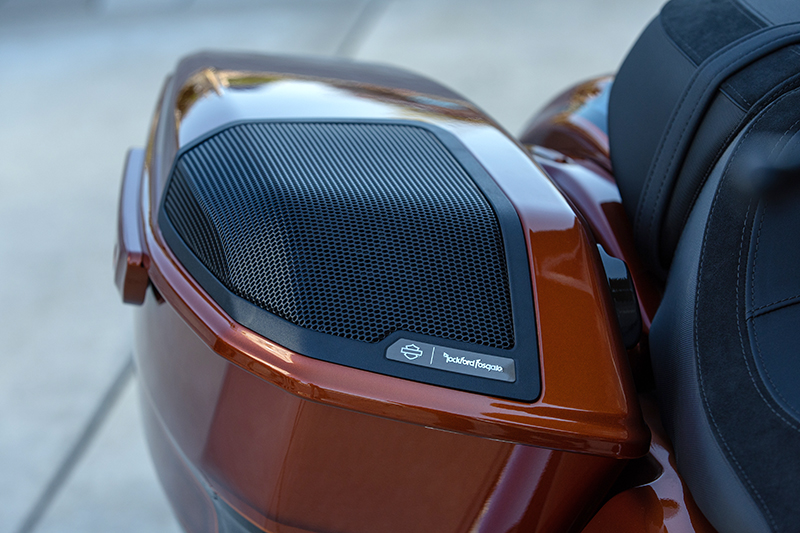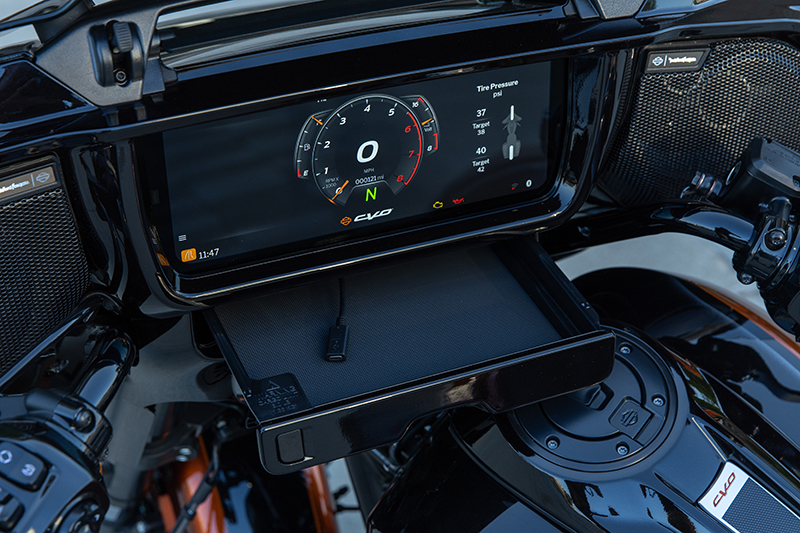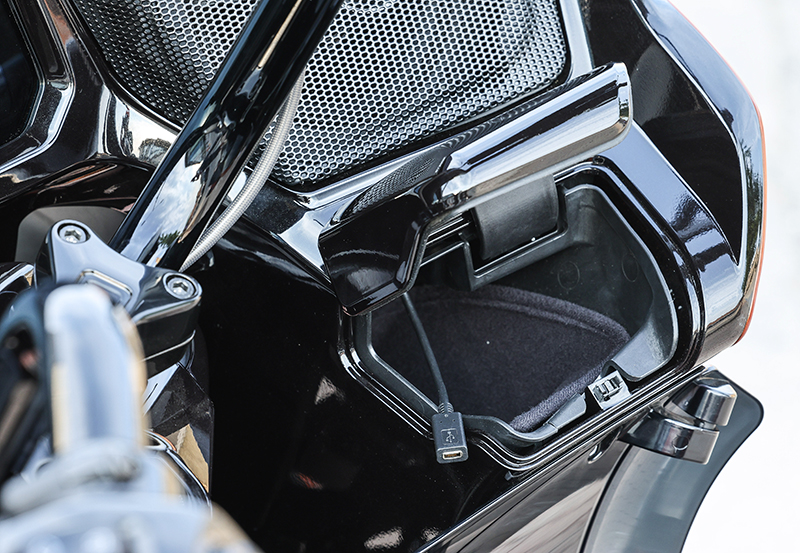 Performance-Driven Upgrades
Revolutionizing motorcycle racing like never seen before, MotoAmerica's King of the Baggers racing series highlights the battle between the two big American motorcycle baggers—Harley-Davidson's Road Glide vs Indian Challenger. The showdown has transformed racing and is a big reason why the baggers we consumers can get our hands on are improving so rapidly.
The 2023 Harley-Davidson CVOs are a perfect example of this. Highly influenced by H-D's racing team, most of the team members are doing two jobs at once—racing development and OEM (Original Equipment Manufacturer) development. The team takes what it learns from the track directly to the OEM product. Harley's King of the Bagger champions Travis and Kyle Wyman work with Harley engineers offering direct feedback on the ride and handling of the new products.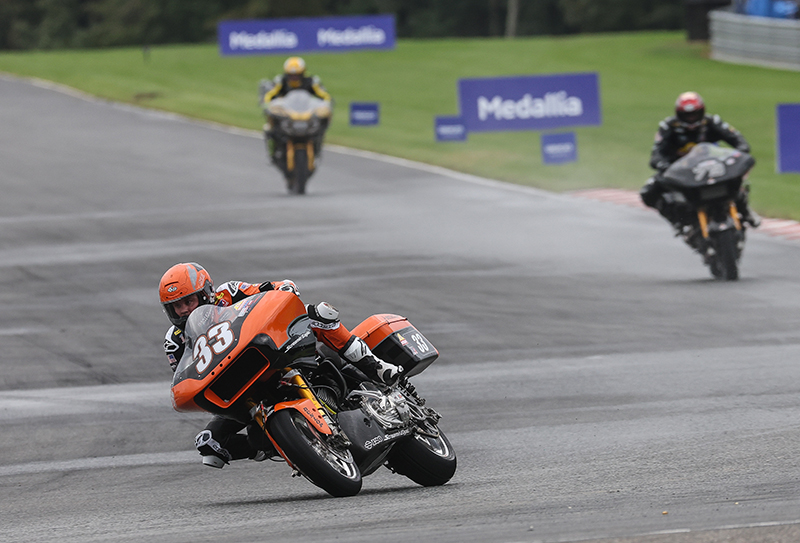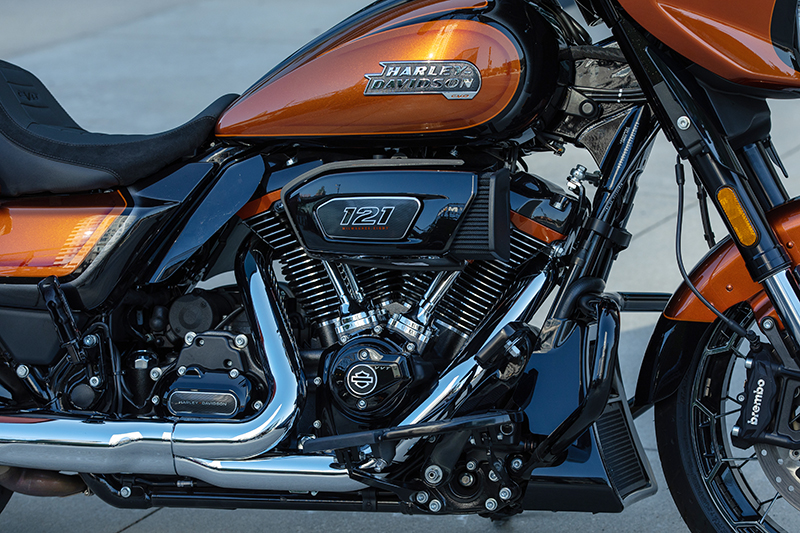 Riding the New Harley-Davidson CVO Glides
I'm a long-time fan of the frame-mounted Road Glide in all its iterations, and was thankful for the 2022 Road Glide Limited I rode on the 2000-mile Chix on 66 AMCA ride. The riding position is perfect for my 5-foot-7-inch frame. The 2023 Harley-Davidson CVO Road Glide sports a taller wider handlebar that is a bit too tall for my liking, however. Harley makes it easy to pivot the bar toward you without having to replace any parts, but smaller riders may prefer to replace it altogether. The CVO Street Glide, however, retains its low handlebar position.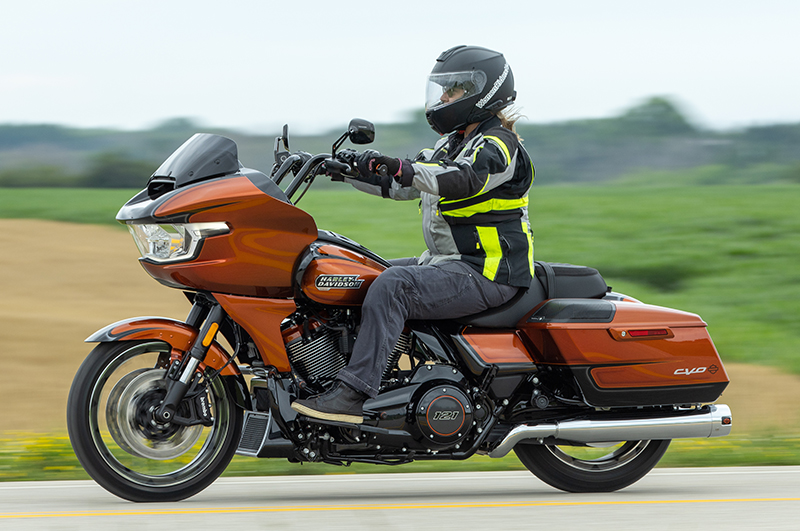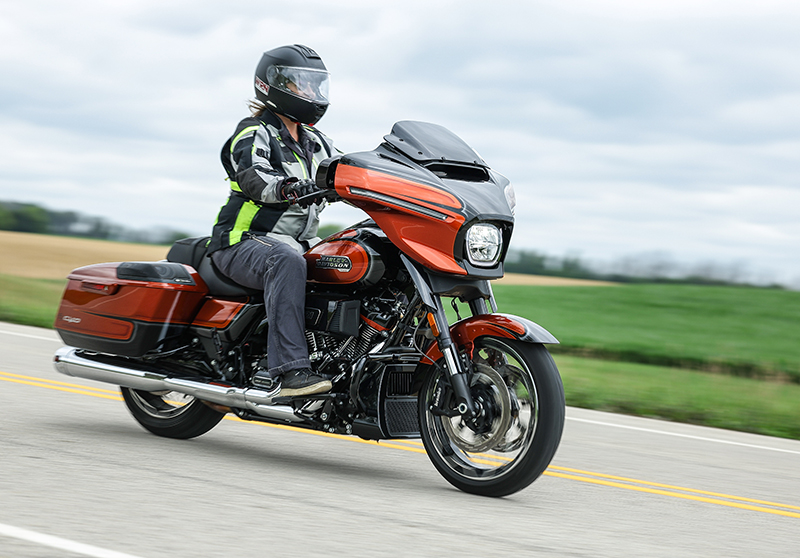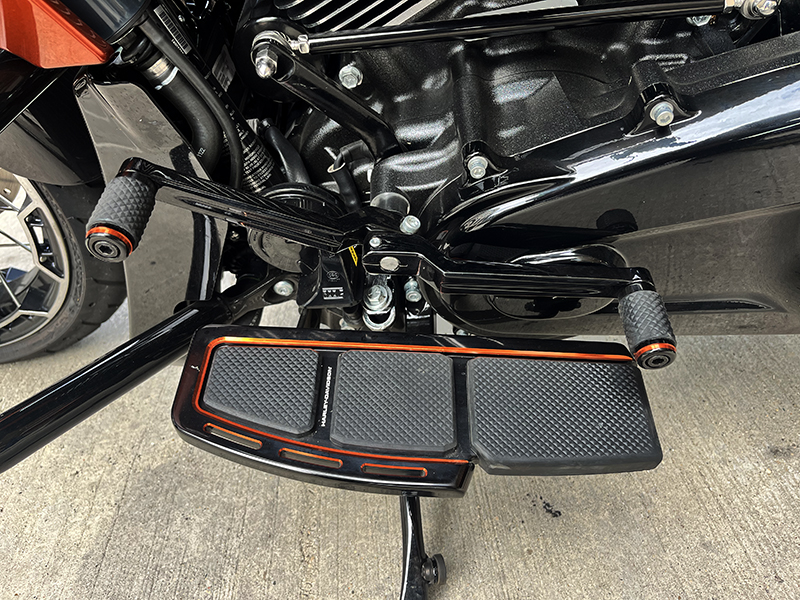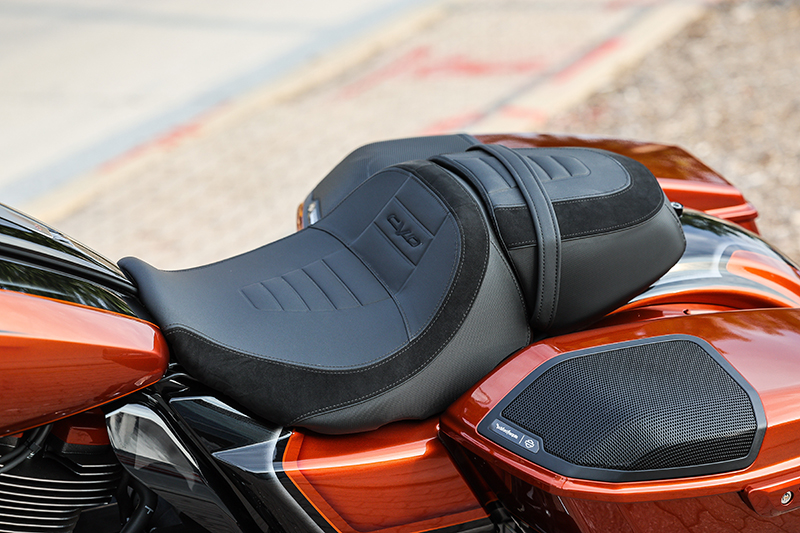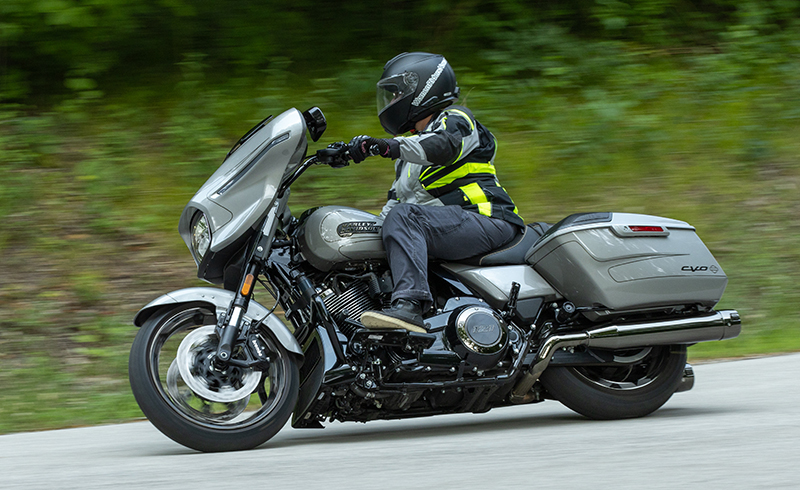 Twist the throttle and you get a satisfying rev thanks in part to the larger diameter mufflers. The exhaust note is signature Harley sound, and the temptation to rev it up is hard to deny. Build a powerful motorcycle, and you're going to get plenty of riders who want to take it to its limits.
Ride modes are included for the first time on the CVO Road Glide and CVO Street Glide. These include Road, Sport, Rain, and two custom modes. Each ride mode consists of a specific combination of power delivery, engine braking, cornering ABS, and cornering traction control system settings.
Thankfully, the 2023 CVO's get a host of new technologies that assist riders in maintaining traction and stability. These safety features include Cornering Electronically Linked Brakes (C-ELB), Cornering ABS (C-ABS), Cornering Traction Control (C-TCS) with modes, Cornering Drag Torque Slip Control (C-DTSC), and Vehicle Hold Control (VHC), which helps with starting on a hill.
TPMS (Tire Pressure Monitoring System) is another convenience included in the CVO package. Not having to crawl around under saddlebags to check air pressure is a real perk. The reality is that most of us skip this incredibly important pre-ride check because of inconvenience.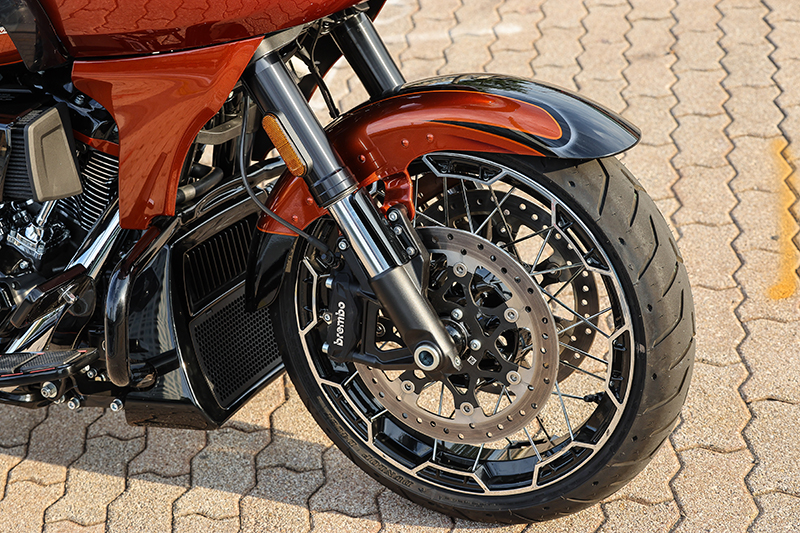 A new sporty front suspension suits the high-performance characteristics of the Harley-Davidson CVO baggers well. 4.6 inches of suspension travel on inverted front forks are held by a new triple clamp that is 7 pounds lighter. The new setup provides more stability and offers more consistent tire contact with the road.
Rear suspension has also been significantly improved. Three inches of travel is 50% more than previous versions. SHOWA dual outboard emulsion technology shock absorbers feature a new remote hydraulic preload adjustment knob located forward of the left saddlebag. Rebound damping is adjustable but requires removal of the saddlebags.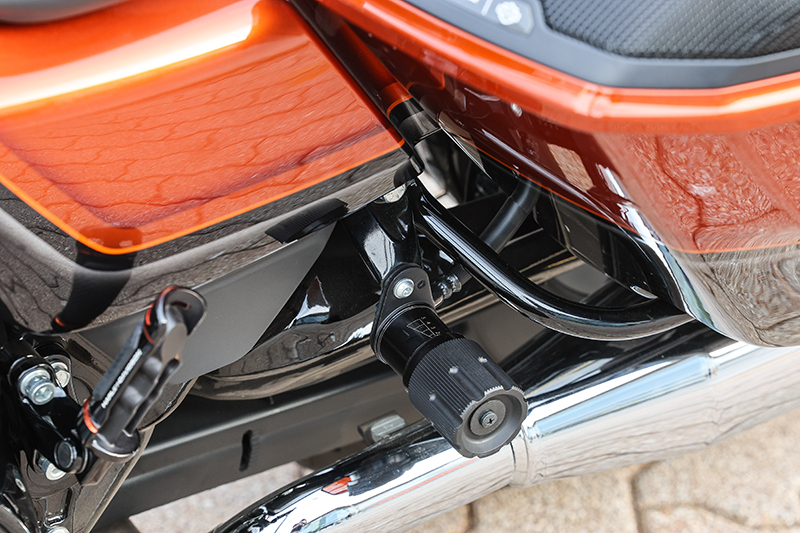 Front and rear brake systems on the Harley-Davidson CVO baggers is upgraded and well-suited for the high-performance machines. Premium Brembo brake components include dual front disc brakes that feature radially mounted four-piston Brembo calipers. The front brake rotor diameter is increased to 320mm from the 300mm on previous models. The rear brake uses a four-piston Brembo caliper on a 300mm rotor.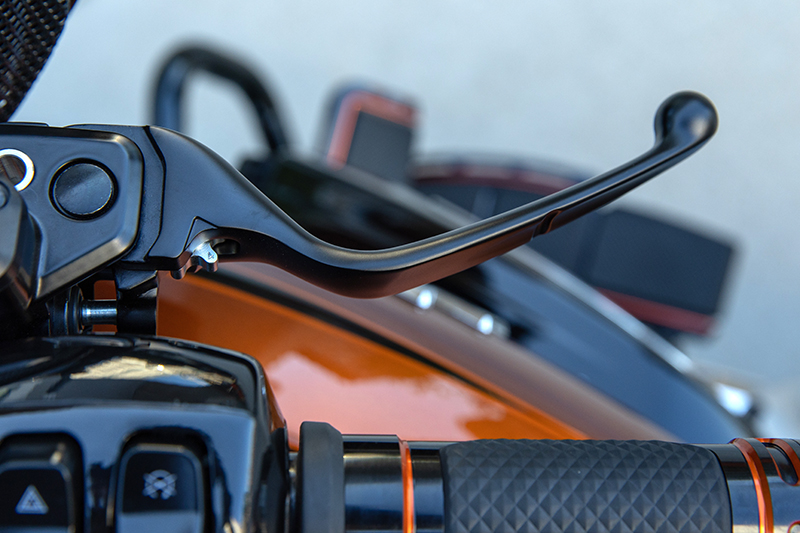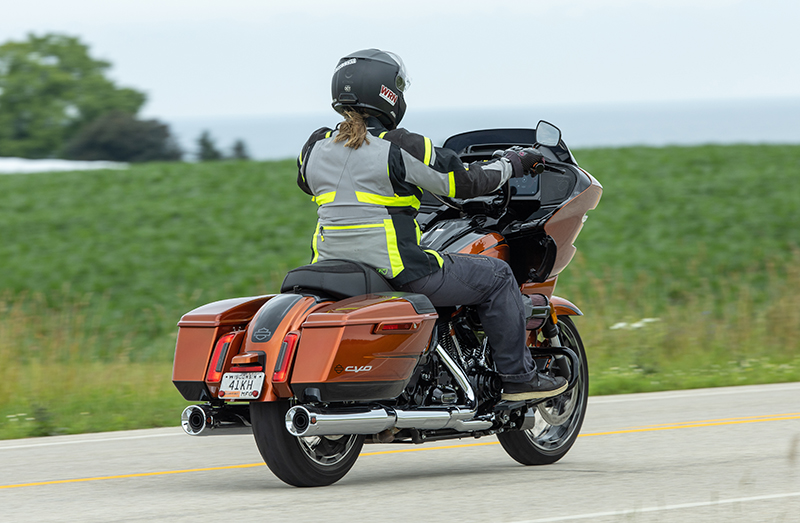 It usually takes a couple years for many of the great new features to make it into production of the non-CVO motorcycles. So if you just can't wait to try out the best that is currently available, visit your dealership today and ask to check out the new Harley-Davidson CVO baggers.
Visit Harley-Davidson.com for more eye candy.
2023 Harley-Davidson CVO Road Glide and CVO Street Glide
Engine Size: 121-inch (1983cc)
Seat Height: 28.1 inches
Fuel Capacity: 6 gallons
Wet Weight: 862 pounds (Road Glide); 838 pounds (Street Glide)
Colors: Dark Platinum with Pinstripe; Whiskey Neat / Raven Metallic ($6,000)
MSRP: Starting at $42,999
Women riders have long-favored Harley's Street Glide with the Road Glide coming in a close second as Women's Top Touring Motorcycle. Both baggers are excellent options—even if your version of touring is just cruising around with your best riding buddies.
Both the new 2023 Harley-Davidson CVO baggers are better than ever, packing in technology that makes the ride more tailored to each individual rider. The tall bars, extended reach to the touch screen, and higher weight makes me think the CVO Street Glide is the better bike for most women. But if you like the tall bars, the CVO Road Glide's fork mounted fairing offers excellent stability (there's a reason why the Road Glide is the racing bagger.)
Either way, you can't go wrong. The 121-inch engine rips and the comfort level and TFT display features are top notch. Who is going to join me in the Queen of the Baggers club?