We all play favorites. You may have a closet full of clothes and motorcycle riding gear, but if you are like us, you reach for your favorite 9 times out of 10. So when the staff here at Women Riders Now (WRN) was tasked to share about our favorite women's riding pants, it was easy.
The biggest problem is that some of our favorites are no longer available from the manufacturer in their exact model. So if you want to find these styles specifically, you may have to search the internet or your favorite motorcycle shop a little more thoroughly. But often manufacturers make only small modifications to their designs every year and offer a similar item in a different color or slightly upgraded style year after year so we've included those links where we could.
Here are just some of our favorites. We'd love to see yours, too. Please share about your riding pants on our Facebook page or in the comments below the article.
Editor Tricia's Favorite Women's Riding Pants: Klim Artemis
Originally reviewed for WRN by adventure rider Lori Hoefer, the Klim Artemis women's jacket and pant combo is a premium four-season outfit. The jacket costs $769.99 and the pants are $599.99, which is a lot of money, I know. But having one outfit that "does it all well" is worth the price of several items of lesser-quality.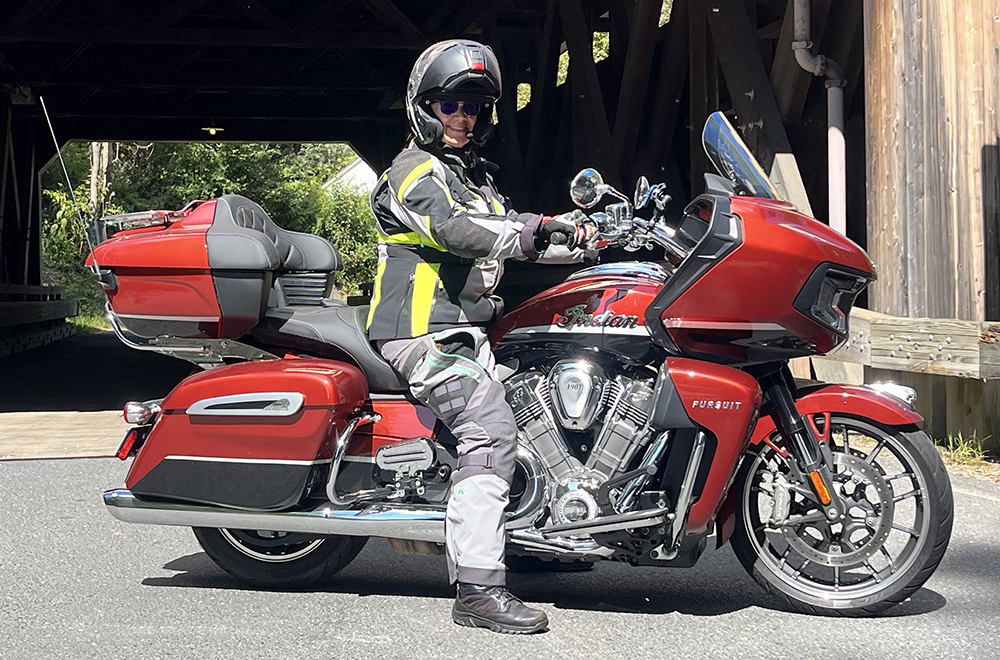 Lightweight and improved with more durable abrasion-resistant materials, the Artemis pant is the most comfortable overpant I have worn in 25 years of testing gear. Its Gore-Tex construction and excellent waterproof qualities keep me dry in downpours. 3M Scotchlite helps with visibility on dark rainy rides too. Vented CE level 1 armor in the hips and vented and adjustable level 1 armor in the knees offer impact protection.
Multiple straps aid the superior fit. Two adjustable waist straps and two knee straps are cinched in place. The leg length is well-designed to cover your ankles when riding without dragging when walking.
There is plenty of room in the Artemis pant to accommodate thick off-road boots. But I wish the leg zipper was longer so I can keep my boots on when taking the pants off. The zipper itself is waterproof and three snaps keep the lower pant leg tight, keeping the elements out.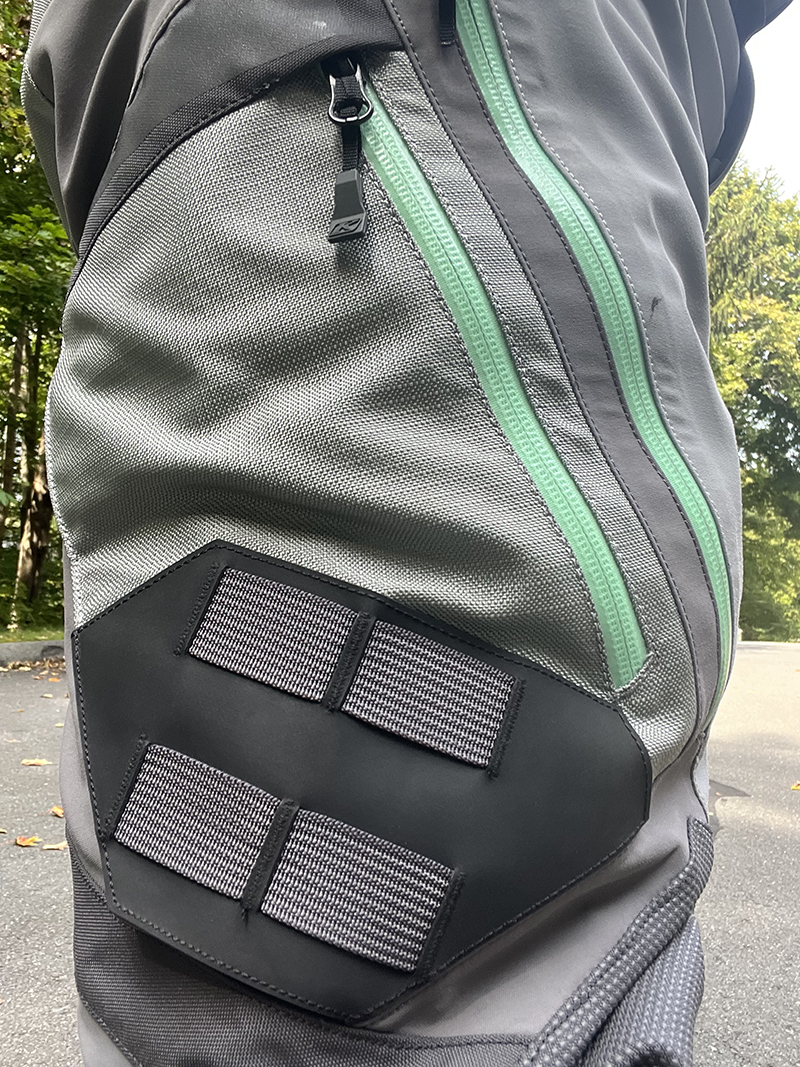 The jacket and pants include a zippered connection, keeping the armored gear in place in the event of a tumble. Though designed for world adventure riders, I wear the Artemis gear on the road on all kinds of motorcycles with the security that I am well protected and comfortable.
Marketing Manager Liz's Favorite Women's Riding Pants: UglyBROS Twiggy-K and ATWYLD Voyager
UglyBROS Twiggy-K and ATWYLD Voyager motorcycle jeans offer women riders the perfect blend of fashion-forward design and robust protection. Both the Twiggy-K and Voyager are equipped with top-notch protective features, including abrasion-resistant Kevlar reinforcement and CE-certified armor in hips and knees. After putting these jeans to the test, I can confidently say that they are a game-changer for riders who want to look good while staying safe on the road.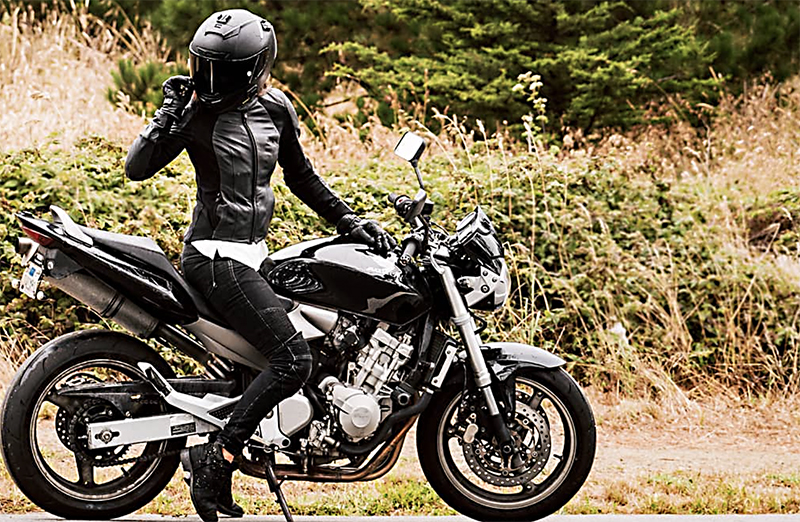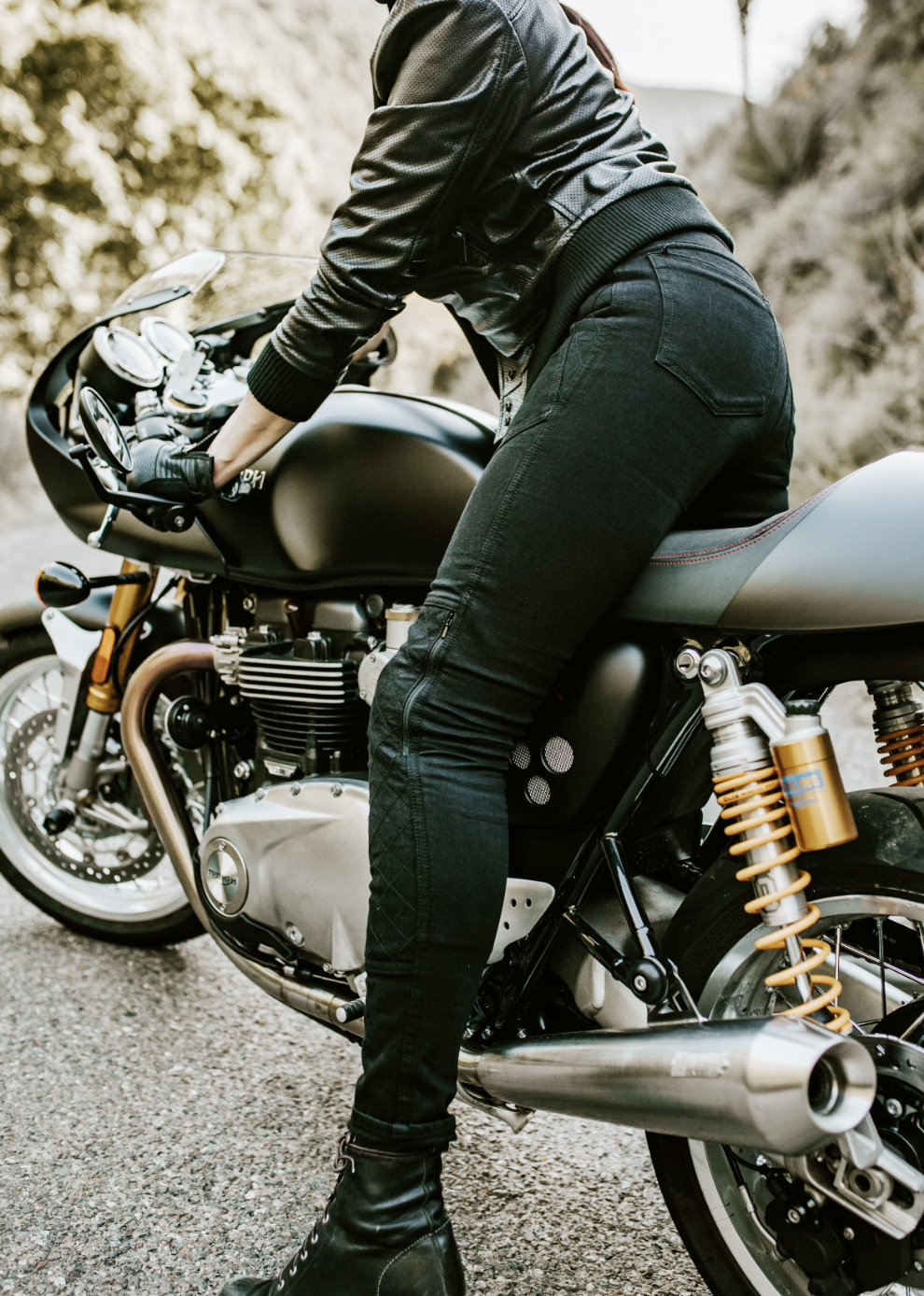 Twiggy-K and the Voyager jeans nail the style, looking like trendy fitted jeans for fashion-conscious riders. The Twiggy-K has a dark wash and subtle distressing giving them a rugged chic appearance. The Voyager has a subtle quilted pattern stitched over the knees and on the hips. 
Both jeans are form fitting, but the Twiggy-K's accommodate a wider range of curvy figures while the Voyager's are slim fit, high-waisted, and longer. The UglyBROS sit lower on the waist and fit the average height rider better. 
Both jeans are comfortable and non-restrictive while riding. ATWYLD's Voyager jeans come with high quality D30 armor.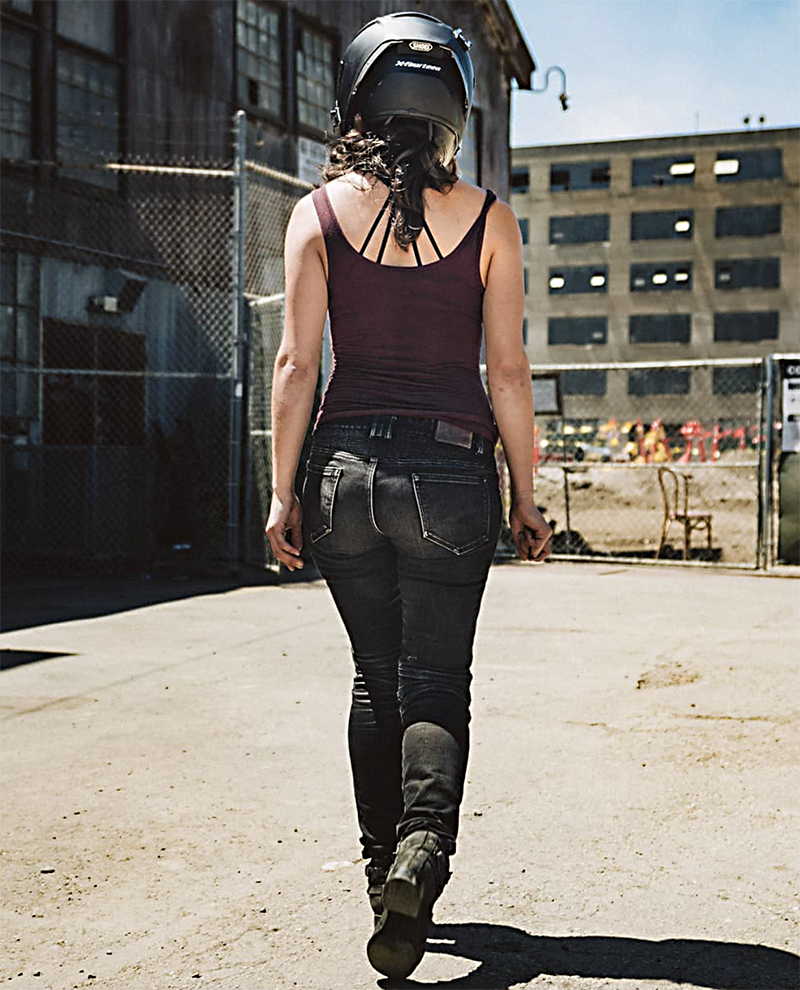 I can easily slide the armor out from the top of the pocket on the Twiggy-K's. The Voyager's also allow you to remove the armor externally but it's more difficult. The armor tends to get stuck in the zippered pocket when removing it and is difficult to get back in place.
Both Twiggy-K and the Voyager jeans are high-quality riding jeans that combine style and safety. While they are pricier than ordinary jeans, the peace of mind they offer on the road is well worth the investment.
Co-Chairwoman Sarah's Favorite Women's Riding Pants: REV'IT! Maple 2 Ladies SK Jeans
I usually opt for maximum protection provided by premium ADV gear or sport riding leathers. But on some rides it's nice to look fashionable while being protected. I rarely ride in jeans because, like with fashion jeans, it is virtually impossible to find the right fit and comfort. I've been trying to find that unicorn for years and finally found it.
The REV'IT! Maple 2 jeans are comfortable right off the hanger due to the 13-ounce Cordura stretch denim developed through "in-depth scientific research, analysis, and testing of single-layer fabrics and construction techniques." In addition to the instant comfort this provides, the fit is fantastic. However, I did order a size smaller than my typical jean size because of the stretch.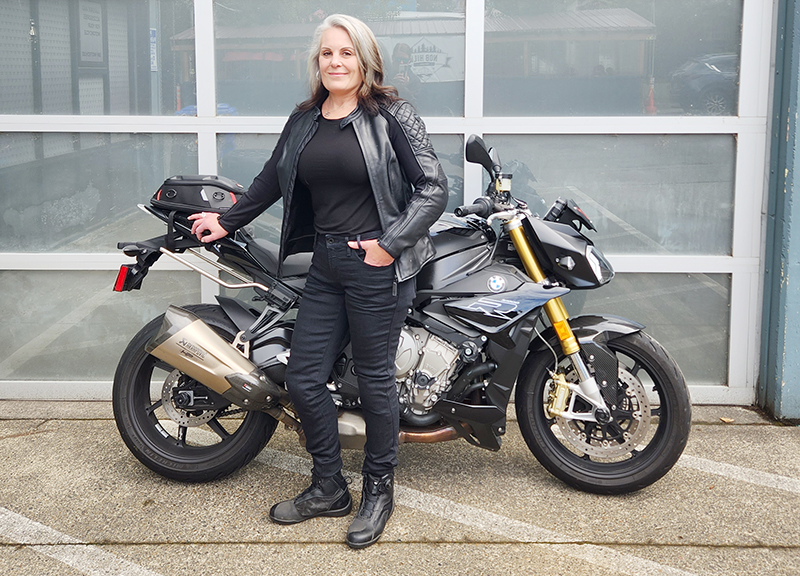 The Maple 2 jeans come in two inseam lengths and are long enough to cover the ankle, and since they are narrow they can be rolled under or into cuffs to adjust the length.
The skinny fit Maple 2 has a mid-rise waist so there is no 'muffin-topping' or exposing the lower back while tucked in the riding position. Most motorcycle jeans don't zip to a jacket. But REV'IT! developed a solution to this. While all of the brand's jackets and pants use the same interchangeable connection zipper, its jeans don't have the attached zipper. However, wearing REV'IT's Safeway belt adds a connection zipper. I love this!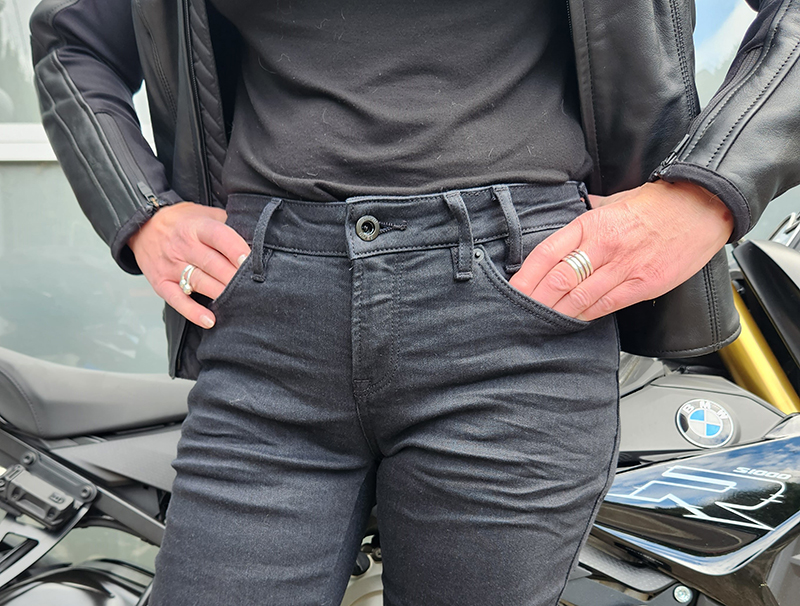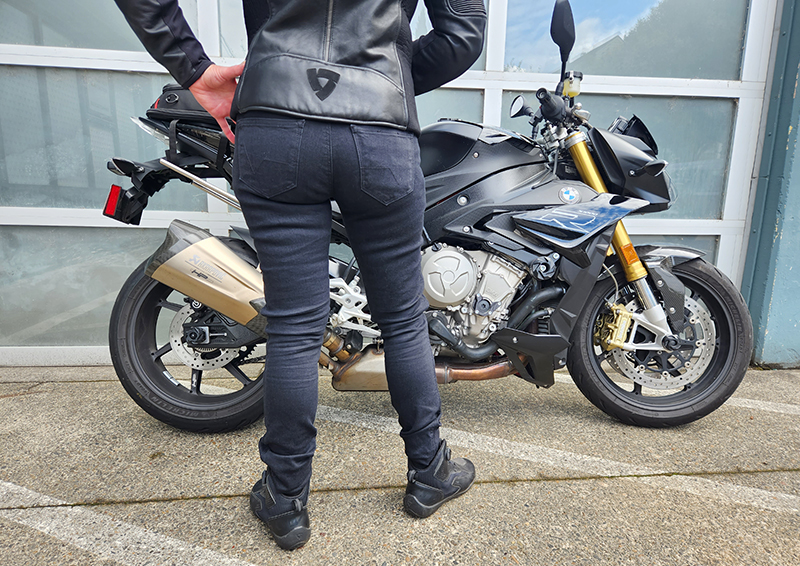 In addition to the "triple needle" safety stitching, the Maple 2 jeans come with low profile SEESMART CE-level 1 knee protectors and pockets to add REV'IT! hip protectors. An added safety bonus is a reflective strip on the inside of the ankle that can be employed by rolling the cuff up.
Co-Chairwoman Erin's Women's Riding Pants: Dainese Denim Lady Jeans
Imagine pulling on your favorite super-soft, 5-pocket denim jean and having the added confidence of being able to safely ride a motorcycle in them. That's what Dainese's Denim Lady's line has consistently offered. I love to throw on my black denim, red-stitched "Alba" version for a quick Sunday morning ride to the local breakfast spot. They're comfy to walk around in after breakfast for a little retail therapy and protective for the twisty hill ride to follow.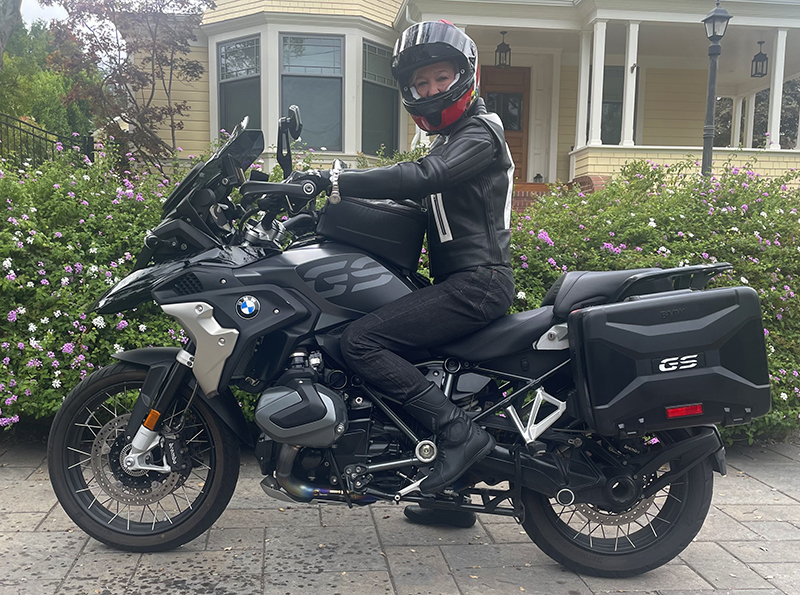 Dainese jeans consistently offer hip and knee protection so you know you're not sacrificing safety for style. I also love how moveable and flexible they are for varied riding experiences.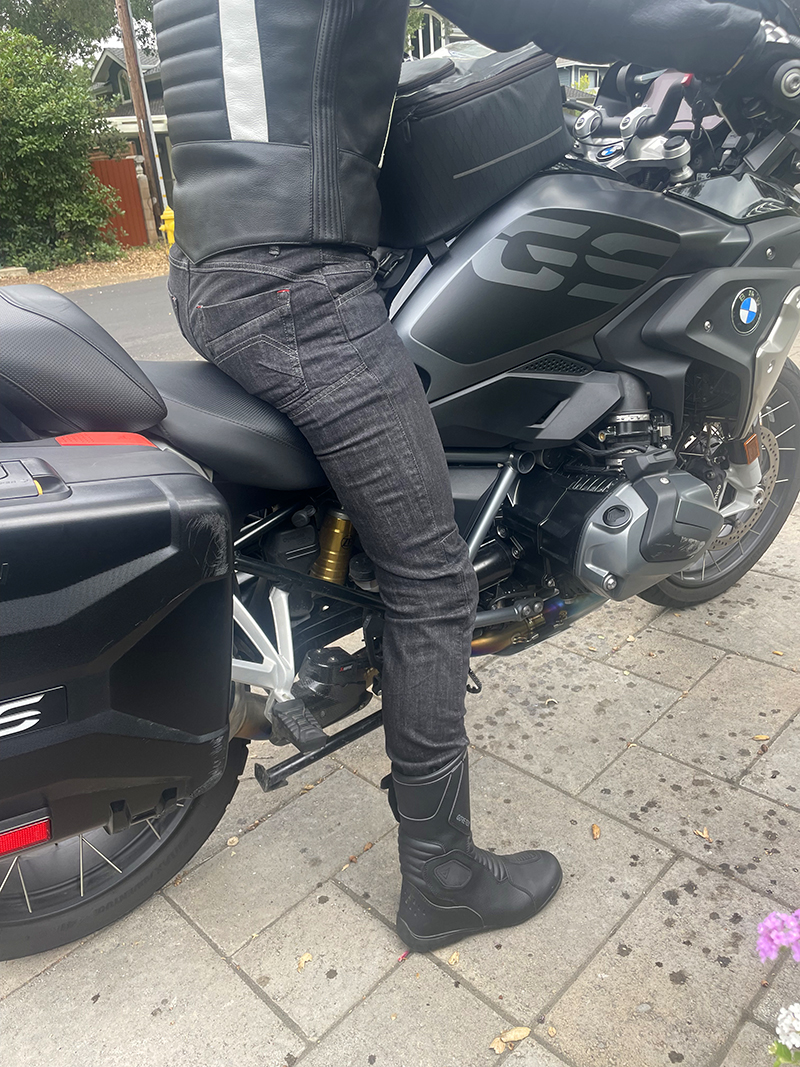 Dainese Alba Slim Lady jeans retail for $199.95 and are typically available in sizes 24 to 36. Hurry to catch end-of-season sales across the web making them an incredible value.