REV'IT! Sand 4 H2O Ladies Gear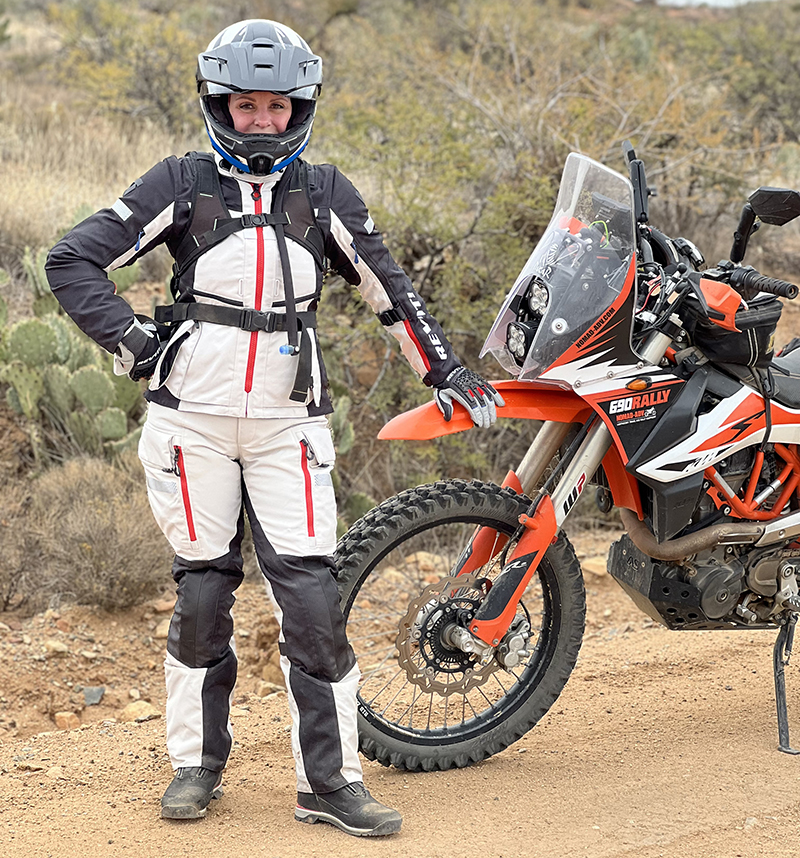 Always on the quest for the perfect do-everything riding suit, this new offering from Dutch brand REV'IT! fits the bill for both street touring as well as its intended use: adventure riding. The rugged, well-fitting suit performs well in all weather conditions and is highly versatile to match your riding style.
REV'IT! Sand 4 H2O ladies jacket and pants make for a comfortable and functional all-weather adventure riding suit that also works well for day rides, touring, and commuting. Matching gloves complete the look, but are best for warm and dry weather riding. With the jacket at $529.95 and pants at $389.95, the suit is competitively priced for an outfit loaded with protection and comfort features.
I am a longtime fan of REV'IT!, and what always impresses me is the consistency of the brand's sizing and fit across the line. True to form, the Sand 4 jacket and pants fit me perfectly right off the rack. At 5 feet 4.5 inches tall and 145 pounds, I wear a size 38 jacket and pant in everything I own from REV'IT!.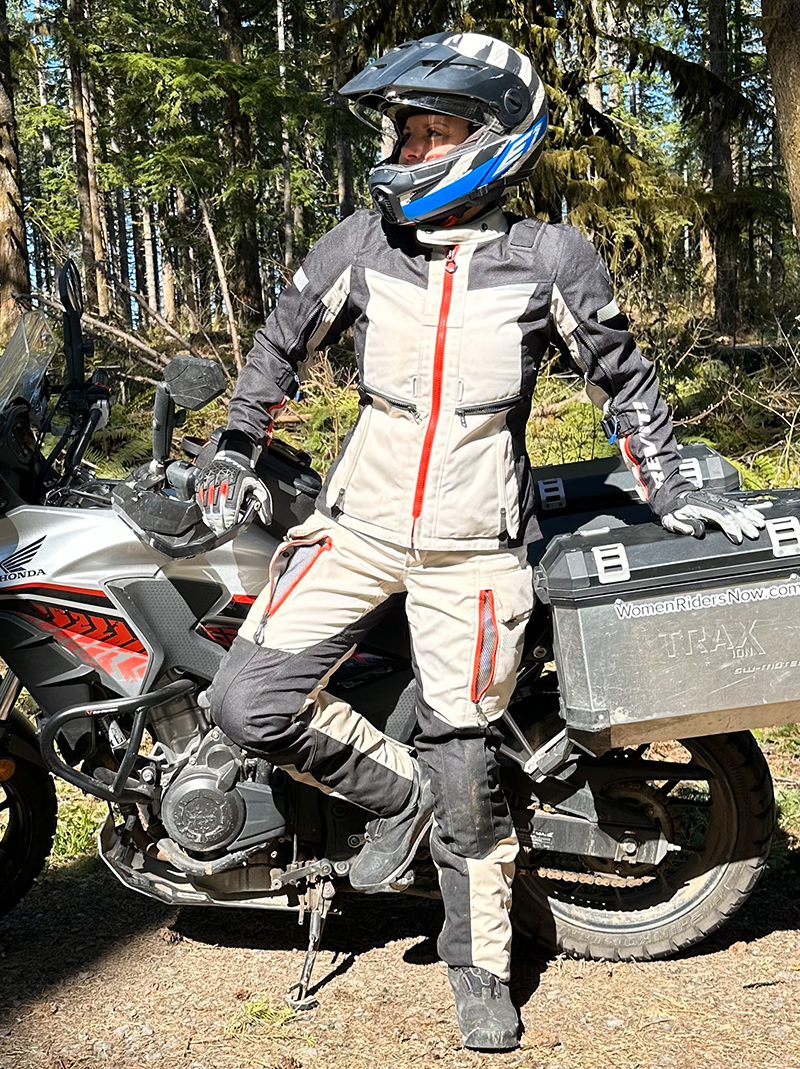 The REV'IT! Sand 4 jacket and pants are constructed of durable abrasion-resistant ripstop fabric lined with breathable mesh. Reinforced durable fabric in the impact areas enhance the safety. Tabs and cinches enable the rider to customize the fit and comfort.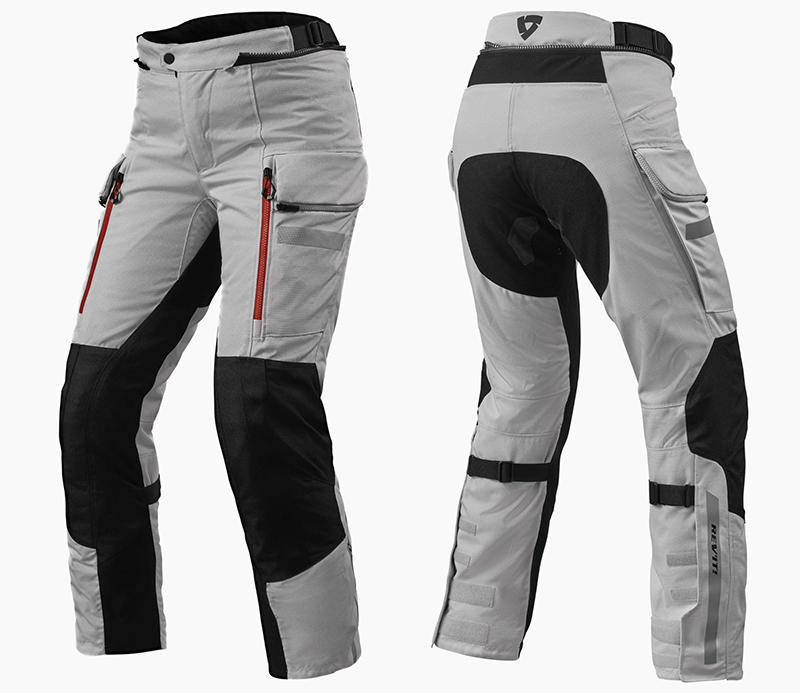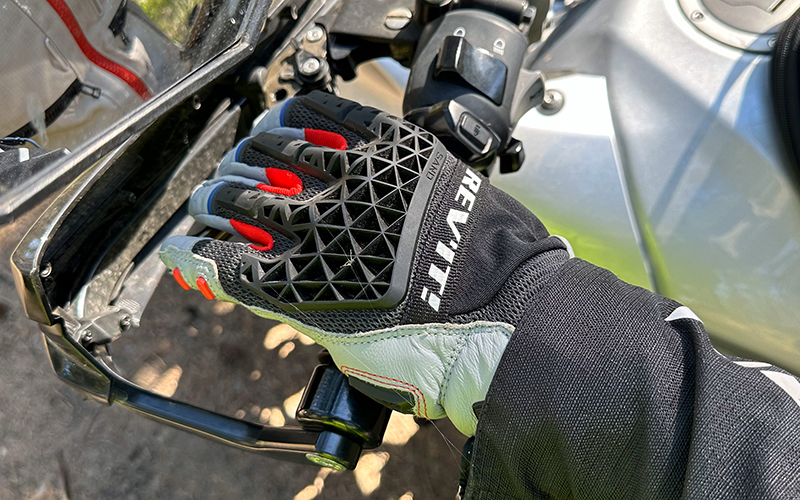 The matching gloves carry on the look of REV'IT!'s Sand 4 H2O suit, but are not waterproof. The soft goat leather palms are instantly supple and comfortable providing excellent grip. Perforation offers ventilation.
Sand 4 glove sizing is spot on—I normally wear a size L women's glove, and the size L Sand glove fits perfectly. If you aren't sure about your size, you can find the Rev'It! sizing guide on its web page here.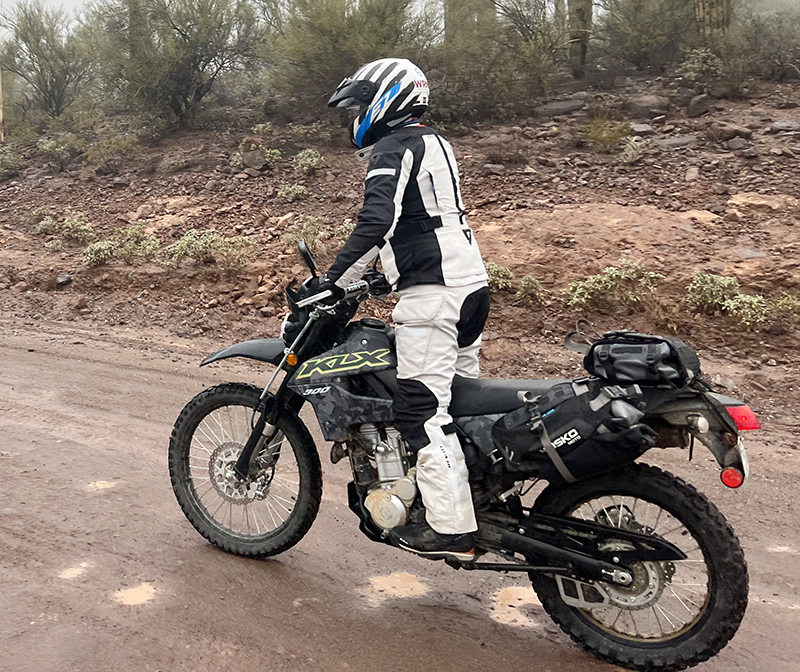 REV'IT! Sand 4 Keeps You Warm and Dry
REV'IT!'s Sand 4 H2O jacket and pants have many features for inclement and variable weather conditions, including warmth and waterproof liners. Wearing the gear with all of the liners can get bulky but it sure is nice to stay warm and dry.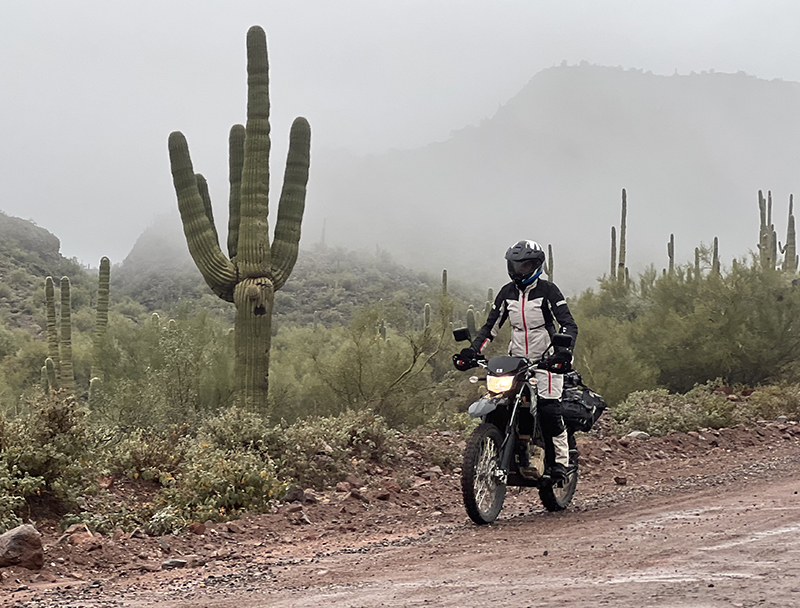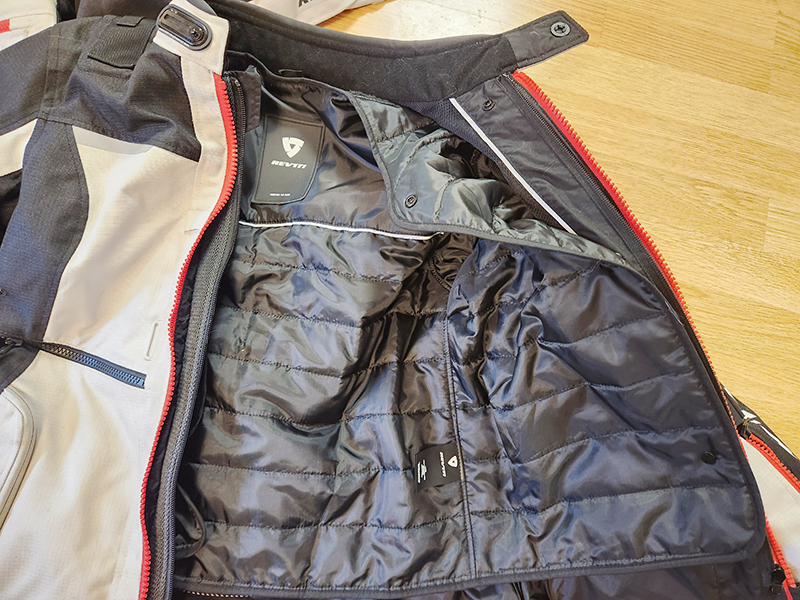 The included hydratex lite waterproof liner can also be worn as a standalone lightweight rain jacket. The material is well sealed and stretchy providing maximum comfort without bulk and helps with range of movement for adventure riding.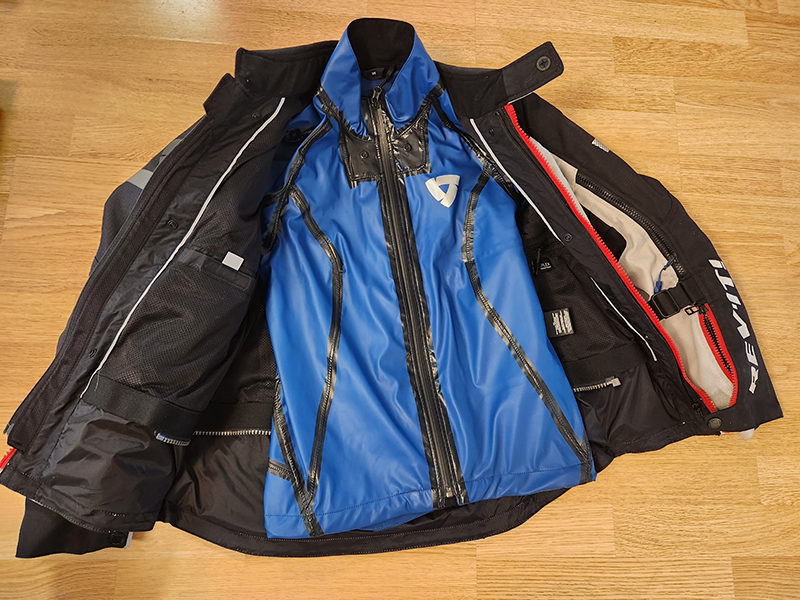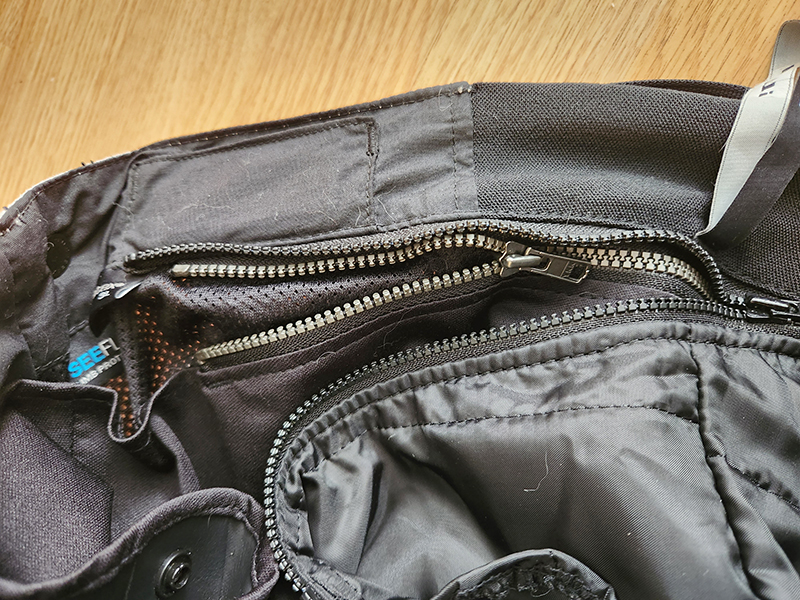 All of the included liners are easy to remove. On not-so-cold rain or adventure rides, I find that just the waterproof liner is enough to keep my legs warm with less bulk.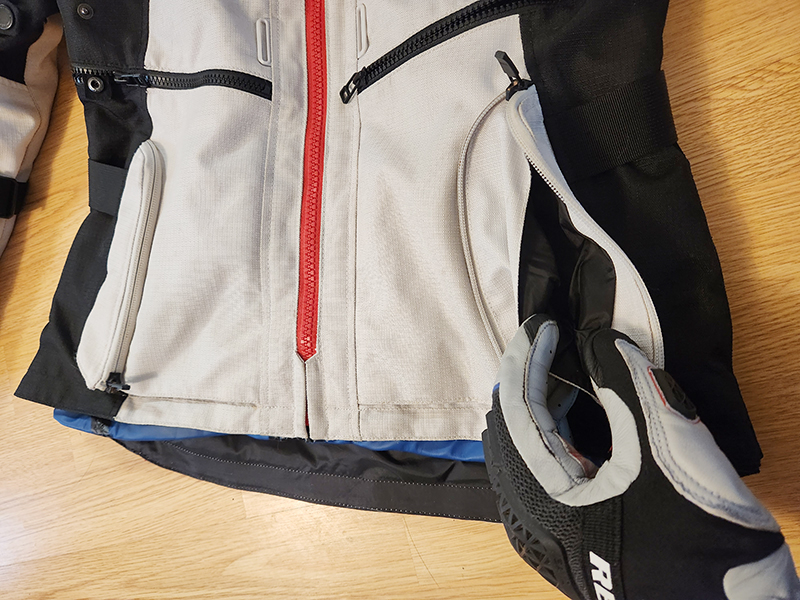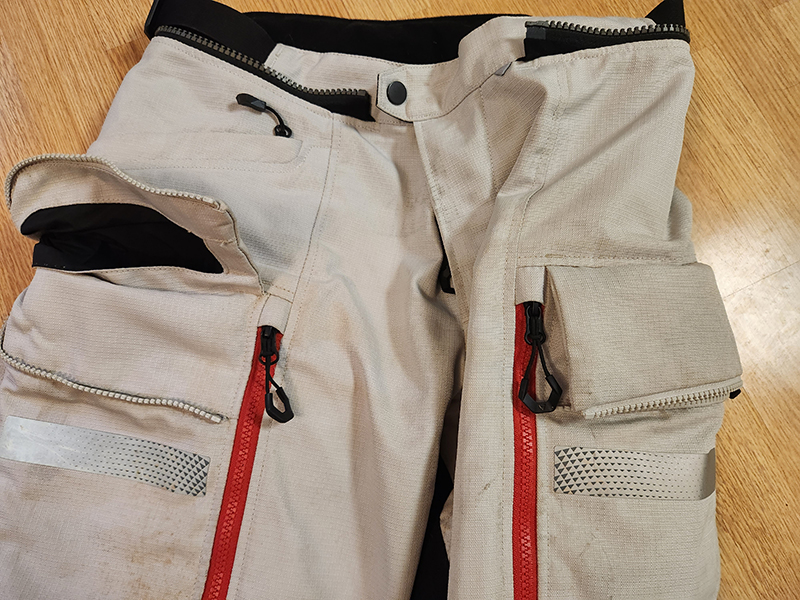 The pant pockets are great for stashing a phone for easy access for taking trail side pictures. It gets a little difficult to pull out of the pocket when the suit is wet. But the waterproof pocket keeps the phone dry.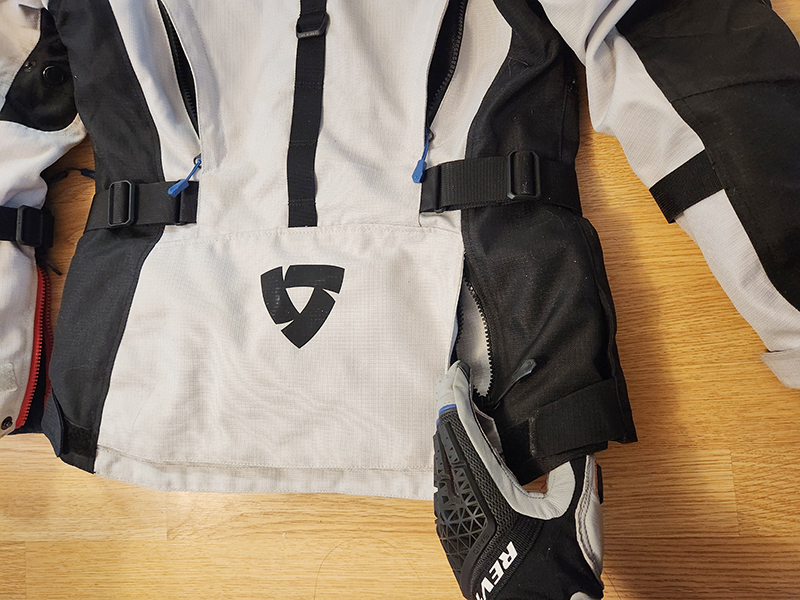 I was worried about the light colored suit getting dirty in the rain and mud, but most of it washes out easily. You could choose an all-black Sand 4 H2O suit, or the brown/camo colorway, but the light color of the gray/black provides added visibility in inclement weather. It's worth the somewhat dirty look to me.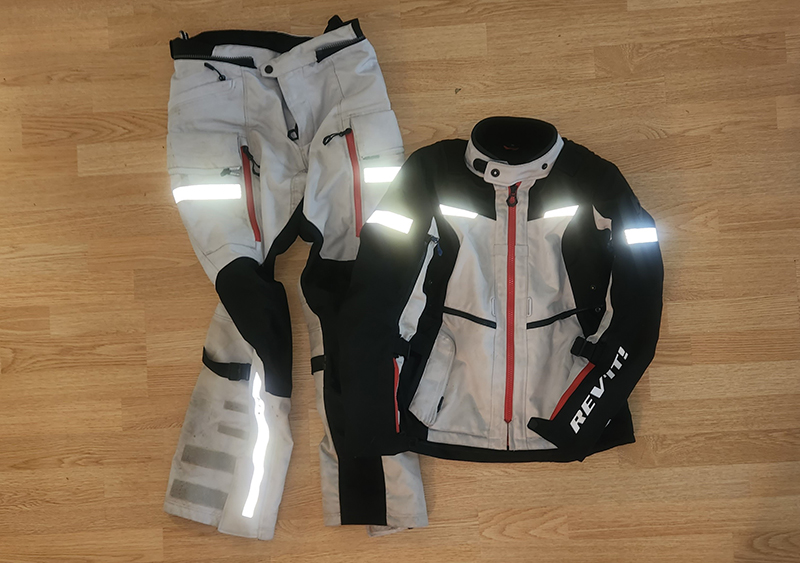 Stay Cool and Comfortable
When the temperature heats up it's easy to stow the liners in a bag or leave them at home and continue wearing the Sand 4 gear. The REV'IT! Sand 4 H2O jacket and pants have multiple zippered vents and vented panels for keeping riders cool. All of the zippers you may need to deploy while riding feature big pulls that are easy to find and use with gloves on.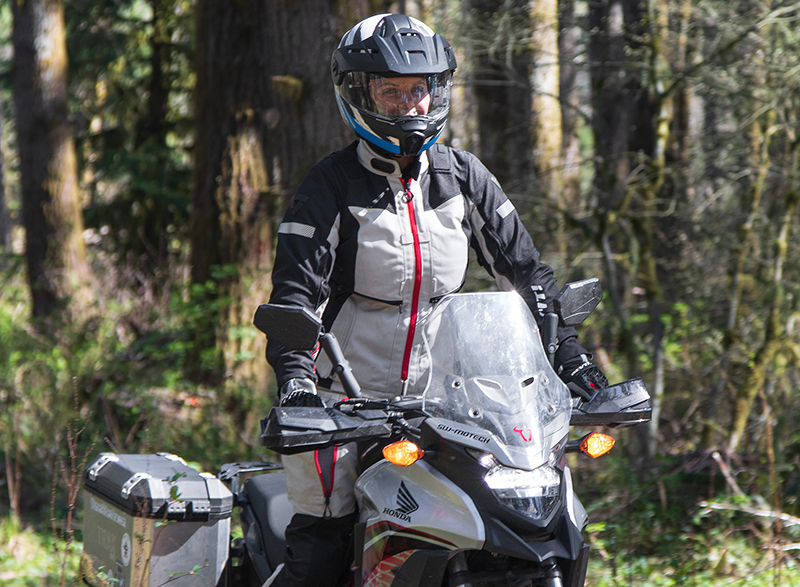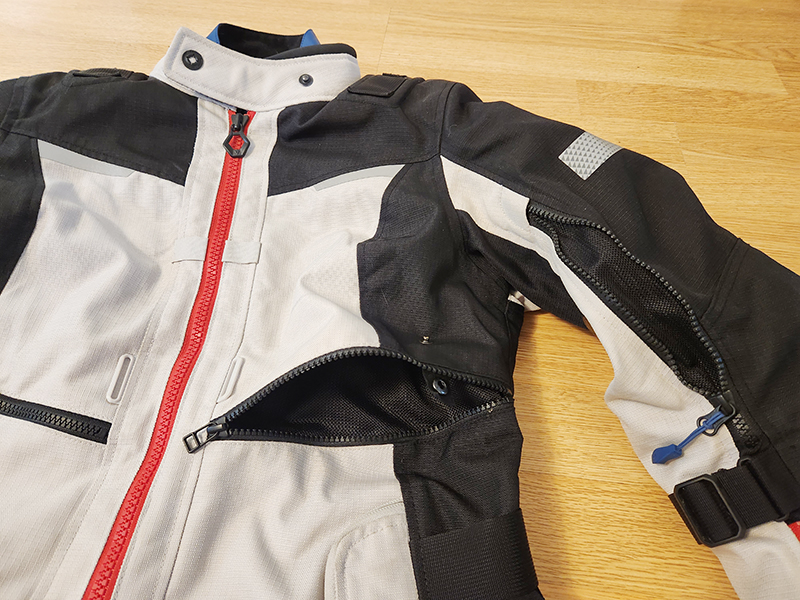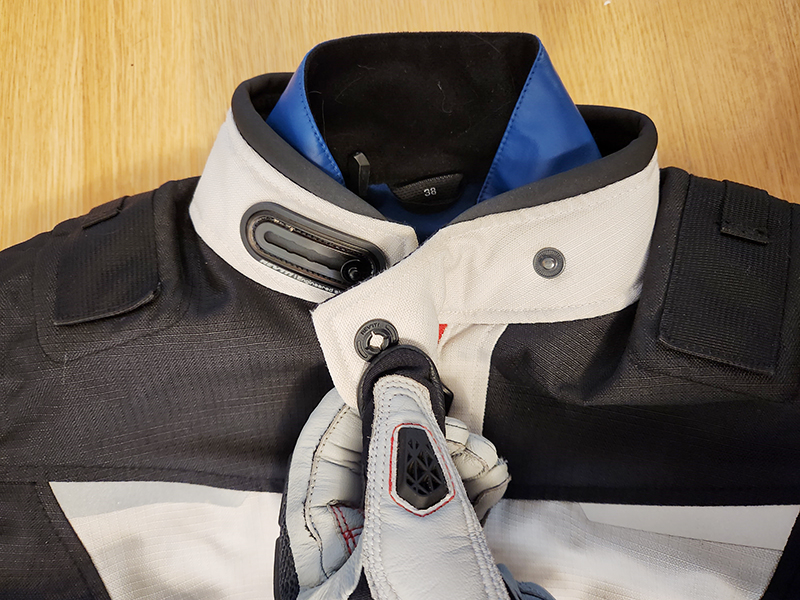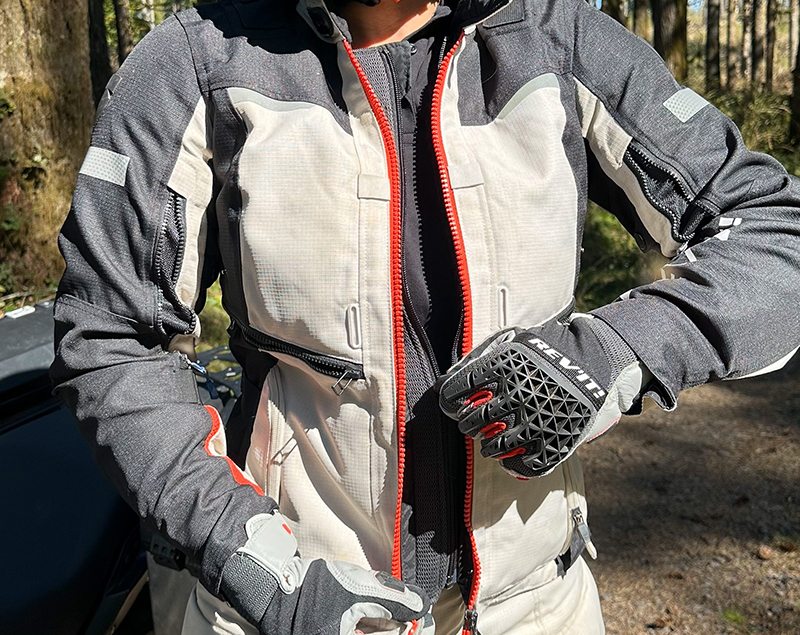 Long dual vents on the back allow the air from the front breast, arm, and zipper vents to circle around the torso and exhaust out the back allowing for a constant stream of fresh air.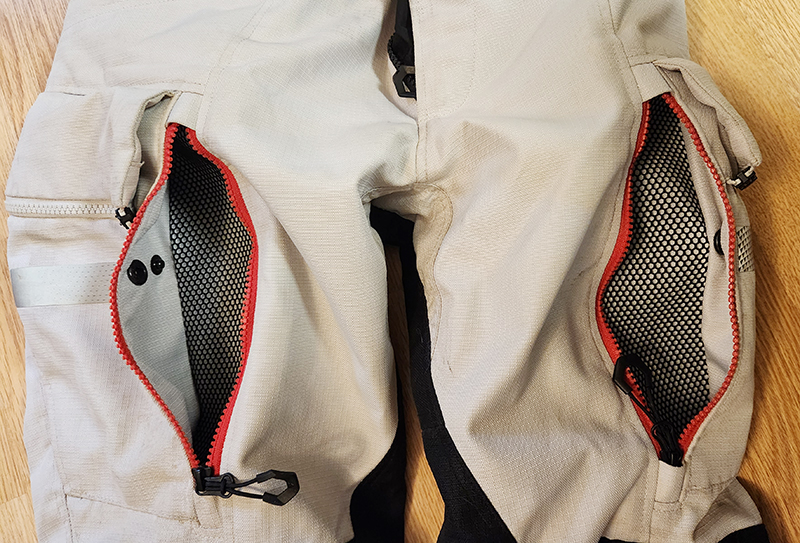 The ladies Sand 4 H2O jacket and pants come with REV'IT!'s SEEFLEX CE level 2 armor in the shoulders, elbows, and knees, and level 1 in the hips. It's all held into place with fitment adjusting straps on the arms, waist, and lower leg. Adjustable tabs at the cuffs, upper arms, and ankles, and a drawstring in the waist provide a customized fit.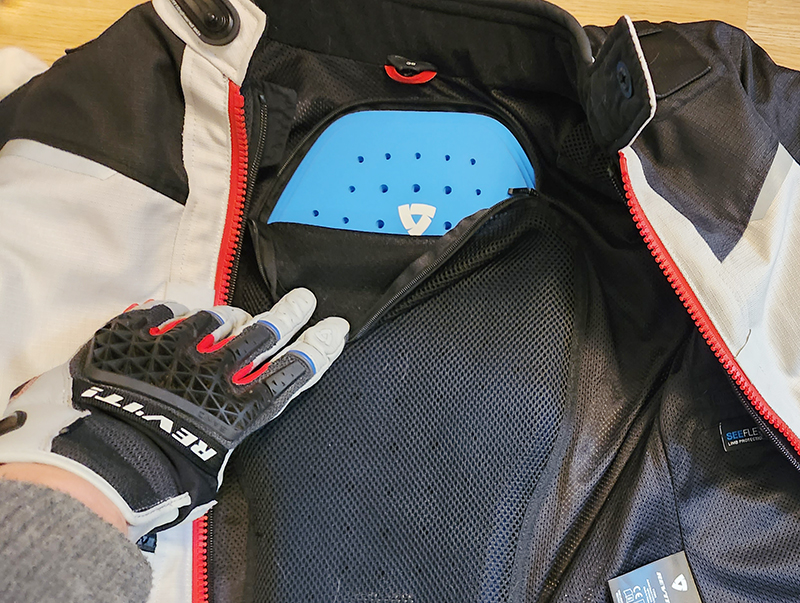 I can't stand riding with a jacket and pants that don't zip together allowing the jacket to ride up and the pants to (ack!) fall down. Luckily, the REV'IT! Sand 4 pants and jacket offer both short and full-circumference connection zippers. 
Additionally, the pants come prepared for the addition of REV'IT! suspenders for riders who may own a different brand of jacket.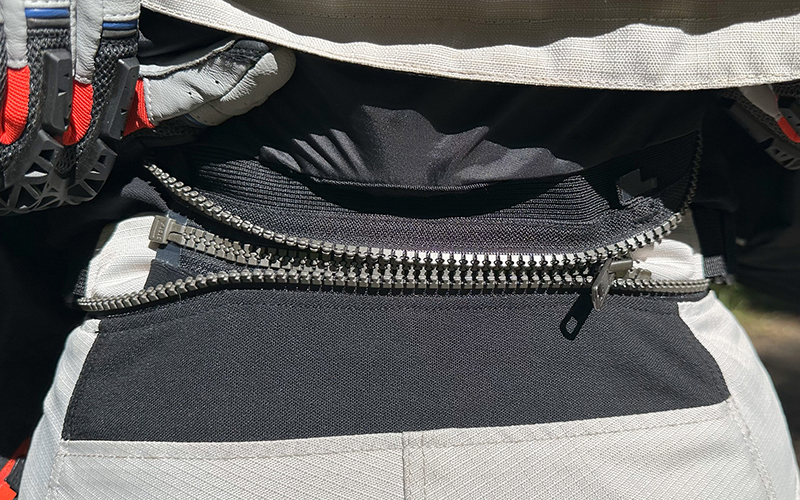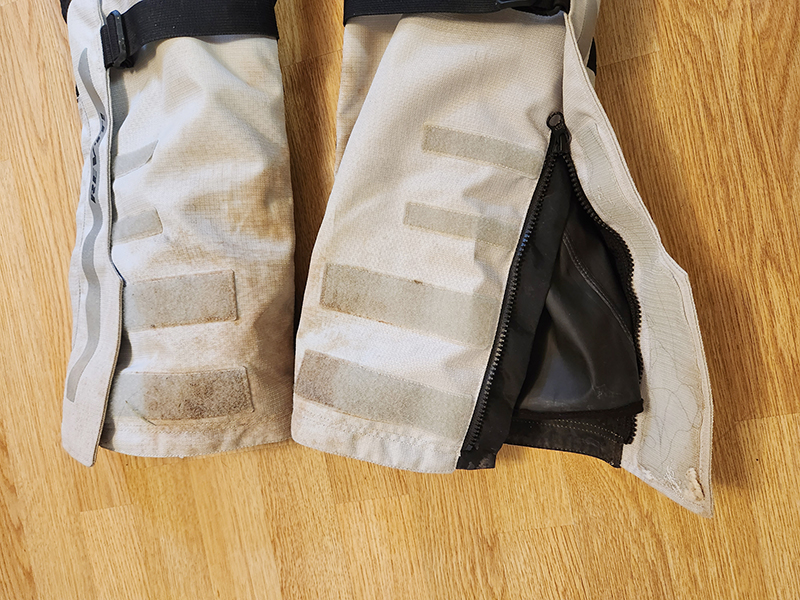 REV'IT! Sand 4 Ladies Warm Weather Gloves
The Sand 4 Ladies gloves are specifically designed and engineered for warm/dry weather use and feature exceptional grip, breathability, and ventilation. Thermoplastic rubber (TPR) palm sliders ensure comfort with the highly abrasion resistant protection.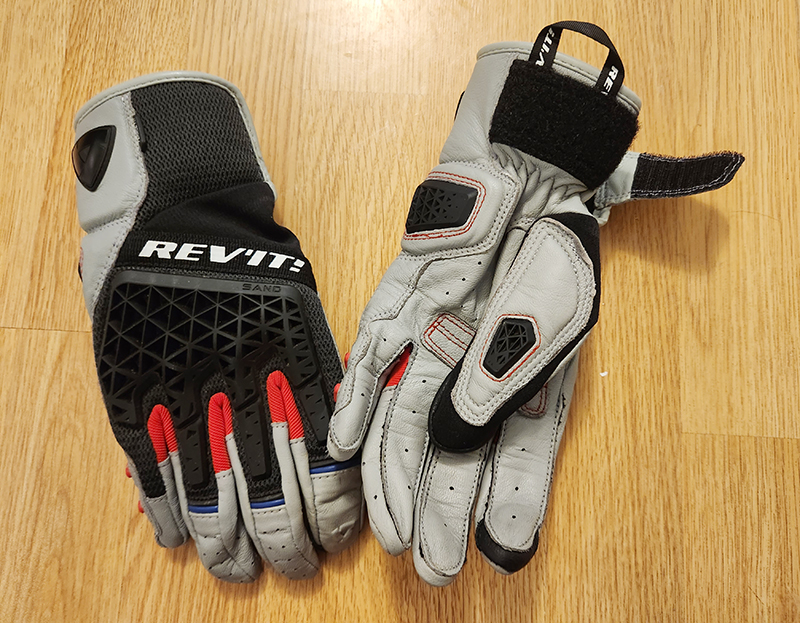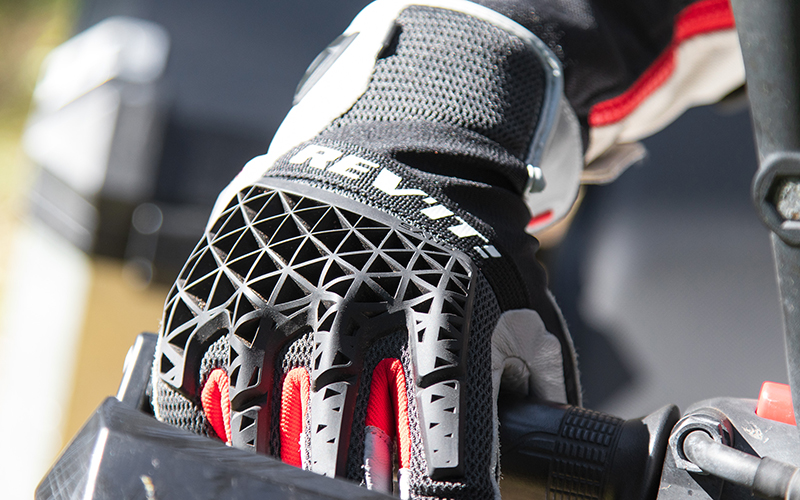 Even with the suppleness of the goatskin palms, I find over a long ride my knuckles start to ache because the TPR knuckle isn't very giving. I hope this will eventually work itself out with more stretching out of the palms.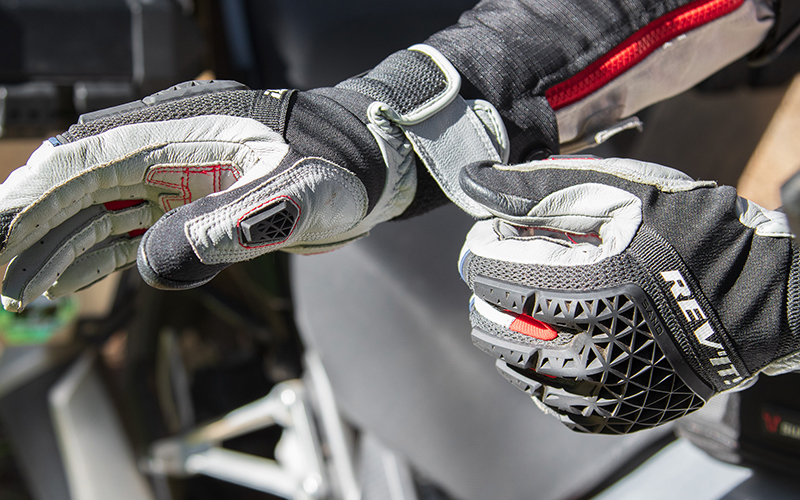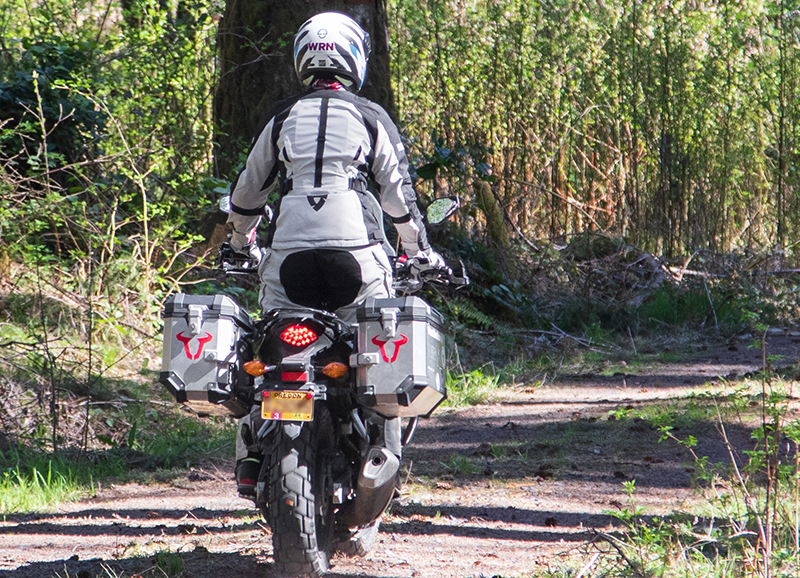 Anyone looking for a high-quality, well-fitting touring or adventure suit with plenty of bells and whistles should consider the Sand 4 suit from REV'IT!. With reliable fit and function, the jacket, pants, and gloves are competitively priced and exceed expectations and demands no matter the riding conditions or terrain.
For more information visit RevitSport.com.