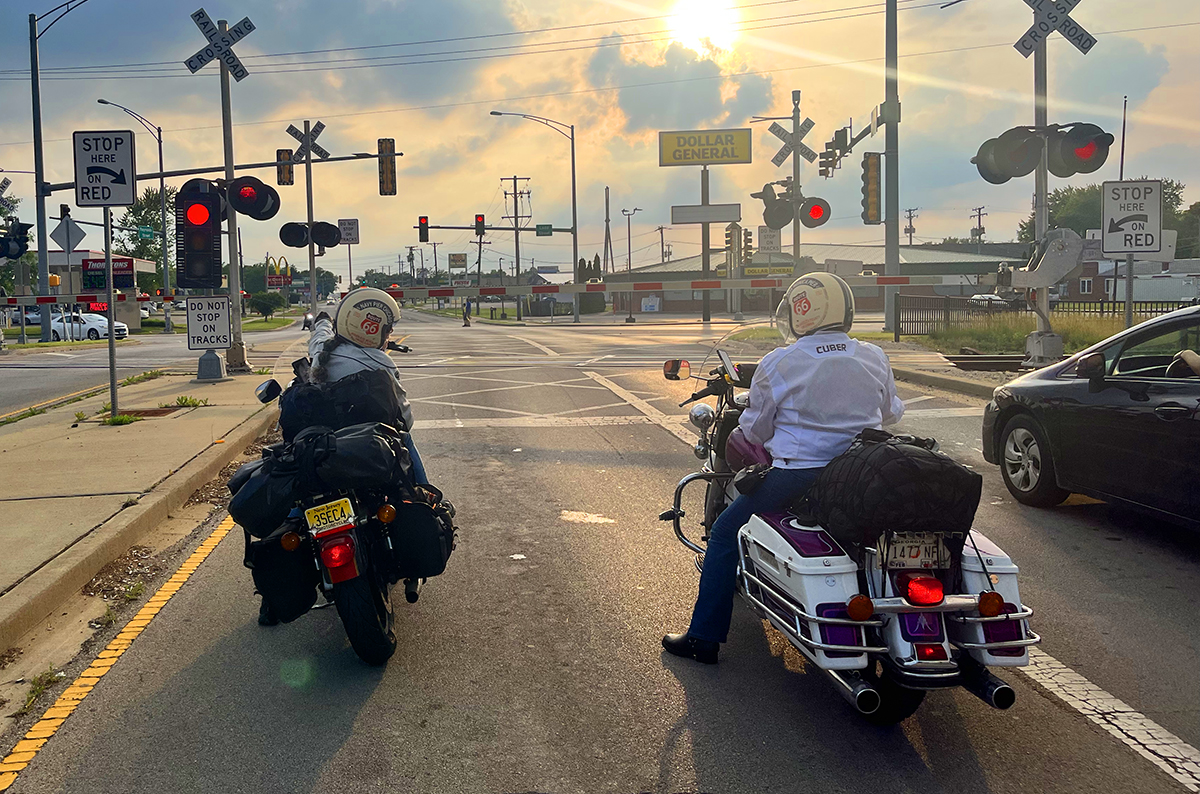 I'm filled with inspiration, having just completed the 3,000 mile, two week Chix on 66 AMCA women's ride from Milwaukee to Santa Monica. With temperatures ranging from 85 to 115 F, getting to our daily destinations incident-free was quite an accomplishment. This article highlights some hot weather riding tips we learned that can help keep you on the road safely when temperatures heat up.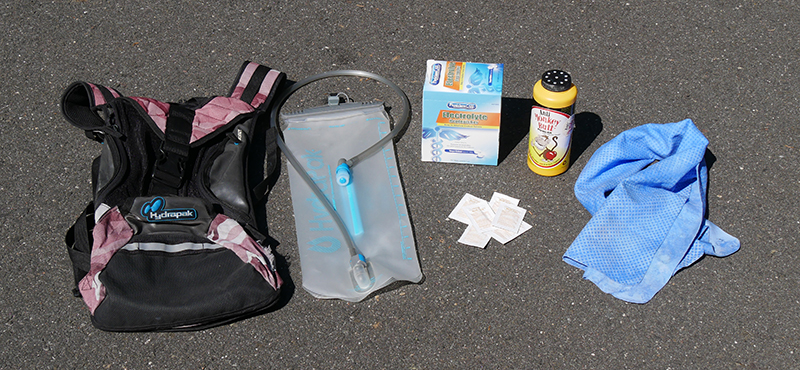 Tip #1: Hydrate with Electrolytes
Like one of my fellow coaches always says, "Water in, water out." If you're not using the restroom, you are not drinking enough water. During those very hot rides, it helps to add electrolytes. You can find them in sports drinks, but I've recently become aware of electrolyte powders and tablets.
Electrolytes are essential minerals that are vital to the body's key functions. When you become dehydrated, your body is taking in less water than it loses, and your salt and sugar levels become off-balance. In addition to being thirsty, you may get dizzy, lightheaded, or tired. Other serious signs of dehydration include headache, delirium, muscle cramps, swollen feet, nausea, and chills.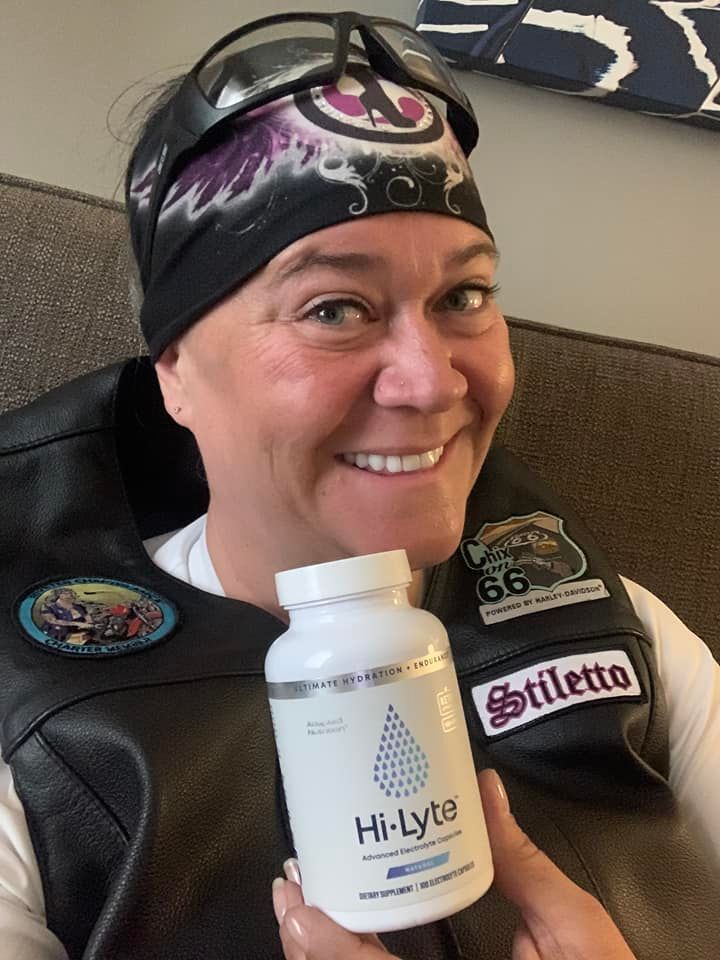 Vicki Sanfelipo, RN, from Accident Scene Management (ASM) who sponsored the recent AMCA Chix on 66 ride, tells us that when you sweat, you excrete sodium potassium, calcium, and magnesium. If you only hydrate with water, you actually further dilute your system, leading to fatigue, headache, muscle cramps, dizziness, and possible cardiac arrhythmias.
To help avoid this, Chix rider Kathy Strobele provided all the participants with Medique Medi-Lyte tablets. These all-natural electrolytes include the key minerals that the body is depleted of during dehydration, and come in convenient 2-pill pouches. Taking these pills with just a sip of water will give you the same boost you'd get from a bottle of an energy drink. You can purchase a box of 125 packets for just $28 at RoadGuardians.org.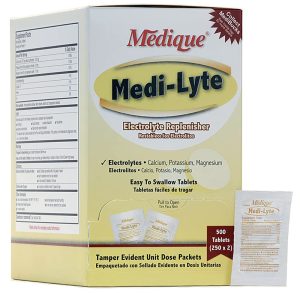 Staying hydrated on a long ride means you will need to drink lots of water along the way. Instead of waiting to buy bottles of water at fuel stops, have water with you at all times that you can sip on at will.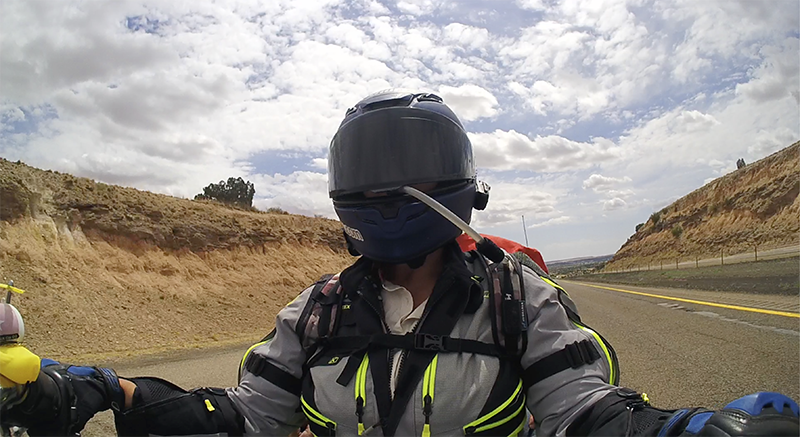 Filling the bladder part way with water and freezing it the night before helps it to stay cooler longer. (This also keeps your back cool.) If you want a drink more immediately, fill it with half with water and half ice cubes. 
Many years ago I reviewed an Ogio Hydrapak which was made for motorcyclists. The non-moto packs I've tried since are either too small, too heavy, or the straps aren't long enough for wearing over a motorcycle jacket, or it just wasn't made for riding so it's not comfortable.
When choosing a hydration backpack, consider how much weight you are willing to add to your back. Remember, the more water you add the heavier it will be. This is one of those things where you might NOT want a lot of extra features.
I love the Ogio backpack because it's narrow and light and offers a couple useful storage pockets that I use for energy bars, sunblock, and a cooling towel. There's a separate pocket for the bladder, so if there's any spillage while filling it, it doesn't get my items wet. This bag is comfortable to wear with straps long enough to fit over my riding jacket. A sternum strap works best to hold it in place with even weight distribution while in a riding position.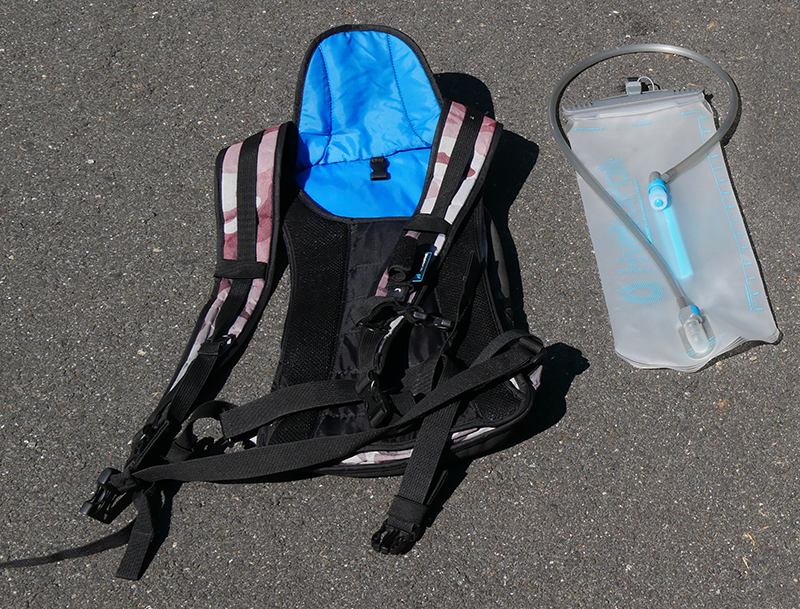 I replaced my old bladder with the HydraPak Shape-Shift 3-Liter water bladder ($40). I'm not a fan of adding any extra weight to my back while riding, so using a fairly simple backpack and a bladder with even weight distribution helps the ride comfort.
Klim's Quench Pack ($99) is a good option for a currently available hydration backpack made for motorcyclists. This pack has all the features I love but comes with a 2 liter bladder.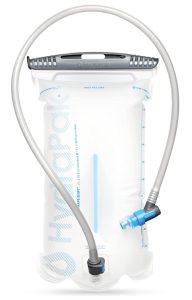 You can also use a waist bag or a tank bag with the right bladder to fit. Klim's XC Acqua Pak ($130) was developed specifically for off-road riders to keep the weight off the shoulders for easier movement and less fatigue.
Whatever you decide, having access to water while riding will keep you on the road longer and more comfortably.
In extreme heat, many riders will soak their shirt or a bandana in cold water and wear it under a mesh jacket. There are also all kinds of motorcycle-branded cooling vests, which you soak for a few minutes in cold or ice water and wear under your jacket. I found this feature-filled ($200) cooling vest from Harley-Davidson that offers the same evaporative cooling effect. It also comes with four ice pack inserts that you put in the freezer for 45 minutes before adding to the vest. I sure wish I had this on Route 66!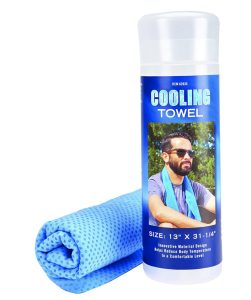 Tip #4: Ride with Protection
Think it's cooler to put the jackets away and just wear a tank top? Think about it. Do nomads walk through the desert with as little clothing on as possible? No, they wear outfits that completely cover their skin and head. The hot air, especially the evaporative effect of motion wicks away your sweat which helps cool you inside clothing. So why would we want to give up our protective gear to expose ourselves to harmful UV rays and dehydration?
There are so many options for women's vented motorcycle clothing that include crash protection, it's hard to choose just one. Just about every manufacturer that makes women's motorcycle jackets have a vented or mesh option. The Klim, Indian, Dainese, and Harley jackets we featured last year and the AGVSport jackets we reviewed are just a few.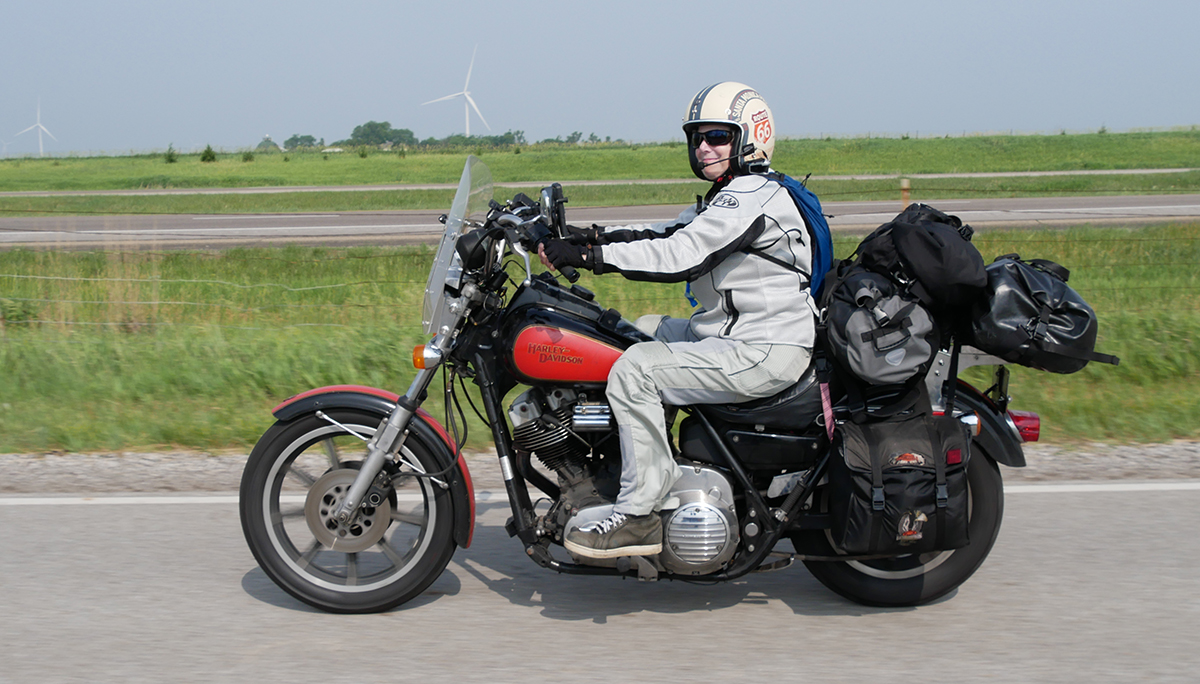 Tip #5: Protect Yourself from Bike Burns
A hot engine or exhaust pipes can be a problem for some motorcyclists. In fact, Cris Sommer Simmons experienced serious burns on her legs from the heat of her engine. The first part of the Chix on 66 journey required navigating stop-and-go rush hour traffic in downtown Chicago. We were all sweating, but Cris' 1934 Harley-Davidson, Buddy, got so hot the engine actually cooked itself. If she had a product called Hooligan Wrap, it could have prevented her leg burns. The $130 Hooligan Wrap is quite simply a piece of heat-resistant material that you can put on any part of your leg.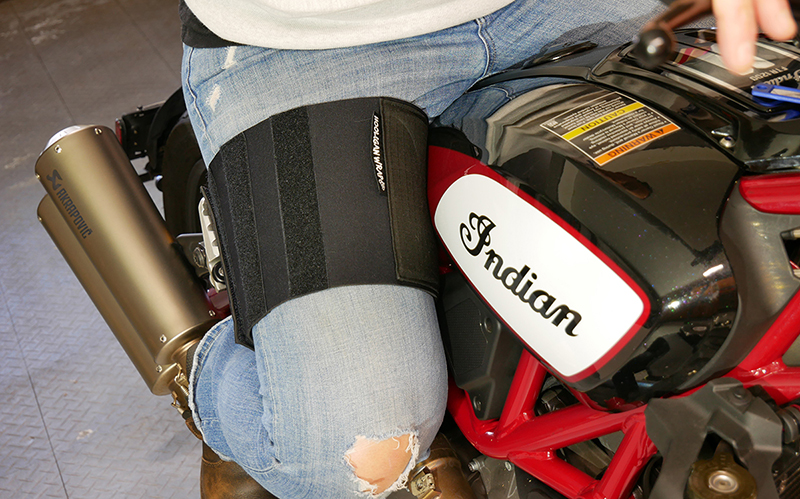 It sounds silly, but I was given a big bottle of Anti Monkey Butt Powder ($4.71) some time ago. I put it in my closet and forgot about it until the Chix on 66 ride when we were all suffering with a persistent case of swamp-a$$. Using Anti Monkey Butt Powder daily helped absorb a lot of sweat, and even cleared up some of the skin irritation I'd gotten before using it. Now I am a fan and won't travel without my Anti Monkey Butt Powder!