Toss your stuff in, gear up, jump on, hit start, and go! To put it simply, taking the Can-Am Spyder RT Limited out for a ride is just so easy. I'd ridden one of the very first Can-Am models BRP (Bombardier Recreational Products) released way back in 2007 and remember how much fun it was. Considering how popular the Can-Am is with women riders and how the company's Women's Mentorship Program has taken off, WomenRidersNow.com (WRN) wanted to get a fresh look with a long-term test ride.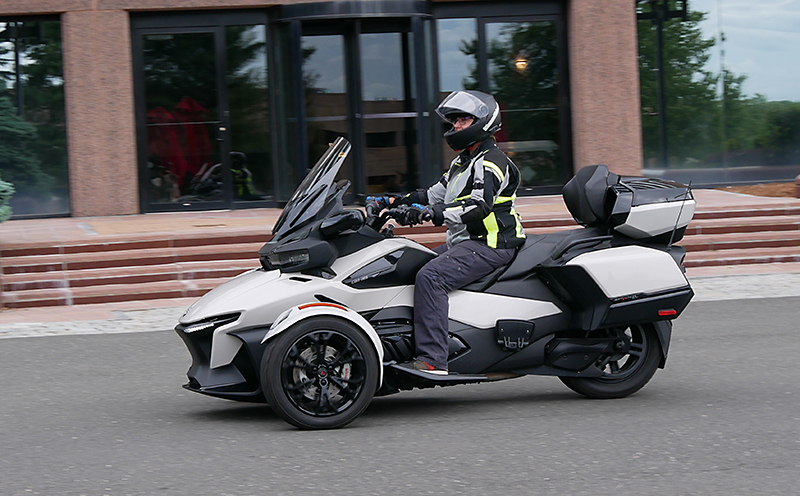 Since Brittany Morrow did an amazing job reviewing the company's starter Ryker model for WRN, I chose the luxury touring RT Limited version to review. This three-wheeler has loads of storage, huge floorboards, cruise control, a booming sound system, full-featured display with Bluetooth app integration, large electronically adjustable windshield, heated grips, a big comfy heated seat, and more. And like all Can-Am models, there's no lifting it off a sidestand, no clutch to squeeze, and the braking system links all three brakes together in a single foot pedal. This is the Honda Gold Wing of the Can-Am — it's built for long distance comfort, and is perfect for everyday rides as well.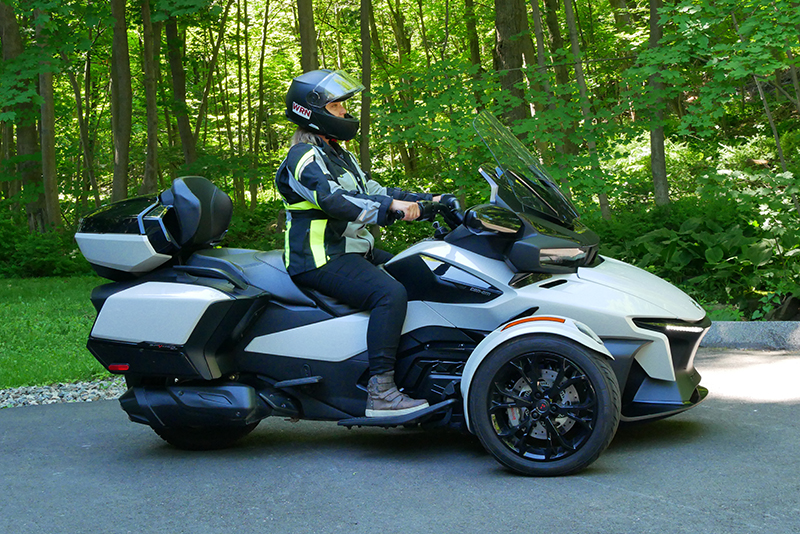 Accessibility for people who have physical challenges that prevent them from riding a motorcycle is certainly a benefit of a machine like this. But many Can-Am owners never even considered riding a motorcycle. They were drawn to experience the thrill of speed and open air the same way motorcyclists are. Only the desire to shift, lean, and coordinate hand and foot controls isn't there for them.
Learning to ride a Can-Am is pretty simple due to its basic controls and semi-automatic transmission. The RT Limited's inline Rotax 1330cc engine offers smooth power delivery with enough power to even tow a trailer. You use a throttle, just like on a motorcycle. But shifting through its six gears is simple; you use the paddleshifter with your left thumb and forefinger to shift up and down.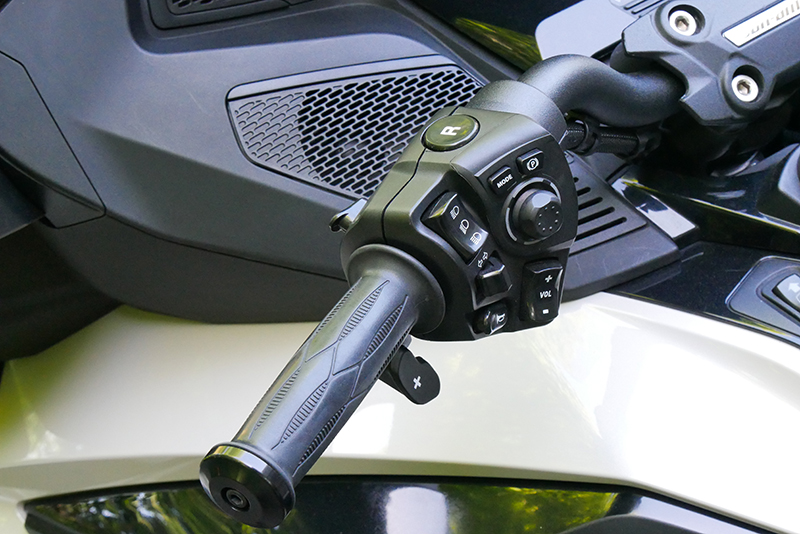 If you forget to shift down as you are coming to your stop, no worries. The machine will do it for you. So there's really no way to stall the Can-Am. You'll always start from first gear. Now, you can make sloppy shifts, and believe me, I did. I had a few "brain farts" and mistakenly used my finger instead of my thumb and upshifted when I meant to downshift, and vice versa. But it's easy to correct quickly, although the RT doesn't let you shift more than one gear at a time.
Tons of Traction and Control
I find the Can-Am's two-wheels-in-front and one-out-back design much more fun, stable, and confidence-inspiring than any traditional trike I've ridden. Steering into corners, the two front car-sized tires are planted on the ground in front of you. Yes, you have to steer this non-leaning machine to make it turn instead of countersteering, like we do on motorcycles. It does require some effort though, especially at higher speeds, similar to steering an ATV.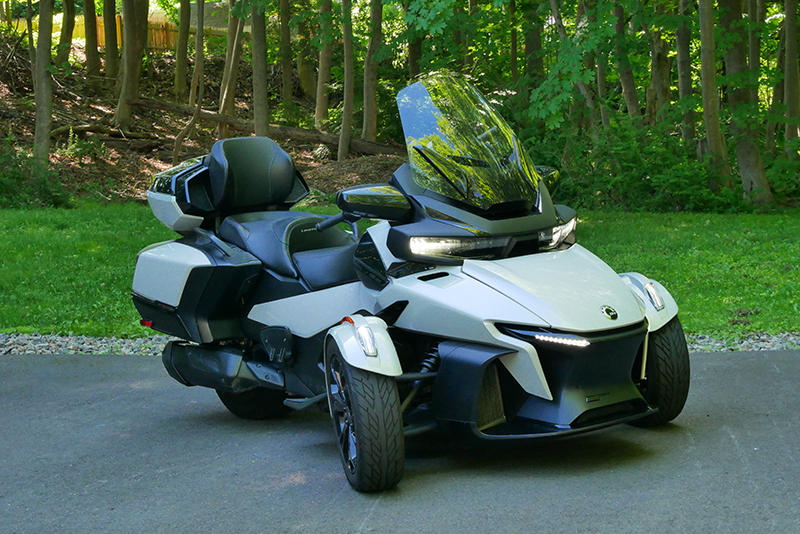 One of the most common questions I get about the Can-Am is, "Do the front wheels lean?" The front suspension is made up of double A-arms with an anti-roll bar and SACHS Big Bore shocks. With the handlebar turned it may appear as if the front wheels might lean out, but they don't.
The Can-Am RT Limited is equipped with a Stability Control System (SCS), Traction Control System (TCS), ABS, and Hill Hold Control. All these features are designed to keep the tires on the ground and the rider stable and in control, which works phenomenally.
Purposefully running over bumps and potholes with one or both tires, I saw how the shocks absorb the impact, keeping the flat part of the tires on the ground. The wheels act independently and you stay securely on your path, almost never losing traction.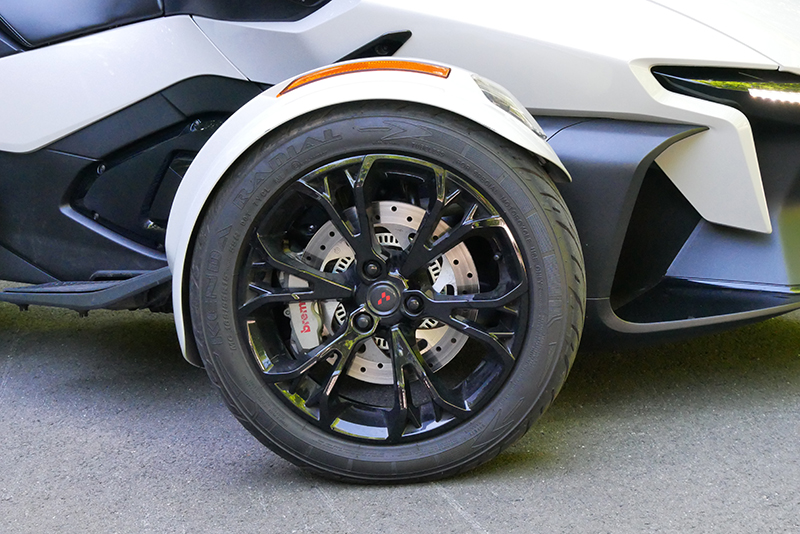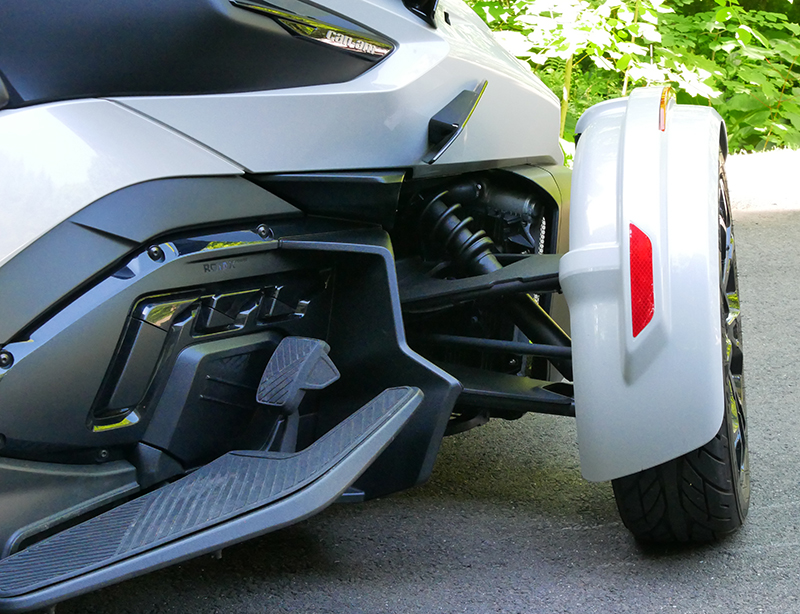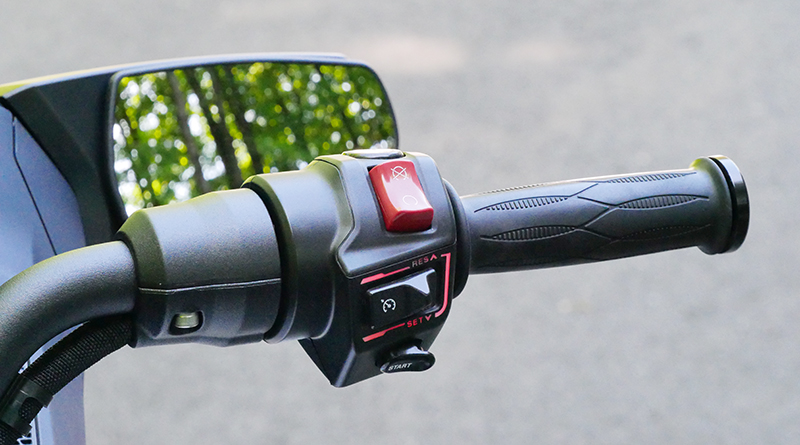 Using the Can-Am RT Limited for a number of trips, I quickly appreciated the 177 liters (47 gallons) of locking storage capacity. I was easily able to pack not only extra riding gear, clothes, toiletries, and other supplies, but also a small cooler with food and a Can-Am cover.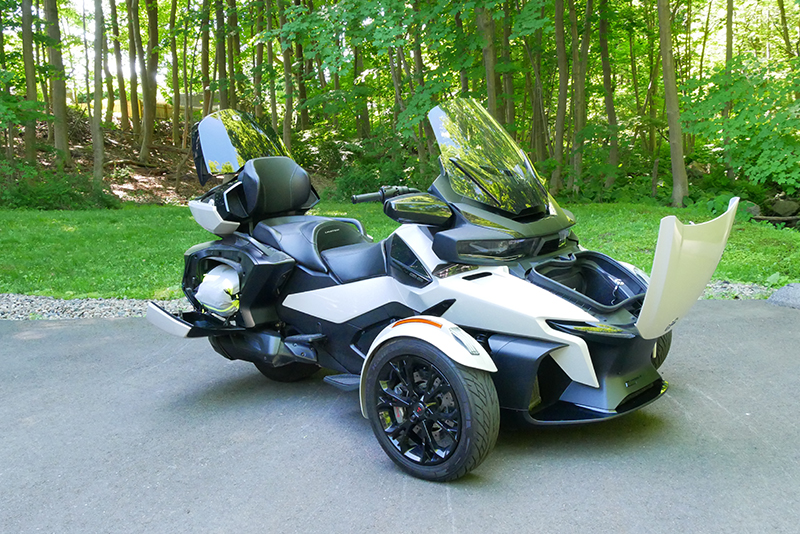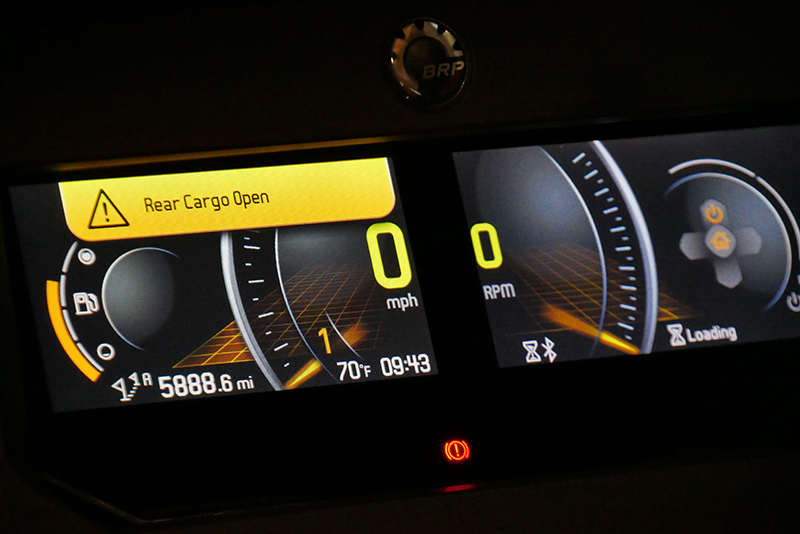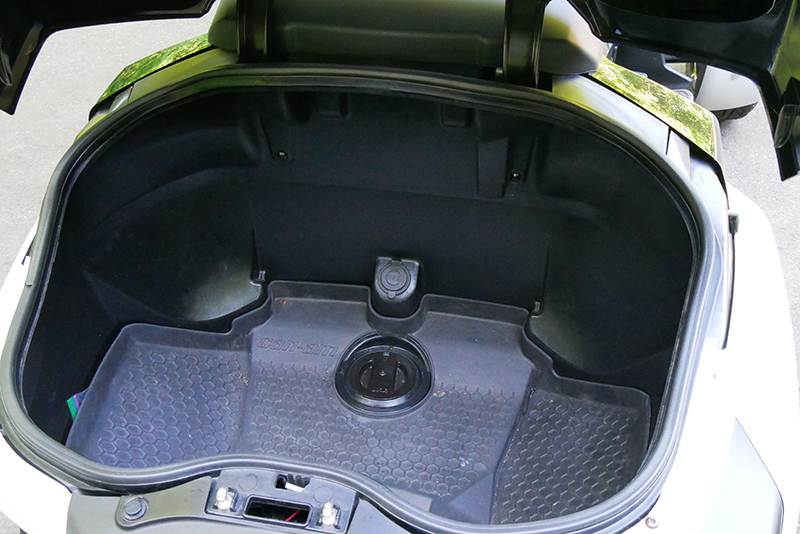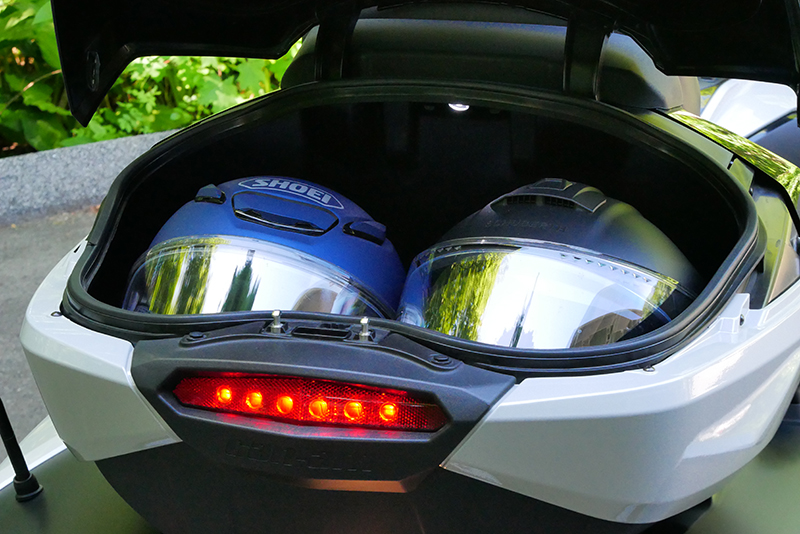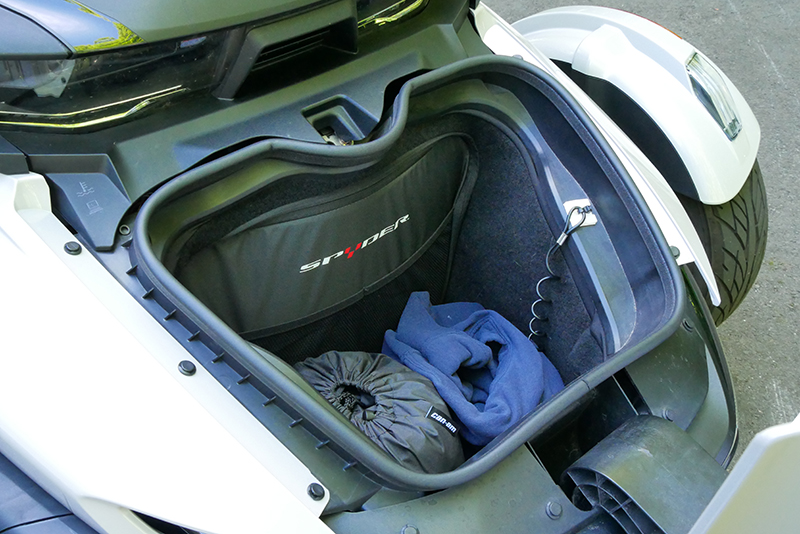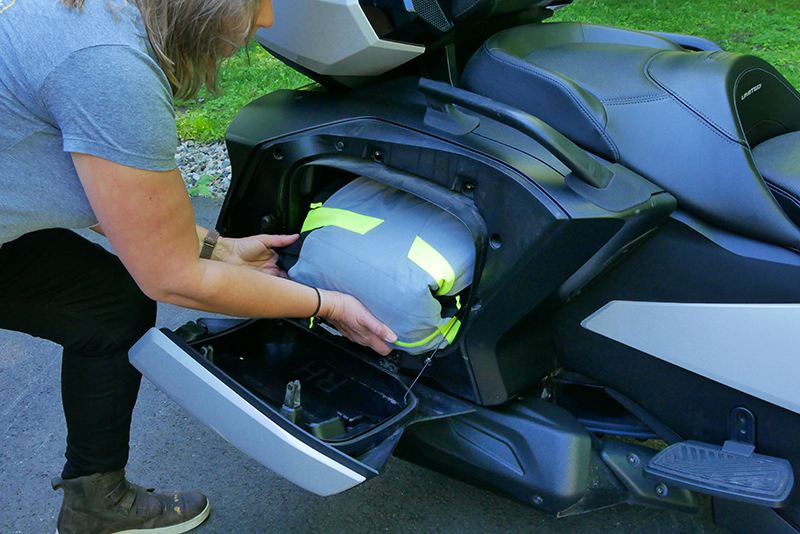 Display, Comfort, and Convenience Features
The Can-Am Spyder RT Limited features a full color panoramic 7.8 inch wide LCD display. The readout is always easy to see and shows the speed, RPM, fuel level, engine temperature, and more based on your preference. Toggling through settings is done with the controller on the left handgrip which is easy to use. With so many features there was definitely a learning curve to take full advantage of the system.
For example, in order to use navigation on the RT, users need to first download and run the BRP Connect App on a smartphone and have it paired with the Can-Am via Bluetooth or USB. (There's a compartment in the dash with the plug where you can keep the phone.) You then choose a compatible app, such as REVER, Genius Maps, or Sygic GPS Navigation and run that.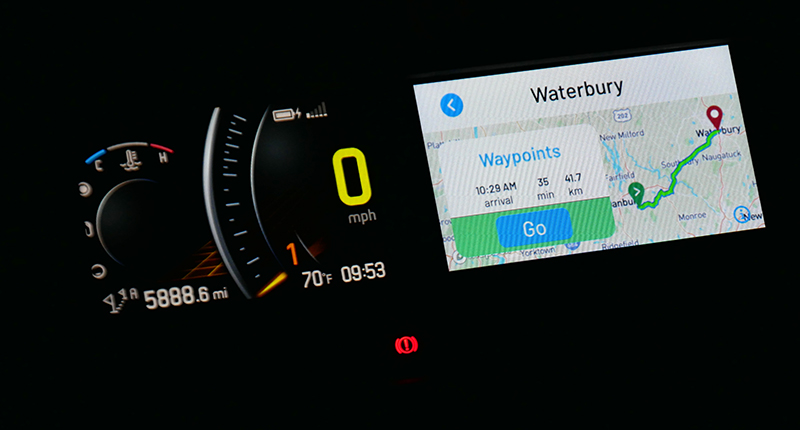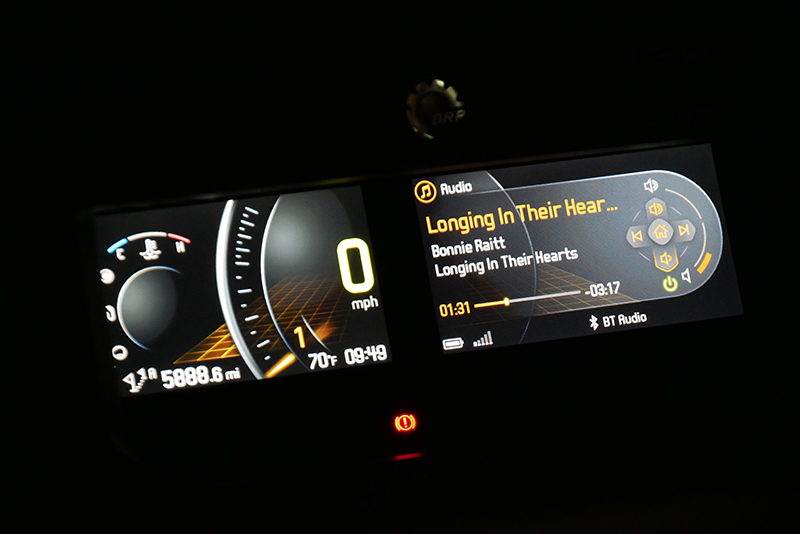 The Can-Am RT Limited comes with the BRP Audio Premium 6-speaker sound system. There are four speakers on the front fairing and two by the passenger backrest. The sound is full and clear even at highway speeds.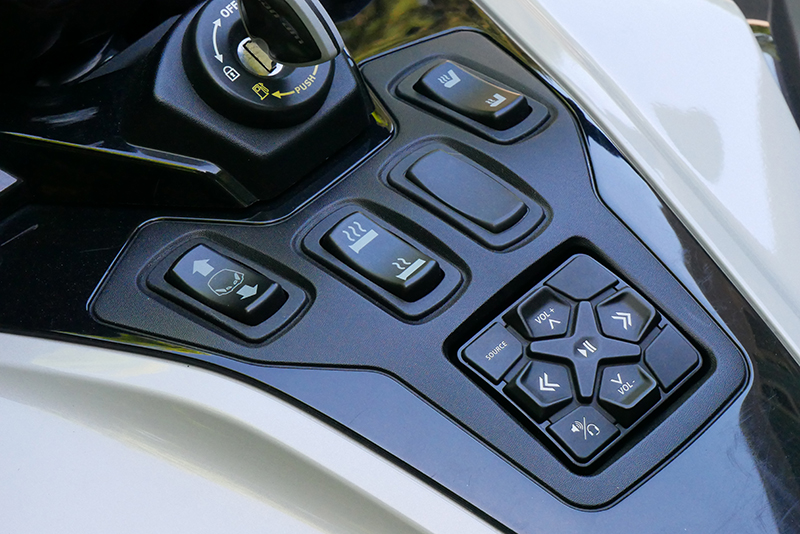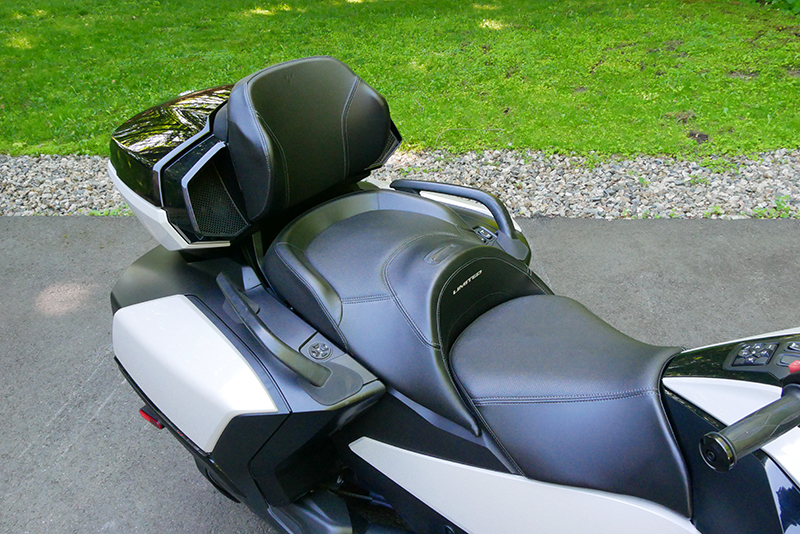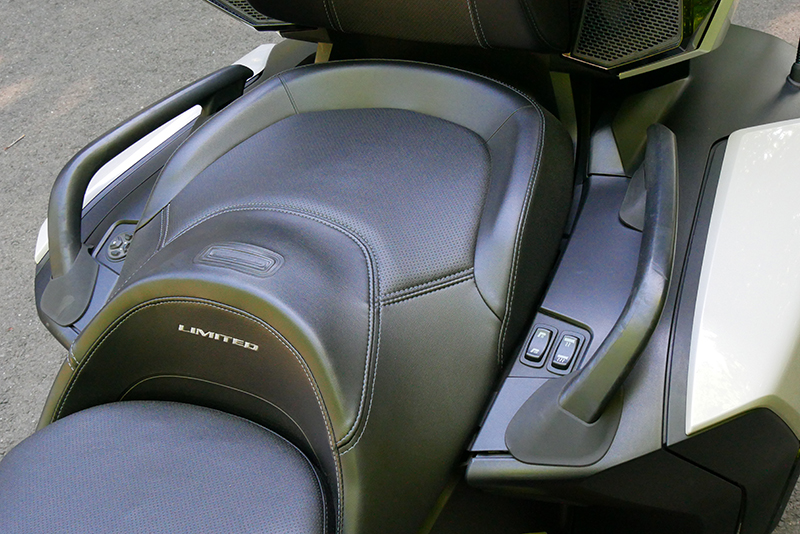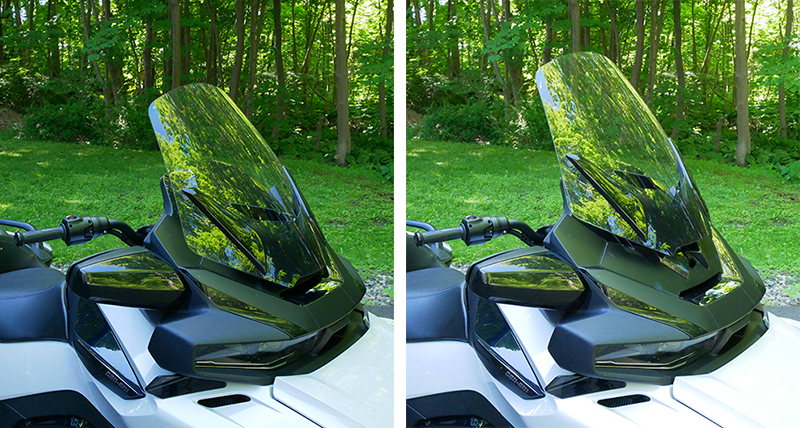 Normally, I wouldn't think about a big luxury vehicle as being a good commuter bike. But just one time getting stuck in a horrible traffic jam, I quickly learned why the Can-Am makes the perfect commuter vehicle. First of all, there's no balancing, so you can literally just sit there with your feet up. In addition, there's no clutch work, so again, you sit there until it's time to move. Then you just twist the throttle to crawl forward. Finally, the sound system keeps you bouncing in your seat even when you're not rolling.
Filling Up and Efficiency
The Can-Am RT Limited specs read that it has a 7 gallon fuel tank, which is larger than most touring motorcycles. However, when the fuel warning light came on, I was only able to add 5.2 gallons. That would mean that the reserve tank is almost 2 gallons but I never tested this by running completely out of fuel.
The RT requires premium gas and you access the filler by popping the seat up on a hinge. I averaged 29.26 mpg during my 1,500-mile test period. The Limited has two ride modes—the standard and an Economy mode. I didn't experience much difference in fuel economy but takeoffs in ECO mode were pretty tame, so I only used it when the pavement was wet.
There's no question about it—the Can-Am RT Limited is big and demands attention. All kinds of people, women, men, young, old, motorcyclists, and nonriders are drawn to this machine that looks like nothing else out there on the road today. I got lots of "thumbs ups" on the road and tons of inquisitive onlookers everywhere I rode the RT. Even my MSF students who were learning to ride two wheeled motorcycles wanted to know all about it. Some even told me that's what they were planning to get. (I then let them know about Can-Am's three-wheeled training classes available.)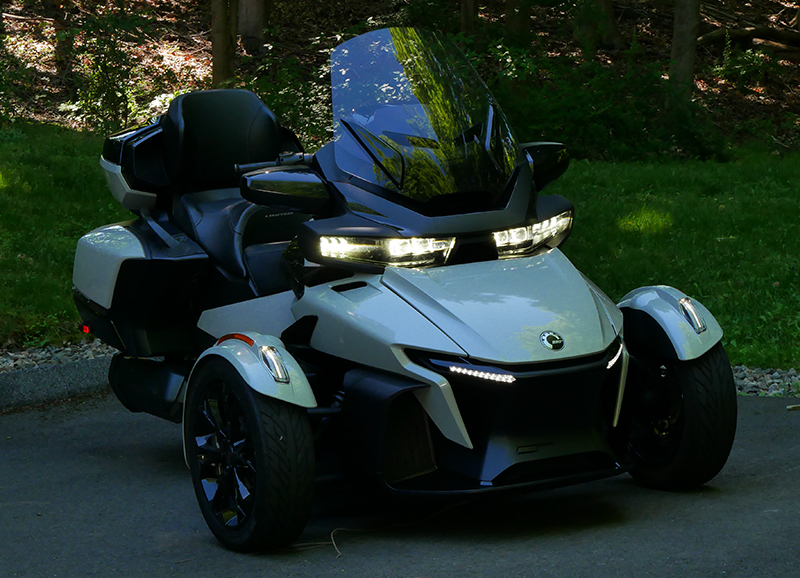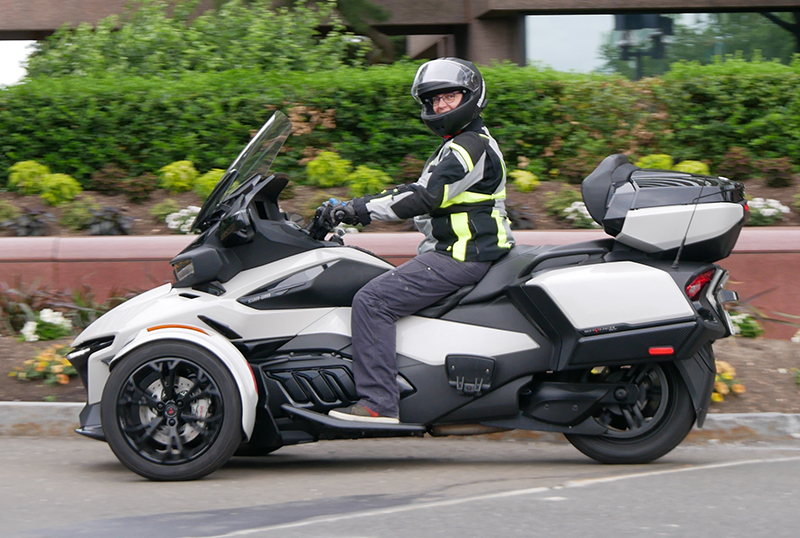 The 2022 Can-Am RT Limited starts at $27,499. The base model RT starts at $23,899 and is similar to the Limited, but doesn't have the rear cargo case and lacks a few other premium features. For the top of the line, the RT Sea-to-Sky version offers premium trim and starts at $29,999.
Specs at a Glance: 2022 Can-Am Spyder RT Limited
Engine Size: 1330cc
Seat Height: 29.7 inches
Fuel Capacity: 7 gallons
Dry Weight: 1,021 pounds
Colors:  Hyper Silver, Carbon Black, Petrol Metallic, Deep Marsala
MSRP: $27,499
Anyone considering trying out three wheels should test a Can-Am. While it does take some upper arm strength to push through turns, it is surprisingly simple to control. The semi-automatic transmission makes it accessible to almost anyone without sacrificing all the fun of shifting. For premium comfort features that allow you to cruise with luggage for long journeys, the Can-Am RT Limited is the ride to try. Women who are not interested in working a clutch or who want to take a passenger along but don't feel comfortable doing so on two wheels will also love the Can-Am RT.