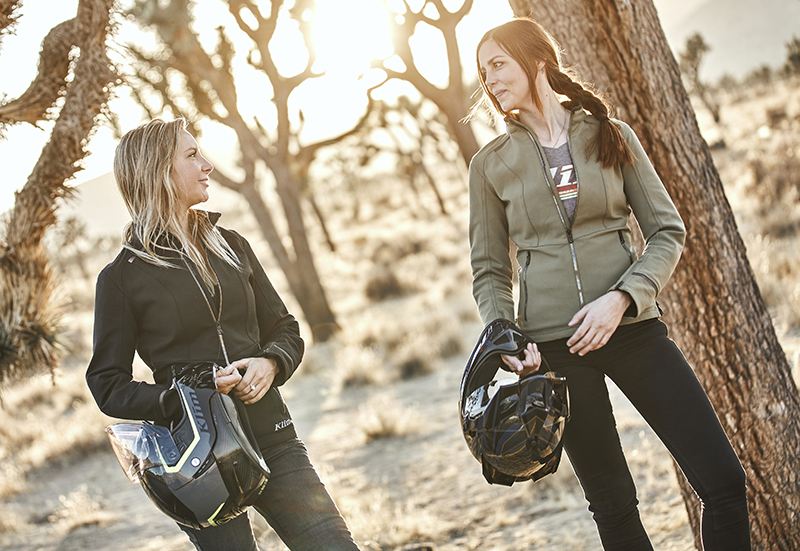 One common misconception we hear from riders is that they think they'll stay cooler in hot weather if they ditch the motorcycle jacket. Not true! With the right jacket, you will keep the sun off your skin to prevent burning as well as those bad UV rays. In addition, when you sweat, direct sun will dry the moisture much faster which doesn't allow the body to naturally cool with evaporation.
While staying cool is key during hot summer riding, it's equally important to continue wearing safety gear that will protect your skin and bones during a mishap. Here are some great new women's riding jackets that will keep you both looking and feeling cool in more ways than one.
Belstaff Antrim
Belstaff has been producing practical waterproof and protective motorcycle garments for men and women since 1924. Cherished by riders in the Isle of Man TT, International Six-Days Trials, and adventurers around the world, Belstaff perfected the use of Egyptian waxed cotton to manufacture breathable yet waterproof clothing. Belstaff has become an iconic brand in more fashionable circles, worn on and off screen by Kate Moss, Liv Tyler, Will Smith, Naomi Watts, Brad Pitt, Tom Cruise, and of course, Ewan McGregor and Charley Boorman in their globe-circling Long Way series.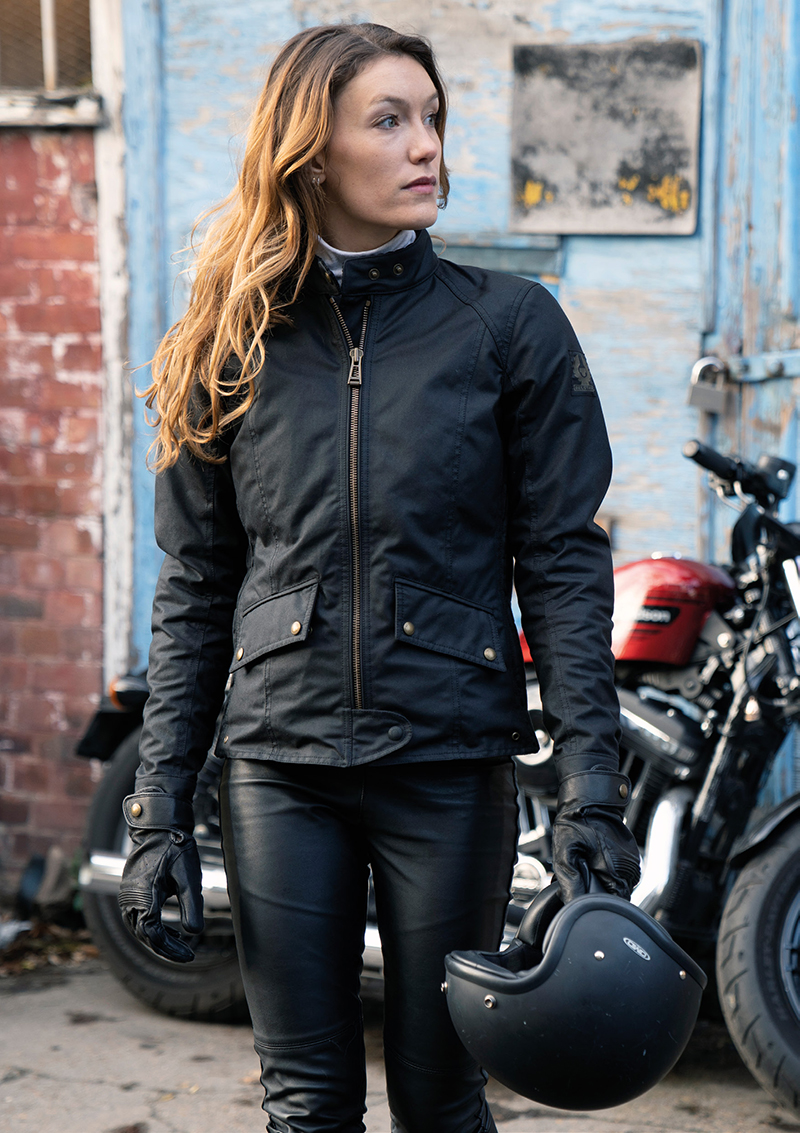 The Belstaff Antrim is an extremely capable and stylish women's waxed cotton all-season jacket that works beautifully on and off the bike. A new innovative take on waxed cotton, TekWax uses high grade synthetic fibers intertwined with high quality cotton, forming an abrasion resistant and water repellant outer shell without adding bulk, weight, or sacrificing classic Belstaff styling. A European cut, you'll probably want to go up a size. It feels great to the touch and is durable and comfortable for long days in the saddle. D3O CE certified Level 1 armor is included in the elbows and shoulders and there is a pocket for an optional back protector.
U.S.-based British Motorcycle Gear (BMG) has been a Belstaff dealer for more than 30 years and has a limited number of Antrim jackets in stock. Available in black in sizes S–2XL (35–44).
More info at BritishMotorcycleGear.com.
Dainese Sevilla Air Lady Tex
This lightweight perforated mesh textile jacket is ideal for hot weather rides. Made with QuickDry fabric, the Sevilla features two pockets, reflective inserts, and waist, neck, hip, and cuff adjusters. Pro Shape 2.0 certified soft protectors in the shoulders and elbows are removable and there is a pocket for adding a back protector.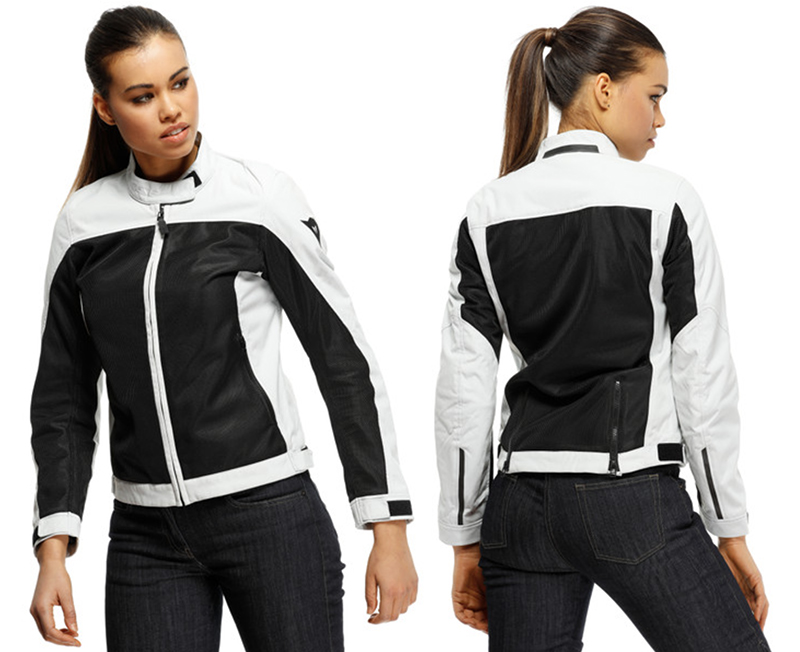 Harley-Davidson Hideaway
Harley-Davidson's new Hideaway women's perforated leather jacket is engineered for function and comfort. The 100% cowhide leather jacket keeps you cool with its full front and back perforations. An action back, precurved sleeves, adjustable cuffs, and hip release zippers offer flexibility and fit. A removable windproof liner is included for cooler rides.
No armor is included, but the Hideaway incorporates body armor pockets within the Polyester lining in the elbows, shoulders, and back. Subtle Harley-Davidson branding is finished with reflective embroidery. An included stowaway bag will keep this jacket clean when stuffed in a saddlebag.
More info at Harley-Davidson.com.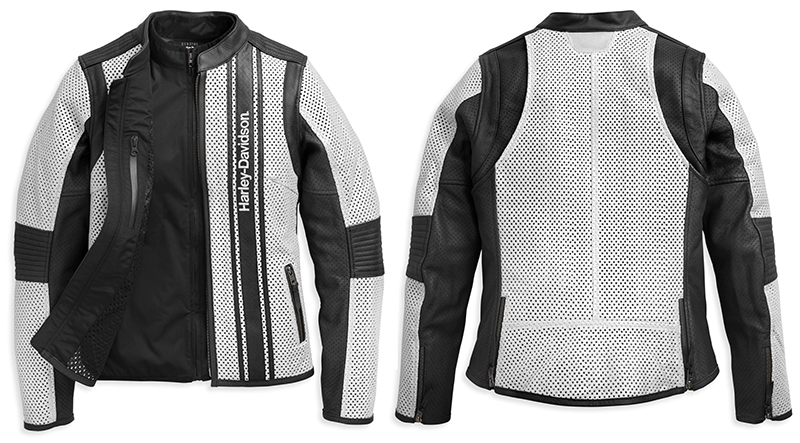 Indian Motorcycle Arlington
Stay cool with this lightweight Polyester mesh jacket from Indian that features sporty stripes and is embellished with an American flag and a number of tasteful Indian Motorcycle logos and iconic branding. Quilted elbow and lower back panels and leather straps add a stylish design element while the trademark Indian red, black and tan complete the look.
Lightweight slim protectors in elbows and shoulders are removable and the action back is CE certified. A removable lightweight windproof liner is included for extra warmth when temperatures drop.
More info at IndianMotorcycle.com.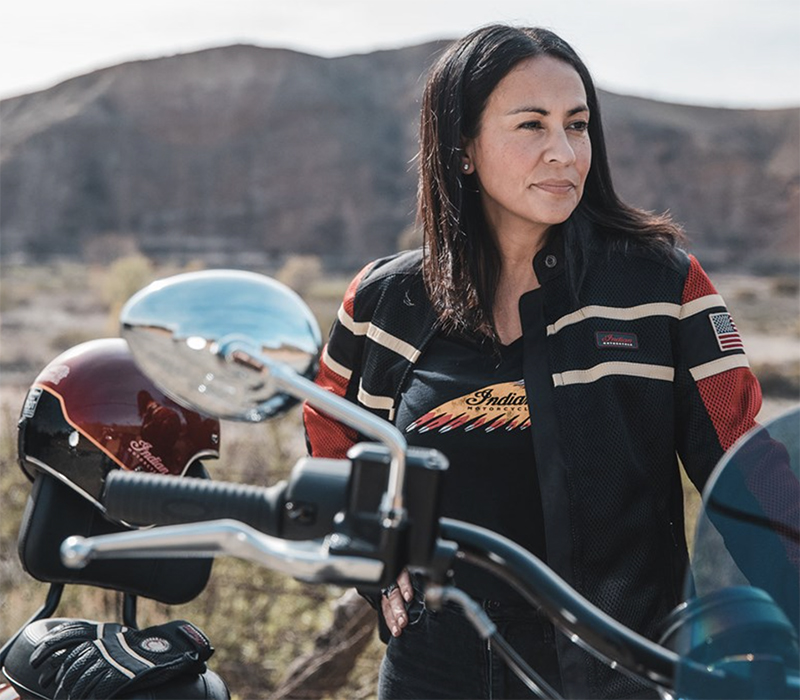 Klim Marrakesh and Avalon
Idaho-based apparel manufacturer, Klim is well-known among adventure riders for top-quality technical gear that includes an extensive collection of women's and men's jackets, pants, gloves, and base layers. More street riders are discovering the benefits of wearing Klim gear because of its long-lasting durability and versatile features. For the 2021 riding season, the company has added two new women's street touring jackets for warm weather riding—Marrakesh and Altitude.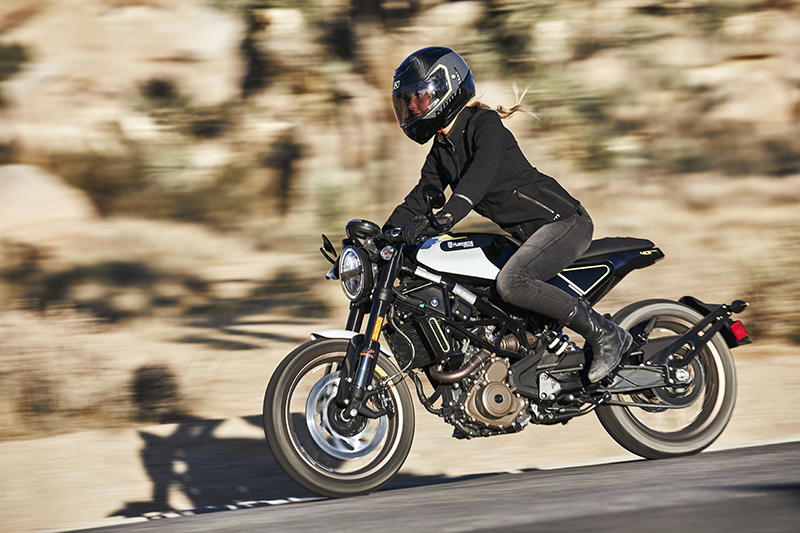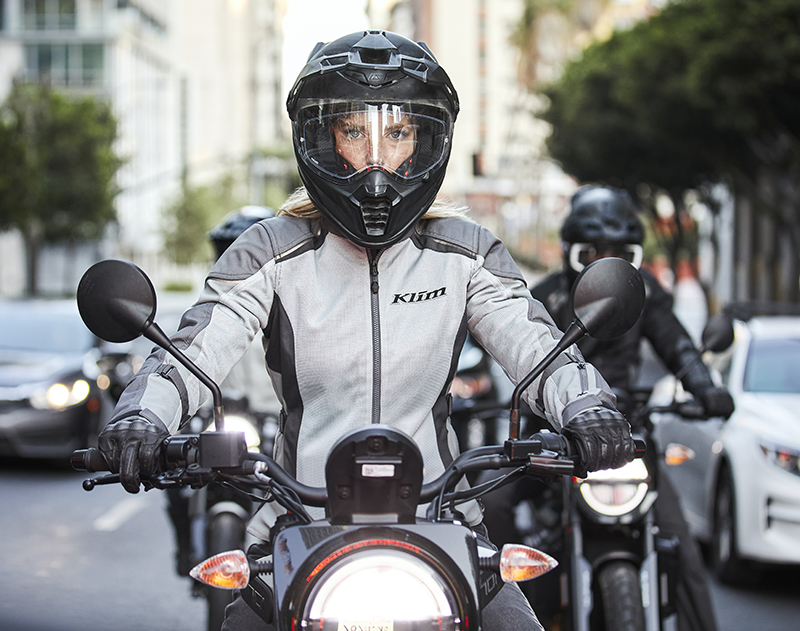 Both jackets include removable D30 level 1 CE armor in the shoulder, elbow, and back. The elbow armor is adjustable. The Marrakesh gets all new D3O IP Ghost armor—it's super thin, lightweight, flexible, breathable, and low profile, but still passes CE Level 1 testing.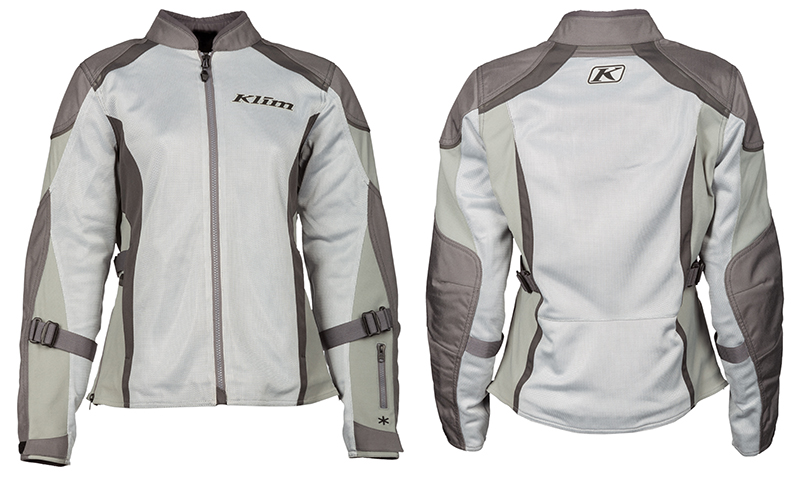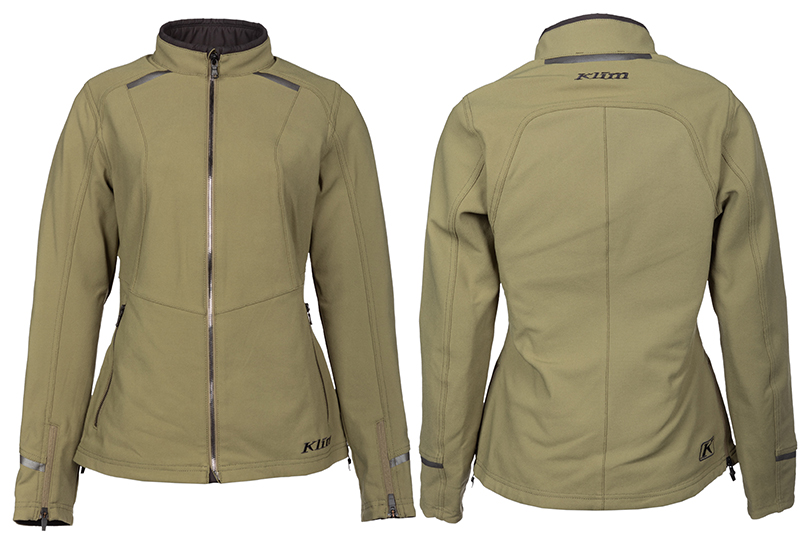 More info at Klim.com.
Related Articles
Women's textile riding jackets
Women's leather riding jackets
More gear reviews