REV'IT! Discovery GTX Boots
REV'IT! Discovery GTX boots are the perfect companion to the brand's Ladies Sand 4 H2O adventure suit. Designed for all-weather adventure and touring riders, the GTX's provide ruggedness and safety features of off-road motorcycle riding boots with comfort off the bike.
I choose traditional off-road boots when I want protection in extremely rugged conditions. But we don't always need that level of protection. And the sturdy REV'IT! Discovery GTX boots function perfectly for lighter adventure rides or an offroad jaunt between pavement sections.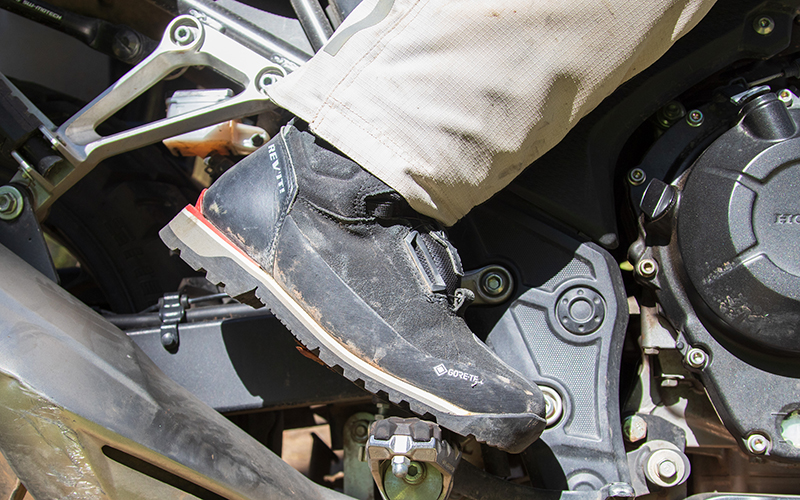 Although touted as performing well for lighter adventure rides, the REV'IT! Discovery GTX boots include impressive protection inside the leather and Cordura outer shell. Features include reinforcement on the heel, shin, and toe areas and extra ankle protection. REV'IT!'s "SEESOFT" pad on the shin absorbs impacts from rocks and branches.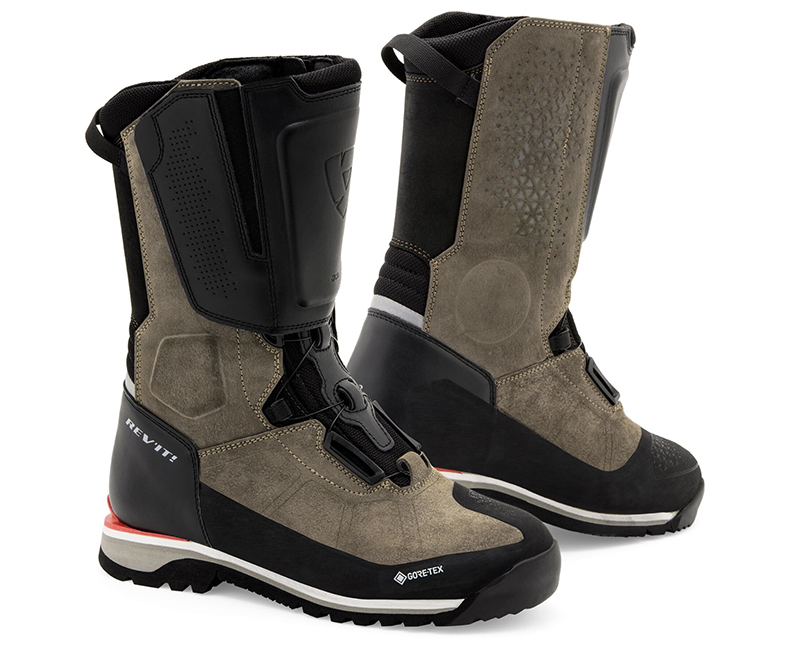 All-Weather Comfort and Performance
When I say that the REV'IT! Discovery GTX boots are "all-weather," I mean they provide comfort and protection in wet, dry, warm, and cold conditions. My first ride in them was a day spent in torrential downpours and mud. I get chilled easily and often forget to properly insulate my feet. Sometimes I even need to line my boots with plastic bags which ends up being extremely uncomfortable when trapped sweat creates a humid foot sauna. The REV'IT! Discovery GTX boots thankfully provide breathable waterproofing through the GORE-TEX performance comfort membrane which keeps your feet dry. On some winter rides my feet still get a little cold, so I wear a larger size boot that has room for thicker socks.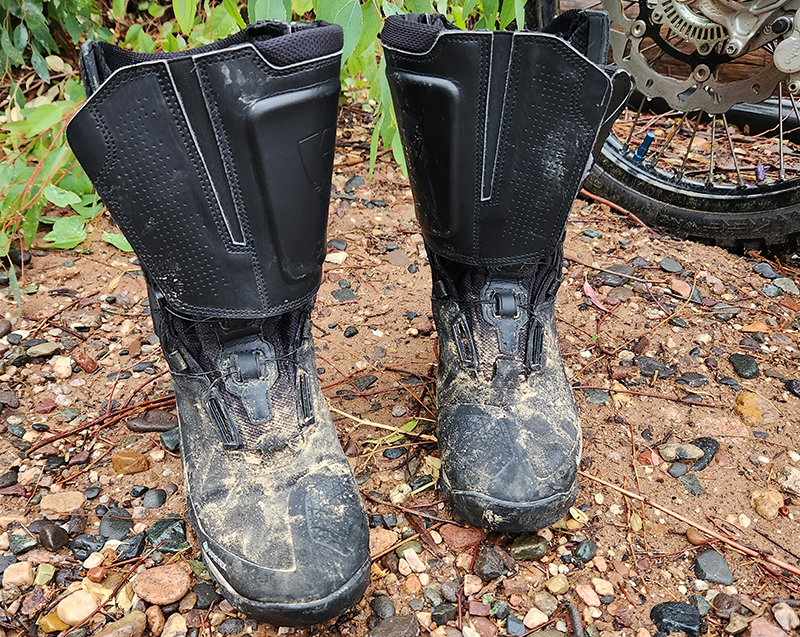 REV'IT! Discovery GTX Boots … Made for Walking
These grippy, sturdy motorcycle boots offer additional comfort features making them comfortable off the bike as well. The enlarged sole provides stability and comfort while walking and is designed with distinct areas to provide traction, braking and stability in motion. Inside the boot, the OrthoLite insole provides exceptional cushioning for your foot.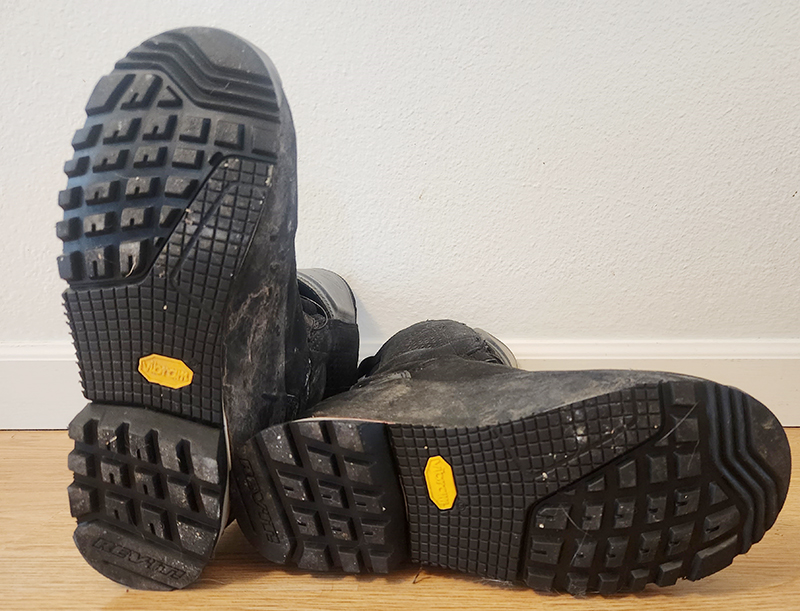 One of my favorite features of the REV'IT! Discovery GTX boots is the "BOA" fit-cinching closure. Just turn the dial to get the perfect cinching, then press to lock it in position, affix the shin cover with the Velcro closure, and you're ready to ride. To remove, just pull on the dial and the system loosens. It opens wider than traditional laces which also helps fit the boots to larger calves. The system is lightweight and easier to use than laces and doesn't compromise waterproofing like zippers do.
Pull tabs on the rear of the shaft are roomy enough to allow two fingers through them, making the boots easy to pull on.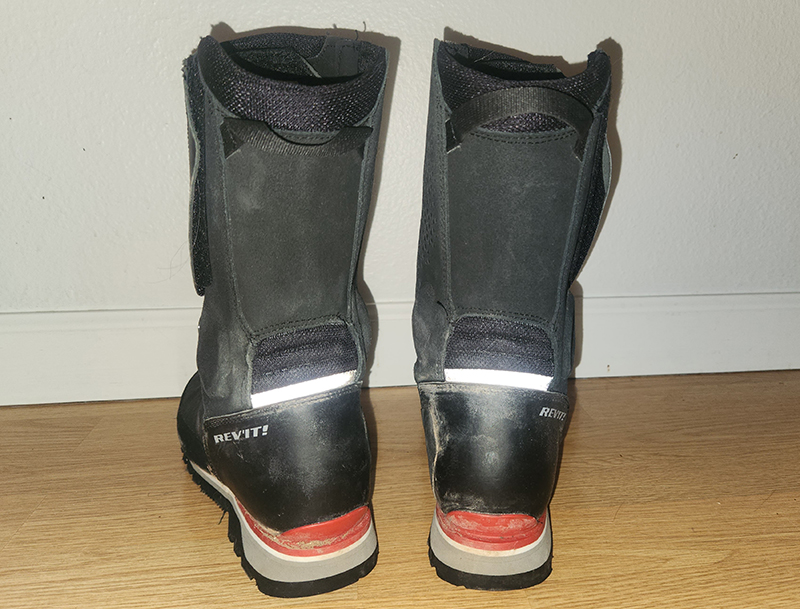 The REV'IT! Discovery GTX boots come in Euro sizes 38 to 47 in whole sizes only. I usually wear a size 9 U.S. and either 39 or 40 in Euro sizes. The REV'IT! boot size chart uses men's U.S. sizing only for some reason, so I went with what I know about my sizing. The 39 fits great, but for really thick socks I would opt for the larger size.
The REV'IT! Discovery GTX boots come in black or brown and retail for $599.99. For more information and to order online visit REVITSPORT.com.