12v Heated Gear Keeps You Riding Longer
Living in the Northeast, I deal with dropping temperatures as early as September which makes riding motorcycles uncomfortably cold. I get cranky when I have to add bulky layers to stay warm enough to continue riding until the snow falls. 12v heated gear plugged into a battery harness solves this problem, allowing me to ride all winter. I prefer 12v heated gear over 9V rechargeable battery-powered apparel which doesn't get as hot or last long.
Heated motorcycle clothing made today is light years better than what I still have in my gear closet—time to upgrade! The newest 12v heated gear from Harley-Davidson is my choice for several reasons. First, the "Programmable" 12v heated gear includes built-in temperature controllers with three heat settings, eliminating the need to figure out where to put a separate thermostat. This Harley mid-layer gear is a lot less bulky than many other brands, and it comes in women's sizes.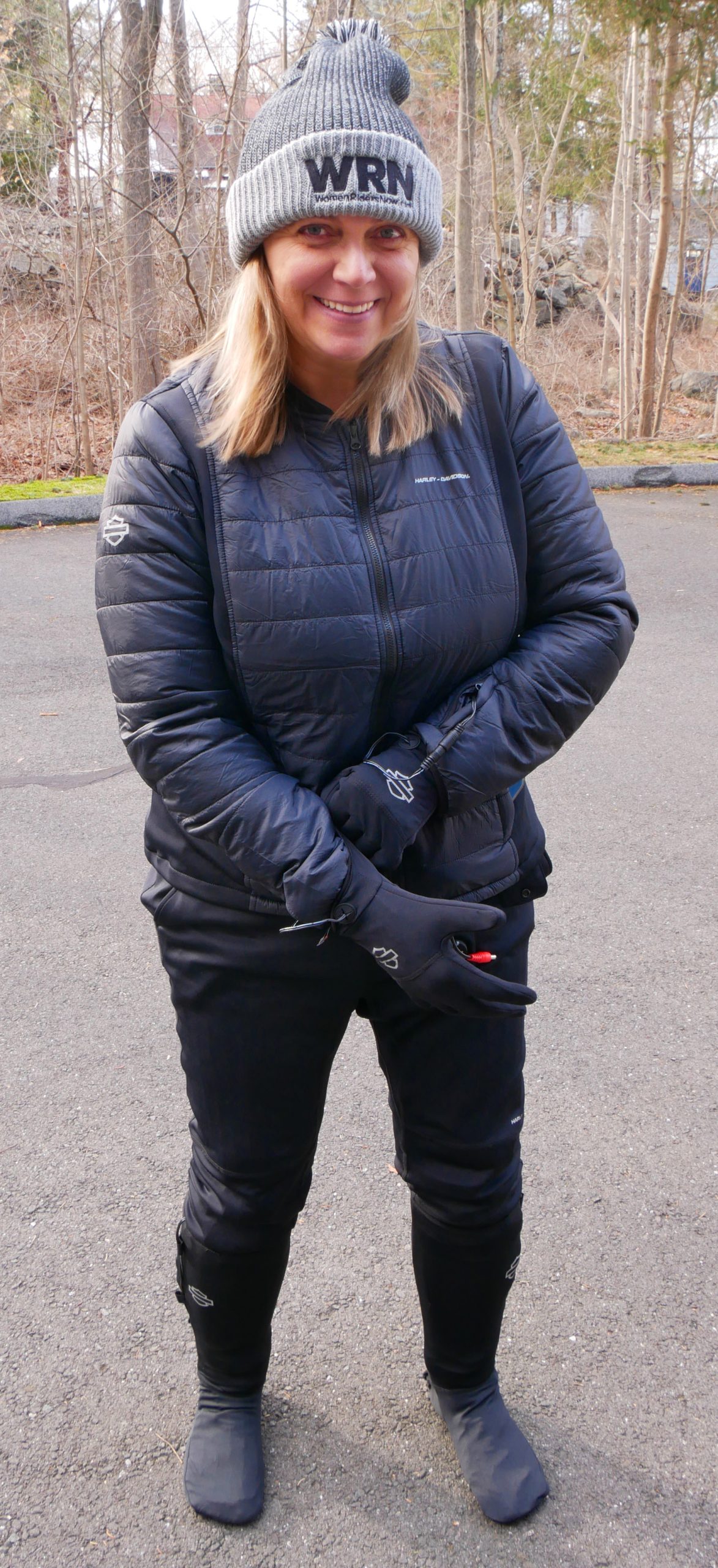 12v Programmable Heated Women's Jacket Liner
I love it when a motorcycle jacket liner is designed to look good as a standalone jacket so you can use it off the bike, too. Harley-Davidson's 12v Programmable heated women's jacket liner is a perfect example of this. The super-soft polyester liner is comfy cozy and looks like a regular puffy winter jacket.
Five panels (two chest, back, and top of each sleeve) warm you via carbon nano fibers. This is today's standard for electrically heated gear. Gone are the days of thick wires you can feel through the clothing. Carbon nano fiber is better because of its flexibility, light weight, tiny size, and uniform heating properties.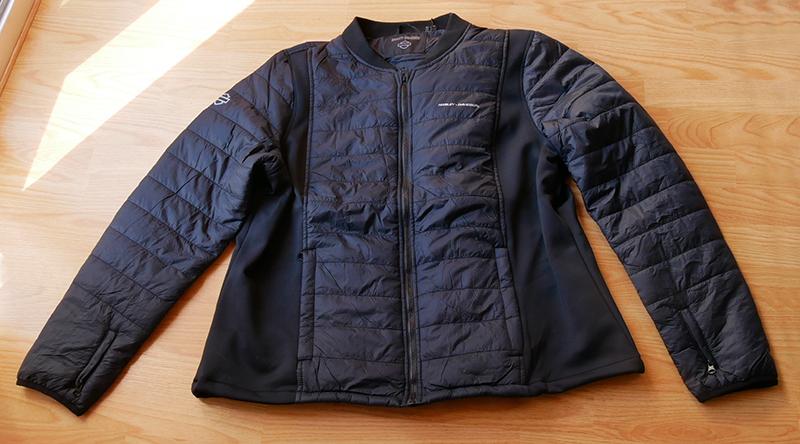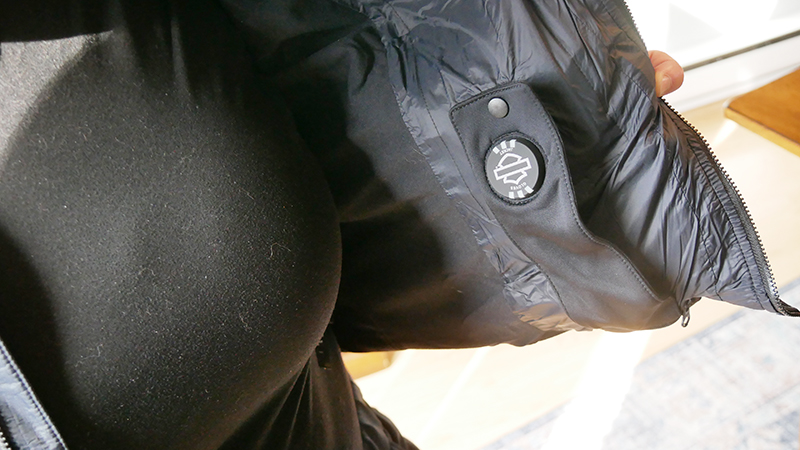 The Harley-Davidson 12v Programmable heated women's jacket liner costs $250 and comes in sizes XS-2XL. It comes with the battery harness that you attach to your motorcycle battery. An extra harness is $18.
12v Programmable Heated Glove Liners
12v heated gear generally includes bulky gloves that lack features I like on my favorite riding gloves. The Harley-Davidson Programmable heated glove liners are comfortably snug, plug directly into the Programmable jacket liner, and fit tight to my hands under my favorite full-featured winter riding gloves.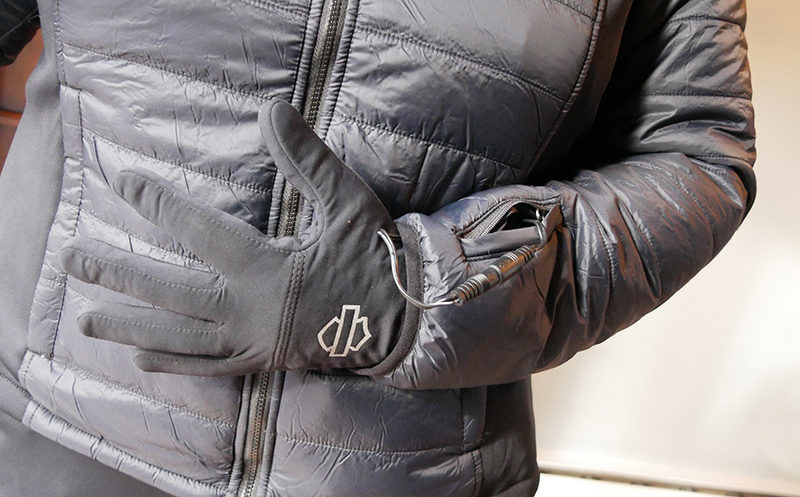 The heat is distributed in the material between the fingers and the back of the hand. Because it is a close fit and putting gloves over the liners make it even tighter, the heat is felt very quickly. I find that coupling the gloves with my bike's heated grips keeps my entire hand nice and toasty.
Harley-Davidson 12v Programmable heated glove liners will only work with the Programmable jacket liner. They cost $100 and are offered in sizes S-2XL. I love the liners so much more than the heated gloves I've had in the past, I am kicking myself for not upgrading sooner!
12v Programmable Heated Women's Bottoms
I've heard people say they only wear a heated jacket liner or vest because a well-warmed heart pumps the heated blood out to the rest of the body which warms the extremities. That's a cute theory but tell that to my toes.
Wearing Harley's 12v Programmable heated women's bottoms and Programmable heated sock liners complete the 12v heated gear outfit, keeping you comfy the entire ride. Made of nylon, polyester, and spandex, the stretchy bottoms pull on easily. With a jeans-like cut, the bottoms include two pockets and a zipper/button closure. A partially elasticized waist allows some stretch without resistance.
Heat panels on each leg and the back of the waist are controlled with the attached temperature controller. It looks almost identical to the one on the jacket liner, only this one says "socks" and "pants." Like the other pieces in the Programmable collection, the bottoms don't offer any crash protection, so you need to wear protective riding pants over them. You can wear the bottoms over a thin base layer or directly against your skin.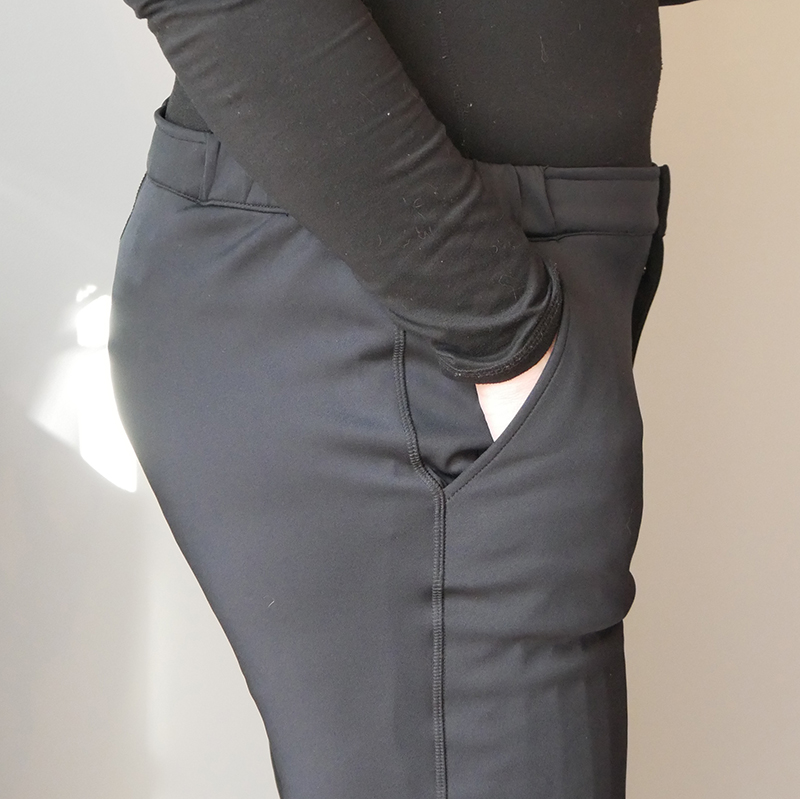 The 12v bottoms cost $230 and come in sizes XS-2XL. I ordered my usual size and found them to be extra roomy, especially in the waist which makes them fall down when I walk. Sadly, there are no belt loops or any way to cinch them up.
12v Programmable Sock Liners
The $100 Harley-Davidson Programmable heated sock liners complete the outfit and come in sizes S-2XL. The thin polyester/spandex knee-highs don't add much bulk but offer an endless amount of warmth. They can be worn directly over the skin, but to keep them as clean as possible and reduce how much I need to wash them, I wear them over my normal socks.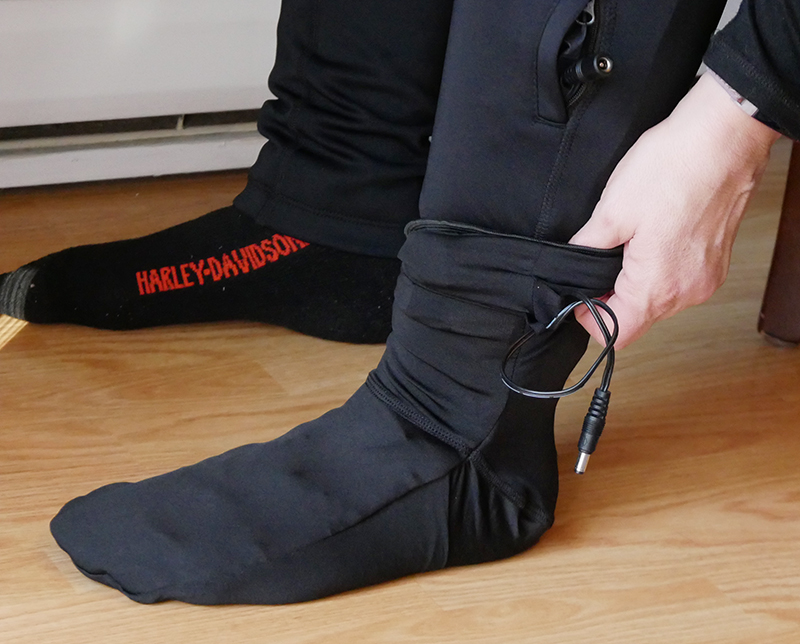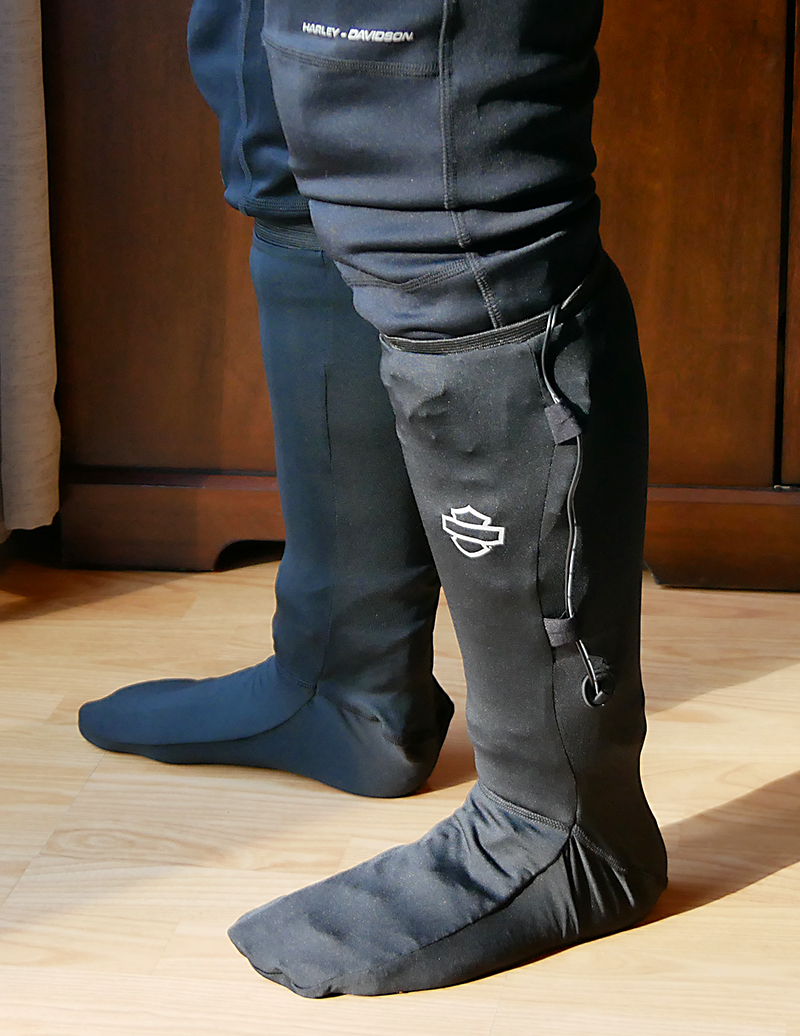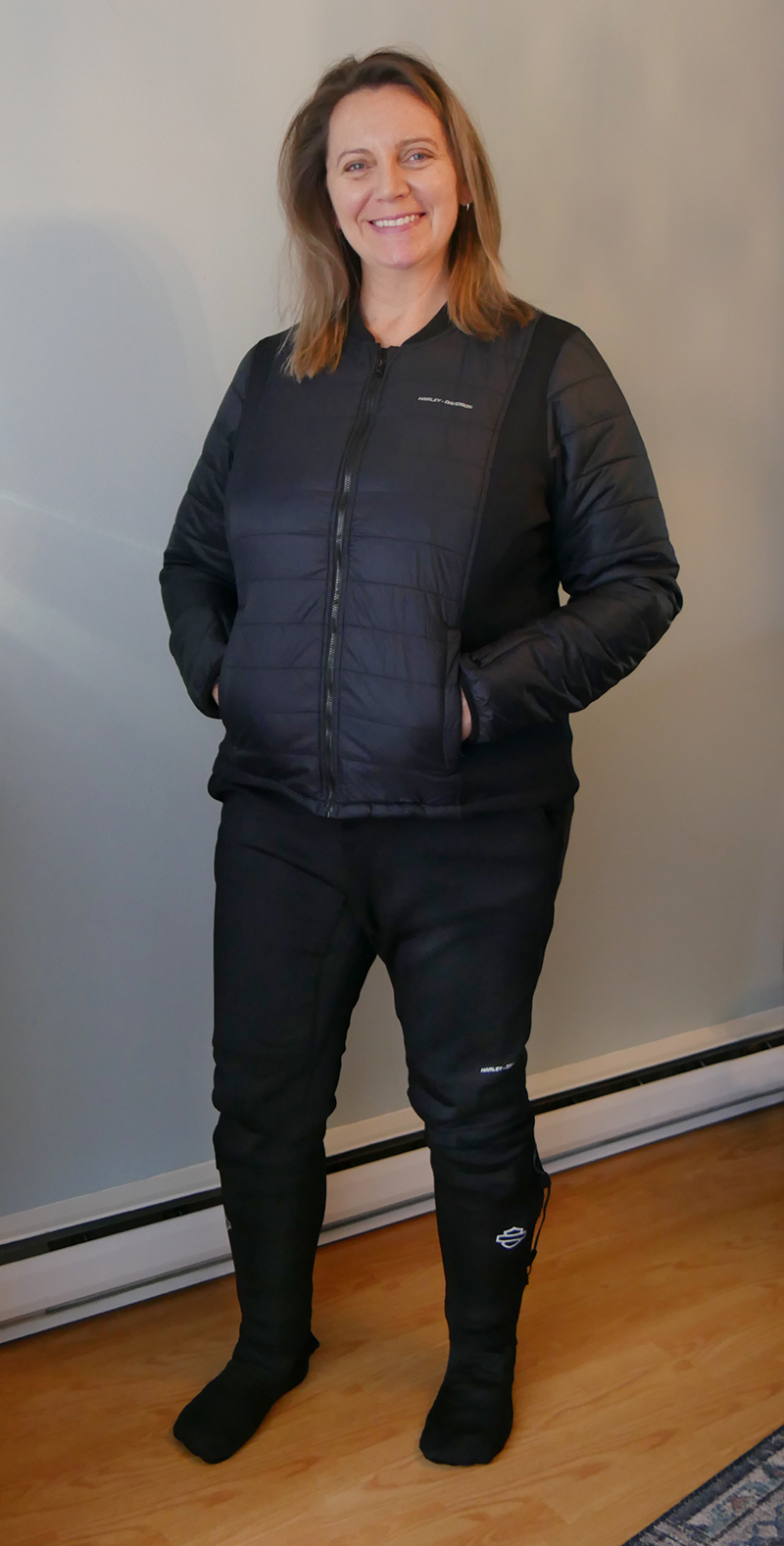 It is recommended to wear just a light under layer between your skin and heated gear—you want the heating elements close to your skin so you can feel the warmth. Wearing the jacket and pant liners under my favorite armored textile riding gear isn't nearly as bulky as my older heated clothing. I no longer feel thick wires, either, as the carbon nano technology sends the heat through much thinner "threads."
The three levels of heat offer just what I need without over-complicating things. I sometimes need to pull over to adjust the heat settings though, since using the temperature controller at speed isn't easy or safe.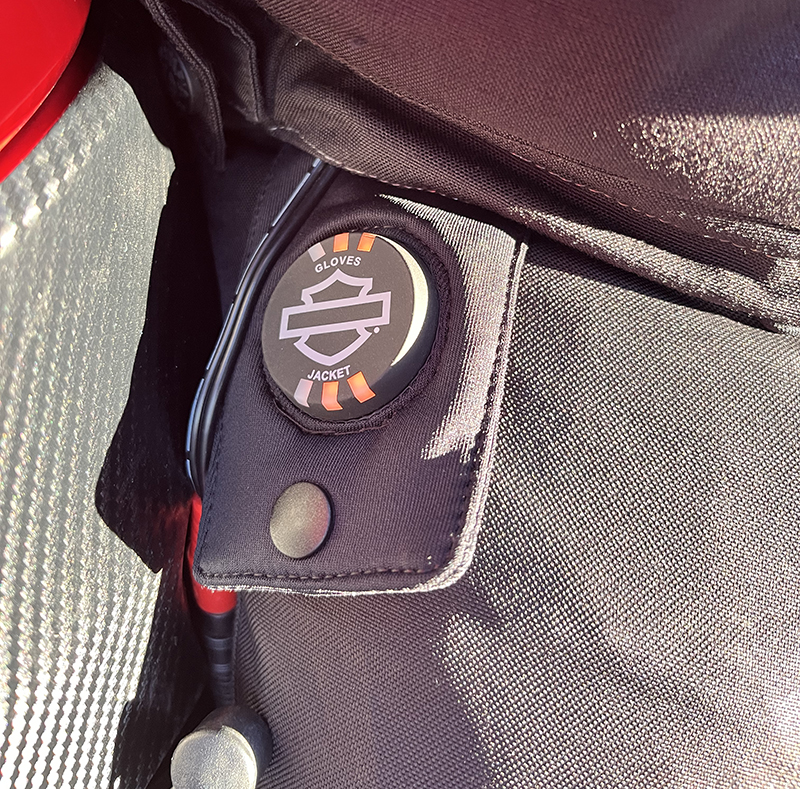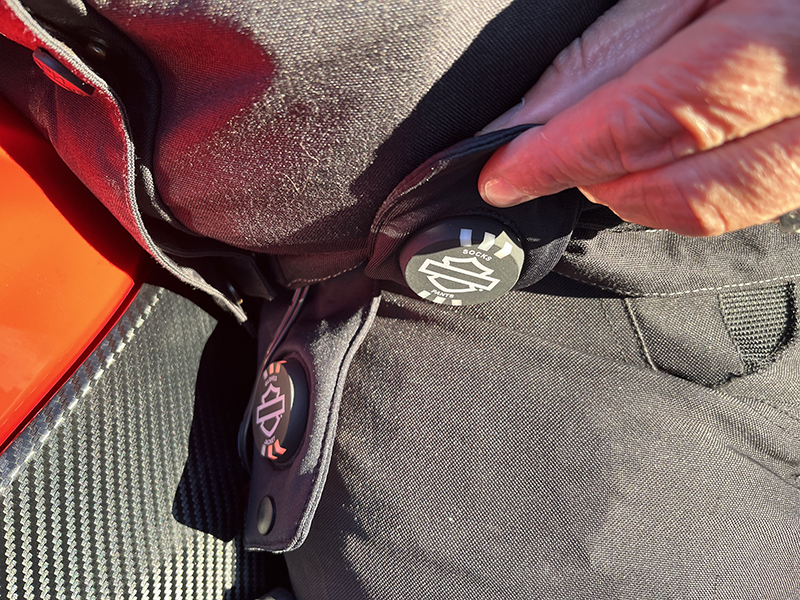 Even though adjusting the heat settings can be tricky, I love the fact that there is no separate heat controller. This Programmable system, though not perfect, works well, and provides plenty of heat so that continuing to ride even in very low temperatures is still enjoyable.
For more information visit Harley-Davidson.com.