How do 30 women riding motorcycles create a buzz that alerts the media and has towns putting up welcome banners, blocking traffic, and throwing parades and parties in their honor? If you were anywhere along America's historic Route 66 from Chicago, Illinois, to Santa Monica, California, last June or if you followed along as I posted pictures and videos each night during the two week, 2,000 mile ride on WRN's Facebook page, you may have caught a glimpse of the AMCA Riveters' Chix on 66.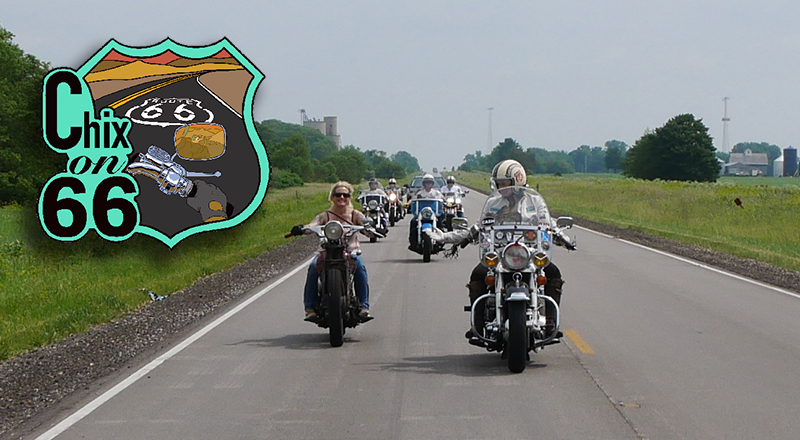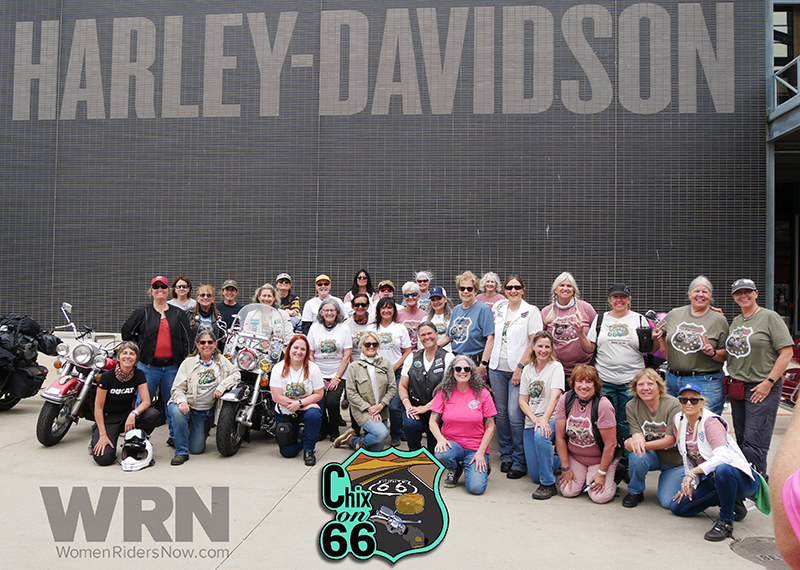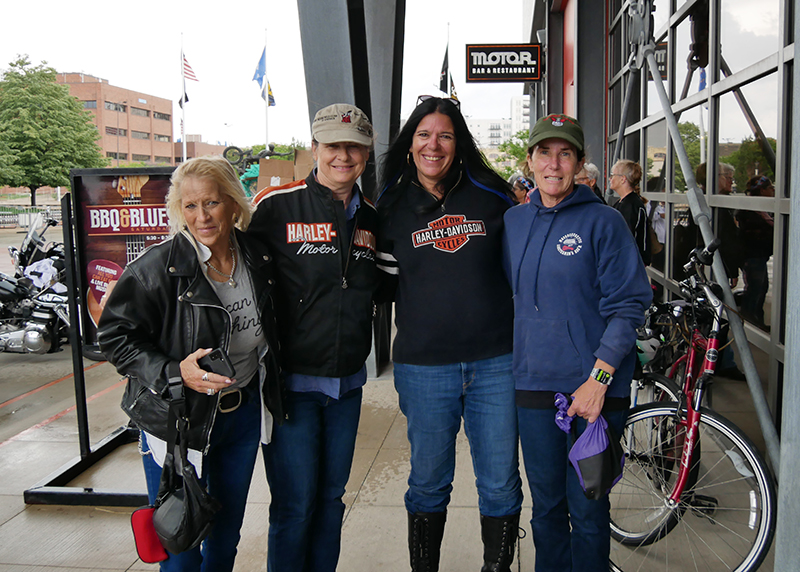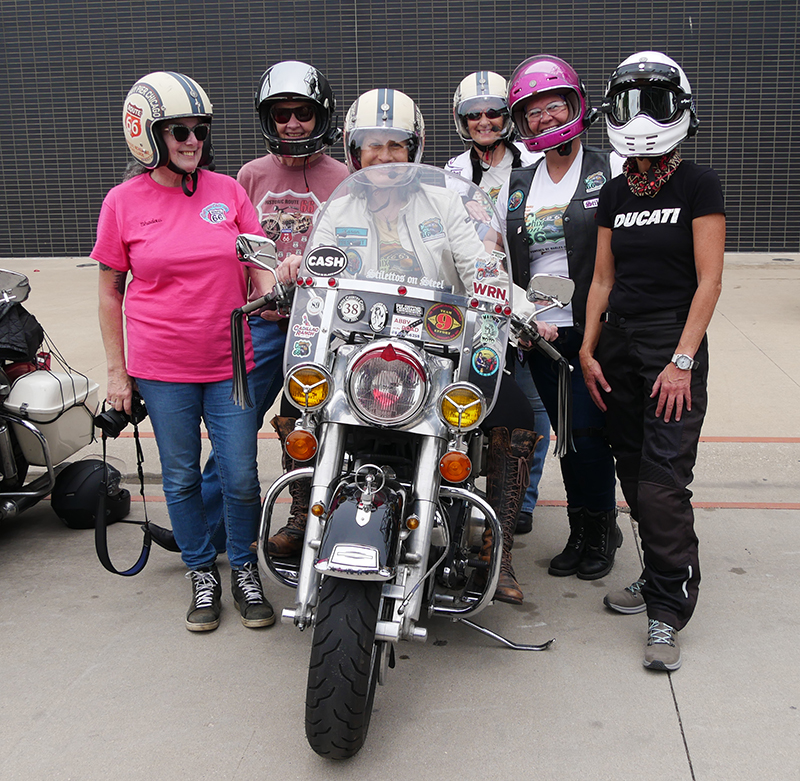 Route 66: The Mother Road
"…the road moved with the land…cars didn't drive on it to
make
great time…they drove on it to
have
a great time." Sally (Porsche),
Cars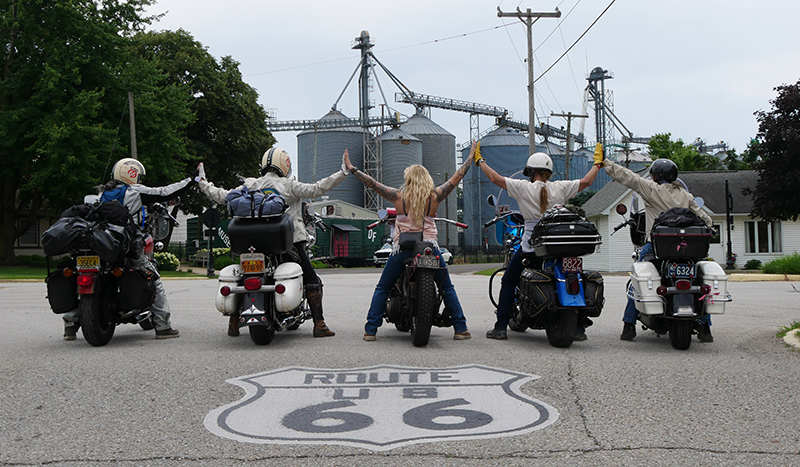 Each woman had her own reason for signing up for the once-in-a-lifetime journey. Some were recently retired or widowed and were stepping far outside the comfort zone to do something exciting and different. For others, it was just a bucket list item to travel Route 66, and the opportunity to do it with other women was too good to pass up.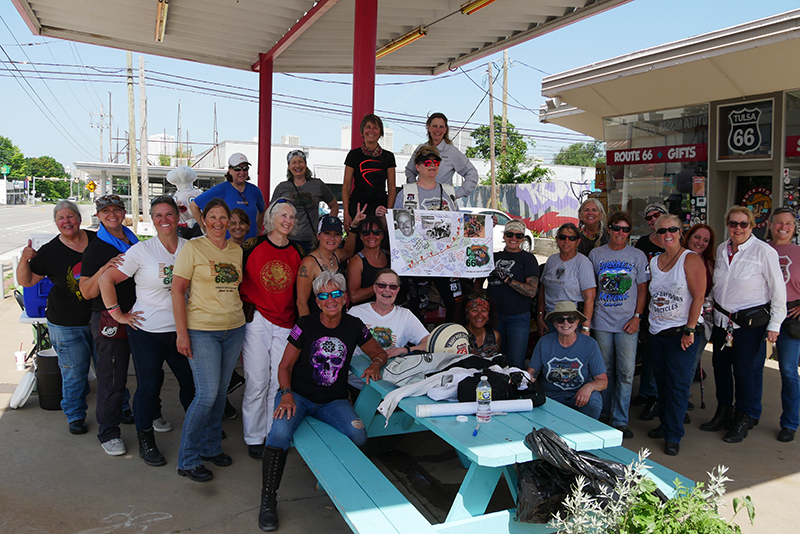 When you think about Route 66, do you picture Cadillac Ranch, the art installation of vintage cars poking up from the dessert covered in graffiti? Or maybe you think of giant colorful murals with retro graphics covering brick buildings and huge statues of dinosaurs, rockets, and characters demanding your attention. Perhaps you picture neon signs, ice cream stands, hot dogs, and old filling stations. Yep, the Chix on 66 saw 'em all and more…and we have thousands of pictures to chronicle it!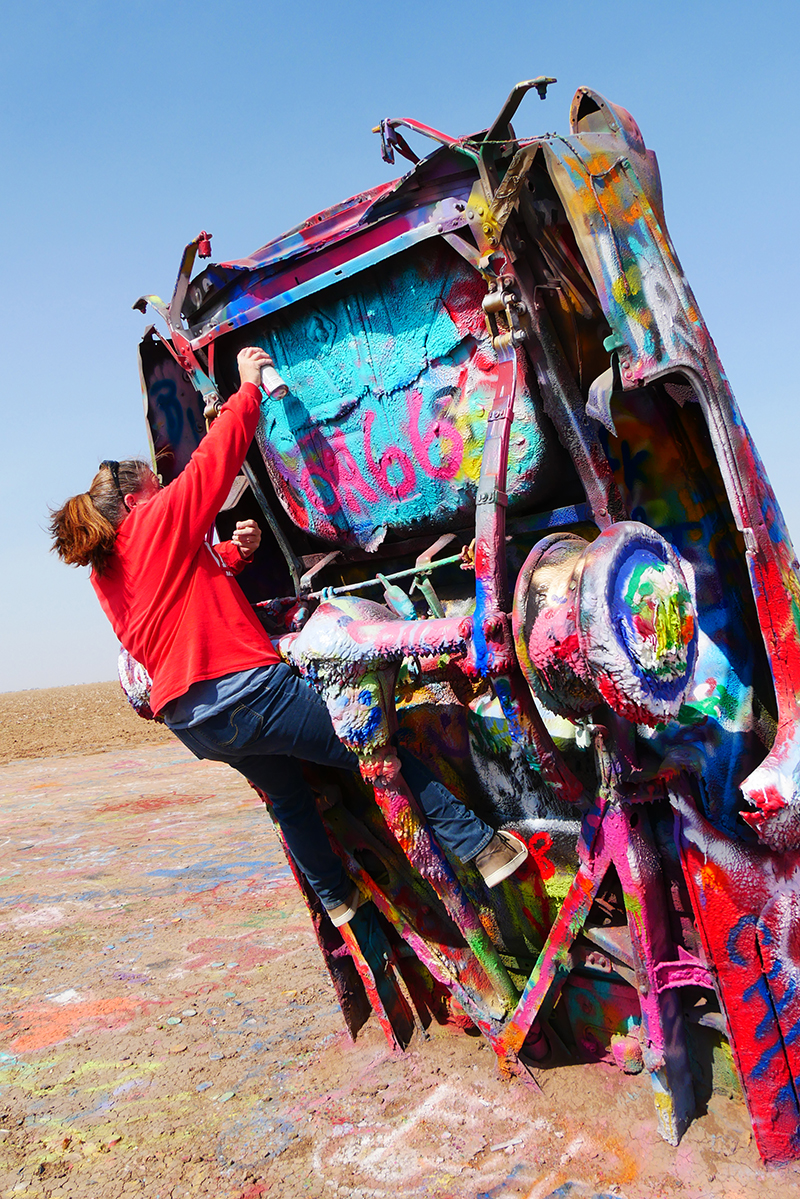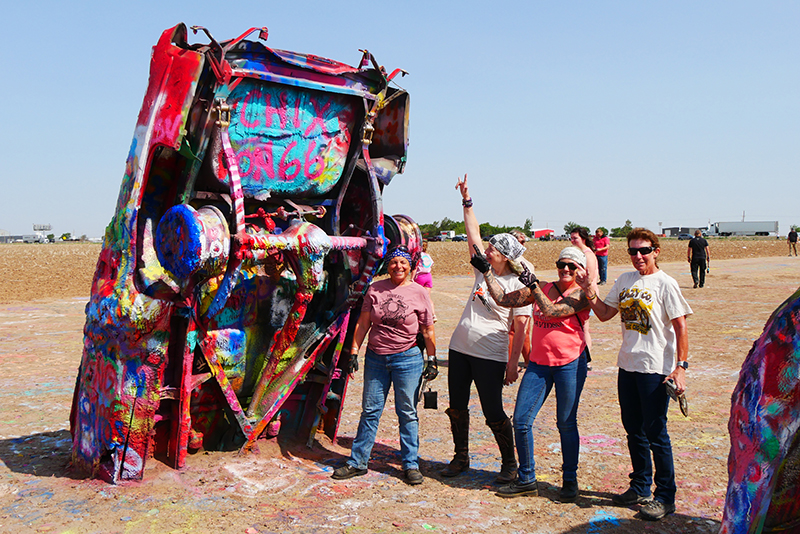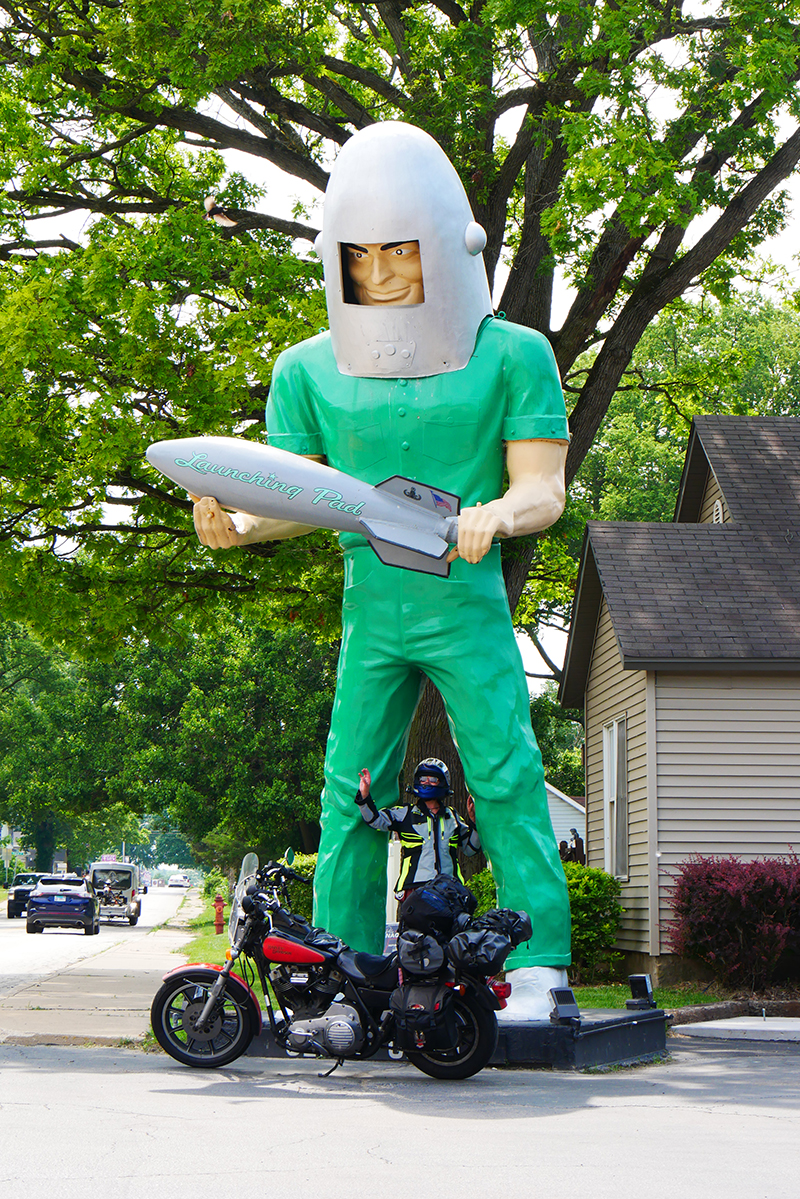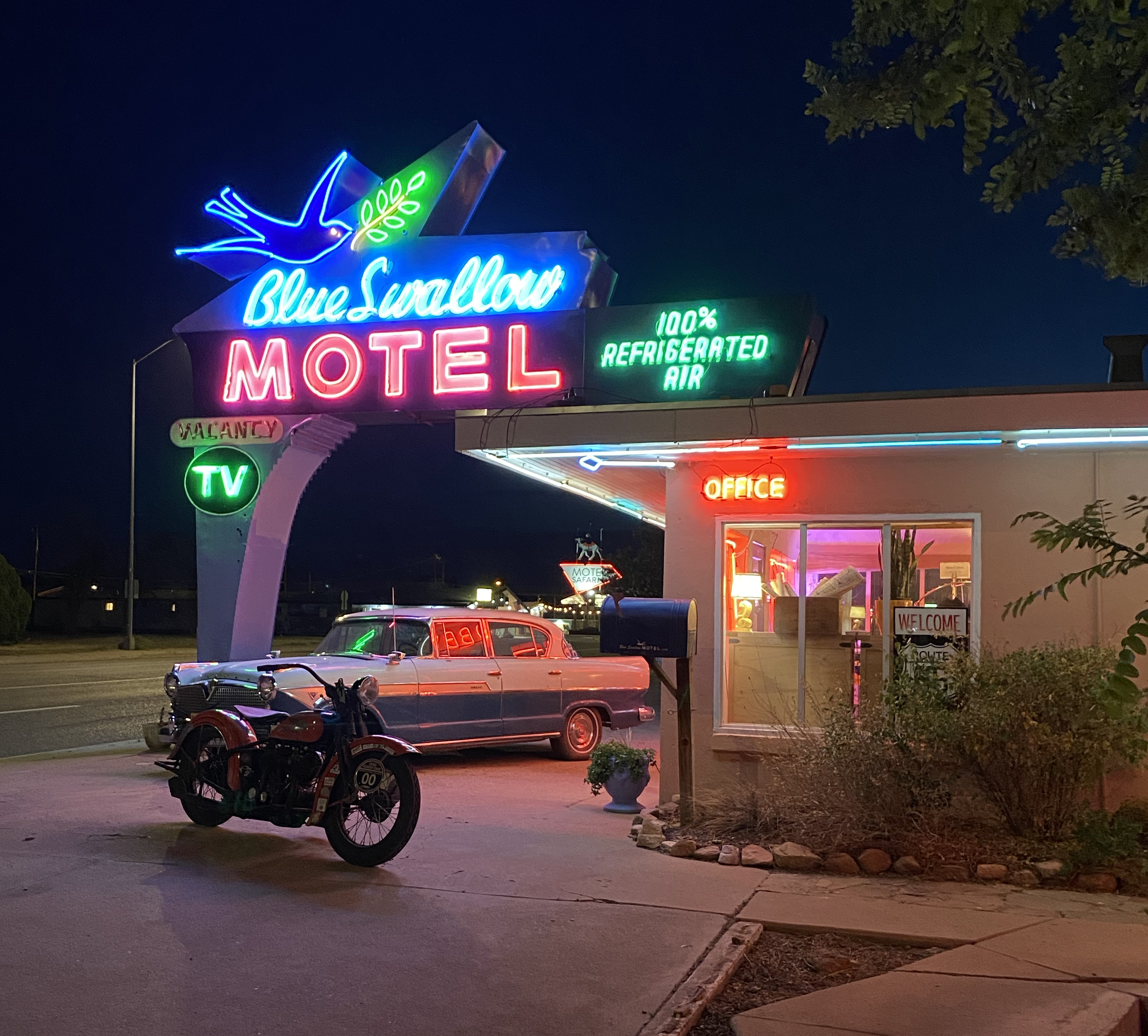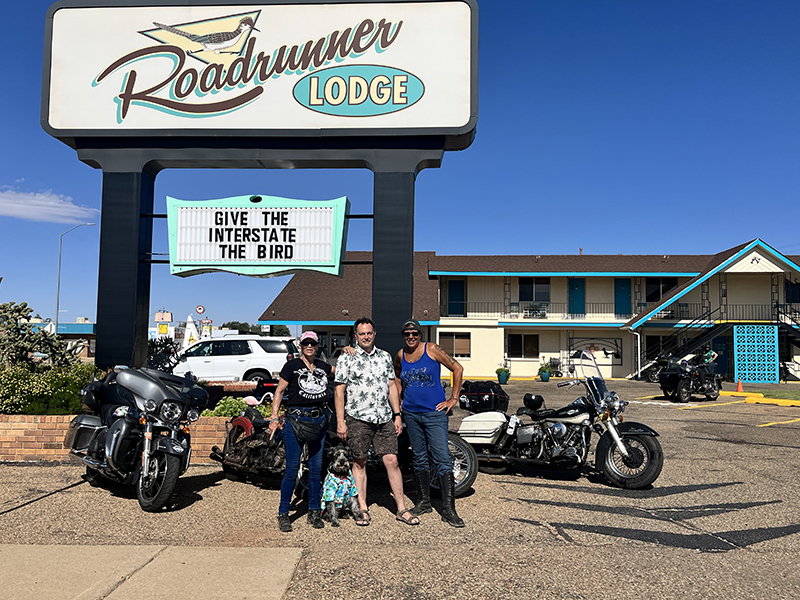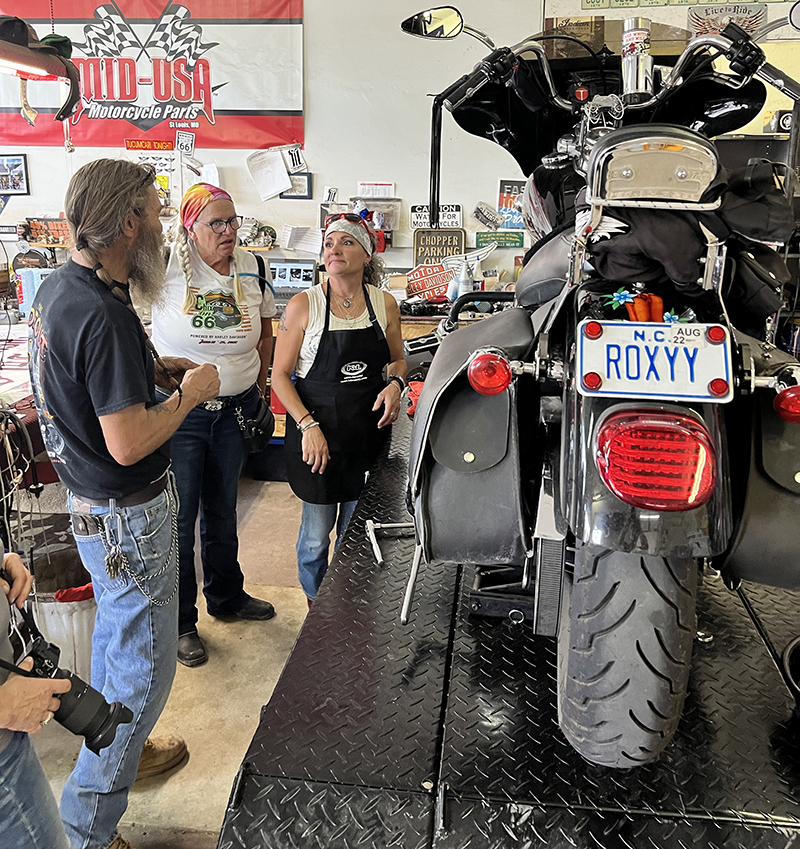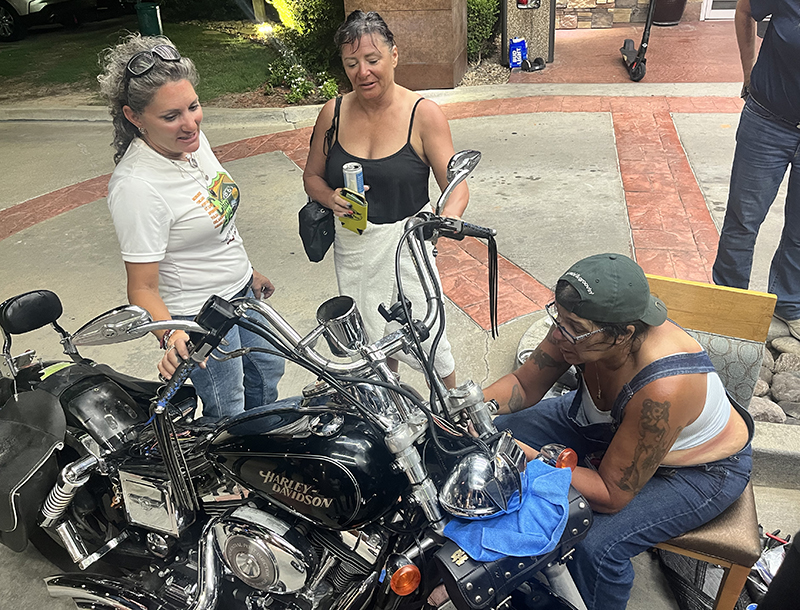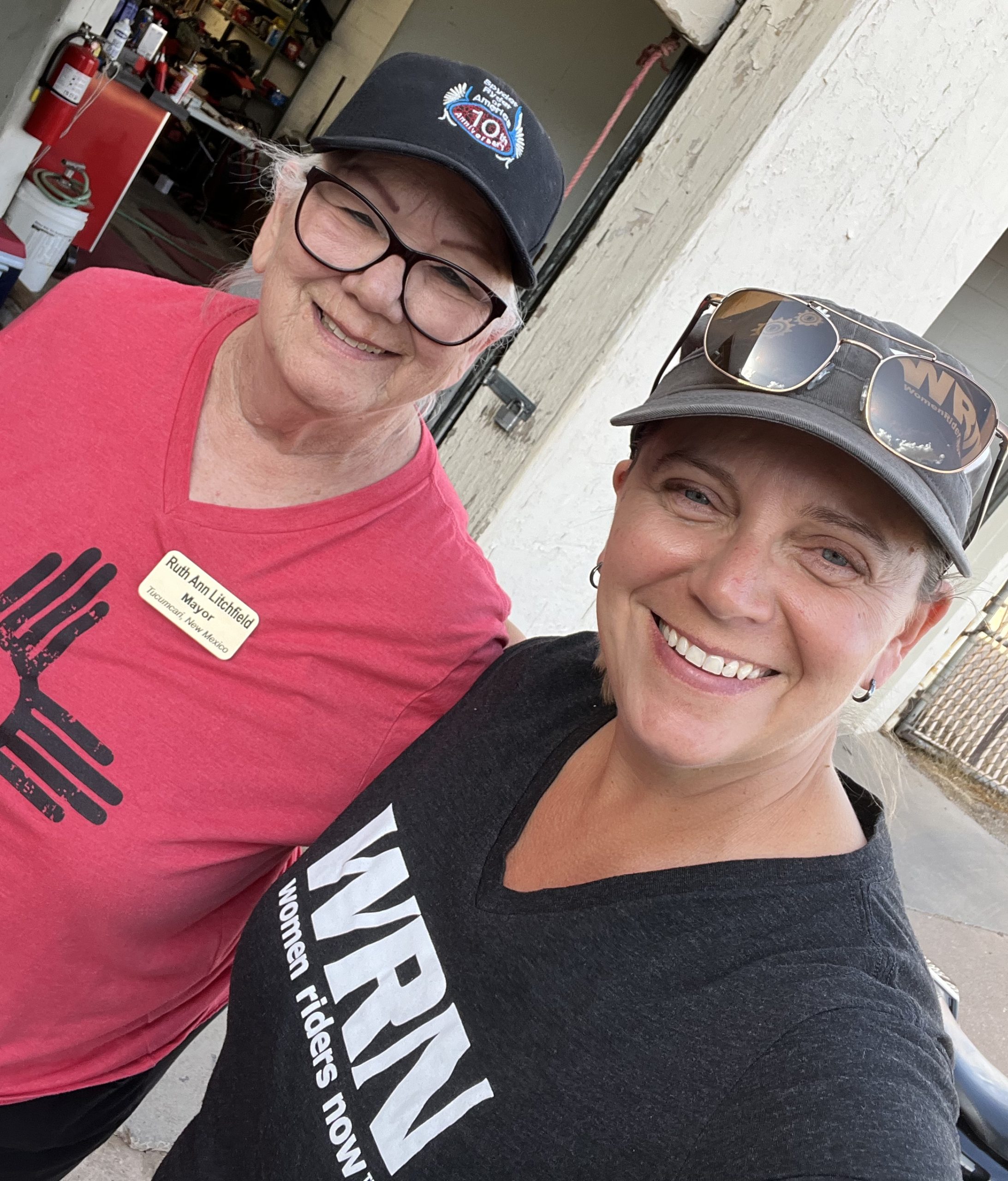 It is not a requirement to own a vintage motorcycle to be a member of the AMCA and most of the riders were on modern machines. But it was enthralling to watch the few tireless women who rode kickstart motorcycles. These ladies started every day's ride by pushing their vintage bike to an open area, fiddling with the machine's knobs and levers, and then, while straddling the bike and holding onto the bars for dear life, lurch high up into the air to come down on the kickstarter, like total badasses!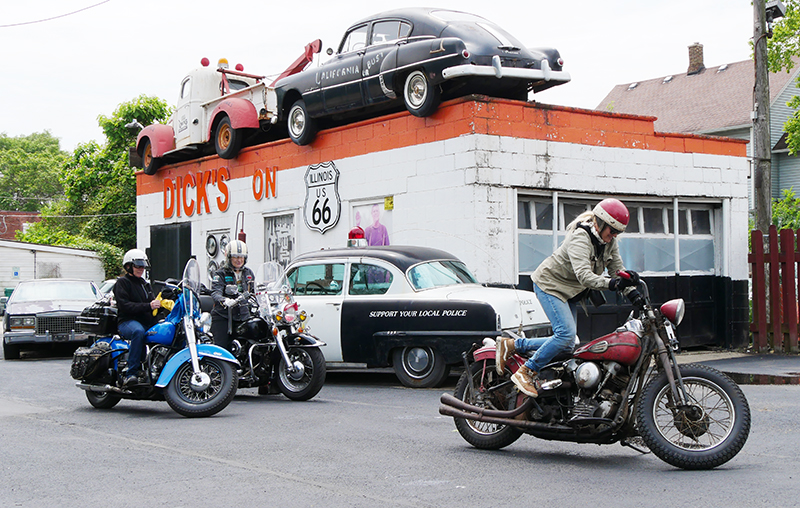 Once those vintage bikes were running, it was time to go! But our big group actually morphed into many smaller groups, each navigating the same route on their own timeframe by using the Route 66 Navigation app. Catching up, passing, pulling over, and waiting for the vintage crew became my preferred routine on the 2022 Harley-Davidson Road Glide Limited the Motor Company so graciously lent me for the ride.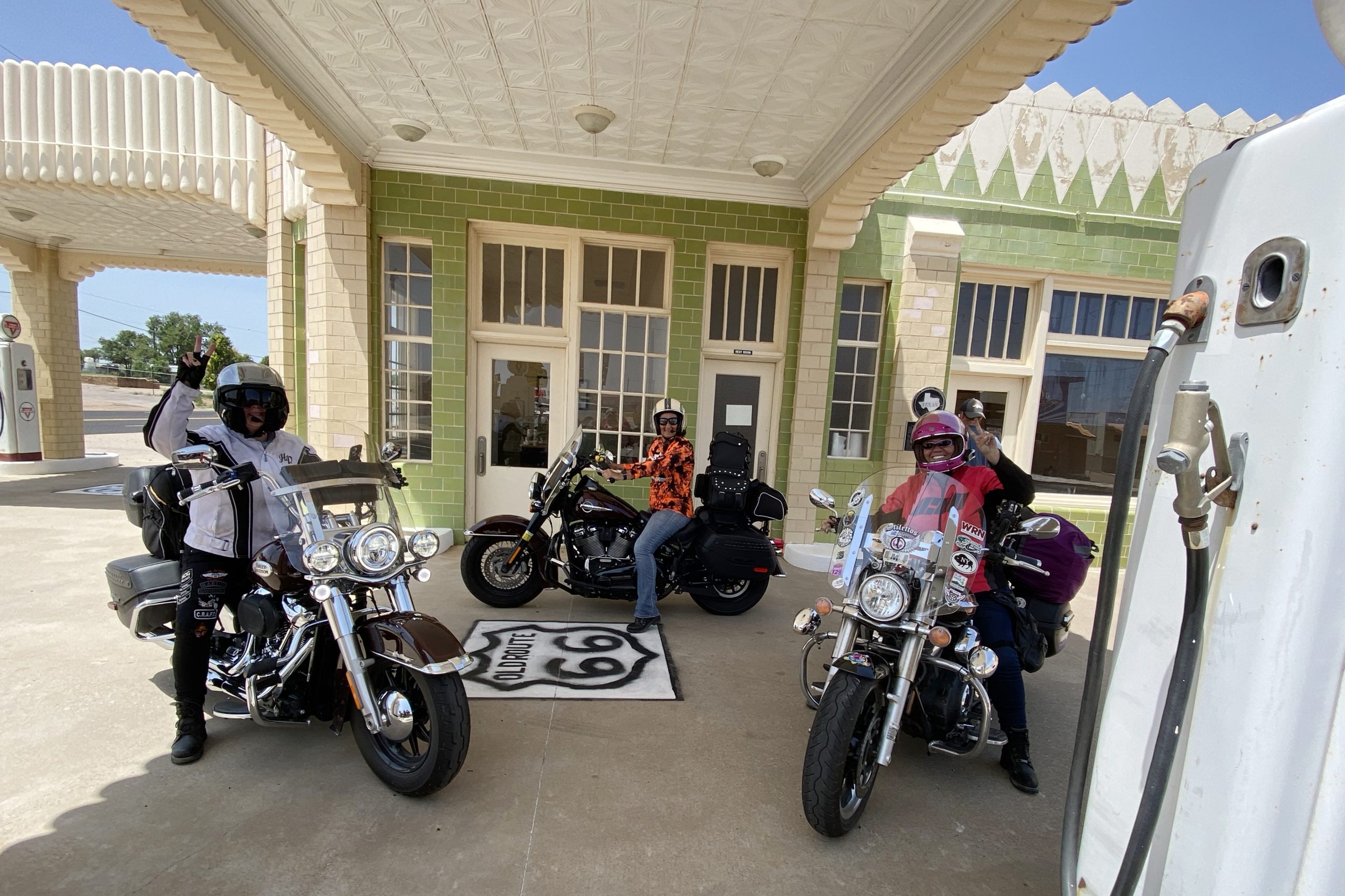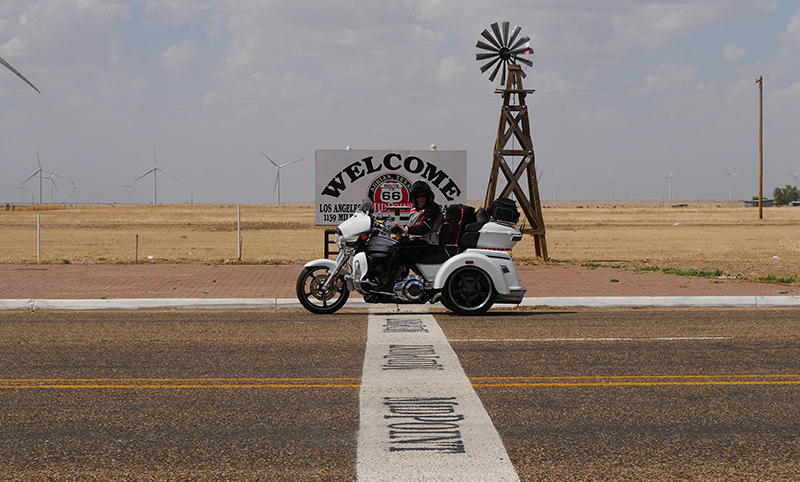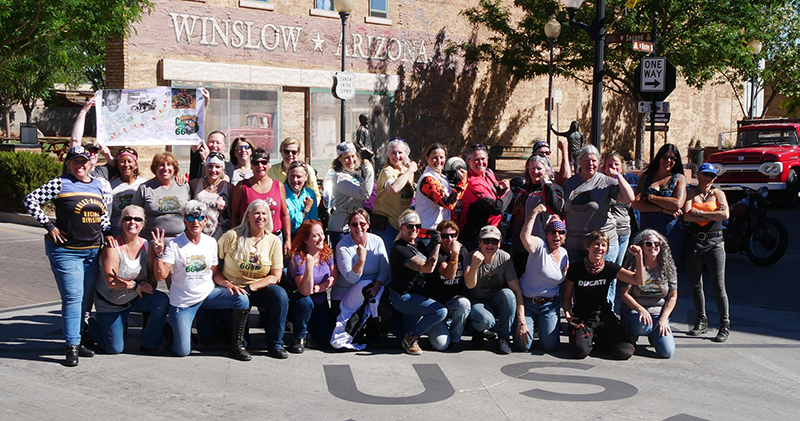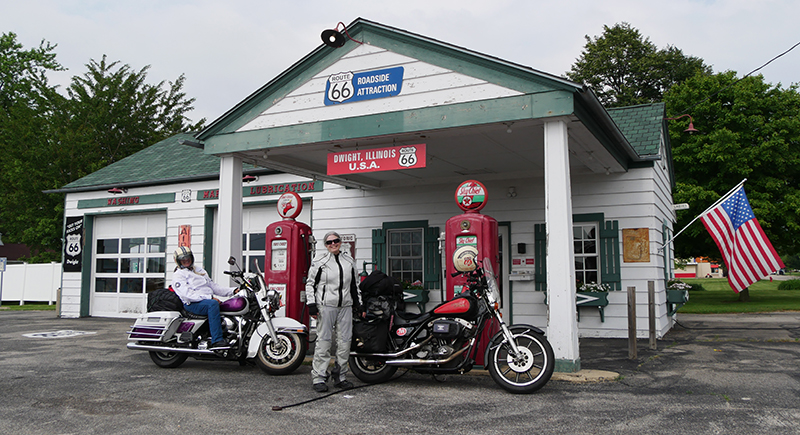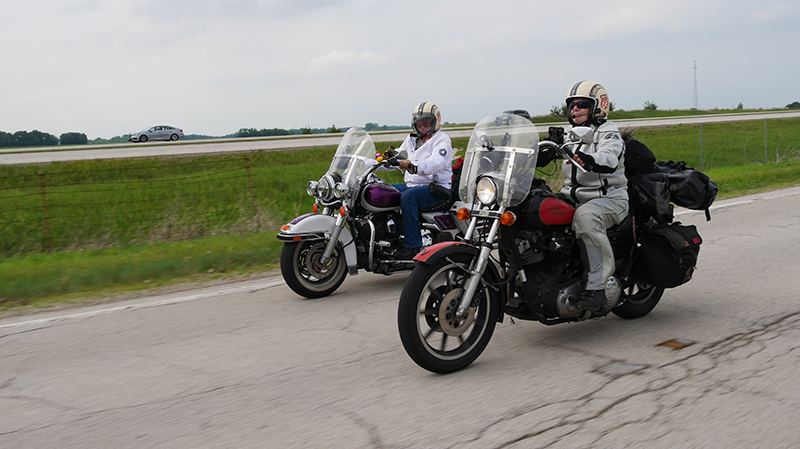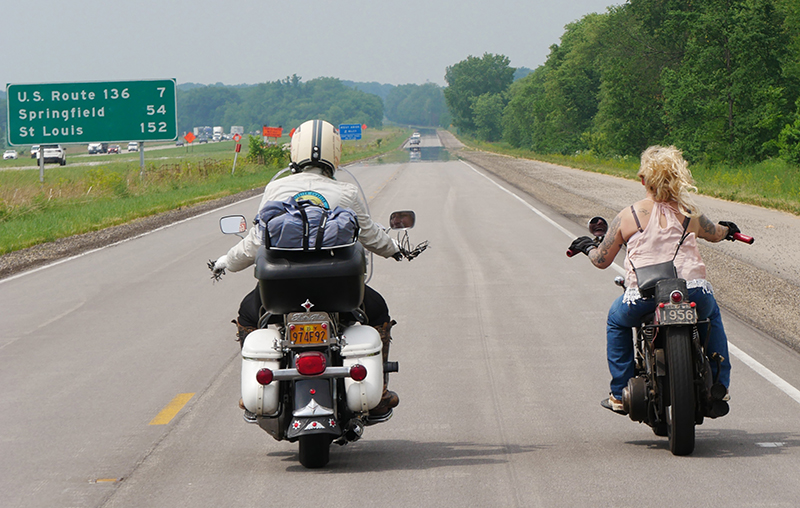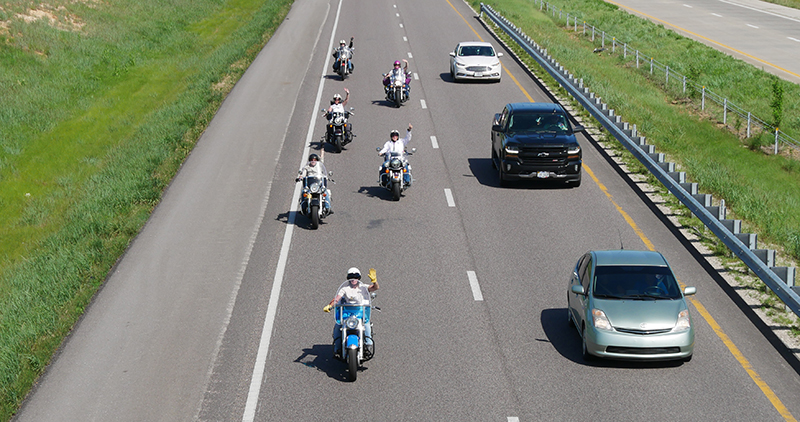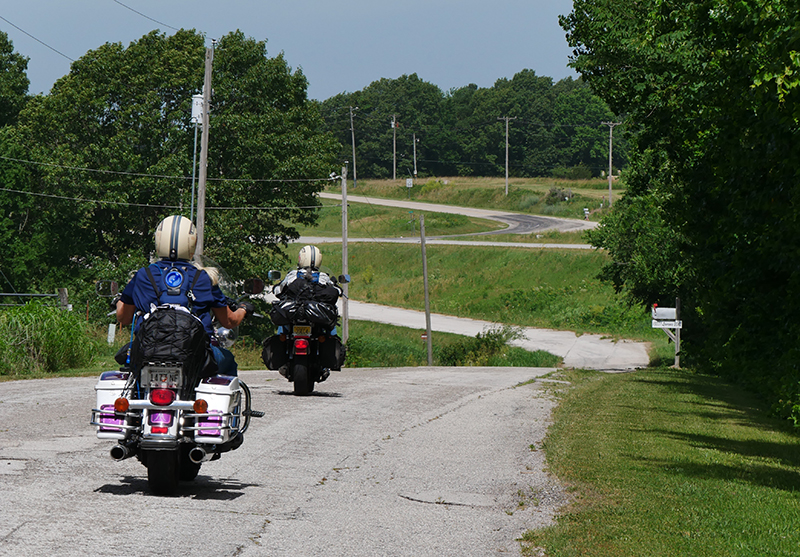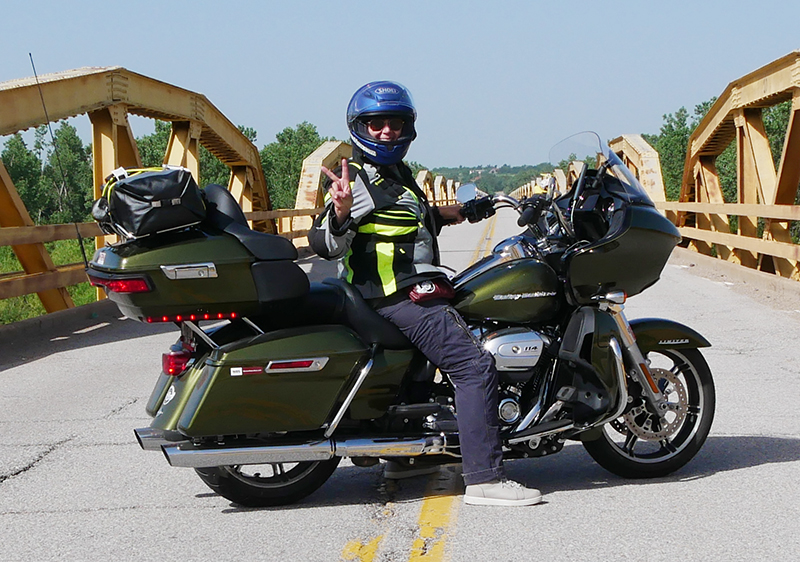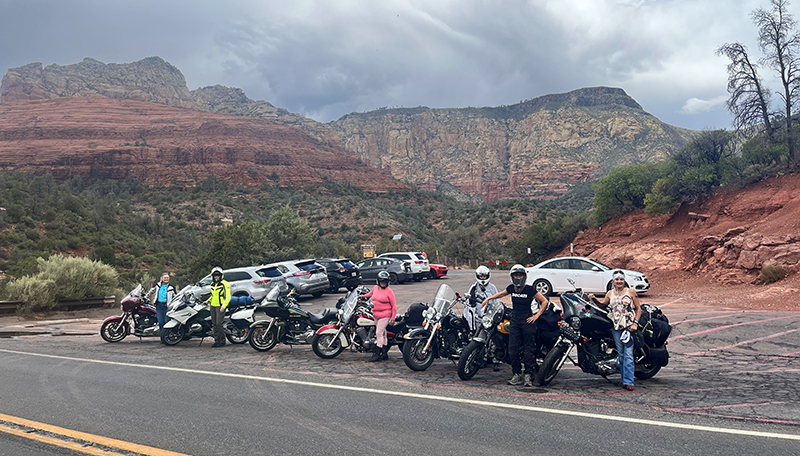 The 2006 Pixar film Cars really represents the Mother Road and her history well. The film centers around a flashy modern race car whose intention was to get to California as fast as possible to win the "Piston Cup." He winds up getting stuck for several days in the once-vibrant small town of Radiator Springs, Arizona.
The fictional town represents so many of the little towns along Route 66 that were quickly forgotten after I-40 was erected in the 1950s. Travelers bypassing all the businesses that had catered to Route 66 traffic unintentionally contributed to the demise of so many service stations, restaurants, ice cream parlors, motels, and more.
Old abandoned service stations pepper the landscape of Route 66. Many of the signs that remain standing along Route 66 are well worn. Bulbs are long gone and paint has faded while rust eats away what is left. It's hard to imagine some of them as robust establishments, busy with travelers who needed fuel, tires, oil, a snack, and more.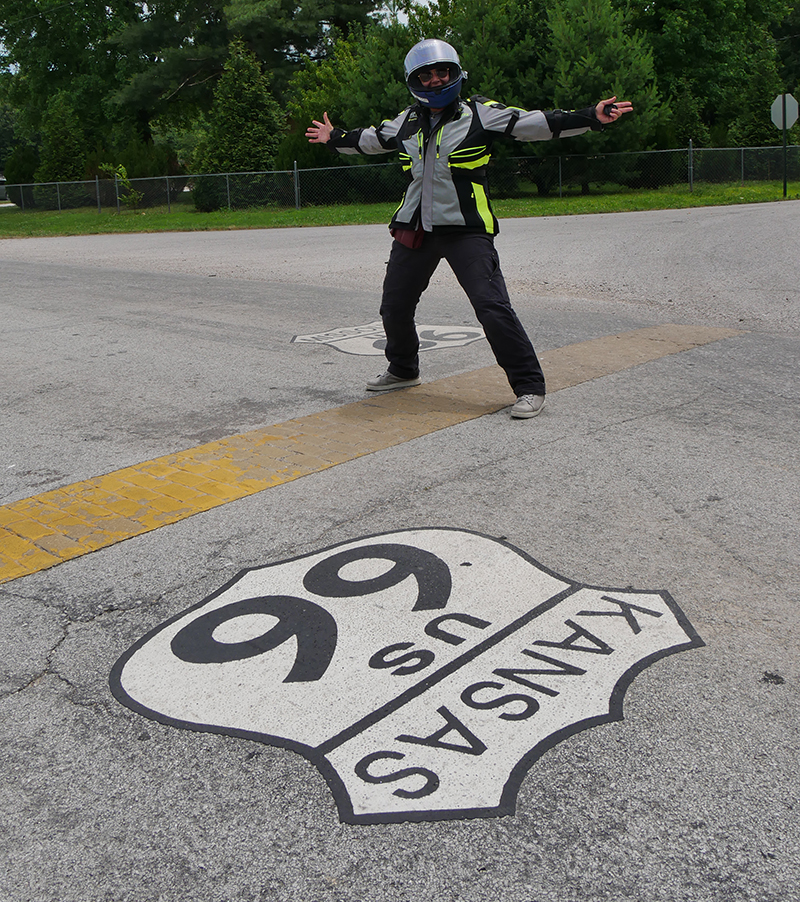 Luckily there are still plenty of real gems along the route that passes through 8 states—Illinois, Missouri, Kansas, Oklahoma, Texas, New Mexico, Arizona, and California. I would love to repeat the trip but in a classic car with a month to do it. I'd like to be able to read about the history of each place prior to arriving and then spend a good amount of time at each stop, getting to know the people who own the establishments better.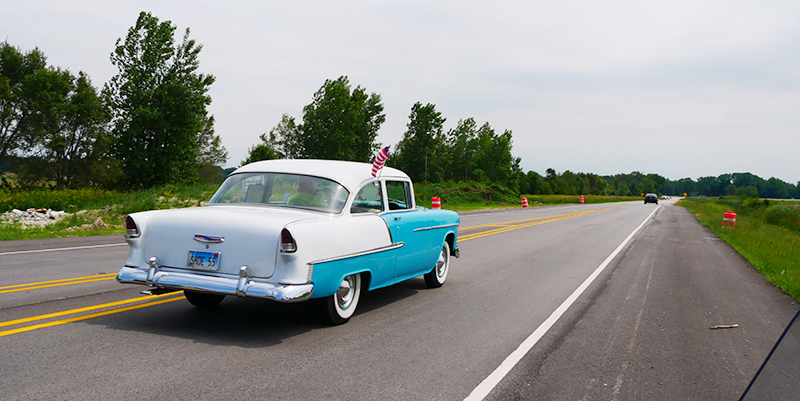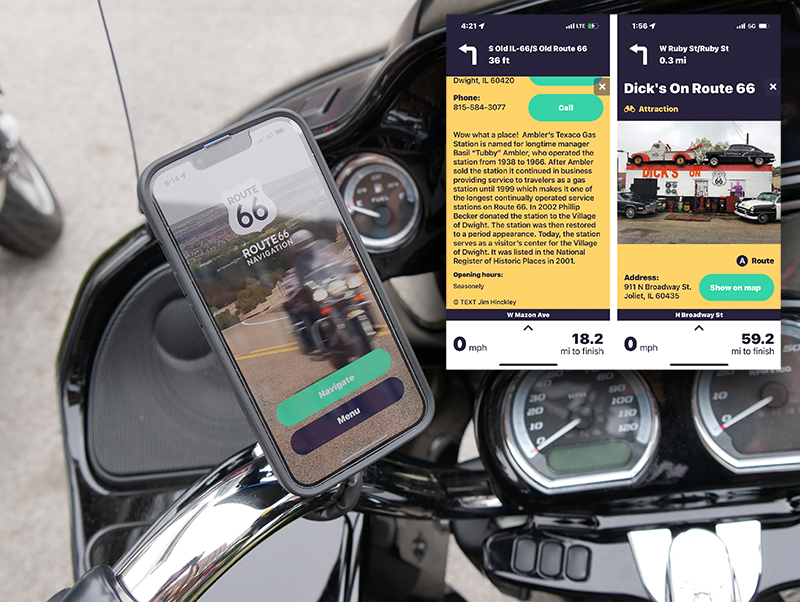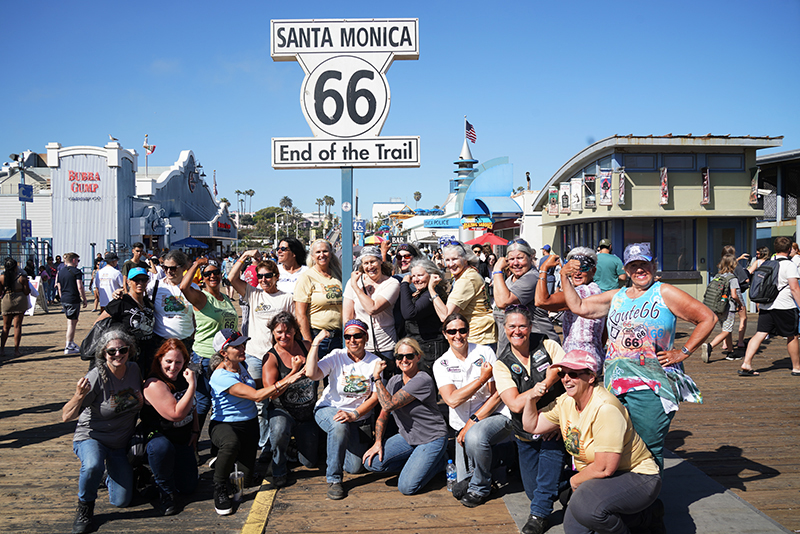 Support Those Who Support Women Riders
Please consider showing our sponsors, partners, and friends your support. Many riders received individual sponsorship in order to make their Route 66 dream come true. In addition, this women's ride was supported by the following:
Harley-Davidson, title sponsor; Antique Motorcycle Club of America (AMCA), sanctioning body and the Riveter Chapter, host; WomenRidersNow.com, media partner; Open Road Radio, broadcast partner.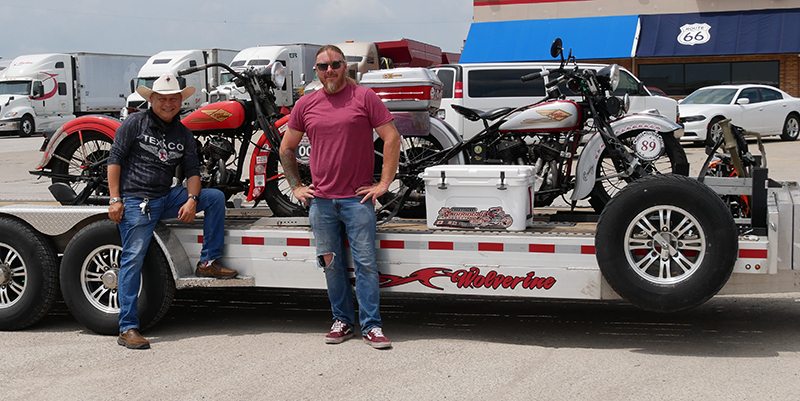 Extra special thanks also go to:
Jason Sims and Jose Torres, Eric Bass of Bass Cycles, Clay at CCMS, Motorcycle Cannonball, Motorcycle Chase, Torc Helmets, Cardo Communications, Route 66 Navigation, Tucker Powersports, Create Milwaukee Moto Collective, Stilettos on Steel, Motor Maker, Cycle Source Magazine, Iron Trader News, Road Guardians Accident Scene Management, Throttle Gals, Vagabond Chopper Co., Shadow-Light Media, Tattooing by Whitney, and my pal and photo extraordinaire, Kelly Biggs.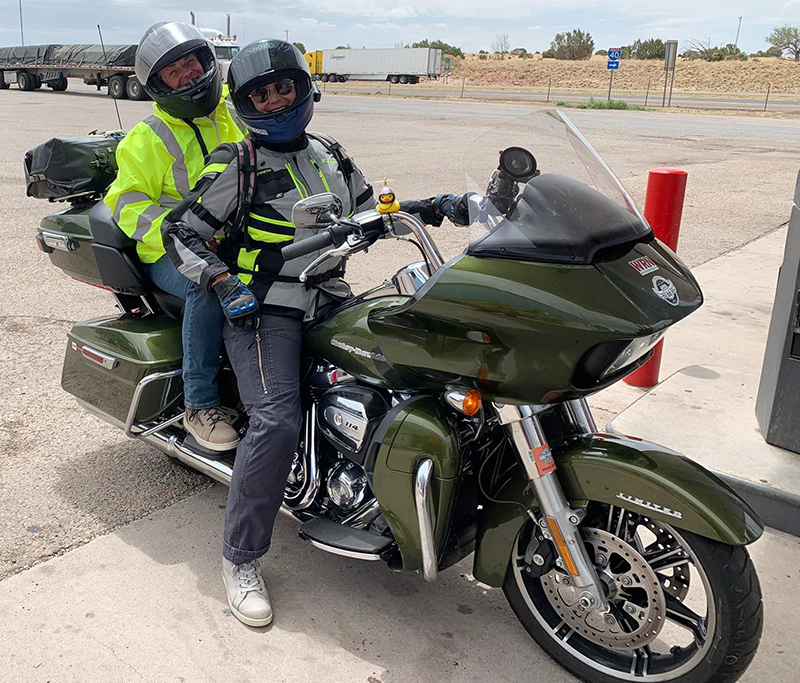 There are literally thousands of photos of all the amazing sights and so many stories generated from this epic ride—narrowing it down to this one article was a difficult task. To see more photos and videos from Chix on 66, visit the WRN's Facebook page and Chixon66.com.
If you would like to be part of the next incredible Riveters adventure, learn more about the AMCA and Riveter Chapter by visiting AntiqueMotorcycle.org.