Although I complain about cold winters the reality is that like many Northerners, I don't do well in extreme heat. Exposure to the elements that motorcyclists experience can spell disaster without taking steps to beat the heat, including wearing the proper riding gear. Hyperthermia (when your body overheats) is no joke, and I have enough experience with that to avoid it at all costs.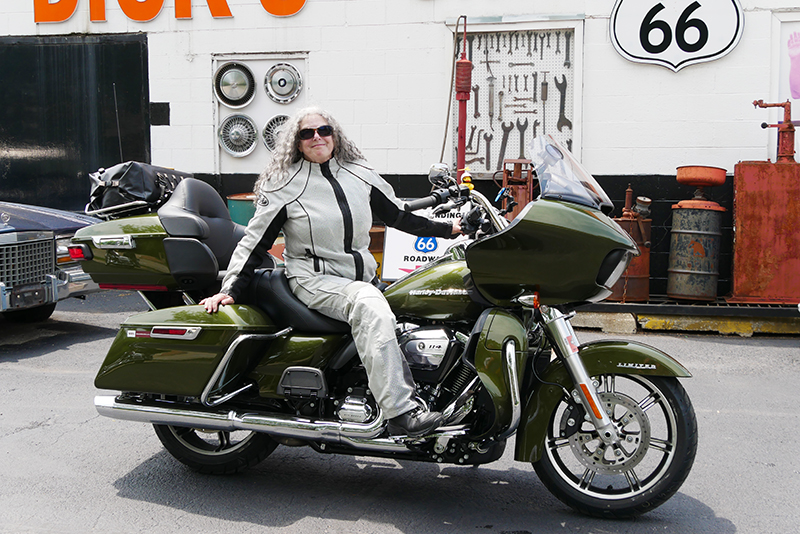 June 2022 was one of the hottest on record, and the month of my first cross-country ride. The inaugural AMCA Chix on 66 ride saw 40 of us women riding from cross country from Chicago all the way to Santa Monica. Segments of our route had us skirting the edges of the Chihuahuan Desert in New Mexico, and during the latter part of the ride we went right through the Mojave Desert.
For the past two decades my older Joe Rocket mesh jacket has kept me safe during summers. It's still in great shape, but it's black, the color that absorbs the most heat. Since this jacket has held up remarkably well for so many years, I figured another Joe Rocket jacket in a lighter color would be perfect for the forecasted 100-plus degree temperatures.
Searching the brand's website for the latest mesh women's gear, I chose the Majestic jacket. I also wanted leg and hip protection on this 3,500-mile journey. But I didn't want to suffer through the heat while wearing my somewhat heavy over pants. The over pants offer only a few zippered vents for cooling, so I ordered Joe Rocket's Cleo Elite Pant. (Incidentally, Joe Rocket carries a matching Cleo Elite jacket for the same price as the Majestic jacket.)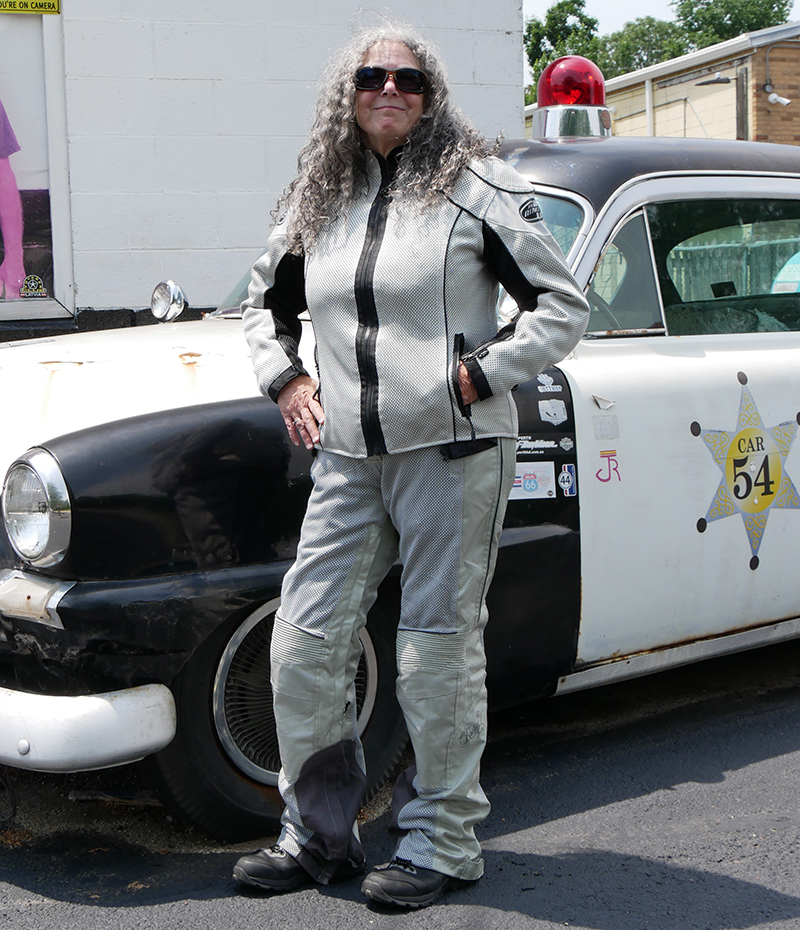 The sizing chart on JoeRocket.com is impressive. It lists every style of jacket and pants available and the corresponding fitment for each. I can't say I've ever seen this extensive a sizing chart before. Generally, manufacturers list only categories such as "women's jackets" or "women's jeans." After using the sizing chart as a guide, both the jacket and pants I ordered fit well.
The abrasion-resistant "Free Air" mesh used for the exterior Majestic jacket is said to provide maximum air flow on hot days. I found this claim to be quite accurate, as long as the rider and her motorcycle are in motion. In fact, wearing a mesh jacket is cooler than riding with bare arms; mesh helps prevent dehydration by not allowing your body's moisture from evaporating too quickly. And even while stationary, the jacket is still noticeably cooler than the textile jacket I usually wear in more temperate weather.
Impact protection in the Majestic jacket elbows and shoulders is lightweight CE-rated armor which meets the tough European Standard EN 1621-1:2012. Both are ventilated in a honeycomb design which allows air flow for cooling. The elbow armor is adjustable and can be repositioned for a more personalized fit. The CE-rated full back pad armor is also lightweight and ventilated.
The jacket sleeves and waist are adjustable to customize the fit, as are the hook-and-loop cuff fasteners. YKK zippers are deployed throughout, including the lower side panel expansions that can be unzipped to allow the jacket to expand across the hips while riding. And four zippered pockets offer plenty of stowage options—two external glove pockets and two inside breast pockets, the latter of which are large enough to fit my not-very-svelte mobile phone.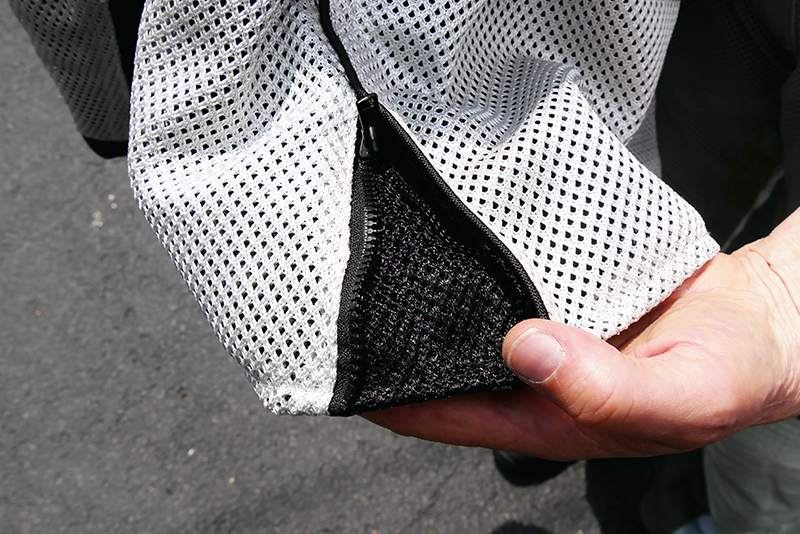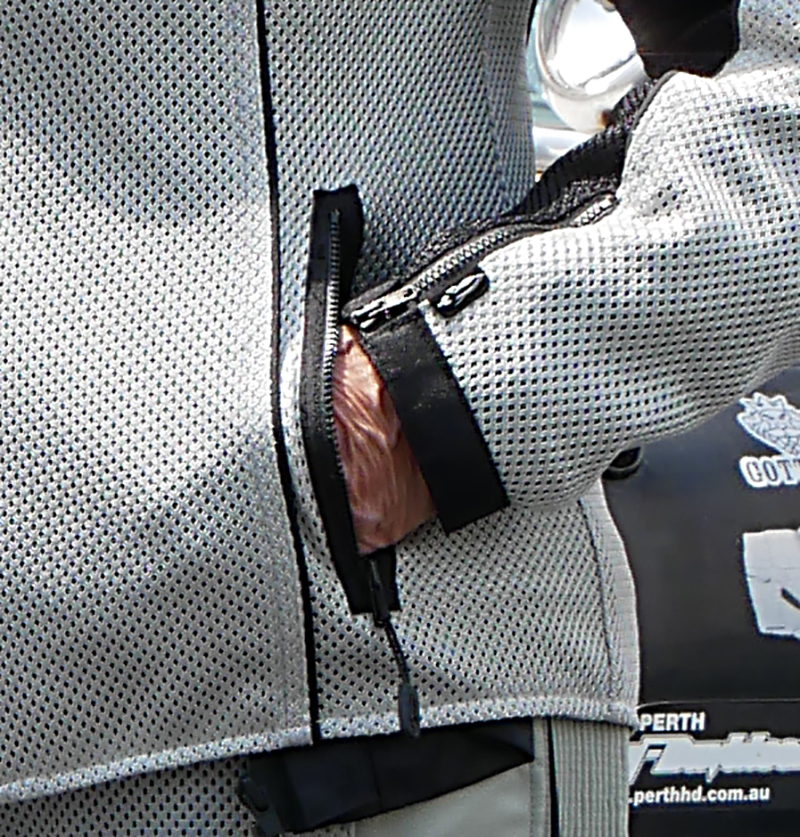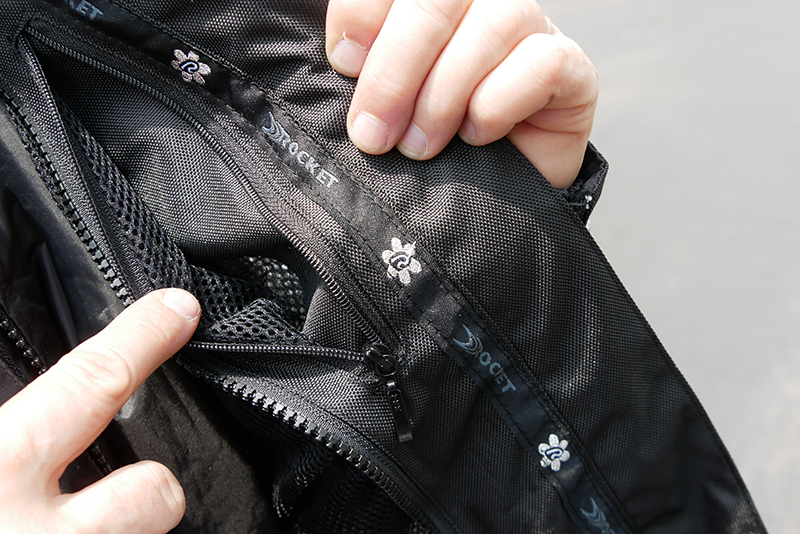 Wet Weather Protection, Too
The removable waterproof jacket liner is similar to the 100% polyester liners found in other Joe Rocket mesh jackets. And like most other mesh jacket liners, when it's not in use, it folds or rolls tightly for easy saddlebag storage.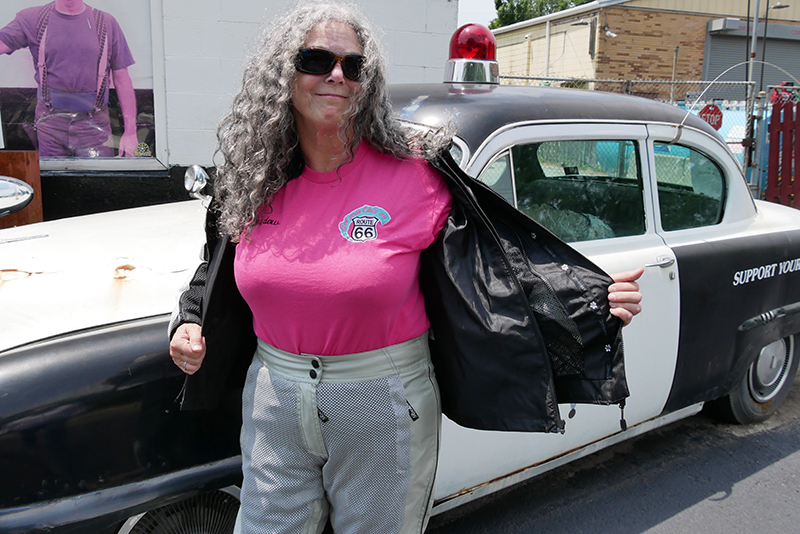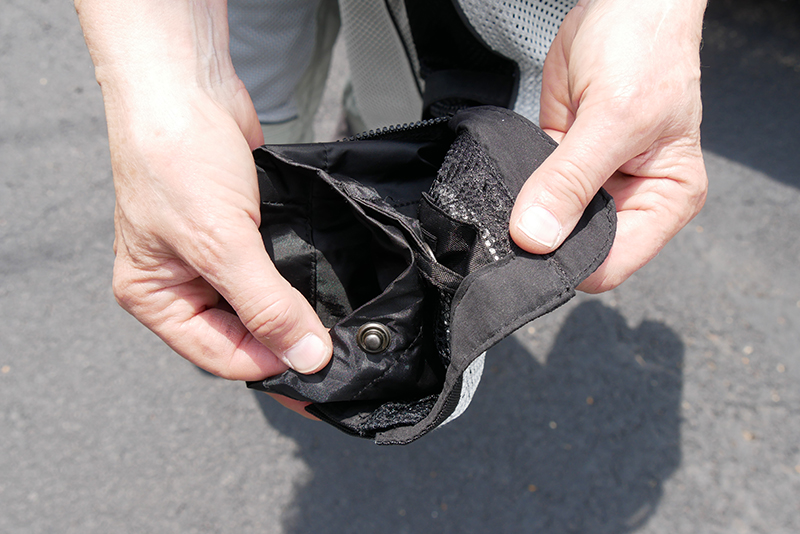 Joe Rocket Cleo Elite Mesh Pants
Wearing any type of over pants, even those made of mesh, in 100-plus degree temperatures is concerning. Conducting my own testing during the hottest days of the ride, I firmly conclude that wearing the Cleo Elite pants do not make me any warmer than just wearing jeans. Moreover, I gain the added protection that jeans just don't offer.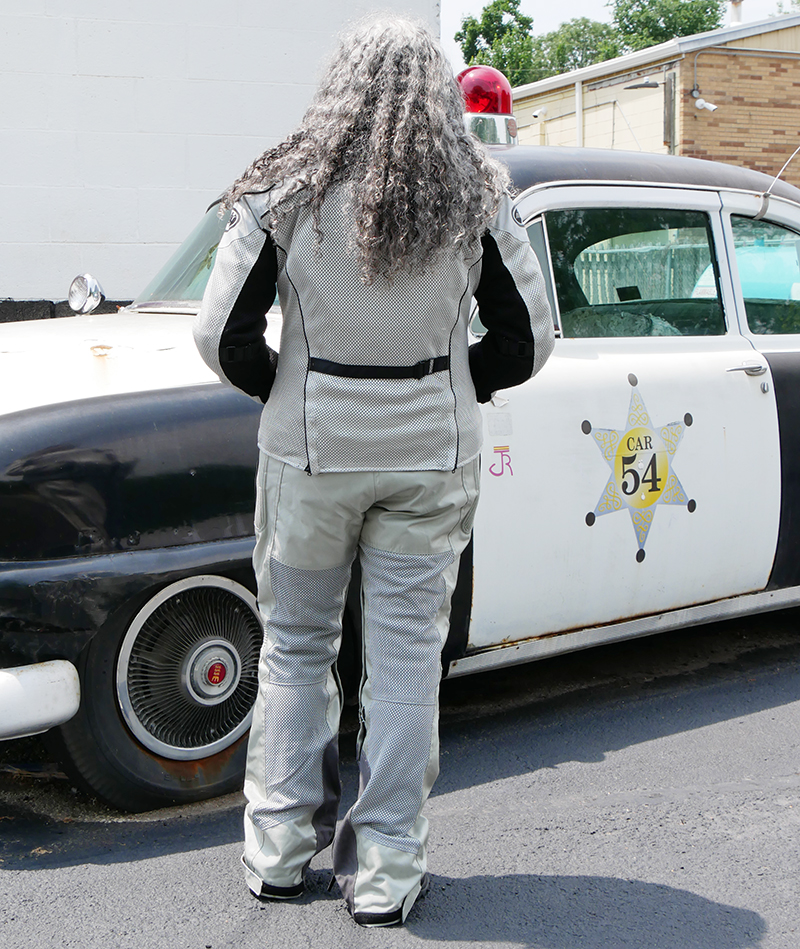 Materials and Contruction
Several different high-tech materials comprise the construction of the Cleo Elite Pant, starting with the same abrasion-resistant Free Air mesh utilized for the jacket. The pants feature Innolite reflective knee panels and DYNAX seat and hip reinforcements, both of which are abrasion-resistant. High-density hip padding and CE-rated knee protectors offer impact protection.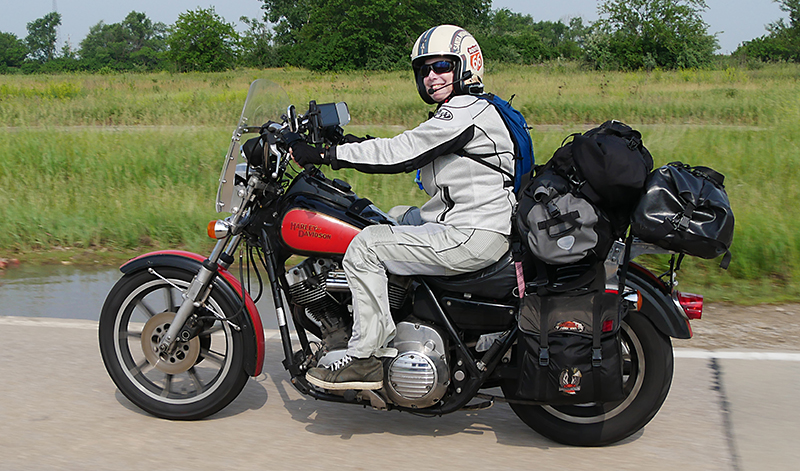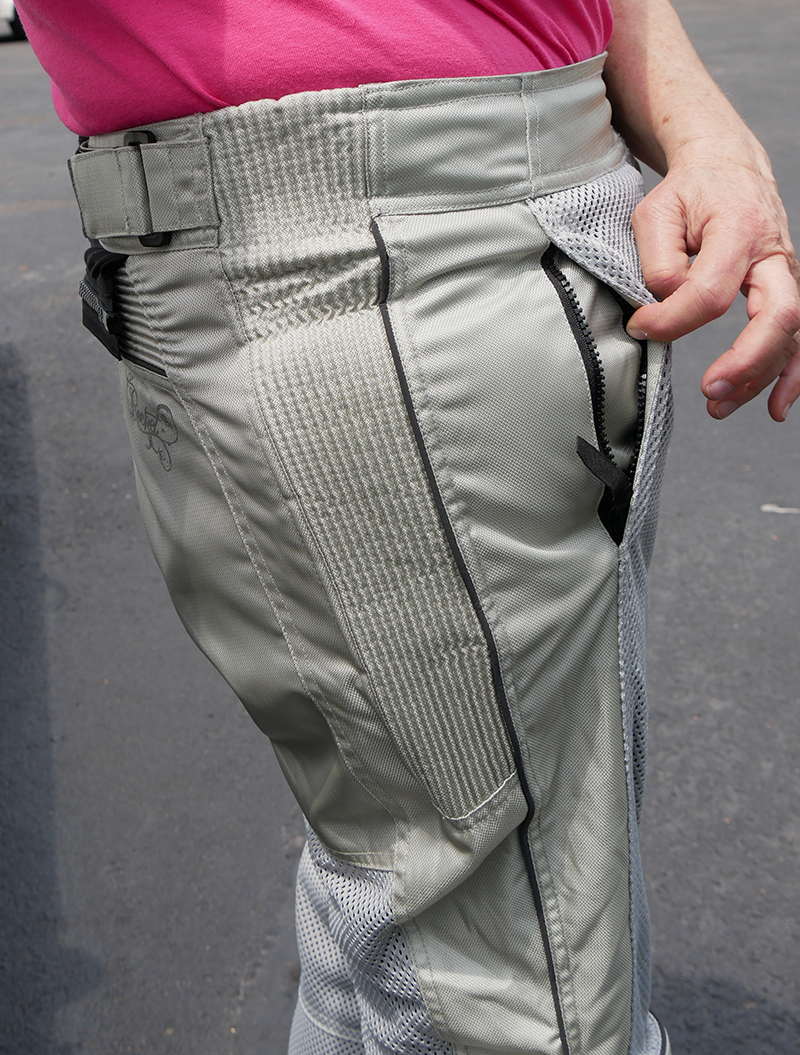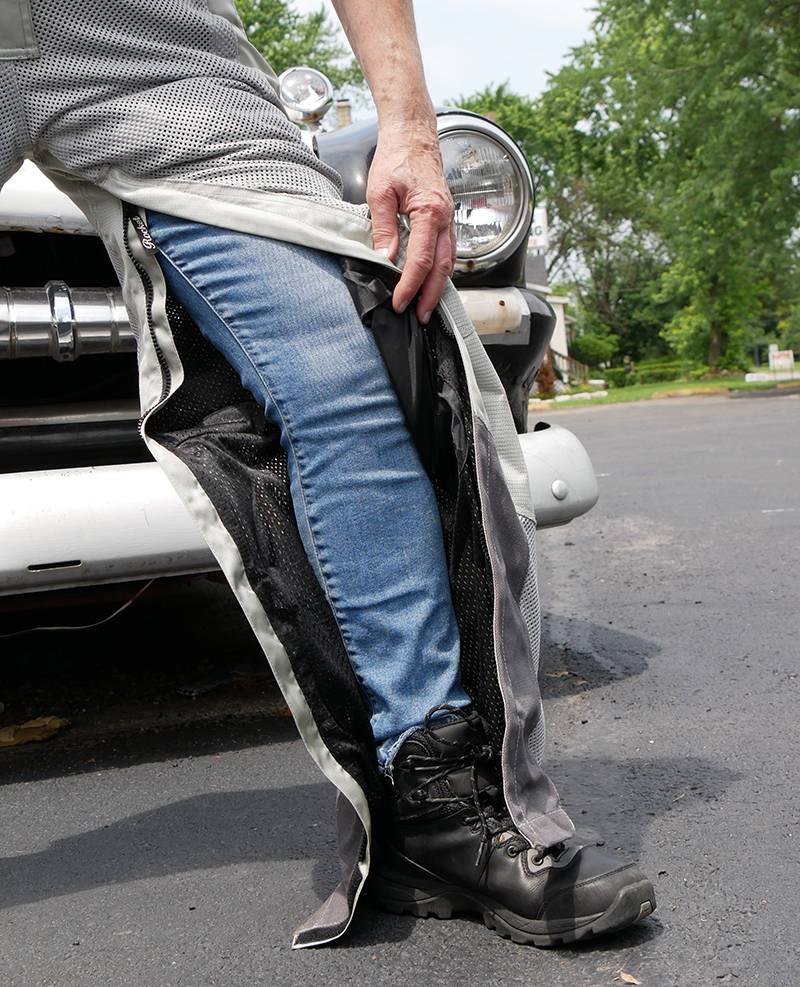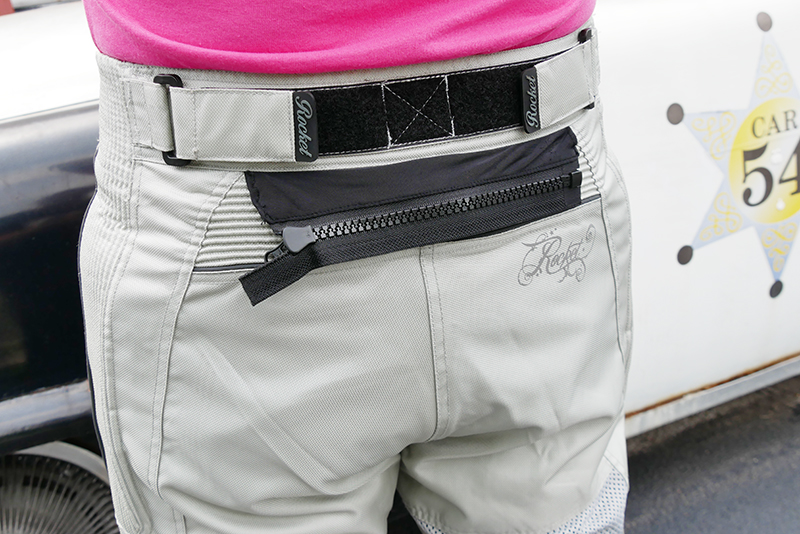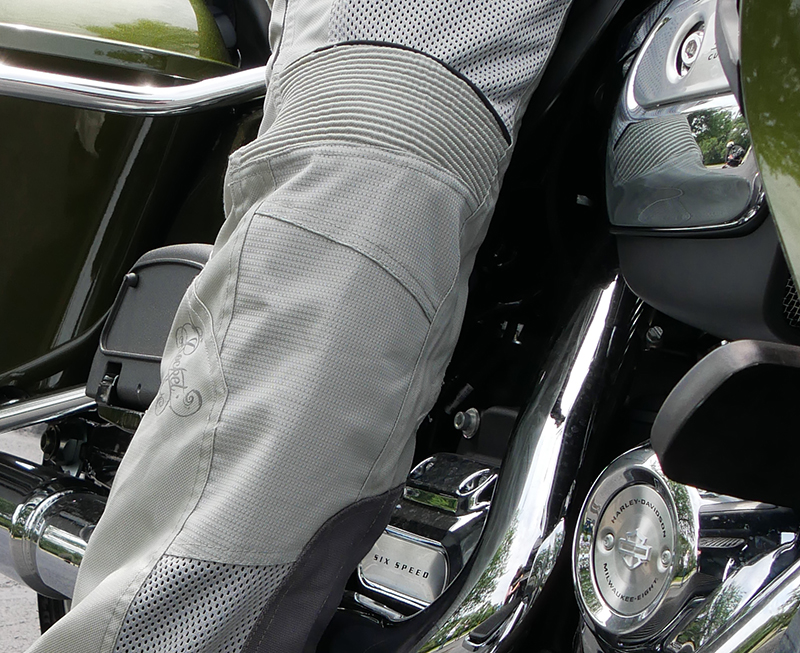 Melt-resistant material is included on the inside of both lower legs. However, I did manage to melt the mesh above the right-leg panels from my Harley's exhaust pipe. All sizes of the Cleo Elite have a 33-inch inseam, which means the heat panel isn't high enough in my case. Watch for future Joe Rocket women's pants to have longer heat-resistant panels which will solve this issue.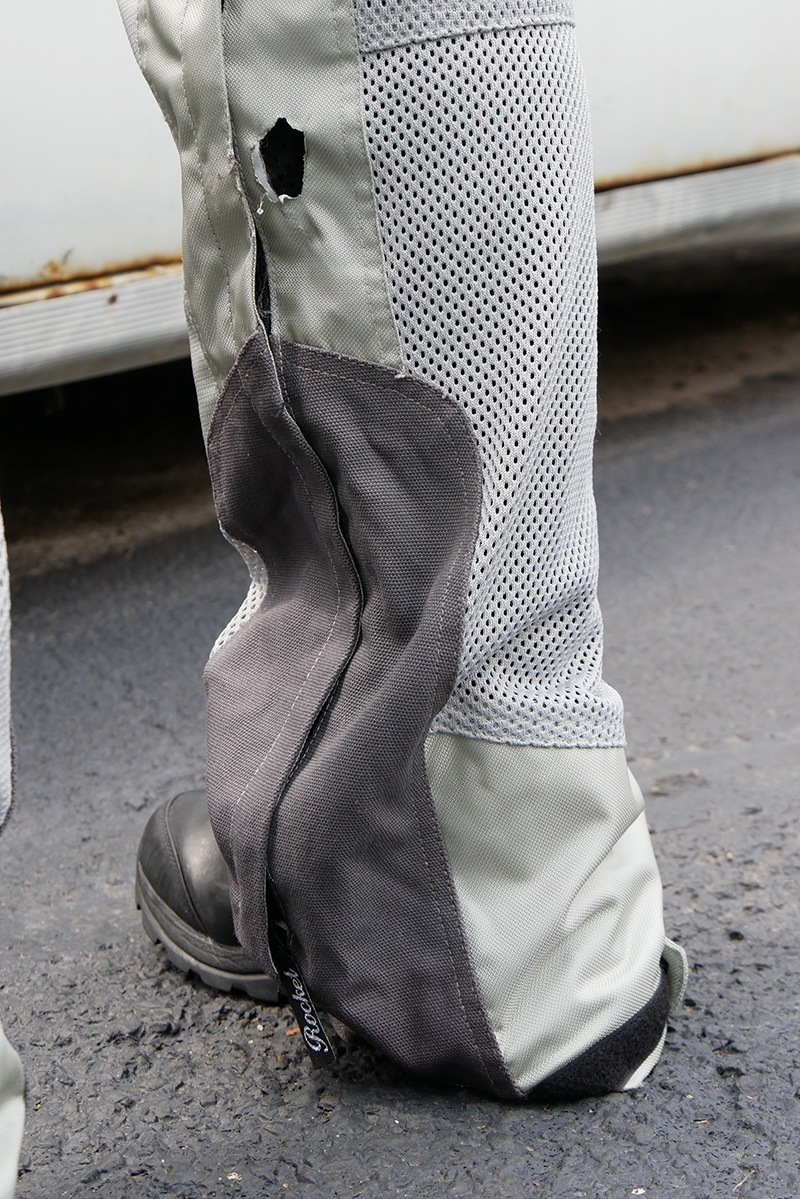 The Ladies' Majestic Jacket starts at $219.99 MSRP and is available in sizes from XSmall to 2Diva. The Ladies' Cleo Elite Pant starts at $159.99 MSRP and is offered in sizes XSmall to 1Diva. 
For more information visit JoeRocket.com.