Women Riders Sharing the Passion
After passing the Motorcycle Safety Foundation (MSF) Basic RiderCourse in June I drove straight to the DMV to get my license. In less than four months, I traded in my starter bike for a 2023 Harley-Davidson Heritage Classic and racked up 2,000 miles. And like so many women riders, at 47 years old, I finally found the "thing" that lights me up inside. Traversing the winding roads and enchanted hills of Western New York, happiness radiates from my body, transcending anything I have ever experienced before. Being on my bike feels like home.
Curious to know if this was a shared experience, I posted a simple question to a women riders group on social media. I wrote, "Still trying to put my finger on what it is about this that fills me with so much light. Any ideas? I know you all feel it." The comments flooded in like a tsunami of celebration as women articulated what it means to them to be a rider.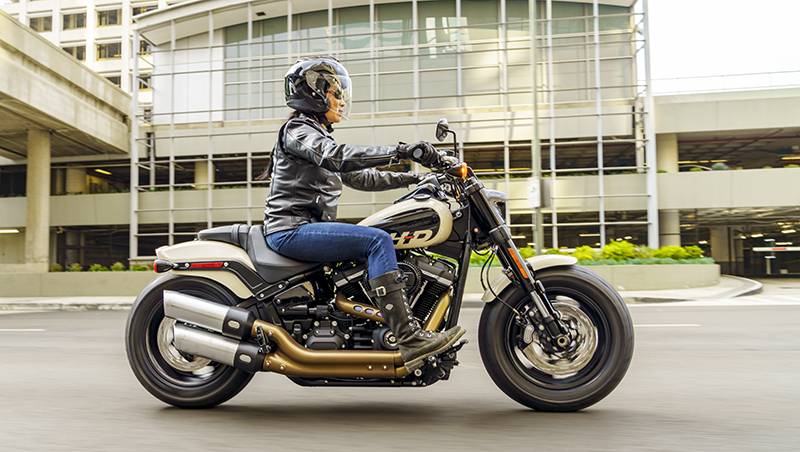 A 360-degree Experience of the Senses
"For me, it's the feeling of all my senses working together, 360 degrees," said Elizabeth Dial of Tallahassee, Florida. At 46 years old, Elizabeth has been riding motorcycles on pavement for 15 years. She currently rides a 2023 Harley-Davidson Softail Standard.
"I feel temperature changes based on elevation or the amount of tree cover, enjoying the coolness of the canopy over the road," she said. "I smell fresh cut grass, newly overturned soil, roadkill, and the approaching rain. The sun stings my skin as I lay into the wind and listen to the sounds around me. You don't just see your journey, you feel it."
The female segment of the motorcycle market grew exponentially over the last decade and international media noticed. In September 2022, BBC headlined the topic with, "Riding a motorbike is like therapy on two wheels." We wouldn't argue, but that is just one component of why women ride. The responses to my inquiry from women who spend their days and nights cruising city streets, back country roads, and highways around the country, prove that the answer remains multifaceted.
A Spiritual Experience on an Iron Horse
Kimberly Osborn, 58, of Lapeer, Michigan, explains why she rides. "It's the wind just blowing the cares of life right off me," she says. "I call it the 'Breath of God.' I wouldn't trade it for anything." Kimberly started riding her own motorcycle two years ago after riding as a passenger for 11 years. You can find her hugging the curves on a customized 2016 Harley-Davidson Softail Breakout.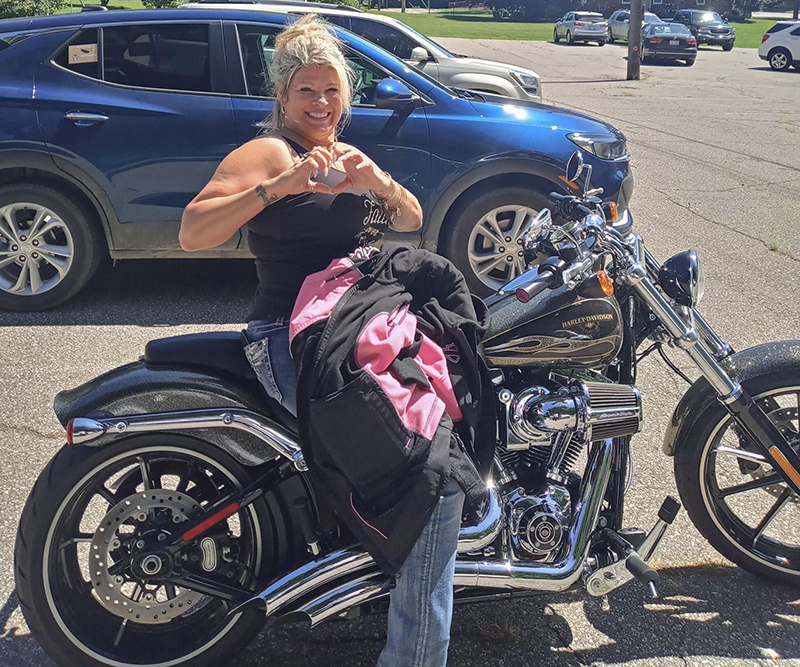 While there may not be data readily available on the spirituality of motorcycle riding, it's obvious that the spiritual experience remains far from exclusive. Women talk again and again about how their hours on the seat of a motorcycle brings them closer to their higher power.
WRN's original founder, Genevieve Schmitt, explains it perfectly. "My motorcycle carries me through the stunning landscapes of Montana, Wyoming, and South Dakota. The energy of the scenery—the pioneering spirit oozing from the mountains and the rivers—brings me to tears. I often weep as I ride my Harley-Davidson through these incredible spaces. It is in these moments, I truly hear God, able to hear the Holy Spirit speak to me. 'There is more to life than working all the time,' that still, small voice whispers."
The Science Behind Riding as Meditative
On February 1, 2021, Science Direct published a study titled Modulation of attention and stress with arousal: The mental and physical effects of riding a motorcycle. The team investigated how riding a motorcycle versus driving a car or resting affected sensory processing. They measured brain activity, bodily chemicals, and hormones.
The findings of the study, funded by a grant from Harley-Davidson, solidified the science behind what we feel when we raise that sidestand and roll out. Participants commonly see increased sensory focus, greater resilience to distraction, increased adrenaline, and a decrease in the stress hormone cortisol. In fact, hormonal biomarkers for stress decrease 25 percent and the level of alertness equates to drinking a full cup of coffee. So how do women feel about what the science reveals?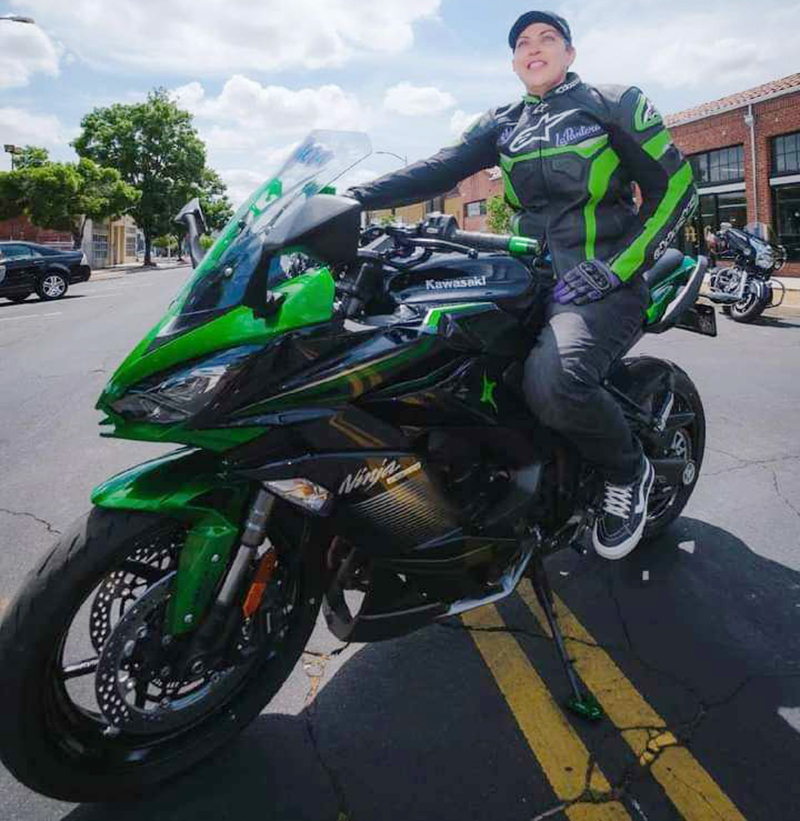 Californian Sandra Michel-Jimenez, 51, whose been riding dirt bikes for 18 years and street bikes for 15 years, calls it a "moving meditation—a concentrated focus on one thing that puts me in the present and fills me with joy, freedom, peace, and exhilaration." Sandra's meditative experience happens on either of her two beloved bikes: a 2023 Kawasaki Ninja 1000SX and a 2018 Kawasaki Vulcan 900 Custom.
Similar adjectives fill the feed. Over and over, women riders say it is one of the few places in life where they feel fully present in the moment and where they are free from the stress of work, kids, and life's demands.
The Raw Power of Motorcycle Riding
In addition to the physical, spiritual, and scientific aspects of motorcycling, one more theme rises to the surface when women riders explain what the experience means to them. No matter what they ride, they feel a sense of power beyond their imagination as the body and the machine become one.
I frequently hear new riders express nervousness and fear about learning to ride. They worry about the weight of the bike, managing multiple controls at once, getting slow maneuvers down, working up to faster speeds, and cornering. Then they seek good instruction and take the process step-by-step. Soon, the tone of their voice changes. They start celebrating little milestones. By the time they are cruising down roadways and going on adventures, they feel like they accomplished something truly significant—and they did!
I can relate. Before I rode, I was awestruck when a woman would pass by on her own bike. "How does she do it?" I wondered, contemplating the power she wielded. I'd wander around motorcycles at showrooms, too afraid to sit on one for fear of tipping it over. It wasn't long before my thoughts shifted. "I want to do it," I thought, and the fact of the matter is, we can.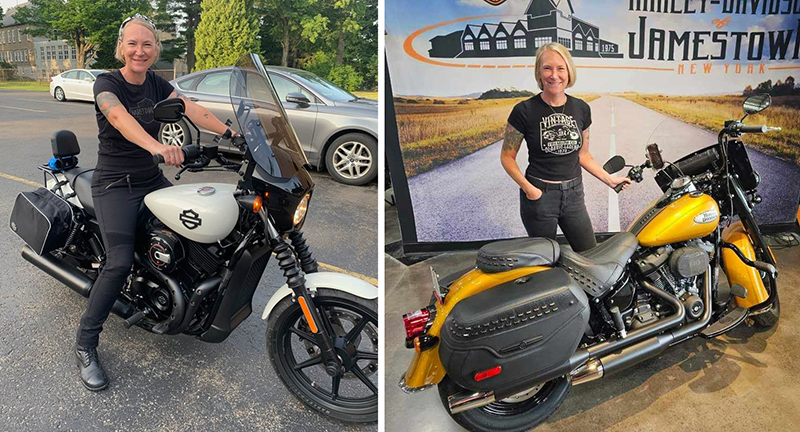 At about 135 pounds, I control a powerful 725-pound machine. When I twist the throttle and hear the engine rumble below me, power and accomplishment accentuate the experience. Many women call this phenomenon liberating. Finding something you can do with your own body that is yours and yours alone; that extracts you from all other responsibilities; inside of a traditionally male-dominated activity—well that is indeed liberation.
A One-of-a-Kind Sisterhood
For ladies considering taking the leap into motorcycling who want to experience the mind, body, spirit phenomenon we riders live and love, WomenRidersNow.com offers a comprehensive Beginner's Guide that includes sub-guides on where to start, costs to entry, choosing your first bike, safety and techniques, and more.
One of the greatest aspects of this lifestyle remains the enduring sisterhood of women riders who share their love for the road; and the special bonds created within families who ride together. Finding your community will transport you from riding by yourself to having a group of supporters who will help and encourage you every step of the way.
We women are out here riding proudly. Whether you find us on social media, at a women's riding event, or meet us at a local motorcycle class, your fellow women riders can become a powerful asset in your life.
Pamela H. Say is a journalist, former university administrator, and published author. Through her consulting practice, she serves as a contracted CEO for Orato World Media and as a book coach and ghostwriter for emerging authors. Her work has been published in newspapers, magazines, and journals around the globe.