Win A Harley-Davidson Hammock Seat for Your Heritage Classic
Do you own a Harley-Davidson Heritage Classic? We'd love to hear what drew you to this wonderful motorcycle and what kinds of adventures you've had on it. We are giving away the Hammock Seat and Driver Backrest shown in this article (a $688 value!) to the reader with the best story and photos. Check out our Reader Story submission guidelines and submit your pictures and story by May 15, 2022 to win. We'll announce the winner and share the story in coming months on WomenRidersNow.com (WRN).
Heritage Classic: A Favorite Among Women
There are a few Harley-Davidson motorcycle models that women consistently tell us they love year after year. Some have been discontinued such as the Harley-Davidson Softail Slim and the Sportster Low models. But several of the Motor Company's bikes withstand the test of time, like the Heritage Classic.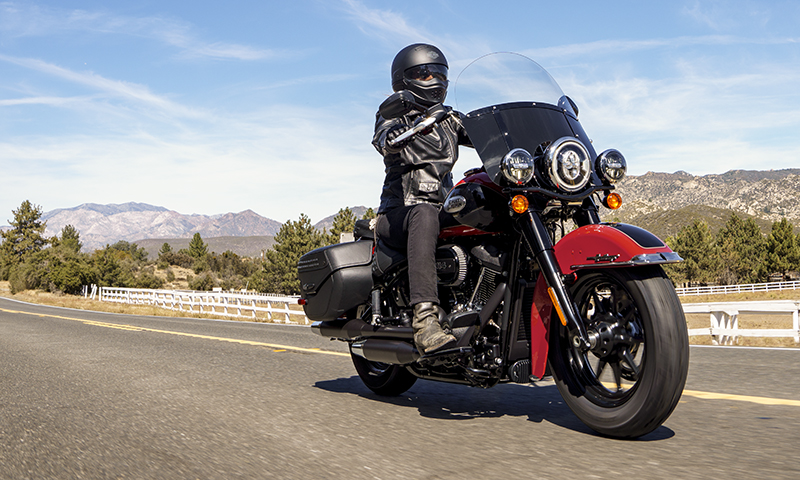 Released in the mid 1980s, the Heritage Classic was designed as a throwback to the era that brought us big sweeping fenders, wide bucket seat, whitewall tires, nostalgic leatherwork, conchos, and lots of chrome. Built for touring, large saddlebags, windshield, and floorboards were always part of its package. It has evolved over time, but the Heritage's retro roots remain. WRN has reviewed several iterations of this bike, from founder Genevieve Schmitt's review of the 2011 model to the his and hers review Pam and Tim Collins wrote for us in 2016.
When Harley-Davidson revamped its Softail lineup in 2008, the Heritage Classic got a major makeover that included updated styling and the new (at that time) Milwaukee-Eight 107 and 114 motor. It kept its wide seat, rider floorboards, windshield, and saddlebags, but the chrome was noticeably missing, replaced with the blacked-out parts and flat paint that is still popular today. Dated details like conchos and chrome rivets were replaced with subtle blackened details. Leather saddlebags and buckles were replaced with rigid, locking bags that are much easier to open and use.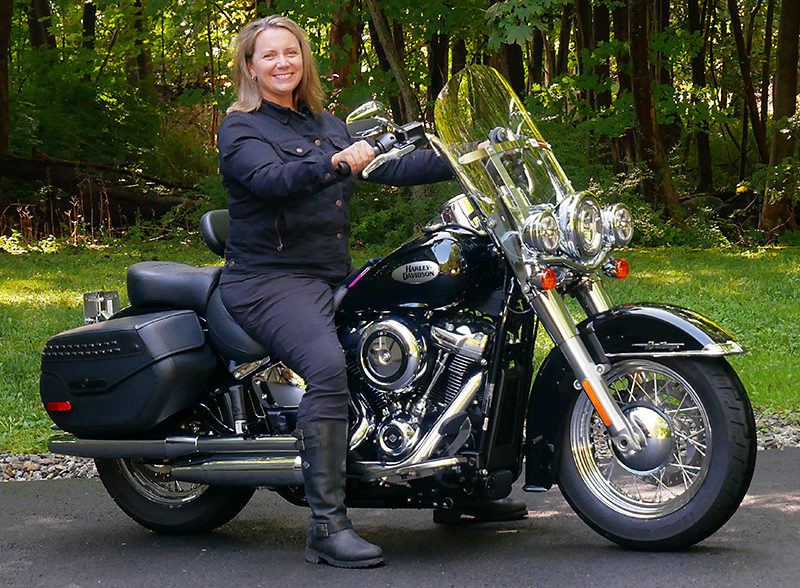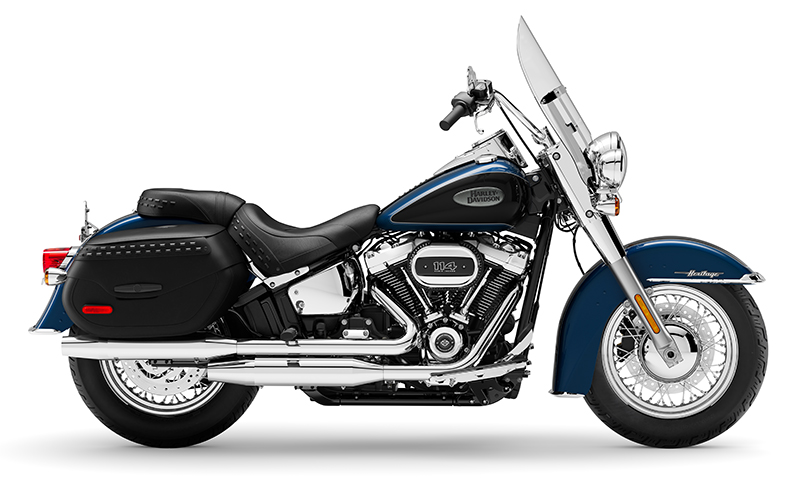 Packing Up The Heritage Classic
Last year, I had the opportunity to live with a black 2021 Heritage, using it as my main ride for an entire riding season. I logged thousands of miles, including weekly 170-mile round trips to teach the Harley-Davidson Academy New Rider Course. This included many overnight trips, and the stock Heritage offered plenty of room for extra gear, clothes, sundries, and food for two days. I did order a Harley Genuine Accessory sissybar/luggage rack combo to secure more luggage, but unfortunately it didn't come in time to test out.
As I've aged, I've acquired interest in driver backrests for cruisers that have a foot-forward riding position. Having that extra support keeps me in the saddle much longer without lower back aches. While the stock Heritage seat is wide and comfy, adding a driver backrest to it isn't an option. So I replaced the Heritage's stock seat with Harley's super plush Hammock Rider and Passenger Touring Seat ($535.95) and the Hammock Adjustable Backrest ($151.95). Oh boy, what an improvement!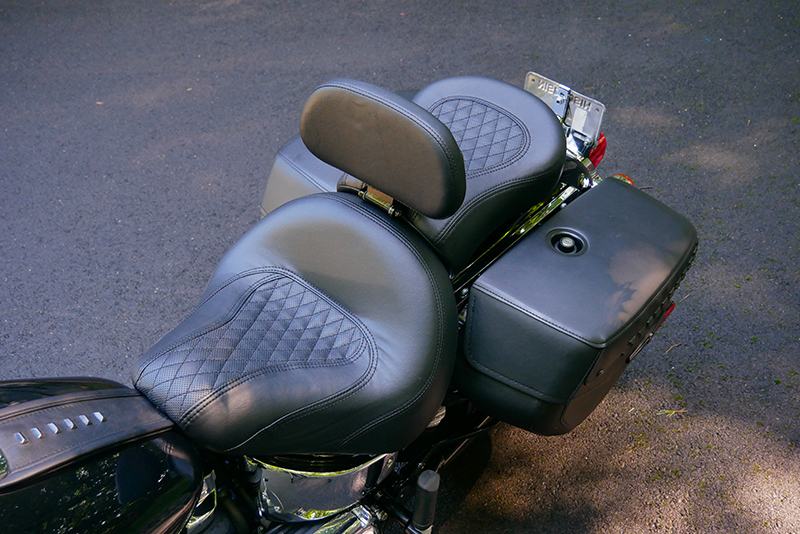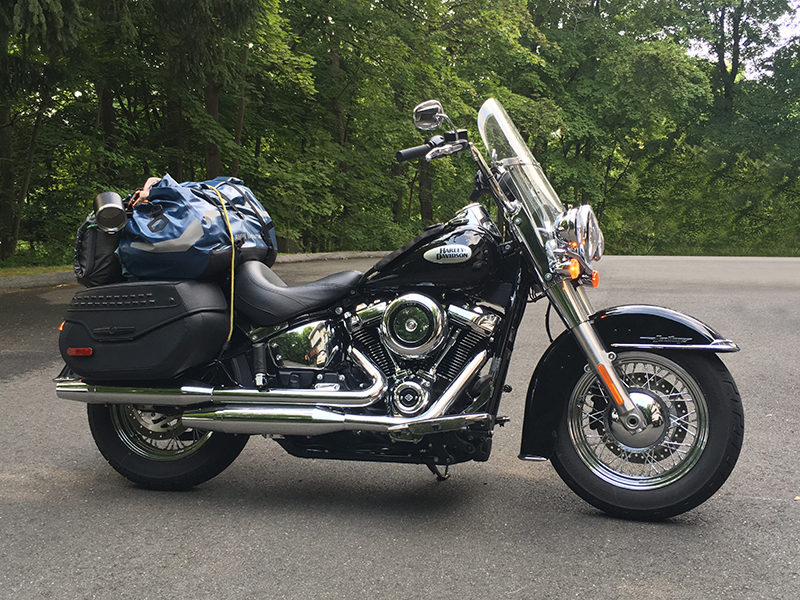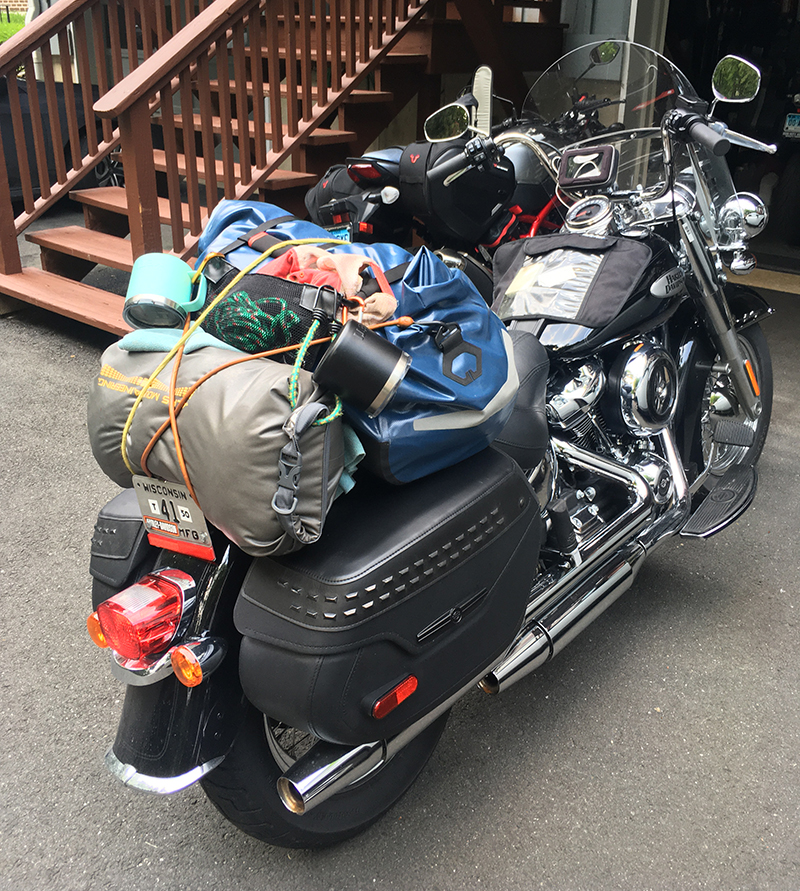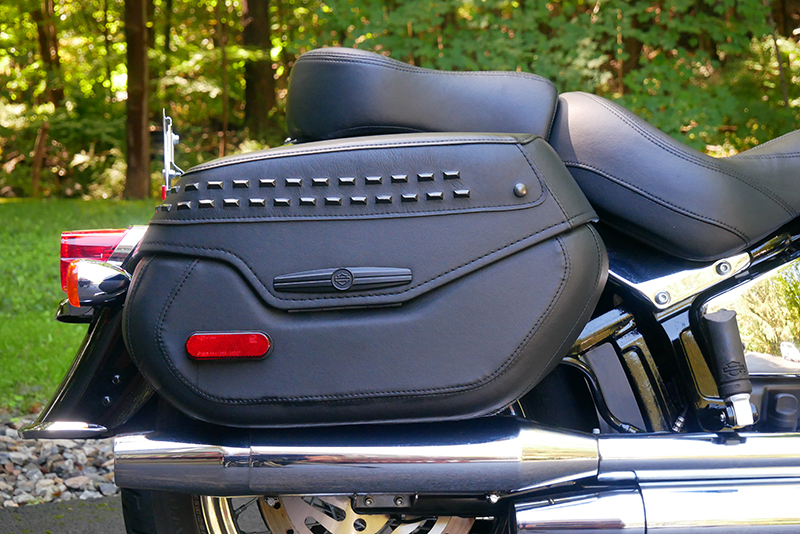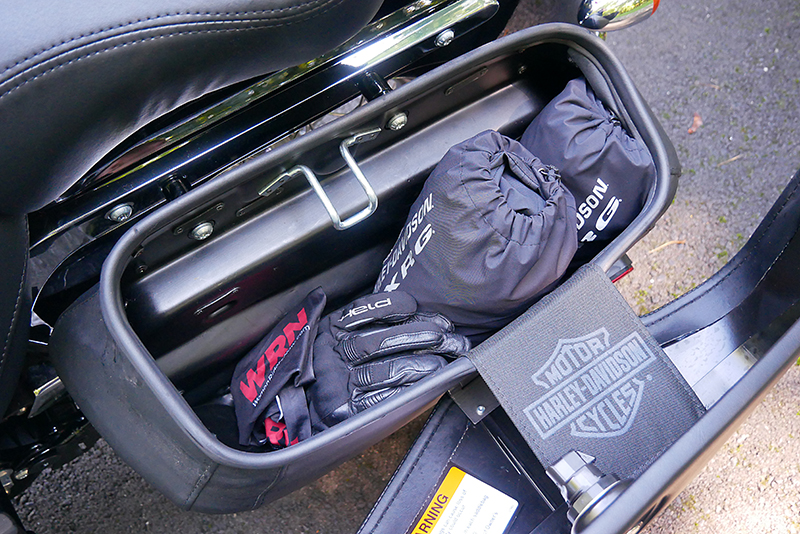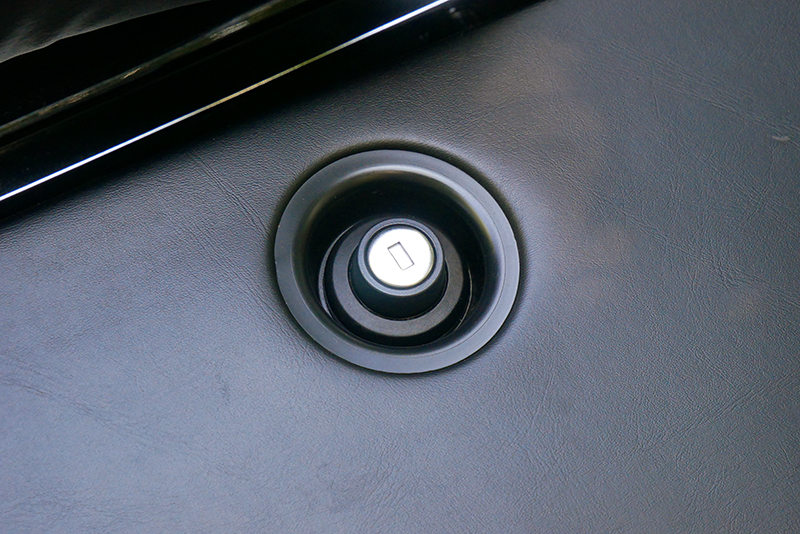 The main reason why so many women love the Heritage Classic is its surprisingly easy-to-handle characteristics. At 728 pounds, you might expect it to feel heavy, but not so. The low center of gravity and 26.8 inch seat height make lifting the bike off the sidestand a non-issue for me.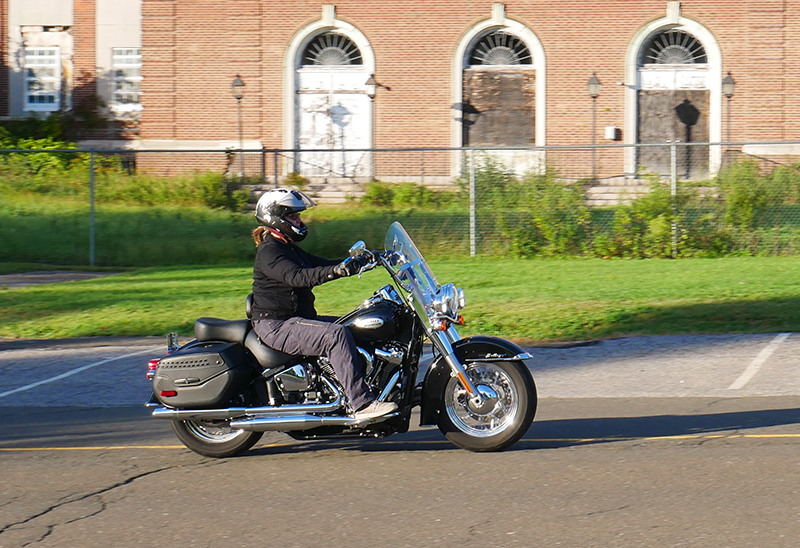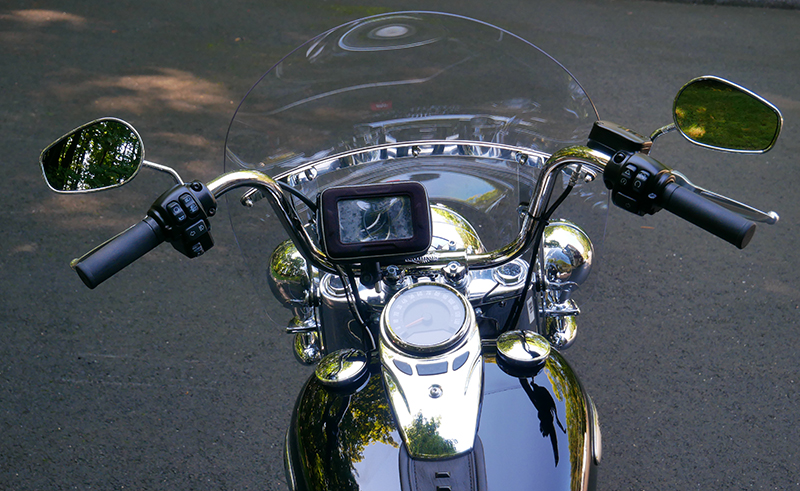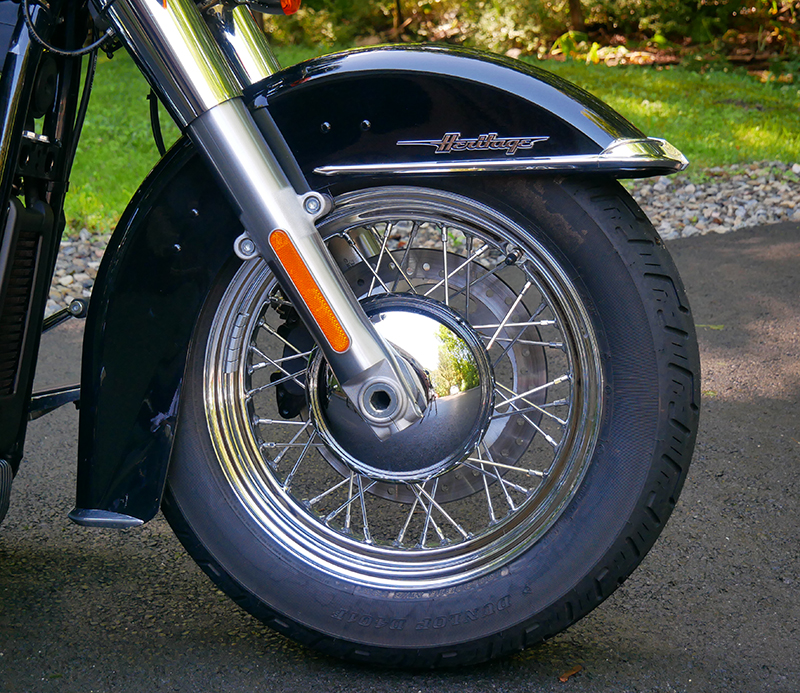 In fact, the Heritage is so easy to manipulate in slow, tight parking lot scenarios, I decided to make some videos to illustrate this point. Check out the following video that shows how easy it is to make a u-turn inside the 20-foot diameter box. And making quick safety maneuvers—swerving and braking—are also simple with a little practice on the Heritage Softail Classic. Listen closely and you'll hear the ABS kick in and stop the bike immediately. ABS is standard equipment on the Heritage.
So, what makes a motorcycle particularly good for full days in the saddle? Besides the ability to store a lot of stuff you want to bring with you, being comfortable enough to ride for many hours with minimal breaks is what really counts. I didn't fully appreciate just how well the Heritage traveled until my last 1,000-mile jaunt with the bike. I took two days to ride from Connecticut to Milwaukee to return the Heritage to the Motor Company.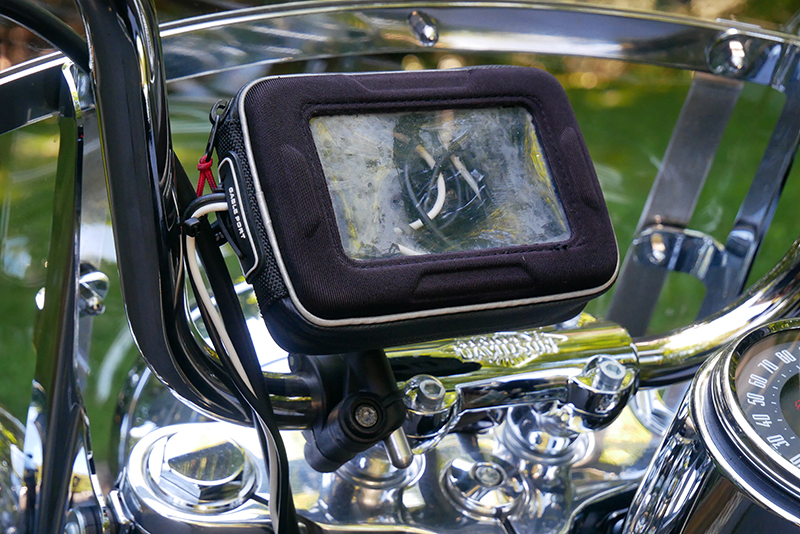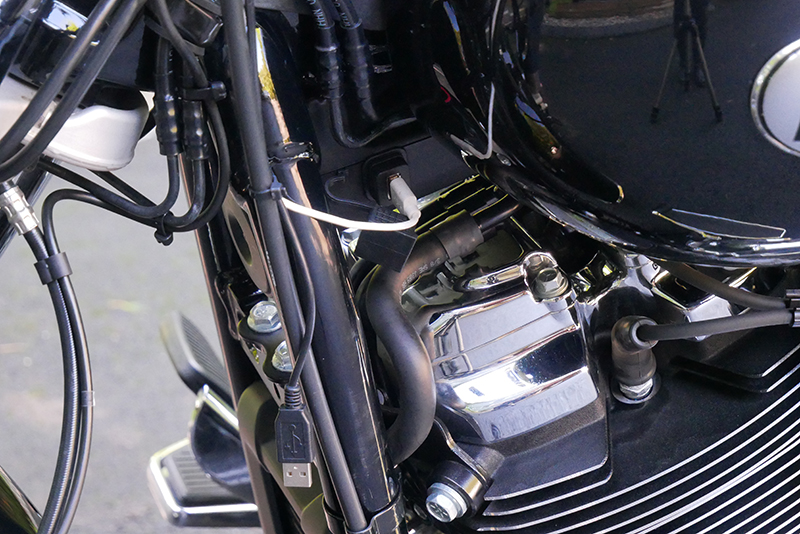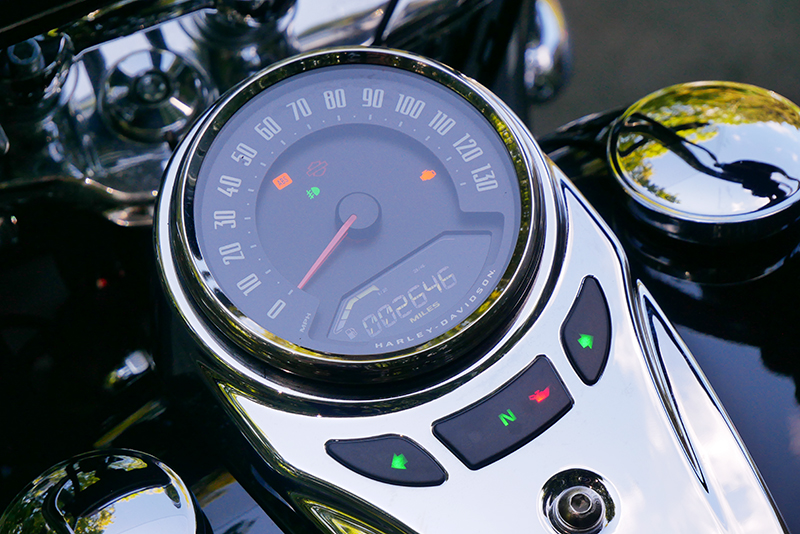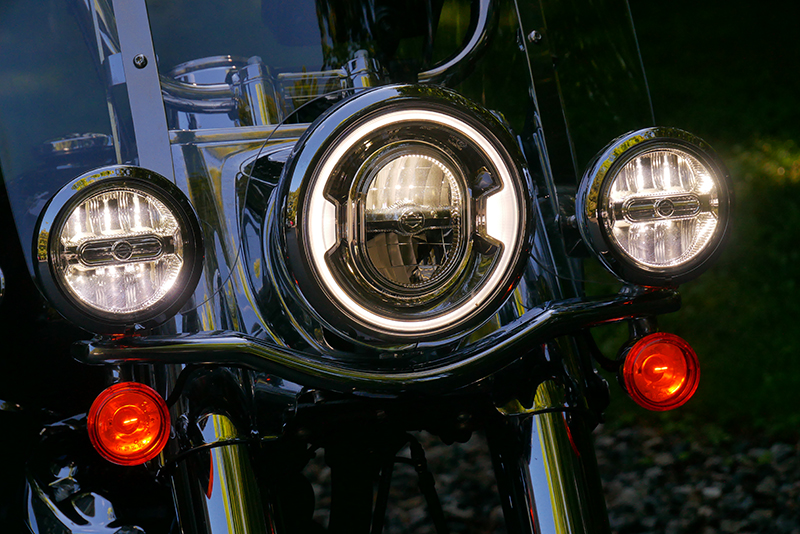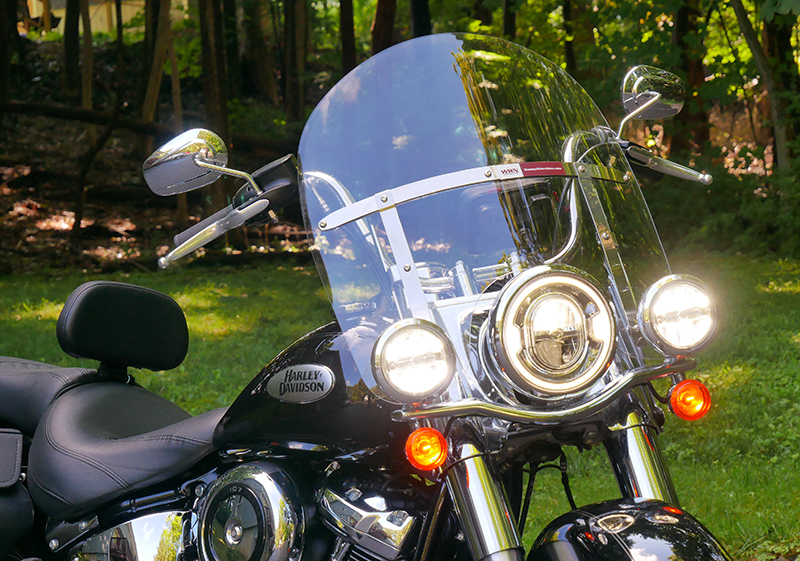 Two long days on the highway could be torture on the wrong motorcycle. But relaxing on that plush Hammock seat, listening to music pumped in through my Sena Bluetooth comm system, I loved every minute of my time with the Heritage. And I now understand why so many riders chose this motorcycle. Don't forget to share your Heritage adventure to be eligible to win the Hammock seat I used for this review.
Riders who want a powerful V-twin cruiser-style motorcycle that is easy to control and fitted with comfort and convenient features like wind protection and locking storage will love the Heritage Classic. A modern day take on a vintage style, this Harley-Davidson continues to be popular with women who love to ride long distances but don't need or want the heavier weight of a Road King or a fully faired bike such as a Street Glide, Road Glide, and Ultra Limited.
Specs at a Glance: Harley-Davidson Heritage Classic
Engine Size: 107 cubic inches (1753 cc) as tested. 2022 model is 114 cubic inches (1868 cc).
Seat Height: 26.3 inches
Fuel Capacity: 5 gallons
Wet Weight: 728 pounds
2022 MSRP: $20,799